Aguas Calientes, Peru is the town located at the base of Machu Picchu. Filled with eateries and shops, thousands of travelers pass through this tiny town on a daily basis for obvious reasons but very few stay. If you find yourself in this small village for more than just a visit to one of the Seven Wonders of the Modern World, these are the best things to do in Aguas Calientes.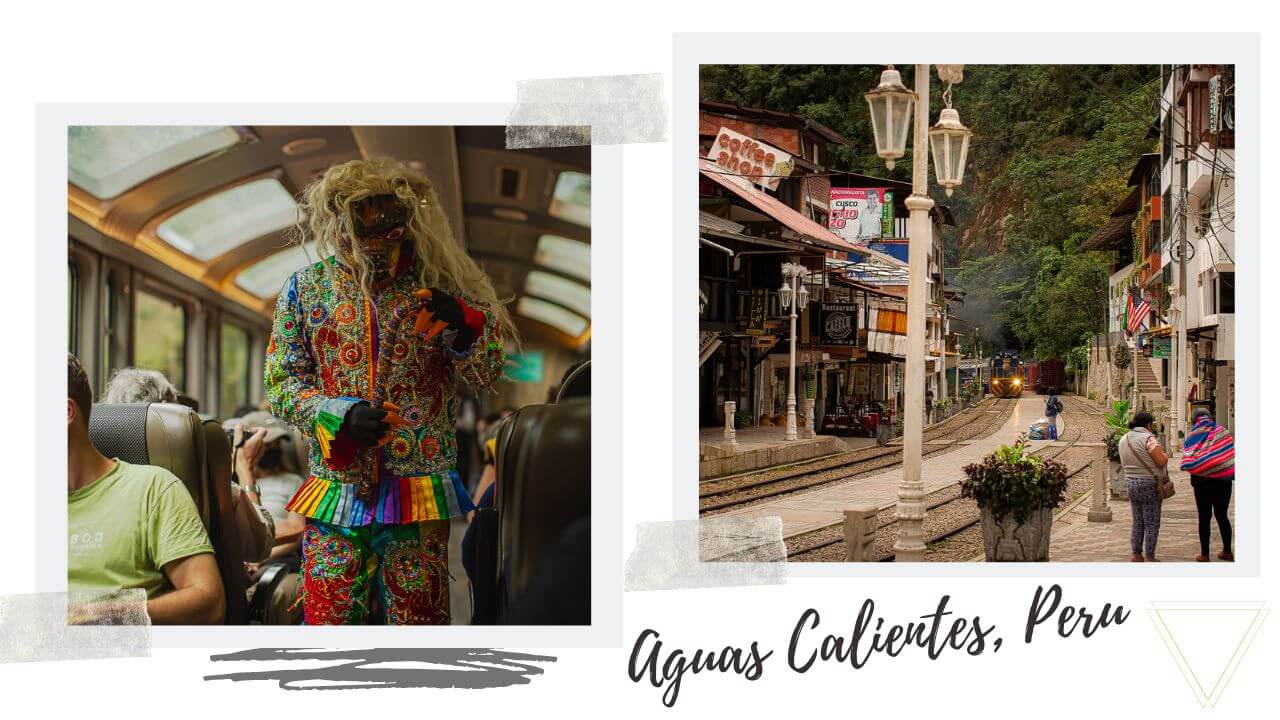 For full transparency, I have sprinkled some affiliate links in this post.  As an Amazon Associate I earn from qualifying purchases that gives me a small commission at no extra cost to you if you decided to make a purchase.  As always, I would never recommend a product or service that I didn't truely believe in.  All proceeds go to keep Jess traveling and coffee ☕️.  I thank you in advance.
The number one thing to do in Aguas Calientes is visit the iconic Machu Picchu. In fact, Machu Picchu is the most visited tourist destination in Peru and one of the most important heritage sites in the world.
Built in the 15th century and later abandoned, Machu Picchu was designated a UNESCO World Heritage Site in 1983 and was named one of the New Seven Wonders of the World in 2007.
Machu Picchu is an Incan citadel and symbol of the Incan Empire. Set high in the Andes Mountains more than 7,000 feet above sea level in the tropical forest above the Urubamba River valley, Machu Picchu offers spectacular scenery with significant endemic biodiversity of flora and fauna, as well as wooded areas, steep mountains and snow-capped peaks..
Due to its strategic location at the top of a high mountain, the meaning and reason it resides here remains a mystery. Renowned for its sophisticated dry-stone walls that fuse huge blocks without the use of mortar, buildings that play on astronomical alignments and panoramic views, there are various theories about what it could mean for the Incas.
Huayna Picchu Mountain (also know as Wayna Picchu) is one of the best ways to see Machu Picchu as it overlooks the iconic, preserved city.Huayna Picchu is the tall mountain you see behind in the most famous photographs of Machu Picchu.
The only way to access this Peru hike is by passing through the Machu Picchu complex to the most northern corner. Huayna Picchu requires its own separate ticket which must be booked months in advance.
It takes about 1 hour to hike to the top and I promise the views are worth it. As you climb up the mountain, you will find steep and narrow stairs known as "stairs of death." Closer to the top there are different temples and areas that offer panoramic views and a place to catch your breath. A friendly reminder that you have to go down the same way you come up.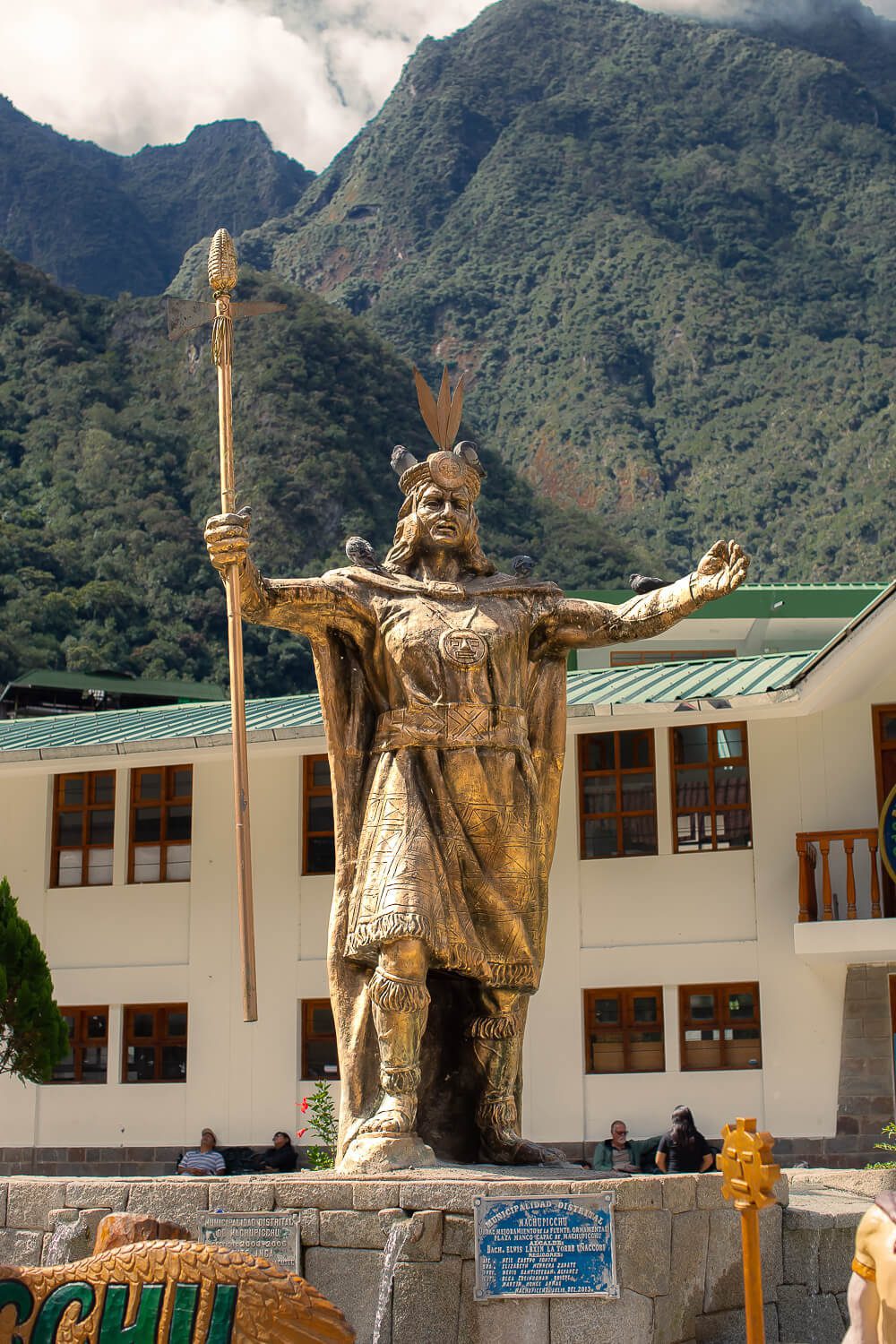 The Plaza Manco Capac is a small central plaza located in the center of Aguas Calientes. Named after the founder of the Inca empire of Cusco, this is a nice spot to take in the sights of the stunning mountains that surround the town.
The Plaza Manco Capac is adjacent to several of the must eat restaurants and cafes in Aguas Calientes, this is a great place to figure out where to eat if you like to do research on your phone.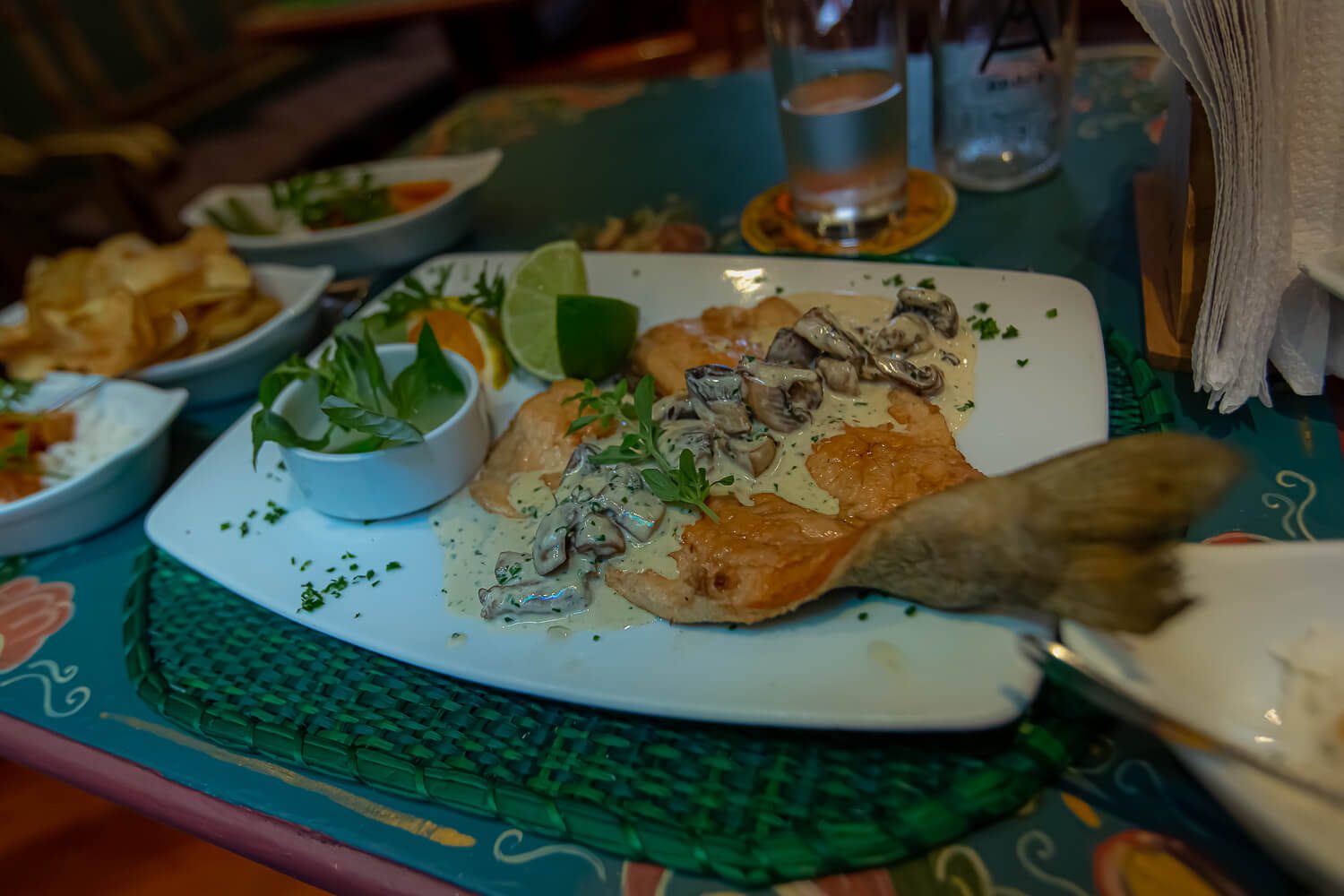 Aguas Calientes has a lot of tasty restaurants and there's nothing better after a day of exploring Machu Picchu than a big, delicious meal. Over the three days that I hung out in Aguas Calientes, the best meal I enjoyed was at Indio Feliz Restaurant and Bar. I loved it so much that I ate here twice.
It's a French/Peruvian restaurant that serves trout, chicken, fish, and vegetarian dishes. The portions are huge, fresh and delicious. I had the baked trout with mushroom cream sauce and it came with rice, vegetables, crisp home made chips and lots of herbs.
If you only eat at one restaurant in Aguas Calientes, eat at Indio Fleiz Restaurant and Bar. If you want more options, here are some more top rated restaurants in Machu Picchu.
Chullos Craft Beer & Homemade Food
Cafe Inkaterra
Apu Inti Restaurante Machupicchu
Chef House Peruvian Food
Govinda
Julian Restaurant
Green House Organic Concept
Mapacho Craft Beer Restaurant
The Tree House Restaurant
Tupana wasi restaurant
Taywa Restaurante-Café
Incontri Del Pueblo Viejo (has incredible pizza)
Theres nothing better after a morning of exploring Machu Picchu than to relax your tired muscles in the Aguas Calientes hot springs. I mean Aguascalientes, which means "hot waters" in Spanish, was named after the numerous hot springs in the area.
The hot springs are located on the North end of town, up the hill on the main drag. Although not as good as the nearby hot springs in Santa Teresa (along the Salkantay Trail), these are unique and scenic as you are surrounded by big green mountains. The hot springs are open from 5am to 8:30pm and cost 10 Soles per person.
Travel Tip: Bathings suits for men and women as well as towels can be rented at several shops nearby the hot springs if you find yourself without.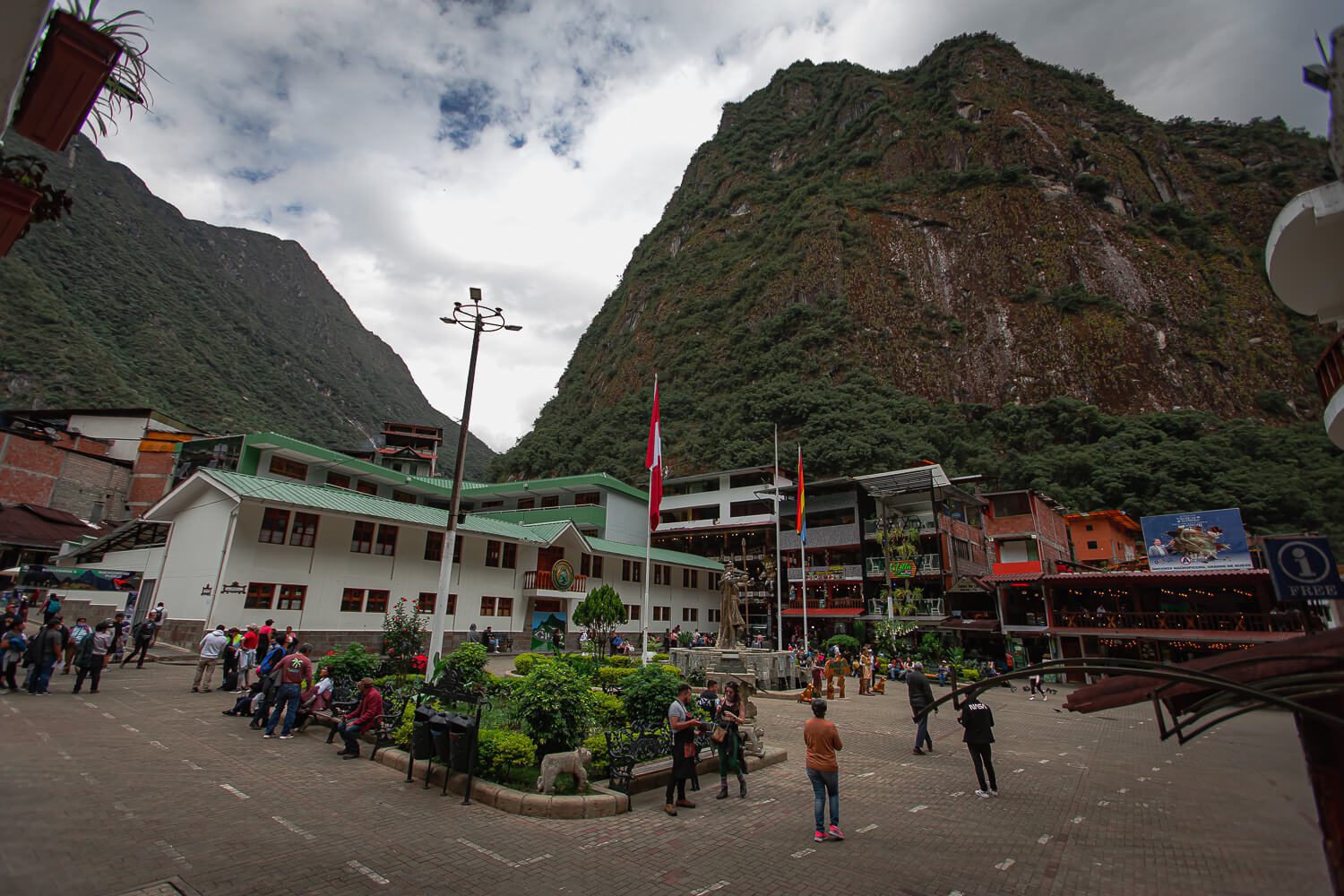 Visit the Machu Picchu Museum
The Machu Picchu Museum or formally known as the Manuel Chavez Ballon Site Museum is is named after the archaeologist, Manuel Chavez Ballon. Although somewhat small, this is a great museum with lots of objects, information, and photos.
If you arrive in Aguas Calientes with time to kill before visiting Machu Picchu, I would check out this museum. It will give you a bit of a foundation on the history of the area and a better understand the history of the Inca people, culture, religion and social life.
Entry is free with proof of a ticket to Machu Picchu. Without a ticket it is 22 Soles per person.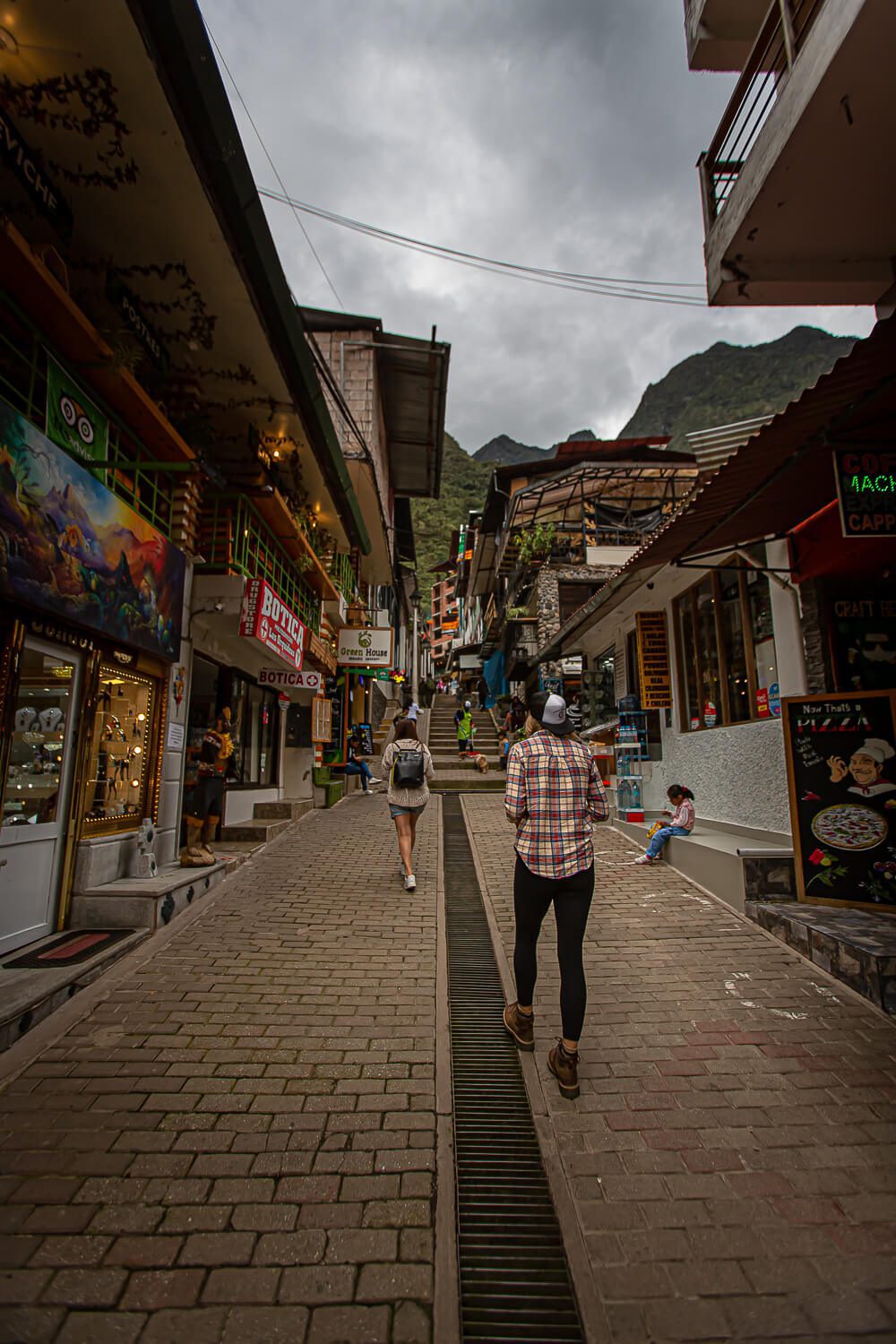 In my opinion, one of the best things to do in Aguas Calientes is to get a massage. Okay so this is usually my favorite thing to do anywhere, I love a good massage. There are several places around town that offer full body massages for around 20-40 soles.
Here's the thing with the 20 soles massage though. This massage usually entails just a rub down. If you want a deep tissue massage you'll want to spring the extra 40-60 soles and opt for a traditional Inka massage.
The Inka massage uses a special combination of different techniques of Andean Massage and Oriental massage. Applying pressure from the hands and it usually ends with a hot stone massage. It's worth the extra few bucks because you can't visit Peru without hiking a little bit and a massage after a day of hiking is oh so amazing.
Mariposario de Machupicchu
If you have time and are looking for things to do in Aguas Calientes, consider visitng the Mariposario de Machupicchu. Mariposario de Machupicchu is an exclusive butterfly farm that has a large range of butterflies.
It cost 20 soles per person for a guided tour where you learn about various species of butterflies. From the eggs to caterpillars to the final product of the butterfly. Plus it's always nice to support a worthy cause.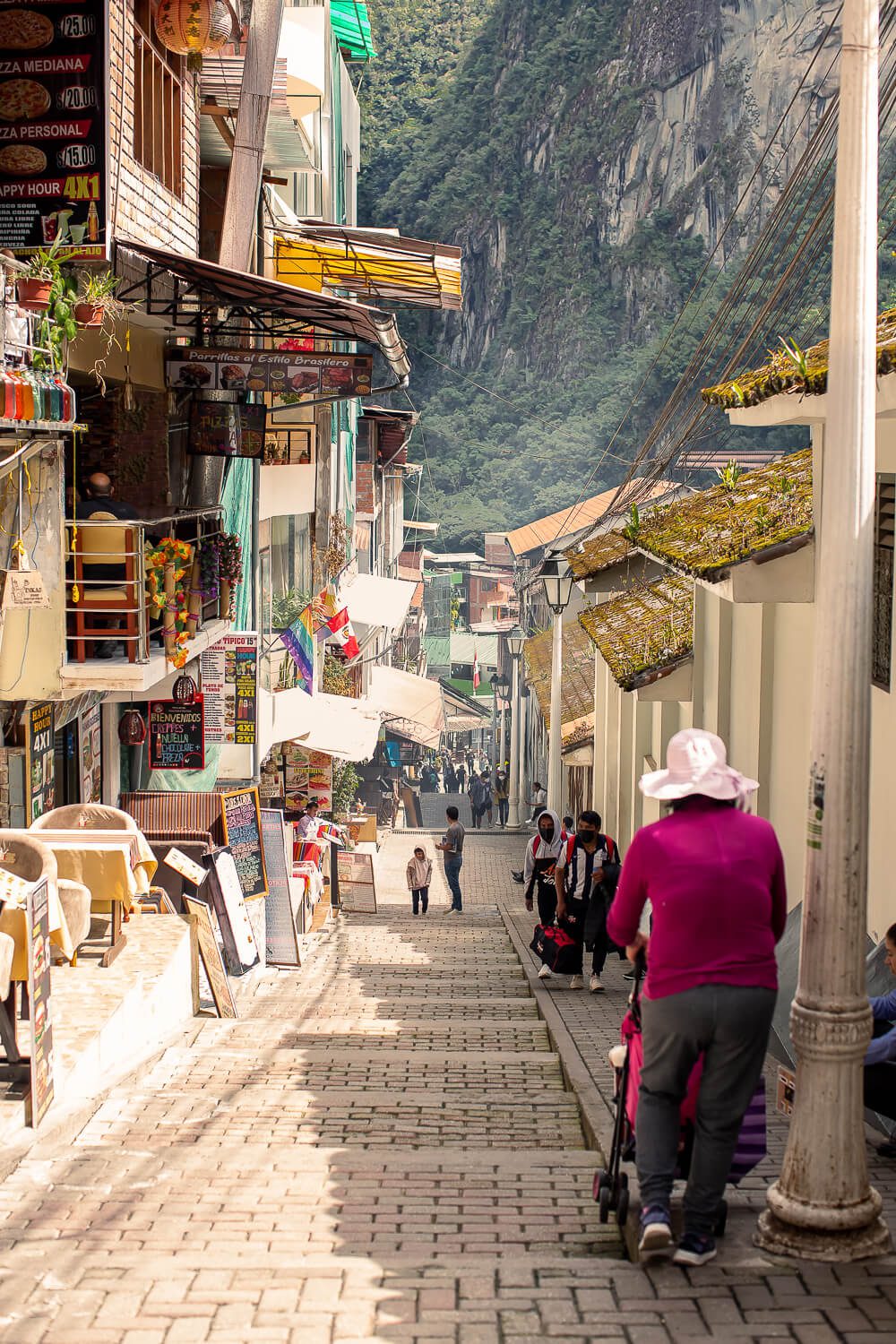 Go Shopping in the Market
Although the handcrafts sold in Aguas Calientes are more expensive than you would find anywhere else in Peru, the local aritisans' market is still worth a trip to shop around for some souvenirs.
If you were like me and arrive in Aguas Calientes by hiking the Salkantay Trek or the Inca Trail, you won't have many clothing options. The market in Aguas Calientes has lots of llicllas and hats perfect if you want to spruce up a picture inside Machu Picchu.
The large green mountain directly across from Machu Picchu is worth a hike if you still have energy left from trekking around Machu Picchu. The hike takes around 3 hours combined and offers phenomenal views of the world wonder.
The trail starts west of town. Just follow the railroad tracks until you see a set of stairs. From here the path is well marked.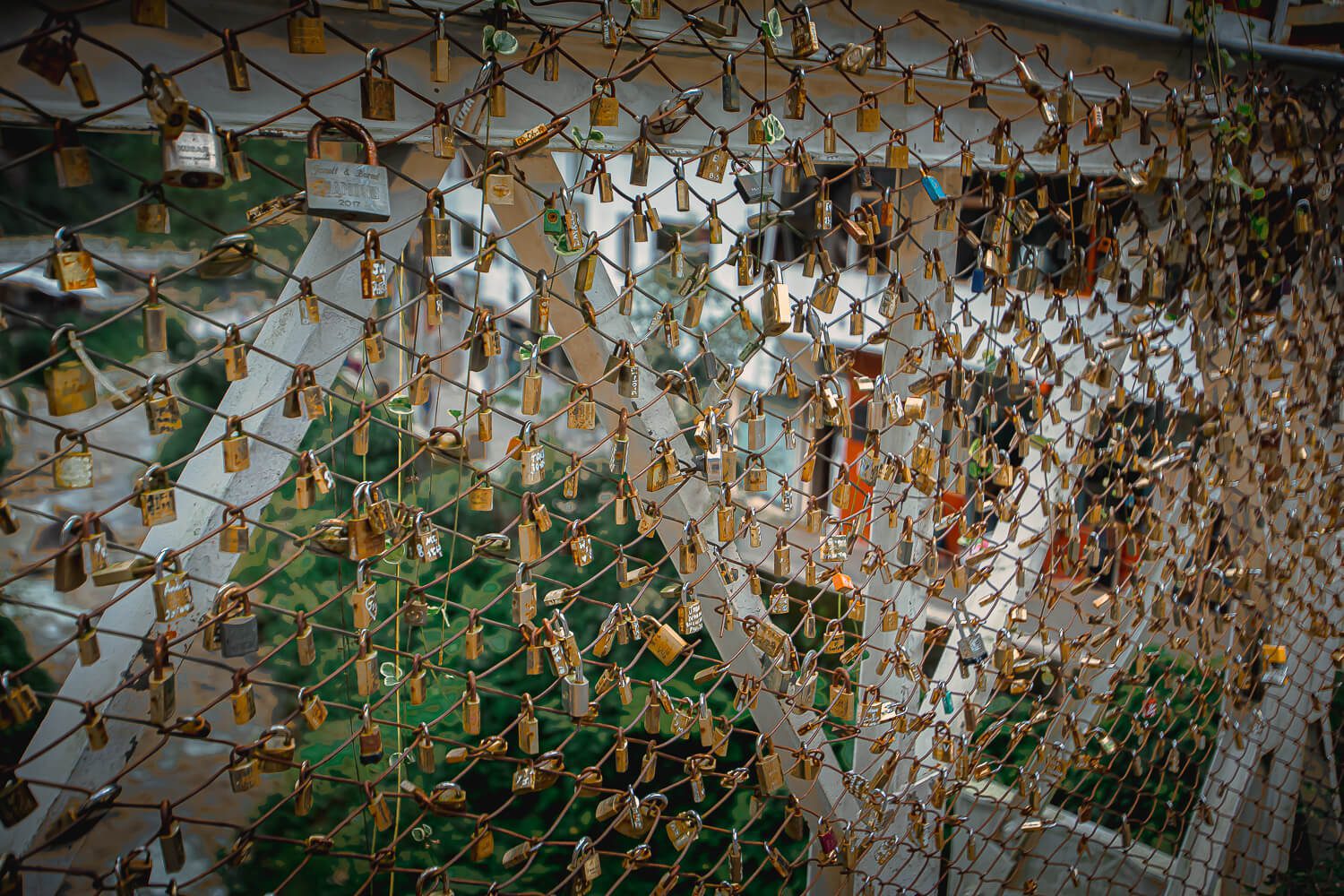 More Things to Know About Aguas Calientes
Tickets to Machu Picchu must be booked in advance. You can do this is Cusco or online here.
If you are planning on hiking Huayna Picchu, these tickets need to be booked farther in advance then entry tickets to Machu Picchu.
Train tickets in and out of Aguas Calientes should also be booked in advance. Tickets out of town book up quicker than coming in.
There are two options to get up to Machu Picchu from Aguas Calientes – you can either hike up or you can take the bus which costs $12 one way.
Aguas Calientes is also known as Machupicchu or Machupicchu Pueblo.
There are no vehicles in this town apart from the buses to and from Machu Picchu.
Aguas Calientes elevation is 6,700 feet.
The town is very small and walkable.
Tap water is not safe to drink. Check out these tips to know before traveling to Peru.
There are some biting mosquitos at Machupicchu and Aguas Calientes, wear long light clothing and use plenty of strong insect repellent.
Where to Stay in Aguas Calientes, Peru
There are so lots of places to stay in Aguas Calientes and for every budget. We stayed at Gringo Bills and were very happy with our accommodations.
Here are more Aguas Calientes hotel recommendations when planning your visit to Machu Picchu.
Budget Places to Stay in Aguas Calientes
Supertramp Hostel – The only real hostel in town. Includes a kitchen when your budget is in charge.
Mid Range Accommodations in Machu Picchu Town
Gringo Bills – Located close to the train station. Rooms are spacious, showers are hot and each room comes with a balcony.

Hotel Wiracocha Inn – Bright rooms, mountain views and a buffet breakfast.
Luxury Places to Stay in Machu Picchu
Inkaterra Machu Picchu Pueblo Hotel – Luxuriant, tropical gardens and on site spa.

El Mapi – Located in prime location in the middle of town, this hotel is sleek and modern.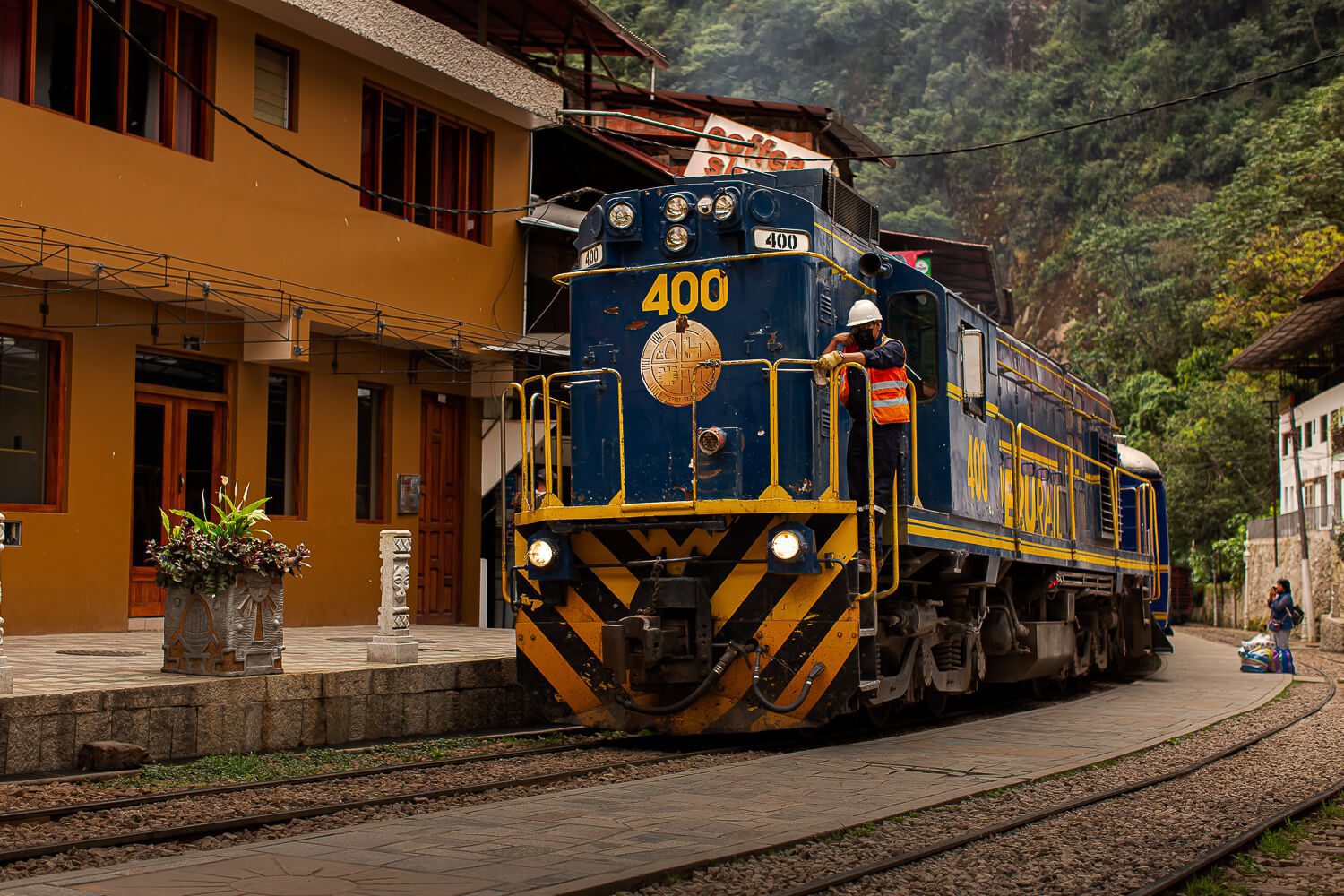 How to Get to Aguas Calientes
There are a few ways to get to Aguas Calientes – the train or by foot.
By train from Cuzco to Aguas Calientes it takes about 3 hours. From Ollantaytambo to Aguas Calientes it takes 2 hours. From Hydroelectrica it is about 45 minutes but tickets must be booked in advance in Cusco or in Aguas Calientes.
By bus. Collectivo from Cusco to Hydroelectrica. Then you can either ride the train to Aguas Calientes (tickets must be booked in advance) or walk the railroad tracks to town,
By foot. By hiking the Inca Trail or the Salkantay Trail both end up in Aguas Calientes.
Peru Travel Guides
📍Plan your Trip:

🗺 How long to travel Peru?  2 Week Peru Itinerary

☔️ Best Time to Visit:  Shoulder months of dry season – March-May or October-September.

💰 Average Daily Budget: $40 - 50 a day for basic accommodations and sit down meals.

⛺️ Peru accommodation Guides

🪂 Highlights

Machu Picchu
Sacred Valley
Trekking Cordillera Blanca
Arequipa

🧳 What to Pack: Salkantay Trek Packing List

🎥 Watch our Peru Series on YouTube

📧 Get on my Email list to see what I'm up to and all the best travel content!
Those are 10 things to do in Aguas Calientes. Let me know if you've enjoyed these recommendations in the comments below.
Enjoy this Post?!?! Pin in for Later ↓