Embarking on a trek that takes you the alternative route to Machu Picchu will be one of the biggest adventures of your life. With thrill comes preparation and there are a few things to know before trekking the Salkantay Trail, especially if you are like me and plan to do it independently.
Are you interested in hiking the Salkantay Trek on your own? If so, check out this post on exactly how to hike the Salkantay Trek without a guide, tent or reservation. Before we get into the juicy Salkantay Trek tips, let's go over the specifics of the trek.
For full transparency, I have sprinkled some affiliate links in this post.  As an Amazon Associate I earn from qualifying purchases that gives me a small commission at no extra cost to you if you decided to make a purchase.  As always, I would never recommend a product or service that I didn't truely believe in.  All proceeds go to keep Jess traveling and coffee ☕️.  I thank you in advance.
About the Salkantay Trail
Difficulty: Strenuous
Duration: 4-5 Days
Distance: 46 Miles
Peak Elevation: 15,090 feet at Salkantay Pass
They say it's about the journey, not the destination but on the Salkantay Trail, it's about both. The Salkantay Trek, also referred to as the alternative route to Machu Picchu, is one of the best hikes in South America.
Unlike the classic Inca Trail, you can hike the Salkantay Trail without a guide. The Salkantay trail takes you through rugged mountain terrain peaking at 15,090 feet and connects Cusco to the Inca citadel of Machu Picchu.
On this hike you will see some of the most beautiful landscapes in Peru. Think snow capped mountains, free roaming horses, alpine lakes, cascading waterfalls and lush subtropical rainforest. Salkantay trekking is a combination of culture and natural beauty that has be well preserved by the Peruvian people.
The Salkantay Trail is truly an extraordinary adventure intertwined with authentic experiences and natural beauty. But before you embark on this journey here are 15 Salkantay Trek tips to know before you go.
15 Things to Know Before Trekking the Salkantay Trail
The Best Time to Hike the Salkantay Trail
The best time to trek the Salkantay Trail is during the dry season from March through October. This means warmer weather at night and blue bird skies during the day.
Traveling here during dry season also means busy season, especially June to August. But that's a small price to pay as you won't want to trek during rainy season.
My advice is to embark on this journey during the shoulder season of March – May or September – October. There will be less crowds making it easier to walk up and find a place to stay if you plan on doing the Salkantay Trek independently by staying at guesthouses.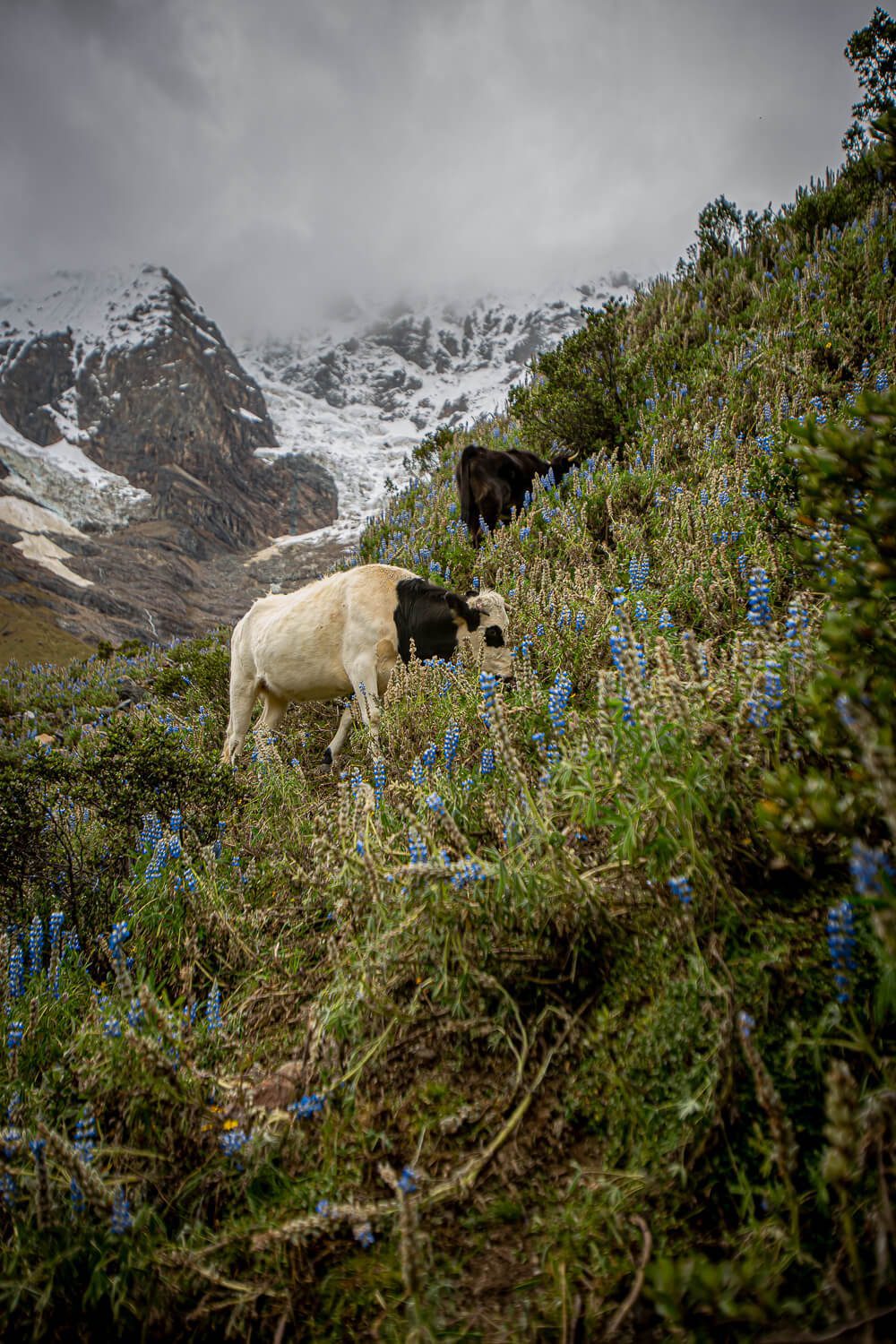 How Many Days to Hike the Salkantay Trail?
The Salkantay Trek can be done in 4 or 5 days. I recommend the Salkantay trek 5 days route as it breaks up the fourth and fifth days and the accommodations on each of those nights are worthy of a stay. We did the Salkantay 5 day trek and were happy that the fourth day was a shorter distance to hike.
Salkantay Trek 4 days | Soraypampa – Chawallay – Lucmabamba or Santa Teresa – Aguas Calientes
Salkantay Trek 5 days | Soraypampa – Chawallay – Lucmabamba – Llactapata – Aguas Calientes
Guided Tour or Go at it Independently
Okay, now you know when to go and how long you want to go, now let's figure out how to go. 95% of people trek Salkantay on a guided tour. A guided tour is great if you are short on time, don't want to worry about logistics, would prefer to have your bags carried for you and want to feel more secure with a guaranteed place to stay and meals to eat.
If you're like me, you'd thrive on the self guided tour if you are up for an adventure, don't mind being your own donkey and are on a tight budget as you'll save a good chunk of change doing the trek on your own.
If you are leaning towards trekking independently, this next topic is for you.
🎥 Want to see exactly what it's like? Check out these Salkantay Trek travel vlog series on Trekking the Salkantay Trail.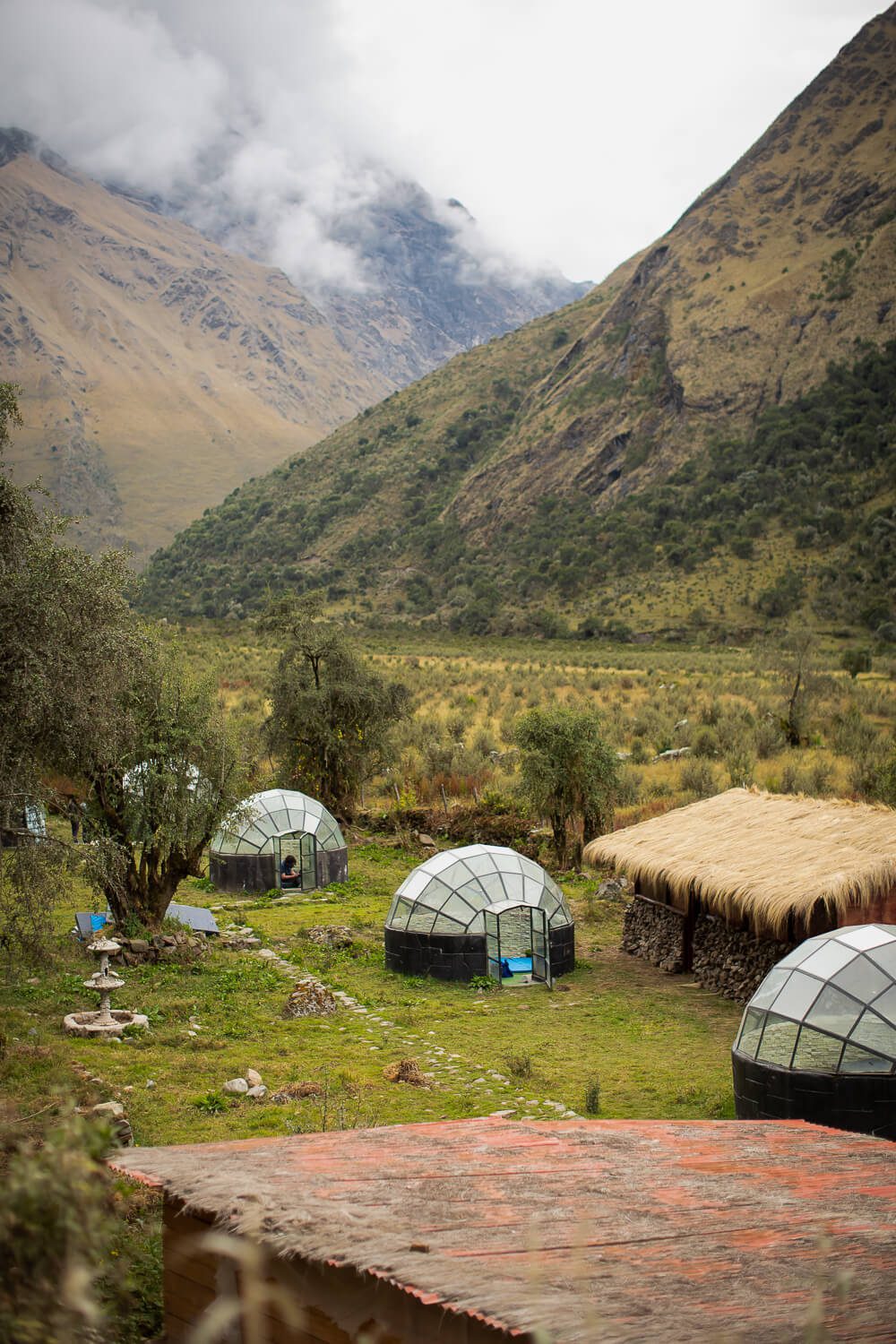 The Salkantay Trail goes through several villages so trekking independently allows you to create your own itinerary, decide how many days to do the trek and choose which towns to stay in (or campsites if you choose to camp along the trail).
You can wing it? Meaning you hike until you feel tired and go knocking on doors when you arrive to find lodging for the night. Or you can pre-plan it as much as possible and have a few places booked in advance.
Spoiler alert! Some villages such as Soraypampa on your first night have very little resources online so I would book ahead!
I recommend a bit of pre-planning. Our hostel was heaven sent on our second night which we wouldn't have been able to secure the day of. You can check out the vlog here to see what I mean.
If you want to pre-plan these are links to places to stay along the trail for each day.
Day 1 | Soraypampa
Most options are in person. We stayed at Backpacker Humantay which was 80 soles per person for a personal pod which included dinner and breakfast.
Day 2 | Chawallay
Salkantay Hostel – There's only a couple private rooms available and after a brutally exhausting day of trekking, you'll be crying tears of joy knowing you secured this room…I know I did. It comes complete with a hot shower, outlets to charge your devices and Wifi which is probably the only time you'll get it on this trip.
Day 3 | Lucmabamba
Lia & Freddie's Avocado, Banana and Coffee Plantation is a dream. This place was so wonderful. The property is big and beautiful and Freddie and Lia are the sweetest people.

For 15 Soles you can even take a tour of the plantation, roast your own beans and get to drink it. They had plenty of space so I'm sure walking up and asking for a room here would work out too. I'll link their place on google maps here.
Day 4 | Llactapata
The Llactapata Lodge is a stunning property that looks at the backside to Machu Picchu. It's the only lodge in the area so 100% book ahead of time. I recommend staying here and making the Salkantay Trek 5 days instead of 4.

Lots of tour groups go to Santa Teresa on day 4 of the Salkantay Trek which is close to some hot springs. You can look up places to stay in Santa Teresa here if you want to go that route.
Day 5 | Aguas Calientes
There's tons of places to stay in Aguas Calientes. We stayed at Gringo Bills and loved it.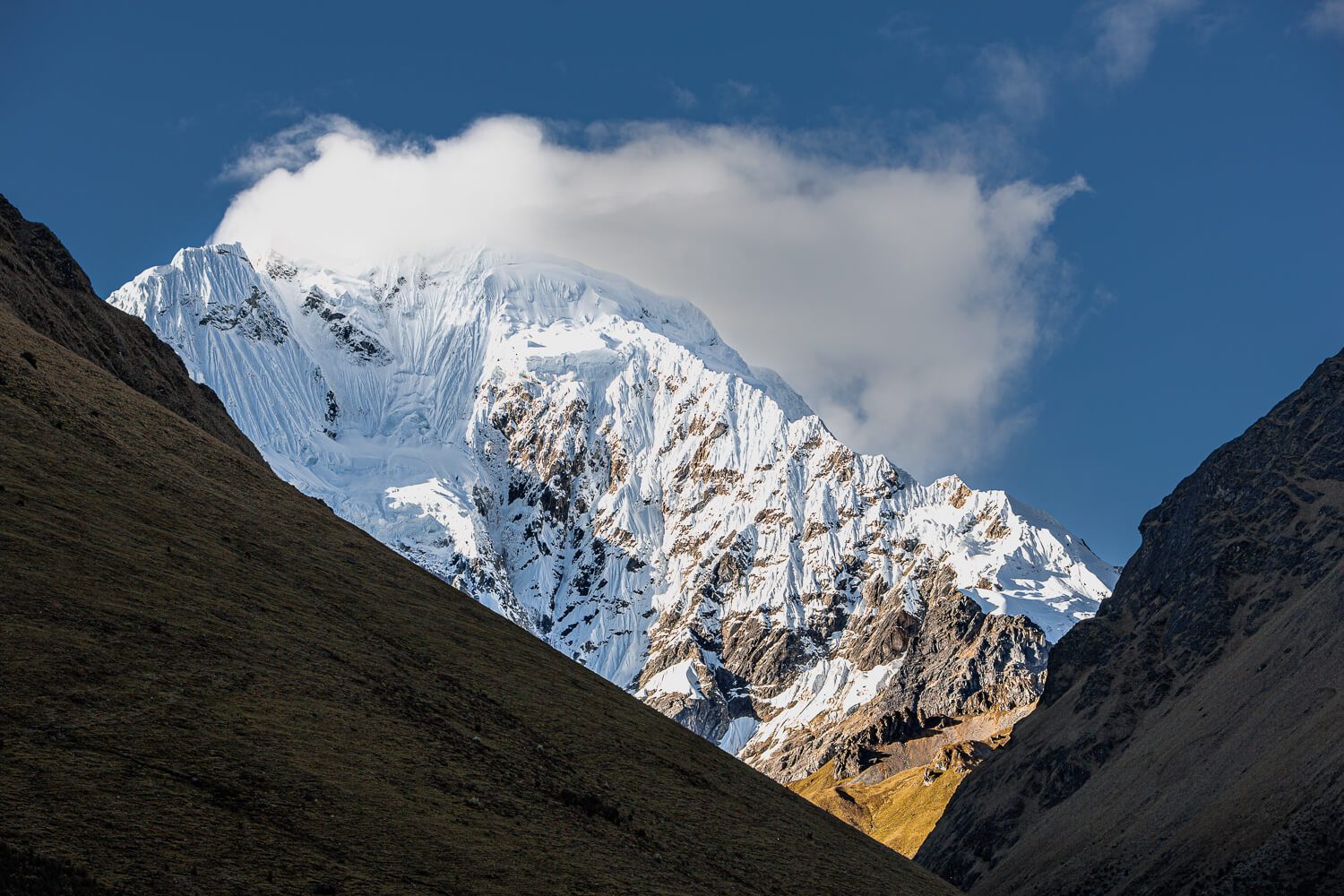 The highest point on the Salkantay Trek is the Salkantay Pass which peaks at 15,090 feet. Plus day 1 base camp is in the town of Soraypampa which sits at 12,700 feet. Throw in the side trip to Lake Humantay at 13,900 feet, let's just say you won't not notice the elevation.
Before you embark on the Salkantay Trail you must first acclimatize. This means that on the first day that you arrive in Cusco should be nothing more than acclimatization. You should be drinking lots of water and resting. Even walking up and down Cusco's streets will leave you panting, especially when you have luggage in tow.
I recommend having your first nights accommodation sorted out. This way when you arrive into town you can head straight to your lodging and give your body the rest that it needs. If you are short on time, give it 2-3 days minimum before starting out on the Salkantay Trail.
Here are a few tips to prevent altitude sickness.
Coca leaves are a traditional way to relieve altitude sickness by chewing it or making tea with it. Coca leaves can be bought at any local supermarket and are available in most restaurants.
Sorojchpills are pills you can buy at the local pharmacy that help with altitude sickness.
Muna – is an herb that can be found in the mountains. You can pick it, rub it in your hands and inhale it. Or put it in tea and drink it. It's also a digestive.
Allow 24-36 hours of acclimatization before setting off on a hike.
Ascend gradually.
Drink plenty of water.
Avoid booze and cigarettes.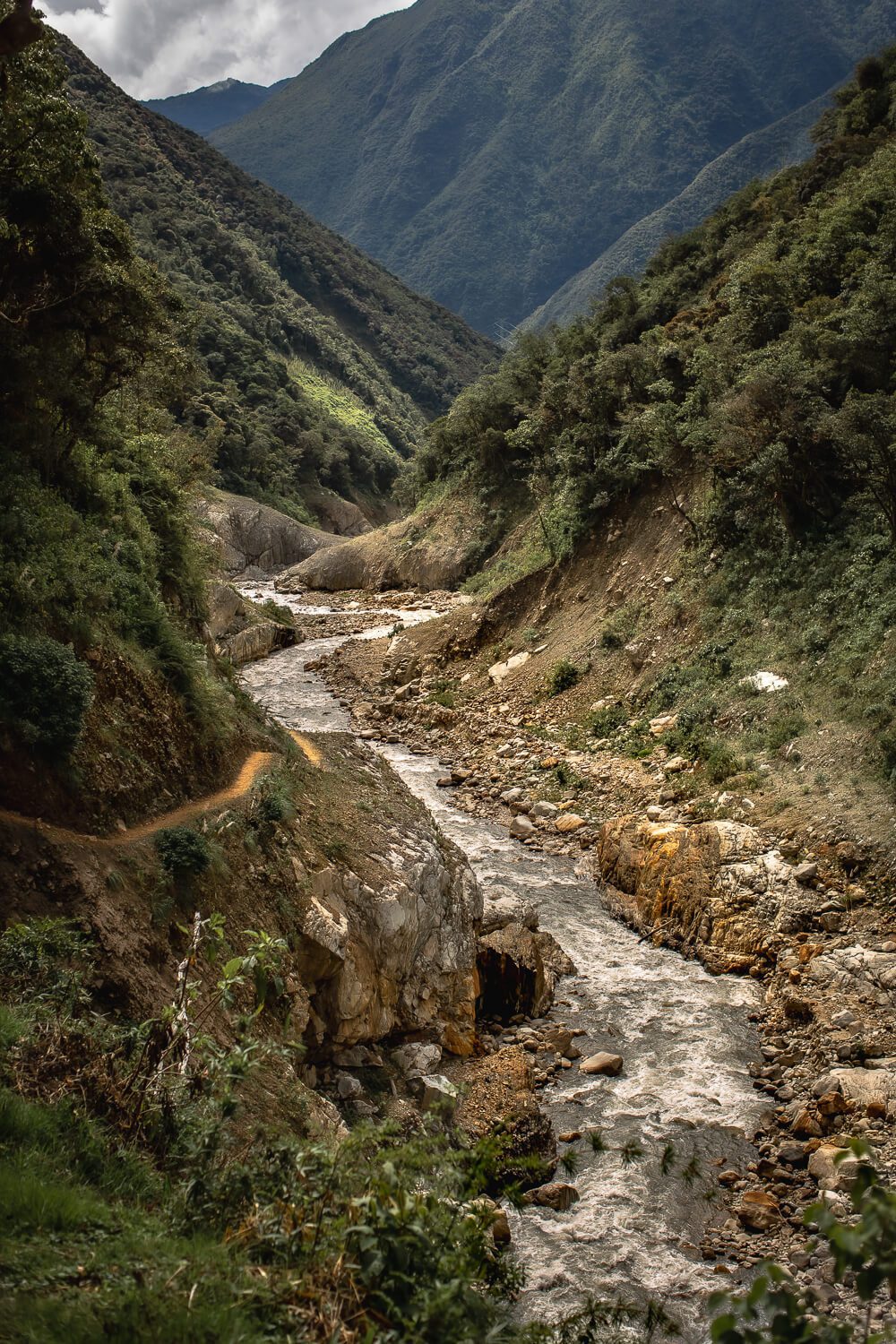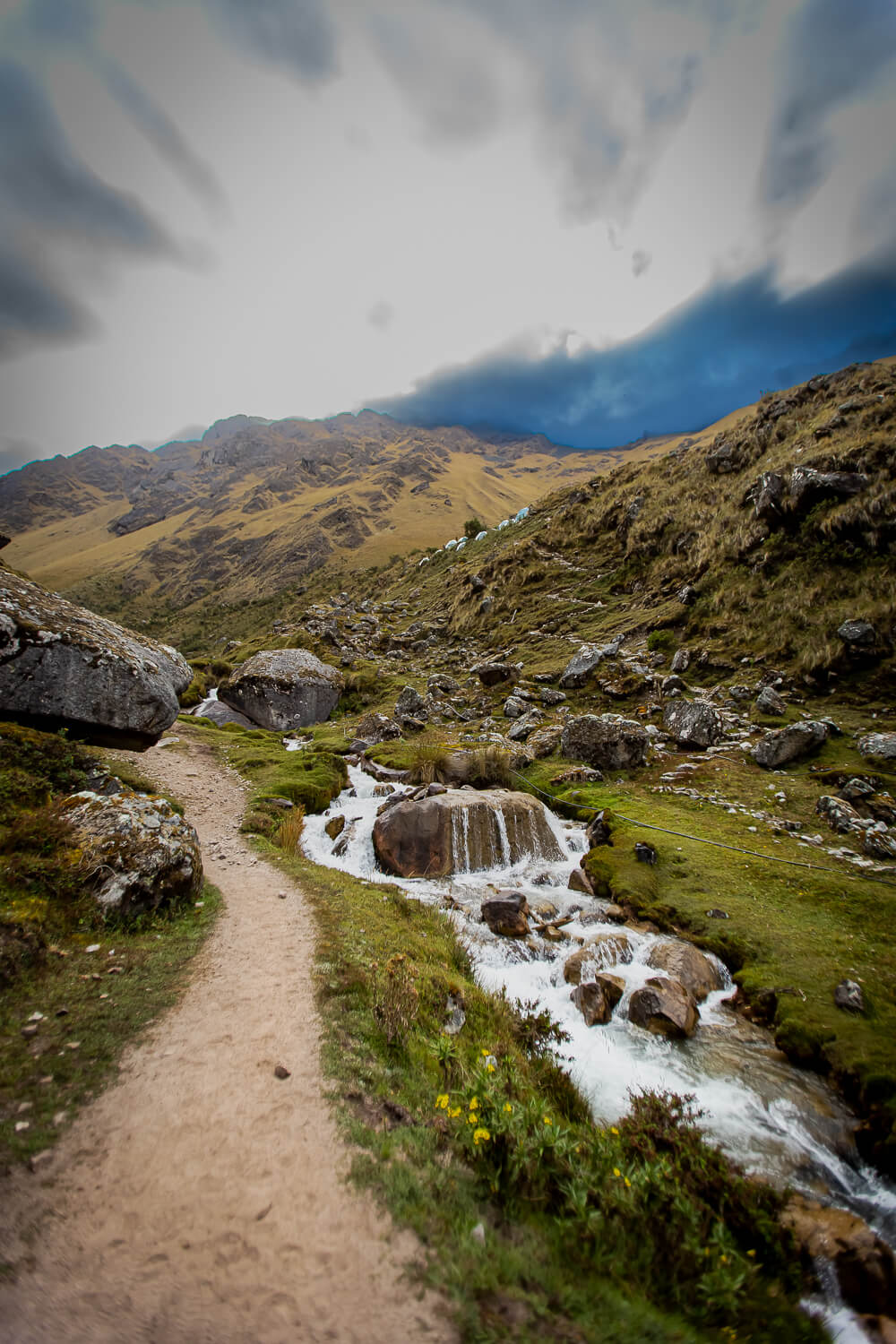 Maps.Me is the Ultimate App
Maps.Me is an amazing app that allows you to download maps offline that is essential for you on this trek or any hike in Peru for that matter. It shows every trail, shows were all the collectivos pick up & drop off stations are, displays hotels, campsites and anything you might need to know along the route. Its amazing how detailed it is and its world wide!
You can save your locations along the way, plan your route and even share it with friends when you are done. Download this app before you start the Salkantay Trail as service and wifi is scarce. This app is truly essential for home and travel. And the best part is, its FREE!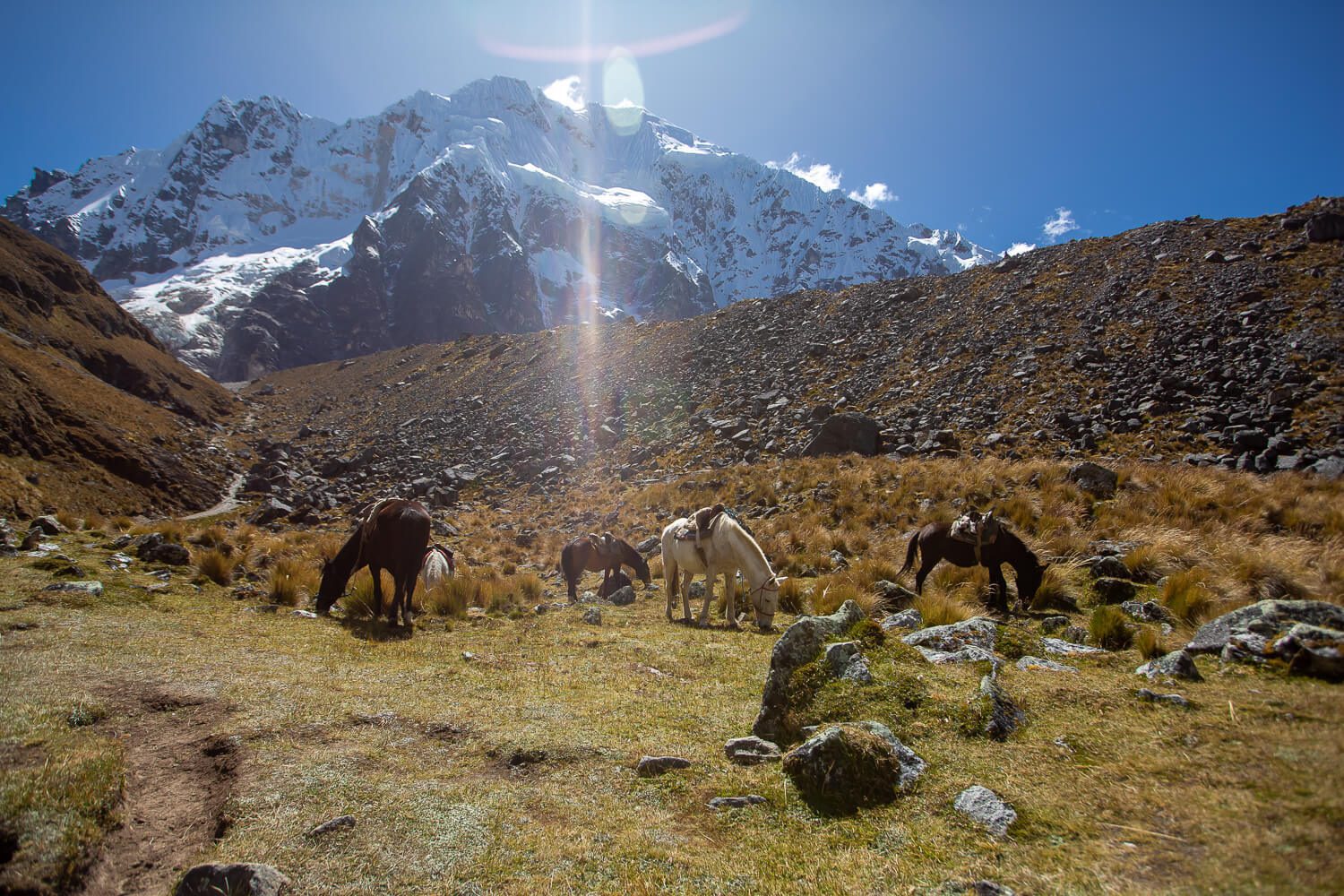 Say goodbye to WiFi and hello to 1997. So maybe you won't be able to post stories in real time but this isn't worse thing. We had wifi on our second night at the Salkantay Hostel and obviously in Aguas Calientes but that is all.
When I was researching how to hike the Salkantay Trek without guide or a tent, I don't think I grasped how physically, mentally and emotionally demanding this trek was gonna be.
I don't know, maybe my excitement trumped my common sense but I'm here to tell you, parts of the Salkantay Trek were hard and downright hellicous. At points all I could think of was "is there a rescue horse?"
I'm an avid hiker but hiking at elevation is not easy and my sea level living ass struggled. If you think the elevation and peaking at Salkantay Pass is the hardest, just wait for the descent down a rocky, trail for what feels like an eternity.
This is where hiking poles come in, I don't think I would of finished the hike without them. Which brings me to my next Salkantay Trek tip.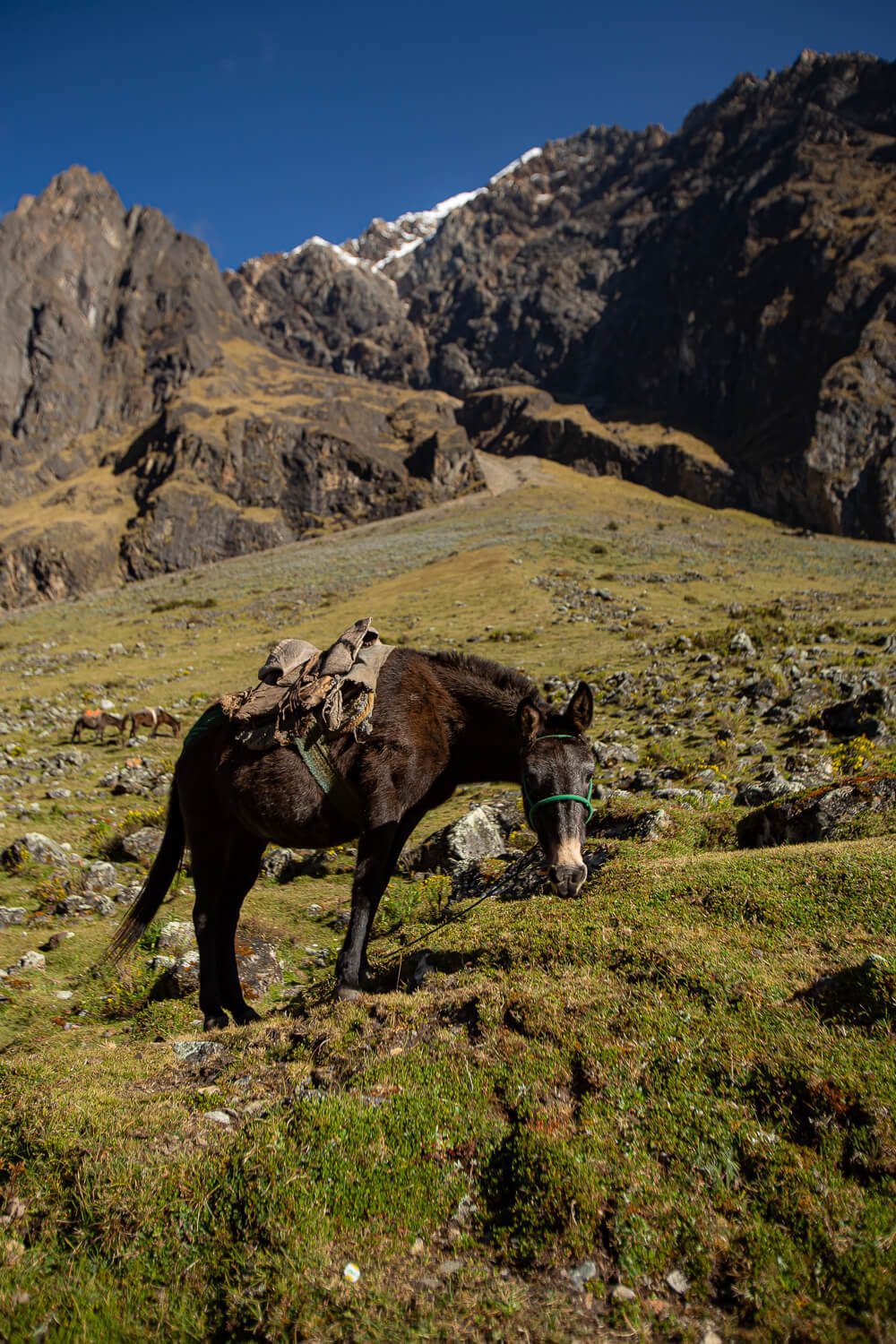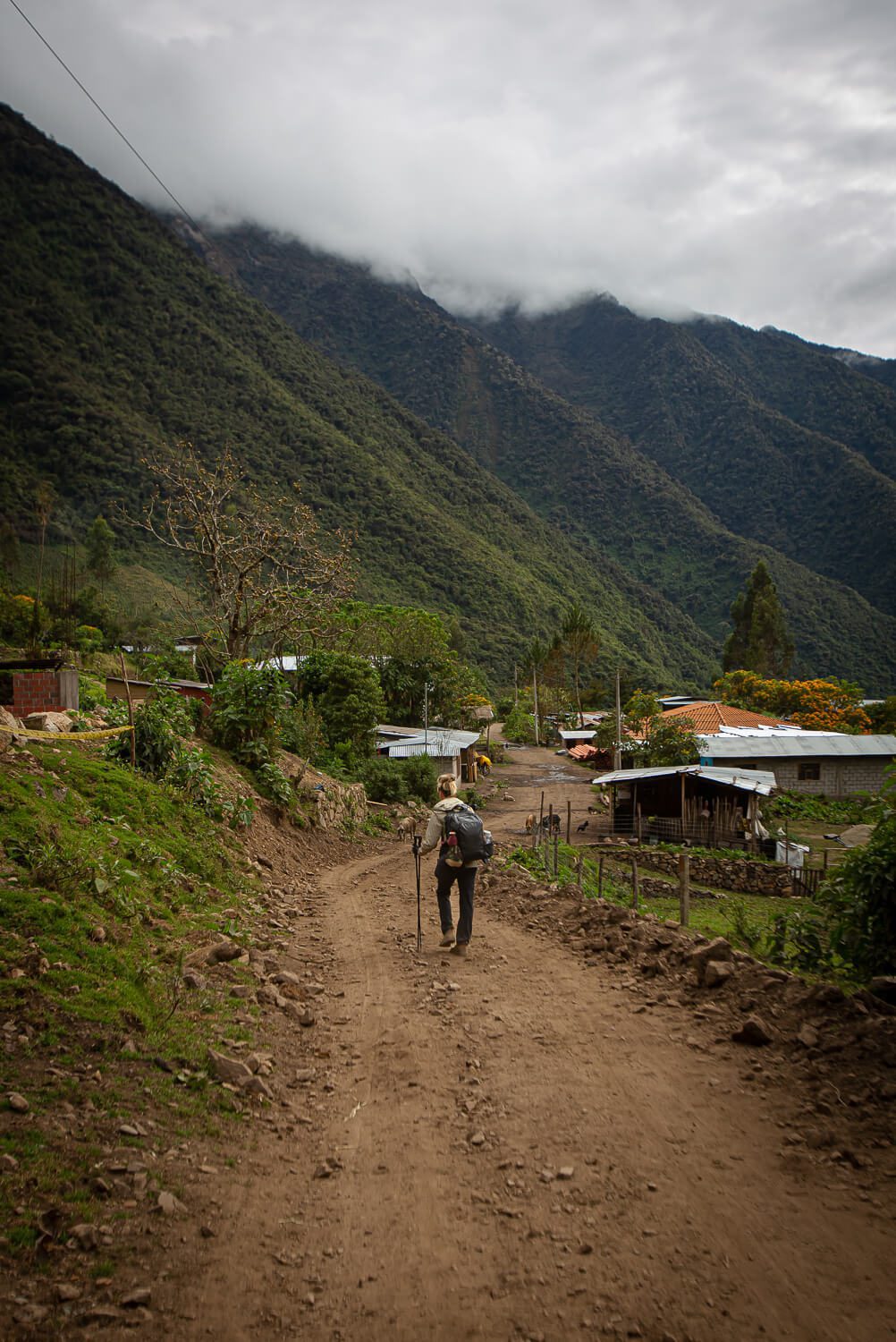 If there is one thing to know before trekking the salkantay trail, it's this, pack smart and pack light. I unfortunately learned this the hard way. Especially because when you trek the trail independently, you are your own donkey.
This is such an important and crucial step in preparing for the Salkantay Trek that I dedicated an entire post to it . Check out The Ultimate Salkantay Trek Packing List for exactly what to bring, what not to bring and why.
Here are a few key items you shouldn't hike without.
Bug spray
Passport – you'll need it to get into Machu Picchu
Parts will be tough, packs will be heavy, there will be times of uncertainty and exhaustion but it's so worth it! You will pass through and witness some of Perus most beautiful landscapes.
As they say, the views are worth the climb and that couldn't be more appropriate for this hike. So tighten up your laces, charge your go pro and set out on an adventure that you'll never forget.
Understandably, there are no ATM machines along the Salkantay Trail until you reach Aguas Calientes, so make sure you bring ample cash to pay for your accommodations, food and victory beers along the way. At least 1200 Soles to be safe per person should do the trick.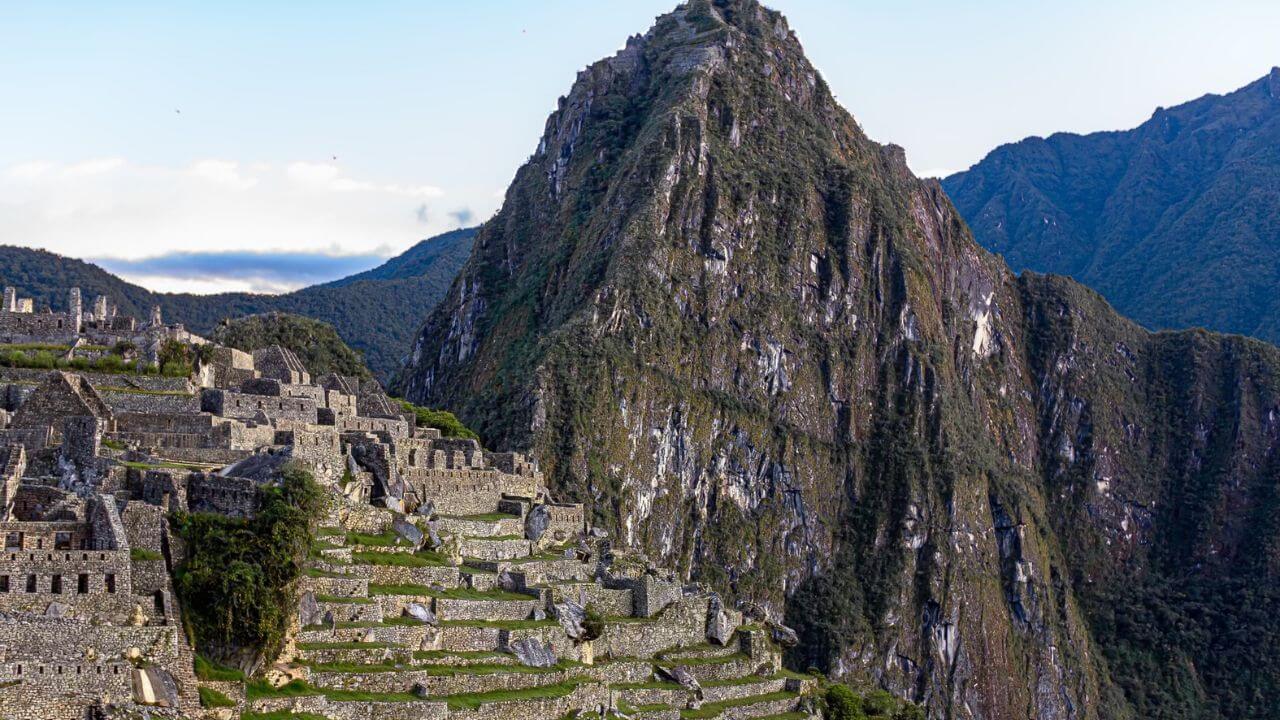 Buy Tickets to Machu Picchu in Advance
Tickets to Machu Picchu sell out quickly so securing these in advance is a must, especially if you are traveling here during peak season. I'm talking like 2,3 sometimes 6 months in advance. They only let 2,500 people visit Machu Picchu each day and 500 of those permits go towards trekkers of the Inca Trail (300 of which go to porters and guides).
If you plan on hiking up Huayna Picchu, these tickets need to be booked farther in advance then entry tickets to Machu Picchu. I highly suggest you get tickets to Huayna Picchu Mountain as the views are incredible and it's another epic hike in Peru.
You also need your physical passport to enter Machu Picchu and to purchase bus tickets to get to the top of the mountain, so make sure this is on your person when you visit the Inca citadel.
Arrange Transportation Back to Cusco in Advance too
Transportation back to Cusco should be booked in advance as well. Trains out of Aguas Calientes sell out much quicker than trains coming in. The last thing you want is to be stuck in town after a long, sweaty, exhausting trek wearing the same clothes you just hiked the Salkantay Trail in. But if you do, these are 10 fun things to do in Aguas Calientes.
There are some biting mosquitos at all stops along the Salkantay Trail, especially once you hit Lucmabamba. Wear long light clothing and use plenty of strong insect repellent with strong % of deet. These buggers left big bites, that were extremely itchy and lasted weeks!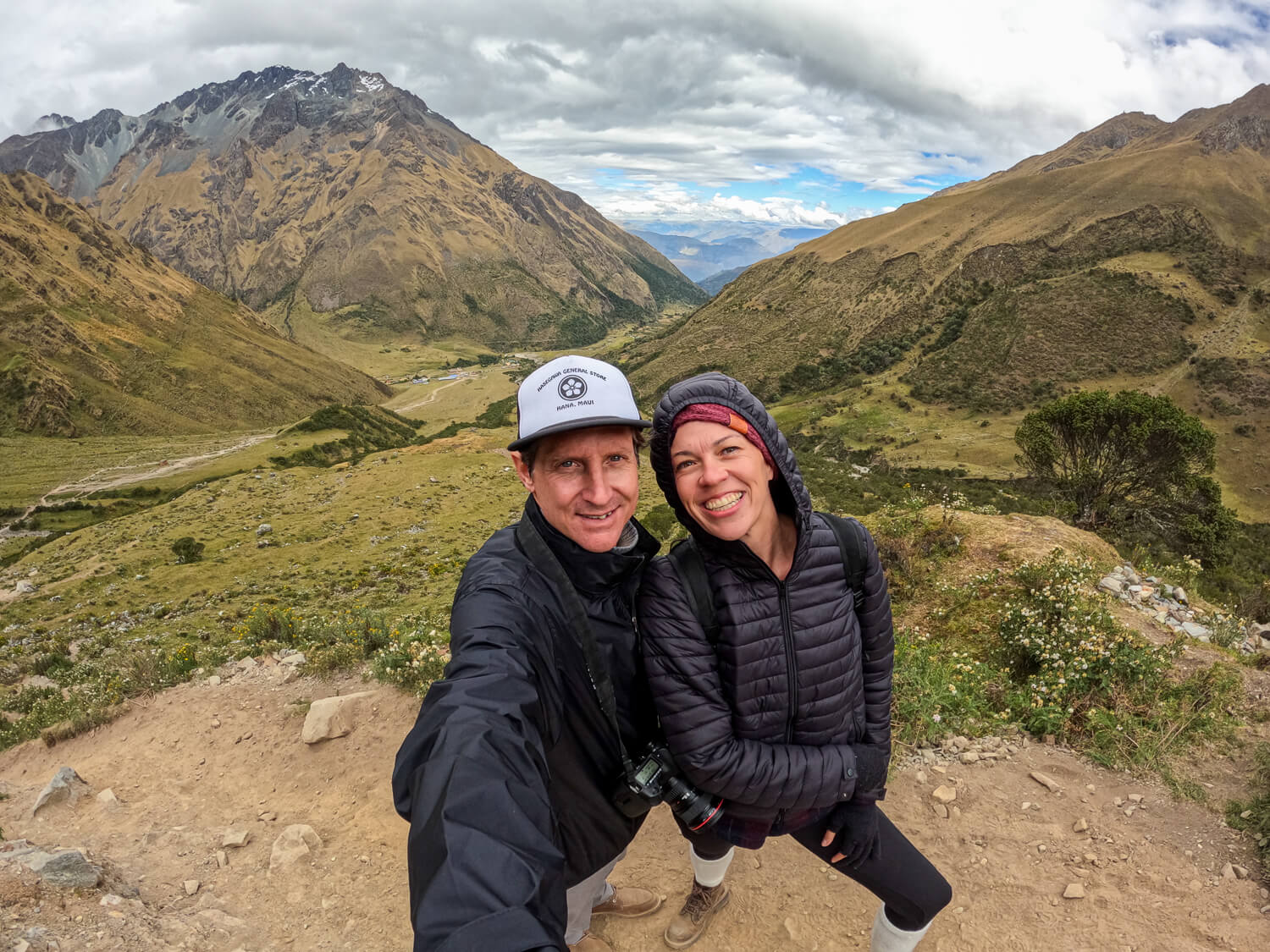 Just because it's cold in the high elevation of the mountains, doesn't mean that you won't get sunburnt. Since you'll be so high in elevation, the sun will hit harder and you'll burn quicker. Lather on the sunscreen before you trek and throughout the day, your skin will thank you.
Don't forget a hat and sunglasses too. I love the supergoop sunscreen for my face, its my go to – especially since when I'm at home on Maui. Check out this article for the best reef safe sunscreen products for your face.
Bonus Salkantay Trek tip. Bring your own toilet paper. This goes for all of Peru.
Peru Travel Guides
📍Plan your Trip:

🗺 How long to travel Peru?  2 Week Peru Itinerary

☔️ Best Time to Visit:  Shoulder months of dry season – March-May or October-September.

💰 Average Daily Budget: $40 - 50 a day for basic accommodations and sit down meals.

⛺️ Peru accommodation Guides

🪂 Highlights

Machu Picchu
Sacred Valley
Trekking Cordillera Blanca
Arequipa

🧳 What to Pack: Salkantay Trek Packing List

🎥 Watch our Peru Series on YouTube

📧 Get on my Email list to see what I'm up to and all the best travel content!
Lastly, if there's anything I missed that you think would be beneficial to future hikers, let me know in the comments below. I try to keep my guides as up-to-date as possible, so share your experiences and any useful information that could help out your fellow travelers.
If you are planning your trip to Peru, I spent 2 months traveling around this beautiful country so check out my Peru travel page for travel tips and guides.
If you have any questions about the Salkantay Trail, hit me up in the comments below ↓ Happy Trails!
Enjoy this Post?!?! Pin in for Later ↓