2 Days in Kampot and Kep Cambodia
I get asked a lot what my favorite country is and Cambodia is always in my top 3. I love the people, the history and the ancient ruins scattered deep in the jungles.
On my third visit to Cambodia I wanted to explore more of the small towns in Cambodia that were off the beaten path. Thats how I found myself in Kep and Kampot, Cambodia.
If you're jammed on time and only have a couple days to explore Kampot and/or Kep Cambodia, I wrote this guide to make the most out of your time.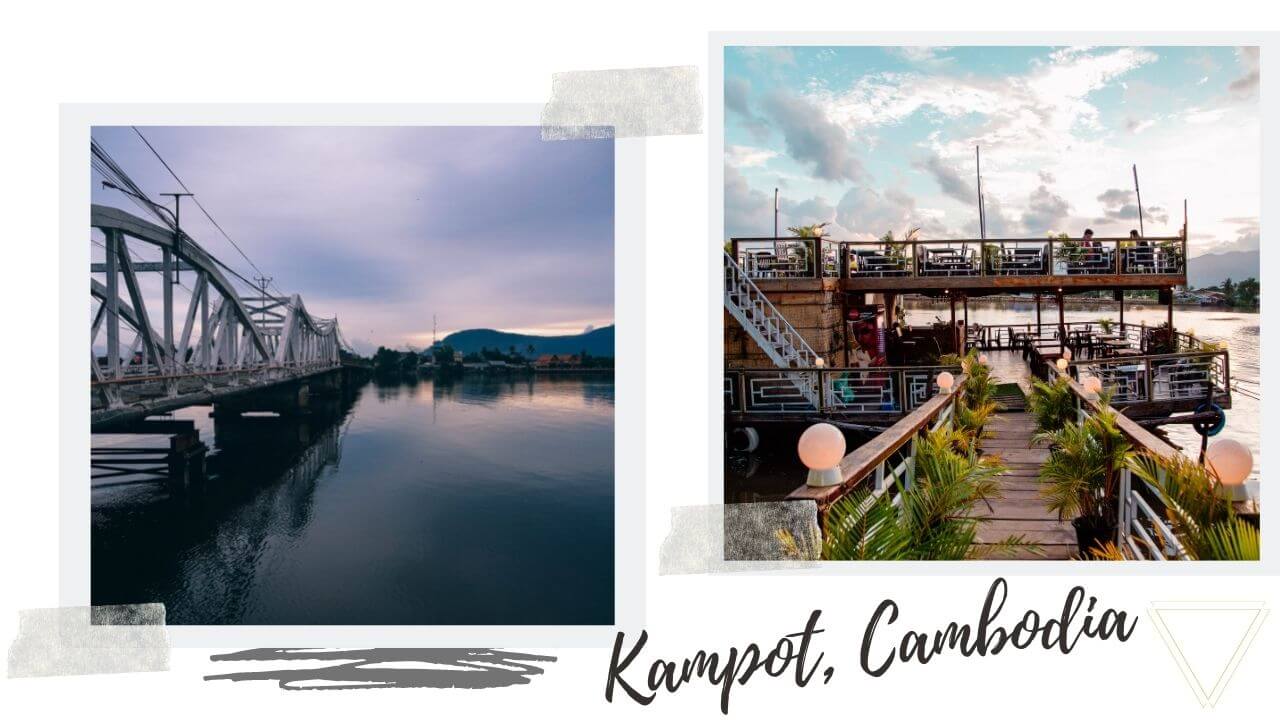 For full transparency, I have sprinkled some affiliate links in this post.  As an Amazon Associate I earn from qualifying purchases that gives me a small commission at no extra cost to you if you decided to make a purchase.  As always, I would never recommend a product or service that I didn't truely believe in.  All proceeds go to keep Jess traveling and coffee ☕️.  I thank you in advance.
Average Daily Budget in Cambodia
Budget – $15
Mid Range – $40-50
Average for a couple
Double bed w A/C and a pool
Occasional happy hour on the riverside
Luxury – $70 and Up
Staying in the swankiest hotels
Eating all the crab you want in Kep
Private tour guides
Private transportation
Located in Southern Cambodia, is the sleepy, coastal town of Kampot.
How to get to Kampot from Sihanoukville?
Kampot is 2 hours by bus from Sihanoukville.
How to get to Kampot from Phnom Penh?
It is 4-5 hours by bus from Phnom Penh to Kampot and cost $8 USD's.
Buses are direct and frequent.
How to get to Kep from Phnom Penh?
It's about a 3 hour bus ride from Phnom Penh to Kep and costs $7 USD.
How to get to Kampot from Siem Reap?
Buses from Siem Reap from Kampot take 5-7 hours.
How to get to Kep from Kampot?
From Kampot to Kep it is a 45 minute moped ride.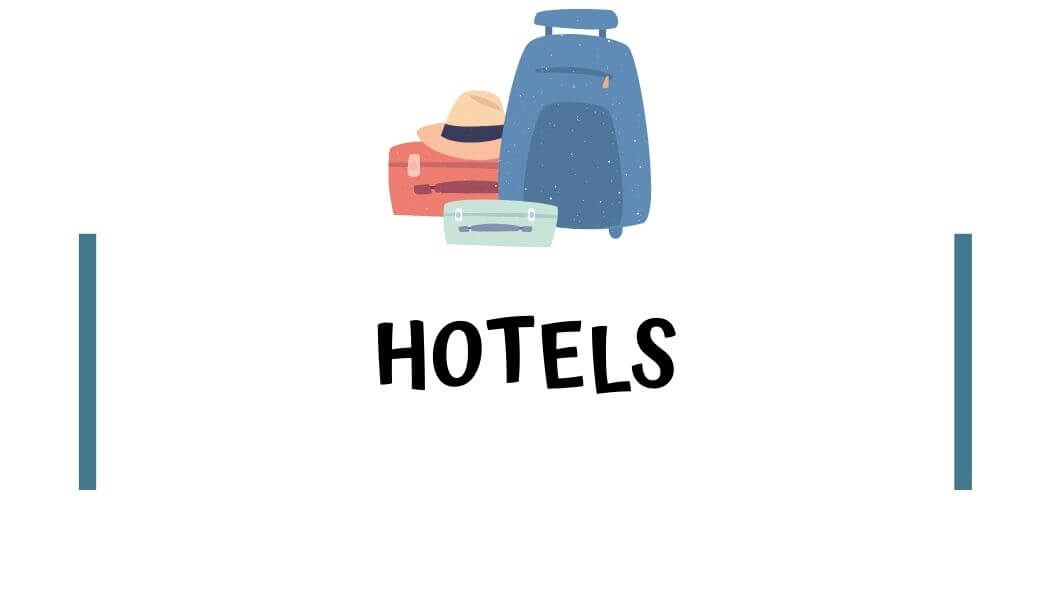 You can't pick a better hotel in Kampot than the B Resort. Located across the river and close to the main bridge that takes you over into town. This place is equipped with a swimming pool, restaurant, bar and room service!
The rooms are bright and spacious. And you'll love the balcony especially if you get one over looking the pool. You'll enjoy a quit night sleep in luxury.
I stayed at the Kool Kampot when I explored this part of the world. It was perfect walking distance to town and to enjoy sunset on the river. It was also very budget friendly.
The large pool is a perfect oasis after a day of exploring. The bar and restaurant on site are as cute as can be. Worth the splurge of places to stay in Kampot. Mopeds available for hire at the hotel.
If you're looking for a bungalow on the river then you'll love this stay. With a 10 minute tuk tuk or moped ride to the town of Kampot it has a perfect location.
The bungalows aren't very big but they offer a private bathroom and privacy for a small price of $11 a night so who can complain. Plus there is WIFI.
This place only has 4 rooms (bungalows) so forward planning is advised. Kayaks are also for rent here which always seals the deal.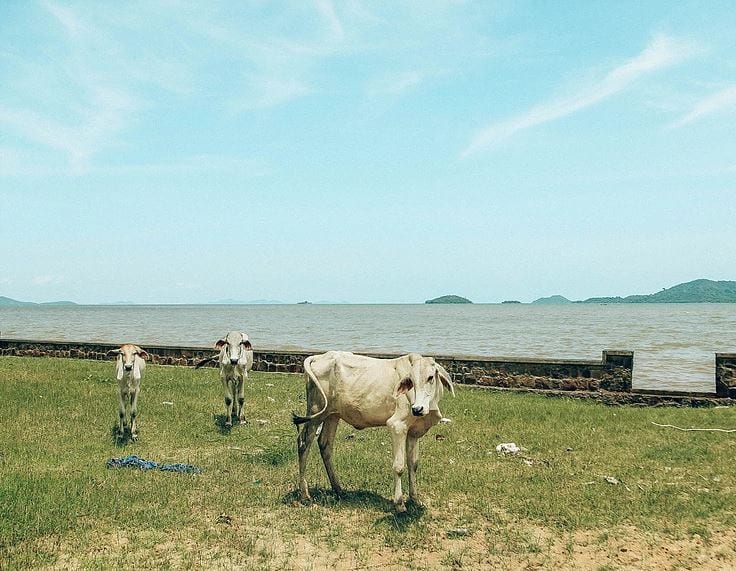 DAY 1: Explore Bokor National Park
Rent a moped or hire a tuk tuk for the day and explore Bokor National Park. I personally always like to rent a moped because it gives you more flexibility and freedom.
Bokor National Park is about an hours drive away on motorbike and the road up the mountain is paved and a lot smoother than the road to Kep. The park is filled with pleasant hiking trails, waterfalls, and if you're lucky you may be able to get a glimpse of some wildlife.
Next head up Bokor Mountain where you will get incredible, panoramic views all the way to the coastline. The summit of the mountain is home to the French Bokor hill station and you'll find many abandoned French colonial buildings.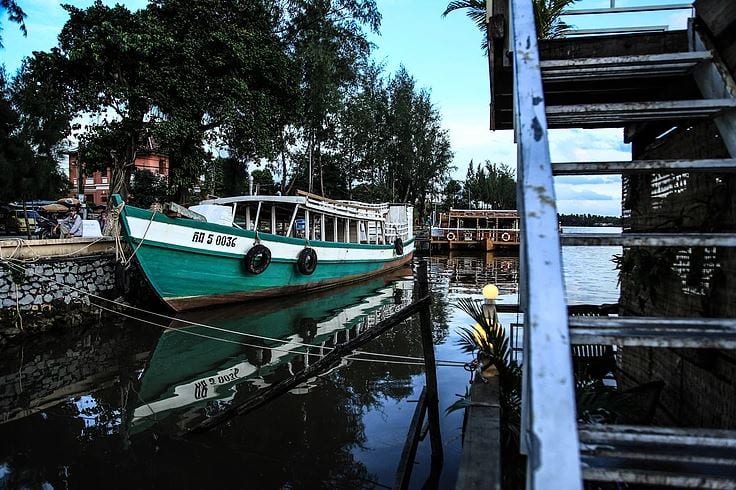 Kampot itself is a cute, charming, riverside town with French influence architecture, so be sure to make it back in time for sunset. Have drinks on one of the many riverside boats and watch the sun set over the Praek Tuek Chhu river.
We had drinks at the Rusty Keyhole, I had a nice big, glass of wine complete in a Bordeaux glass for only $3 USD!
Once you've watched the sun sink down over the river, walk into town and have dinner at one of the many restaurants scattered down the side streets. There are plenty to choose from depending on what you're craving from Italian to Mexican to classic Khmer cuisine.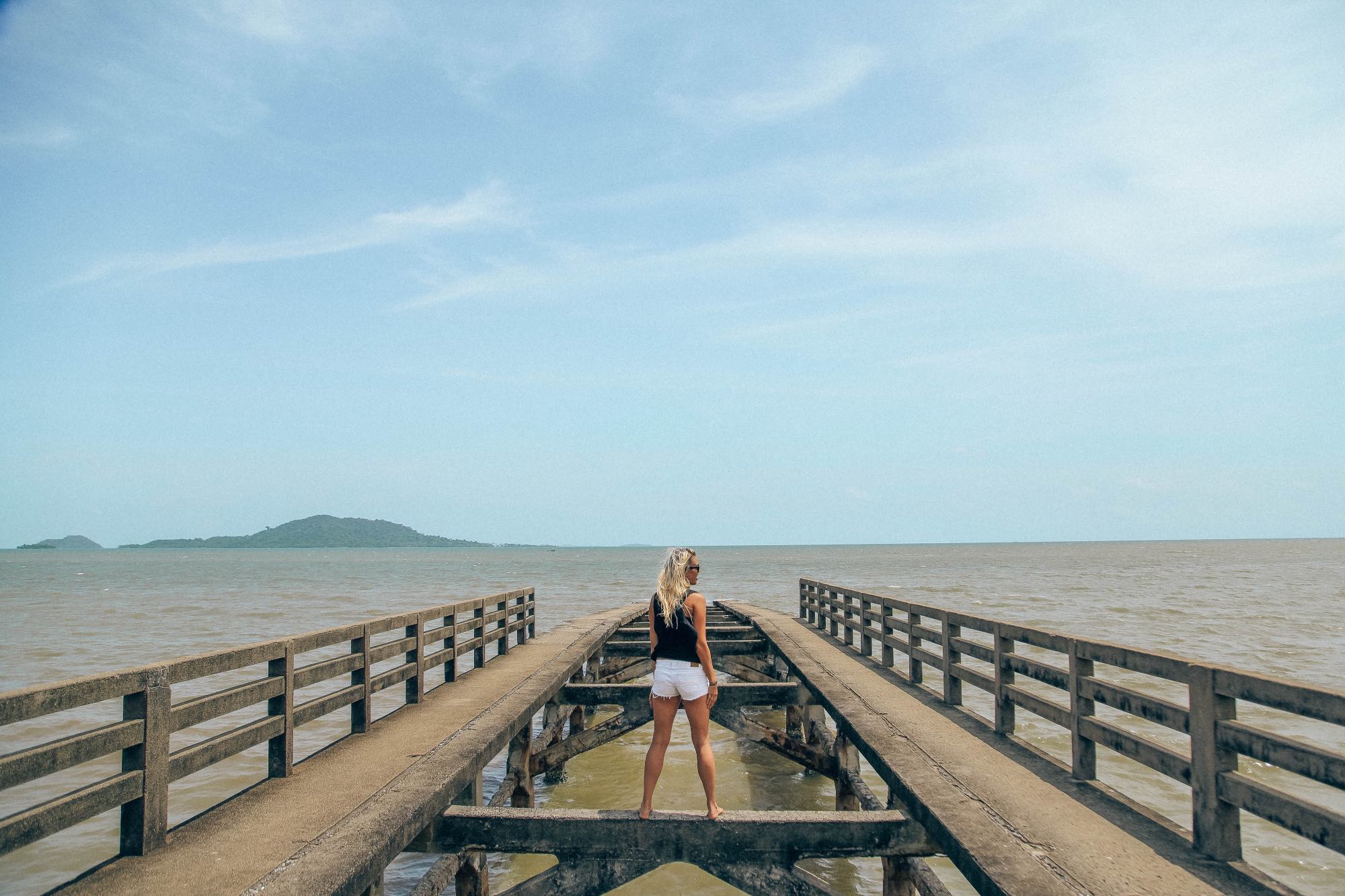 Today you're driving from Kampot to Kep. Kep is about 30-45 minutes from Kampot via motorbike. The road to Kep is the complete opposite of the drive to Bokor National Park. It is very dusty and filled with pot holes. The ride itself is a wild, adventure.
#JessATravelTip if you rent a moped make sure you bring a scarf to cover your face or wear a helmet with a face mask because it is very dusty and it will get in your eyes, ears, and mouth.
Kep is a small seaside fishing village and the main attraction of Kep is the fresh crab market. They don't just sell crab but an array of seafood like stingrays, prawns, squid, and fresh fish like snapper and tuna.
Wandering through Kep's crab market is a great way to spend the morning. You can have lunch at one of the wooden shack restaurants that line the beach or if you're on a tighter budget you can pick your seafood, they will make it to your liking and you can enjoy it right there in the crab market.
Check out Kep beach and journey down the coast and take in the beauty. We found this cool pier as we were zipping around. If you're feeling up for it, jump on the ferry and journey to Rabbit Island.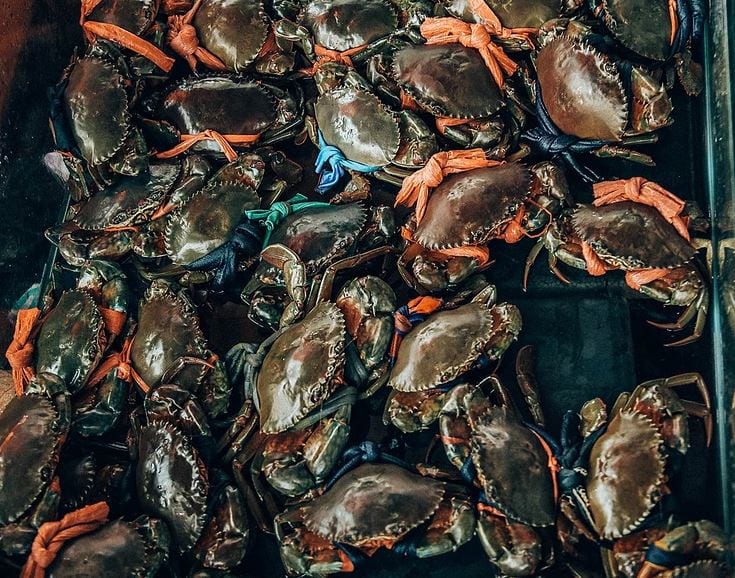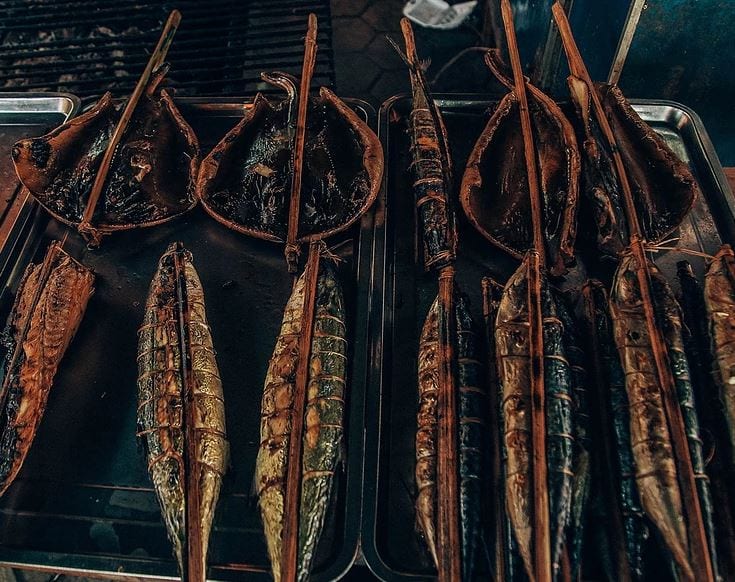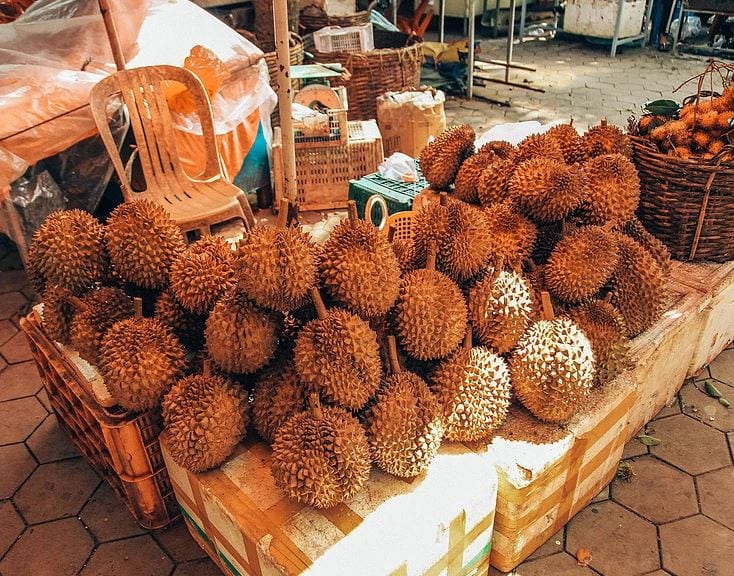 Other Things to do in Kampot
Kampot Pepper Farm – Kampot, Cambodia is famous for its peppercorns that come in red, black and white but grow green. Kampot pepper is really zesty and has been elected by chefs and foodies as one of the best peppers in the world.
Salt Fields of Kep and Kampot – You can watch the locals harvesting the salt fields where water is let in from the ocean to the fields. The fields are then blocked from the ocean, and the water is allowed to evaporate, leaving salt crystals. This process is repeated many times and is only harvesting from December to April.
USD is the currency used in Cambodia
ATMS are widely available in Kampot
You legally need an international drivers license to rent a moped but its not enforced
English is widely spoken
Bring a scarf or sarong to wrap around your nose, eyes, and mouth if you're on a moped as its dusty and you'll be doing yourself a favor!
More Cambodia Travel Guides Below ↓
Enjoy this Post?!?! Pin in for Later ↓