The Ohai Trail on Maui is known for its coastal views. This is one of Maui's best hikes due to its ease of difficulty and access. This is a great stop to stretch your legs and take in the the beauty as you drive the West Maui loop stopping at several places along the way. Get ready to experience a part of Maui that shouldn't be missed.
TRAVEL TIP:  If you would prefer to follow along to an audio tour as you explore the coast line of West Maui, I recommend the Shaka Guide!  The Shaka guide tours are great for independent explorers who want the freedom to explore on their own terms, but like to learn about the spots they're visiting.
The tours use GPS to offer turn-by-turn directions and audio narration with stories and music.  This will leave you with a deeper understanding and connection to Hawaii.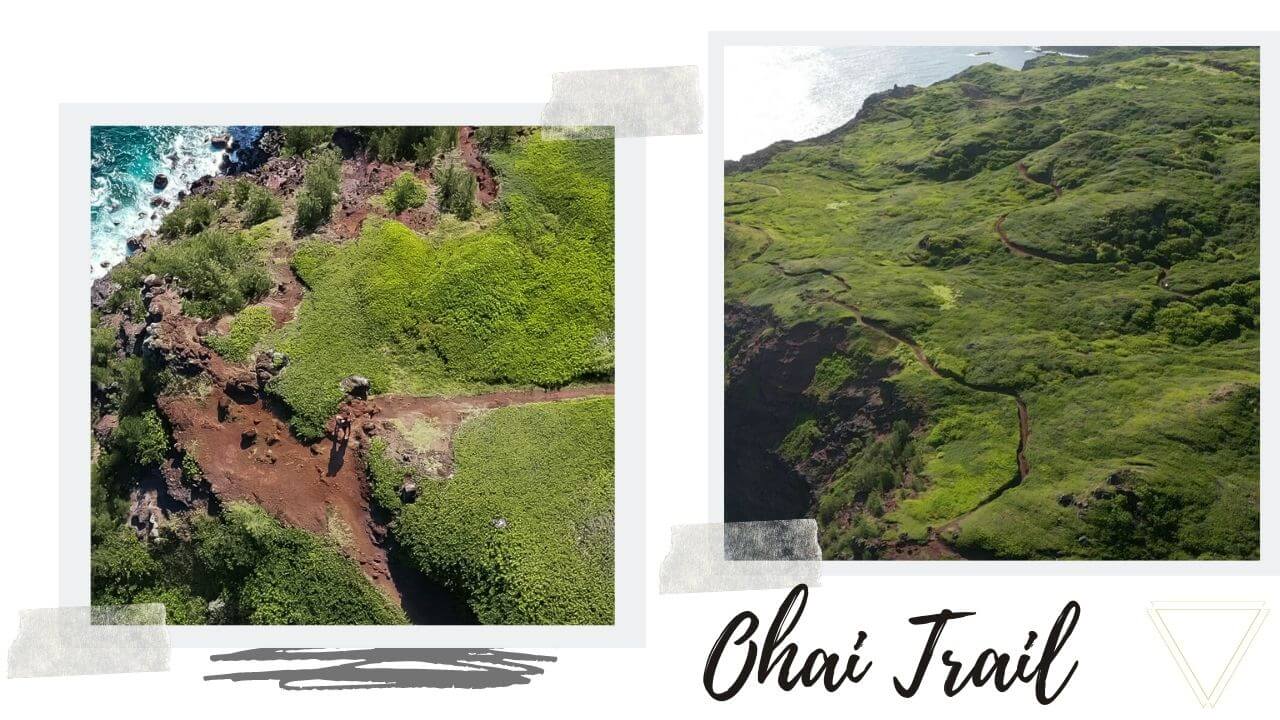 For full transparency, I have sprinkled some affiliate links in this post.  As an Amazon Associate I earn from qualifying purchases that gives me a small commission at no extra cost to you if you decided to make a purchase.  As always, I would never recommend a product or service that I didn't truely believe in.  All proceeds go to keep Jess traveling and coffee ☕️.  I thank you in advance.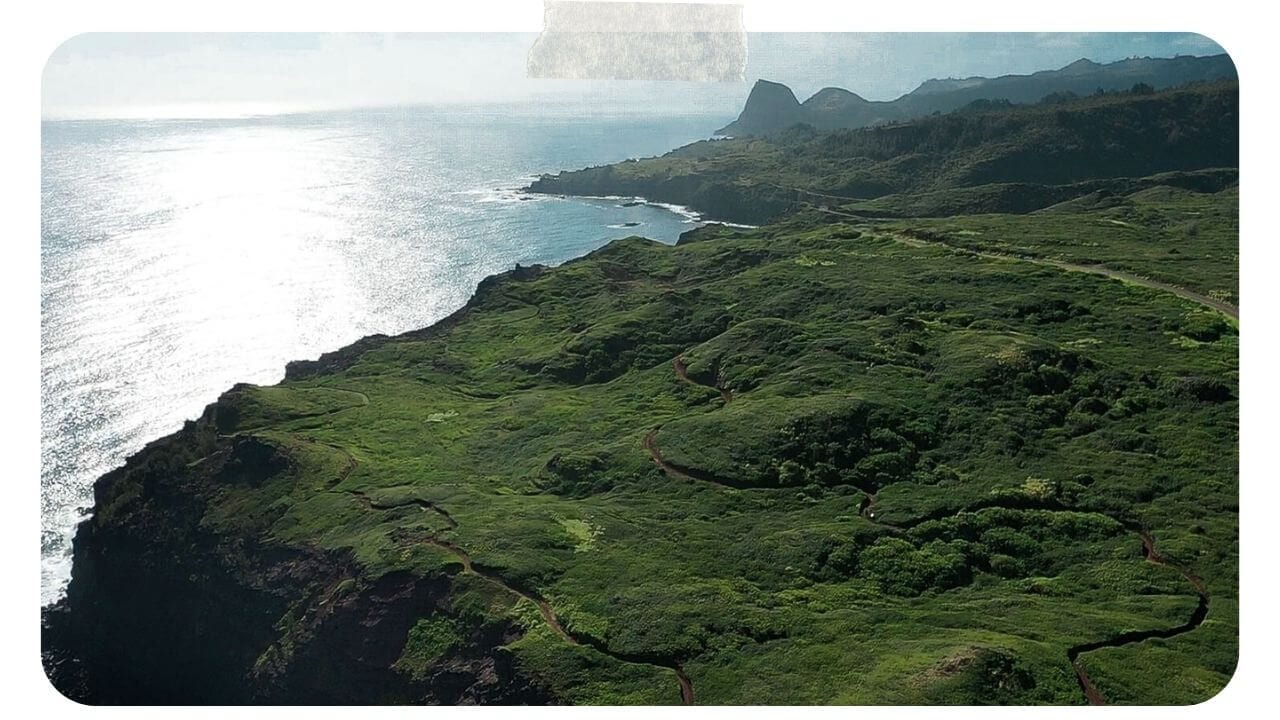 Hiking the Ohai Trail on Maui
The Ohai trail is short in distance, with the total loop being 1.2 miles long. It is named for the ʻOhai plant, one of the many species you'll find along the trail.
This is a perfect hike for the whole family and dogs that shouldn't take more than a hour. That time includes stopping, sight seeing, reading the informational signs posted and for traveling at a slower pace if you are traveling with children and grandparents. If you are a trail runner, this is an easy run that offers epic views.
Located on the back side of West Maui. The trailhead is located directly on the side of the road where you park your vehicle to start the hike.
There is never a bad time to hike the Ohai Trail. Since the Hawaiian Islands sits on the edge of the tropic zone the temperature is warm all year round. On average, Maui's temperature is around 80°-85°.
Located a few miles before the Olivine Pools (another short West Maui hike), the Ohai Trail can be found at mile marker 40.5 (on Highway 30). If you see mile marker 41, you've gone too far. This is roughly 45 minutes North of Ka'anapali, where most of the tourist resorts are.
You will see a small paved parking lot on the makai (ocean) side of the road. There is enough parking for a handful of cars but this trail never gets too crowded so parking shouldn't be an issue.
GPS also works if you just type Ohai Trail into google maps but sometimes service is spotty up here so it's nice to know exactly where you are going.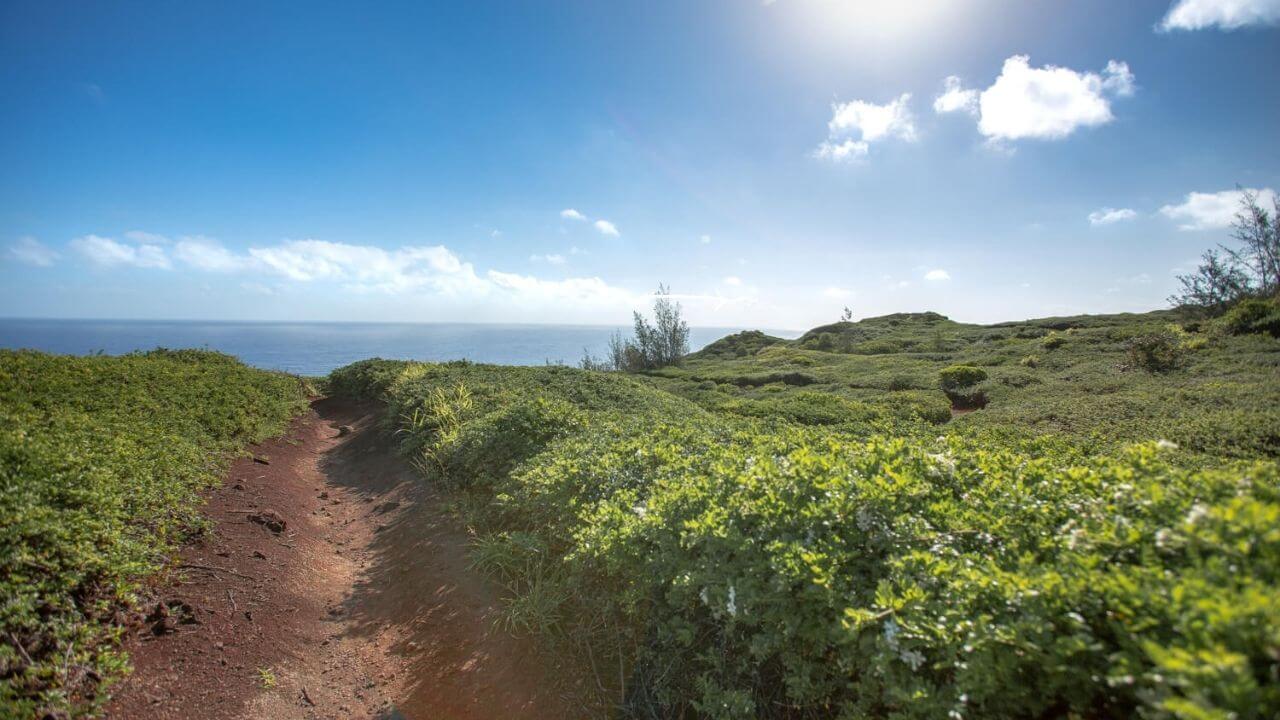 What to Expect on the Ohai Trail, Maui
A short walk up the paved path about 100 yards is an overlook lookout that showcases Maui's pristine shoreline. There is a map at the top telling you what each point or area is named in Hawaiian and why it is named that.
After the lookout, continue to the dirt path which is the Ohai Trail. Shortly on the trail you will encounter a 'fork' in the road and see two arrows pointing in each direction on where to go. It doesn't matter which way you go as it's a loop and you will end up back where you started. At the furthest point east, you will see views of the eroded cinder cone Kahakuloa Head (Pu'u Koa'e).
The trail is well maintained and has minimal elevation. There are informational signs about the native plants and animals so you will be able to learn along the way. This nature walk is lush and green.
About half way through there is a bench to sit at and watch the ocean. If you are traveling to Maui during whale season, this will give you a chance to rest and spot whales.
Follow the well marked trail for the 1.2 miles and you will complete the loop. A great way to stretch your legs after being in the car and what I like to call fitness travel.
Tips for Walking/Hiking the Ohai Trail
Can get super windy in the afternoon so prepare for winds.
Bring binoculars to spot whales.
Don't leave valuables in the car.
Be warned that break ins do occur in this area.
There are no bathrooms at the trailhead.
Other Things to do While Exploring West Maui
These are the best hikes on Maui not to be missed. Click on the blue links for a detailed post of each hike.
Kapalua Coastal Trail – Family friendly coastal trail in West Maui.
Waihe'e Ridge Trail – Intermediate hike up the Waihee ridge offering scenic coastal and valley views.
Pipiwai Trail – One of Maui's most iconic hikes that takes you through an enchanting bamboo forest and ends at a 400 foot waterfall.
Lahaina Pali Trail – A strenuous trail up to the windmills on the West Maui mountains.
Sliding Sands – Difficult hike that takes you to the crater floor at the summit of Haleakala.
Hoapili Trail – Scenic trail along the coast and across barren lava fields in South Maui.
Mahana Ridge – Highlights include fresh fruit trees, a vivacious forest and occasional coastal views of Mokupe'a and Honokahua Gulches.
Kapalua Coastal Trail – Coastal path along West Maui offering coastal views, world class beaches and dramatic sea cliffs.
Halemau'u Trail – A popular 11 mile hike down switchbacks to the Sliding Sands trailhead.
Waianapanapa Coastal Trail – Rugged coastal trail composed of jagged lava rock that goes all the way to Hana town.
Supply Trail – Located inside Haleakala NP. Starts at Hosmer's Grove and i

ntersect the Halemau'u

Trail.
Have you hiked the Ohai Trail? Let me know about your experience in the comments below.
Headed to Maui? Inspiration below ↓
Enjoy this Post?!?! Pin in for Later ↓