Hiking is my favorite way to explore National Parks or any type of park for that matter. There are plenty of Arches National Park hikes that will leave you speechless and in awe.
You could easily spend a long weekend camping, hiking, biking, and exploring this scenic area. But if you only have one day to explore Arches, I got you covered.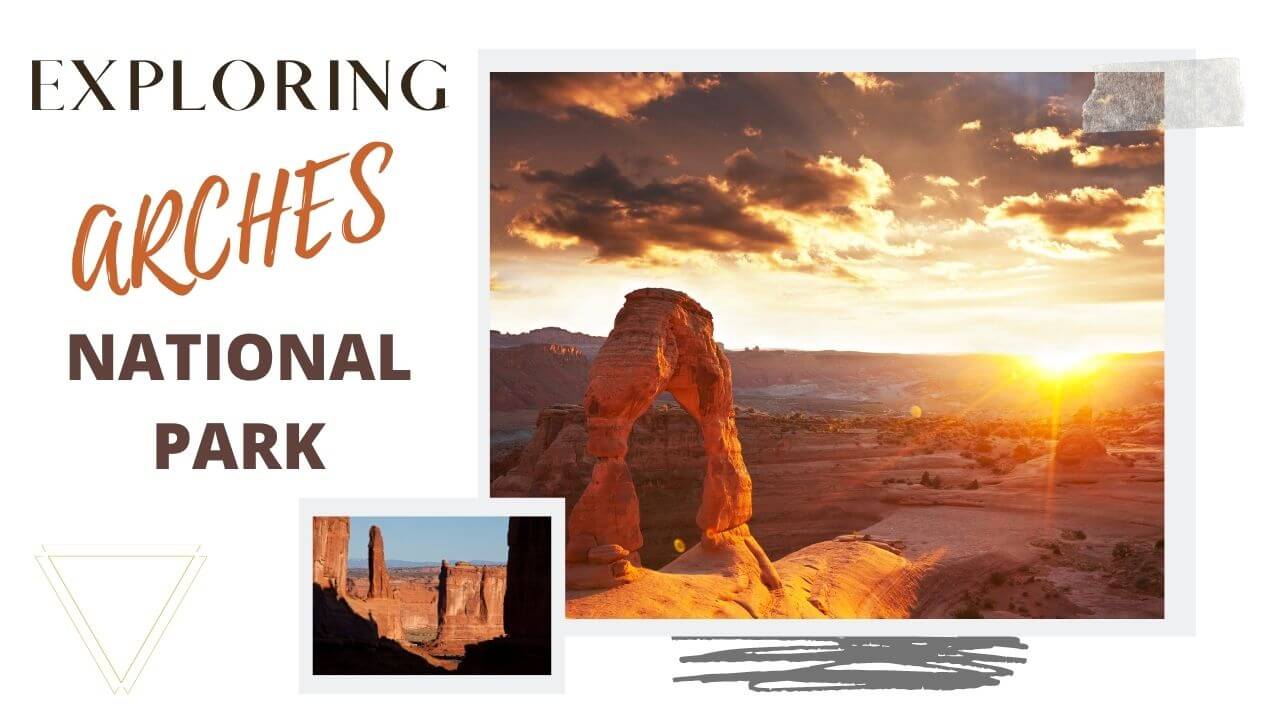 For full transparency, I have sprinkled some affiliate links in this post.  As an Amazon Associate I earn from qualifying purchases that gives me a small commission at no extra cost to you if you decided to make a purchase.  As always, I would never recommend a product or service that I didn't truely believe in.  All proceeds go to keep Jess traveling and coffee ☕️.  I thank you in advance.
How to Get to Arches National Park
Arches National Park is one of the "Mighty five" in Utah. The other parks include Zion, Bryce Canyon, Capitol Reef and Canyonlands. Arches is located in western Utah close to the border of Colorado, 10 miles north of Utah's largest town Moab.
Arches NP is 5 hours away from Zion National Park and 4 hours west of Vail, Colorado (my old stomping grounds!)
The easiest way to get into Arches from where you are is to fly into Salt Lake City and then rent a car. It takes 4 hours to drive south to the park.
Know Before you go to Arches National Park
The elevation of Arches National Park is 4,000-5,600 feet.
The National Park is open all year round.

Peak times are March through October.
Check out this post on visiting Arches N.P. in the winter if you are traveling in off season.
Cost of entrance to the park is $30 per vehicle.

There are no dining facilities in the park, just picnic tables
Read about 10 Essentials I Never Hike Without
the best hikes in arches national park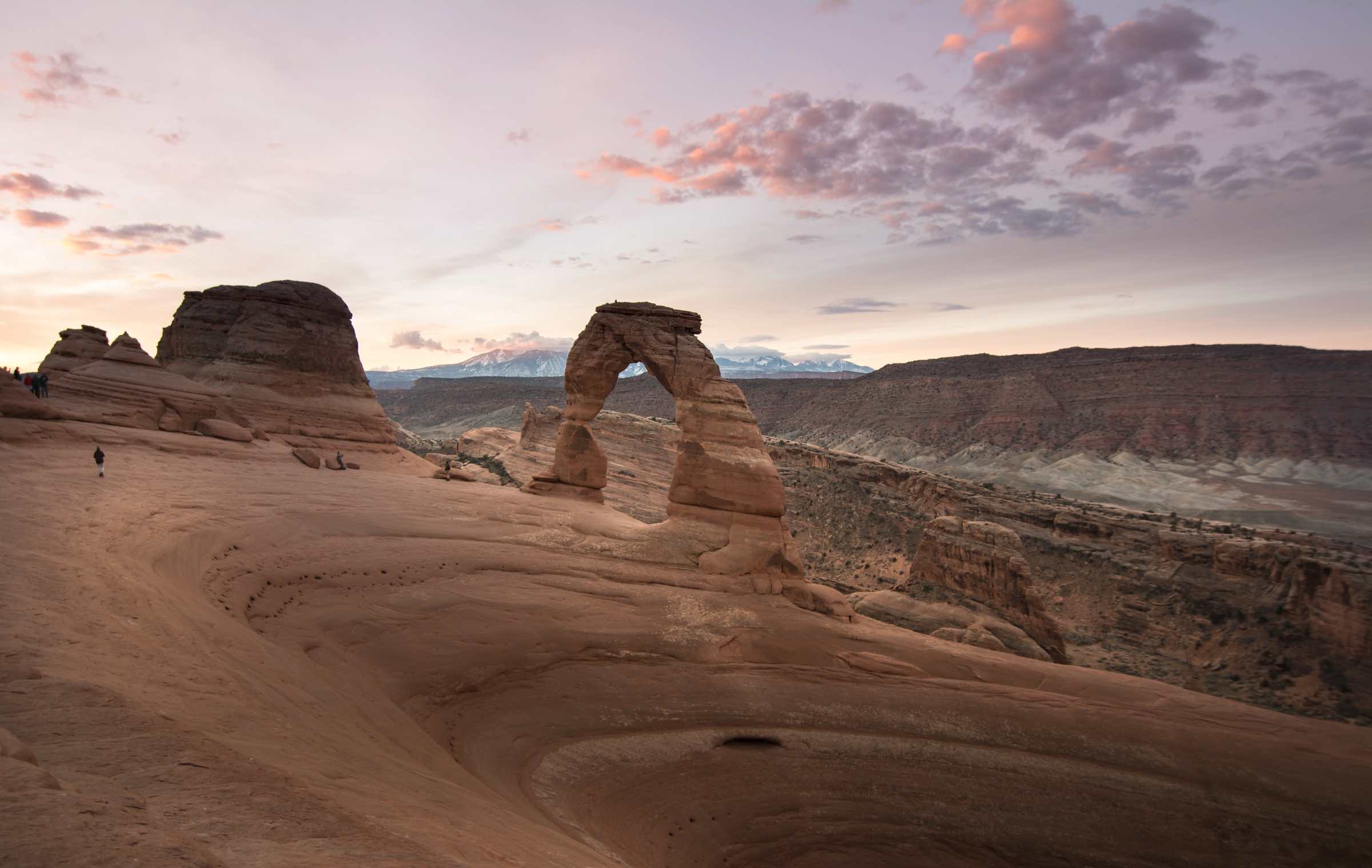 Rise early to beat the crowds and the heat. Start your day by hiking the Delicate Arch Trail. This popular Arches hike is 3 mile round trip hike and worth every step. It's also family friendly and possible to hike the Delicate Arch with kids.
The Delicate Arch hike difficulty is moderate to strenuous.
Once you arrive, you'll understand why it gets so crowded, its beautiful and sits atop a graceful, slanting red rock.
Delicate Arch is a staggering 45 feet high and 33 feet wide and you'll be able to carefully walk on the slick red rock to stand underneath it in the center which creates some epic photos!
The hike up to delicate arch is an adventure in itself as you carve up and around the mountain. The views are mesmerizing as distant canyons and the La Sal Mountains create the perfect backdrop.
The Delicate Arch hike time should take about 2 hours round trip and one of the best hikes in Arches.
Once you're back at your car, continue driving through the park towards the Devils Garden Arches aka the Devil's Garden Trail, which is at the end of the park. Stop at Sand Dune Arch, Broken Arch, and Skyline Arch along the way.
Sand Dune Arch and Broken Arch can be seen from where you park your car. This is an easy Arches hike on a sandy trail to see them up close.
You'll reach Sand Dune Arch first, keep on the trail then you'll reach Broken Arch. The Devils Garden loop will is 1 mile round trip and takes about 45 minutes.
Skyline Arch is 1 mile up the road from the Sand Dune and Broken Arch Trailhead and you won't have to walk far from your car to be able to see Skyline Arch.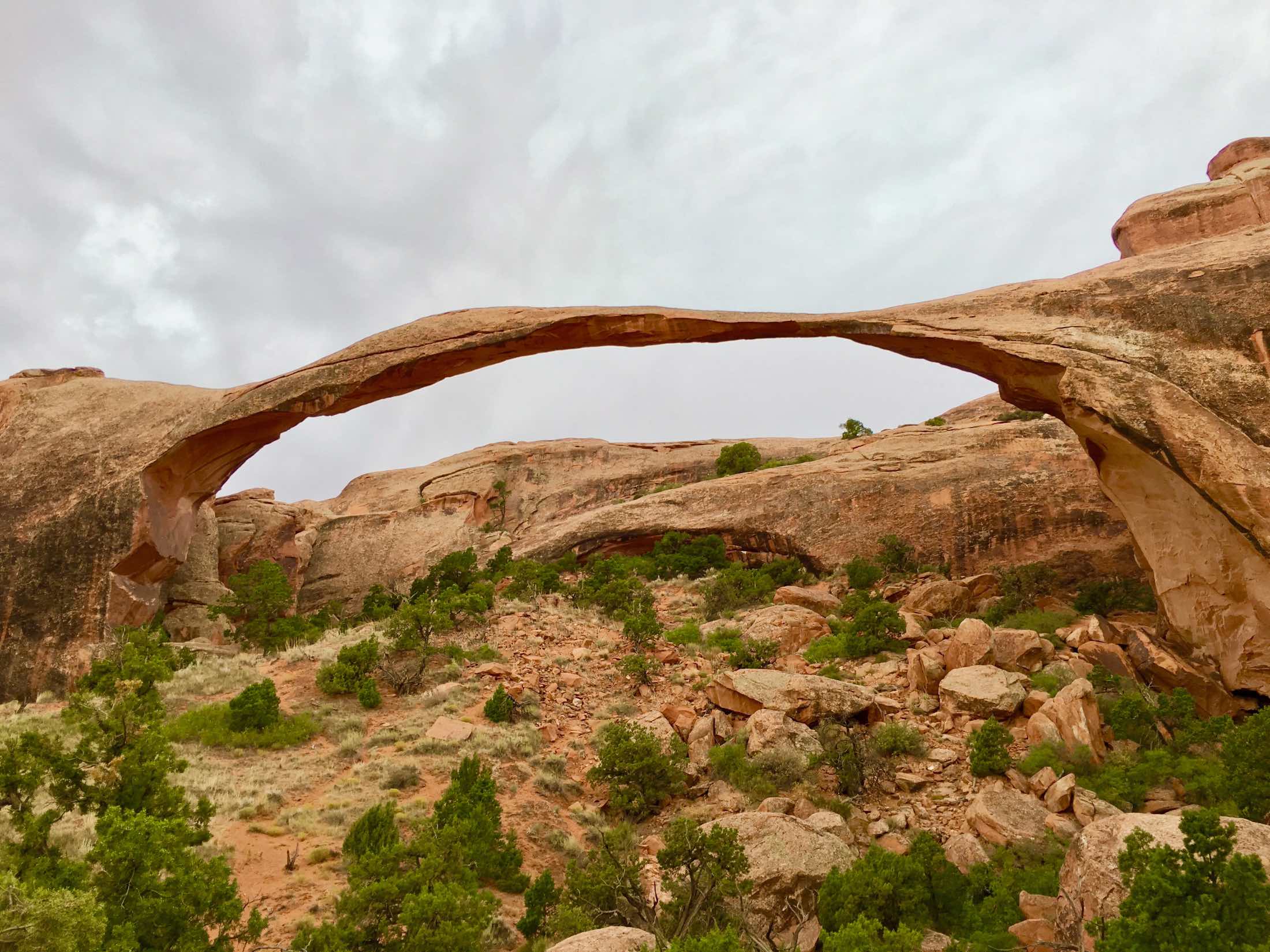 You'll be hungry by the time you reach Devils Garden which is the perfect place to eat. The Devils Garden campground has a picnic area so don't forget to pack your lunch!
After lunch start at the Devils Garden Trailhead and hike to Landscape Arch. This arch has a span of 360 feet, which is roughly the size of a football field.
It is one of the longest unsupported rock spans in the world. This hike is another easy hiking trail in Arches, 2 miles round trip and should take about an hour.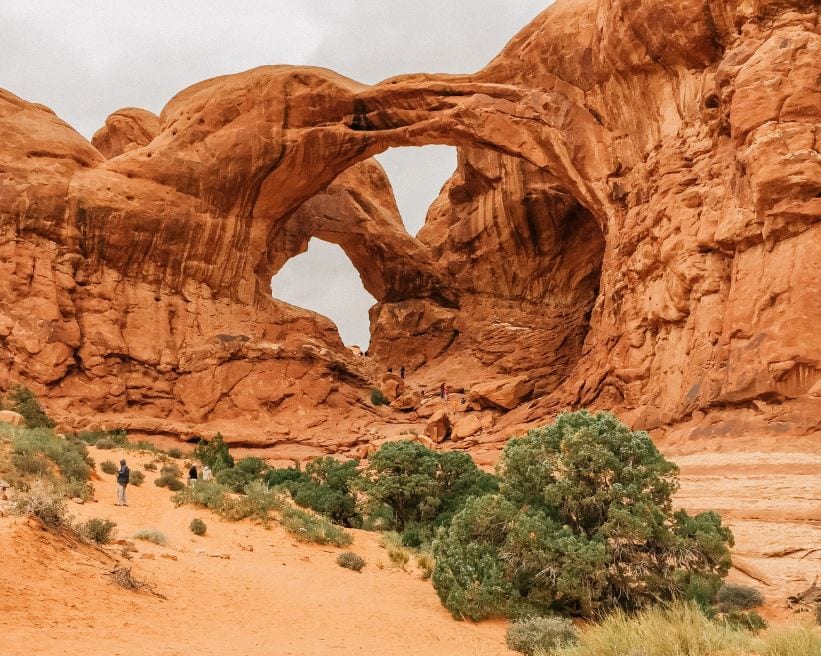 Now head back towards the park entrance, retracing your steps. This time you'll stop at Panorama Point (after the Delicate Arch) to soak in the views and continue to the Windows Section of Arches.
The Windows Section is a group of giant arches that can only be seen if you walk the 1 mile sandy trail loop. There is a second trail that is a half mile long and this leads to Double Arch, another iconic Arch.
These Arches trails are easy and suitable for any fitness level.
Garden of Eden Viewpoint is on the way back to the main road and worth a stop and offers a great panorama of the Salt Valley to the north. You can also see a small Delicate Arch from across the valley perched atop the red rock.
Lastly, you'll stop at Balanced Rock before exiting the park. Once you see this boulder resting high atop a tall thin slab of red rock you'll be like 'Yup, that's a balanced rock.'
There is also a picnic area here located across the road.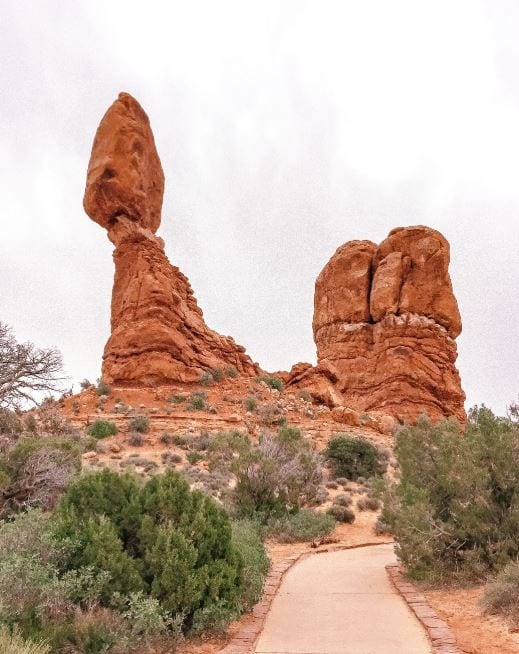 easy hikes in arches national park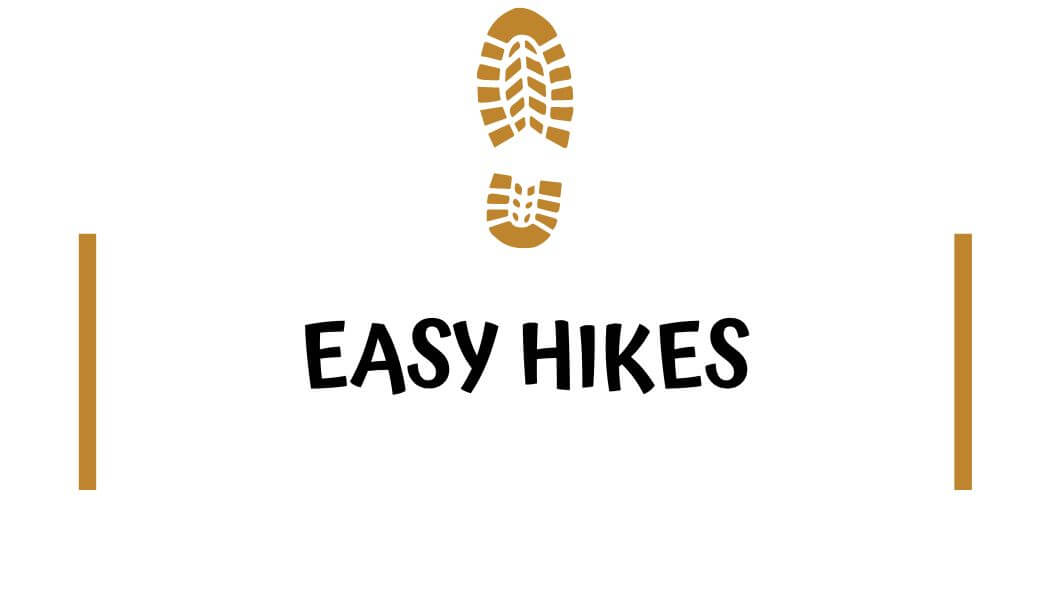 This easy/moderate trail gives you great vistas of the unique rock formations that encompass the park. There are 2 different trailheads depending on which end you start at, Park Avenue Trailhead or Park Avenue North Trailhead.
The hike follows the highway and is 1 mile one way. It takes about 1 hour round trip.
Moderate Arches HIking Trails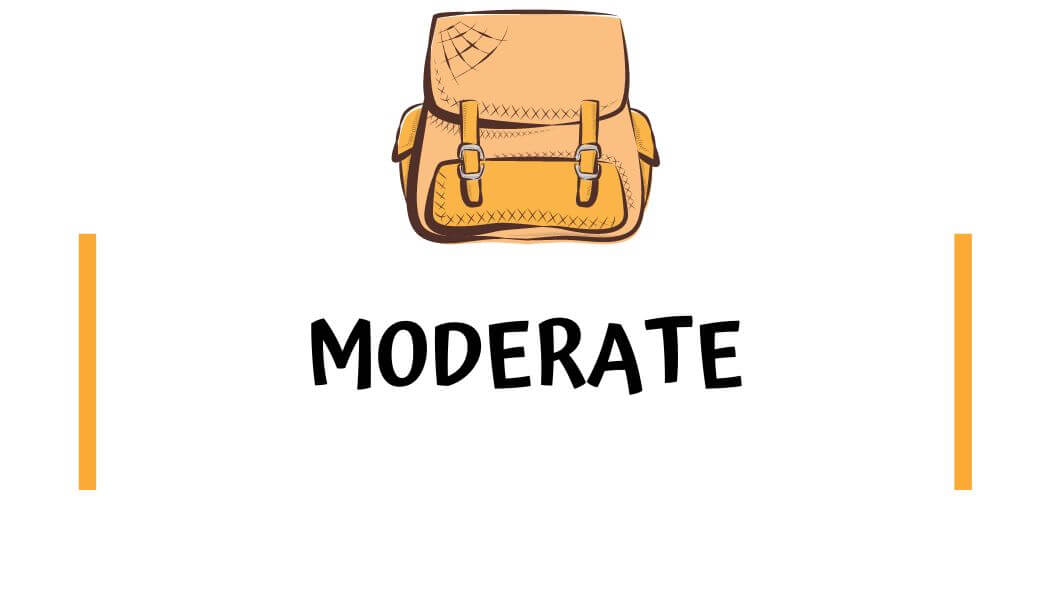 This 2 mile round trip hike doesn't follow a trail as hikers navigate through narrow canyons and over sand stone cracks and crevices. There will be times where you'll have to scramble up rocks on your hands and knees.
It's easy for any level of hiker to get disoriented here. This is why the Fiery Furnace hike is only open to hikers with permits or on a ranger led hike.
These ranger led hikes are popular and require advanced booking. You can do so here or in person at the visitors center.
The trailhead starts at Klondike Bluffs Parking Area and is a less visited part of the National park. This is a 3.4 mile moderate to strenuous hike round trip. It takes you to Tower Arch which is a tower and an arch all in one.
Be sure to check for rain before venturing to this trailhead as its only accessible by a dirt road and takes you through wash basins. The trailhead is located at the end of the park by the Devils Garden loop trail.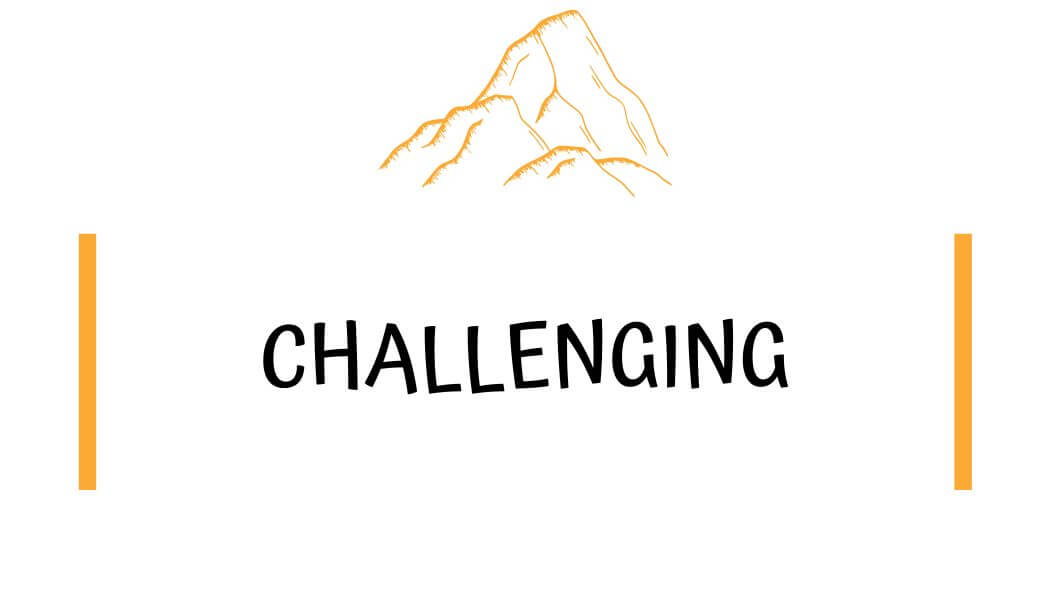 If completed this trail is 7.2 miles round trip. The trail takes you by 8 famed arches, Tunnel Arch, Pine Tree Arch, Landscape Arch, Wall Arch, Partition Arch, Navajo Arch, Double O Arch, and Dark Angel.
The trailhead is a popular area of the park as there are several shorter versions of the hike fit for all hiking abilities. As most trails similiar this, the farther you venture the less crowded it will be.
Alright you did it! You had an awesome day of Arches National Park hikes, exploring iconic arches, taking pictures and chewing up the scenery. Now head to Moab to rest your tired feet or have a well deserved victory beer at the Moab Brewery.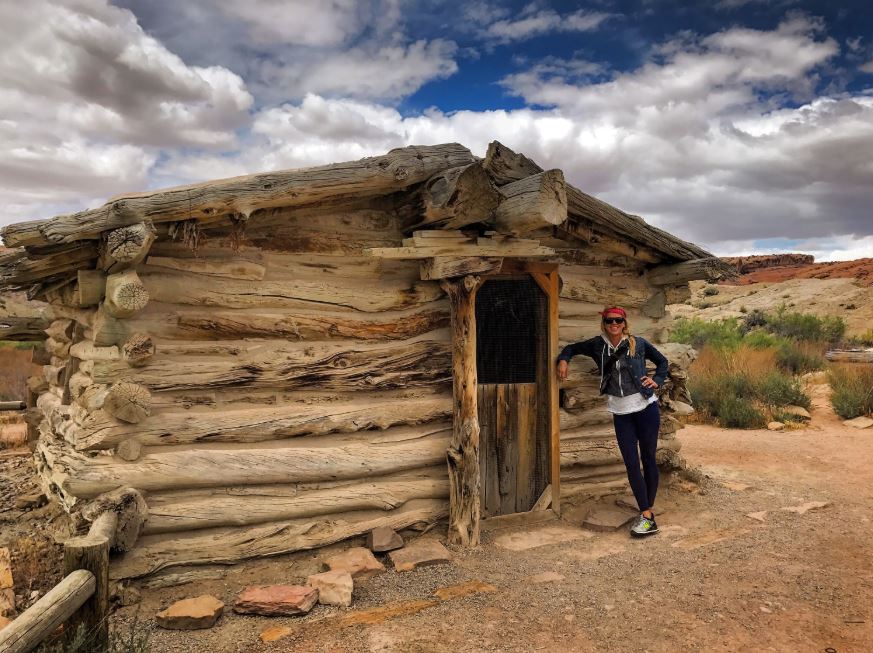 places to stay near arches national park
Moab is filled with hotels, hostels, campgrounds and Airbnbs so finding a place to stay in Moab that suits your preferences and budget won't be a problem.
The Gonzo Inn is located 5 miles from the entrance to Arches National Park. This colorful southwest-style hotel features a courtyard with a pool and whirlpool, free Wi-Fi and a daily breakfast is provided. Prices start at $210 a night.
This hotel is well-equipped. The spacious rooms come with a huge TV, 2 Queen beds and a nice kitchenette. There is a heated pool and free coffee in the lobby. This is a great mid range accommodation. Prices start at $140 a night.
The Sunflower Hill Inn an adorable Moab bed and breakfast totalling 12 rooms. Each room comes with its own patio or balcony.
The grounds are peaceful and full of flowers. There are several great amenities including a BBQ area, spa, pool and hot tub on site. Plus who doesn't enjoy breakfast every morning?!?!
The best part may be the fresh baked cookies in the lounge area that are always welcomed after a long day of hiking through Arches.
Best Western Plus Canyonlands Inn
The Best Western Plus Canyonlands Inn has the best location in Moab. Newly renovated, the hotel has several upscale amenities available including a year-round hot tub and 24-hour gym. The pool area is huge in size and the breakfast is better than average.
Camping Options Near Arches National Park
Arches National Park Travel Tips
Remember you are in the desert so have plenty of water on you at all times.
Sunscreen and a hat are needed especially in the summer as the sun is relentless.
Wear good walking shoes with rubber soles to avoid slipping on the slick rock.
It's easier to go up slick rock slope than it is to come down.
Enjoy this Post?!?! Pin in for Later ↓