If you are traveling Peru and are looking for an authentic experience their way of life and to connect with locals, then look no further than a Lake Titicaca Homestay. After spending a few days in Lima, exploring the desert oasis of Huacachina, independently trekking Salkantay to Machu Picchu and spending some downtime in Cusco, we were craving an authentic experience and deeper connection with locals of Peru.
We hopped on a bus and headed South to Puno to explore the highest navigable lake in the world – Lake Titicaca. Lake Titicaca is a massive, freshwater lake in the Andes that sits on the border of Bolivia and Peru.
The puma in Incan Andean belief is a symbol of strength, wisdom and intelligence. Titicaca – Titi means stone or grey and Caca means puma. Therefore the grey puma or Titicaca is characterized by its strength and agility.
Known as the birthplace of the sun, Lake Titicaca is a special place in Andean belief. In this part of the country, crops are harvested by hand and a simpler way of life is still embraced.
For full transparency, I have sprinkled some affiliate links in this post.  As an Amazon Associate I earn from qualifying purchases that gives me a small commission at no extra cost to you if you decided to make a purchase.  As always, I would never recommend a product or service that I didn't truely believe in.  All proceeds go to keep Jess traveling and coffee ☕️.  I thank you in advance.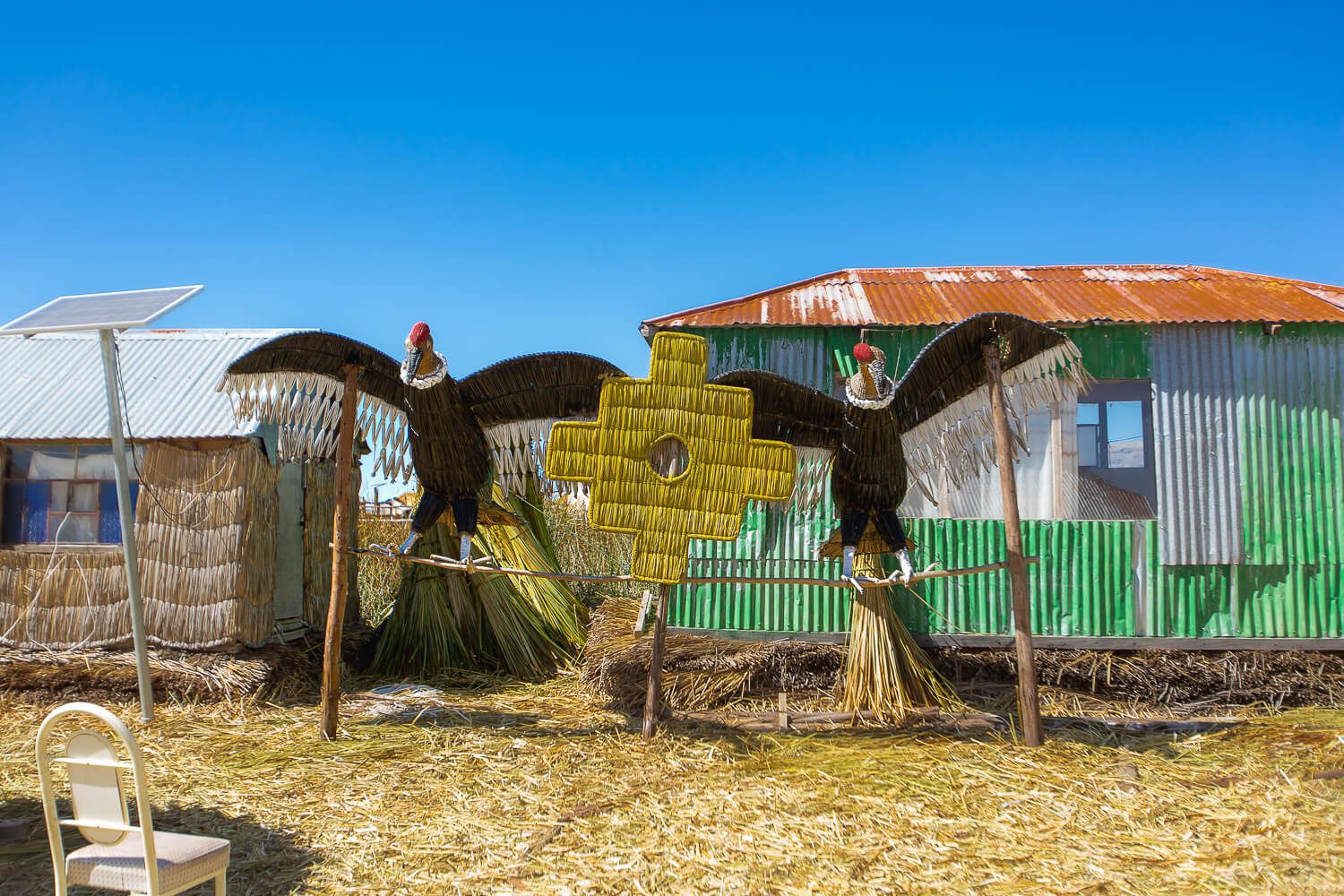 Choosing a Lake Titicaca Homestay
When it comes to choosing a homestay on Lake Titicaca you'll want to choose a tour company that is ethical and honestly supports the local community. We booked a tour with the travel company ALL WAYS TRAVEL. This is an ethical tour agency and you physically pay some proceeds directly to your host family. This way you know that the money is going directly to the community.
Each island is made up of a small number of families which use a rotating system when they allocate you to your accommodations. Since the people of these islands rely on the income from the homestay tours, please respect this process.
Another option is this 2 Night Lake Titicaca Excursion tour. It is operated by Peruhop which is a reputable tour company that has English speaking guides and ethics.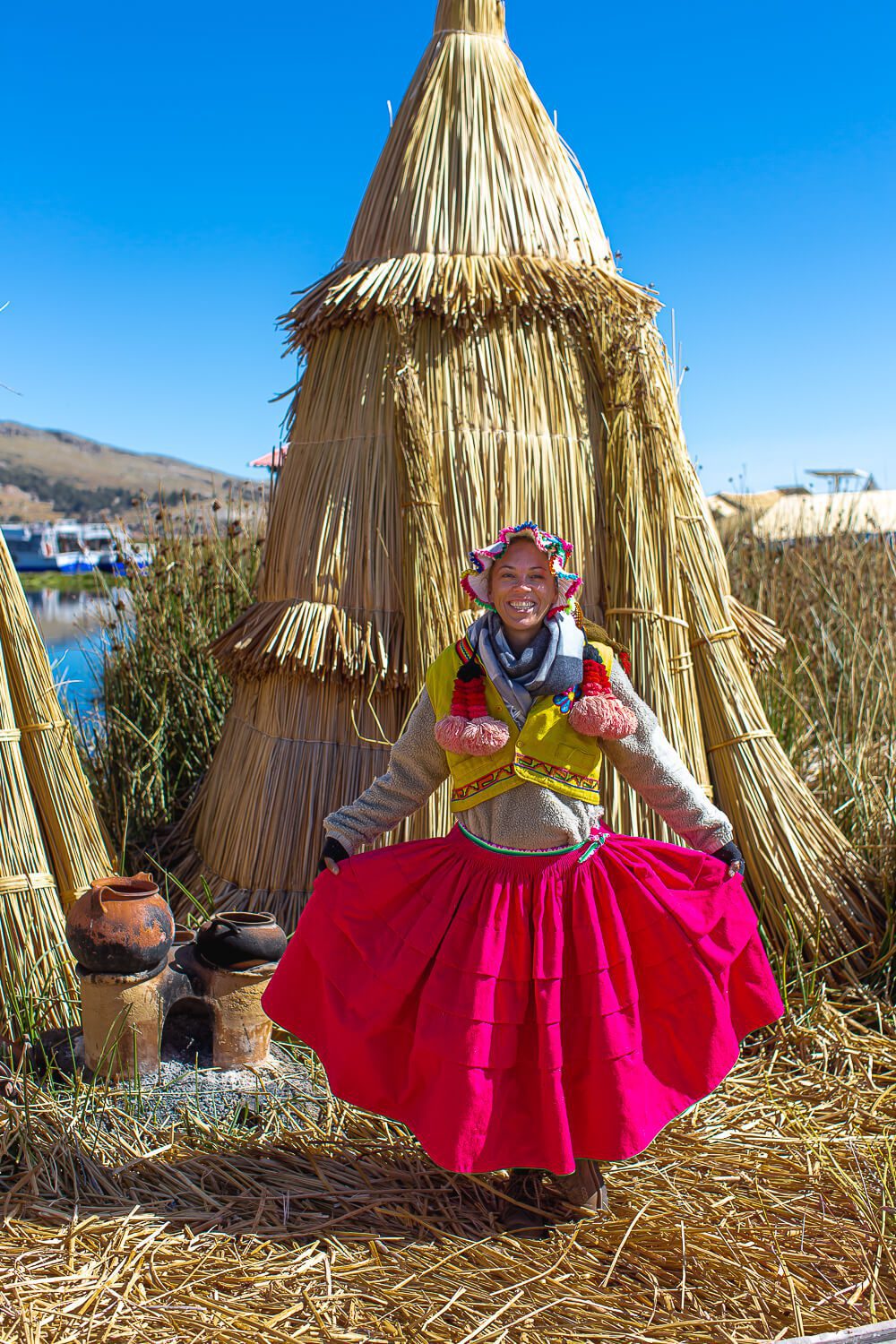 What to Expect on a Lake Titicaca Homestay Tour
All the tour operators in Puno offer one or two day tours to Uros, Taquile and Amantani Island. Being apart of an overnight homestay with islanders is a privilege. You'll get a small glimpse into the local way of life, learn a few of their crafts, how they farm, what they eat and how they preserve food to survive.
It is a thoughtful and kind gesture to bring gifts to your host family. You'll want to bring gifts that your host family can not get on island. Examples are batteries, coloring books for the kids, rice, cooking oil or fresh fruit. A personal gift from your home is also a nice touch.
Puno is the capitol city of the Puno region that sits at the edge of Lake Titicaca. Depending on how much time you have, it's worth it to spend a day exploring Puno and the surrounding region.
There are many things to do in Puno such as visiting Sillustani, a pre-Inca cemetery on the shores of Lake Umayo or Cutimbo, a dramatic site that sits on a table-topped volcanic hill surrounded by plains.
Lake Titicaca Homestay tours leave from Puno port everyday so this is where your adventure begins.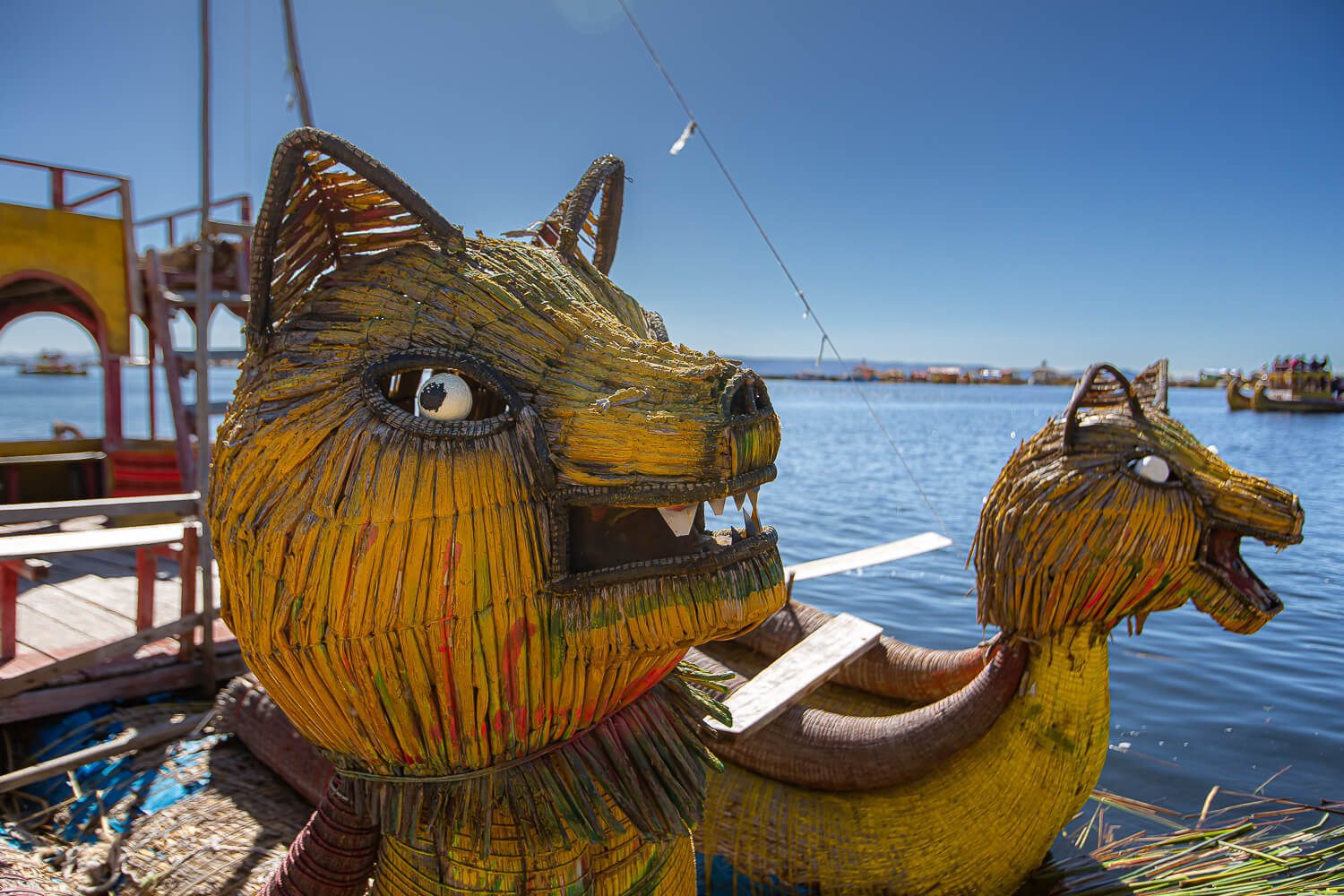 Lake Titicaca Floating Islands of Uros
Lake Titicaca is most known for the Lake Titicaca Floating Islands of Uros. The Uros Islands are artificial made islands composed of totora reeds. Everything from the ground you stand on to the house you live in and to chairs you sit on are composed entirely of totora reeds. The totora plant is literally used for everything, including natural medicine.
There are approximately 100 man made islands consisting of a population of 3,000 people. If you were to explore all of the islands, you would notice that only small kids and elders reside on the Uros islands as mostly all of the young adults migrate to Puno to live and work. They believe that within 100 years, the Uro community will be extinct.
Each island has one name and one leader, male or female doesn't matter, it's democratic. The island that we visited on our Lake Titicaca Homestay tour was called Isla Suma Wiljta which means beautiful sunset. There were only 5 families on the island totaling 15 people.
Although visiting these islands felt super touristy, tt was pretty wild to visit. Trying to fathom just how different their daily lives are compared to mine in the Western world is almost uncomprehendable.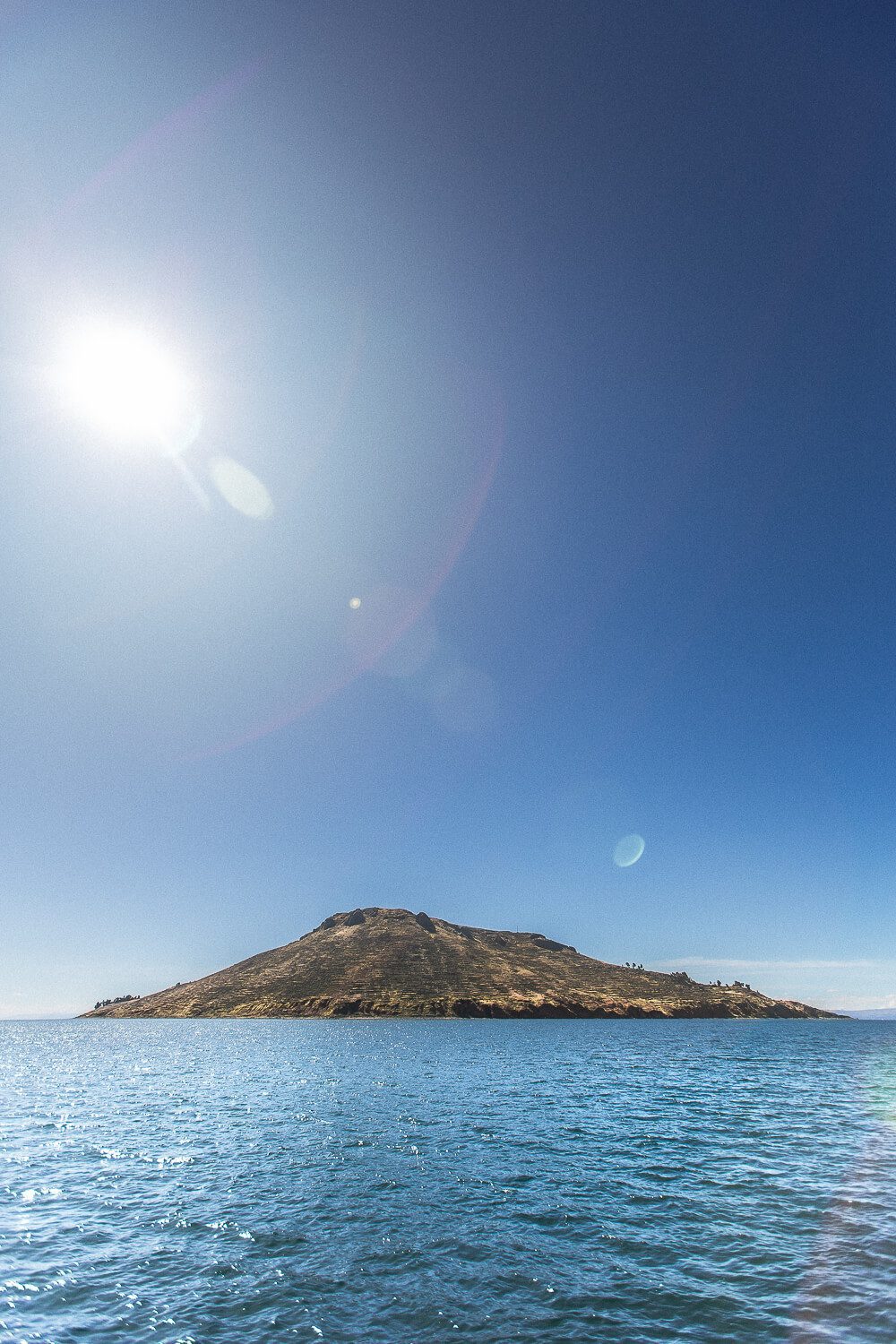 Amantani Island is composed of 10 communities with a population of about 3,000 people. The locals of the island speak Quechua, but their culture is more heavily influenced by the Aymara people. Amantani is the island that we stayed on during our Lake Titicaca Homestay Tour.
The island itself is very quiet. I'm talking no roads, no vehicles or dogs! You will hear a few donkeys hee hawing in the distance though.
Our tour group was small consisting of only 6 people – 2 couples and 2 singles. When we arrived on Amantani Island we were divided into 2 groups amongst two different host families in the Occopampa Community.
Joe and I had the pleasure of staying with the nicest host family and Wilber (the father) was the 'authority' of the whole island. Every year new authority is elected by the people of the island as there are no police stations on Amantani nor Taquile Island. Authorities work one year for free (no salary). Just for honor and respect.
After spending the morning touring the Lake Titicaca floating islands of Uros, we arrived on Amantani around noon. Rosa (the mother) made us a traditional Aymara meal consisting of several different kinds of potatoes, fried cheese and crispy quinoa bread. The meal was washed down with muna tea to help with altitude sickness.
Fun Fact: There are over 3000 different kinds of potatoes on Amantani Island.
After lunch we mingled with a few families, learned a bit about the local way of life and how they make, prepare and store food. To say hello they offer coca leaves. Don't hold out your hand, that's offensive. Instead either reach inside and take some from the pouch or hold out a shirt or garmet for them to put the cocao leaves in.
Isla Amantaní boasts lovely views, for sunset we climbed up to the highest points of the island for a panoramic perspective. Pachamama (Mother Earth) & Pachatata (Father Earth) are the temples located on the top of mountain to be closer to the gods.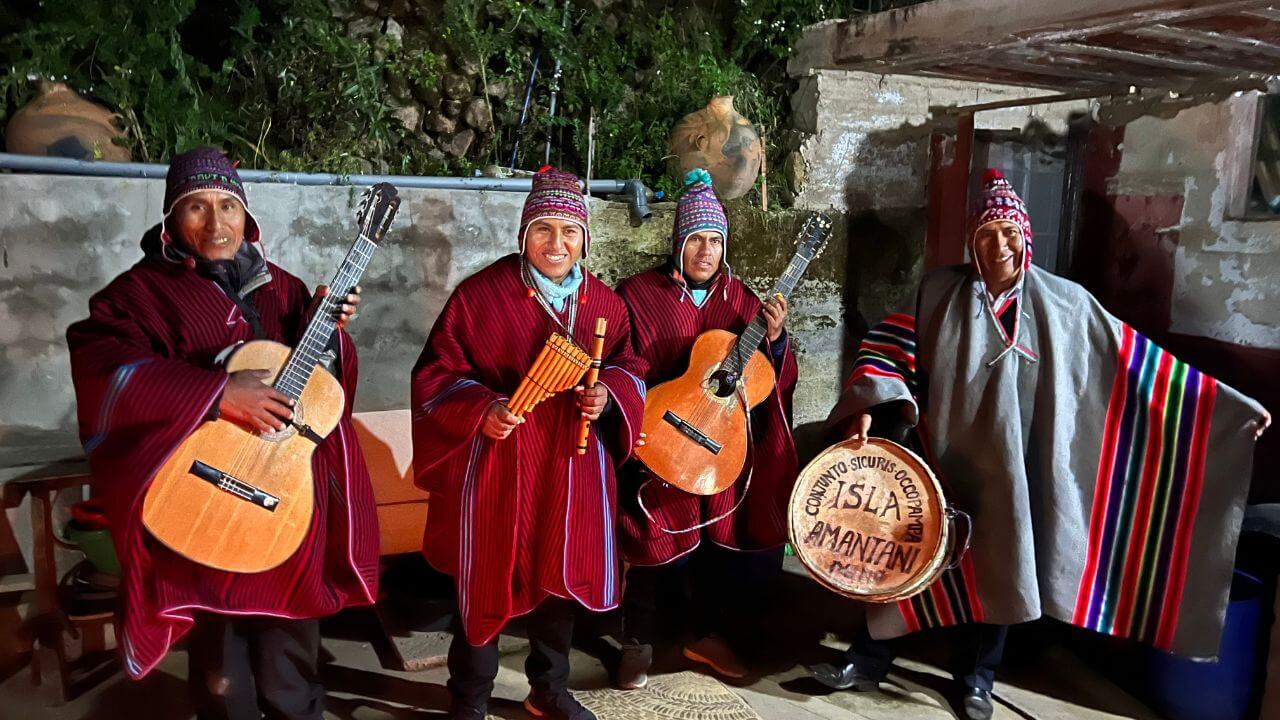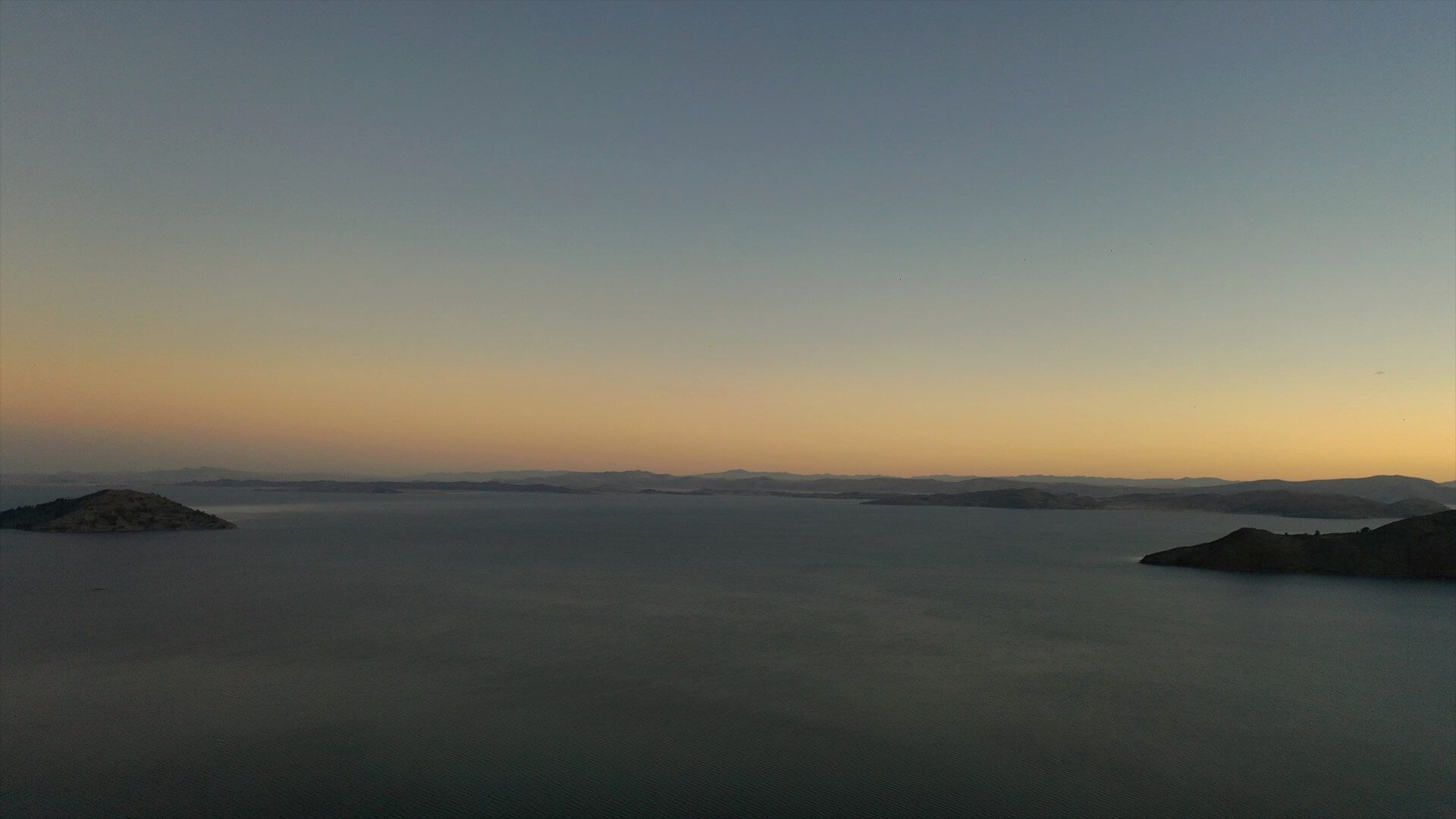 It takes about an hour to climb to the top. Our guide Michael was with us every step of the way giving loads of information and history about the people, culture and island.
After dinner, the villagers threw us a party! Our hosts dressed us up in traditional clothing and we sang and danced the night away. It may sound cheesy but it was a really fun time. It was pure, honest joy and one of our favorite memories of our two months traveling through Peru.
If you're curious on what the accommodations look like or what the bathroom situation was, check out this Lake Titicaca Homestay Vlog and see for yourself.
The next morning after breakfast we jumped back on the boat and headed to Isla Taquile. This island consists of 6 communities totaling about 2,500 people.
You can book some Lake Titicaca tours for an overnight stay on the Island of Taquile. Just like on Amantani they use a rotation system between the communities.
Taquile Island and Amantani Island have many similarities. There's no police only authorities. They say hello by offering coca leaves. They speak Quechua. There are no motorcycles, bikes, llamas, alpacas, horses, dogs or even cats!
This island consists of farmers and weavers and it is the mens job to knit. If a man doesn't knit, they are single because it shows that they're lazy and wouldn't make a good husband.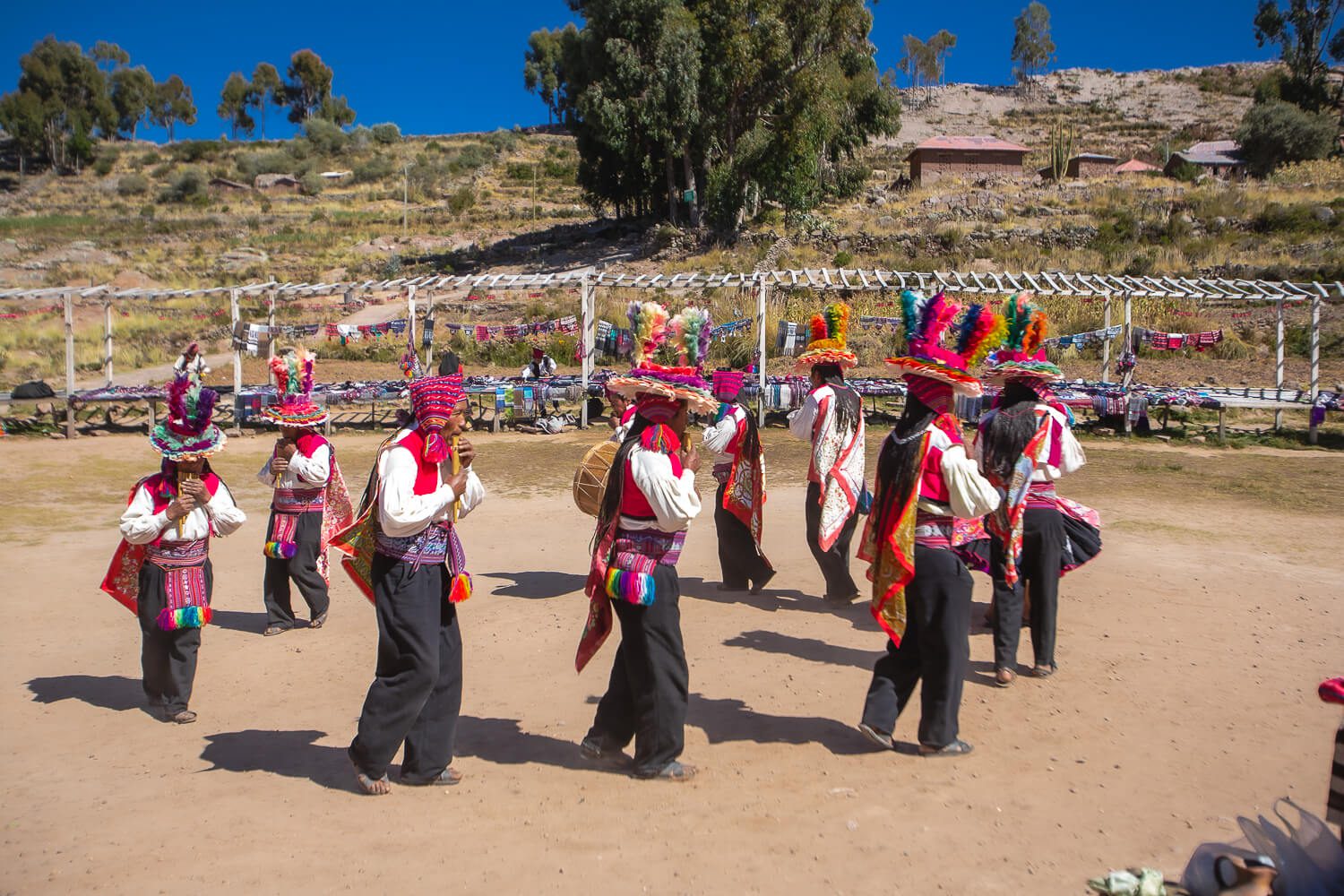 We arrived to a small demonstration of weaving, had a dance and learned how they make shampoo. This I found extremely interesting as the plant they use to make shampoo only grows on island and in Arequipa.
All of the men on island had a thick full head of hair with grey! They don't export this plant because they want to keep it for themselves. But if they did, it'd be a huge hit.
Not only do the islanders make their own shampoo but everything on island runs off solar power. The island very environmentally friendly. They recycle everything, like old slippas are used as a spring for a gate.
We enjoyed lunch and were back in Puno by 5 pm. At last our Lake Titicaca Floating Islands tour was finished. If you'd like to see the Island of Taquile check out this Isla Taquile Travel Vlog.
Tips for Visiting Lake Titicaca
Bringing your hosts a gift is a kind and thoughtful gesture that goes a long way.
Always ask the locals if you can take their picture before you start snapping away.
Pack out any non-degradable rubbish or plastic you have brought in.
Useful Quechuan words to learn:
Kamisaraky – hello, good morning
Waliky – I'm okay, fine
Iospagara – thank you
Prepare for cold weather especially at night.
Lake Titicaca sits at an elevation of 12,507 feet, I mean it is the highest navigable lake in the world after all. You may get altitude sickness upon arriving in Puno.
Before you start a Lake Titicaca homestay adventure, I highly recommend that you first acclimatize. This means that on the first day in Puno/Lake Titicaca should be nothing more than acclimatization.
If you are coming from a place in Peru at high altitude such as Cusco, chances are you'll already be acclimatized. Here are a few tips to prevent altitude sickness.
Coca leaves are a traditional way to relieve altitude sickness by chewing it or making tea with it. Coca leaves can be bought at any local supermarket and are available in most restaurants.
Sorojchpills are pills you can buy at the local pharmacy that help with altitude sickness.
Muna – is an herb that can be found in the mountains. You can pick it, rub it in your hands and inhale it. Or put it in tea and drink it. It's also a digestive.
Allow 24-36 hours of acclimatization before setting off on a hike.
Ascend gradually.
Drink plenty of water.
Avoid booze and cigarettes.
Most hotels in Puno will let you stow your luggage thus you'll only have to pack a small bag for the overnight trip. You won't want to be hauling around a large suitcase. My biggest tip would be to dress warm!
Warm clothes that can be layered.
Toiletries
Chargers, memory cards & extra batteries
Peruvian Sols
Gift for your host family.
Lake Titicaca Homestay Review
Overall, we had a wonderful experience. Our guide Michael was extremely knowledgeable, present and insightful. Our group was small which gave us a chance to get to know each other.
We got a small taste of what it was like to be an islander on Lake Titicaca and made friends from all of the world. I would definitely recommend this Lake Titicaca tour.
Peru Travel Guides
📍Plan your Trip: The Ultimate Guide to Peru

🗺 How long to travel Peru? 2 Week Itinerary through Peru

☔️ Best Time to Visit: The best time to visit Peru is in the shoulder months of dry season – March-May or October-September.

💰 Average Daily Budget: Peru Budget Guide

⛺️ Peru accommodation Guides

🪂 Highlights

Machu Picchu
Sacred Valley
Lima's Food Scene
Trekking Cordillera Blanca

🧳 What to Pack: What to Pack for Peru

🎥 Watch our Peru Series on YouTube

📧 Get on my Email list to see what I'm up to and all the best travel content!
More Peru Travel Inspiration ↓
Enjoy this Post?!?! Pin in for Later ↓