If you are looking for some tasty food in Peru, then you're in luck because there are so many tasty cafes and restaurants in Cusco that choosing only 12 is difficult. If you followed me on Instagram during my time in this adorable Andean city, then you'd have seen how many amazing meals I would post about on my stories. I swear, every other post was "this has been the best meal in Cusco".
After hiking the Inca Trail to Machu Picchu, trekking Salkantay or day tripping to Rainbow mountain, there's nothing better than a delicious meal. The Cusco food game in Peru blew me away.
Honestly, I thought that I found the best restaurant in Cusco, then the next day it'd be topped. Before we get to the nitty gritty details of where to find the best food in Cusco, let's go over some Peruvian cuisine to try.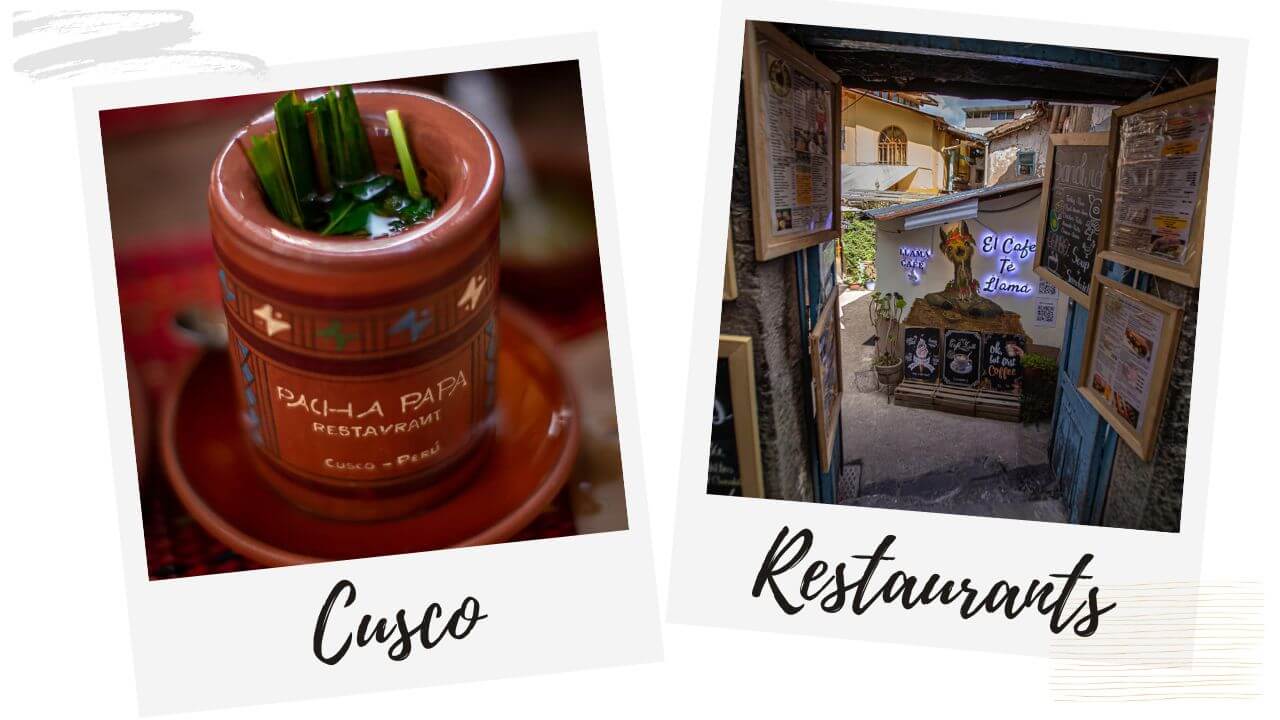 For full transparency, I have sprinkled some affiliate links in this post.  As an Amazon Associate I earn from qualifying purchases that gives me a small commission at no extra cost to you if you decided to make a purchase.  As always, I would never recommend a product or service that I didn't truely believe in.  All proceeds go to keep Jess traveling and coffee ☕️.  I thank you in advance.
Traditional Peruvian Dishes to Try
Peruvian Ceviche – is a citrusy seafood dish that is traditionally made from raw fish and cured with lime.
Chicharron – a dish generally consisting of fried pork belly or fried pork rinds but can also be made with beef or chicken.
Lomo Saltado – a stir fry that typically combines marinated strips of sirloin with onions, tomatoes, french fries, rice and fried plantain.
Chupe de Quinoa – a brothy, warm soup made with quinoa and vegetables, perfect for a cozy day.
Cuy – or shall I say guinea pig is a delicacy that is usually served with potatoes and a fresh bean, onion and tomato salad.
Alpaca – a mild red meat that is tender and lean, that can be compared to lamb.
Pisco Sour – Peru's signature drink is composed of pisco, lemon, simple syrup and raw egg white shook til its changes to an ice cold foam topped with angostura bitters.
Humitas Dulces – a traditional Peruvian desert usually made with corn, evaporated milk, sugar, butter, raisins, cinnamon, salt, and corn husks.
Chirimoya – a fruit that tastes like pineapple that is native to the Andes of Peru and Ecuador.
Love Food Tours? Who doesn't? Check out these yummy Tours when you're Traveling around Cusco:
Best Restaurants in Cusco, Peru
After spending almost 3 weeks in Cusco and getting the low down from the locals, in no particular order, these are the best restaurants in Cusco, Peru that are worth a visit.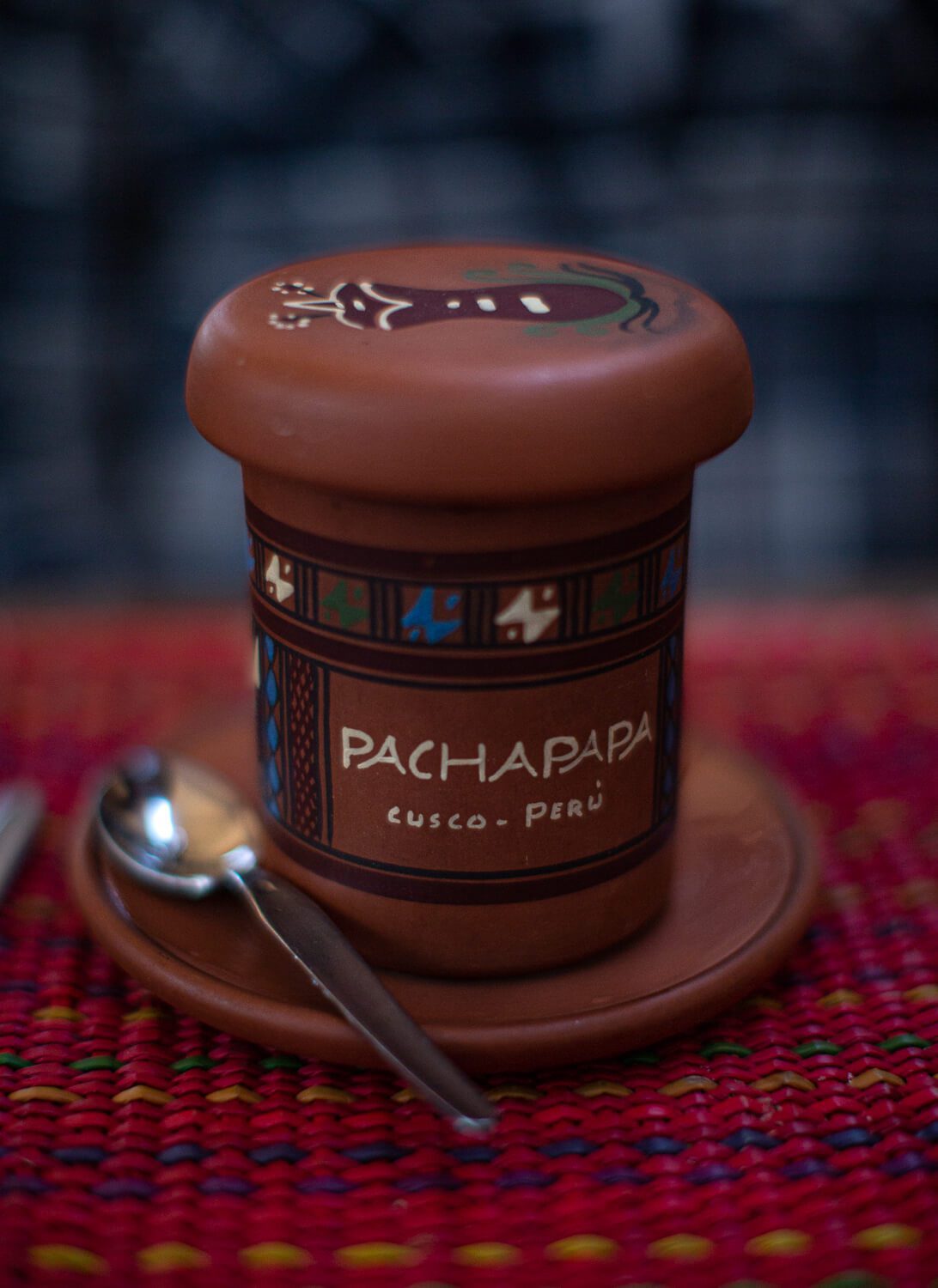 Arguably the best restaurant in Cusco is Pachapapa. The menu features an array of Peruvian dishes including ceviche, creole stew, oven baked pizzas and even guinea pig. Menu items are cooked over a wood fire or in clay bots.
This Cusco restaurant comes recommended by locals so you know its got to be good. Located in the upper San Blas, Pachapapa has a charming seating area in an outdoor courtyard. If you are dining here in the evening bring a sweater as it gets cold. There are heat lamps though!
Must try items include the Sopa de Quinoa (my favorite) and Trout Ceviche (local favorite).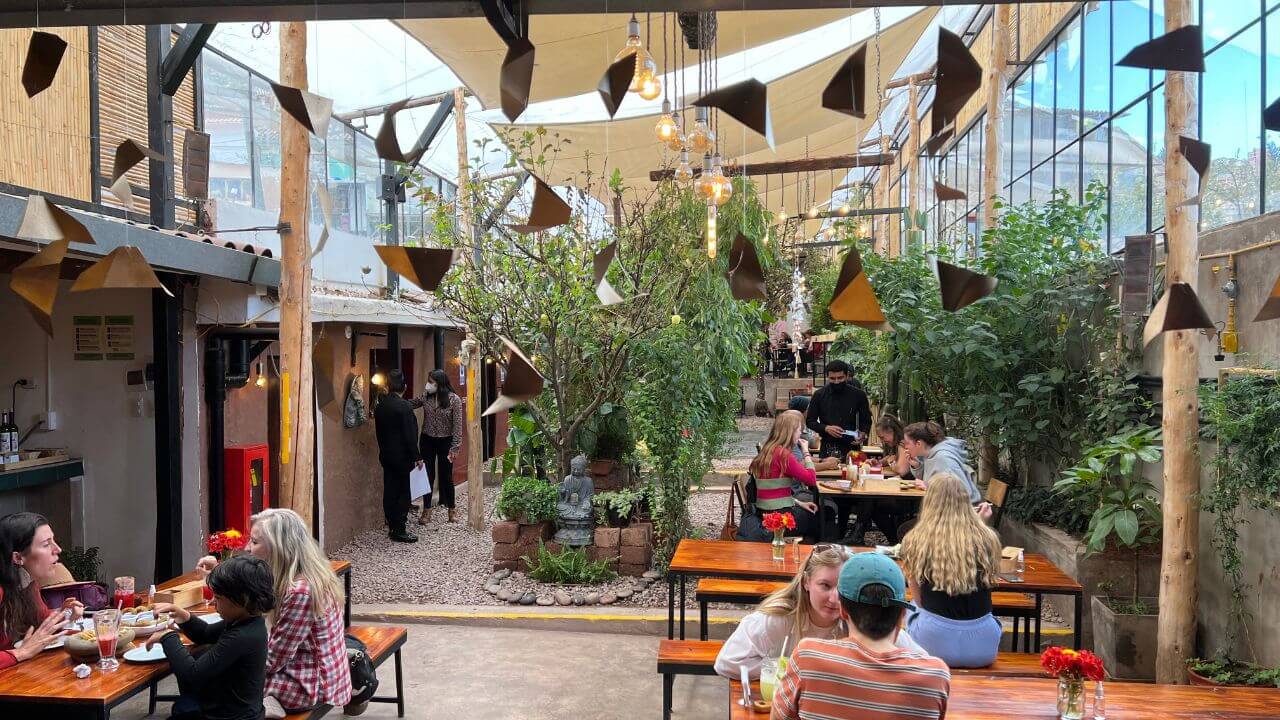 Green Point
is an 100 % all vegan restaurant in Cusco and it did not disappoint.
All of their dishes are made in house and again all organic and vegan!
This place had great service and they cater to the foreign traveler. Our waiter immediately asked if we would prefer Spanish or English which is a nice touch.
Being that before becoming a full time blogger and vlogger, I was a bartender for 17 years! Bartending funded all my travels and helped me get to where I am today but that's a post for another day. I say that because my standards for dining are set a little high.
Service was great and we were even asked if we have allergies after taking our order which always shows a high level of profession and experience. Must try items include the Quina soup, the Burrito and house made chips and guacamole.
Jacob's brewery is also attached to Green Point so if you've been wanting to sample some Peru microbrews, this is the place. The homemade kombucha is also worth a taste.
If you love a good glass of wine paired with some tapas and great conversation, then head on over to Cicciolina. They have a restaurant and a bar area.
The bar area is ideal for wine and appetizers and is usually my preferred method of a happy evening. Located on the second floor of a old colonial building, Cicciolina has a great wine list and small plates to go with.
Travel Tip: If you're looking for Cusco nightlife, head to Procuradores street.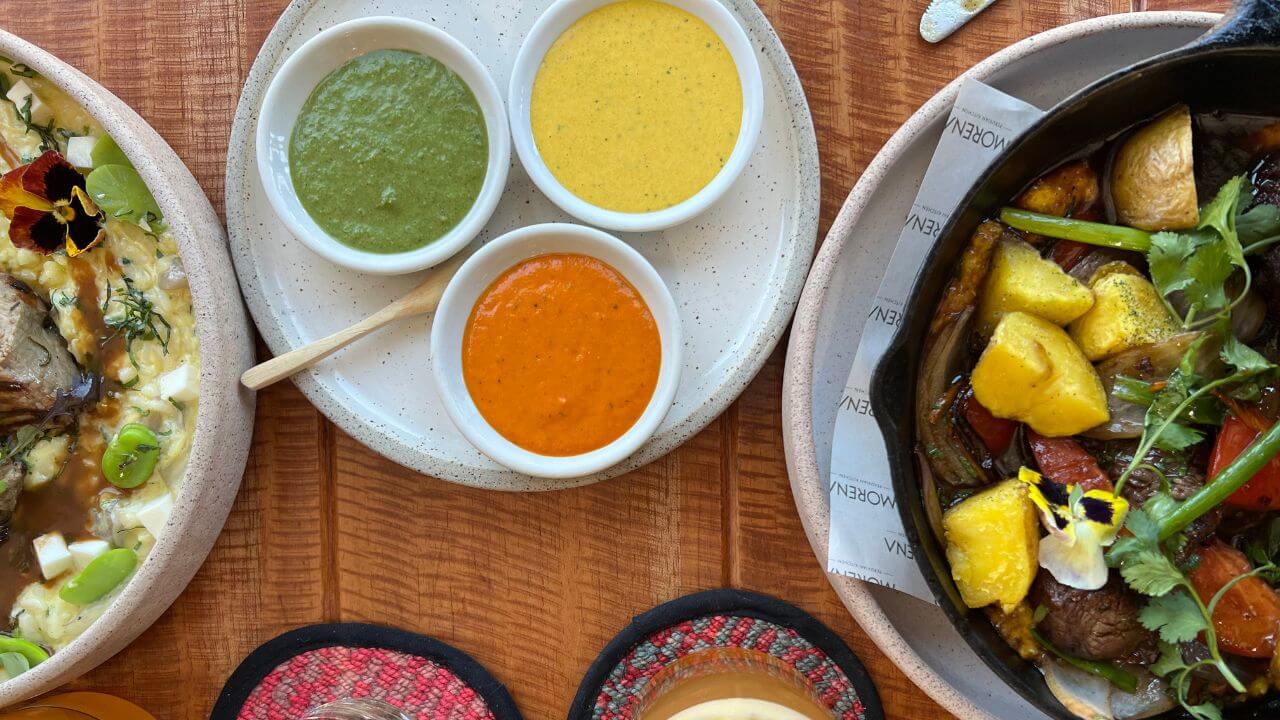 Morena is a sophisticated restaurant located directly in the Plaza des Armas. This restaurant was recommend to us by a Peruvian friend and it did not disappoint. You eat here for the views, the food and the experience.
The menu is a mix of traditional Peruvian dishes. I had the Lomo Saltado and it was by far one of the best things I've eaten in Cusco. I was a little apprehensive to order it as, I had the dish in Nazca and it wasn't so great, but at Morena it was mind blowing. It was the beef au jus mixed with cheesy quinoa that did it for me.
Joe had the Risotto Alpaca and said it was his second favorite meal other than the Osobucu at Organika. They even have a man who rolls around a drink cart and makes the drink of the day table side. All steps were taken to go above and beyond with the experience at Morena.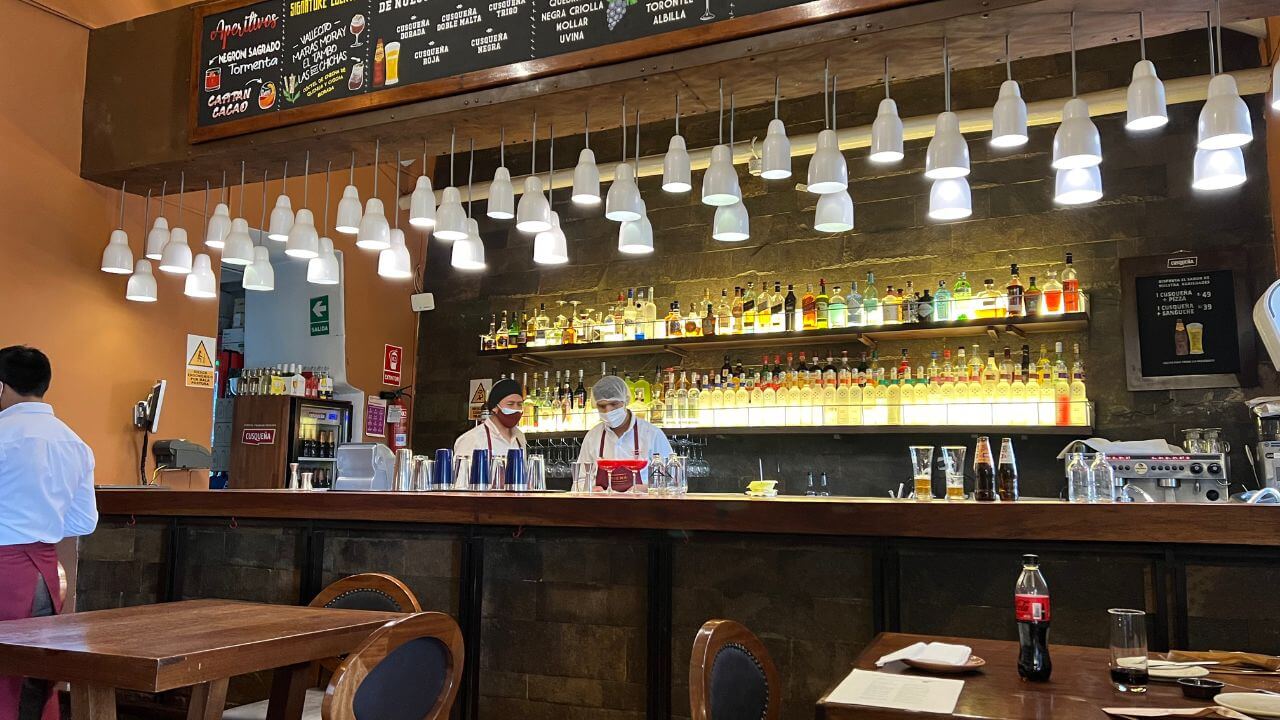 Chicha is all about food used and produced within the Cusco region – the product itself, traditions and culture. If you are looking for a higher end Cusco dining experience, then opt for Chicha. Located on the second floor of the El Truco Boutique Hotel, you'll want to eat at this Cusco restaurant for a nicer meal.
Like most, if not all of the places to eat in Cusco on this list, the service was great. There was ample seating and a large bar that backed the restaurant. Must try items include the Lamb Ragu Fetticini and Lamb in Casquenian Curry.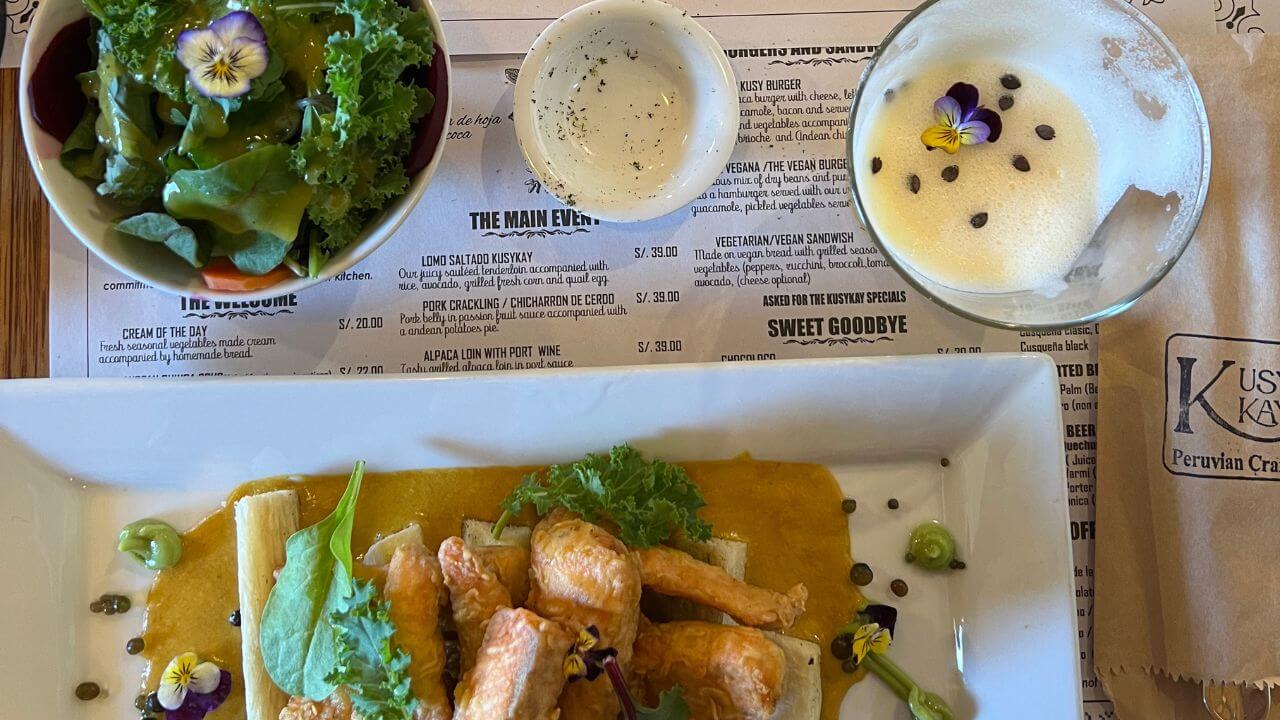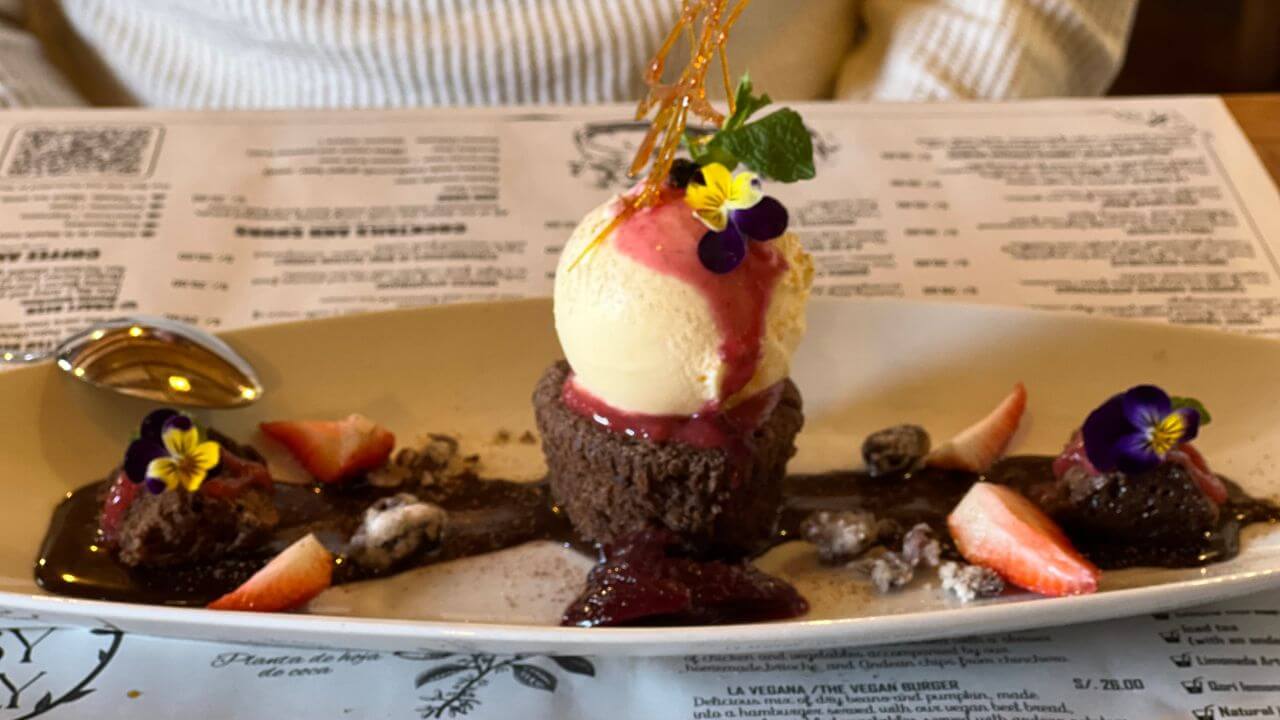 If you're looking for traditional Peruvian dishes then eat at Kusykay. All of the ingredients in the dishes are grown locally and if you know anything about Andeans it's that they care about the products and the land.
The fresh, local and organic menu features iconic Peruvian dishes such as the Chicharron de Cerdo and Trolly Ceviche. They also have a wide selection of vegan and vegetarian options.
If you came to Cusco with the appetite and adventure to eat some Guinea Pig, Kusykay is the place to do it. You have to pre-order the dish in advance as it takes an hour and half to make as unlike other restaurants in Cusco, Kusykay prepares theirs fresh.
They also serve up a mean maracuya sour. Kusykay means be happy in Quechuan after all and its name prevails as this was one of my favorite meals in a Cusco.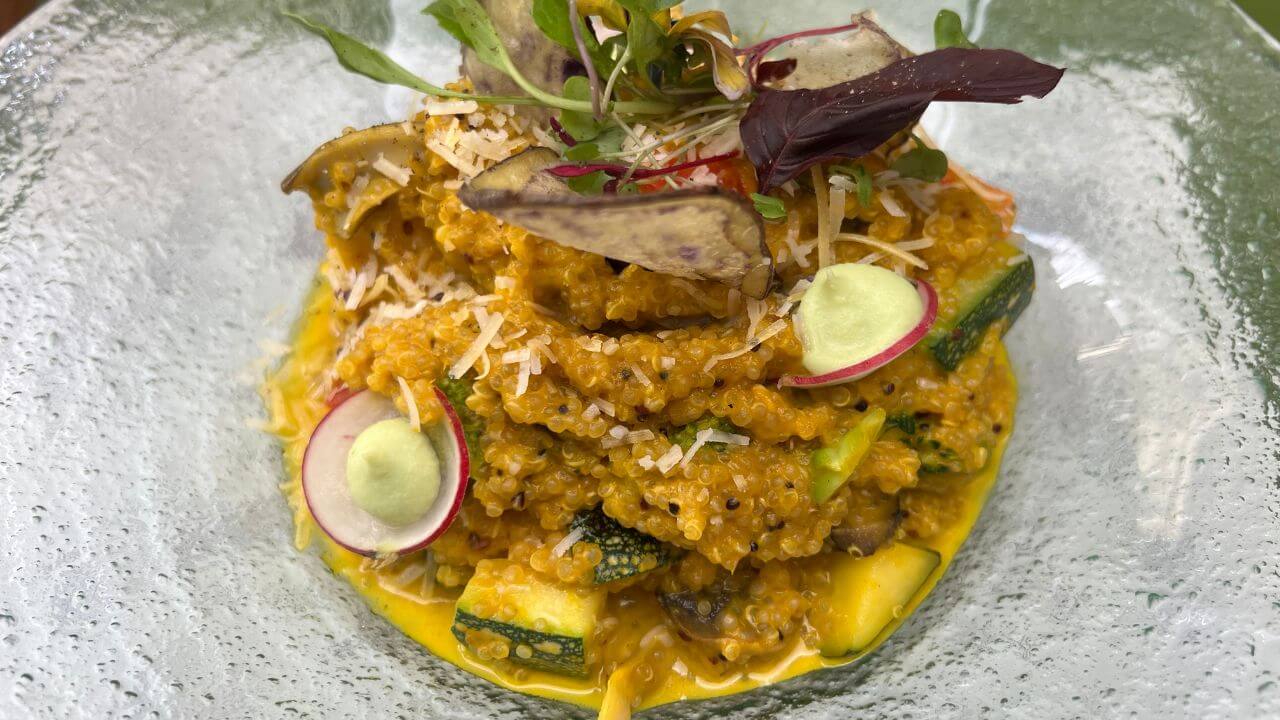 Located on a quiet street just North of the Plaza des Aramas is this tasty Cusco restaurant. Organika's menu is just that, organic. All ingredients are harvested from their farm in the sacred valley.
Like most of the places that made the top restaurants in Cusco list, there are lots of vegan and vegetarian options. I ordered the Quinotto Organika and it was wonderful.
From on the spot squeezed juices, fresh, wood oven pizzas, bright salads and even a few key meat dishes like beef tenderloin and alpaca, you won't be disappointed eating at this restaurant in Cusco. The Osobucu dish though is the way to go.
They have a few sister restaurants that's also worth a visit: Yaku, Rucuia and Native.
If you are looking to grab a coffee or lunch in the center of things then head to Cafe Macchiato. Located on a main drag in the middle of the city, Cafe Macchiato has balcony seating that over looks the busy street.
This is an excellent place to grab a coffee, a late breakfast (its served all day) and people watch in the street below. I ordered a latte and they even made an adorable bear face out of the foam.
The food was also delicious and plentiful. I ordered a Caprese Sandwich and it came in 3 halves – so I basically had a sandwich and a half. Joe tried his first Alpaca Burger here and he gave it two messy thumbs up.
This is also a great cafe in Cusco if you are a digital nomad and are looking to get some work done. We spent an entire morning here. It had fast wifi and lot of coffee.
Another great place if you are searching where to eat in Cusco for breakfast is Jack's Cafe. They serve up a homemade breakfast everyday and all day.
Located in the lower part of the San Blas, there is always a line out the door when you get to Jack's Cafe. The American style café has Australian roots so the menu is of a mix of international cuisine. The meals are huge and the prices are fair.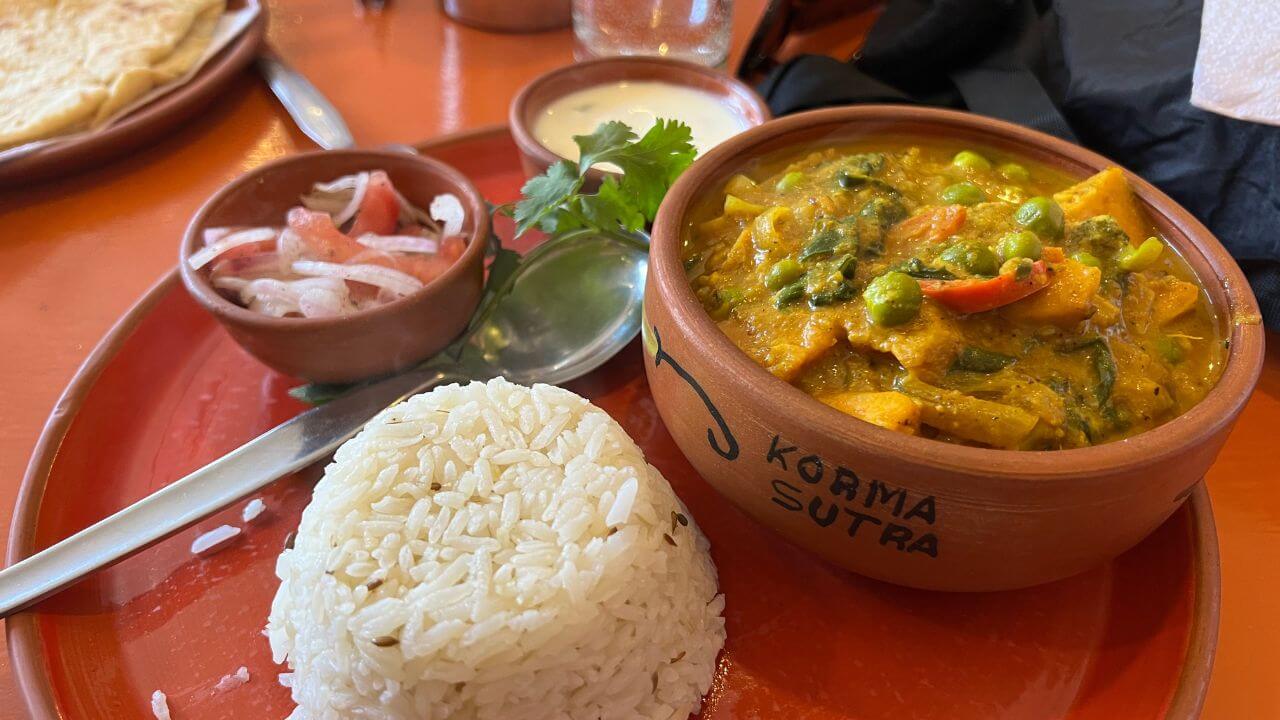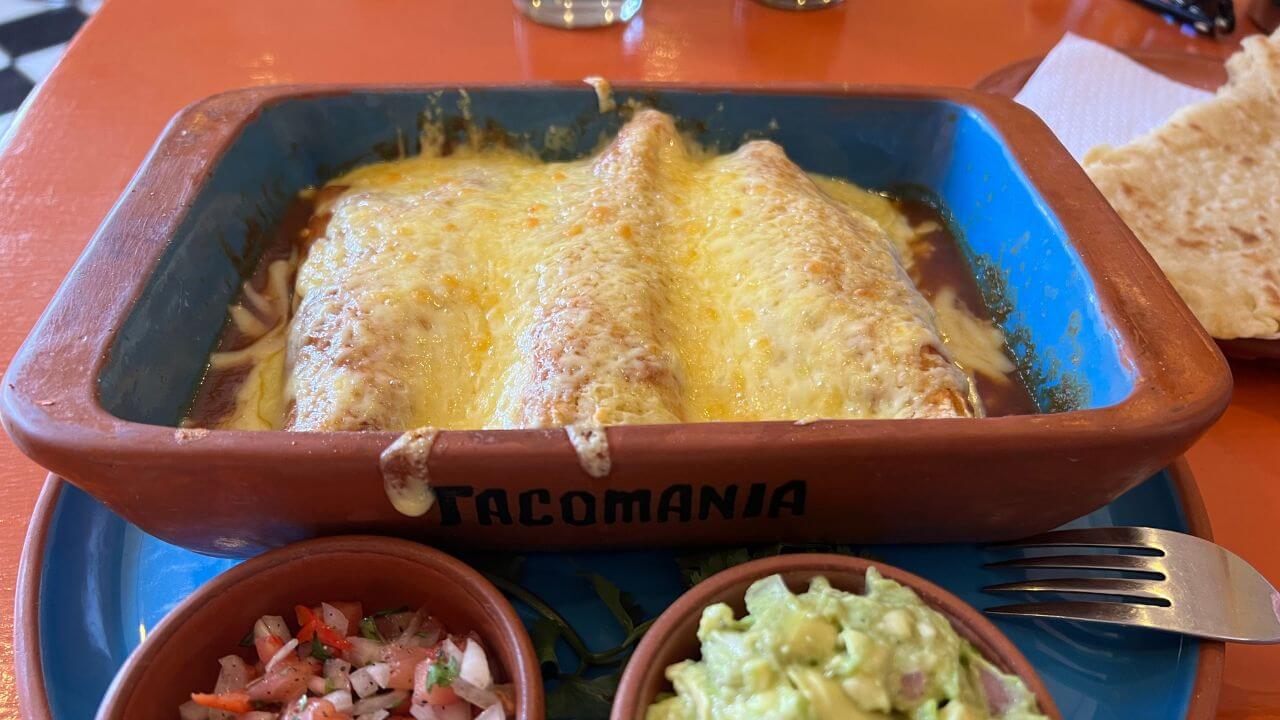 Nicks Food Co. | Korma Sutra & Tacomania
Nicks Food Co. can be found up a quiet street in the San Blas. The restaurant is small inside with only 3 tables (4 tops) and a few bar seats. The size of the menu reflects the size of the restaurant as there are only a handful of choices.
You can choose between Indian or Mexican. Korma Sutra or Tacomania. I came here for some veggie korma and Joe got enchiladas. Both dishes were excellent and the naan bread was baked fresh.
Prices are cheaper here than most of the Cusco restaurants on this list. They only accept cash.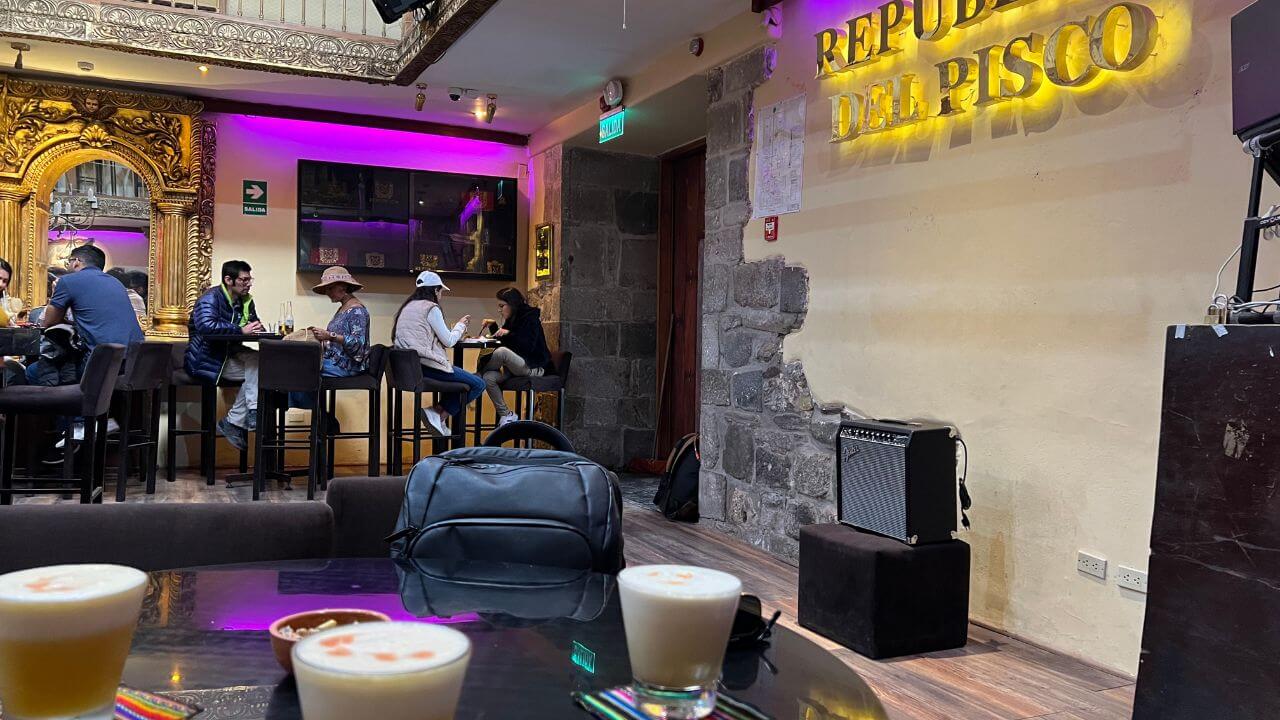 I couldn't have a best Cusco, Peru restaurants list without including a place that serves up the best Pisco Sours. If you are looking for a traditional Pisco sour that will knock your socks off, head on over to Republica Del Pisco.
Pisco is the national spirit of Peru. The clear spirit is a type of brandy, which is distilled from wine or fermented fruit juice. The Pisco Sour is a South American classic which originated in Peru.
The Republica Del Pisco has an entire page on a menu dedicated to Pisco Sours with all types of different flavors. Do yourself a favor and order a Maracuya Sour. Maracuya, commonly known as passion fruit is by far the best flavor of Pisco Sours out there.
If you're not a lilikoi (passion fruit) fan, don't worry they have tons of flavors to try such as borgona grape, tangerine and the coca leaf.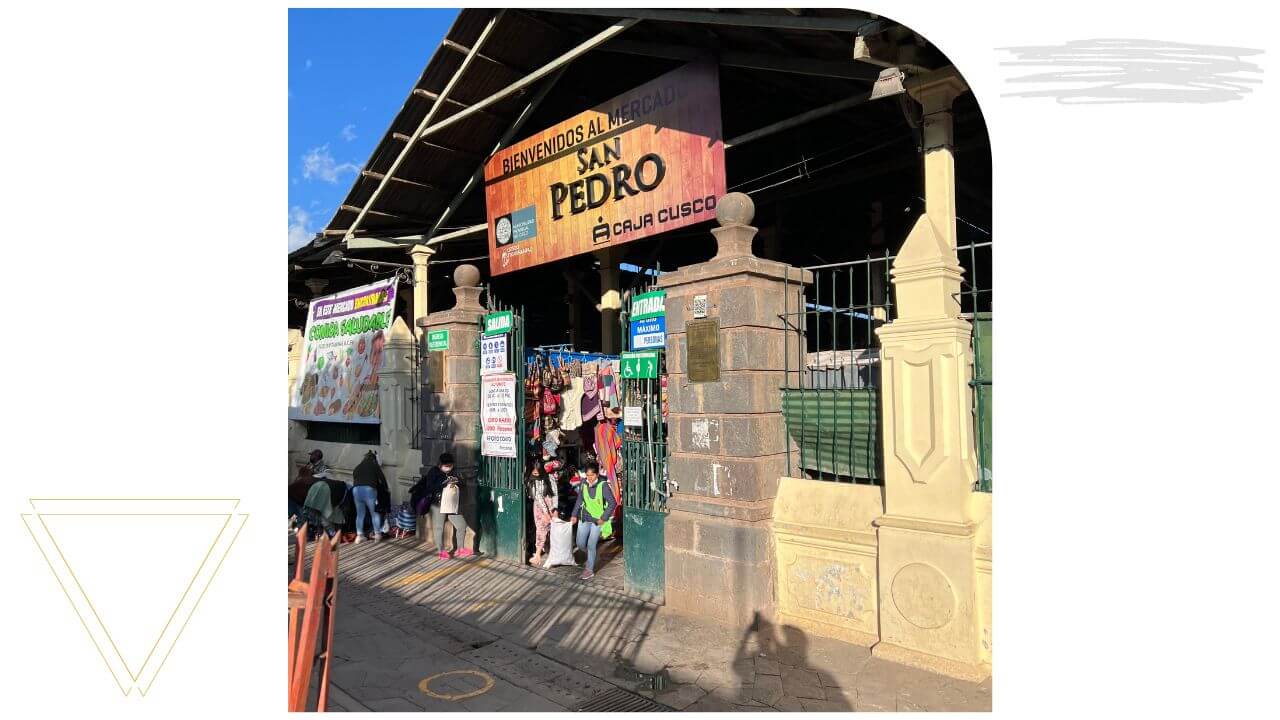 San Pedro Market is one of the best places to eat in Cusco if you are on a backpacker budget. At the end of the market are small shops selling smoothies, sandwiches and some local dishes. They will run you anywhere from 1 to 6 soles.
We stayed in Cusco Airbnbs most of the time we were in the city so we shopped at the San Pedro Market a few times and cooked dinner at "home". We bought local produce, spinach noodles, sauce and even chocolate and it costs 24 soles in total.
Shopping locally and cooking at least one meal in a day is a great way to save money and travel on a budget. Experiencing the San Pedro Market is also one of the best things to do in Cusco.
Peru Travel Guides
📍Plan your Trip:

🗺 How long to travel Peru?  2 Week Peru Itinerary

☔️ Best Time to Visit:  Shoulder months of dry season – March-May or October-September.

💰 Average Daily Budget: $40 - 50 a day for basic accommodations and sit down meals.

⛺️ Peru accommodation Guides

🪂 Highlights

Machu Picchu
Sacred Valley
Trekking Cordillera Blanca
Arequipa

🧳 What to Pack: Salkantay Trek Packing List

🎥 Watch our Peru Series on YouTube

📧 Get on my Email list to see what I'm up to and all the best travel content!
Do you have any favorite restaurants in Cusco, Peru? Let your fellow food lovers know in the comments below ↓
Enjoy this Post?!?! Pin in for Later ↓