One of the best day trips from Ankara is without a doubt is Beypazari, Turkey. Weekends are busy with locals flocking to this historic town to eat gourmet food, marvel at restored Ottoman-era buildings, stroll the lively markets and fathom what life used to be like on the Silk Road.
For full transparency, I have sprinkled some affiliate links in this post.  As an Amazon Associate I earn from qualifying purchases that gives me a small commission at no extra cost to you if you decided to make a purchase.  As always, I would never recommend a product or service that I didn't truely believe in.  All proceeds go to keep Jess traveling and coffee ☕️.  I thank you in advance.
Beypazari is a small town located about 100 kilometers west of Ankara in central Anatolia. Located in the middle of Turkey's carrot growing region, this traditional Turkish village is known for its carrots and silversmiths.
The havuç (carrot in Turkish) grows well in the environment and a two giant carrots are proudly displayed in the middle of the town. Beypazari is visited by tourists for its quaint streets, silver & jewelry markets, sun dried foods, biscuits, sweets & of course çay (tea) & kahve evi (coffee).
Fun Fact: Beypazari is also the source of a mineral water supplier that goes by the same name.
How to Get to Beypazari, Turkiye
There are a few different ways to get to Beypazari – by car, by bus or taxi.
The easiest and most efficient way to reach Beypazari is by car. The drive will take an hour, hour and a half. Rental cars in Turkey are cheap to rent.
If you are traveling Turkey on a budget, the bus will be your best option. Buses depart the ASTI bus station every half hour to Beypazari and take about 2 hours. A bus ticket to and from Beypazari will cost around $4 USD.
A taxi will be the most expensive option and will cost around $50 USD.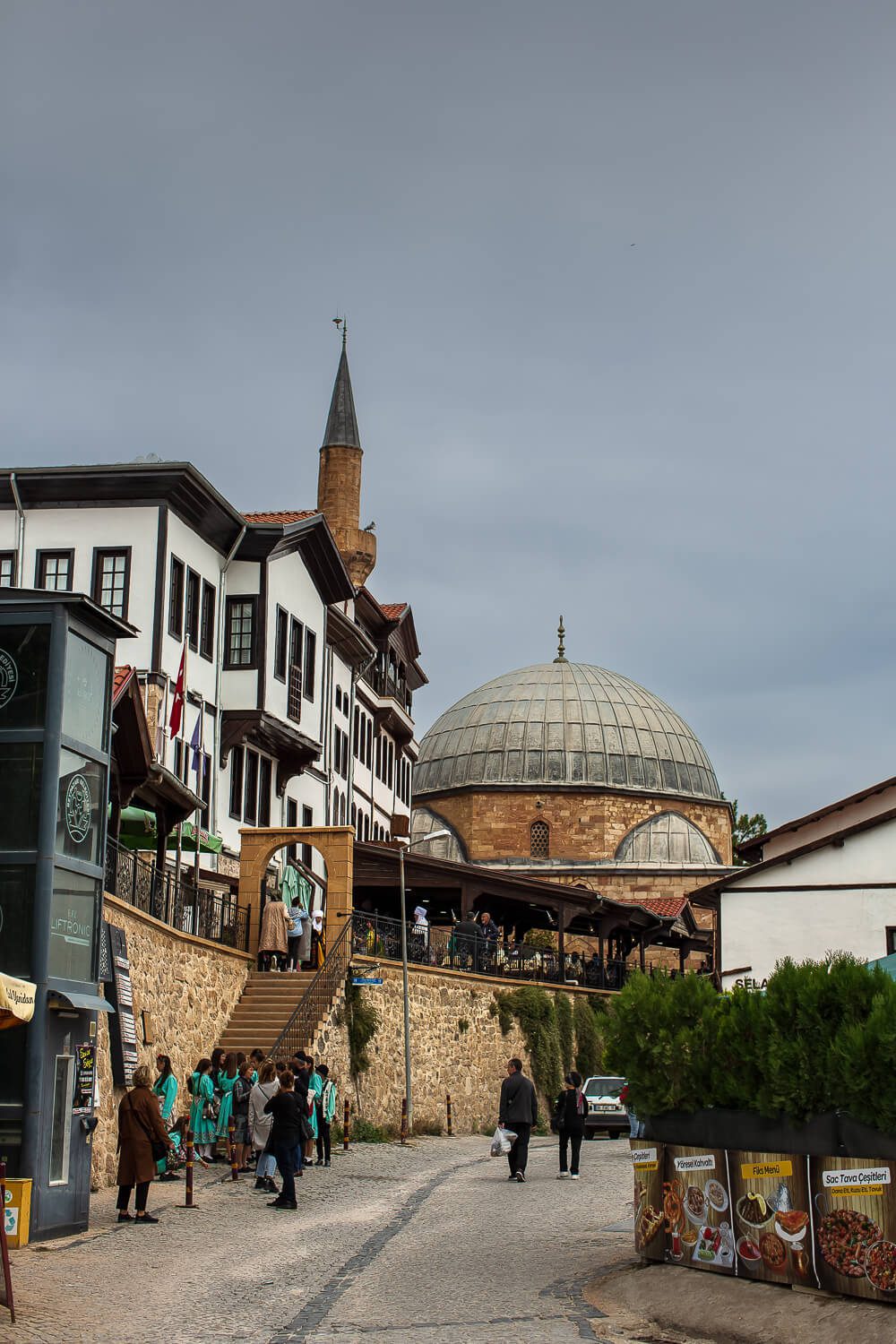 Things to do in Beypazari
The town itself is small, full of life and history. The restored Ottoman buildings only add character and warmth to an already welcoming Anatolian village.
The streets are alive with vendors handing out samples and smiles. Make sure to buy some baclava, it'll be the best 7 TLR you'll spend on your whole trip.
One of the best things to do in Beypazari is to wonder the streets, taste local delicacies and visit the jewelry shops. The streets are full of bakeries, spice shops and souvenir shops.
Make sure you try the Beypazarı Kurusu which are hard biscuits, rich in butter. Shop owners are pleasant, the food is scrumptious and there is a quaint endearing feel about the place.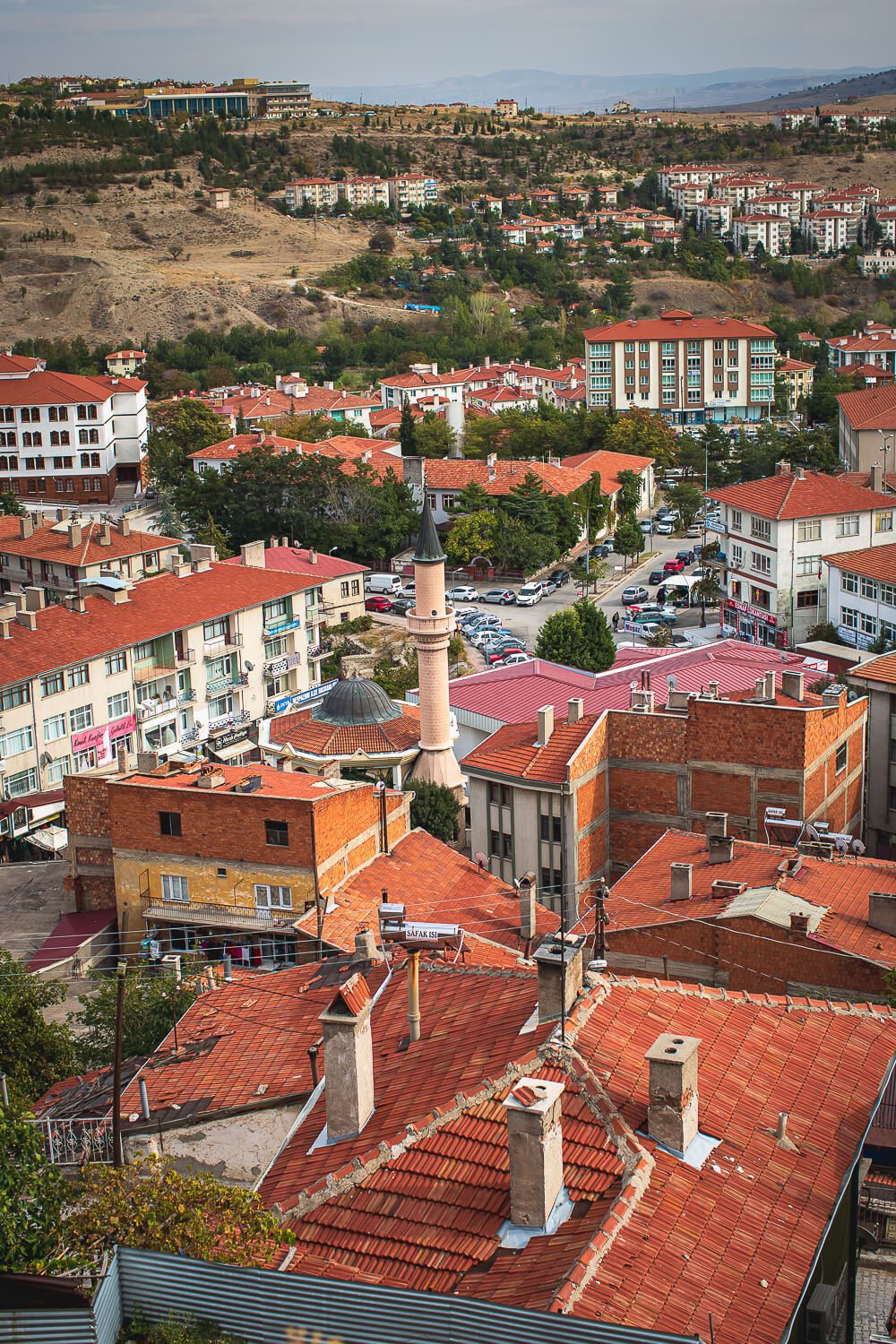 Since, Beypazari is in the middle of the carrot growing region, make sure you try everything and anything that you can with carrots. There are several vendors selling carrot juice for 5 TL per glass. Fresh, sweet and delicious.
Beypazari-style stuffed grape leaves are another food item you must try when you are visiting this picturesque town. The grape leaves are stuffed with a rice mixture, fresh herbs and spices.
Stroll the farmer's market. Behind the main square was a delightful market full of all kinds of fresh fruits, vegetables, spices and nuts. Everything looked so good, fresh and gigantic. It's amazing what real produce can look like when you don't have all those chemicals and preservatives added to them.
Beypazari has a handful of museums to visit when you're exploring Beypazari. Although most of the descriptions will only be written in Turkish inside the museums so, if you don't speak Turkish you may want to opt out of this thing to do in Beypazari.
These are the museums you can visit when you are in town.
Living Museum
Bepazari Kent Tarihi Muzesi
Turkish Hamam Museum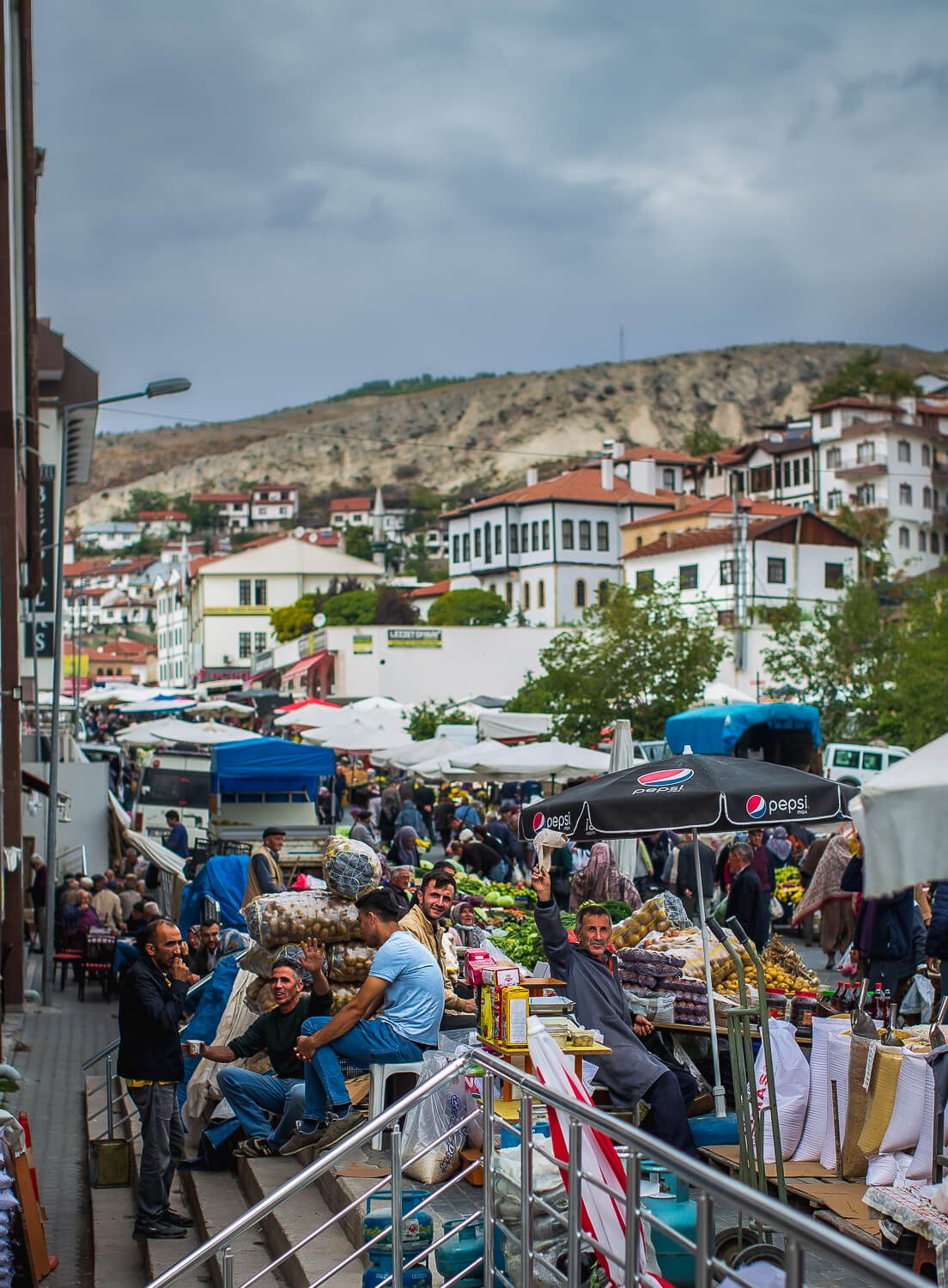 Climb Hidirlik Hil, the highest point of Beypazari for panoramic views of the valley and town below. The highest point is marked by a Turkish flag. To get there, wander the back streets and head up. You can't go exactly to the flag, as it is closed, but you can get pretty close and still enjoy the views.
A five-minute drive away is the historical and natural wonder of the Inözü Valley. Situated in a natural uplifted valley formation, if you walk around the outskirts of the village, you'll find natural rock walls, scenic lookouts and the stream that sources the Beypazari Maden Suyu mineral water.
Have çay with some locals. Çay aka tea is a staple in the Turkish culture. Turks are known to drink more tea than water and if a local invites you for tea, you take them up on the offer. Turkish hospitality is a real thing and offering tea to guests is part of Turkish hospitality.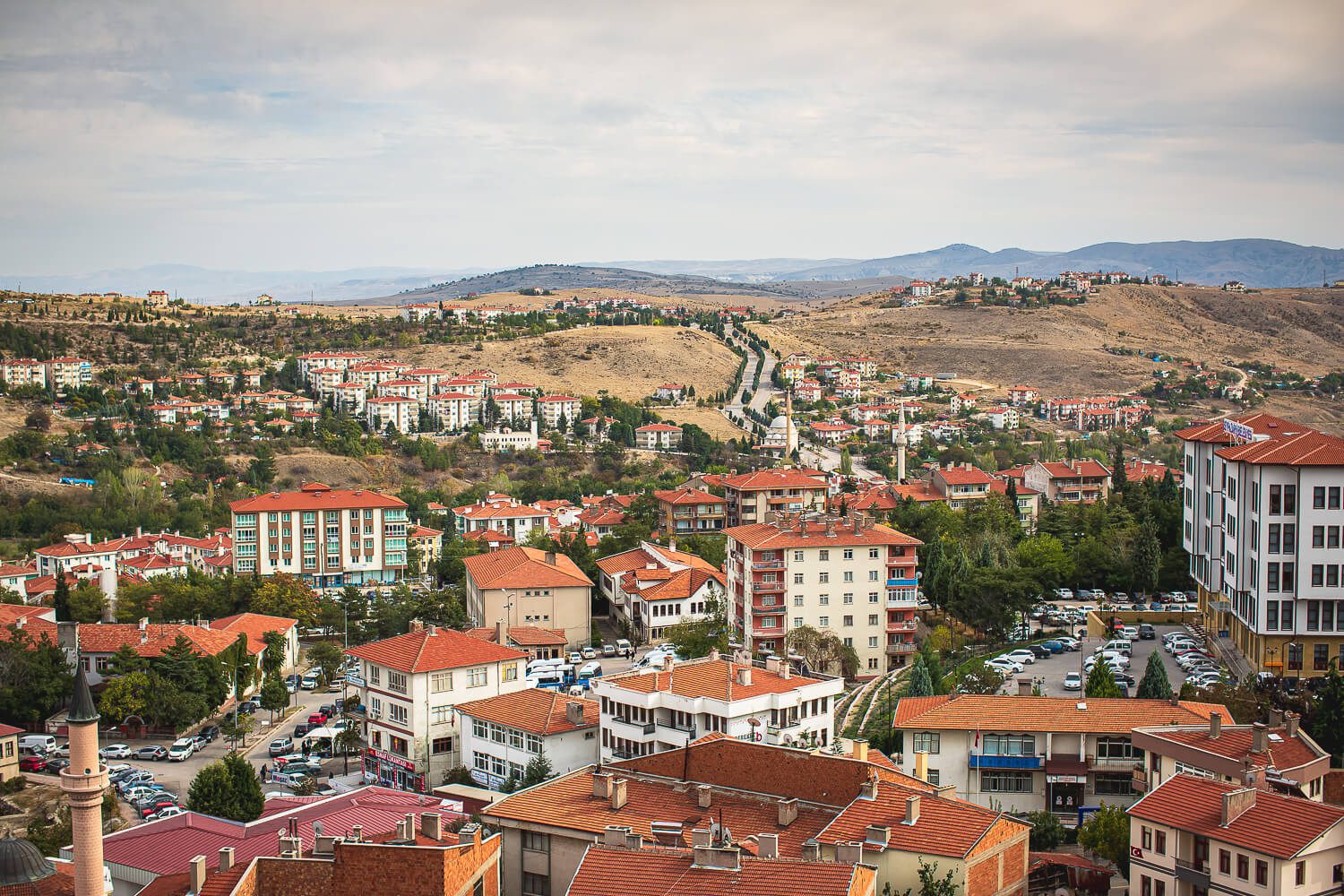 Where to Stay in Beypazari, Turkey
As I mentioned earlier, most people visit Beypazari on a day trip from Ankara but there are a few hotel options if you plan to stay the night in Beypazari.
Kayiboyu Hotel – located in the center of town that offers free breakfast, balconies in every room, air conditioning and wifi to name a few.

Beypazari Ipekyolu Konagi Hotel – quaint lodging also located in the town center that offers free breakfast, soundproof rooms, a/c and wifi.
Turkey Travel Tips
📍Plan your Trip

🗺 How long to travel Turkey?  At least 2 weeks in Turkey

🛂 Visas: Get your E-Visa

☔️ Best Time to Visit:  April, May, September and October are the best months to travel Turkey.

💰 Average Daily Budget: Expect to pay 30-50 USD's a day for basic accommodations, sit down meals at a cafe and entrance fees.

⛺️ Turkey accommodation Guides

🪂 Highlights

Exploring Ephesus
Discovering Istanbul
Pergamon Ruins
Antalya

🧳 What to Pack: What to Pack for Türkiye

🎥 Watch our Turkey Series on YouTube

Get on my Email list to see what I'm up to and all the best travel content!
More Turkey Travel Guides ↓
Enjoy this Post?!?! Pin in for Later ↓