🇰🇭 CAPITAL | PHNOM PENH
💷 CURRENCY | RIEL – 4,000 = 1 USD
🙊 LANGUAGE | KHMER
Cambodia is in Southeast Asia and shares a border with Thailand in the West, Laos in the North and Vietnam in the East. Cambodia is most known for the ruins of Angkor Wat, the largest religious monument in the world and one of the seven wonders of the world.
After you've fulfilled your Lara Croft fantasies head South to Koh Rong and spend an entire day in a hammock or eat as much crab as you can in Kep. There are plenty of incredible places to visit in Cambodia.
If you have time to pull back Cambodia's layers you'll discover the beauty beyond the famous Khmer Ruins. A simple way of life, happy people and a positive outlook to the future.
The people, culture and ruins will keep me returning time after time. There is always an adventure to be had while traveling Cambodia.
🐘 ANGKOR WAT
Angkor Wat is the 7th Wonder of the world and the primary reason most people visit Cambodia.
🐒 Siem Reap
The gateway city to Angkor Wat. Siem Reap is a fun town full of hotels, spas, restaurants and has a lively Pub Street.
💀 Phnom Penh
Phnom Penh is the capital of Cambodia and a city full of life and culture.
🧂 Kampot & Kep
Kampot is a small, sleepy town in Southern Cambodia and is known for making high quality pepper shipped world wide.
🏝 Koh Rong
Koh Rong is an undeveloped paradise. Think bungalows on the beach, countless hammocks and $1 dollar beers.
Top 5 things to do in Cambodia ↓
More Things to do in Cambodia
Angkor Wat is the main reason that people flock here and its the best thing to do in Cambodia. Once the heart of the Khmer civilization, the entire complex spans over 400 sq km.
Ruins of Ta Prohm – Commonly known as the 'Tomb Raider Temple', Mother Nature has begun to take back her land as you see vast root systems growing over top and through the ancient temples. Due to the proximity to Angkor, this makes Ta Prohm popular and usually crowded.
Laze in a hammock on Koh Rong. If you're looking for white sandy beaches and bright blue waters head south. The islands can be reached by ferry from Sihanoukville.
Kampot is a sleepy town located in Southern Cambodia. French influenced architecture can be spotted all around town as you pop in and out of cute shops, cafes, and restaurants. A must stop on any Cambodia travel guide itinerary.
Ride the bamboo railway in Battambang

powered by motorbike. A ride costs about $5 per person and takes a half hour.

Get to know Cambodia's past in Phnom Penh.
Visit Tonle Sap, the largest freshwater lake in Southeast Asia. This is a great day trip from Siem Reap where you can learn about the unique ecosystem and the simple farming and fishing lifestyles of the locals.
Eat crab in Kep. A small seaside fishing village and the main attraction of Kep is the fresh crab market.
A Visa is required by most countries to enter to travel Cambodia. You can get an Visa before you go or get one on arrival. It's easier to take the stress out of it and get an iVisa prior to arrival.
If you would rather get one on arrival it costs 20 dollars and there are ATM's that dispense USD's at the border.
Make sure you have at least 6 months validity on your passport and a blank page for the Visa.
When to Travel to Cambodia
Cambodia basically has 2 seasons. December and January are the best months to visit.
May to October is rainy monsoon season. There will be heavy rains and the humidity will be off the charts. Expect it to heavy down pour for a couple hours each afternoon.
November to April are the dry months. The average temperature will be in the 80s.
How Long to Travel Cambodia?
Spend at least 2 weeks traveling through Cambodia. The people are kind, there's hidden ruins in the jungle and its cheap.
Traveling between towns and cities within the country are sometimes long and tiring on a hot bus. This means you should allot more time for travel days if you want to explore off-the-beaten path.
Cambodia Travel Guide Tips
To save money eat street food and try to stay out of the bars.
Get a Sim Card for no more than $10. Its cheap and you'll always have the internet
WIFI is available at most guesthouses and hotels.

To enter temples in Cambodia you will have to dress moderately.

This means having your knees and shoulders covered.

Always have a sarong or wrap skirt handy.

Tipping is common is Western restaurants. A couple dollars go a long way.
Basic items such as sunscreen and bug spray can be purchased for cheap once you are here.
Google Translate: Translates characters to English by taking a picture with your phone.

Pass App: To book tuk tuks and cabs on the go

Grab: The Uber of Southeast Asia, very useful for Cambodia travel.

Google Maps: Very helpful when navigating public transportation.

Whatsapp: Talk/text to friends and family anytime you are connected to the internet for free.

Trail Wallet: Easy to keep track on your expenses if you are traveling Cambodia on a budget.
Hi, we're Jess (& Joe). We hope you're enjoying our free travel guides and tips. If so please consider buying us a coffee ☕️. We appreciate your support!
The Cambodian Riel is the official currency of Cambodia but US dollar will be your main source of money. 4,000 Riel = roughly 1 USD.
Most things will be priced in USD and the Riel's are used as change. Bringing small bills will be beneficial but make sure they are 2006 or newer and have no tears.
Average daily budget for Cambodia is $60-70 for a couple. This is mid range hotels with A/C and a pool. Enterance into the temples. The occasional happy hour.
It is possible to travel on $15 a day but Cambodia in my opinion is BUDGET LUXURY, its worth the splurge!
Bed in dorm with AC | $3-7 USD.

Average mid range hotel with A/C, double bed, own bath | $20
Budget luxury hotel will cost you $30 USD.
Luxury $40 & above.
Angkor Beer |$1.50
Fish amok | $2 -3 USD's. This is a famous Cambodian dish and one of my favorites.
Western dish at a sit down restaurants | $2-4 USD's
Crab at a sit down restaurant near the crab market in Kep | $7-8
Private tuk tuk driver for the day | $25
Domestic flights | $65
Angkor Wat 1 Day Pass -$37 |3 Day – $62 | 7 Day – $72
Battambang railway | $5
See the plankton at night in Koh Rong | $5
🛖 Where to Stay in Cambodia
A budget luxury hotel will cost around $30-40. Cambodia is a budget friendly country and accommodations are very cheap. Traveling slower is always the best way to experience a country and to find cheaper places to stay.
Worth the splurge: Saem Siem Reap Hotel in Cambodia
Here are some Cambodia accommodation guides to help plan your travels.
Cambodia Travel Accommodation Guides:
Enjoy this Post?!?! Pin in for Later ↓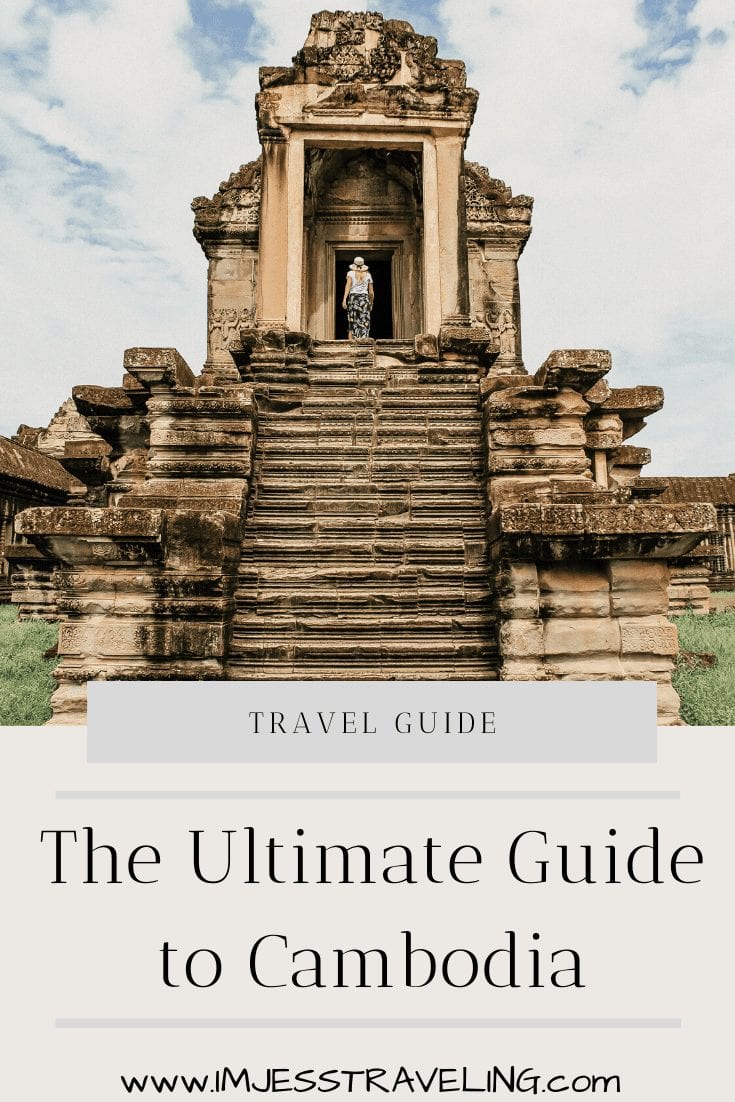 International flights fly into the capitol city Phnom Penh and Siem Reap home to Angkor Wat.
There are no international flights that fly direct from the United States to Cambodia. You will more than likely connect through Seoul or Tokyo before arriving at the final destination in Cambodia.
If you live in Hawaii like me AirAsia has frequent deals to Southeast Asia. Finding a $500-$600 round trip airfare to Cambodia wouldn't be a stretch from HNL.
Main airport codes for Cambodia
If you're flying from a neighboring country such as Thailand tickets are usually pretty cheap and the time saved is sometimes worth spending an extra $30. Here's how flying would compare to taking the bus.
Fly BKK – PNH | 1.15 hours | 60 USD |

Bus BKK – PNH | 13 hours | 31 USD |
Flights from Bangkok to Phnom Penh – $60 (without checked bag fees) and takes 1 hour and 15 minutes to get there. Of course in order to get the $60 dollar or cheaper flights you have to be flexible with your travel plans. This is easy to do when you travel slow, plus there are frequent flights daily.
Bus from Bangkok to Phnom Penh – $31 and takes 13 hours to get there and that's if the bus doesn't break down because we all know how dodgy buses can be. And thats not even an overnight sleeper bus.
If you're traveling light the extra thirty dollars is definitely worth it, you're saving yourself 13 rough hours on a bus!
Jetradar, Skyscanner and Kayak are sites that are flexible and give you the cheapest rates. AirAsia, JetStar, Tiger amongst other budget airlines are all listed through these search engines. This always ensures getting shown the latest and cheapest prices. Just don't expect much frills on these budget airlines.
If you're traveling slow and/or throughout Southeast Asia, it's likely that you'll be taking a long bus journey at some point or another. International buses are frequent and comes from all the neighboring countries including Thailand, Laos and Vietnam.
Read Next: Border Crossing Laos to Cambodia with AVT
Traveling to Cambodia via overnight bus is a great option for budget travelers. The overnight buses are better in Cambodia than most countries in Southeast Asia. Here's an idea of how much bus prices are and how long buses take.
Bangkok – Siem Reap | 10 hours | 22 USD |

Ho Chi Minh – Phnom Penh | 12 hours | 12 USD |

Don Det, Laos – Siem Reap | 6 hours | 20 USD |
Transportation around cambodia
Transferring between towns is straight forward and easy to navigate. Download the apps Bookaway and 12Go Website. They are very helpful to check bus, boat, and train schedules ahead of time.
Getting around in Cambodia is an adventure in itself. You'll find that most of the stories you tell your friends will involve transportation.
By Bus: Buses are frequent within the country. Here's what you can expect with bus travel within Cambodia.
By Boat: There is a regular ferry service that runs between Phnom Penh and Siem Reap and Battambang. Don't expect many comforts.
By Tuk Tuk: A tuk tuk will be your common form of transportation when you're exploring the cities of Siem Reap and Phnom Penh. These are the 3 wheeled rickshaws being pulled by a motorbike. Hiring a tuk tuk driver for the day to explore Siem Reap will cost around $20.
This is where crisp, fresh $1 dollar bills come in handy. A ride into town will only cost 3-5 USD's. It's a very affordable form of transportation.
🎒 What to pack for Cambodia
Packing is always the hardest part. You don't want to overpack but you also don't want to be left wanting. Don't leave home without theses Cambodia travel guide essentials.
Sarong (to cover up to enter temples)
2 Pairs of shorts
1 Pair of Jeans
1 or 2 Pairs of Leggings
5 shirts/Tanks
Underwear
3 Pairs of Socks
1 Sweatshirt (for travel days)
Swimsuit
Converse Sneakers
1 Flannel
Toothbrush & Toothpaste
Hair Brush
Hair Ties & Bobby Pins
Feminie Products
Deodorant
Razor
Band aids
Hand Sanitizer
For more packing inspiration, check out these posts.
Safety is an important factor in planning any trip, espicially when it is international. Here are my Cambodia travel guide safety tips.

As each year passes, Cambodia is becoming safer. Gun crime is still common in Phnom Penh tho.

Snatch in grab crimes are also common. Like for instance if you're holding your iphone outside the taxi window to take a picture and someone rode by on a motorbike and snatched it.
Scams are also common at the border. Uniformed men will approach you and ask for your passport and then a fee. Use your common sense, if it seems shady, it probably is.
I have traveled to Siem Reap, Cambodia on 3 separate occasions and every time I visit I fall in...
read more