Maui is full of adventures but if you're looking for an experience that is out of this world then camp inside a dormant volcano at one of the Haleakala cabins. If you are looking to get off-the-beaten and explore a part of Maui that most don't, this is right up your alley.
Haleakala is the volcano that covers almost 75% of Mauis land mass. Haleakala or 'House of the rising sun' got its name from the ancient Hawaiian legend when Maui the demigod lassoed the sun to make days longer.
Haleakala is Maui's only National Park and is composed of 2 districts, Kipahulu and the Summit. The Haleakala Wilderness Cabins are located inside the Summit District of Haleakala National Park.
Rather see exactly what it's like to spend the night in a Wilderness Cabin inside Haleakala Crater? Check out our vlog as we traverse down the Sliding Sands Trail to the crater floor and make our way 7ish miles to Holua Cabin. Plus the bonus 5 mile switchbacks and hitchhike back to our car the next day.
For full transparency, I have sprinkled some affiliate links in this post.  As an Amazon Associate I earn from qualifying purchases that gives me a small commission at no extra cost to you if you decided to make a purchase.  As always, I would never recommend a product or service that I didn't truely believe in.  All proceeds go to keep Jess traveling and coffee ☕️.  I thank you in advance.
Basic Information for the Haleakala Cabins
There are 3 historic wilderness cabins within the crater inside the summit district of Haleakala National park – Holua, Paliku & Kapalaoa.
Holua Cabin – Located at the bottom of the Halemau'u Trail. This is the easiest cabin to reach by hiking down Halemau'u Trail and back up if you aren't up for a whole day hike from the summit to Holua Cabin.
Paliku Cabin – The ideal cabin for hiking Kaupo Gap, one of the toughest hikes on Maui.
Kapalaoa Cabin – The perfect Haleakala Cabin to spend several days as it's close to several short crater hikes nearby.
A Haleakala cabin rental cost $75 per night, for a maximum stay of three nights per 30 day period. Kapalaoa, Palikū, and Hōlua cabins are located in designated wilderness and are only accessed by hiking in.
Pit toilets and water is available near the cabins. All water must be filtered or treated before drinking. Each cabin has a wood-burning stove, propane stove, and four padded bunks.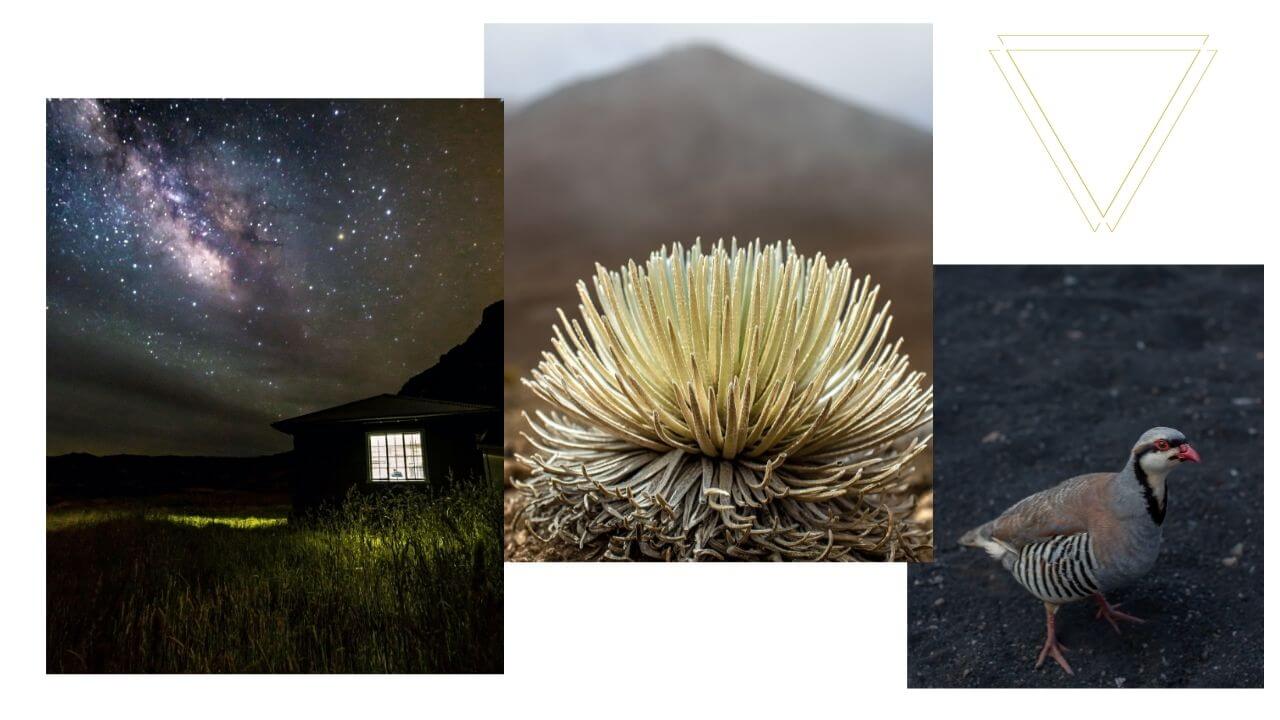 How to get a Permit to Stay in a Haleakala Wilderness Cabin
To have an opportunity to stay inside these wilderness cabins requires a permit. Permits open up 6 months in advance. You can book Haleakala cabin reservations online here. Being punctual and having determination will land you a permit.
I was on the site promptly at 7 and luckily got the Hōlua Cabin. I was trying for the Paliku Cabin as I've already had an opportunity to stay the night in the Holua Cabin but it got snagged up before I could click reserve. In the end, I'm thankful I got a cabin.
Cancelations do happen so if you're flexible on time and don't need much preplanning, you can check for often for last minute cancellations. That's how I got the Holua Cabin the first time.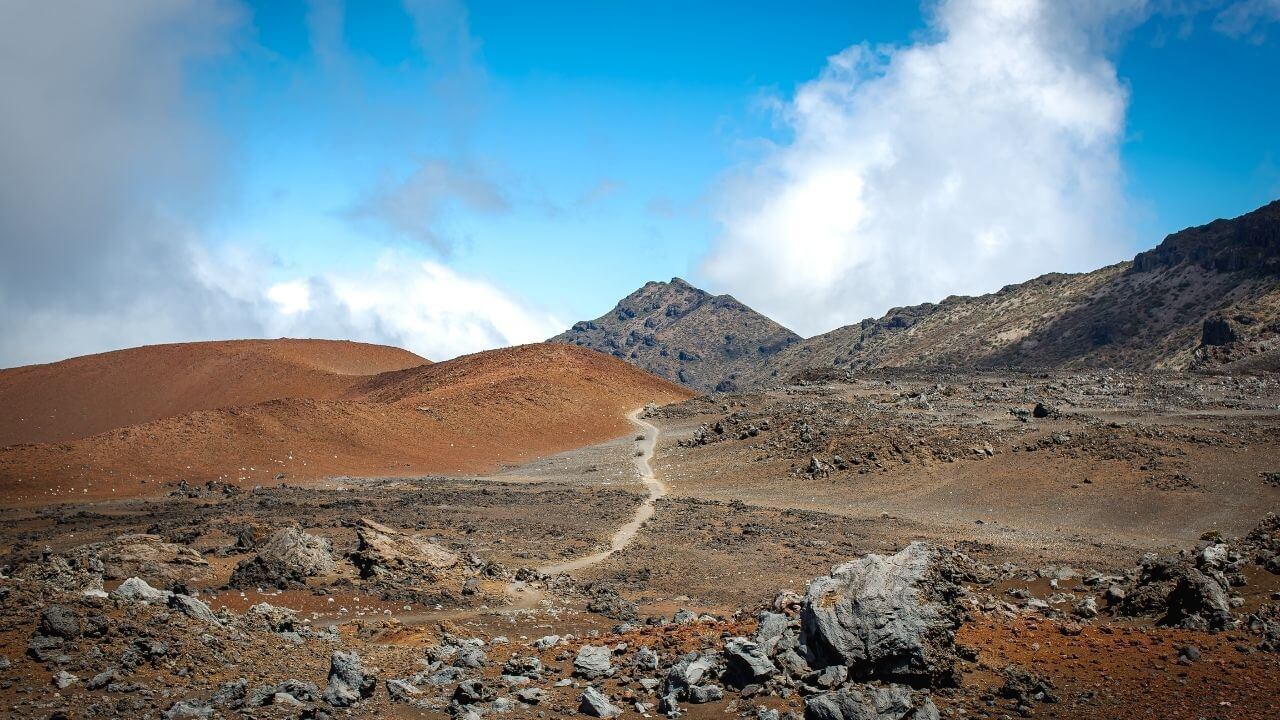 How to get to the Haleakala Wilderness Cabins
The only way to get to any of the cabins is by foot and hiking in. No matter which cabin you're staying at you'll be starting at the Haleakala Visitors Center just below the summit. Well unless you stay in the Holua Cabin and hike down Halemau'u and back up its switchbacks but what's the fun it that?!
The Holua Cabin (where we stayed) is the easiest to get to. Nestled at the base of the crater wall in the shrubland near Koʻolau Gap, this cabin can be reached from the Keoneheʻeheʻe (sliding sands) trailhead and then connecting to the Halemauʻu trail. The landscape around Hōlua supports a native shrubland which colonizes the lava flows.
If you are looking for some Haleakala camping, there is also a primitive campsite nearby. This is one of the 10 epic places to camp on Maui.
The Palikū Cabin is on the east end of the wilderness valley at the base of a rain forest cliff. This cabin is reached via a strenuous one way hike on the Sliding Sands Trail or 10 miles one way on the Halemauʻu Trail. Rain is very common here so be prepared. A wilderness tent camp area is also located nearby.
The Kapalaoa Cabin is found near the Kaupo Gap on the southern end of the wilderness valley. This cabin is reached via a 5 and a half mile hike via Sliding Sands or about 7 miles on the Halemauʻu Trail. This is the only cabin that doesn't have a wilderness tent area nearby.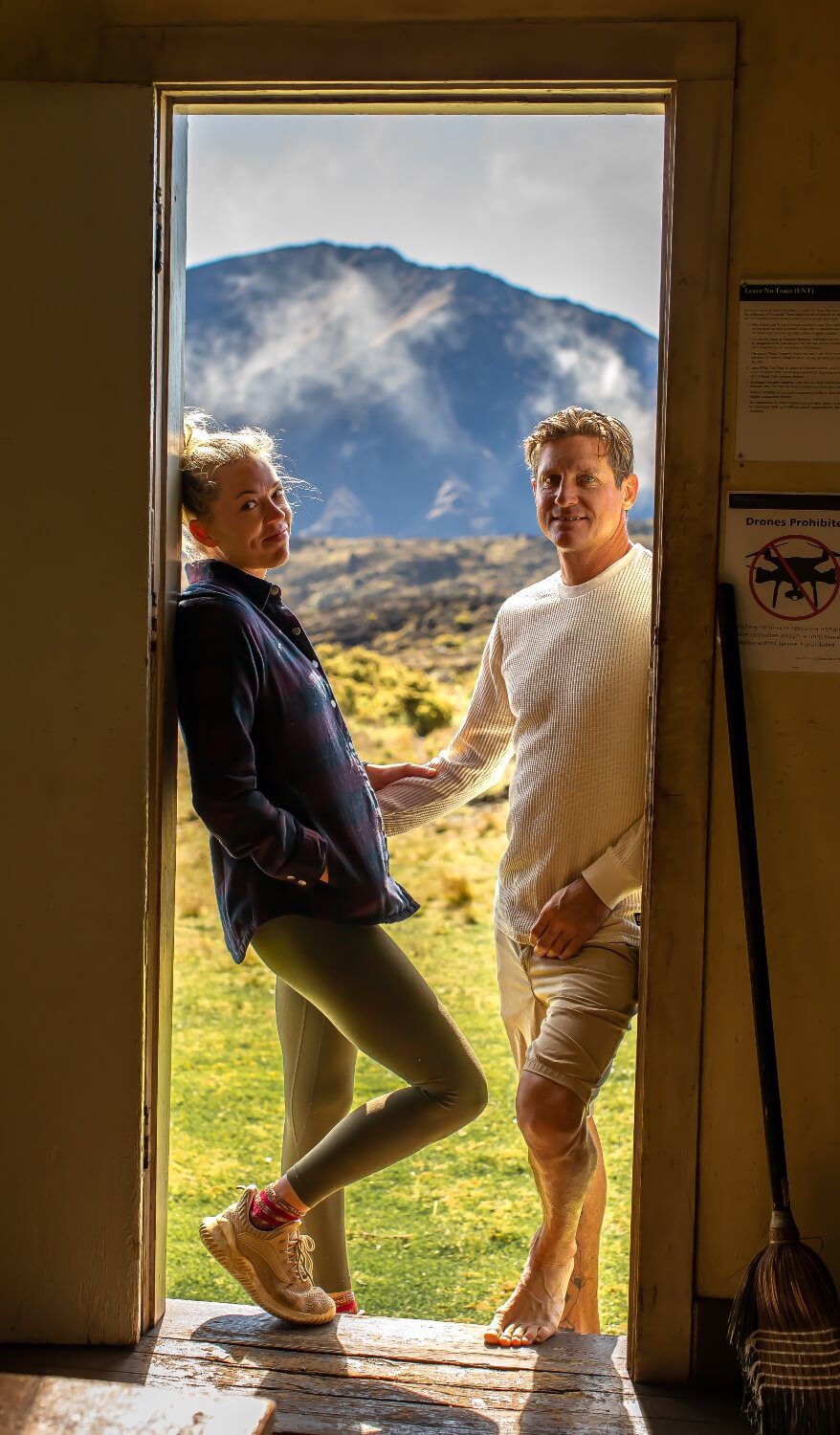 What to expect when staying at the Haleakala Crater Cabins
The cabins inside Haleakala are a sight after the long trek it takes to get there. Start your hike early as you'll want to arrive at the cabin with as much daylight as possible, it's a wilderness cabin therefore it doesn't have electricity a.k.a. lights.
Inside the cabin are 4 bunks, each containing 3 beds but since covid the National Park Service took out 2 beds per bunk. Meaning the cabins used to house up to 12 people and now it's only 4. Hopefully soon they'll revert back to the old way. There is also a large table with benches that the whole crew can hang out and dine at.
There is running water which is awesome, this makes it easy to wash dishes and boil water. You have to manually turn the water on outside and you MUST boil the water before consumption as there could be contaminants.
Let's talk about the kitchen. Besides a sink with running water, there is a propane stove, wood burning stove, a decent size countertop and lots of cubbards for storage.
There were a few pots and some essential items like salt & pepper, dish soap, sponge, olive oil, several battery led lights, candles, matches and even a deck of cards left from previous campers. Again this was inside the Holua Cabin Haleakala, amenities inside the other cabins could vary.
The wood stove, once it gets going gets the cabin nice and toasty. When getting your permit via email along with receiving the combination for the door, you'll get a combination for a locker inside the cabin. These lockers contain your fire wood. There is a small wood cutter available for to chop the wood used in the wood burning stove. Good luck and let your inner mountain(wo)man come out and play.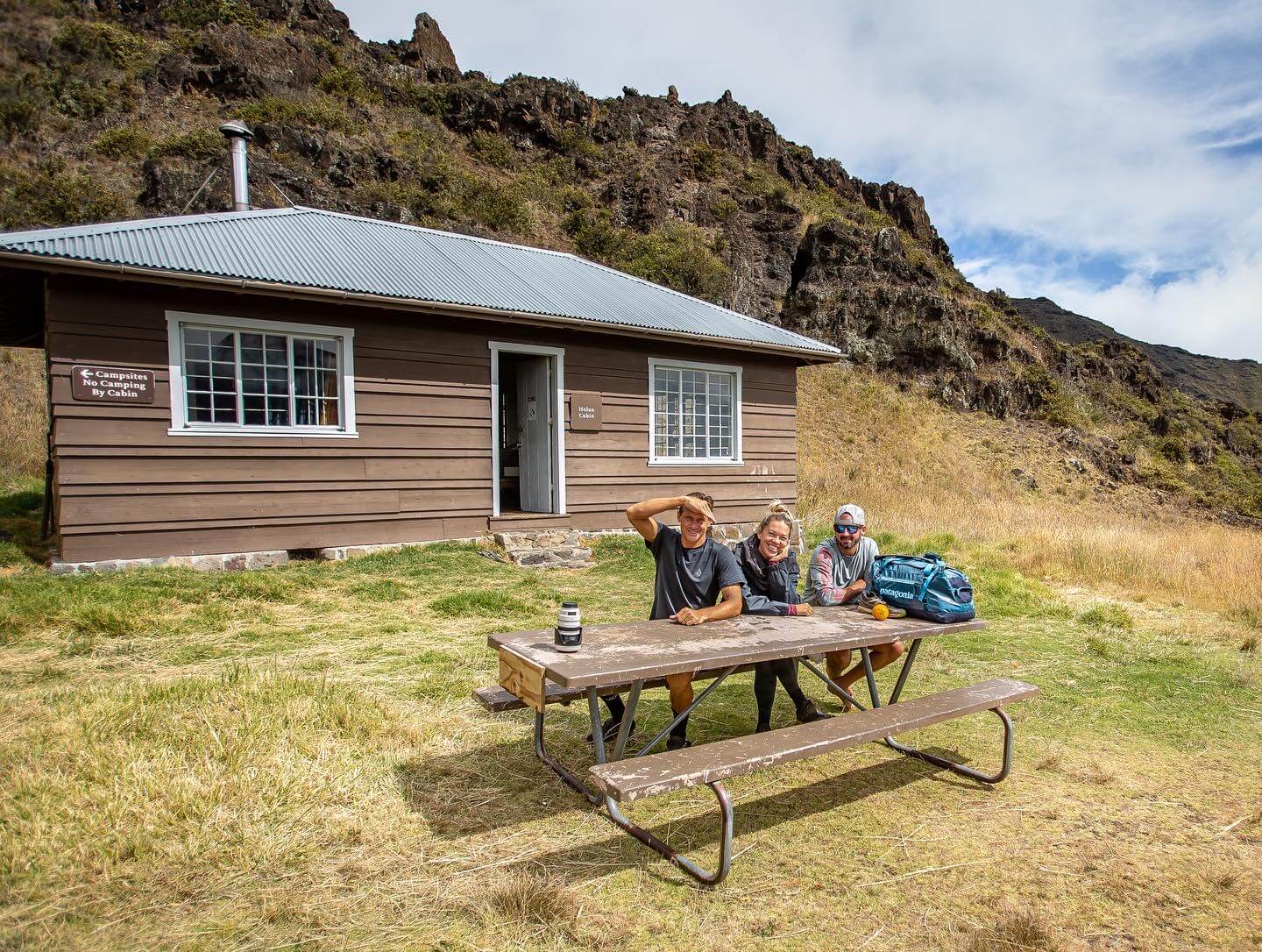 Travel Tip: If you book a cabin last minute email the park service at hale_interpretation@nps.gov or call 808-572-4400 to confirm entry and wood locker codes. The combination comes in an e-mail at a different time, sometimes several months after getting the reservation.
The bathroom is an outhouse located about 10 yards away. It's a glorified wooden porter potty. But it does have plenty of toilet paper so what more could you ask for. Bring your own hand sanitizer.
There is also a picnic table outside to eat some lunch and take in the epic views. Don't be surprised if you have special guests, the Nene Goose (Hawaiian state bird) hang out around the cabin.
Fun Fact: Holua is the best place during summer nights to hear an ancient song that was almost lost. 'Ua'u birds were thought to be extinct, but in the early 1960's nests were found in the cliffs above this cabin and up to the summit. Their Hawaiian name refers to the strange and wonderful sounds the 'ua'u make as they fly.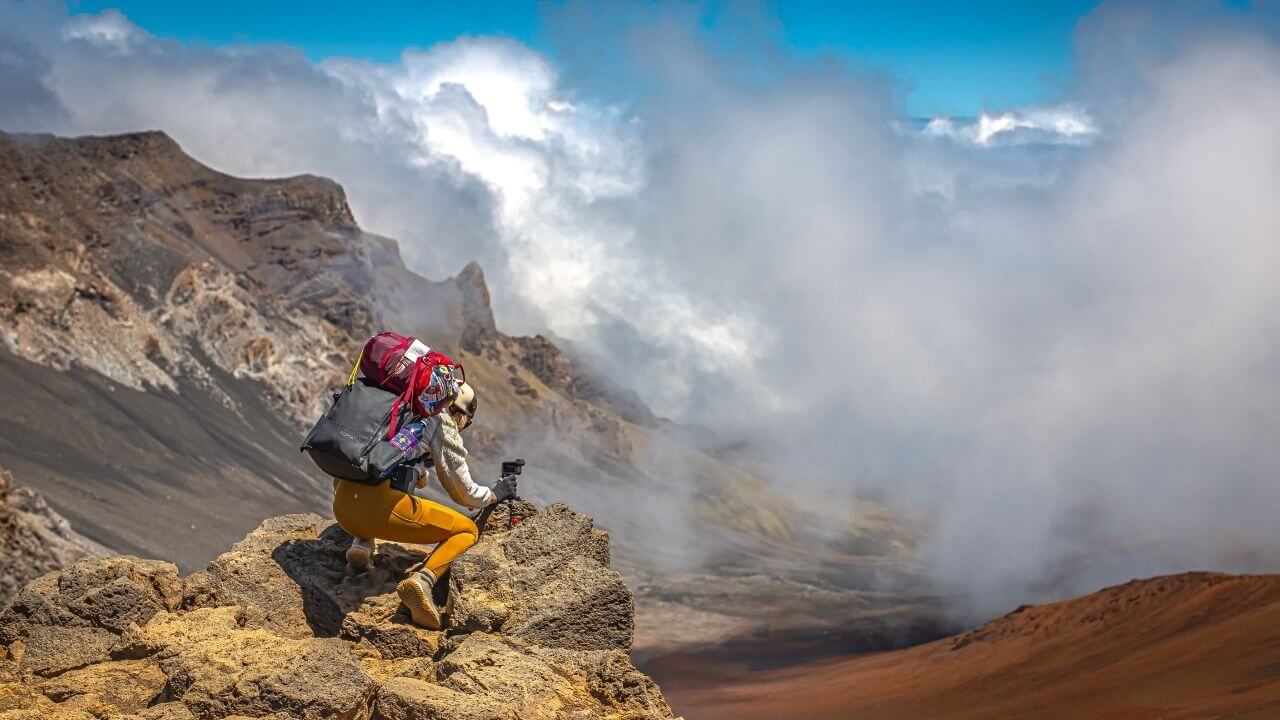 What to Pack for the Wilderness Cabins
A few of these items were provided in the cabin when we arrived but I'd rather be safe than sorry when staying in a wilderness area like this. Here is a list of all the things you should bring with you when camping in the Haleakala Wilderness Cabins.
Warm Clothes
Proper Hiking Shoes
Lighter (just in case)
Pot/Pan – There was a few pans there when I was here last in April 2022 but 6 months before there wasn't.
Food
Water
Music Player

(Optional but pleasant)

Clorox Wipes
Coffee & Tea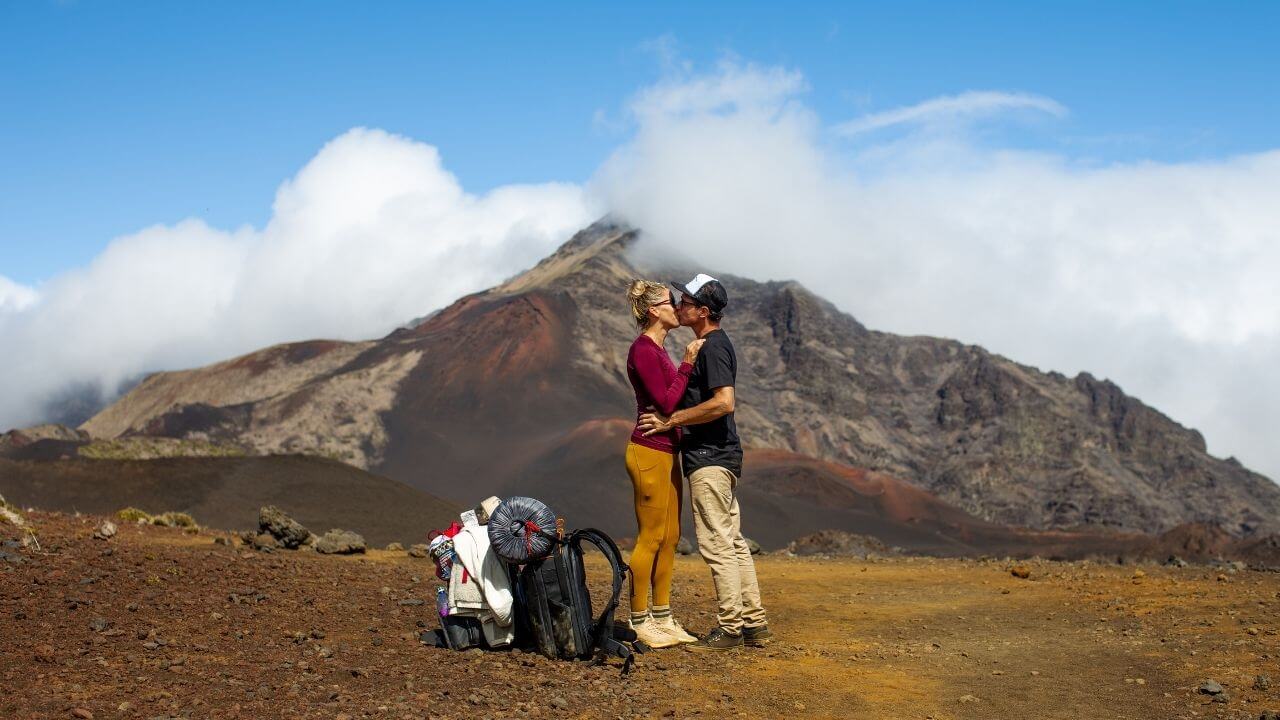 Tips
for Staying in the Haleakala National Park Cabins
Parking: Unless you have two vehicles, you'll need to be strategic on where you park your car. All the cabins I mentioned above any cabin starts by hiking in on the Sliding Sands Trail. The Paliku & Kapalaoa Cabins if hiking in and back out will be fine if you park and leave your car at the Haleakala Visitors Center.
Hitchhiking: The Holua Cabin you have options: You can either park at the summit and hike in and out the swtichbacks of the Halemau'u and hitchhike up to the summit. Or you can park your vehicle at the Halemau'u Trailhead and hitchhike up to summit and end at your vehicle. I recommend leaving your vehicle at the Halemau'u Trailhead and hitchhiking to the summit to begin your trek in. It's the best sight after a 5 miles up switchbacks of a mountain to see your car!
Pack it in, pack it out.

Don't leave trash or anything of a burden.

Leave no trace policies should always be practiced.
Sweep out the cabin and wipe down surfaces before you leave.

Basically leave it better than how you found it.
Boil or treat water prior to consumption.
Don't take rocks! Leave rocks, sand and shells where you found them. This is one of the biggest mistakes visitors make traveling to Hawaii. By leaving rocks in place we repeat Hawaiian beliefs and help nature thrive.
Drones are not allowed.
Make sure you have a full tank of gas before getting up to the summit. Gas stations become less common the closer you get.
Other things to do inside Haleakala National Park
Summit District
Watch sunrise above the clouds at the summit of Haleakala. You need to make reservations in advance and can do so here.
Hike the easy half mile Rim hike to get a glimpse of a crater of a volcano.

Find out more about Maui's best hikes.
Book a tour and bike down 26 miles from the summit to Paia town.
Hike the Supply Trail for a glimpse of Haleakala Crater.
Stargazing! You can't get much better than this.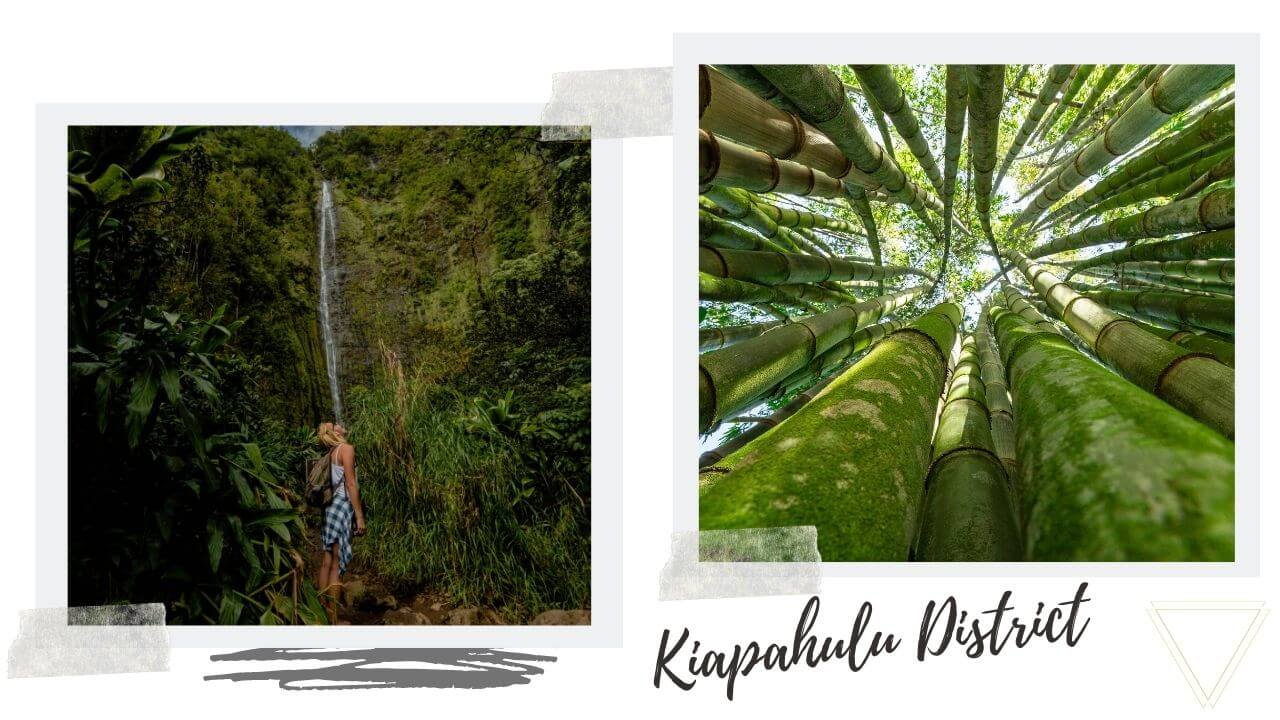 Kipahulu District
Hike the Pipiwai Trail.

It takes you past ancient banyan tree, through a dreamy bamboo forest and ends the 400 foot Waimoku Falls. This is moderate and family friendly hiking in Haleakala National Park.
Swim at Oheo Gulch.

*Open dependent upon the National Park Service.
Have an ocean view campsite at the Kipahulu campground inside the park.
Additional Maui Planning Resources ↓
Enjoy this Post?!?! Pin in for Later ↓