If you were on the fence whether or not to ride a hot air balloon in Cappadocia, I'm here to talk you off that fence. The Cappadocia balloon ride was 1000% percent worth it and you'd be doing yourself a disservice if you didn't get to experience this magic.
I know this may sound cliche, but the entire morning felt like a fairy tale. I'll go over in more detail below about my flight over Cappadocia but there are a few things to know about booking a Cappadocia balloon tour before you go.
In this article I'll spill the beans on everything there is to know about the hot air balloon ride Cappadocia, plus get you fully prepared and really amped up. It was that awesome of an experience, I mean just look at the photos!
In this article, I'll go over my personal experience, let you in on all the details you need to know before going on a Cappadocia balloon ride and provide you with any useful tips that will ensure a great visit.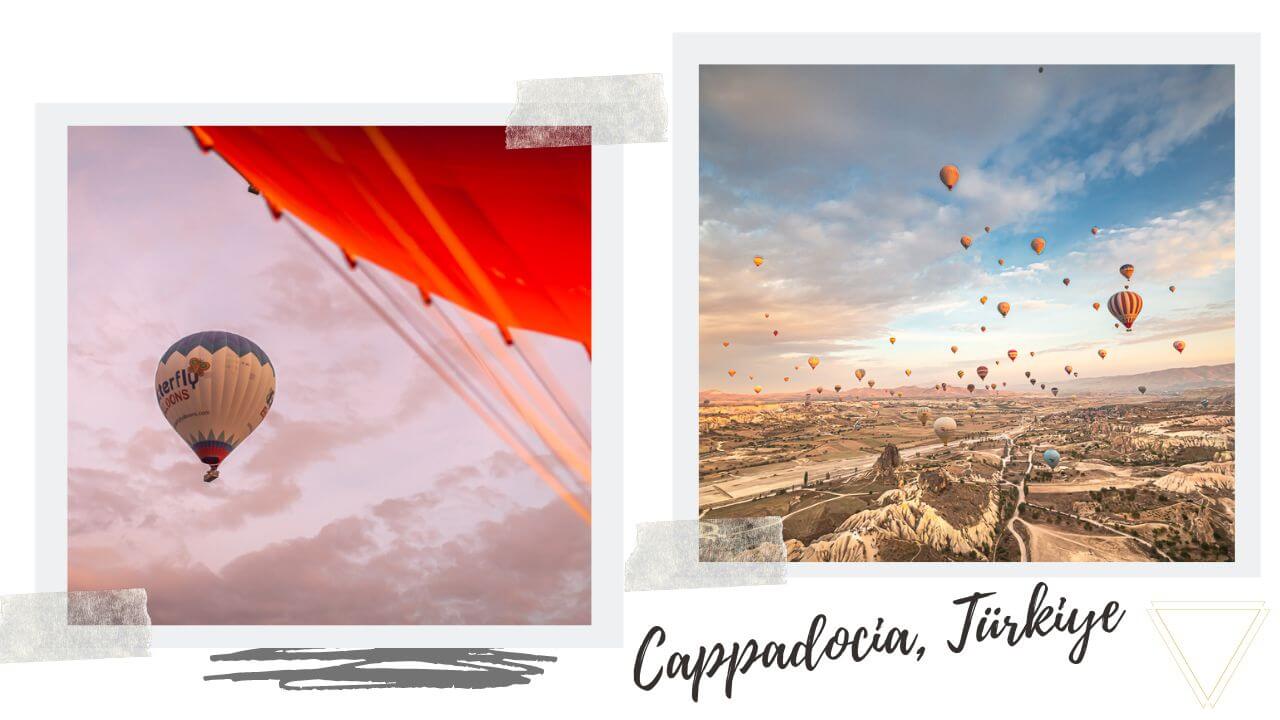 For full transparency, I have sprinkled some affiliate links in this post.  As an Amazon Associate I earn from qualifying purchases that gives me a small commission at no extra cost to you if you decided to make a purchase.  As always, I would never recommend a product or service that I didn't truely believe in.  All proceeds go to keep Jess traveling and coffee ☕️.  I thank you in advance.
Would you rather see exactly what it was like? Joe and I vlogged the entire experience which you can watch here.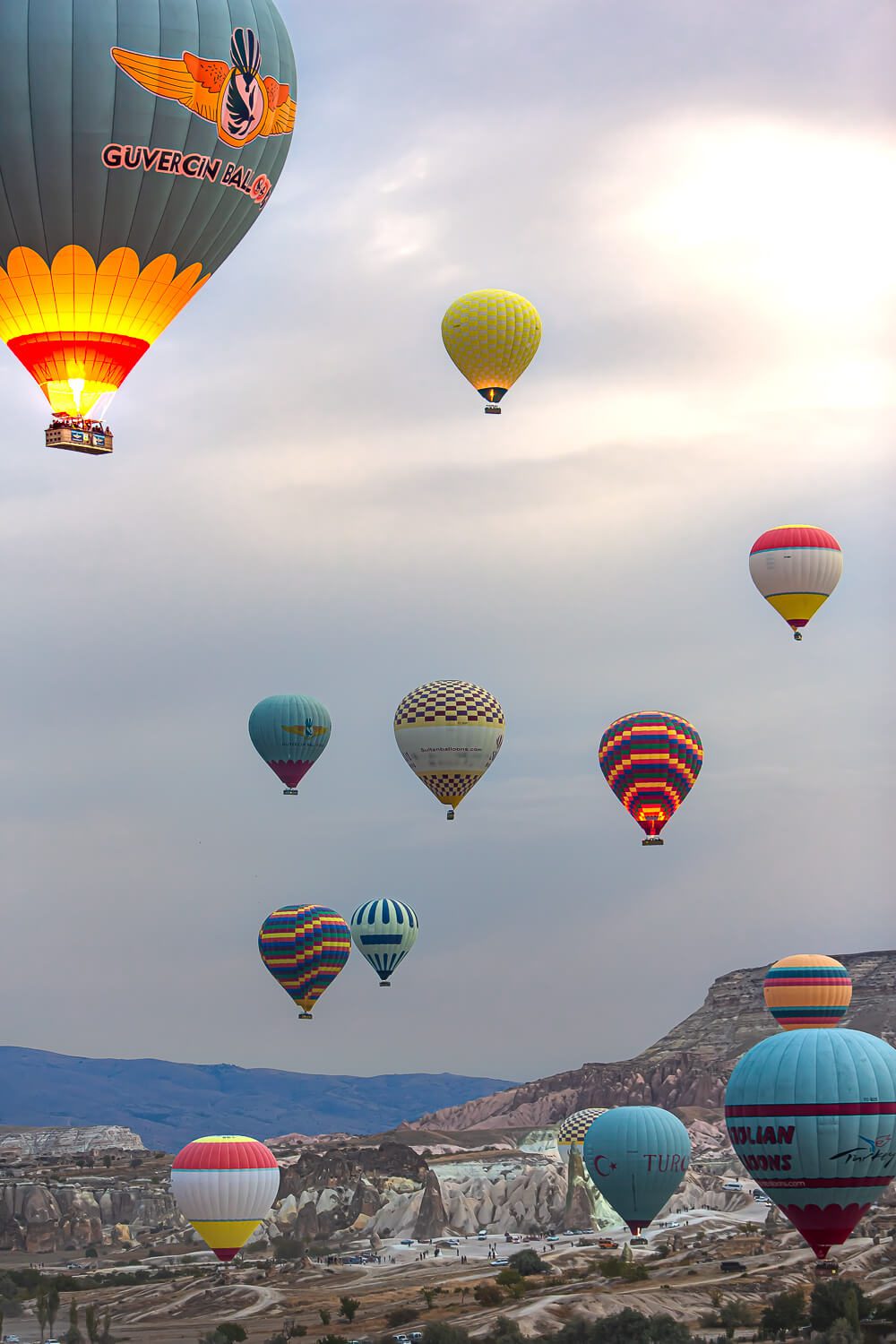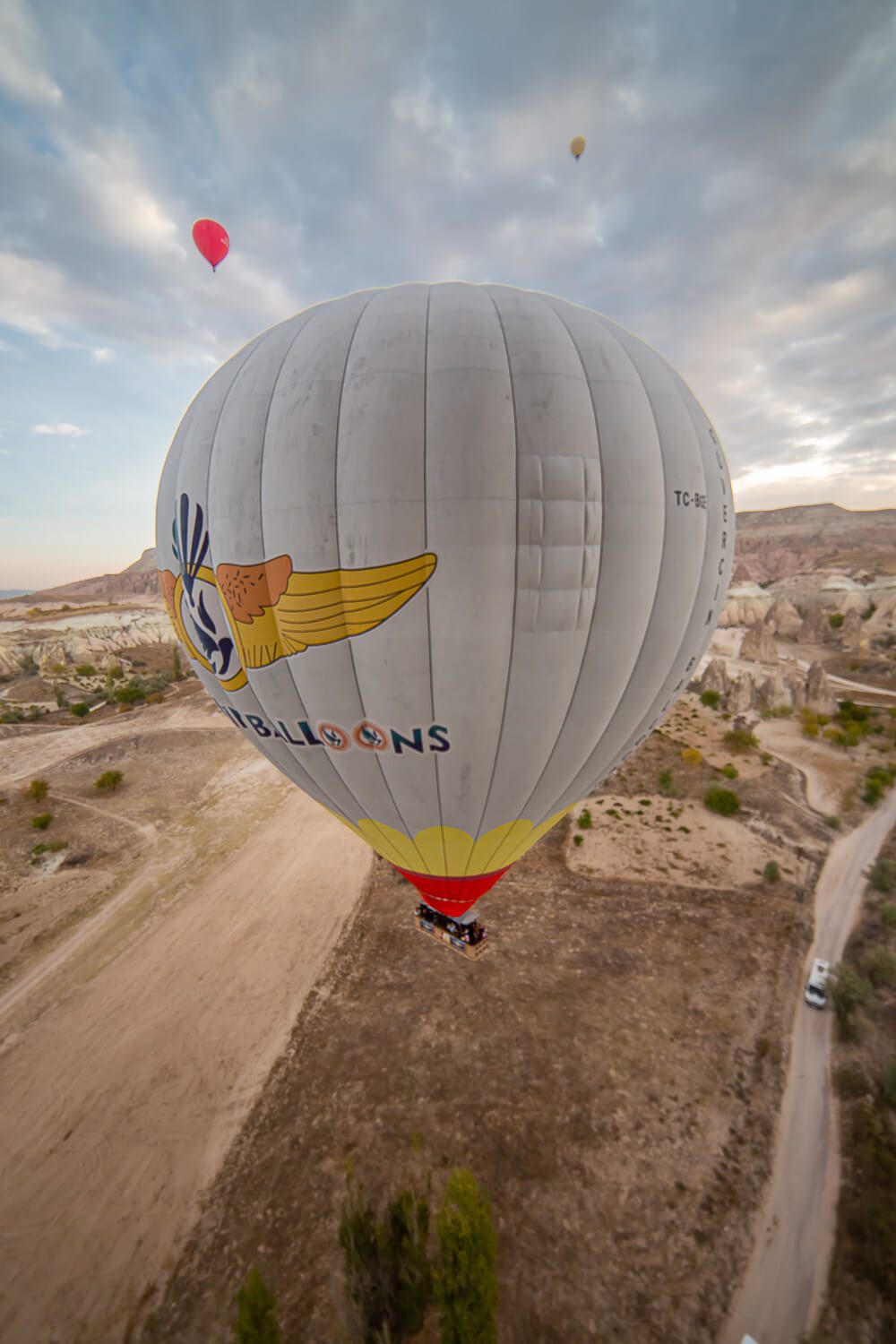 My Experience on a Cappadocia Balloon Ride
We arrived in Cappadocia bright eyed and bushy tailed with no ballon tour booked. Our plans were to figure it out when we got there, per usual.
This was our first mistake. Although it worked out for us, I would definitely book a Cappadocia hot air balloon tour far in advance.
Most people aren't aware, but the balloons don't fly everyday. If there is high wind or it's raining, you'll quite literally have to take a rain check and your balloon tour will be postponed a day or two.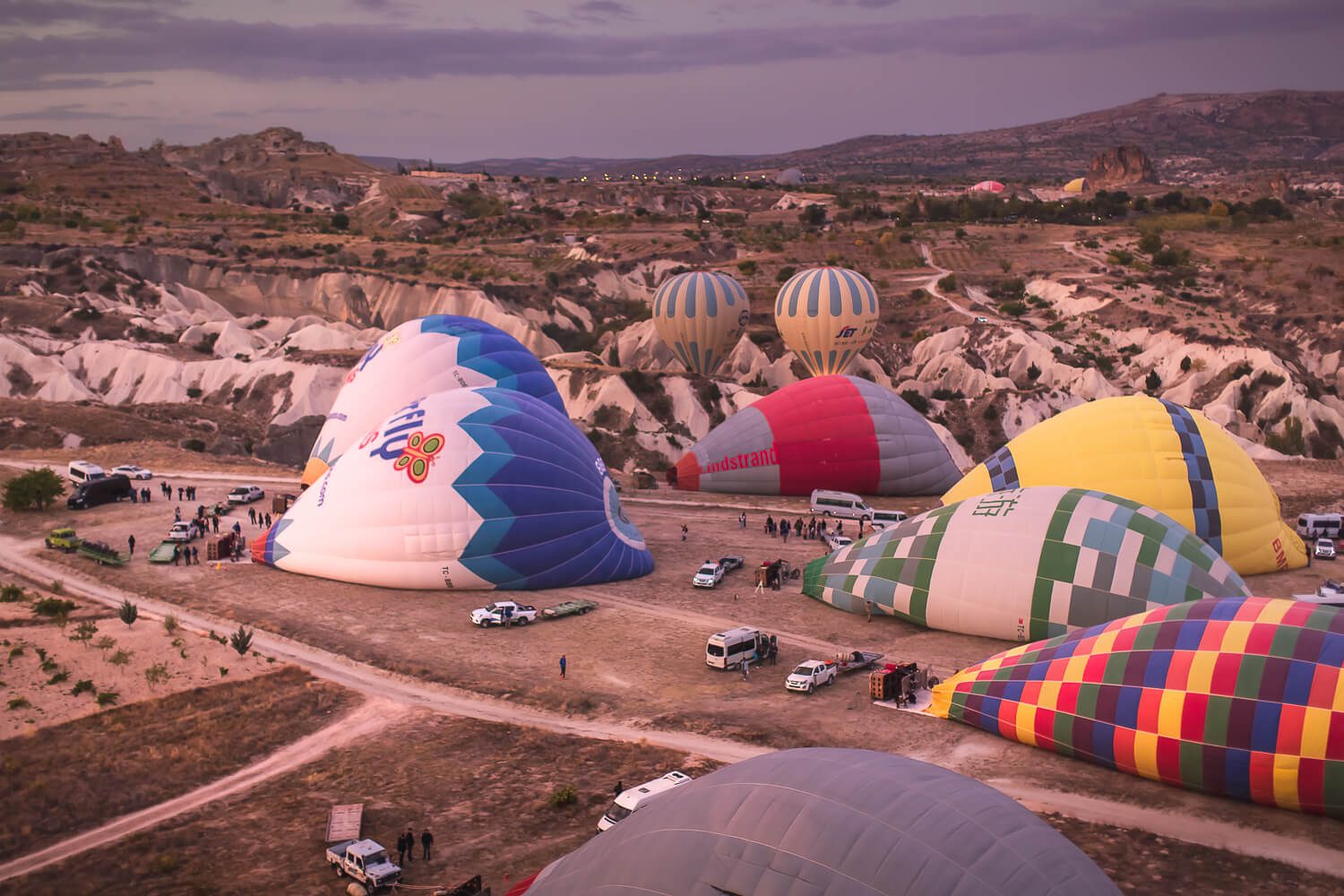 This brings me to tip number 2. If you are only in the Cappadocia area for 2 or 3 days, make sure you reserve your air ballon flight for your first full day. This will allow you to be able to reschedule in case your tour gets postponed.
As soon as we arrived in Cappadocia, we spoke with the owners of our family run hotel (Crazy Horse Hotel) about securing a hot air balloon tour. They called around and unfortunately everything was booked up.
*I'll add that this was during the month of October which is suppose to be the 'off season'. We've since learned that international travel is getting back in full swing, there hasn't really been that slow off season for this dynamic country but still – book your tour in advance.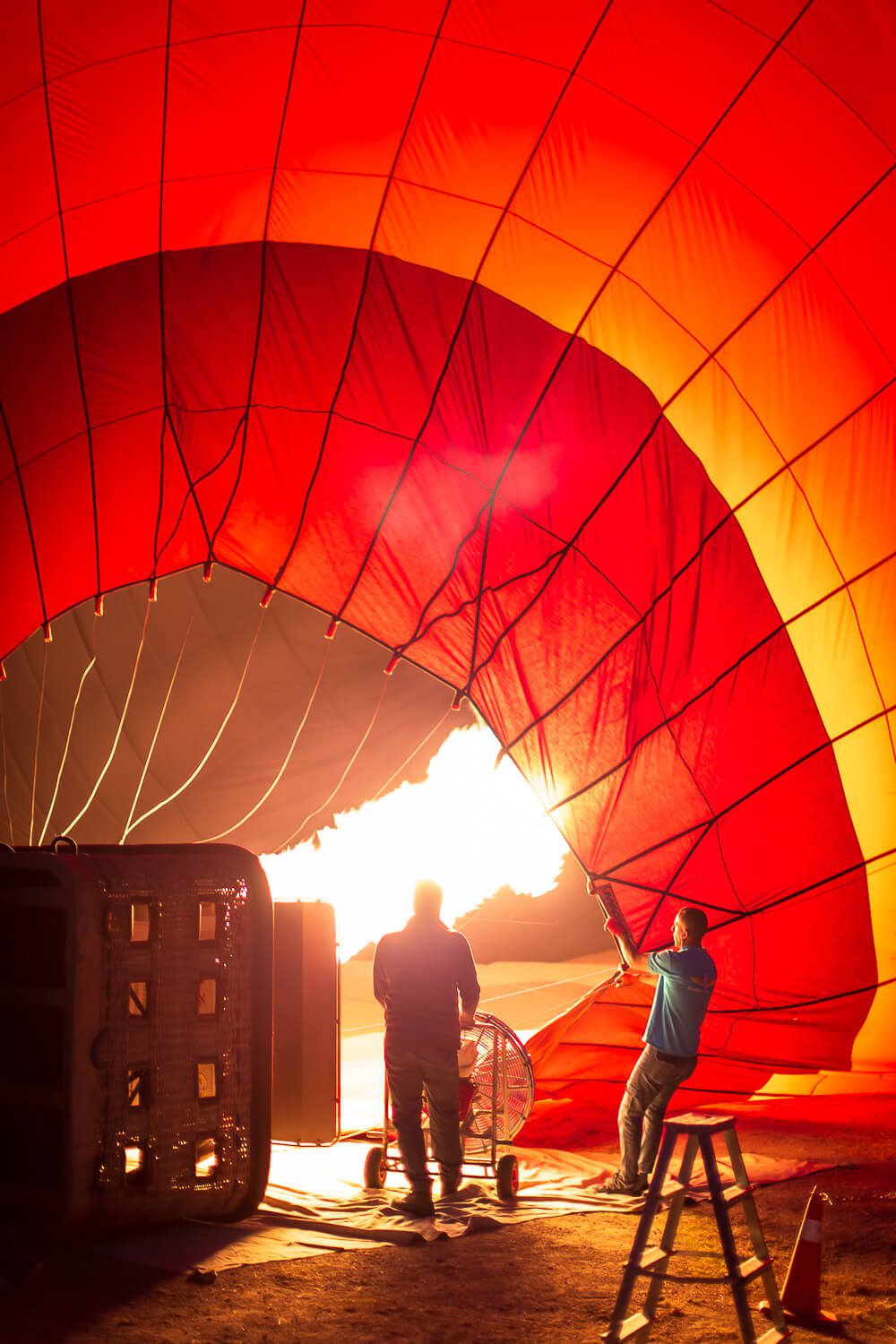 The sweet owners took down my WhatsApp and said she'd text if something became available. On our third night, we received that glorious message! Two spots became available the next day! $420 dollars later, we were booked on the a sunrise balloon flight with Guvercin Balloons company.
The day started with an early wake up call at 4 am. It was pretty easy to get out of bed as we were super excited, this was our first hot air balloon ride after all.
We got dressed and ready, then fumbled down the stairs to the cask of hot tea stewing at the reception. As we drank our tea anxiously in the dark, minutes crept by. Tip number three. Dress warm, it's very cold when the sun hasn't risen.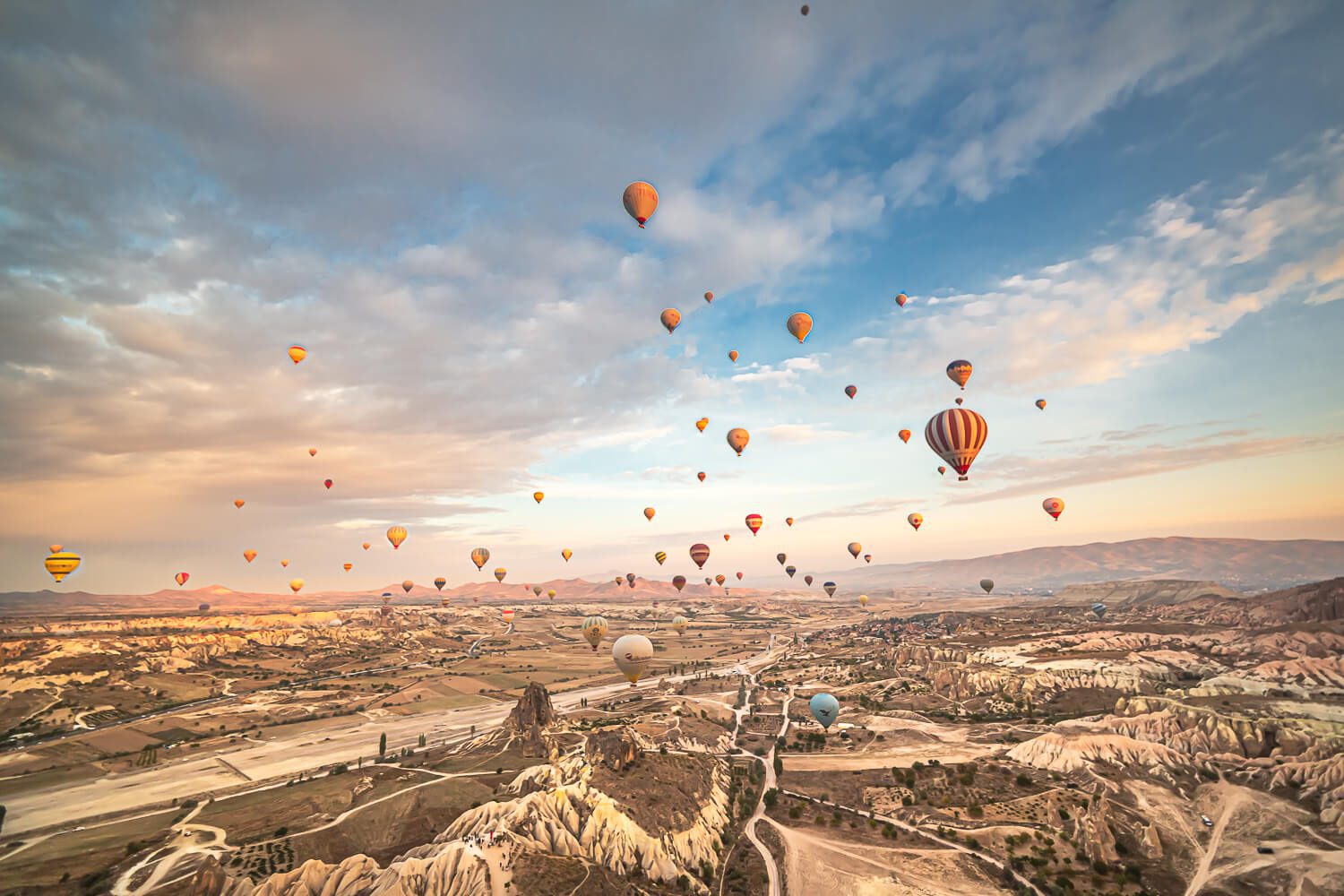 Most balloon rides include transportation to and from the ride. We were picked up a little before 530 and by the time all of the riders were gathered, we arrived just as the giant balloon was being inflated with hot air at around 6:30 am.
Our basket held 16 people which is typical for most companies. We were busy taking pictures and video when we realized our group wasn't around and they were all hopping in the balloon basket.
As the last two people on, we secured a corner cubby that was shared with two other people. Basically there's 9 compartments inside the basket. Eight for the riders and one for the pilot. Four riders per compartment.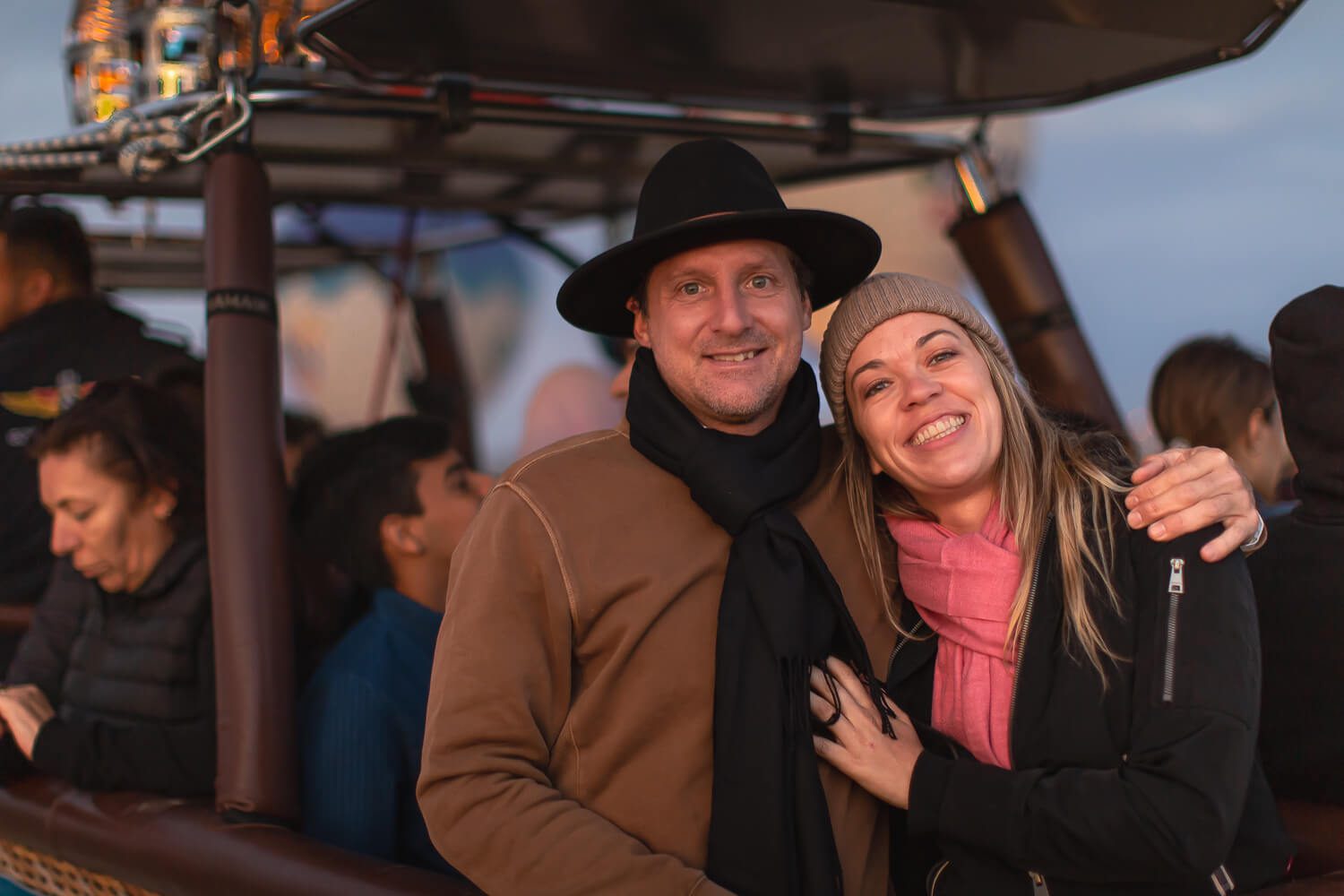 The cubby's are big and this allows everyone to have their own space on the side of the basket so you can take as much video and pictures as you need.
Lift off, we felt like we were drifting on a cloud. Most of the balloons take off and land in Love Valley.
This is where we were and it was the most ideal situation. We weren't directly in Goreme but a bit farther back. Therefore there weren't a bunch of people on the mountaintops taking photos of us thus it felt a bit more exclusive.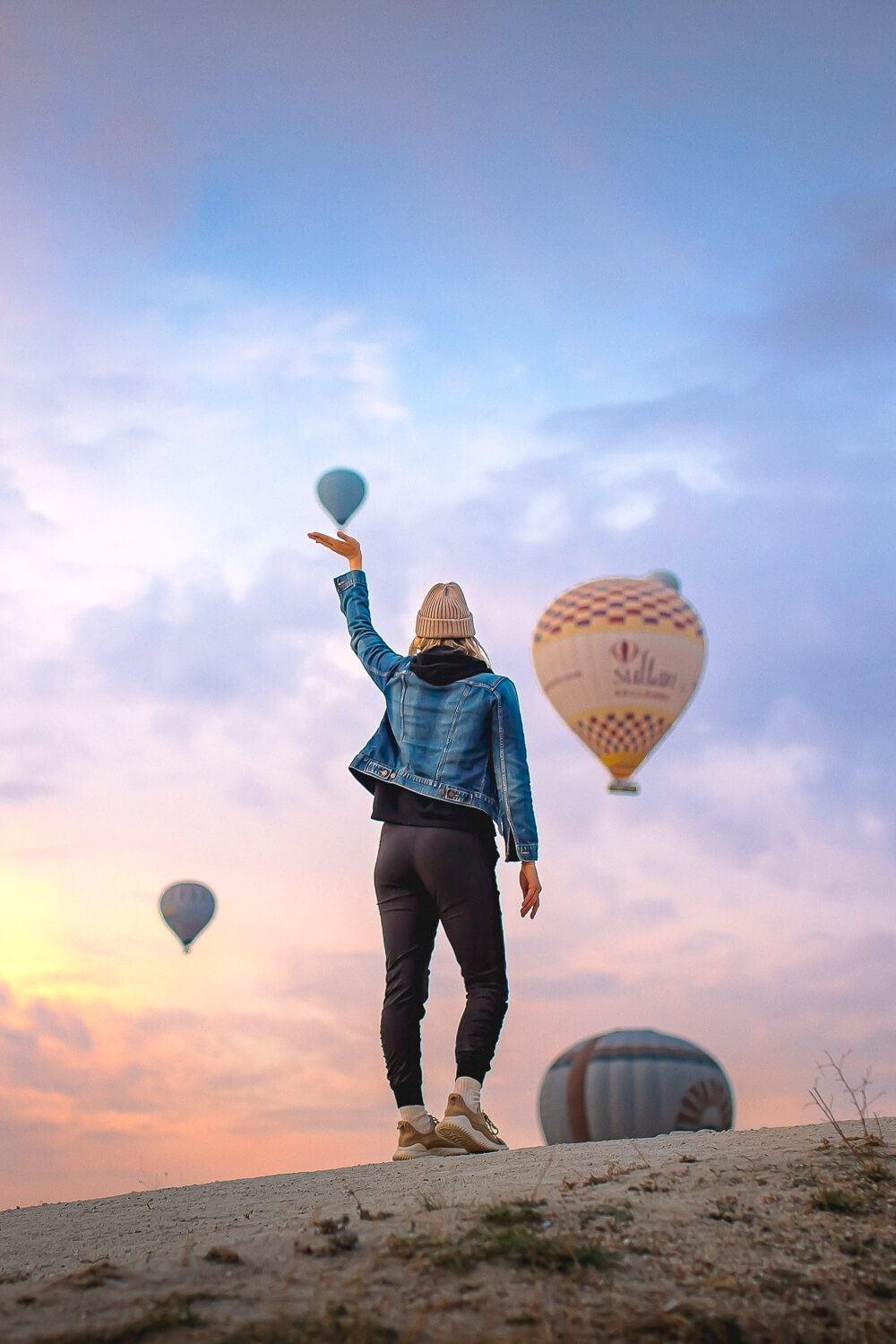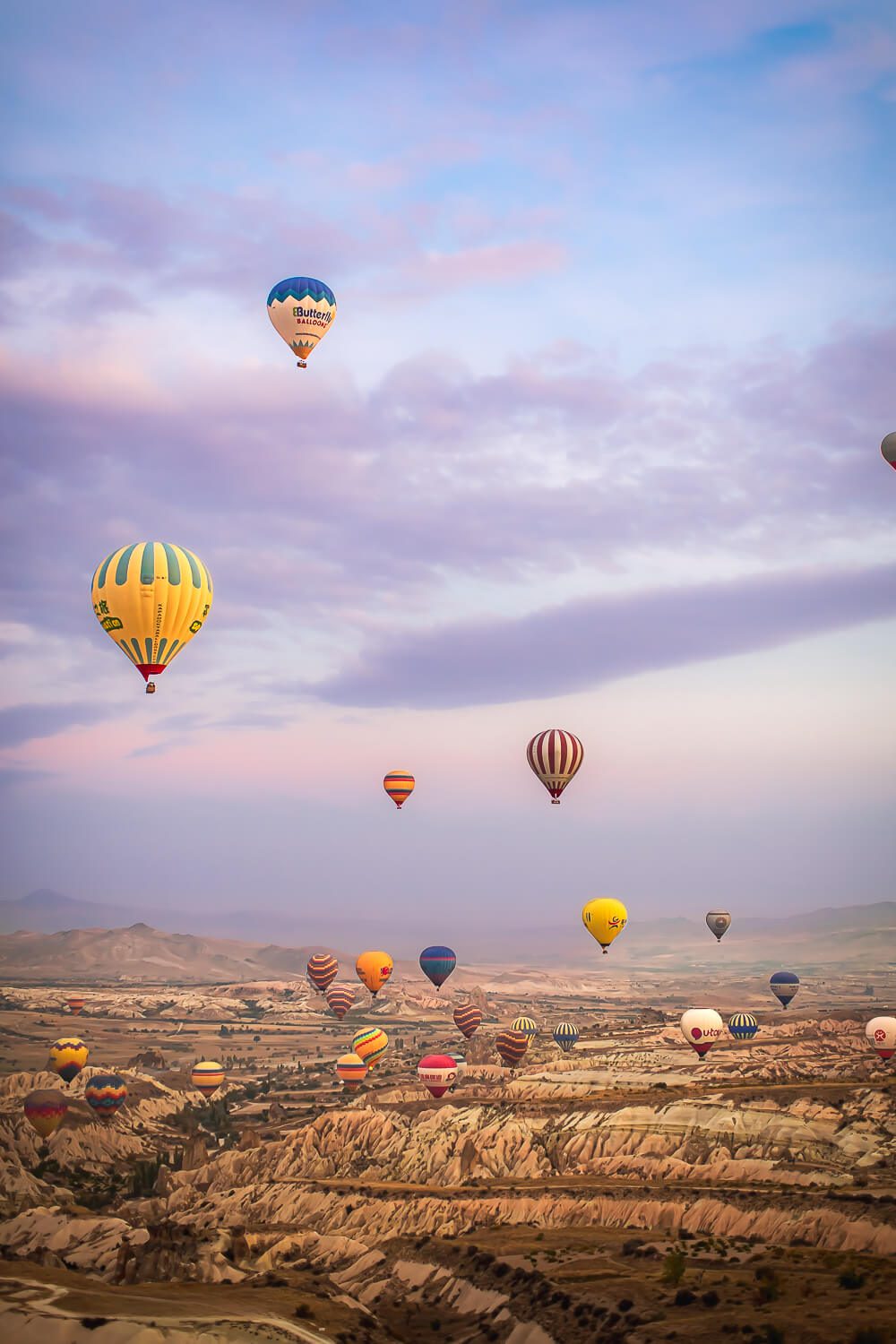 This brings me to tip number four. There are a few companies that depart out of Cat valley which has far less balloons. Apart of what made our experience so amazing was being in the air with the majority of all the other hot air balloons. Make sure you book a balloon tour that leaves from Goreme Valley or Love Valley.
Being in the air with hundreds of other balloons at sunrise just added to the moment. It was like a dream, everywhere you looked there were balloons floating angelically in the distance.
Fun fact: There's no where else in the world that you can go and ride a hot air balloon with hundreds of other balloons. The closest is the Balloon Fest in New Mexico and that only happens once a year!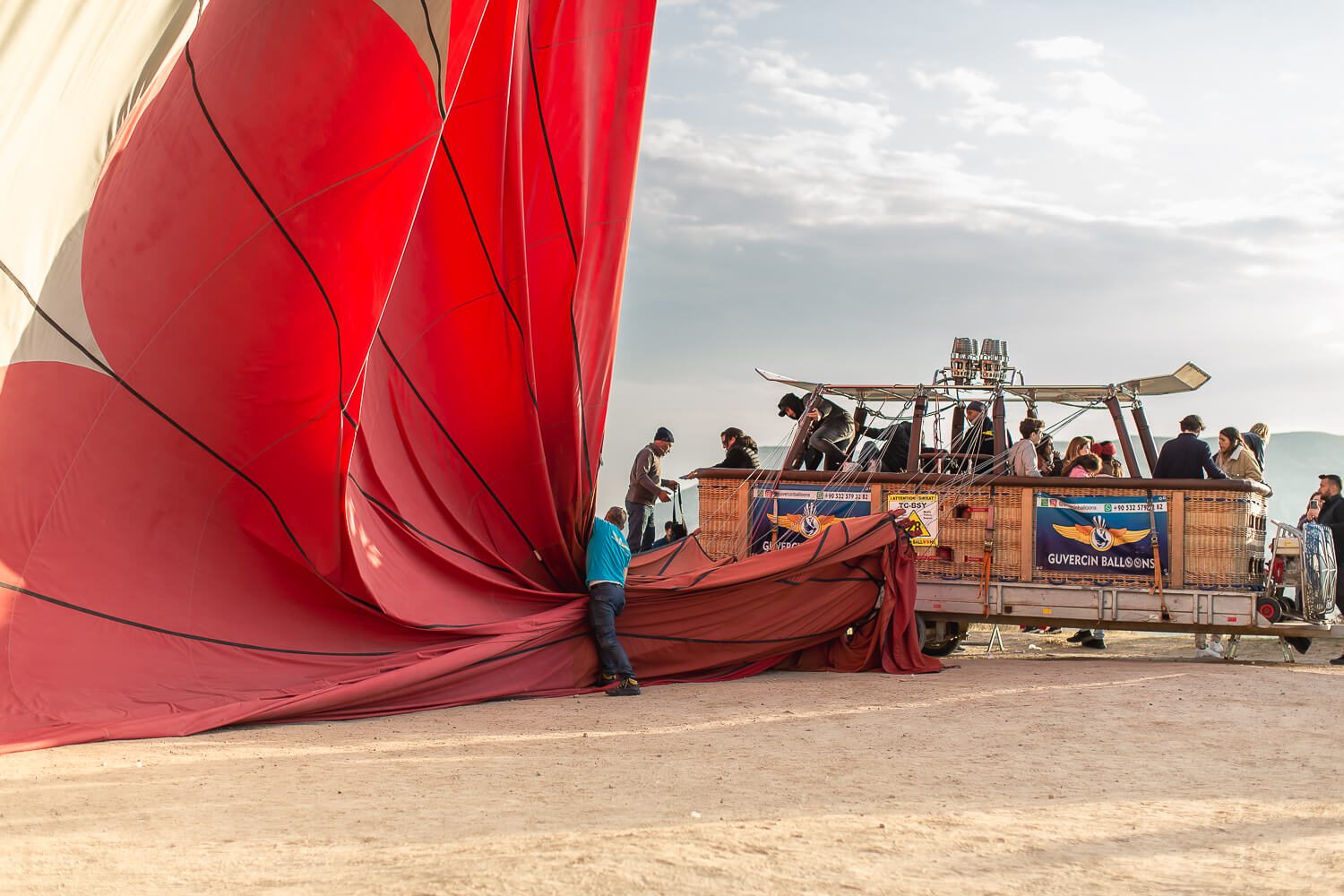 Our pilot did a great job at rotating the balloon so everyone could see all angles equally. We never felt cramped or slighted. I mean it's not everyday that you get to enjoy a balloon flight over a UNESCO world heritage site. The balloon ride over the fairy chimneys look spectacular from above.
An hour flew by and before we knew it, we were gently touching the ground. Once on land we celebrated with a champagne toast, gave props and tips to the crew and were on our way back to the hotel.
We had a moment to chat with the captain, he was very passionate and just all around awesome.
Cappadocia Hot Air Balloon Price
The average Cappadocia Hot Air Balloon Price is $160-240 depending on what season you travel to Turkey in. We paid $210 per person and it was worth every penny.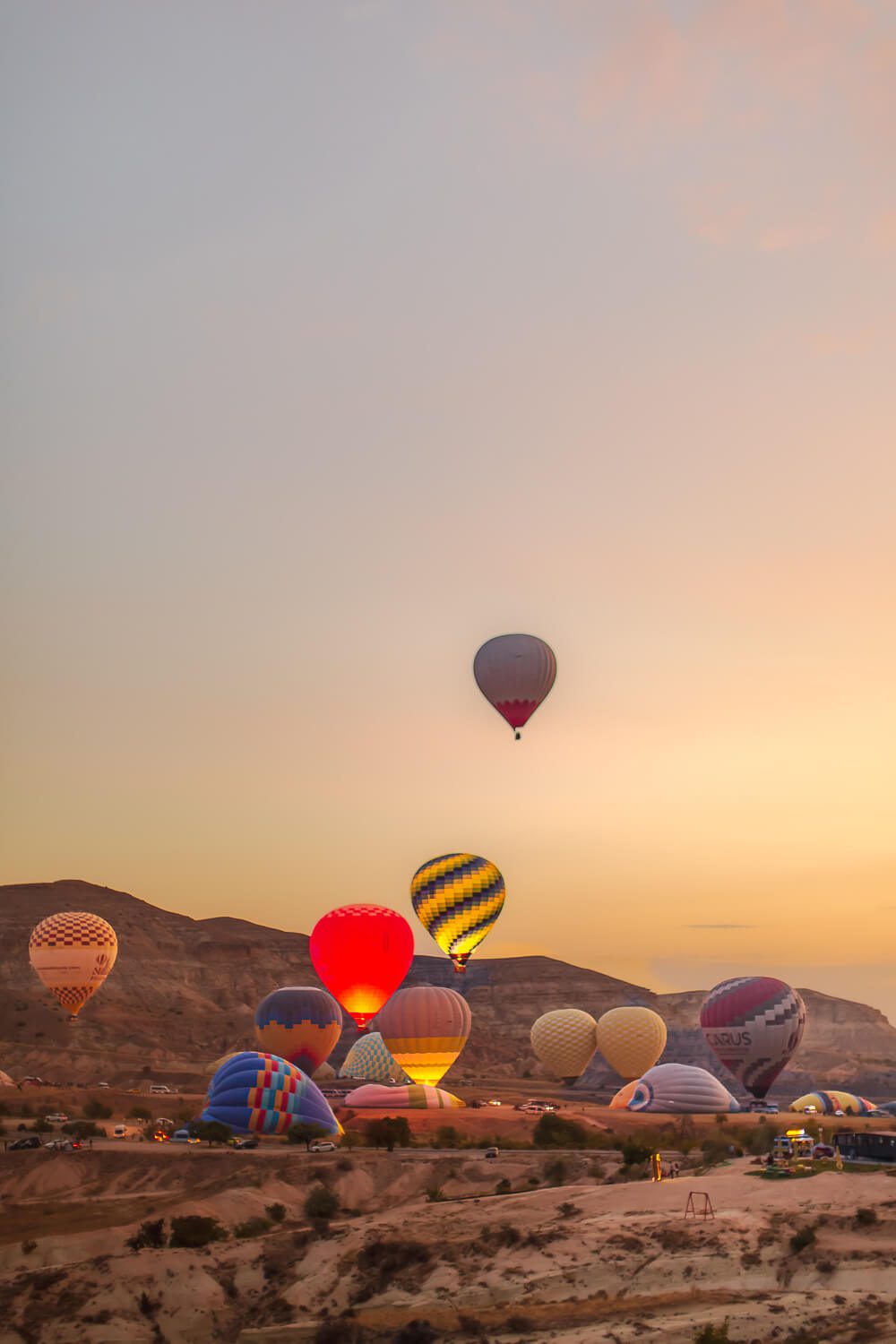 Cappadocia Balloon Ride Tips
Reserve your ballon tour for your first full day.
Try to book at least 4 days in Cappadocia.
Book a Cappadocia balloon tour that leaves from Goreme Valley or Love Valley.
Dress warm. It's cold when the sun isn't up!
These companies are very reputable and depart in the best locations.
Guvercin Balloons (the company we went on).
Voyager Balloons
If you made it this far, I hope I've convinced you to book this once in a lifetime Cappadocia balloon tour and check off a bucket list item!
Turkey Travel Tips
📍Plan your Trip

🗺 How long to travel Turkey?  2 Weeks to hit the highlights, 4 Weeks to really immerce yourself.

🛂 Visas: Get your E-Visa

☔️ Best Time to Visit:  April, May, September and October are the best months to travel Turkey.

💰 Average Daily Budget: Expect to pay 30-50 USD's a day for basic accommodations, sit down meals at a cafe and entrance fees.

⛺️ Turkey accommodation Guides

🪂 Highlights

Exploring Ephesus
Pergamon Ruins
Antalya

🧳 What to Pack: What to Pack for Türkiye

🎥 Watch our Turkey Series on YouTube

📧 Get on my Email list to see what I'm up to and all the best travel content!
Cappadocia Travel Guides ↓
Here are some articles and useful information to help plan your time in Cappadocia.
Enjoy this Post?!?! Pin in for Later ↓