Catching the slow boat to Luang Prabang from Thailand
One of the craziest adventures I have had was embarking on the slow boat to Luang Prabang to from Northern Thailand. Imagine 2 full days (9 plus hours each day) on a local Laos boat floating down the Mekong River.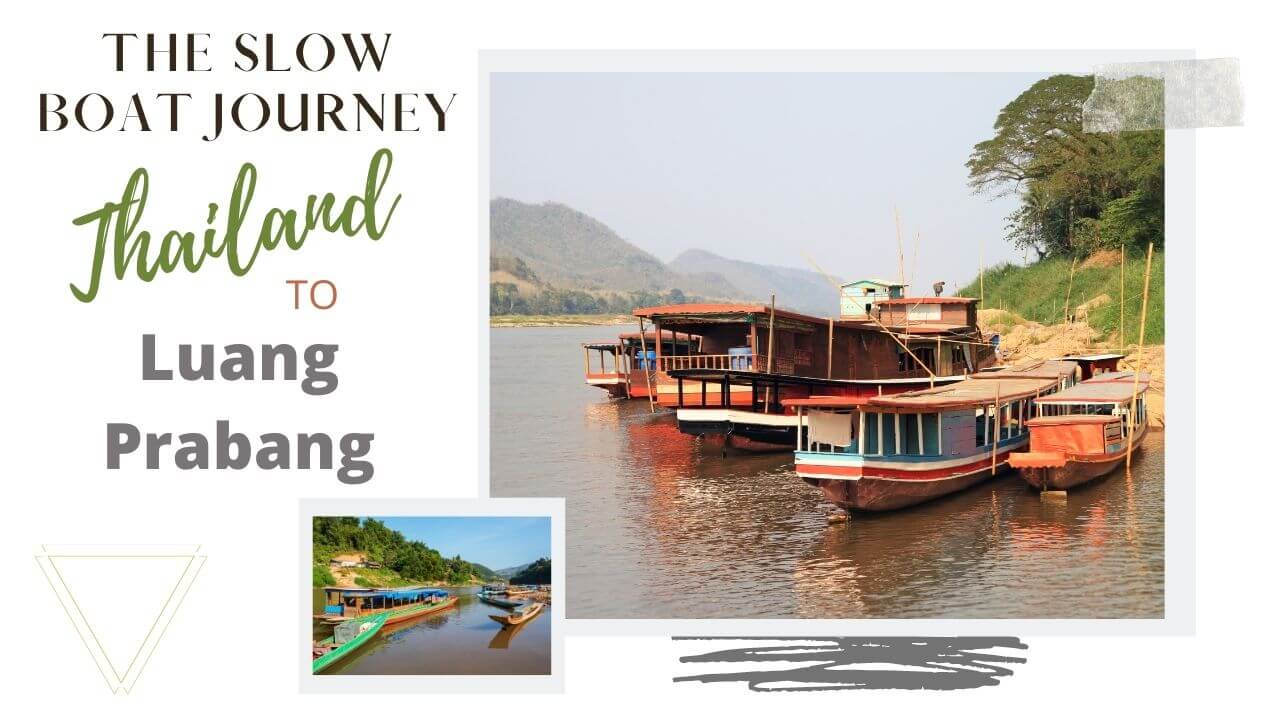 If you're traveling from Chiang Mai to Luang Prabang there are a few options on how to get there.
Option A: You can fly into the Luang Prabang Airport (LPQ). This is the most expensive option.
Option B: Take a bus to Luang Prabang (cheapest).
Option C: Take a fast boat to Luang Prabang.
Option D: Embark on a 2 day Laos slow boat.
After much research, the 2 day slow boat to Luang Prabang down the mighty Mekong River was the obvious choice. An experience that everyone should try once on their visit to Laos.
Here is a detailed layout of exactly what to do and what to expect of the slow boat to Laos.
Catch a Bus/Mini Van to Chiang Khong
Chiang Khong is the border town in Thailand where you will most likely be spending one night. You can catch a mini van from Pai or Chiang Mai to Chiang Rai for about 350-500 BAHT ($10.50-15 USD). From Chiang Rai you will catch a different bus for 200 BAHT ($6 USD) that will take you to Chiang Khong.
I traveled from Pai and found it much easier to book through a shuttle service to take me directly to the border town, it was a couple hundred BAHT more expensive but more convenient.
Find a cheap room at the handful of guesthouses in the town, don't expect much, it will be a basic bed, your own bathroom and a fan for about 300 BAHT ($9 USD). Take advantage of the cheap food and beer on your last night in Thailand before you cross the border into Laos.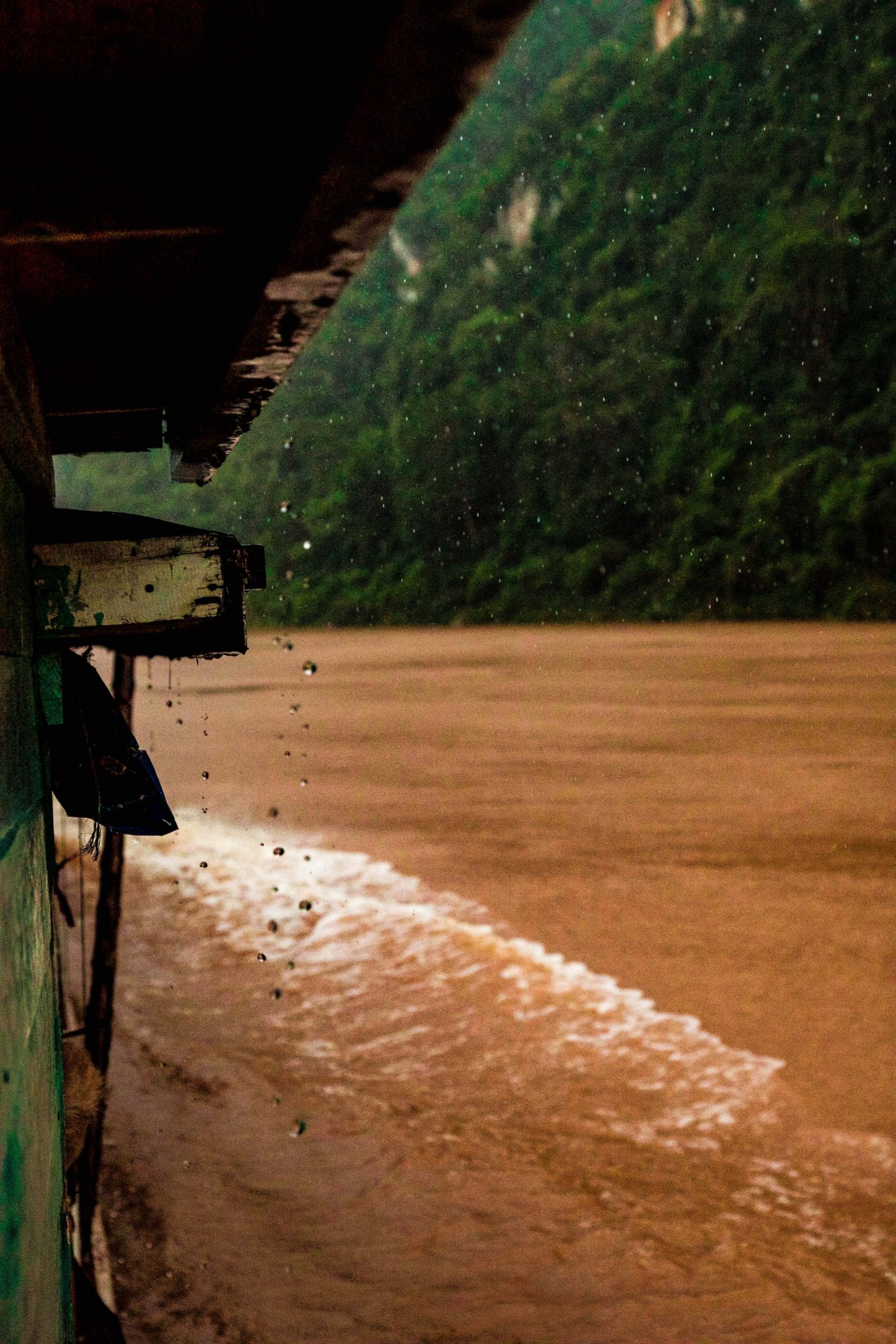 Chiang Khong to Laos – Catch a Tuk-Tuk to the Thai Border to
Wake up early to start the border crossing process, I'd recommend starting around 7:30 am. It was a 10 minute tuk-tuk ride to the border and should cost you 150 BAHT ($4.50 USD). You will get dropped off at the Thai border.
* Before you get to the border make sure you have a your passport, a passport photo, your Thailand departure card filled out and USD for your visa fee.
There will be departure cards for you to fill if you don't have one and an ATM that dispenses USD'S at the Laos border.
Walk Through Thailand Passport Control
Walk through the Thai border and give them your passport and filled out departure card. They will give you your departure stamp and just walk on through, a very relaxed and easy process.
*Do Not give them passport photo or visa money as they do this at the Laos border.
Take the bus across Friendship Bridge
As soon as you walk through Passport control you will see a booth selling tickets for the bus across Friendship Bridge to the Laos side of the border.
This bus will cost you 20 BAHT per person and will drop you off at the Laos border. It is about a five minute bus ride.
Once you step off the bus you'll see two ATM's, a currency exchange, and the Visa on Arrival window. The ATM by the currency exchange will dispense USD's which you need for your Laos visa and the ATM by the visa on a arrival windows will dispense KIP if you need to pull out Laos currency.
Before approaching the Visa on Arrival windows you must fill out the Laos visa form and the arrival/departure cards for Laos. They will both be placed right by the window for you to pick up and fill out.
Once you have both forms filled out, hand your passport, passport photo, and the $35 USD visa processing fee to the person behind the window.
*Note that the $35 fee is for United States passports, other prices may vary by $8 give or take.
Then go to the next window and and wait a couple minutes until they hand you back your passport with your new Laos visa inside! Hooray!
Next walk through Laos passport control, they'll inspect your visa and passport to make sure everything is correct and voila you've made it to Huay Xi, Laos.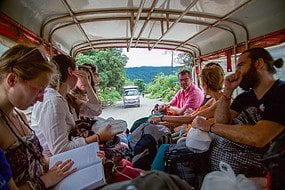 Grab a Songthaew to the slow boat Pier
Next you have to put your name and passport number on yet another piece of paper, pay 25,000 kip ($3 USD) for a Songthaew (basically a pickup truck with benches in the back) and get driven to the boat pier.
If you still need to purchase the Mekong slow boat tickets you can do this here. Tickets for the slow boat to Luang Prabang cost about 210,000 KIP for both days. Roughly $22 USD.
From here you will take the Laos slow boat from Huay Xai to Luang Prabang with a nights stop over in Pakbeng, Laos.
The whole process of obtaining a Laos visa, getting across the border, and getting to the pier of the slow boat was a quick and seamless process. I just wanted to lay it out step by step to serve as a guide for others in the future.
Day 1 of the SLow Boat to Laos
The slowboat will be scheduled to leave at 10:30 but you're on Laos time so don't count on it to be on time. There is a small store by the boat pier that sells beer, snacks, and sandwhiches made to order that you can take with you for lunch as the boat does not sell food, except for overpriced cups of ramen noodles.
The boat does sell beer, sodas, water, and cigarettes, so plan accordingly. The large Lao beer sold at the store was 15,000 Kip ($1.79) and they'll double bag the beer and put ice in it to keep it cold. The same beer was sold for 10,000 on the boat but wasn't particularly cold so the choice is up to you.
Get to the boat as early as you can to grab a seat. Even though you'll have a seat number on your ticket, no one will abide by the numbers and its a first come, first come free for all.
The first days journey will last 7 hours. You'll be excited when you reach Pakbeng which is the halfway point of the Mekong slow boat journey and where you will be staying overnight.
We did not book accommodations ahead of time as we traveled in off season and ended up staying at the DP guesthouse walkable from the pier for 50,000 KIP ($6). The place was clean, had hot showers, and was surprisingly comfortable.
Check out prices and places to stay in Pakbeng, Laos here.
By this time you'll have definitely made some friends so let loose and go paint the town red at one of the only two bars there!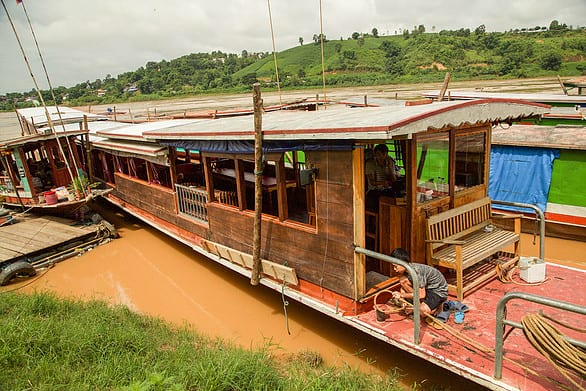 Day 2: Final Day of the Slow Boat to Luang Prabang
If you value personal space and enjoy sitting in a chair rather than the floor get to the boat EARLY! The waters of the Mekong River are more shallow on the second half of the journey compared to the first so for the second day of the journey the boats that you take are smaller in size.
I was informed that we would be on smaller boats but quickly realized that they meant a smaller boat, singular! There was physically not enough seats for everyone so you just have to sit wherever you can.
Of course the small group I was traveling with arrived last and we ended up sitting in the engine room with about 20 other locals! It was cramped, it was hot, it was loud and I can't say that it was the most comfortable traveling arrangements I've ever had, but it is definitely one of the most memorable.
I don't have pictures of me in the engine room but this picture kind of explains the cramped arrangements
Would I do this 2 day slow boat journey to Luang Prabang again? Probably not as I can say I've been there done that.
Would I recommend catching the slow boat from Thailand to Laos? Absolutely, an experience in itself, I guarantee you'll meet some awesome new friends, create memories that you'll never forget and get to experience what true Laos has to offer.
More Laos Travel Resources Below ↓
Enjoy this Post?!?! Pin in for Later ↓