If you are looking to explore Colombia waterfalls while you explore this vibrant South American country, make sure you add the Cave of Splendor to the top of your list. The Cueva de Splendora is the most popular thing to do in Jardin and for good reason. It is a gushing waterfall flowing through a cave.
Colombia is a country full of adventures. There are different ways to get to experience this Colombia waterfall. This post is dedicated to how you can visit the Cave of Splendor without a tour.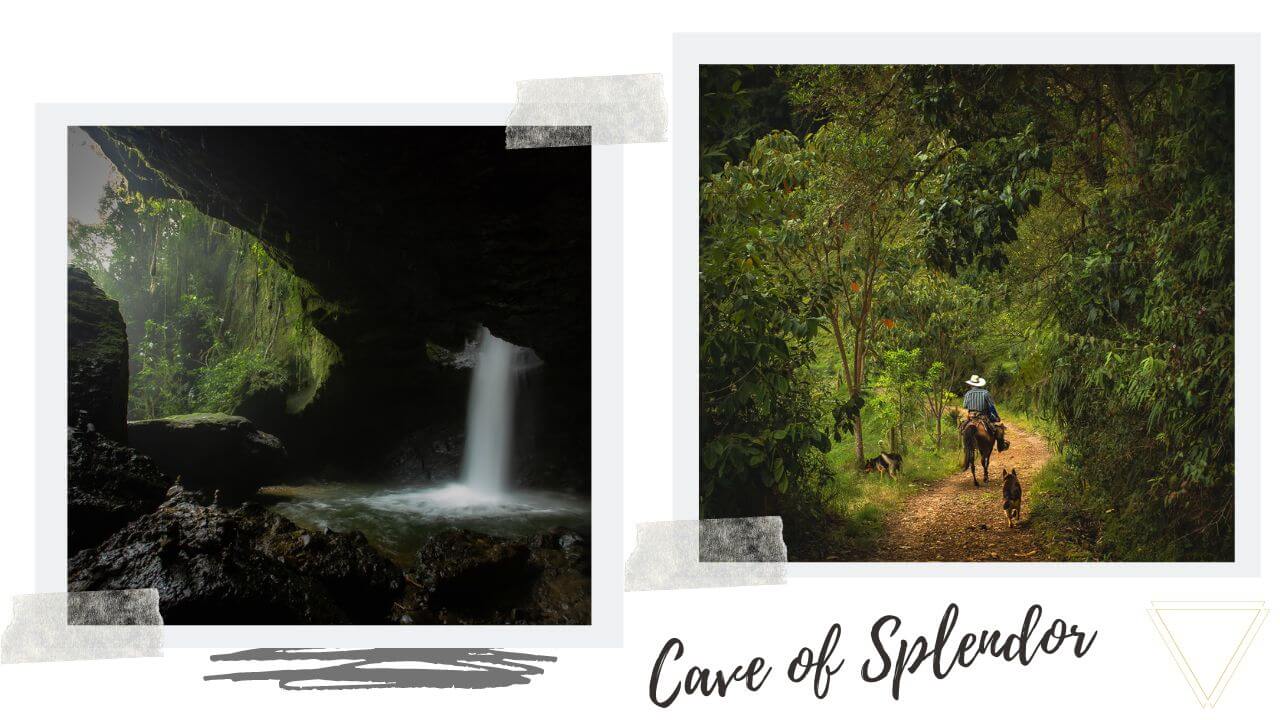 For full transparency, I have sprinkled some affiliate links in this post.  As an Amazon Associate I earn from qualifying purchases that gives me a small commission at no extra cost to you if you decided to make a purchase.  As always, I would never recommend a product or service that I didn't truely believe in.  All proceeds go to keep Jess traveling and coffee ☕️.  I thank you in advance.
If you'd rather see exactly how to hike to Cave of Splendor independently check out the vlog that Joe and I filmed of our adventure. We spent 3 and a half weeks exploring Colombia and all of its beauty.
Where is the Cave of Splendor?
The cave of Splendor is located in the middle of Colombia's coffee triangle outside of Jardin. Nestled in the mountains above Jardin, the area is a lush, misty, fertile landscape.
A bus from Jardin to Medellin will takes about 4 hours and costs $9 USD. We arrived in Jardin on a bus from Guatape which connected in Medellin.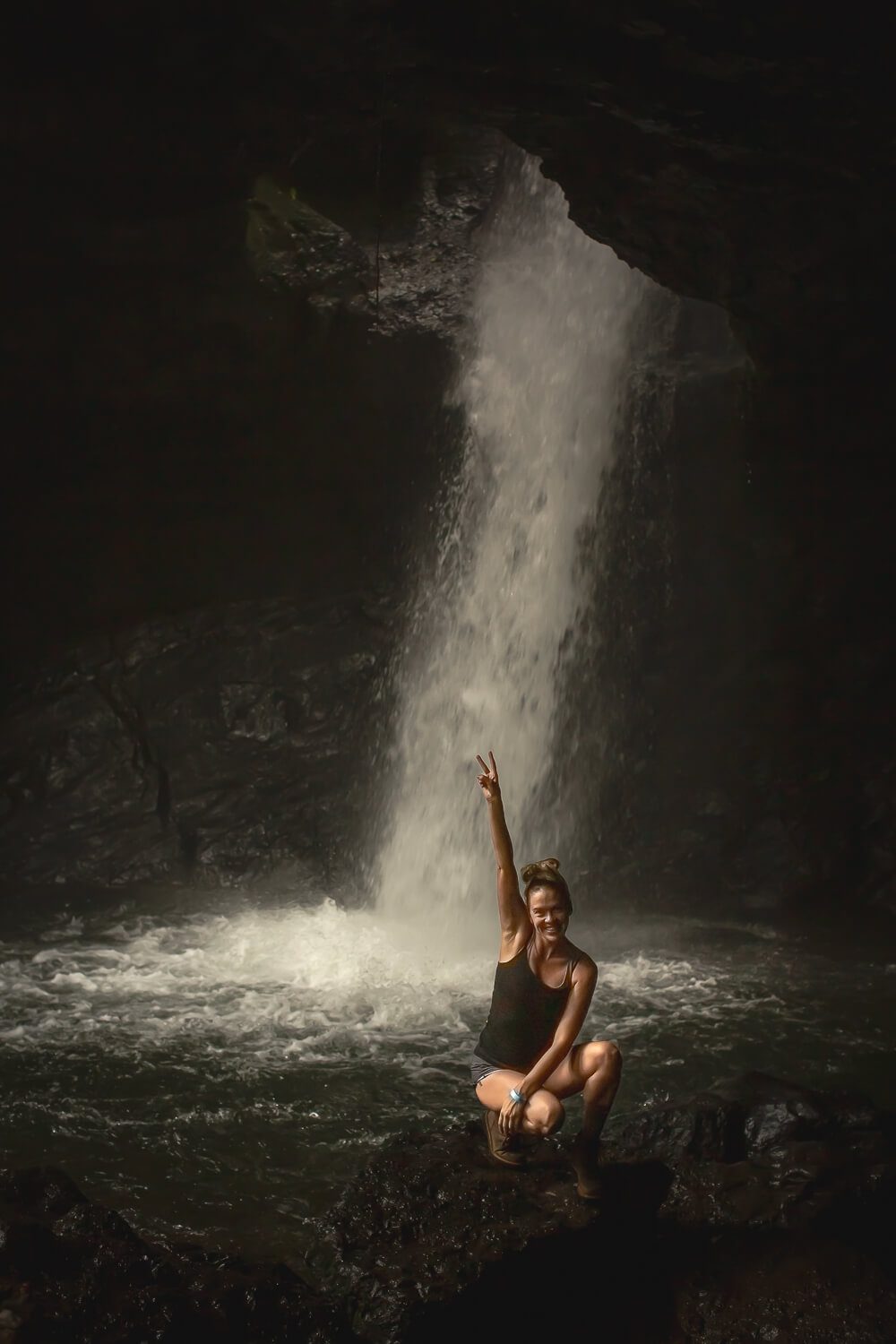 How to Get to the Cave of Splendor
There are three ways you can get to the cave of splendor.
Hire a tuk tuk and hike to the Colombia waterfall.
Get a seat on the shared jeep and hike a short ways.
Independently via Tuk Tuk
We grabbed a tuk tuk from town for 35,000 pesos. The ride journey took 45 minutes through deep mud puddles on a winding road up the mountain.
You'll get dropped off at a house. To the right of the house, there's an orange gate. Go through the gate and from here it's a straight shot along the road to the Cave of Splendor.
The first 15 minutes are straight uphill. You'll pass by several friendly cows and farmland. The trail isn't much, just a dirt, rutted road. If it's rained recently and chances are it has – prepare for mud.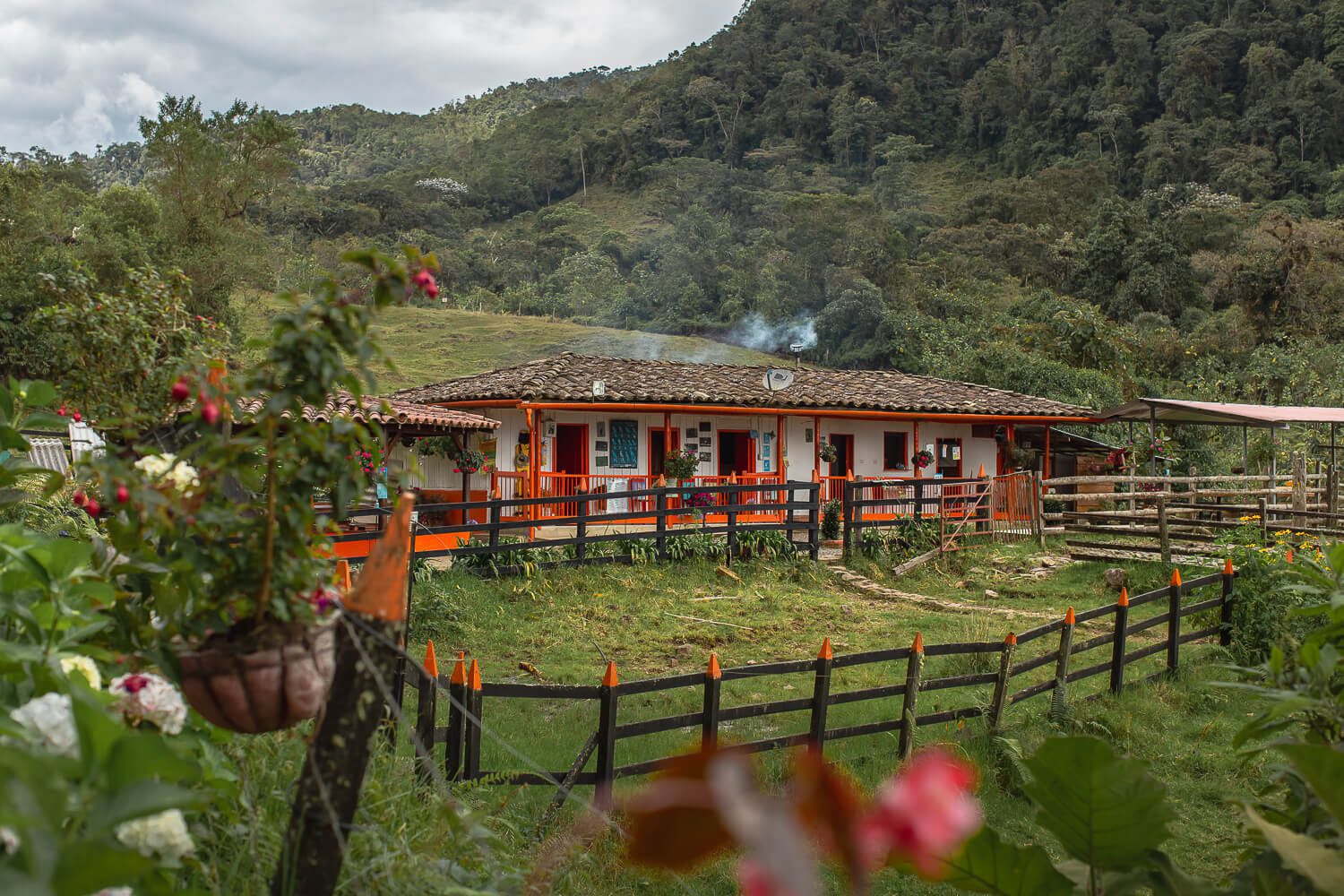 From here it takes a couple hours to trek to the property that contains the legendary Colombian waterfall. The house is pictured above. You can't go any further until you sign in with your name, passport information and pay 20,000 pesos per person to get in.
This is where we had to wait for a "guide" to take you down to the waterfall. We didn't have to wait longer than 5 minutes before someone showed up.
He led us down a field for about 5 minutes and pointed us the way. A well marked path leading into the rainforest. From here it is a 15 minute hike down to the waterfall.
I will add that we started our adventure late around 1 pm. The Cave of Splendor closes at 5 pm, we arrived at the entrance at 4:05. The guide said that we had to be back up at the gate where we signed in at 4:45. We had to make it down to the Cave of Splendor, take as much video and photos that we could, soak in the moment and make it back up to the entry gate in 40 minutes.
We were on a mission. We booked it down to the falls and we were the only ones there! It was a beautiful sight. A roaring Colombia waterfall gushing through a hole into a cave.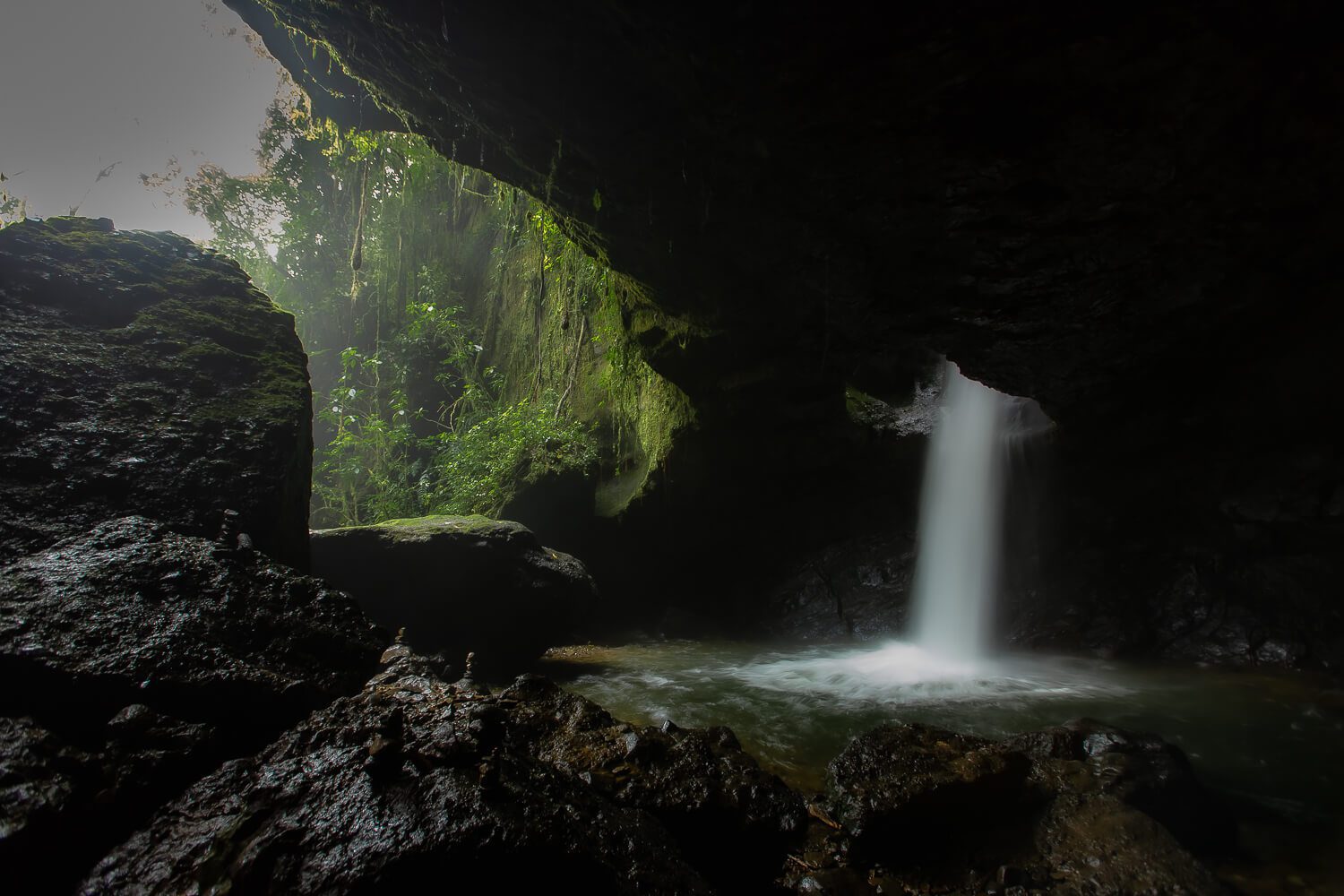 We stayed at the Cave of Splendor a little too long and had 6 minutes to hike uphill from the river to the gate. The guide was very direct on wanting us back at the gate at 4:45, not a minute longer. We made it back at 4:46. We were very impressed with ourselves.
If you don't want to worry about finding a ride back to town, arrange a pick up time with your tuk tuk driver. You won't have cell service on the trail.
Our plan was to catch the last shared jeep back to town at 5:30. The shared jeep never showed. We had wrapped our minds around the fact that we'd be walking back to town. Thankfully after hours of walking a shared jeep drove by and scooped us up. Be sure to watch the You Tube video to see how the journey after the Colombia waterfalls ended up.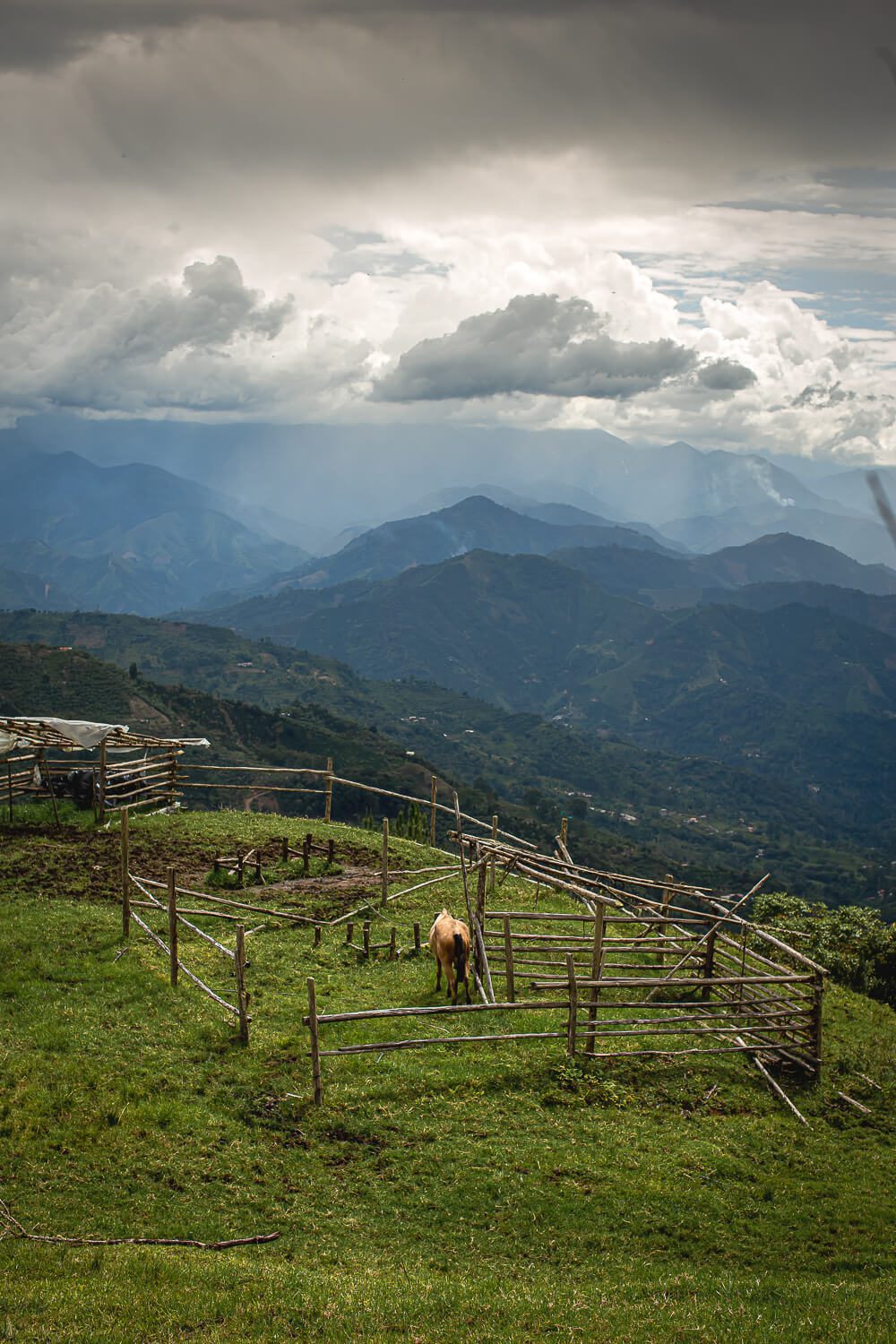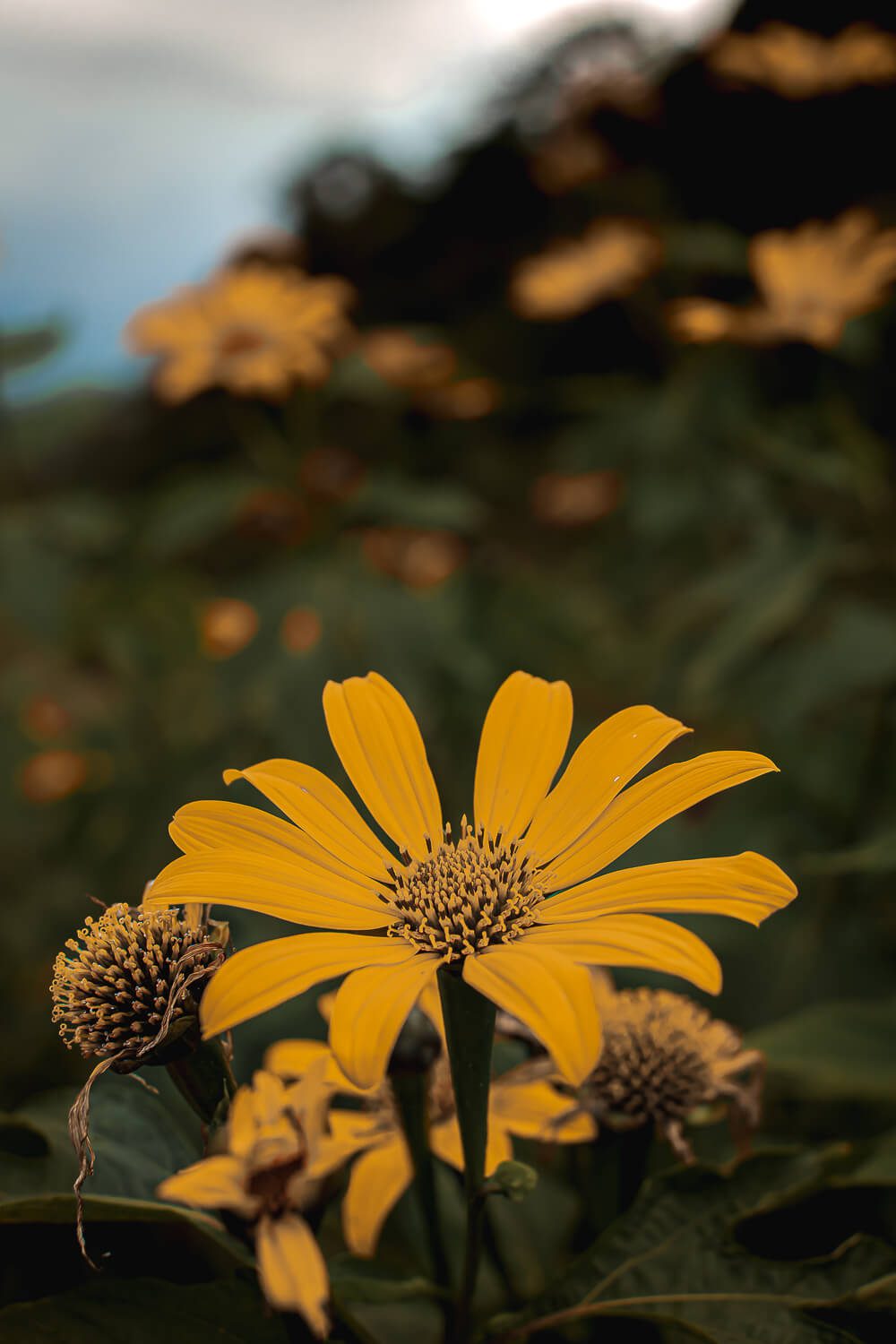 By Shared Jeep
If you don't want to do it the way we did, you can grab a seat on a shared jeep for 8,000 Pesos one way. The shared jeeps pick you up from the bus station in town and drop you off two miles or so from the property you check into before heading into the jungle.
We passed the shared jeep picking up a group of people when we were hiking down. This is a slightly cheaper option but the downfall is you'll be with a group of people. This means you won't have the Cave of Splendor waterfall to yourself.
Tour Agency
Experiencing the cave of splendor on a tour is the most convenient option and the most expensive. Plus side is transportation and all the details are taken care of.
Tuk Tuk from Jardin – 35,000 Pesos | $7 USD
Entry Fee – 20,000 Pesos | $4
Shared Taxi – 8,000 Pesos |$1.60 USD
Tour Agency – 200,000 |$40 USD
Colombia Travel Guides
📍Plan your Trip: The Ultimate Guide to Colombia

🗺 How long to travel Colombia? 2 Weeks

☔️ Best Time to Visit: Generally, the best time to go to Colombia is December through March which is considered dry season.

💰 Average Daily Budget: Colombia Budget Guide

⛺️ Colombia accommodation Guides

Where to Stay in Medellin

🪂 Highlights

Trekking to the Lost City
The Beautiful Colonial City of Cartagena
Wax Palms of Salento

🧳 What to Pack: What to Pack for Colombia

🎥 Watch our Colombia Series on YouTube

📧 Get on my Email list to see what I'm up to and all the best travel content!
South America Inspiration ↓
Enjoy this Post?!?! Pin in for Later ↓