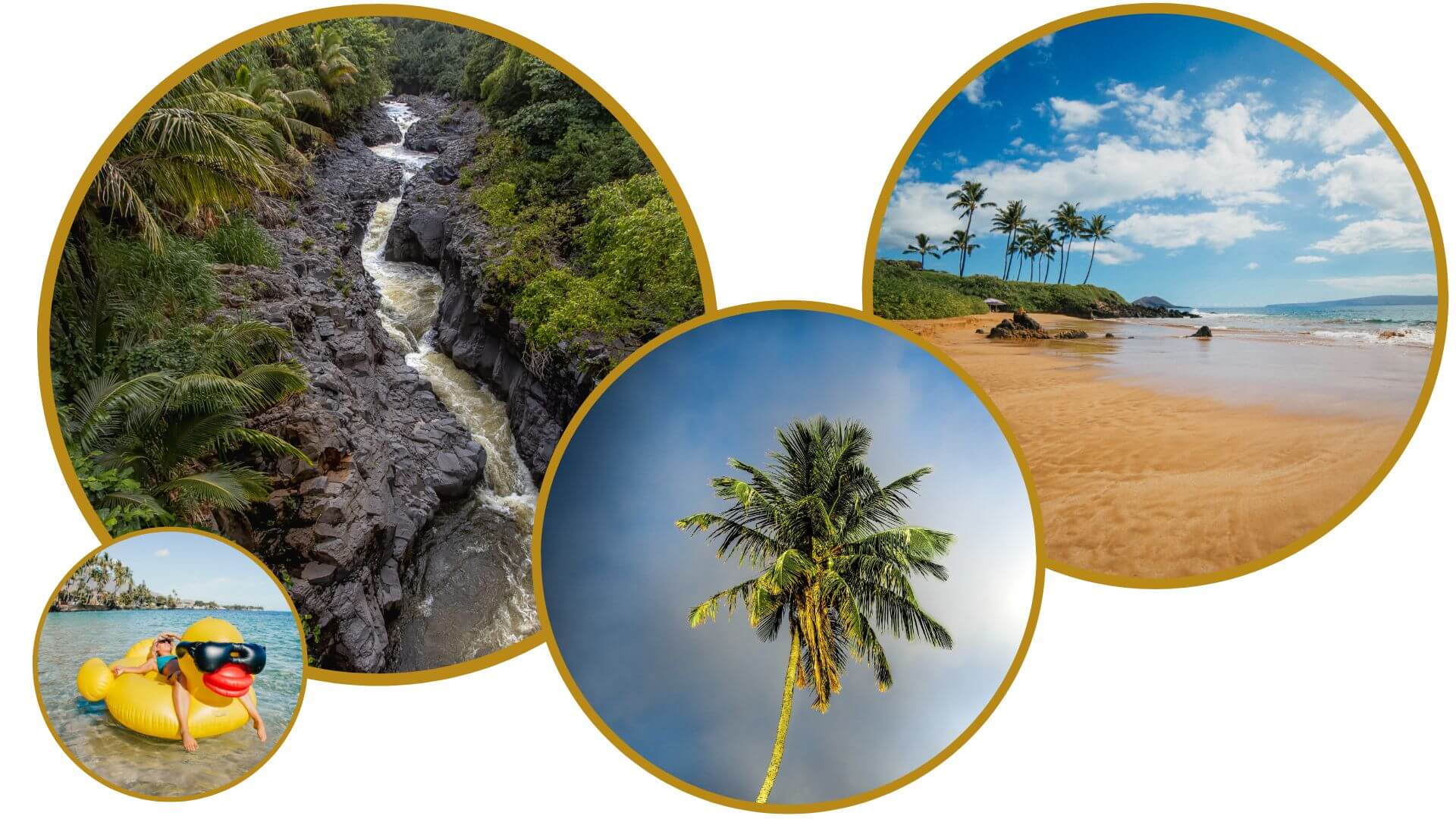 🇺🇸 CAPITAL | HONOLULU
💷 CURRENCY | USD
🙊 LANGUAGE | ENGLISH – HAWAIIAN – PIDGIN
There is a saying here, 'Maui No Ka Oi' which means Maui is number one and I couldn't agree more. Known as the valley isle, Maui is the second largest Hawaiian Island. With over 120 miles of coastline finding your own secluded world class beach won't be a problem when traveling in Maui.
Maui is full of adventure on and off land. Hike through a dormant volcano or test your driving skills as you plunge the road to Hana. Prefer to set sail on your adventures?!?! Take a snorkel tour to the neighboring island of Lana'i or try your luck at surfing.
Maui is adventure, luxury and relaxation all wrapped into one. Make sure you allot some time to let yourself get pampered in paradise and to work on your tan. I mean did you even vactation on Maui if you didn't get a tan?
Lastly, uncovering Maui's culture will only amplify her beauty. I have lived on Maui for over a decade and when I'm not galavanting around the world, I am so grateful to be able to call Maui home.
Make sure you pack a helmet as you may fall head over heels for Mothe Maui like I did.
⛵️ LAHAINA
A small coastal town located on Maui's west coast. Once the capital of Hawaii, historic Lahaina town boasts must eat restaurants, boutique stores, surf shops and boat trips.
🌽 CUSCO
Once the capital of the Incan empire, today Cusco is the cultural capital of Peru and one of the most popular places to visit in Peru.
🪂 LIMA
Lima is full of museums, an entrancing coastline and most importantly – the food scene!
🛶 LAKE TITICACA
The highest navigable lake in the world sitting at an elevation of 12,507. The massive lake that straddles Peru and Bolivia.
🦅 COLCA CANYON
The Colca Canyon is the world's second deepest canyon located about 3 hours Northwest of Arequipa. Known for its flying condors and terraced hillsides, in order to truly experience this area of Peru is to go on a Colca Canyon trek.
⏳ HUACACHINA
Huacachina village is completely surrounded by sand dunes which happen to be the tallest sand dunes in South America. The Huacachina Oasis is full of adventures like sand boarding and dune buggy tours.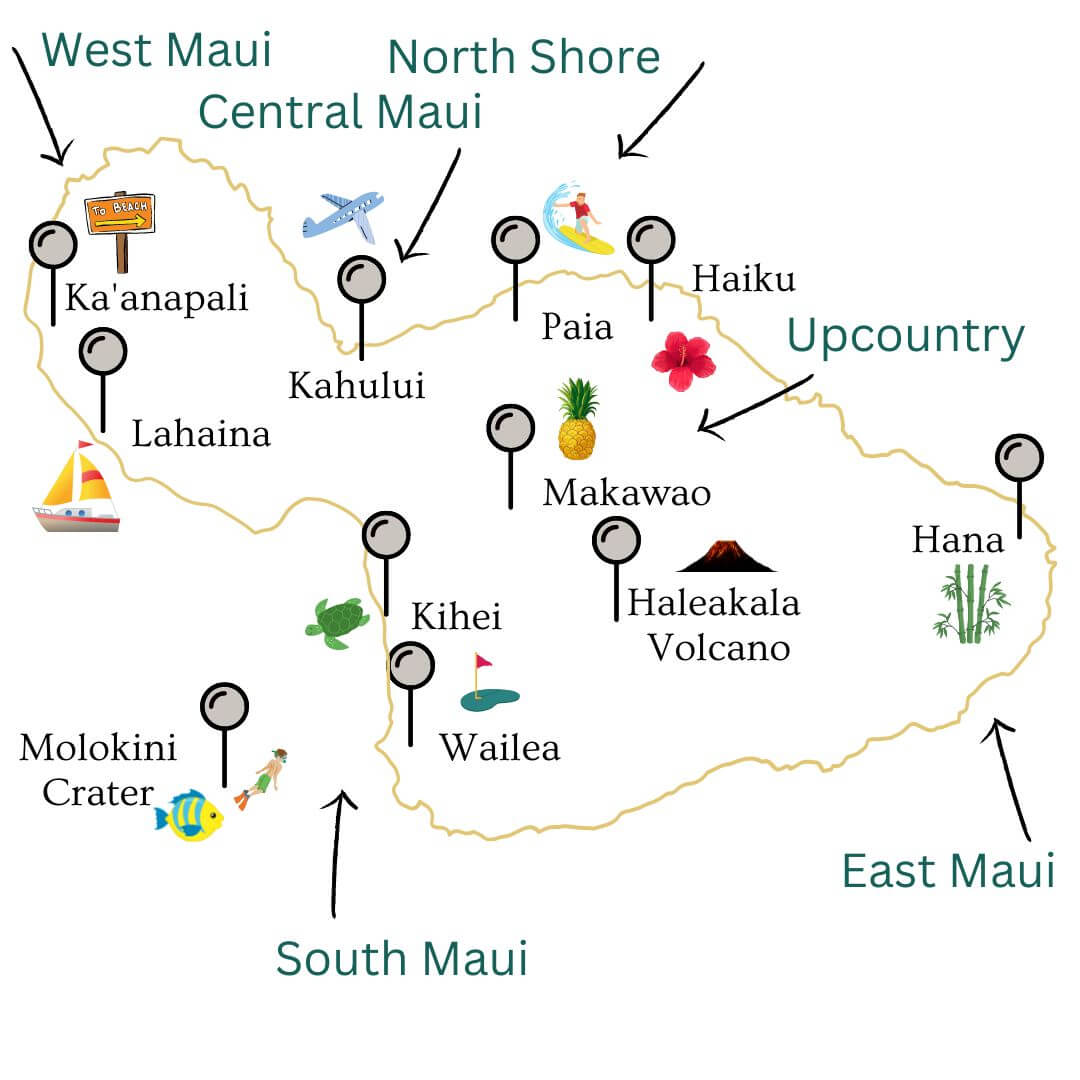 Top 5 things to do in Maui ↓
More Things to do in Peru
Hike the Inca Trail to Machu Picchu.

This is one of the best hikes in Peru and by far the most famous trek in South America.

The entire trek is 26 miles in total that ends at the famous Sun Gate. You'll trek up stone steps, past majestic mountains and through thick cloud forests. If you are looking for a true pilgrimage, plan ahead for this hike in Peru. You can

book a tour here

.
The Nazca Lines are a series of ancient geo-glyphs.

There are over 10,000 lines that depict 300 different plant and animal figures.

How they got there is still a mystery.

Check out the Nazca lines via plane or helicopter.

Huacachina Oasis is a village completely surrounded by the tallest sand dunes in South America.

The small town is full of adventures like sand boarding, dune buggy tours and paragliding over the dunes.
Lake Titicaca is most known for the Lake Titicaca Floating Islands of Uros. There are approximately 100 man made islands consisting of a population of 3,000 people. The Uros Islands are artificial made islands composed of totora reeds. Everything from the ground you stand on to the house you live in are composed entirely of totora reeds.

A trip to Peru isn't complete without learning how the Uros community lives.
Explore the white city of Arequipa.

Arequipa is Peru's second largest city crowned by some dazzling white architecture.

The city is backdropped with several sleeping volcanos.

A top sight on this Peru travel guide.

Hang ten in Mancora.

Mancora is a Northern beach town that has the most consistent breaks.

Better yet, check out Los Oraganos for a more off-the-beaten path experience.

Indulge in Lima cuisine.

Lima is one of the gastronomic capitals of the world and when exploring Lima, you plan your visit around your next meal.

Sacred Valley is referred to the area between Cuzco and Machu Picchu.

Explore ancient Andean villages and lessen known Incan ruins.

Eat adventurously by trying the Peruvian delicacy Cuy.

Explore the rainforest in Iquitos.

The largest city in the Peruvian rainforest is only accessible by boat or plane.

Gawk at sea lions and penguins at the 'Poor Mans Galapagos' on the Islas Ballestas in Paracas.
For the true adventurists and physically fit, hiking in the Cordillera Blanca will be the highlight of your trip to Peru.

Trek among imposing granite mountains and glacial lakes.
Rainbow mountain is an iconic hike in Peru located in the Andes Mountain range near Cusco. The hike takes you past a vibrant green valley and finally to the stunning seven colored rainbow mountain with the snow capped peak of Apu Ausangate towering in the distance.
Trek the Salkantay Trail through rugged mountain terrain to the Inca citadel of Machu Picchu.

Often referred to as the alternative route to Machu Picchu, on this hike you will see some of the most beautiful landscapes in Peru. Think snow capped mountains, free roaming horses, alpine lakes, cascading waterfalls and lush subtropical rainforest.
I moved to Maui about 10 years ago and have lived all over the island but I've spent most of my time in Lahaina. I've had over a decade of beach bumming, mai tai tasting, trail blazing and waterfall chasing to be a expert in all the awesome and fun things to do on Maui. Trust me adventure is on the horizon.
How big is Maui? Maui is bigger than you expect. Although it is possible to drive around the island in one day there's so many places to see and things to do in Maui that a week won't be enough. If possible move around the island and stay multiple places so you get the real feel of this magical paradise.
The best time to travel Maui will depend on what you want to do and your budget.
December 15 to May 15 is official whale season with February & March being the most active months.
The busiest time in the islands is during the holidays, Christmas and New Years.
Winter brings heavier rains and bigger surf. – Check out 12 Things to do in Maui when it rains if you find yourself caught in the rain.
Summer time flights are cheaper and temperatures are hotter by 10 degrees especially in Lahaina.
I would recommend visiting Maui for at least 10 days. There is so much to do and explore on Maui that you still won't be able to see and do everything that you want to. 10 days gives you enough time to go all around the island as each area has its own unique style.
It's not uncommon to see stray dogs as you explore Peru.
Book

tickets to Machu Picchu

in advance and to

Huayna Picchu

farther in advance.
Trains out of Aguas Calientes sell out quicker than trains coming.
You need to show your physical passport to enter Machu Picchu and to purchase bus tickets to get to the top of the mountain.
Tap water throughout Peru is not safe to drink.
Knowing some basics in Spanish will go along way.
Cash is the preferred way of paying for things in Peru but credit cards are accepted in major areas.

Many of Peru's cities such as Cusco and Puno sit at a high elevation so you could experience altitude sickness.

Here are some tips to help prevent/tend to altitude sickness.

Coca leaves are a traditional way to relieve altitude sickness by chewing it or making tea with it. Coca leaves can be bought at any local supermarket and are available in most restaurants.
Sorojchpills are pills you can buy at the local pharmacy that help with altitude sickness.
Muna – is an herb that can be found in the mountains. You can pick it, rub it in your hands and inhale it. Or put it in tea and drink it. It's also a digestive.
Allow 24-36 hours of acclimatization before setting off on a hike.
Ascend gradually.
Drink plenty of water.
Avoid booze and cigarettes.
Google Translate: Translate English to Spanish if your Spanish is rusty.

Cabify: The Uber of Peru.

Uber: Uber is also very popular here.

Whatsapp: Talk/text to friends and family anytime you are connected to the internet for free.

Rome2Rio: Calculates different routes from point A to point B, showing you the cheapest, quickest etc…

Trail Wallet: Easy to keep track on your expenses if you are traveling Peru on a budget.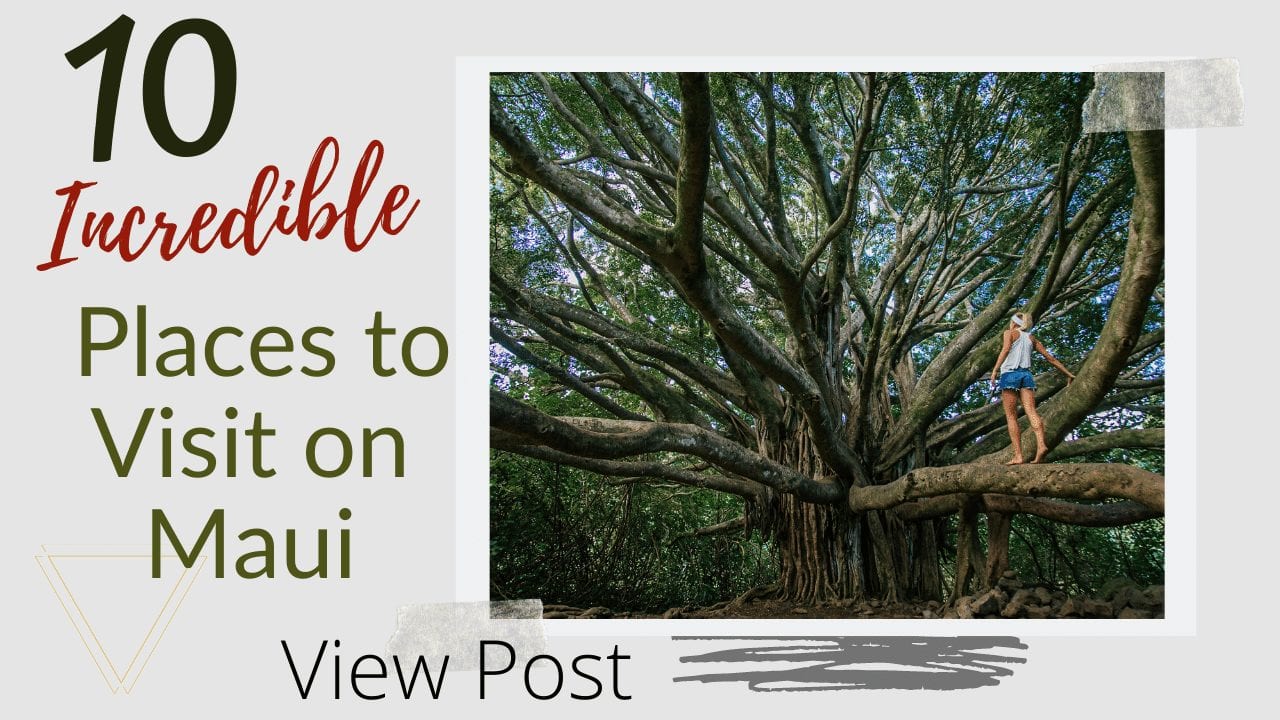 Driving the road to Hana
Maui by helicopter
Big Beach
Sunrise atop Haleakala Crater
Hi, we're Jess (& Joe). We hope you're enjoying our free travel guides and tips. If so please consider buying us a coffee ☕️. We appreciate your support!
💲 Peru Travel Guide Costs
You can spend $40 a day in Laos, living comfortably and not denying yourself any comforts or pleasures. It is possible to get by on $15 -20 a day traveling Peru but that's only eating street food and staying in a bed in a dorm.
For a slightly higher budget its nice to have your own room and bathroom.
ATM's are available countrywide in most cities and towns.
Dorms – $2-10 USD
A Basic Room with Private Bath – $15-30

Budget Luxury Hotel – $30 USD.
Higher End Hotels – $60 and up.
Dinner from the Supermarket – $2-6 USD
Domestic Beer – $2

Multi-course Lunch at a Mid Range Restaurants – $8-10
Fine Restaurant with Drinks and Tip – $25
25 Hour Bus Ride from Lima to Cusco – $30
Highest Altitude Train ride in Peru on the Hiram Bingham train – $500
10 Minute Uber Ride – Less than $5
Domestic Flight – $100 with checked Luggage
Average Inca Trail Trek – $800-1000
Lake Titicaca Homestay – $100

Colca Canyon Entry Ticket – 70 Soles
Lima Food Tour

– $70
A bed in a dorm will cost 2- 10 USD's. You can get comfortable accommodation for $20-$25 a night for 2 people.
A higher budget allows you luxury that's worth the cost. Peru is a great place to travel on a budget.
⭐️ Worth the Splurge: Inkaterra La Casona Relais & Chateaux – Cusco, Peru
Below are city specific Peru Travel Guides for accommodations to help plan your trip.
Peru Travel Accommodation Guides:
Enjoy this Post?!?! Pin in for Later ↓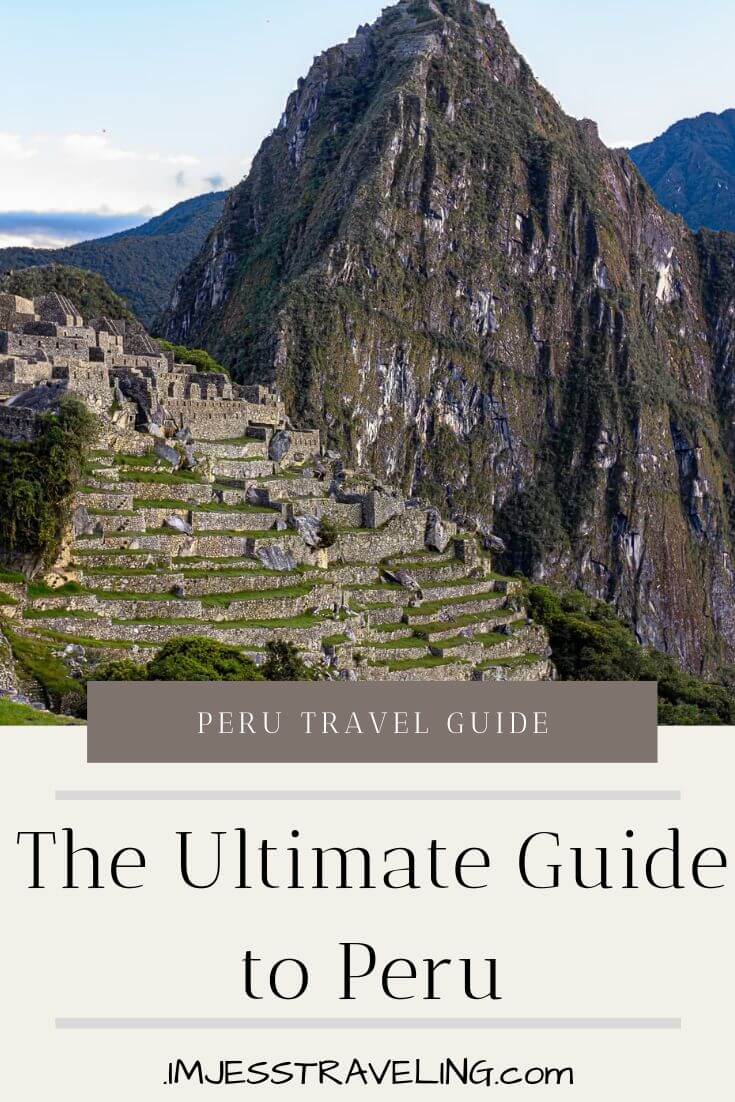 Arriving in Peru is pretty straight forward. Make suer you have 6 months or more validity in your passport on arrival and a return ticket out of the country.
By Plane: Lima has international flights to and from most cities in North and South America. As well as Western Europe.
Jorge International Airport is Lima's airport with the airport code LIM.
If trying to get straight to Cusco, you'll have to connect in Lima.
Jetradar, Skyscanner and Kayak are sites that are flexible and give you the cheapest rates. LAN Airways, LATAM Airlines, and Sky Airlines amongst other budget airlines have many flights daily operating to other parts of the continent.
Booking with one of the search engines above ensures getting shown the latest and cheapest prices. Just don't expect much frills on these budget airlines and luggage will cost extra.
By Bus: If you're traveling slow throughout Peru or South America, it's likely that you'll be taking a long bus journey at some point or another. International buses are cheap, plentiful and comes from all the neighboring countries including Ecuador, Bolivia, Colombia, Chili and Brazil.
Cruz del Sur is the best bus company in Peru and very nice nice on those overnight journeys. You can check out this vlog for what a long bus journey would look like.
By Boat: It is possible to arrive in Peru by boat via certain points in the Amazon River in Brazil and Colombia.
🚌 Transportation around Peru
Transferring between towns is plentiful and straight forward. Download the apps Bookaway, 12Go Website and Rome2Rio to help navigate the best route. They are very helpful to check bus, boat, and train schedules ahead of time.
Getting around in Peru is an adventure in itself.
By Bus: This will be the easiest way to travel around Peru. Buses are frequent within the country. Bus rides are never the most glamorous way to travel but usually the cheapest.
Taking the bus isn't just for tourists, most Peruvians travel via bus. Roads are well maintained in most parts of the country. Always plan a few extra hours on bus travel days as buses are never fully on schedule.
By Plane: Domestic flights within the country are frequent and plentiful. New budget airlines pop up every year but the most established airlines are LAN, Peruvian Airlines and Star Peru.
Peak season for air travel within Peru is North America summer time – late May to early September. So plan ahead if you are traveling Peru during this time.
By Train: Peru Rail has services between Cusco and Aguas Calientes, Cusco to Puno and Puno to Arequipa.
Packing in my opinion is always the hardest part before going on a trip. What you pack will depend on what you are traveling to Peru for.
If you plan on doing some trekking, make sure you bring a warm jacket, waterproof hiking pants , rain gear and proper hiking boots.
Peru has a beautiful coast line and in the North you'll have summer weather so a bathing suit, shorts and flip flops will come in handy.
A Life Straw Water Bottle also came in handy more times than I can count both for trekking and traveling around the country.
Don't leave home without theses Peru travel guide essentials.
1 or 2Pair of shorts
1 or 2 Pair of Jeans
1 or 2 Pairs of Leggings
7 shirts/Tanks
Underwear
3 Pairs of Socks
1 Warm pair of socks
1 Sweatshirt (for travel days)
Swimsuit
Hiking Boots
2 Flannel
Warm Jacket
Beanie or Ear Warmer
Toothbrush & Toothpaste
Hair Brush
Hair Ties & Bobby Pins
Feminie Products
Deodorant
Razor
Band aids
Hand Sanitizer
For more on packing, check out these posts.
Safety is an important factor in planning any trip, especially when it is international. Here are some Peru travel guide safety tips.
Peru is a safe country to travel to as a solo female traveler. Pickpocketing and thievery will be your biggest concern. As always use your wits and common sense and basic precautions.
Rare but possible armed robberies and muggings have happen to trekkers on popular hiking trails around Huaraz.
'Express Kidnappings' are when an armed attacker highjacks you in a taxi and takes you around to various ATM's making you withdraw money before letting you go.

Rare but there has been reports.

This is more common in its neighboring countries of Ecuador and Colombia though.
Pharmacies can be found in all major towns and cities.
You can find the

US Embassy in Lima

.
Travel insurance is very important. There is nothing worse than being in need of medical care in a foreign country without insurance! Protect yourself! This is your best investment.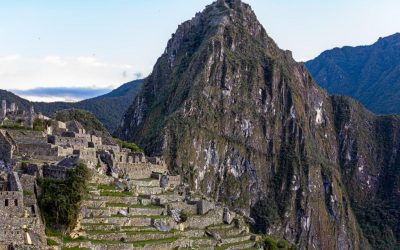 Peru is the ultimate destination.  This 2 week Peru itinerary, is fulled with unforgettable...
read more