Did you know that the most popular thing to do on Lanai is to visit the Lanai Cat Sanctuary? Yes, over diving at the secluded Shipwreck beach or swimming with spinner dolphins at the beautiful Hulopoe Bay, the cat sanctuary on Lanai is the main reason people make the trek and visit this beautiful Hawaiian Island.
Well, since you're reading this post maybe you did know. Over 15,000 people visit the Lanai cat sanctuary every year! Now that's a lot of cat lovers.
If you're looking for a unique way to experience Lanai and to get some kitten cuddles, a visit to the cat sanctuary is a perfect way to experience a side of Hawaii a bit off-the-beaten path.
For full transparency, I have sprinkled some affiliate links in this post.  As an Amazon Associate I earn from qualifying purchases that gives me a small commission at no extra cost to you if you decided to make a purchase.  As always, I would never recommend a product or service that I didn't truely believe in.  All proceeds go to keep Jess traveling and coffee ☕️.  I thank you in advance.
Lanai realized they had a feral cat problem. The feral cats usually found near remote bird nesting grounds were destroying some of endemic birds. This in return was putting some native bird populations at risk.
This was a huge concern as these birds don't live anywhere else in the world but here! There was a big problem and it needed a sustainable solution. They needed to save the indigenous bird populations as well as save the cats. In 2006 the Lanai Cat Sanctuary was born.
The Lanai Cat Sanctuary is truly a community effort. The kitty litter is made the Norfolk pine needles and the cat houses/huts are made by local volunteers. The cat sanctuary is 100% donation based which goes towards paying the staff, feeding the cats, veterinarian care and a place for the cats to call home.
It was an unanimous decision by the residents of Lanai, find a a safe haven for feral cats as well as protect the native and endangered ground-nesting sea birds.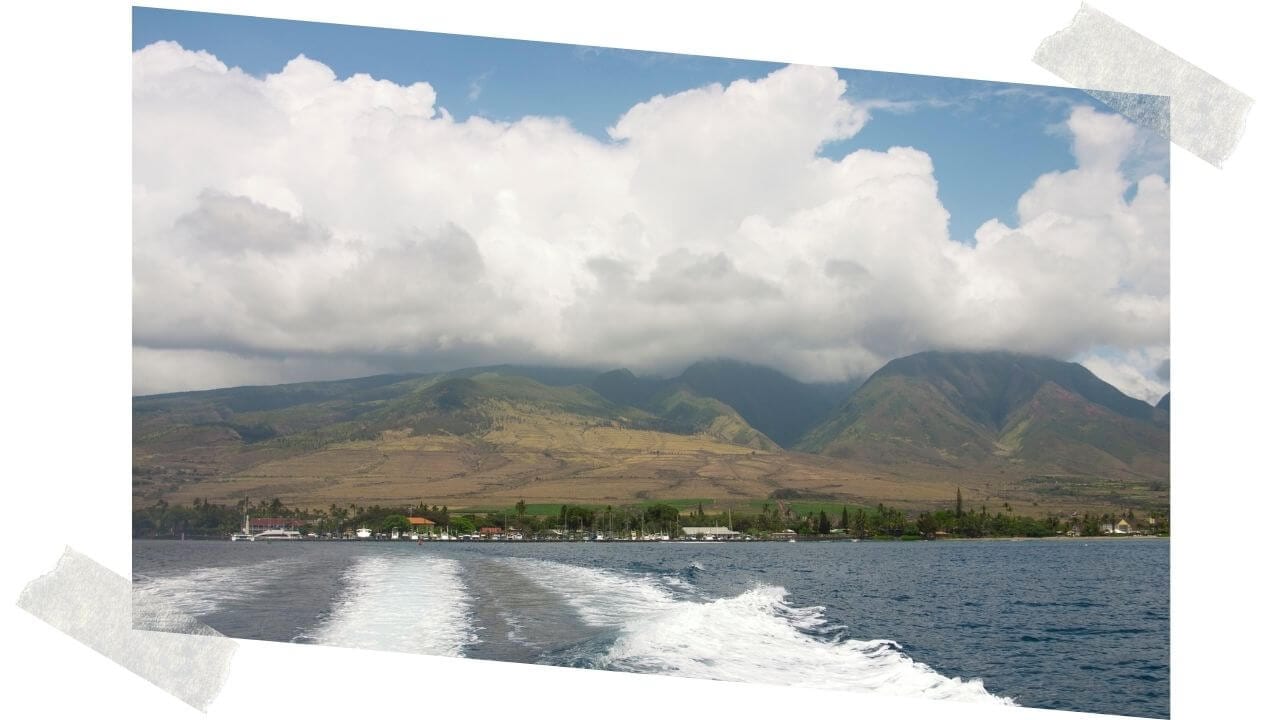 How to Get to the
Cat Sanctuary Lanai
It is possible to fly to Lanai (LNY) from Maui (OGG) and this will be the most expensive option. There are direct flights leaving from Kahului, Maui's main airport to take 30 minutes and cost around $60.
The easiest and best way to get to Lanai is by taking the ferry to Manele Harbor that leaves out of the Lahaina Harbor. Due to COVID times and frequency is limited. The ferry to Lanai runs four times a day on Monday's, Tuesday's Wednesday's, Friday's and Saturday's.
6:45 AM 9:45 AM 1:00 PM 4:00 PM from Lahaina and 8:15 AM 11:15 AM 2:30 PM 5:30 PM from Lanai. You must show up an hour before to fill out proper paperwork before boarding the ferry.
It costs $30 one way for a ferry ride (Kama'aina price is $25) and the ferry leaves from the dock in front of Pioneer Inn which is the oldest hotel in Lahaina.
From Manele Harbor it is a 25 minute drive to the cat sanctuary. You can rent your own car but if you're not staying the night on Lanai, I recommend you hire a car service.
Rabaca's Limousine Service and Island Tours is one of the most convenient, reliable and aloha filled car services on the island. They will take you anywhere on the island including Shipwreck Beach, Lanai City and the cat sanctuary.
It costs $10 per person each way. Call (808) 559-0230 to reserve a ride today.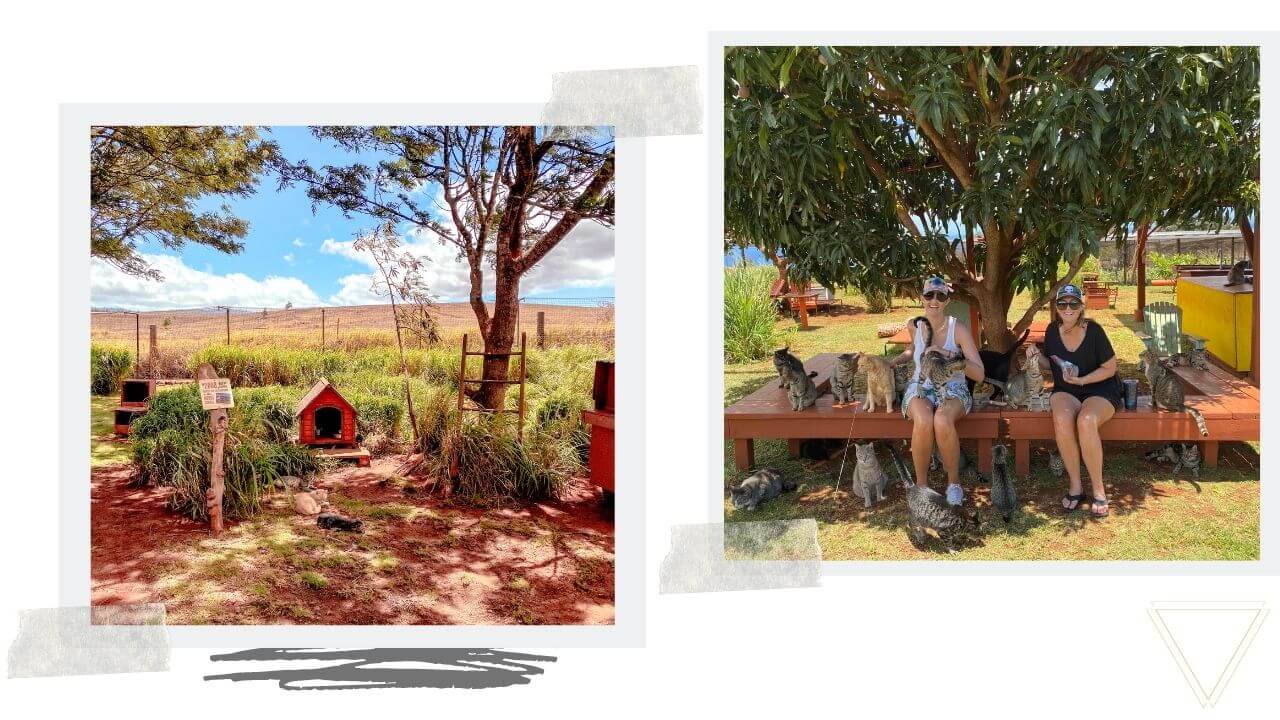 When to Visit The Cat Sanctuary on Lanai
The Cat Sanctuary Lanai is open 365 days a year from 10:00 AM to 3:00 PM. "We only close for hurricanes" – Joe Adarna. Therefore anytime is a good time to visit the cat sanctuary on a day trip from Maui.
Lanai or Hawaii in general has the best weather, there is a reason that everybody around the globe flocks to these isolated islands in the middle of the Pacific Ocean. Since the Hawaiian Islands sits on the edge of the tropic zone the temperature is warm all year round.
Due to its location, sheltered by Molokai and Maui, Lanai does not receive as much rainfall as the rest of Hawaii. Which makes exploring Lanai on a day trip a perfect excursion when you are on Maui looking for things to do when it's raining.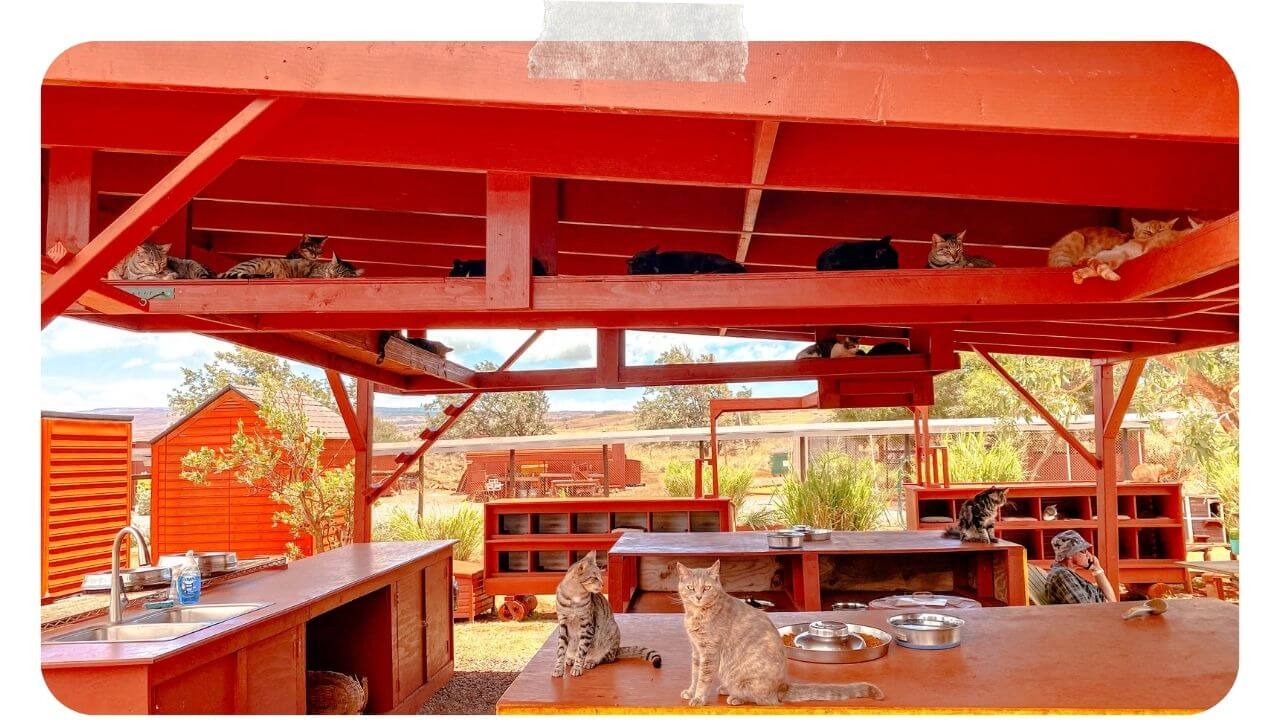 What to Expect when Visiting The Lanai Cat Sanctuary
The Lanai Cat Sanctuary is a 25,000 square foot open-air purradise. Image a large playground filled with cats, lots of cats! Over 660 cats call this sanctuary home.
Before you enter the cat enclosures you'll be able to store your things and are given a small bag of kitty food. Once inside you'll be able to feed and pet the cats.
It felt like playing a games of Where's Waldo, except instead of 1, there were over 600 Waldo's. There were cats lazing around everywhere…in the rafters, in tiny huts and under shady trees.
Grab a seat, open the bag of cat treats and the animals will appear out of no where. Although the cats don't like to be picked up, don't be surprised to end up with several cats on your lap.
There are a few different enclosures that you can explore and play with the cats. There's even a 'senior center' for the older cats at the sanctuary. I mean how adorable is that.
All the cats have gotten their shots and are spayed and neutered. Since the island of Lanai has no veterinarian or animal clinic, a veterinary team flies in twice a month to sterilize, treat and ensure the health of every animal.
Plus, there's no electricity at the sanctuary. This requires them to use a mobile clinic with x-ray and anesthesia machines, and have surgery tables onsite.
Visiting the Lanai Cat Sanctuary is a perfect activity if you are traveling Hawaii with kids. The kids will love playing and romping around with the cats in the warm sunshine and fresh air.
And the best part is that all the cats are available for adoption if by chance one of the adorable fur balls steal your heart.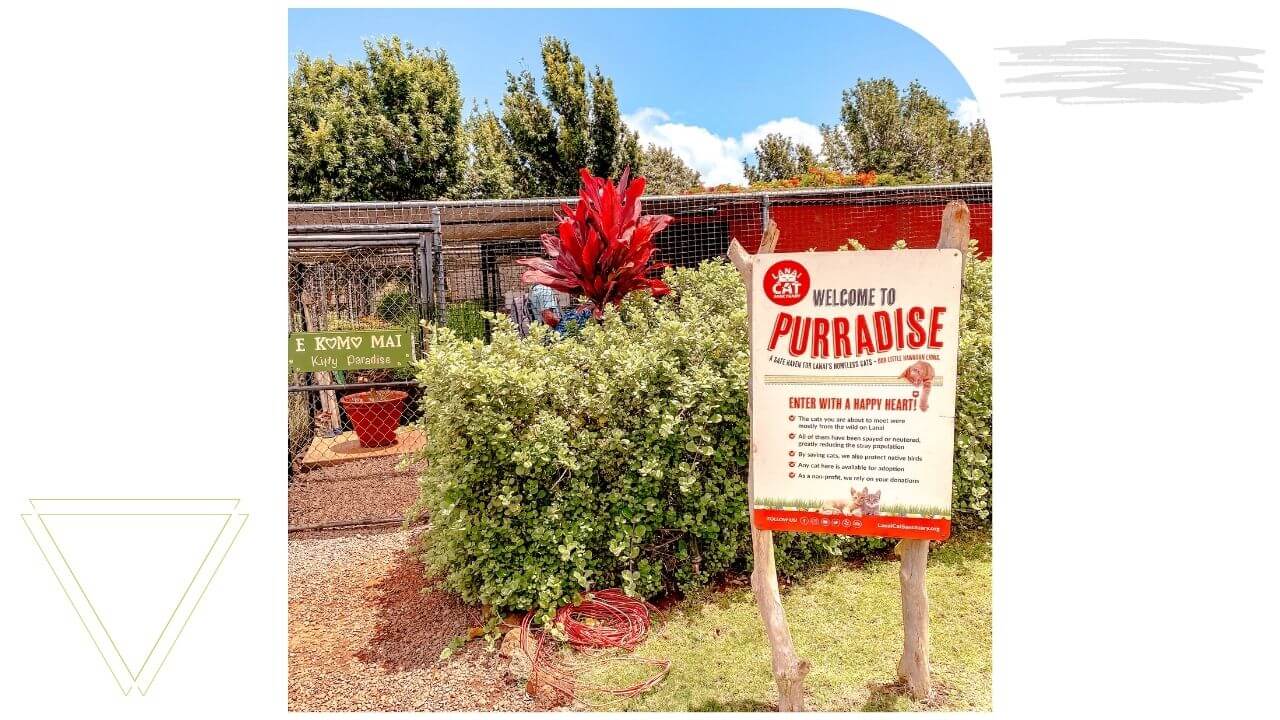 If you are traveling to Lanai on a day trip from Maui you will want to pack light. Make sure you have a sturdy, portable and functional pack.
I love the Nomatic Travel Pack. It has tons of innovative pockets and can expand and hold up to 30 Liters. This held a beach towel, a flannel for the ferry ride home, hydro flask, 2 small toiletry bags, camera, Go Pro, wallet and snacks for the day. It wasn't too heavy to tote around all day and I had everything I needed with room to spare.
Here are the items to bring with you on a Maui to Lanai day trip.
Swimsuit
Deodorant
Hat
Camera
iPhone
Headphones
Other Things to do in Lanai
Swim with spinner dolphins at Hulopoe Bay.
Spend a night at the Four Seasons Lanai – a Hawaiian experience worth the splurge.
Dive an old shipwreck at secluded Shipwreck Beach.
Hike the Munroe Trail – one of the best hikes in Lanai.
Grab a drink at Pele's Garden in Lanai City.
Have lunch at the Blue Ginger Cafe.
Explore Lanai City.
Are you planning on visiting the Lanai Cat Sanctuary? I'd love to hear about your experience in the comments below.