The Si Phan Don in Lao appropriately means 4000 islands. The four thousand Islands is a collection of islands in Southern Laos near the border of Cambodia in the Mekong River. If you're looking for a place to kick back, relax, and throw down a few beers, then the 4000 Islands Laos is your spot!
Don Det and the 4000 islands takes time and forethought to get to. This guide explains how to get there, the best things to see and do, where to stay, useful tips and more.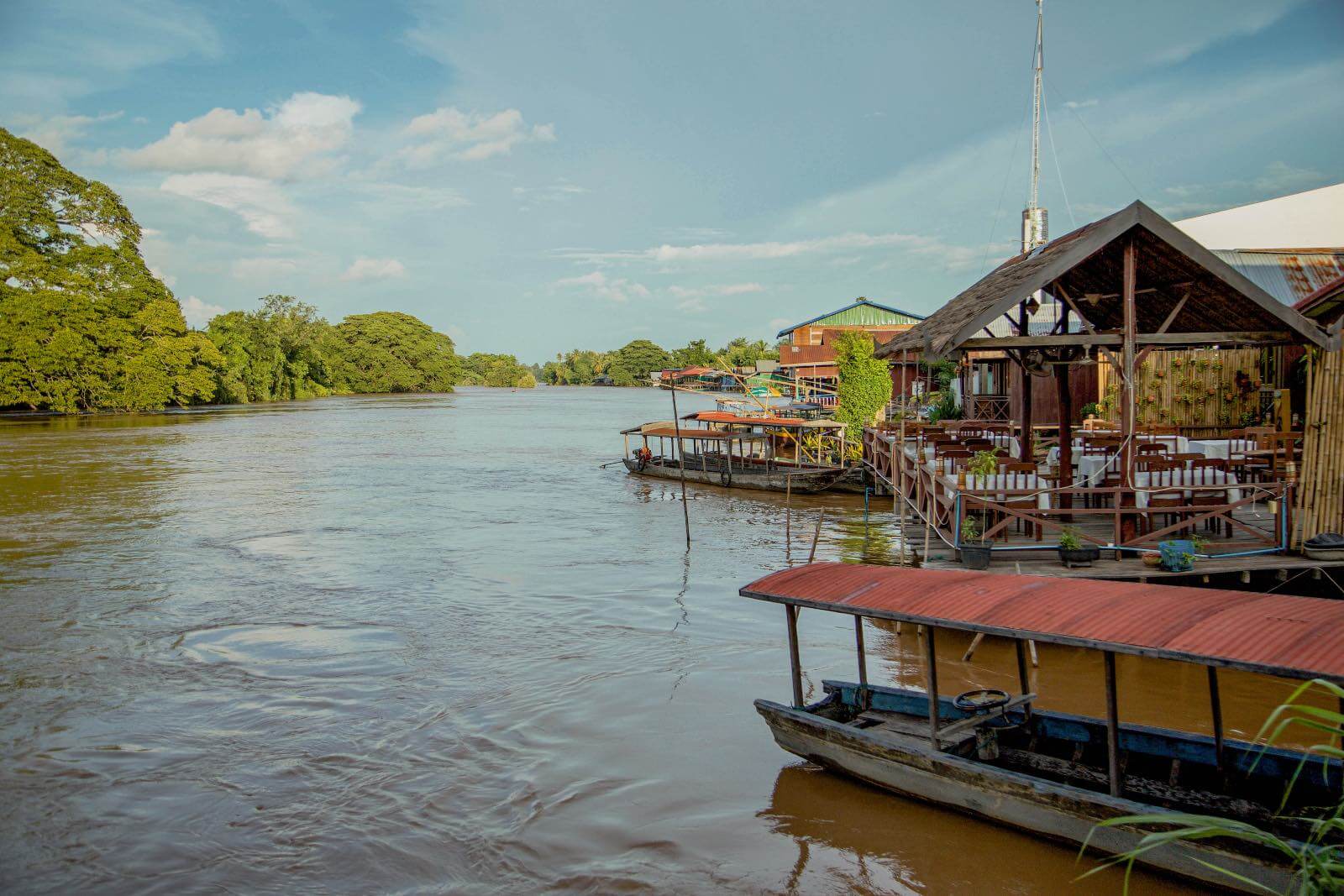 For full transparency, I have sprinkled some affiliate links in this post.  As an Amazon Associate I earn from qualifying purchases that gives me a small commission at no extra cost to you if you decided to make a purchase.  As always, I would never recommend a product or service that I didn't truely believe in.  All proceeds go to keep Jess traveling and coffee ☕️.  I thank you in advance.
A travel guide to DON DET, LAOS in the 4000 islands
Si Phan Don is sprinkled with numerous islands, half of which are submerged when the Mekong River is in flood. I traveled here during rainy season so most of the islands were not visible during my stay. The main islands of Si Phan Don are Don Khong (the largest), Don Som (the second largest), Don Det, and Don Khon.
The majority of the islands are small and inhibited. Don Det and Don Khong are the main islands for backpackers to stay. We chose to stay on Don Det as theres a bit more to do and the islands are small so you can still explore Don Khong with Don Det as your home base.
After two and a half weeks of traveling Laos, there was lots of mud, sitting on the floor, monsoons, and loads of long, wild forms of transportation. Needless to say we were ready for some budget luxury and we hit the jackpot.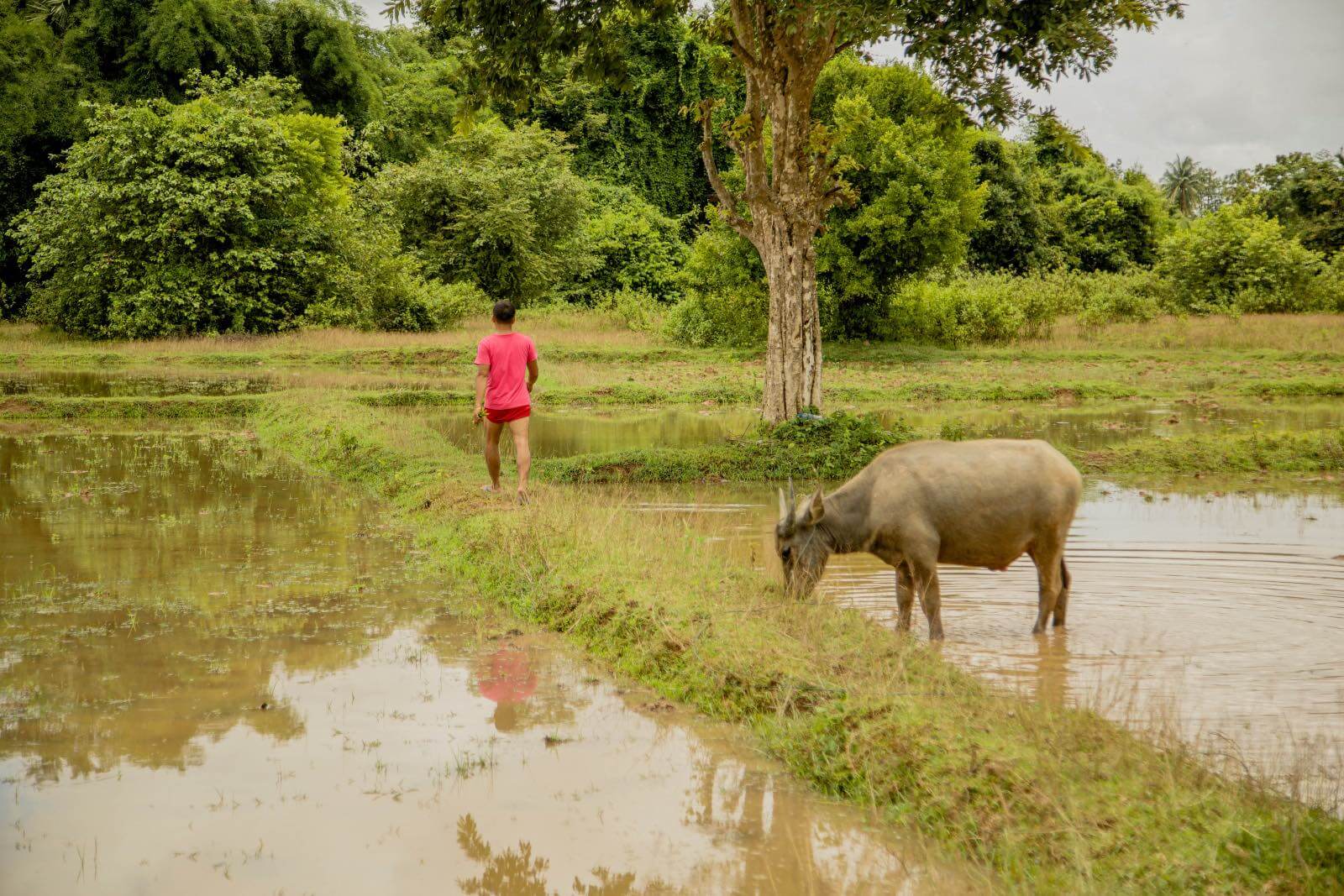 Getting to the 4000 Islands requires preperation, a bit of planning, lots of long bus rides and different forms of transportation compared to most places in Southeast Asia.
There are many tour agencies that you can book with that will take you to Nakasong, which is the town were you will catch a ferry to reach the island of your choosing. They will drop you off close to the pier, about a five minute walk until you'll see the boats that will shuttle you across the river and a kiosk selling ferry tickets.
Travel Tip: Most tour companies that you book with include the ferry ticket in your price but just in case you don't have one you can buy it here. It cost 15,000 KIP.
At the time of writing this 8,000 KIP = 1 USD. The small 10 person boat will take you through the channel and across the river to Don Det. It only takes 15 minutes to cross.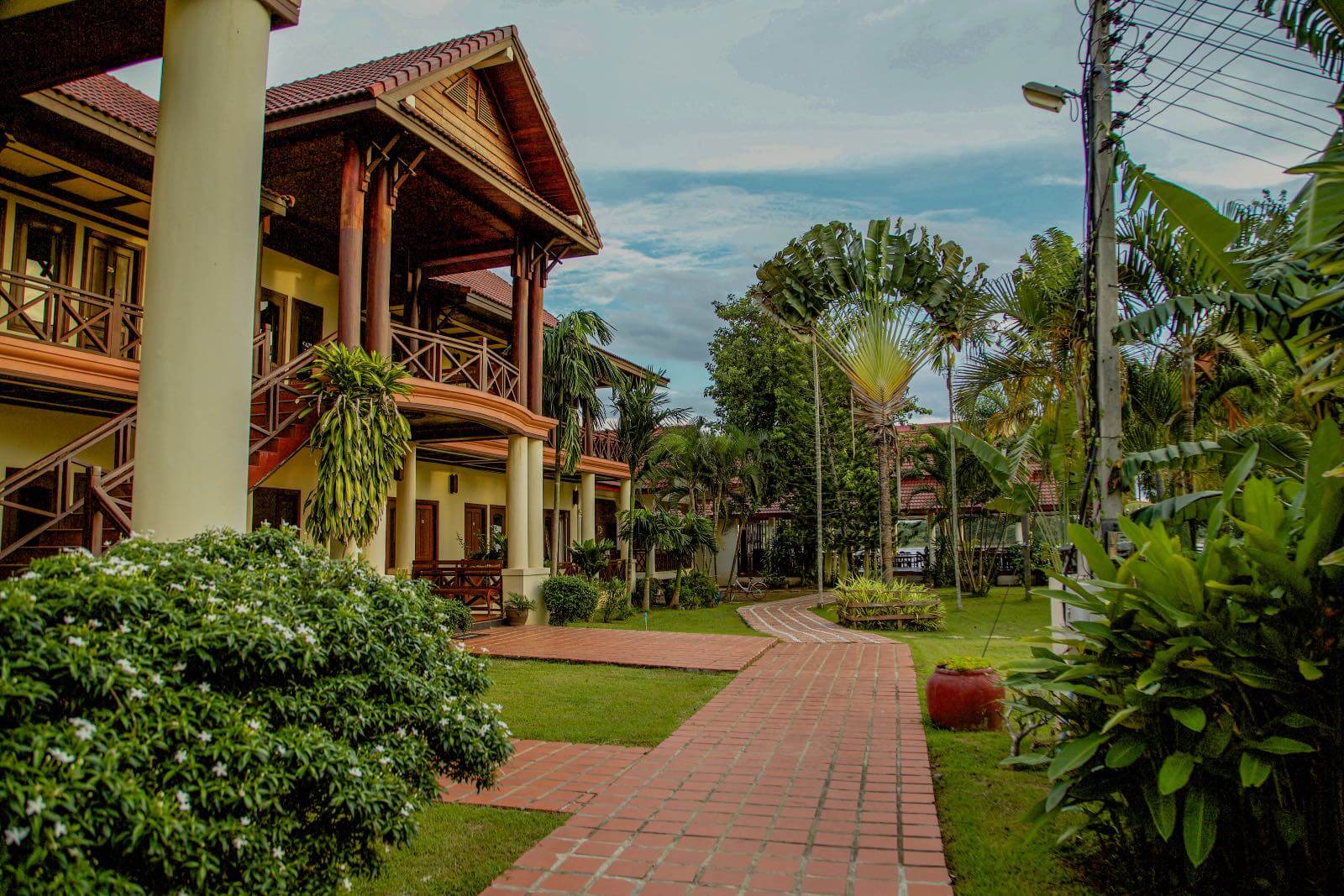 Where to Stay in 4000 Islands
The boat will drop you off at the sunset side of the island. There are many guest houses littered about so finding a place within your budget will not be difficult.
We walked with our packs for about 20 minutes towards the sunrise side of the island and stopped in all the guest houses along the way. This way we were able to check out the rooms and the rates.
We settled on Champa Mekong Bungalows a quaint, basic room with a double bed, private bath, and hammocks on our deck to seal the deal. The best part, free breakfast and still under $10. This is a great option if you're on a backpacker budget.
We dropped our bags and set out on foot to explore the tiny island. Cute restaurants, bars, and shops lined the river. It was hot and muggy so when we spotted the pool at the Little Eden Guesthouse and Resort we were being drawn towards it.
After a short talk with the owner of the establishment and a quick view of the room we were instantly sold on the beautiful oasis that we found at the Little Eden Resort. We ended up staying here for 4 nights and it was the exact budget luxury that we were looking for.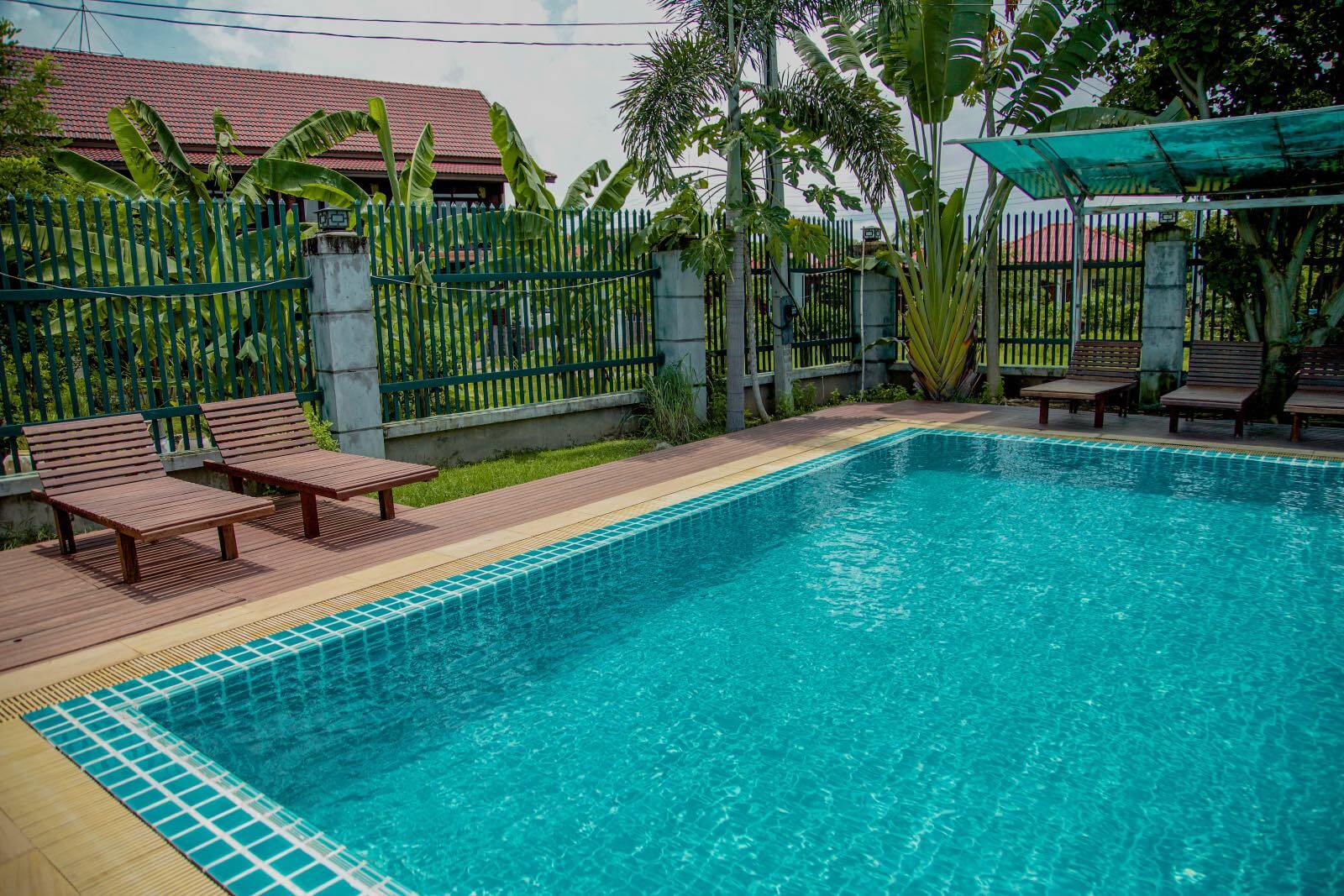 Little Eden Guesthouse & Resort
Our large suite equipped with a king size bed, comfortable bedding and mini fridge was only $30 USD a night! If the pool doesn't sell you, then the sunset that can be seen from deck of the restaurant at Little Eden's will. Killer views!
top things to do in don det
Laos is very laid back and Don Det is no exception. Although the main goal of visiting Don Det is relaxing there are still a few activities that you can do.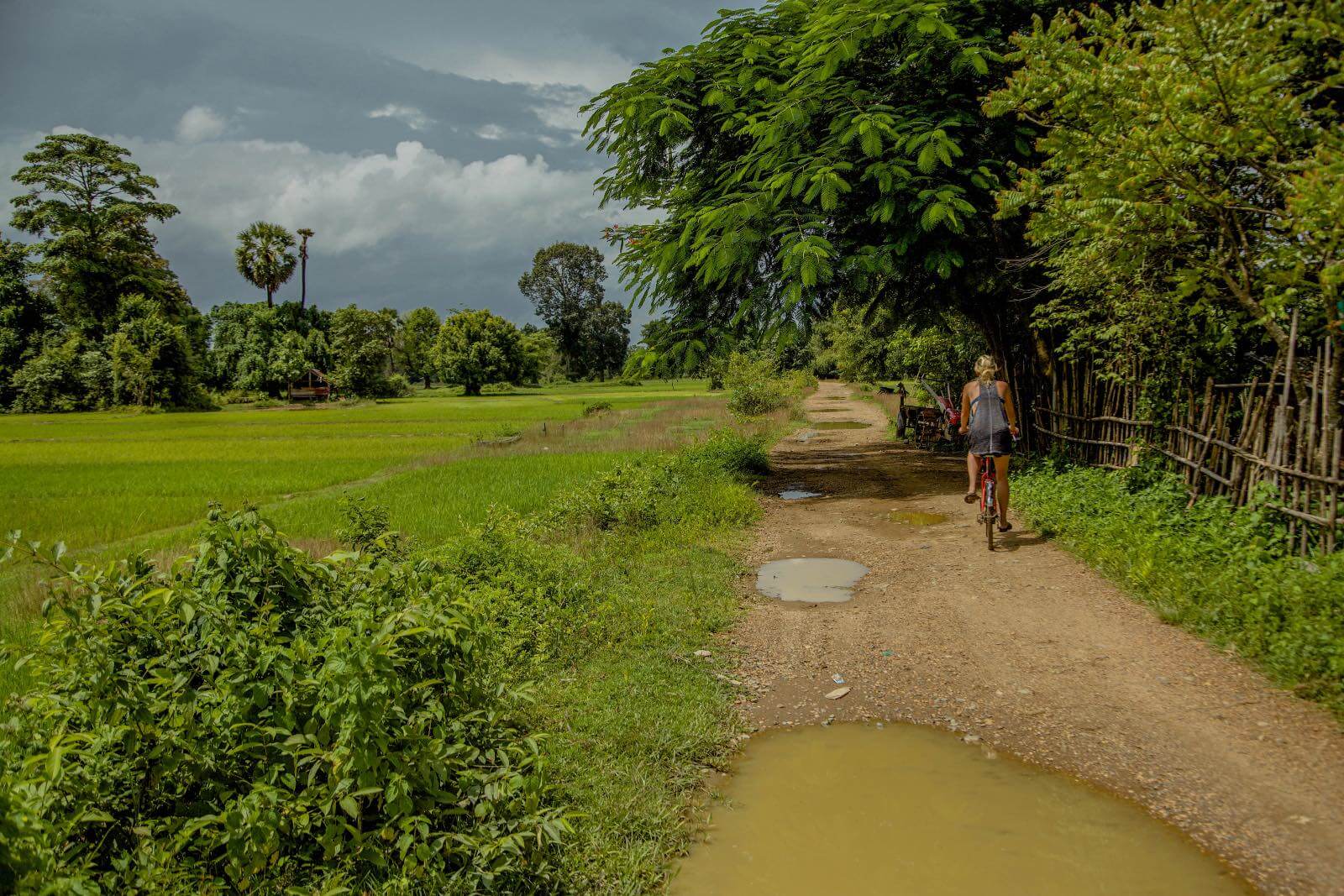 For only 10,000 Kip, about $1 dollar, you can rent a bicycle for the day and explore the island. There is one french bridge that links Don Det and Don Khon making it accessible by bike.
Strolling between islands and taking in the scenery is a great way to spend a morning. If it is monsoon season and muddy don't let that stop you, it makes for some great stories.
2. see the irrawaddy dolphins
These rare dolphins only exist in two parts of the Mekong, Kratie, Thailand and here in the 4000 Islands Laos. Plus its estimated that there are less than a hundred left.
Unfortunately when I was here the dolphins were down in Kratie so I never had a chance to see them, which left me with more time to sip a pina colada by the pool at Little Eden.
If you came from Northern Laos and already experienced tubing in Vang Vieng then this tubing experience will be a lot more laid back and relaxed. Tubes can be rented for around 10,000 KIP in town and you can also arrange a pick up.
Use cation if you're traveling here during monsoon season, river flow is more powerful than in the dry season.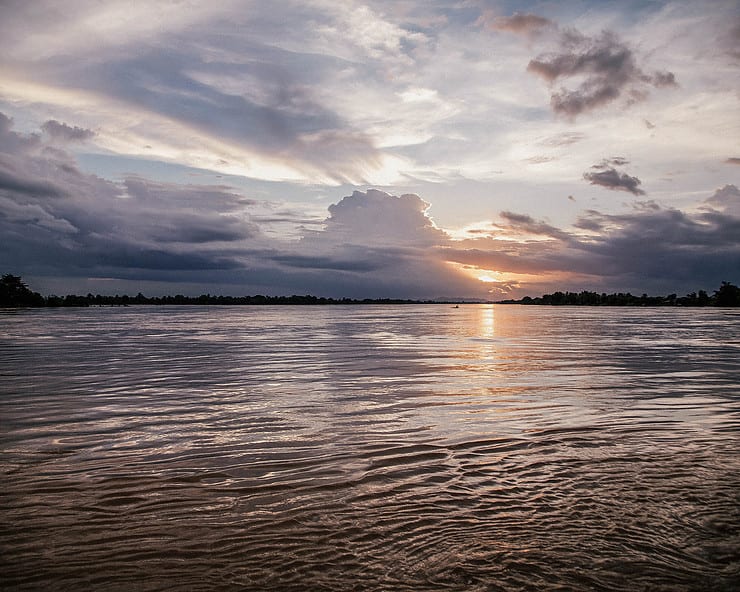 4. catch sunset &/or sunrise
Whether you are on a sunset tour or on a deck of a restaurant, this is a MUST. Every night you are here you must watch the sun sink into the Mekong. I'm a huge fan of sunsets and sunrises so you should be doing this everywhere but especially here. The same goes for sunrise.
5. see the khone phapheng falls
Khone Phapheng Falls is the largest waterfall (by volume) in South East Asia and an epic place to visit in Laos. There is a viewpoint that provides great views of the falls below.
If you wanted to see the falls on your own, you could get here on a hired bicycle, it'd be about an hour ride from Don Det. Or you can arrange a tour in town. You can also get here on a kayak tour.
Catch it. Grill it. Eat it.
Go on a guided tour and explore parts of the island only accessible by watercraft. The river was flowing so hard when I was there that this activity did not seem fun at all. I chose the pina colada…again.
The Garden of Nang
Fresh organic, vegan, vegetarian food! I always look for restaurants with a lot of vegan and vegetarian options. This menu had lots.
They have their own garden out back so you know that everything is fresh. Try the pumpkin burger and a coffee fruit shake. Check out there website here.
Hathim
Cheap, delicious Indian food. The lady who runs the restaurant is lovely. We loved it here so much that we ate here twice! Check out reviews here.
Cloud 9
If you're craving comfort or mediterranean food, you'll be on cloud 9. They also have amazing desserts. Reviews.
Adams Bar
If you're looking for a place to chill out, watch tv, play fus ball, or just take a nap on the pleatherea of pillows in the back then you've found the right place. And did I mention it has a'happy menu'. Reviews.
VISA– The USA and most European countries need a visa to travel Laos and you can obtain these at the border. The cost of a visa is $30 USD but varies depending on which passport you are holding. Check

here

to find out how much a visa cost for you.
Purchase World Nomad's Travel Insurance.
CURRENCY:Laotian KIP is the currency of Laos. 8,000 KIP is about 1 USD. Average daily budget is $40 USD's and that's not denying yourself of pleasures.

Read

2 Week Laos Itinerary and 7 Unbelievable Places to Visit in Laos for more inspiration.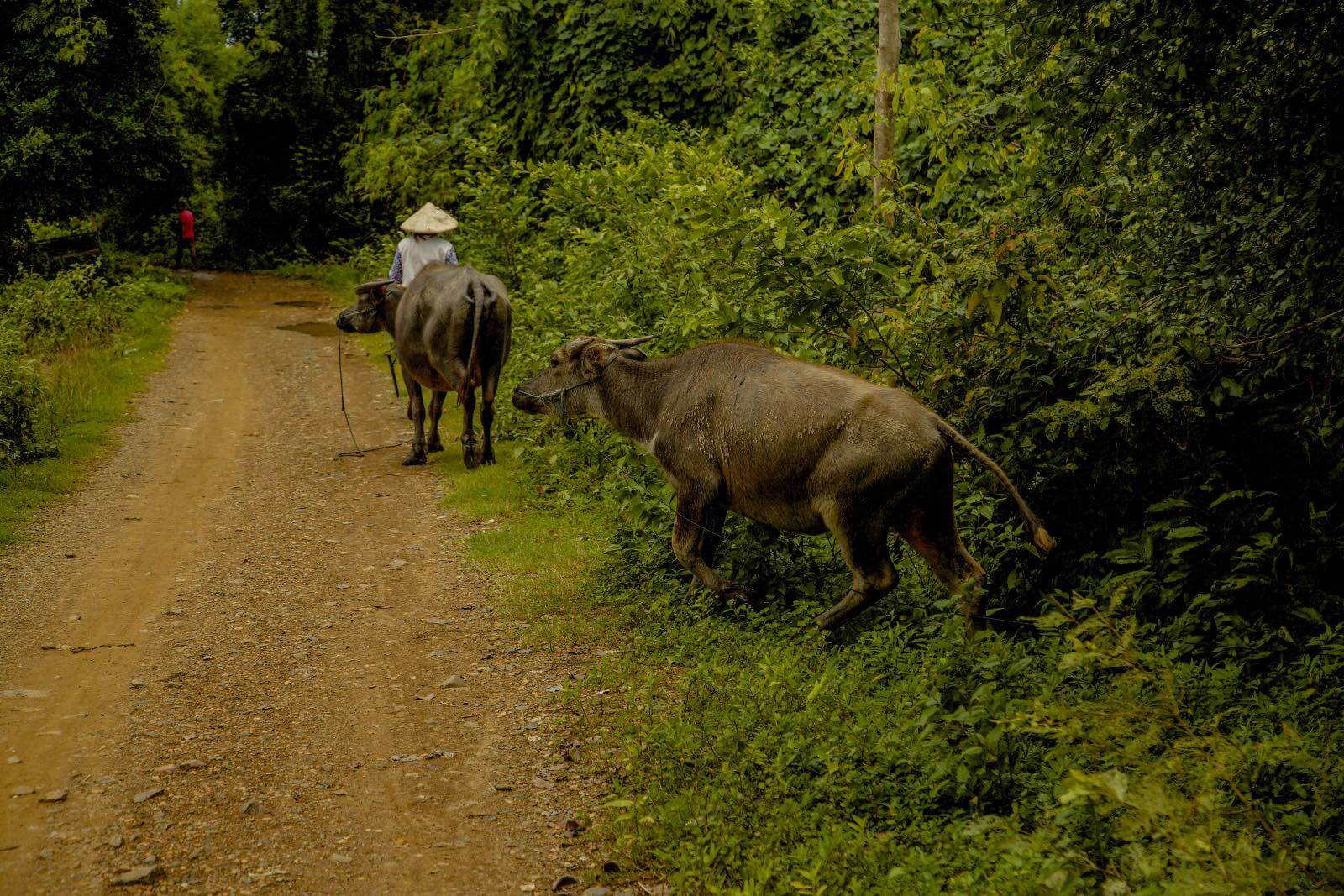 4000 Islands Laos Travel Tips
There are no ATM's on the island so plan accordingly.
There is a currency exchange but the rates aren't that good and an ATM at Nakasong where they drop you off from the mini-van.
If a menu is "happy' it contains drugs.
Have you been to Don Det, Laos?
Let me know in the comments below!
Enjoy this Post?!?! Pin in for Later ↓