I enjoyed writing this El Nido travel guide because it brought back such fond memories. El Nido is located on the island of Palawan in the Philippines. El Nido is a beautiful town nestled on the beach surrounded by towering limestone cliffs. It is where you'll want to base yourself as you explore the Bacuit Archipelago.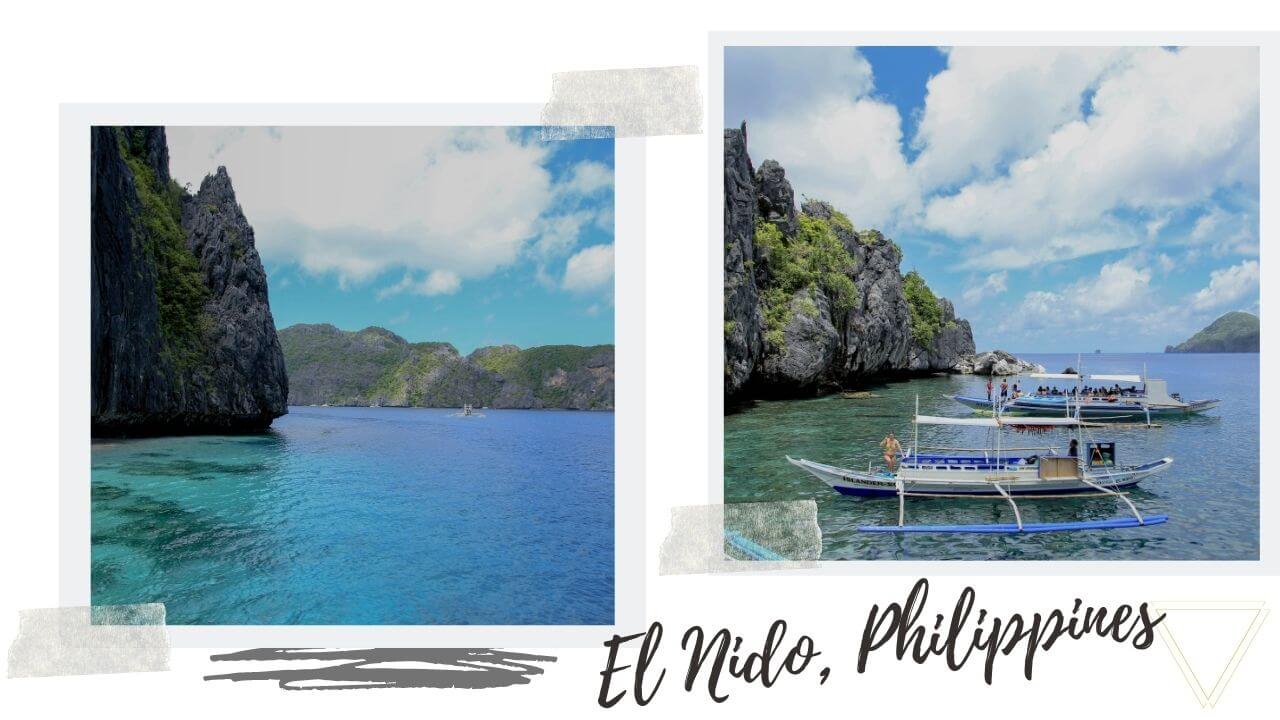 For full transparency, I have sprinkled some affiliate links in this post.  As an Amazon Associate I earn from qualifying purchases that gives me a small commission at no extra cost to you if you decided to make a purchase.  As always, I would never recommend a product or service that I didn't truely believe in.  All proceeds go to keep Jess traveling and coffee ☕️.  I thank you in advance.
How to go to El Nido? The best and easiest way is to fly opposed to a ferry or boat.
How to get to El Nido from Manila- Fly, this is the most expensive but more convenient option.
How to get to El Nido from Puerto Princesa- Fly into Puerto Princesa and take a mini van to El Nido. There is a kiosk right outside the doors by baggage claim.
The clerks speak English well and it will cost 600 pesos per person. The Puerto Princesa to El Nido travel time will last 6-8 hours depending on traffic and how "gung ho" your driver is.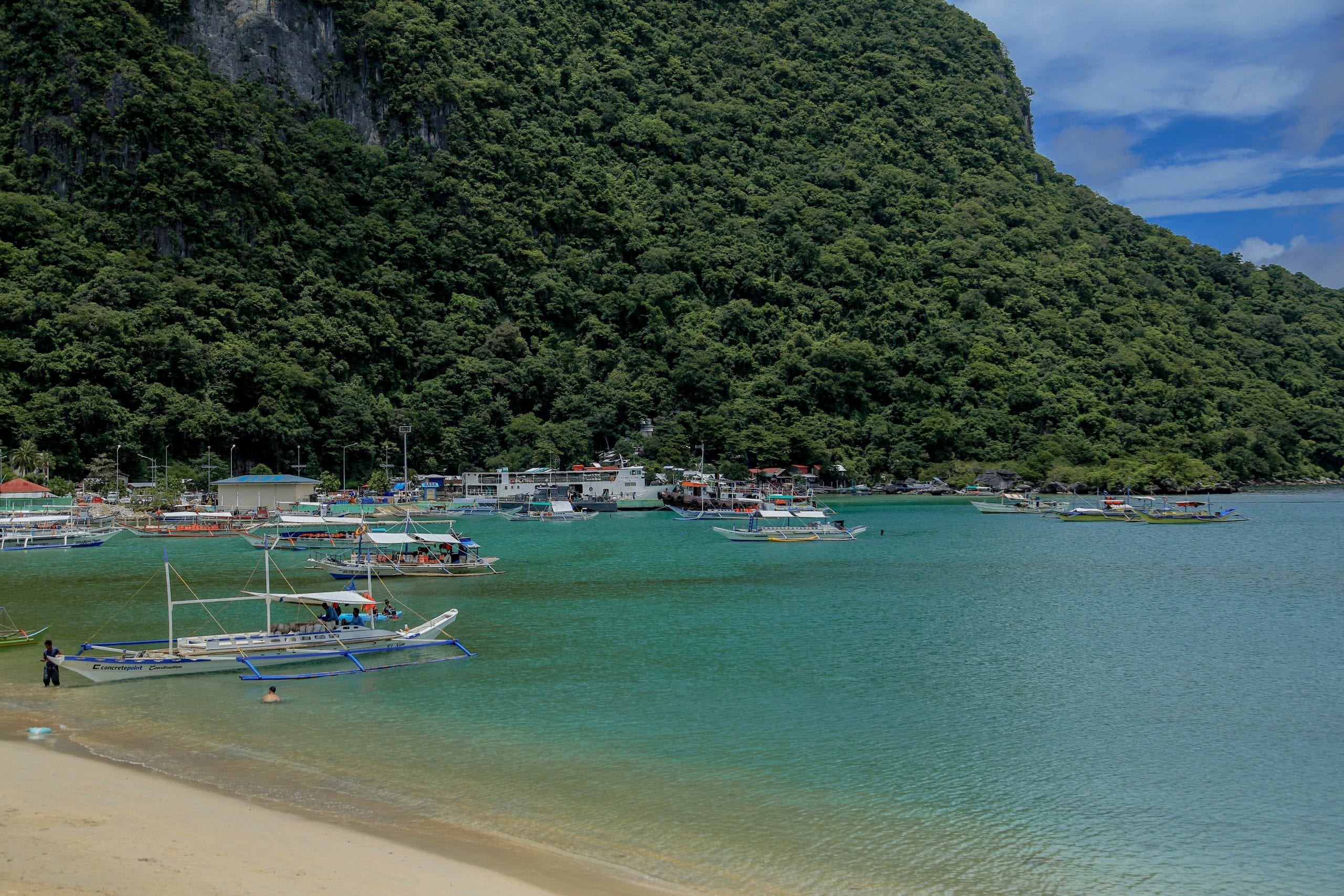 August to October is peak surf season. This is considered southwest monsoon season and it rains most days.
December to March is northeast monsoon season. There are also some decent waves during this season.
April to May is the calmest weather in the Philippines. But also the hottest.
June to September is low season. Accomodations are cheaper but typhoons are common during this time.
At the time of writing this the conversion rate was about 50 Peso's = 1 USD. This is a typical El Nido budget.
Dorm bed 400- 800 Peso
Double Room with A/C 1000 Peso and ↑
Resort 5000 Peso
Street Food 300 Peso
Dinner & drinks at sit down restaurant 700 Peso
Boat Tours 1200-1400 Peso's
Moped Rental for a day 500 Peso
Jeepney Ride 80 Peso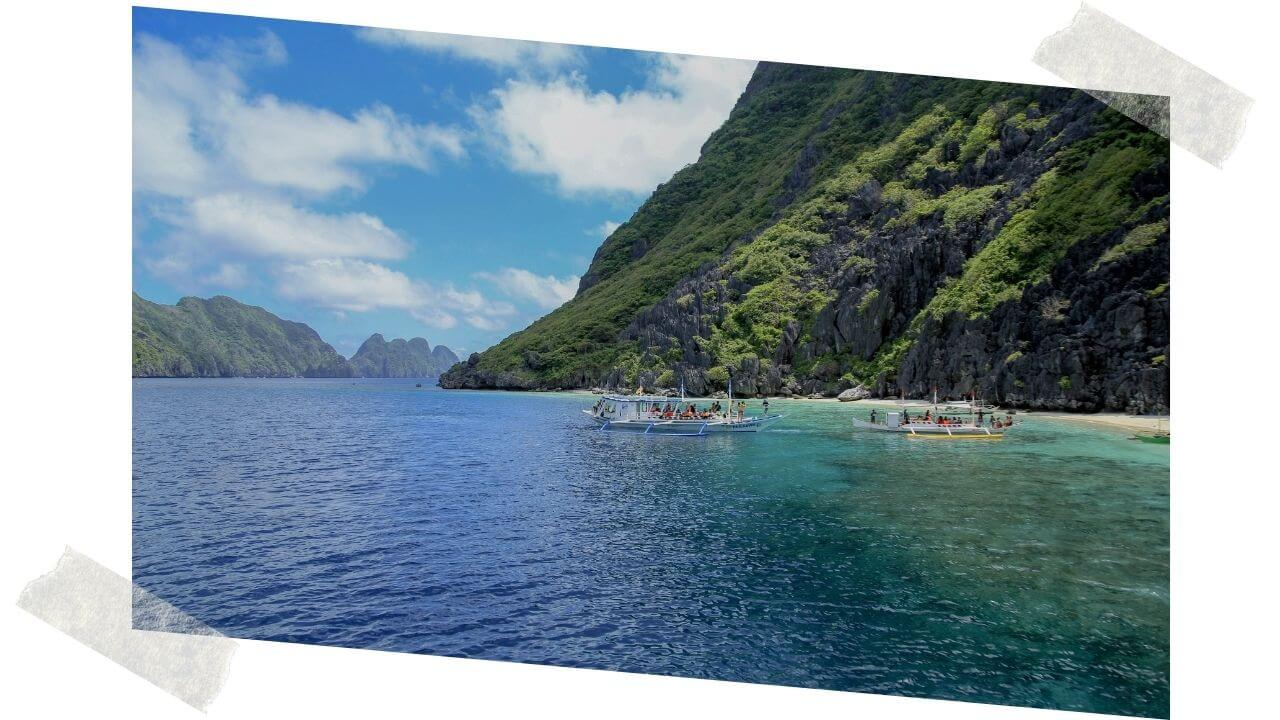 Budget El Nido Accommodation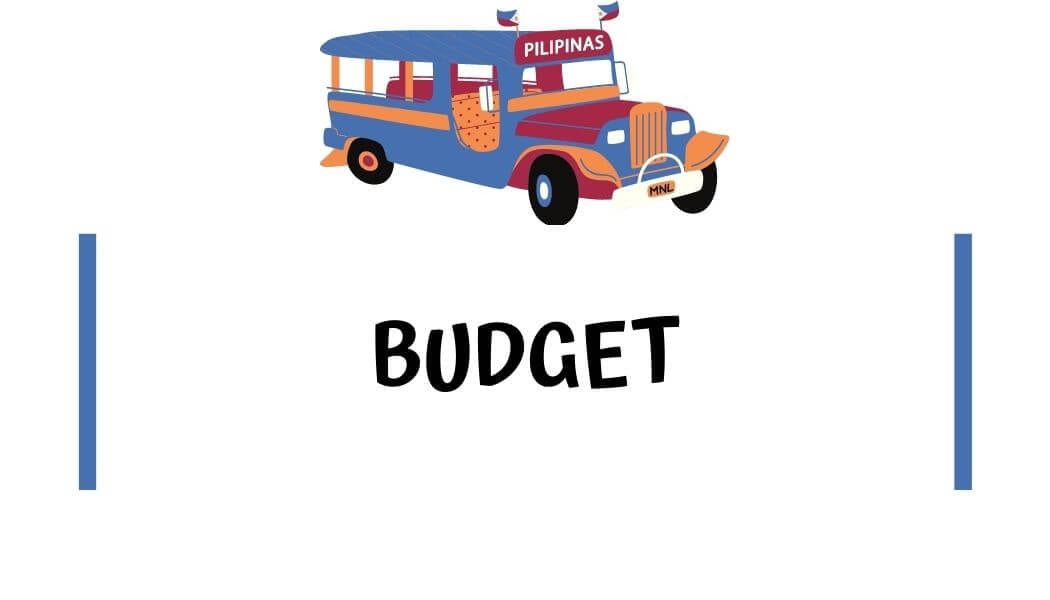 Located in El Nido town, close to restaurants and the pier. Clean, hot showers, and ac. Great value for your money. Internet wasn't the greatest tho.
Mad Monkey Hostel Nacpan Beach
Located on the beautiful Nacpan beach is this hostel. If your main objective is at the beach then you've come to the right spot. No WIFI at the time of writing this.
Located in town and steps away from the beach. Yummy Thai restaurant on sight.
Best Places to Stay in El Nido for Luxury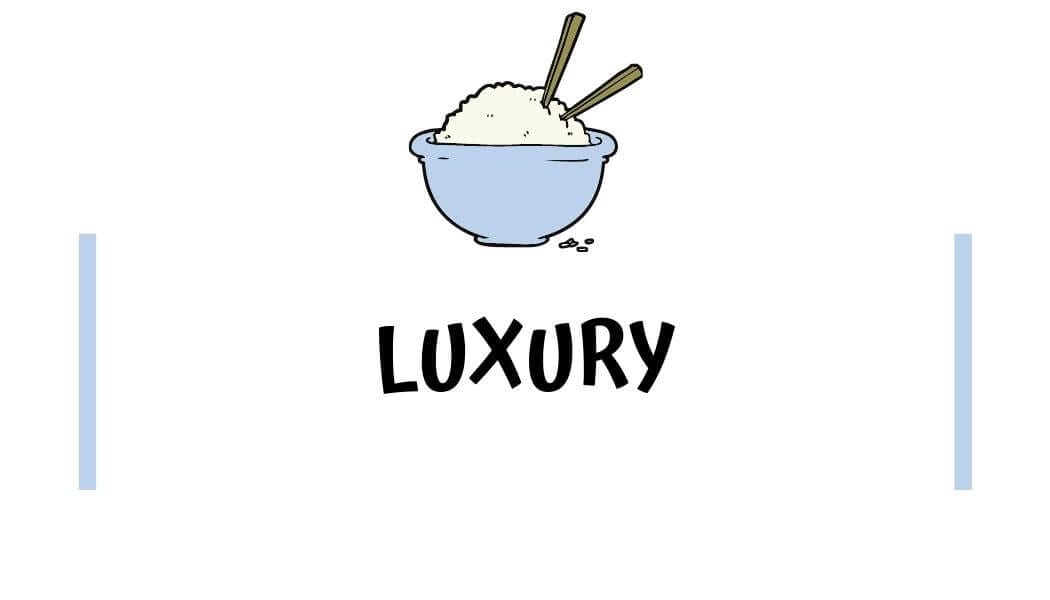 Located right on Lio Beach. One of the few resorts to have a pool. The staff is professional and friendly. We stayed here for my birthday after being in town for 4 days and we had an amazing stay.
The Nest El Nido Beach Resort
Open spacious rooms. Free shuttle to town as this resorts lies on a beautiful beach outside of town.
Features an infinity pool. Has a bar and restaurant on site. You'll definitely spend a few days relaxing at the resort.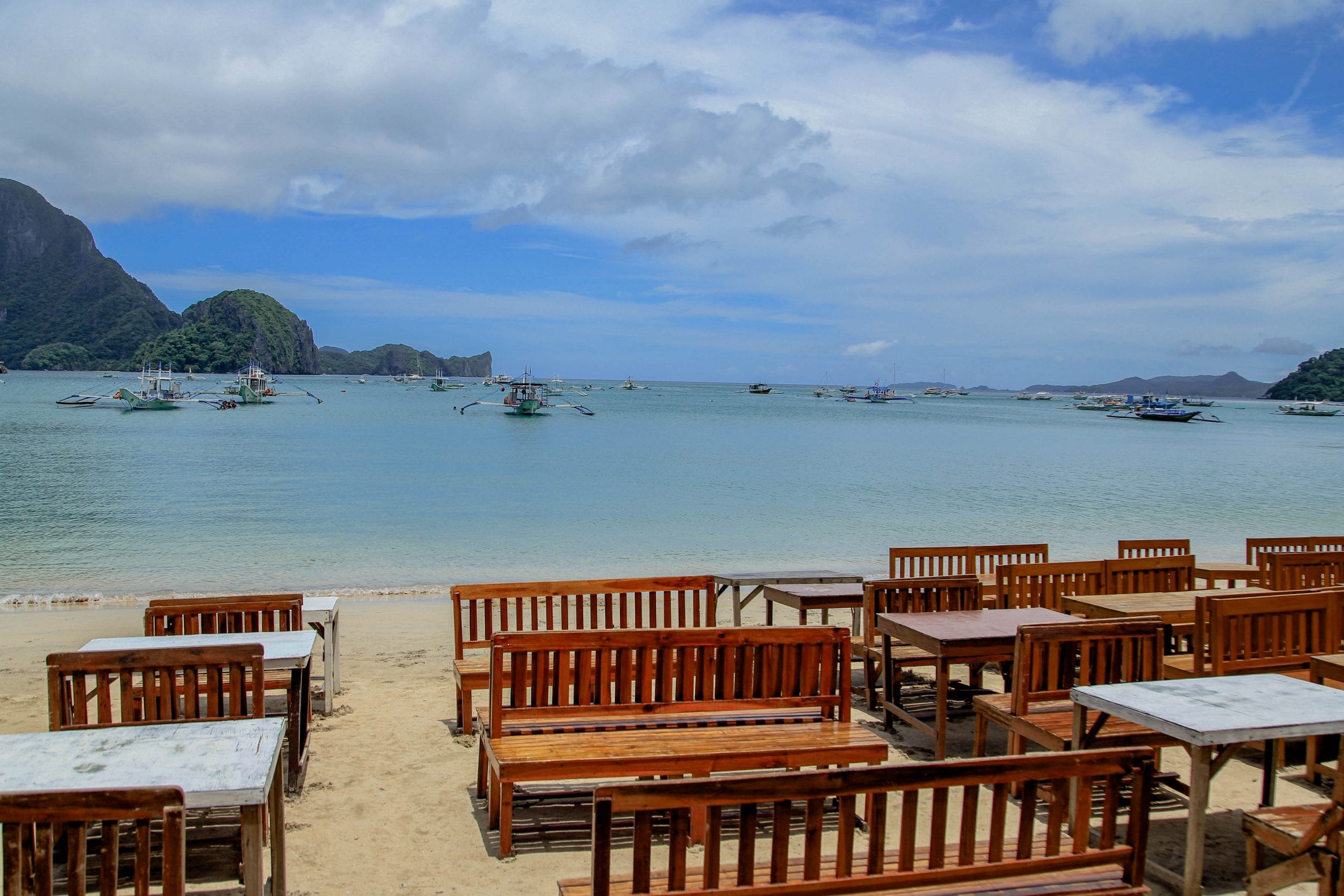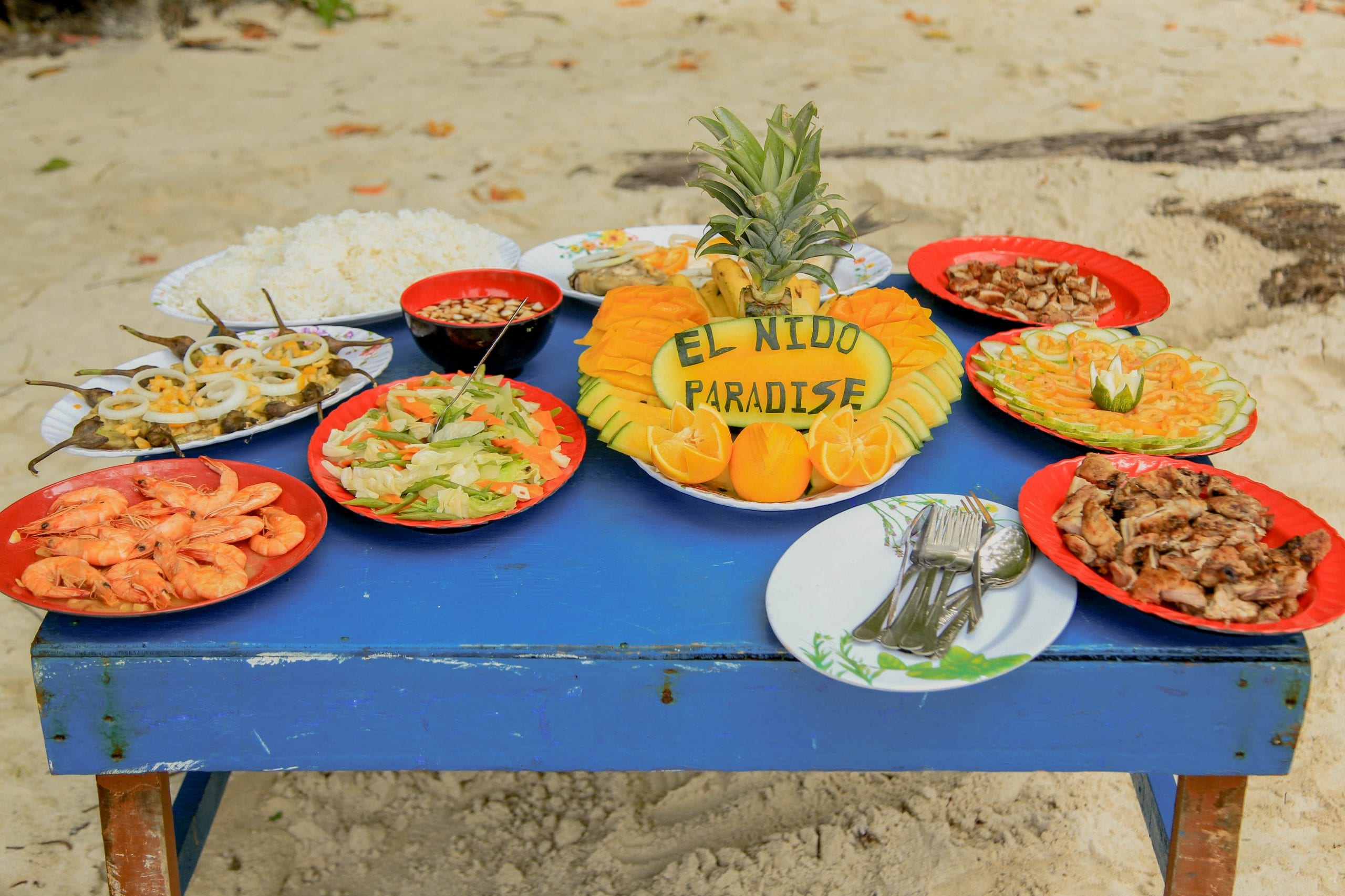 Happiness Place – Located in El Nido. A vegan, veggie friendly place. Medataranian based cuisine. Salads, falafels and all fresh ingredients. A must try is the Happiness Salad, one word YUM!
Located down the beach of El Nido town and the bar seats are swings. Swing your way into happiness and eat here on this El Nido guide.
Shaka restaurant on Lio Beach – 100% vegetarian and portions are good sized. Beautiful location right by the pier and a great spot to watch sunset.
Bulalo Plaza – Open 24 hours for filipino food. Lots of vegetarian options.
What to Do in El Nido, Philippines
There are 4 tours that you can book that let you explore Bacuit Bay. A,B,C, or D. For a breakdown of each tour read this. My favorite tour was A and they all cost around $20.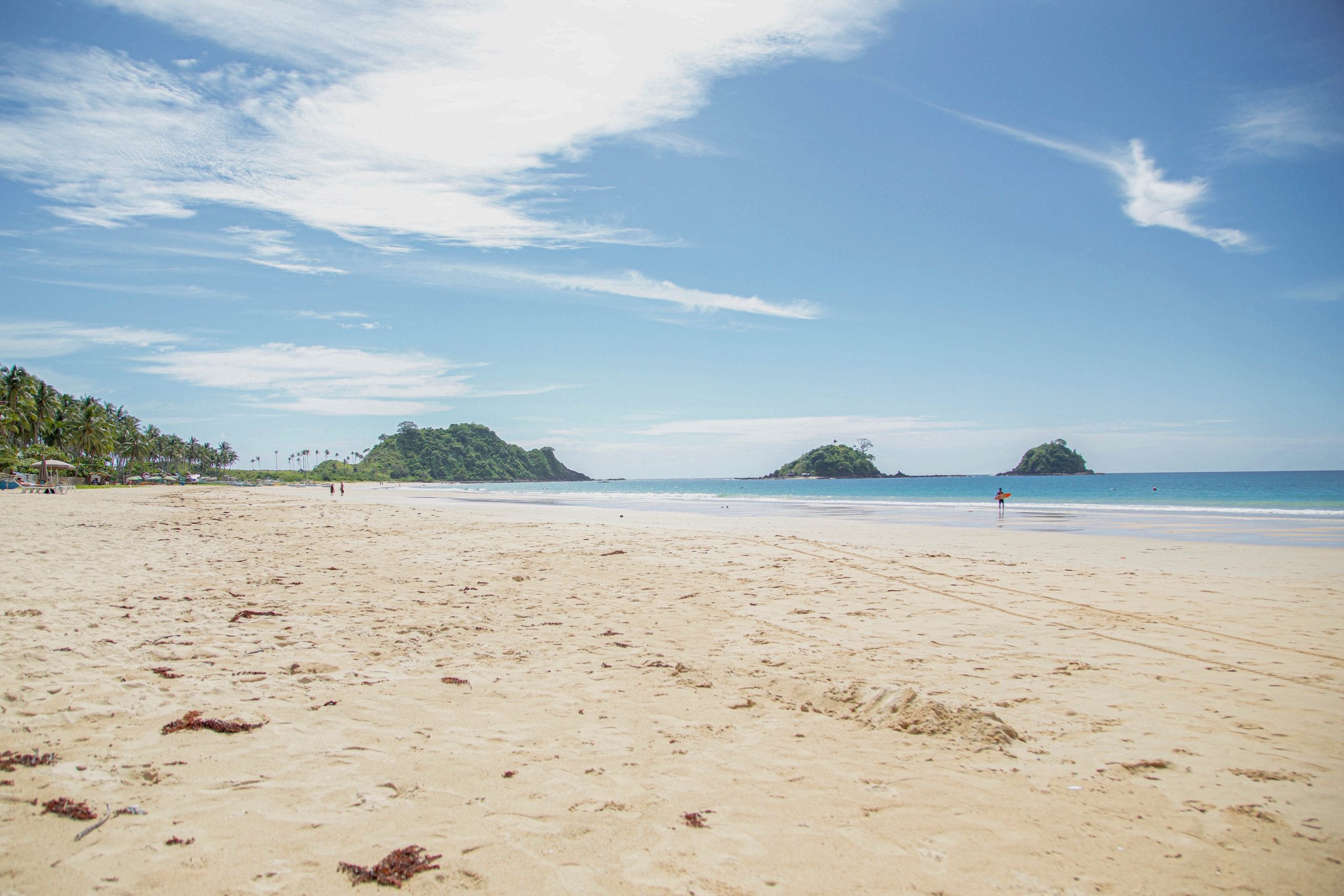 One of the best things to do in El Nido is visit this beautiful postcard beach. In fact, its one of the most beautiful beaches I've ever been to and I've been to a lot of beaches. It is about an hour moped ride from El Nido town.

There will be someone in a booth before you get to the beach collected 50 pesos per person. Once you're inside it will then cost 30 pesos to park. This perfect beach is 3 km long and unsaturated. Meaning it wasn't built up and developed which only added to its beauty.
Rent a Moped and Explore the Countryside
This is always one of my favorite activities. Cruising around with no real directions taking in the scenery and filled with excitement in hopes you stumble across something magnificent. And oh so many palm trees.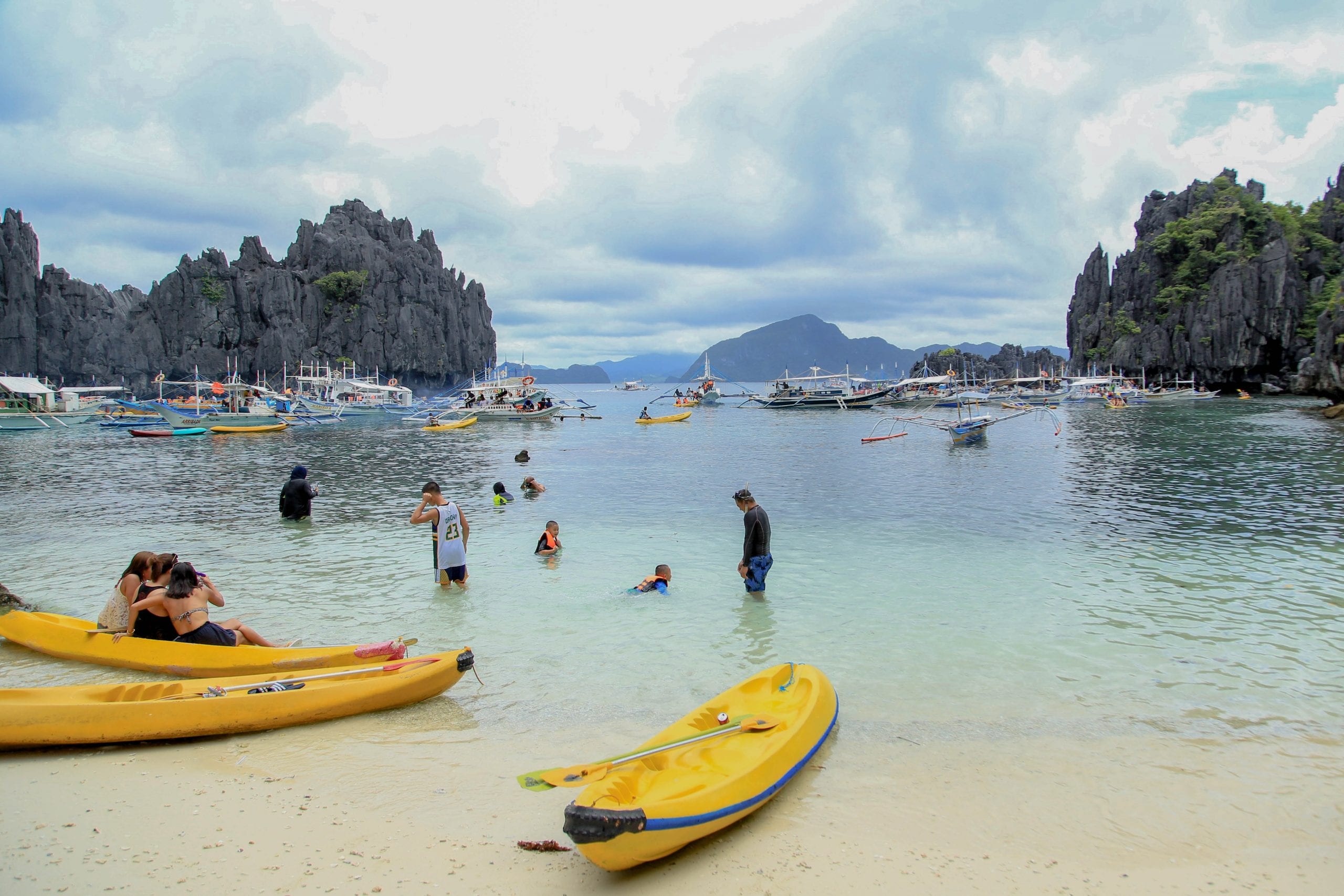 This activity can only be reached by boat. From here you can rent a kayak and explore the small lagoon. The enterance to the small lagoon is too small for the boat so the only way to enter is by swimming or on a kayak. This was our favorite day when we explored El Nido.
You can also rent a kayak on the beach in El Nido and paddle around the town. Pristine waters makes this extremely enjoyable!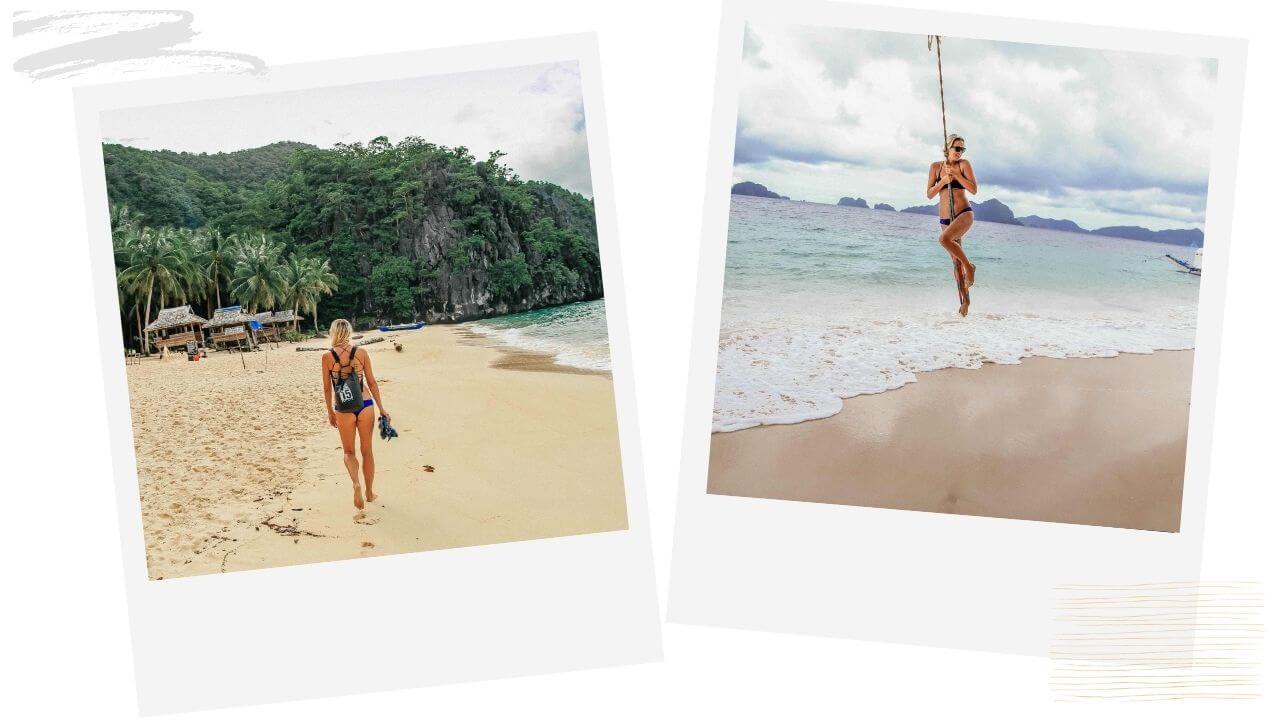 A handful of upscale resorts sit on this beach and we stayed here half the time we were in El Nido. There's a beautiful pier that you can walk to the end of.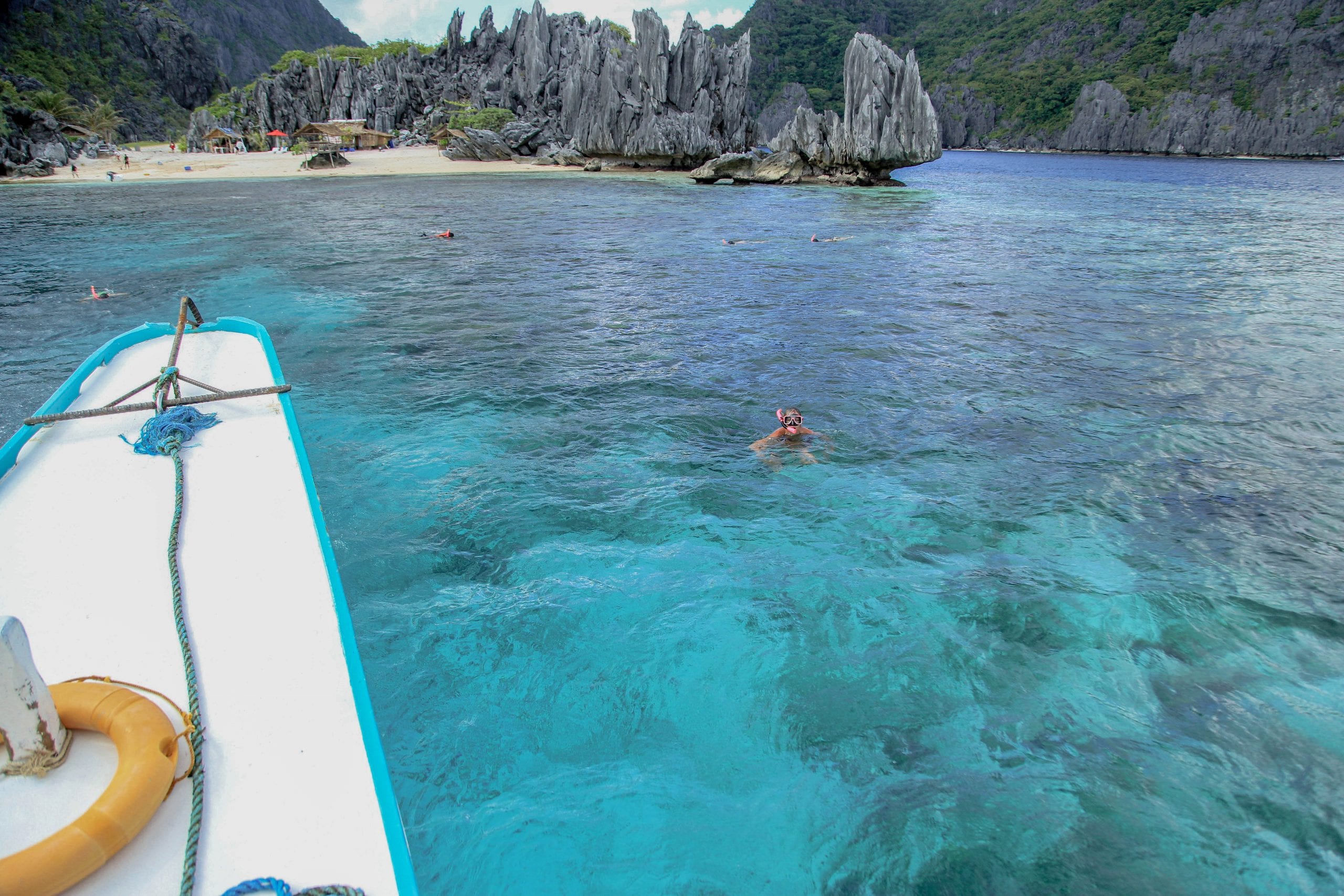 Most of the boat tours include snorkeling. The pristine crystal clear blue waters make snorkeling anywhere fun. It's a whole new world under the sea!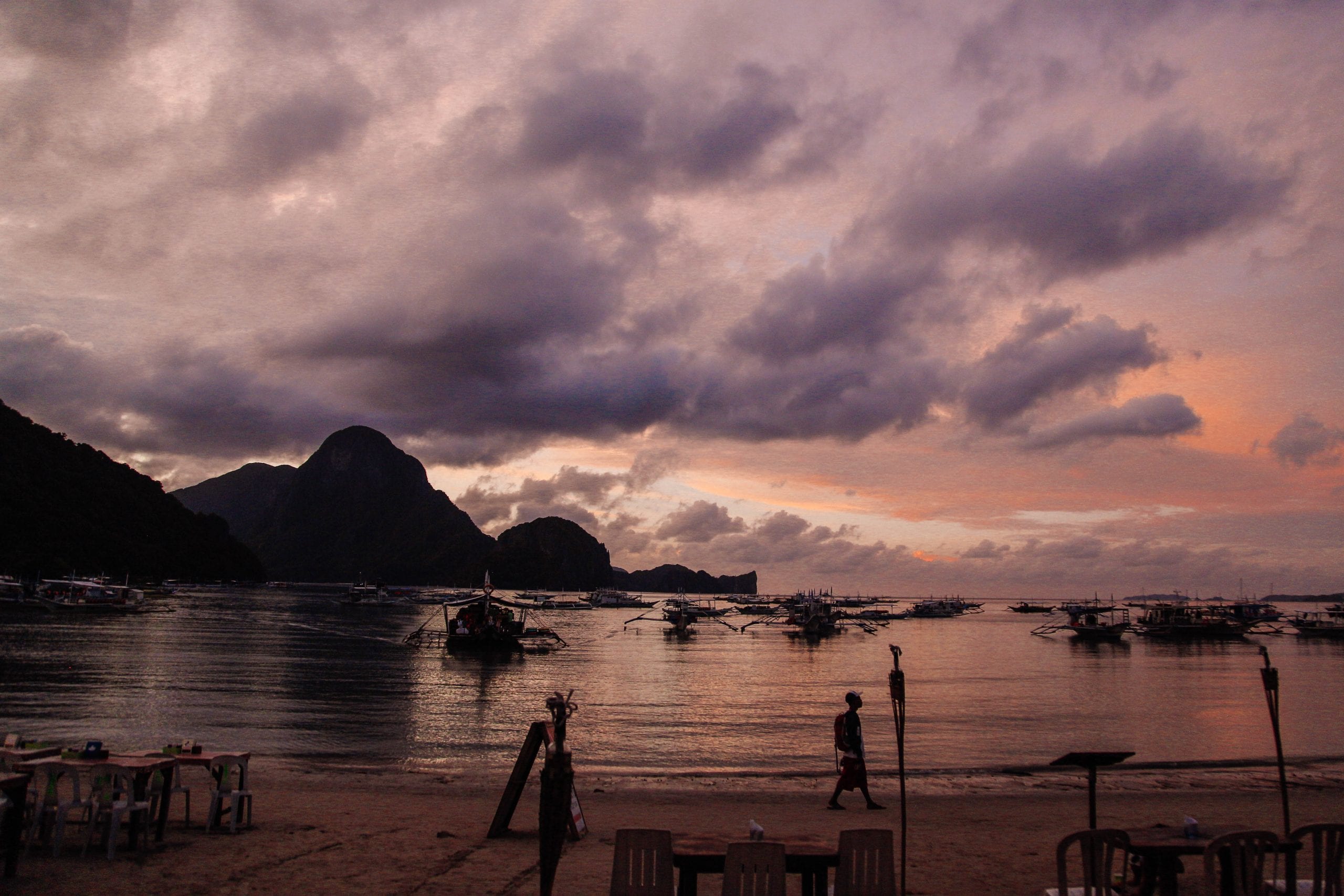 The best free thing to do in El Nido and an activity you can do anywhere!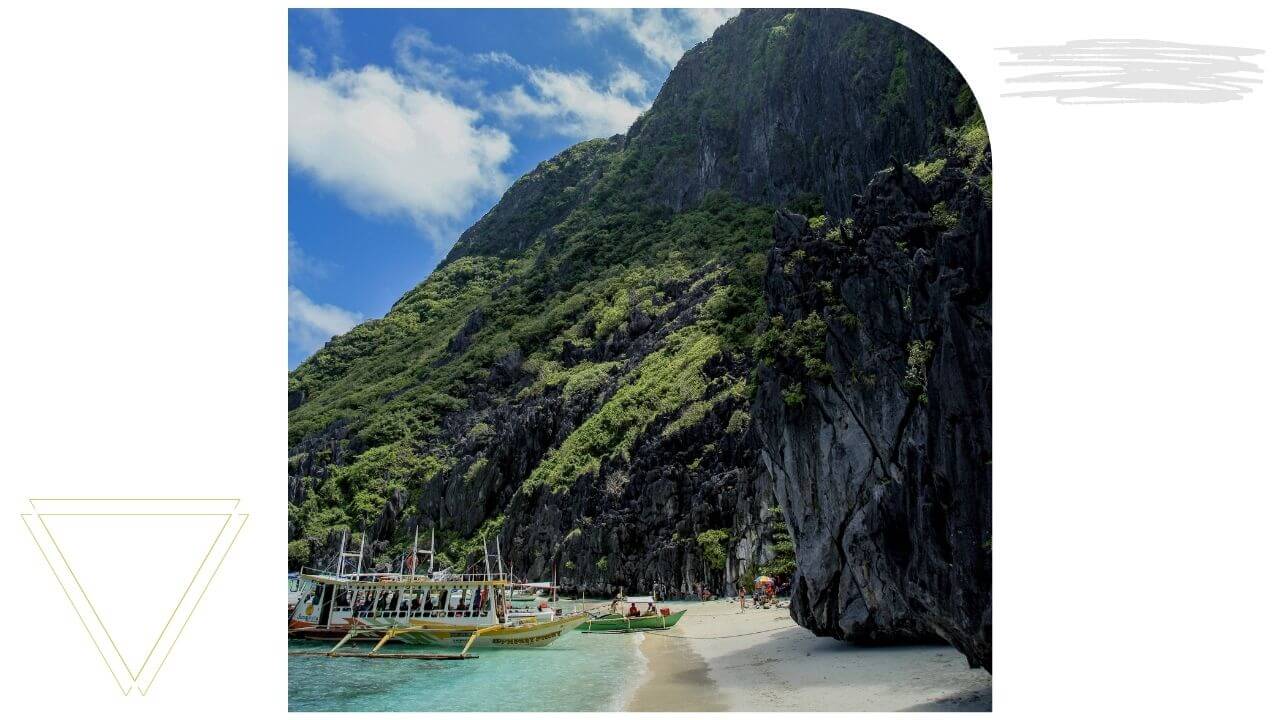 El Nido Travel Guide Tips
WIFI

will be limited so look into buying a SIM card for constant access to the internet.

The currency is the Philippine Peso but USD's are widely accepted.

There are a handful of ATM's located in El Nido town.

If staying in El Nido town, everything is walkable.

Traveling here during rainy season? Beware of typhoons and be flexible in case you have to evacuate.

English is widely spoken.
Thanks for reading this El Nido Travel Guide! Have you been? Let me know in the comments below.
Philippines Travel GUides Below ↓
Enjoy this Post?!?! Pin in for Later ↓