One of the best things to do while exploring West Maui is to spend some time at the Olivine Pools. These swimmable tide pools are a perfect way to spend a few hours in the serenity of the rugged natural West Maui coastline as you experience this part of the island.
This isn't one of the most strenuous hikes that Maui has to offer but it can be difficult due to the steepness and terrain.
TRAVEL TIP: If you would prefer to follow along to an audio tour as you explore the coast line of West Maui, I recommend the Shaka Guide! The Shaka guide tours are great for independent explorers who want the freedom to explore on their own terms, but like to learn about the spots they're visiting.
The tours use GPS to offer turn-by-turn directions and audio narration with stories and music. This will leave you with a deeper understanding and connection to Hawaii.
For full transparency, I have sprinkled some affiliate links in this post.  As an Amazon Associate I earn from qualifying purchases that gives me a small commission at no extra cost to you if you decided to make a purchase.  As always, I would never recommend a product or service that I didn't truely believe in.  All proceeds go to keep Jess traveling and coffee ☕️.  I thank you in advance.
The Olivine Pools are natural tide pools formed by lava along the ocean's edge on the back-side of West Maui. Dramatic from above, the Olivine tide pools are located on barren lava rock. This stretch of lava rock is in a remote area that has no sandy beaches or easy water access.
In order to get to the Olivine Pools, you must hike 0.4 miles down a sloped cliff to get to the waters edge. This should take around 20-30 minutes. The hike to get down to the Maui Olivine pools is moderately difficult largely due to jagged and in some places fairly steep lava rock. Also the pine needles and sand/dirt make the trail at points slippery as you come up and as you go down.
There are several worn trails leading to the pools, making rough "steps" so it isn't exceedingly difficult. Elders and children may have a tough time getting down and back up from the ocean pools if they struggle for balance. If you fall or teeter, there is nothing to grab onto and the lava rock is sharp and jagged.
How to Get to the Maui Olivine Pools?
The Maui Olivine Pools are located on the backside of West Maui. The tide pools are about 50 minutes North of Lahaina town or a half hour if you are staying up North already in Kapalua at an elegant resort.
Just after mile marker 40 (on Highway 30) is where you will park to start the small hike down to the Olivine Pools. If coming from the South you will see a huge rock (pictured above ↑) on the mauka (right) hand side of the road and parking will be directly after you pass the rock on the makai (left) hand side of the road.
The parking area is just a worn dirt patch. If you come later in the day you won't miss it as there will be a pile of cars parked along side the road. In my opinion this kind of takes away the lure of off-the-beaten path Maui.
It is also important to note the parking area is a hot-spot for smash-and-grab thieves – bring valuables with you to the pools, and leave the car unlocked to avoid broken glass.
If you come early around 7 am or in the late afternoon it will be possible to avoid the crowds. This is a great spot to catch sunrise on West Maui. I went to the Olivine Pools recently around 7 am and we were the only ones there and the island is packed right now. We were able to fly the drone and get amazing shots with no one in it.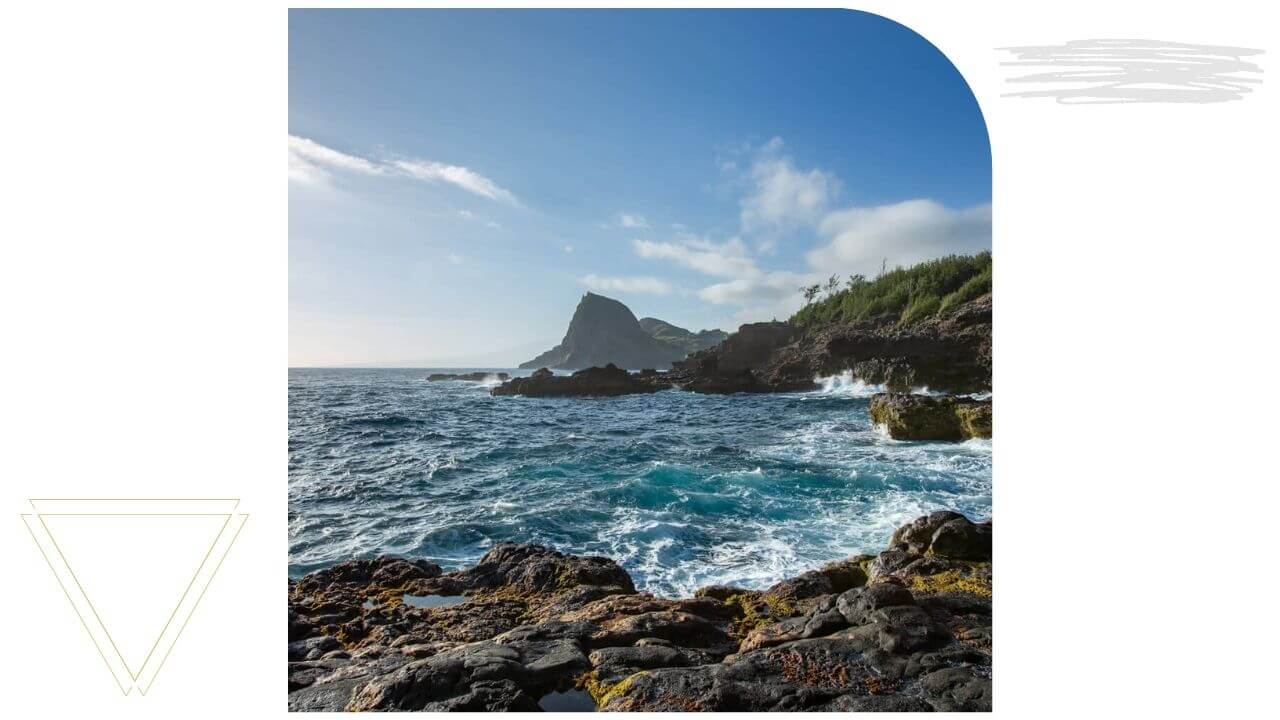 When to Visit the Maui Olivine Pools
If you have done any other research on the Olivine Pools you should have read how controversial this attraction is. Some people (mostly tourists without understanding of the waves or ocean) have lost their lives. Many more have been seriously injured.
That being said, the best time to visit is in the summer – June-early September – when large surf is rare. Most Olivine Pool deaths occur during the winter time. This doesn't mean that that there won't be exceptions in the summer but this is a general rule of thumb.
Checking the surf report before entering Maui tide pools or the ocean in general. It is rare to have any kind of large surf on Maui during the summer as huge waves don't come when the surf is flat. On rare occasions there is large surf up North in the summer so checking the surf report is a mandatory action to take before coming here.
In the winter time – November-April is when there is bigger surf on the North shore. If there is any kind of moderate surf, much larger "rogue" waves occasionally arrive. The large waves crash up against the lava rock walls and sweep by standers out into the open ocean where the rip current is strong.
Standing too close to where the waves crash are always unsafe no matter how they appear. Being drug across the lava rocks can cause serious injury and the strong current makes it very difficult to get back to safety.
What to Expect when Visiting the Olivine Pools
From the parking area it takes about 20 minutes to hike/walk down the rocky cliff sides to get to the Olivine pools. Expect crowds unless you come super early or later in the afternoon.
There are several paths or routes you can take to get down to the tidepools. You'll come to a sign expressing the danger of the area. Go to the left. Once you're through the brush it will be nothing but lava rock trails. Pick a path and head down. There is no right or wrong way to get down, just pick the route you feel the most comfortable and safe.
Make sure you make a mental note of how you got down so you can take the same route back up. You don't want to make the same mistake I did and tack on a few more steps than necessary by hiking up and then back down to find the right path through the brush.
Don't plan a whole day around this excursion. If waves are crashing into the pools with any force at all, you do NOT want to enter the pools. Even if most waves appear as if they would not sweep you out, it happens and this is a serious matter.
Having a backup plan if the pools are unsafe to enter is a must. There are plenty of fun things to do nearby that will keep you safe and still let you experience Maui's beauty.
Some nearby activities to enjoy are:
SAFETY TIPS: Checking for waves visually. Do NOT just assume there are no waves if when you arrive and there are none or that they are small. Bigger waves come in sets about every 15-20 minutes or longer and can be spaced very far apart. You can think you are safe only to soon realize you are in real danger.
If you are washed into the open ocean in this location, chances of survival are slim for even the strongest of swimmers. The rip current is very strong and if you need help, your location isn't easily accessible.
Check the rocks to see if they are wet and shiny looking. Wait it out from a safe distance to make absolutely sure that there are no waves and that the tide pools are suitable for swimming.
If there are locals around and they tell you that it is not safe, believe them! People have been swept away to open sea and taken out by waves standing too close to the waters edge which have resulted in death.
Tips for Exploring the Olivine Pools
Olivine Pools death: Be aware of your surroundings, waves have taken many lives.
Many, many people have been injured here. More than Olivine Pool deaths. If waves are crashing into the pools with any force at all, definitely do not enter the pools.
Check the surf report before you attempt to visit the Olivine Pools.
Bring valuables with you.
Wear close toed shoes to hike down to the Maui tide pools.
Parts of the worn trails can be slidey with pine needles, dirt and sand.
Come early to avoid the crowds.
Have a backup plan of what to see in case the tide pools are unsafe to enter.
Water
Snacks
Sturdy shoes
First aid kit
Charged iPhone in case of an emergency
Swimsuit
Towel to dry off with
Check out these essentials I never hike without.
Other Things to do in West Maui
Have you been to the Olivine Pools? What was your experience?
Headed to Maui? Inspiration below ↓
Enjoy this Post?!?! Pin in for Later ↓