A top activity when exploring the Maui is to visit Haleakala National Park. My favorite way to explore the National Park is to do a Haleakala Crater Hike. If you're not into hiking, don't worry, there are many reasons to visit Maui.
Haleakala Crater Summit Travel Guide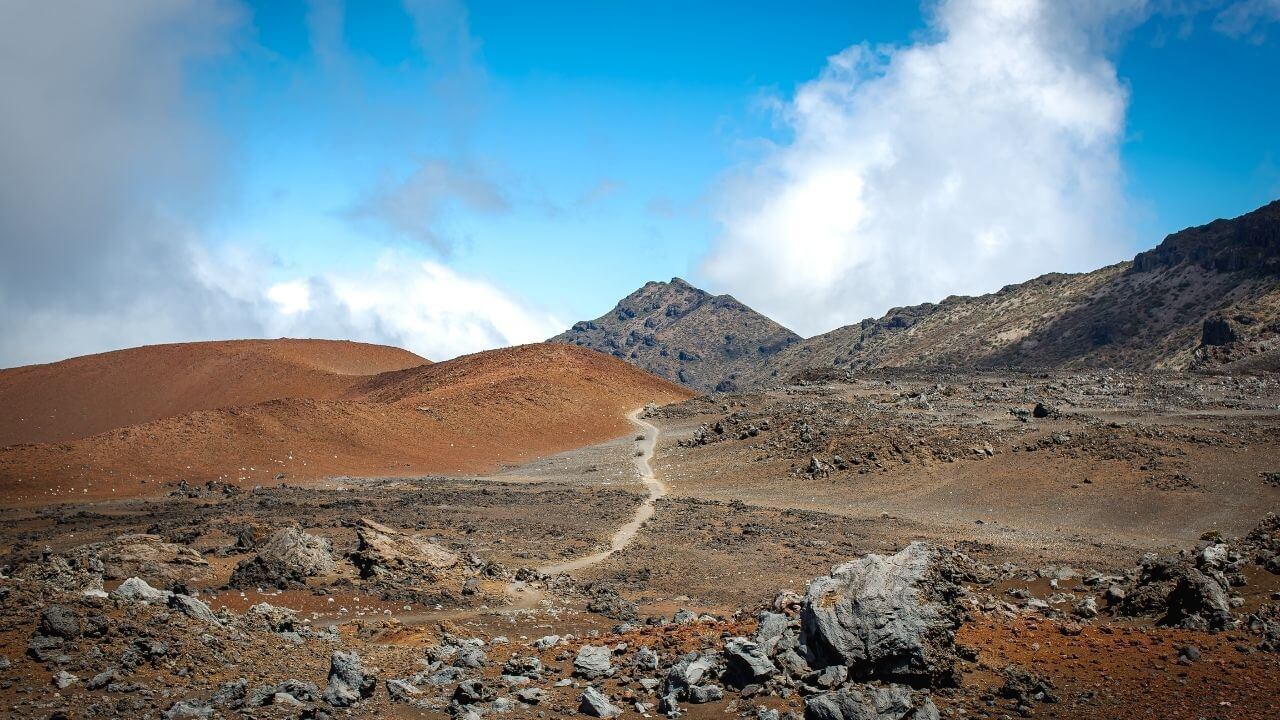 For full transparency, I have sprinkled some affiliate links in this post.  As an Amazon Associate I earn from qualifying purchases that gives me a small commission at no extra cost to you if you decided to make a purchase.  As always, I would never recommend a product or service that I didn't truely believe in.  All proceeds go to keep Jess traveling and coffee ☕️.  I thank you in advance.
Before you Visit Haleakala Summit
NATIONAL PARK PASS: Haleakula is a U.S. National Park so it does cost $25 per vehicle to enter.
DRESS WARM: The elevation at the summit is 10,023 feet so YES it gets pretty cold so plan accordingly. I'm talking like 30 40 degrees cold so a warm jacket, long pants and a beanie are recommended, especially in winter. Also bring a blanket or if you're in a jam a beach towel to snuggle under and watch the sun set or rise.
IS IT ACTIVE? Although there has been no activity for centuries, It is still considered an active volcano.
Maui is a demigod and according to the myth, the sun god La was fond of sleeping so he would race across the sky shortening the days making it impossible to accomplish that days work in such short time. As La shined its first ray above the rim of the crater, Maui lassoed the sun and forced it to slow its journey across the sky in order to lengthen the day. Hence the name Haleakala.
Why Go to Haleakala Summit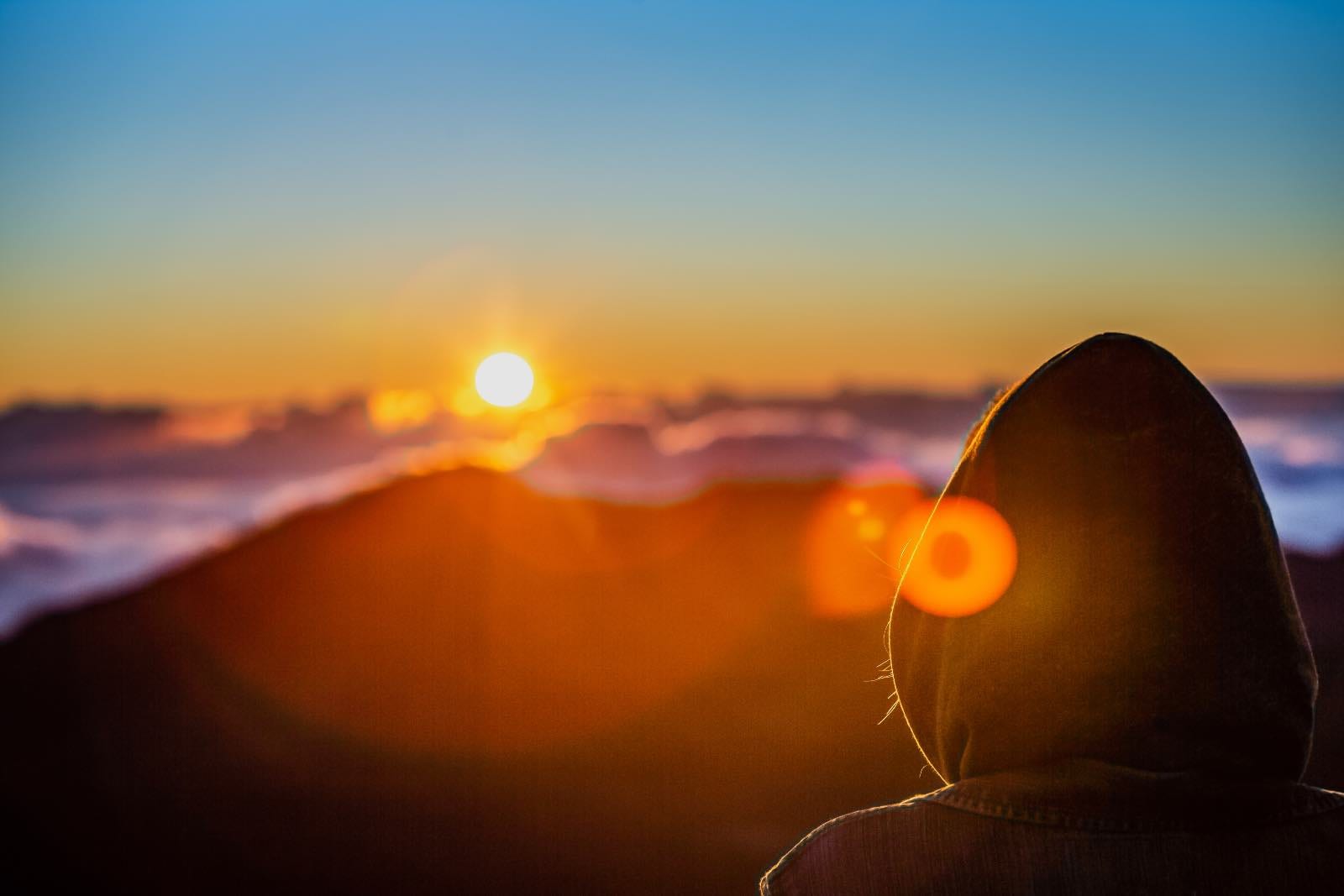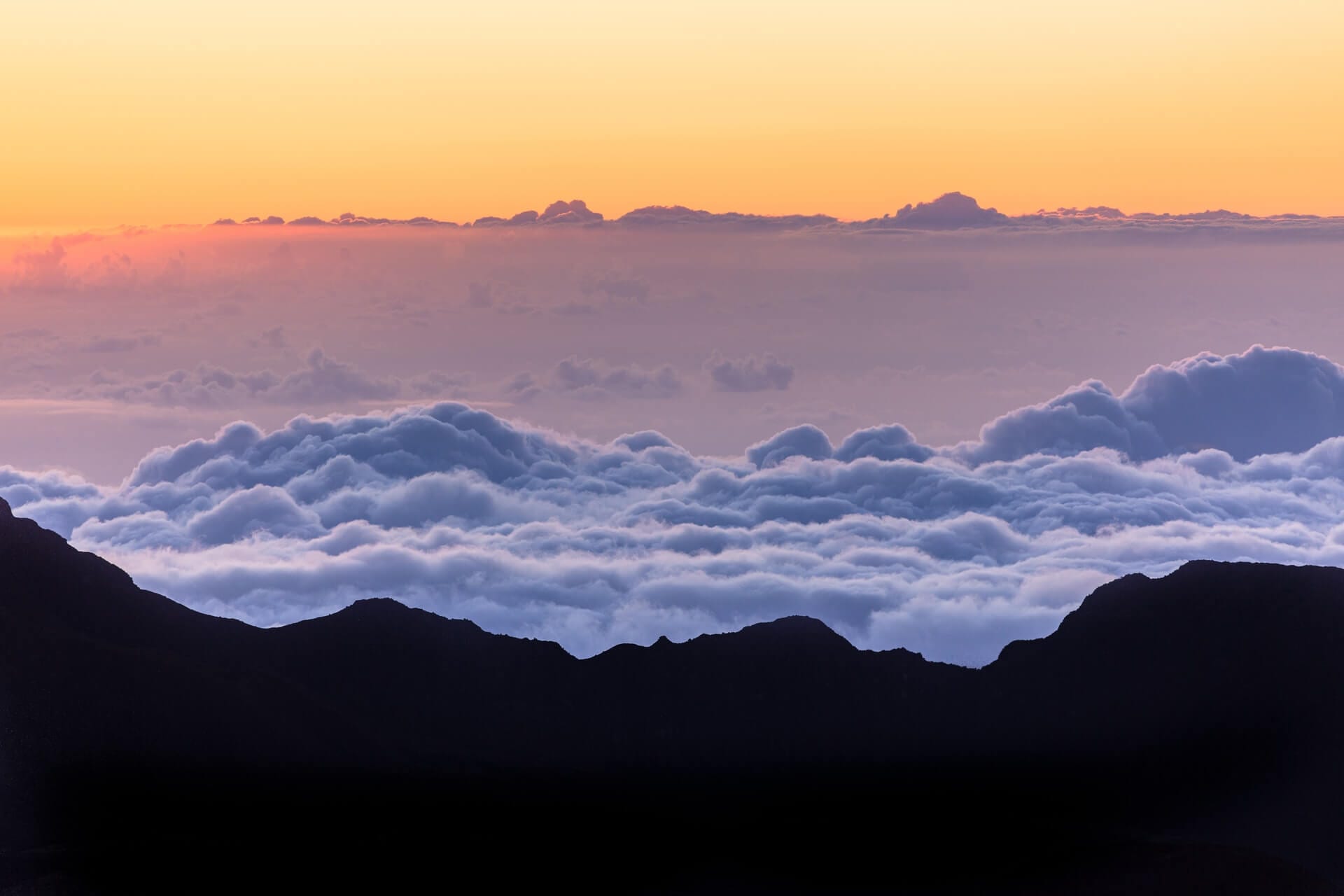 Many people visit Haleakula summit for 1 reason and that is to watch sunrise or sunset. It is truly a breathtaking experience. You get to see the sun rise above or set below the clouds as the summit is above it.
If you plan on watching sunrise between 3 am to 7 am you have to make a reservation ahead of time. Tourism has increased and now they only let a certain amount of people in everyday for sunrise. Spots fill up quickly and sometimes months in advance so planning ahead and it only costs $1 to reserve your spot. You can make a reservation here.
Not up for going at it alone, book your tour here.
If you are planning on watching sunset then no need to make a reservation. Maui may seem like a small island and just because you can see Haleakala summit doesn't mean that its super close. Make sure you give yourself ample time to drive up the crater on the switch backs. Depending on where you are driving from but for example if you're coming from West Maui it will take a couple hours to drive there one way.
A popular activity is to
book a tour
with a company that will provide you with bikes and take you to the summit. Once at the summit the bikes are unloaded and you then coast 26 miles down the mountain, criss crossing back and forth along the switch backs until you reach the ocean in Paia.
Trail: Sliding Sands/Keoneheehee Trail

Difficulty: Strenuous

Duration: 4-5 hours

Distance: 8 miles out and back
The most popular Haleakala Crater hike is Sliding Sands Trail or Keoneheehee Trail which starts 500 feet below the summit. You'll feel like you're walking on the surface of Mars as you hike along the black sand and descend 2,500 feet down into the crater.
The elevation and sandy trail makes this one strenuous. You can hike through the crater by connecting to the Spur Trail towards Holua and eventually onto the Halemauu Trail.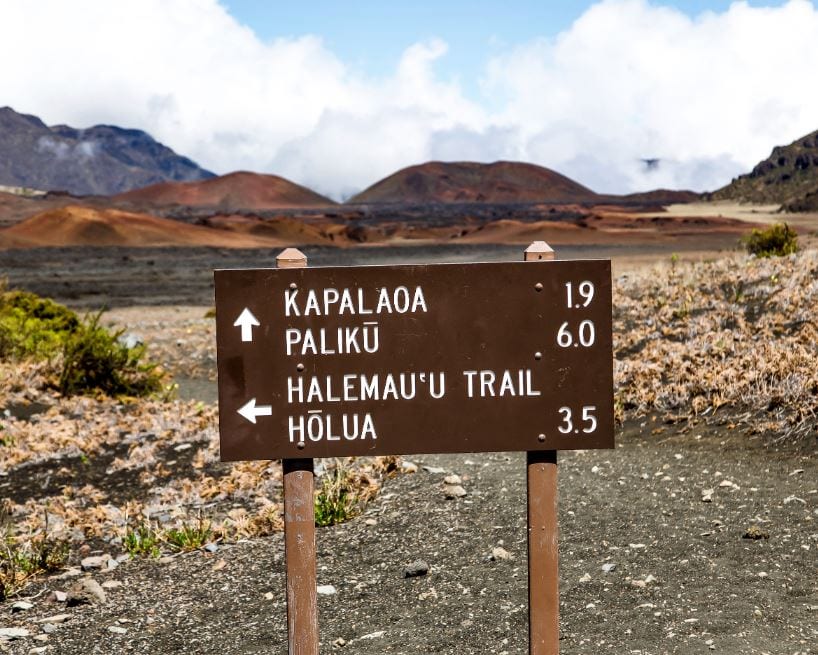 Trail: Halemauu Trail

Difficulty: Strenuous

Duration: 5 to 7 hours

Distance: 5 miles down the switchbacks and back up
Hiking Sliding Sands and up the switchbacks of the Halemauu Trail is a great Haleakala crater hike and one of my favorite day hikes on Maui. The Halemauu Trailhead starts at 8,000 feet.
Park at the trailhead and hitchhike the 1,500 feet up to the Haleakala Visitor Center parking lot where Sliding Sands Hike starts. After you've hike the challenging 11.6 miles at least you'll end at your car. 🙂
Trail: Pa Kaoao Trail

Difficulty: Easy

Duration: 1 hour or less

Distance: Less than .5 miles round trip
A shorter, easy walkable Haleakala crater hike that will give you great views of the crater is the Pa Kaoao Trail. This trail starts at the summit of Haleakala at 9,740 feet just outside the House of the Sun Visitor Center. If you're short on time this trail will give you the panoramic views above the clouds.
Trail: Hosmer Grove Loop Trail

Difficulty: Easy

Duration: 1 hour or less

Distance: .6 miles
Another easier trail is the Hosmer Grove Trail which is located just inside the entrance to Haleakala National Park. Since this trail is lower in elevation than the summit you'll pass through sub-alpine tress like eucalptus, sugi pine, spruce, cedar, Douglas fir, deodar and sandalwoods. There are also campgrounds.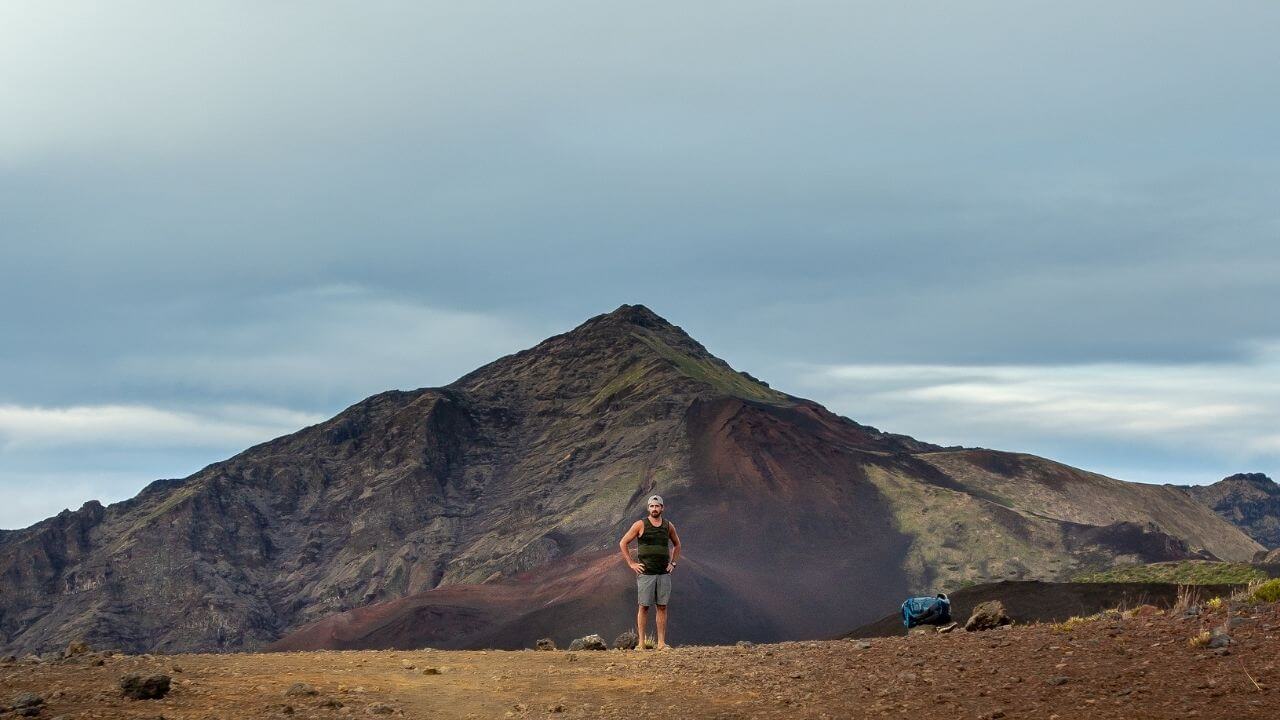 There are a few campgrounds available to camp at in the crater. Hosmer Grove Campground is available on a first-come, first-served basis. No permits or reservations are required or accepted to camp. This campground has picnic tables, BBQ grills, drinking water, and toilets. Temperatures can get very cold at night so come prepared.
Kipahulu Campground is located on the east side of the crater which can be reached on the way to Hana via the Hana Highway or it is possible to hike through from the summit but you're in for a long day of hiking with all your gear. Also first-come, first-served basis, no permits or reservations are required. Kipahulu Campground has picnic tables, BBQ grills, and toilets. No water is available; However, drinking water is available at the Kipahulu Visitor Center restrooms.
Holua and Paliku are primitive camp sights that require permits. Space is available on a first-come, first-served basis. Holua and Paliku campsites have toilets and water available nearby. The water is non-potable and must be filtered or treated before drinking.
There are 3 cabins available to stay in while at Haleakala Crater National Park that require advanced reservations; Hōlua, Kapalaoa, and Palikū. The Wilderness cabins are accessible only by trail. Check them out www.recreation.gov. The permits can be picked up at the same place you'd pick up your permit for the Hōlua and Palikū camp sights on the day you're hiking in. It cost $75 per night per cabin which accommodates up to 12 people.
Enjoy this Post?!?! Pin in for Later ↓