Hiking the Colca Canyon without a guide was an amazing, yet grueling experience. If you are thinking about doing the same and want to know what it was like, this post is all about my experience, what it was like, how we got there and where we stayed.
I have several other posts written about the Colca Canyon Peru that will better help you plan your trek if you intend on trekking Colca Canyon without a guide. You can check them out below.
What to Pack for the Colca Canyon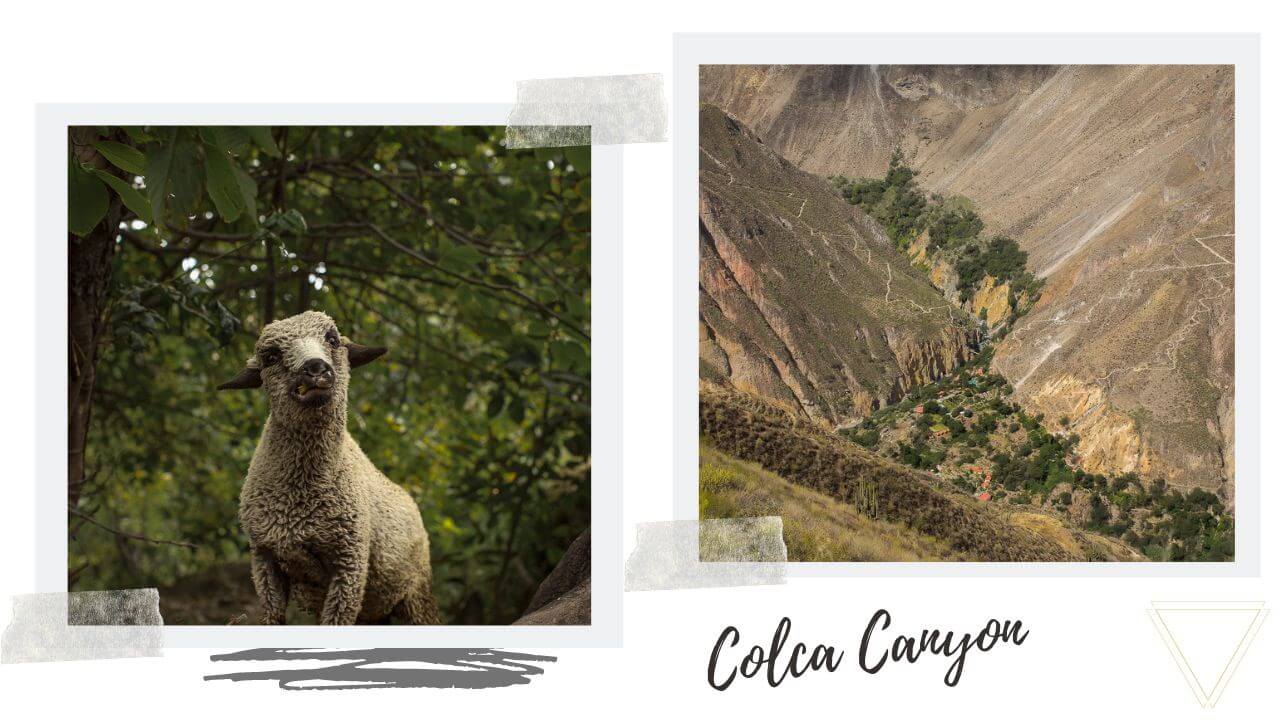 For full transparency, I have sprinkled some affiliate links in this post.  As an Amazon Associate I earn from qualifying purchases that gives me a small commission at no extra cost to you if you decided to make a purchase.  As always, I would never recommend a product or service that I didn't truely believe in.  All proceeds go to keep Jess traveling and coffee ☕️.  I thank you in advance.
Why trek the Colca Canyon without a guide you ask? The Colca Canyon is the world's second deepest canyon – so deep that it's twice the size of the Grand Canyon in Arizona. Known for its flying condors and terraced hillsides, in order to truly experience this area of Peru is to go on a Colca Canyon trek.
The Colca Canon, offers visitors a chance to spot soaring condors (the largest flying bird), stay in an oasis on the canyon floor, witness some of Peru's most beautiful landscapes, bathe in thermal hot springs and hike through desert scenery.
If you are looking for adventure and natural beauty in an area that few people get to experience, hiking Colca Canyon without a guide will provide just that.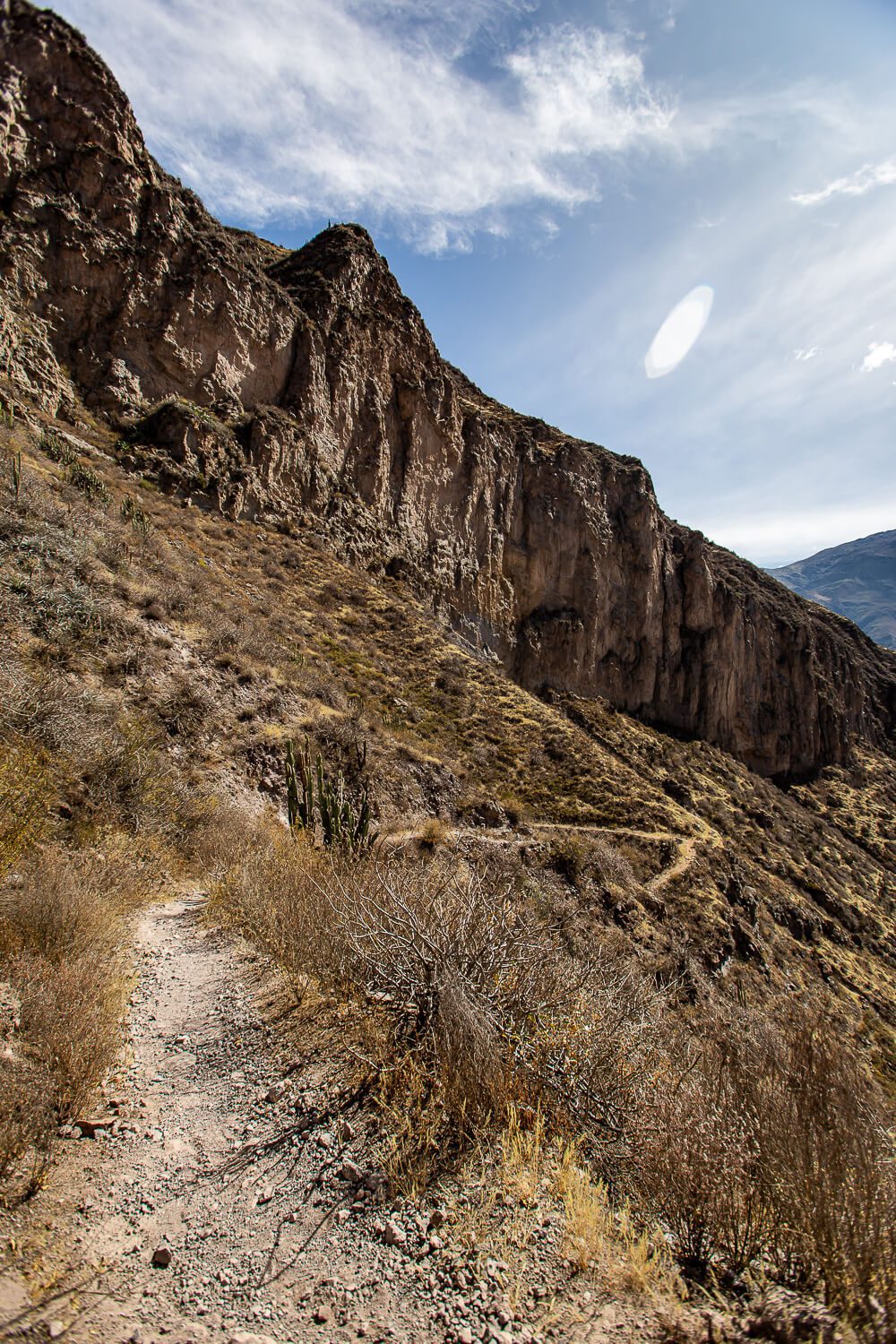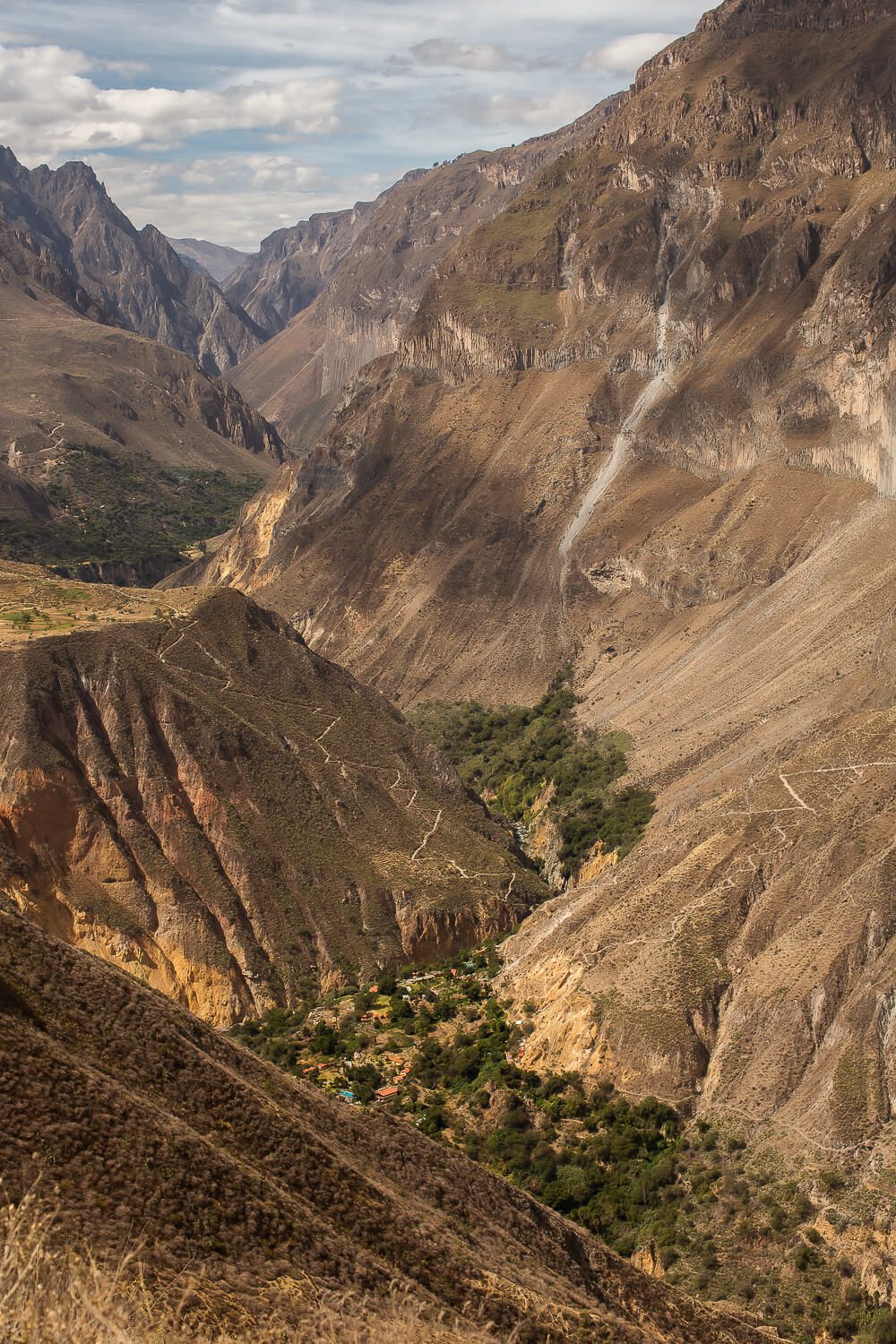 How to Get to the Colca Canyon
Our first day of the Colca Canyon Trek without a Guide started very early with a 2 am wake up call. No matter what route you take through the Colca Canyon, most trails start in the small village of Cabanaconde.
Cabanaconde is about a 3 hour drive from Arequipa and there are a few different ways to get there. You can take the public bus, rent a car or take the tourist bus. We opted for the tourist bus as they picked us up from our hotel which seemed to be the easiest option since we had to leave Arequipa at 3 am.
Catching a ride on the tourist bus cost us $20 per person and we were able to book this through Homestay Pachamama which is where we stayed on the third night after our 3 day, 2 night Colca Canyon trek. Soon after booking our stay, Homestay Pachamama reached out to me via WhatsApp and offered the service of booking a tourist bus.
The bus picked us up at our hotel promptly at 3 am, we stopped in Chivay where we were able to buy the entrance ticket for the Colca Canyon. Entry tickets for foreigners to enter the Colca Canyon was 70 soles per person ($20 USD).
We then stopped for breakfast which was included in the bus ticket. Breakfast was your typical fare in Peru and consisted of scrambled eggs, bread, jam, coffee and juice.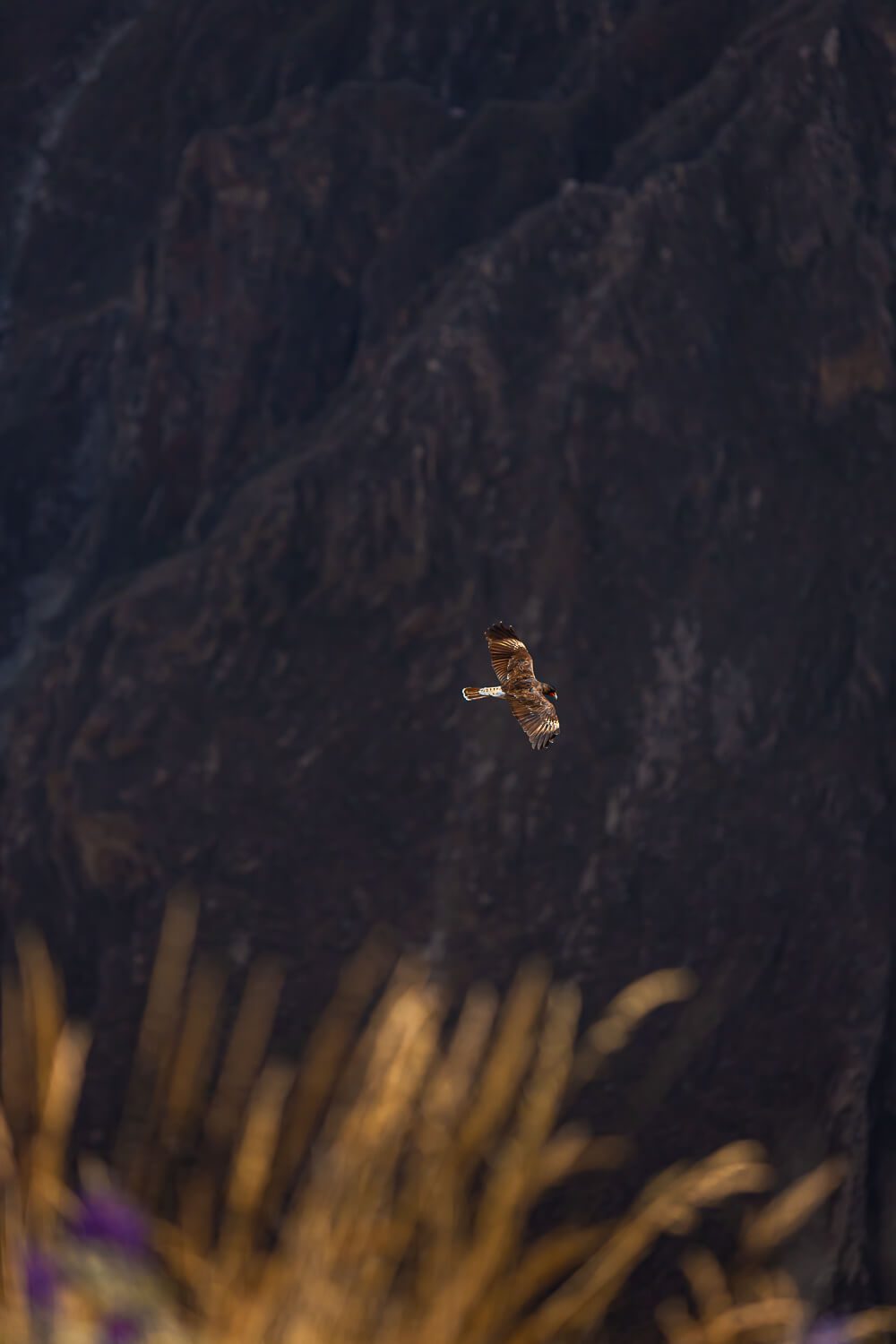 Next, was the Cruz del Condor viewpoint for about 20 minutes for a chance to spot the soaring condors. We arrived in Cabanaconde by 9 am. We were officially on our own.
Taking the public bus would have been cheaper. But with the stop at the ticket office in Chivay, breakfast, condor viewpoint and being picked up directly from our hotel made the tourist bus option totally worth it and in my opinion the best way to get to Cabanaconde to start the Colca Trek.
3 Day Colca Canyon Trek without a Guide
Day 1: Rewarded by Thermal Springs
Route: Cabanaconde to Llahuar
Difficulty: Strenuous
Distance: 6.5 Mies (10.5 Kilometers)
Duration: 4-5 Hours
Total Cost Per Person: $55 per person – Entry ticket, transportation to Cabanaconde, accommodations & food
Once in Cabanaconde, we stowed a small bag of clean clothes, soap and shampoo at Homestay Pachamama where we planned on staying on the final day of our trek. I'll go over our time in Homestay Pachamama in more detail later but staying here was necessary to having a safe and successful trek. Not only were we able to stow a set of clean clothes but they provided us with a free trail map (you don't receive one when you purchase your entry ticket) and all the necessary information about the trails including what to avoid and where to go.
We finally started trekking into the Colca Canyon around 9:30 am. The trail to Llahuar starts in Western part of town down Bolivar Street. By 10 am it was roasting hot and we had peeled off all the layers we were wearing as it was quite chilly on the drive in.
Twenty minutes in, we came to our first lookout. There was a man at the viewpoint of Achachiwa checking to see if we had boleto turisticos (entry tickets). If you were not able to stop in Chivay and purchase tickets, you can do so here with the guy.
Personally I would make sure to get my tickets in Chivay so you know you're paying the proper price, but it's nice to know that buying tickets on the Colca Canyon trail is possible.
After an hour and a half we started to descent down into the canyon. The trail is a dirt path with lots of large rocks. Parts of the trail get pretty slick, therefore I would highly recommend hiking poles. I fell several times on the trail…but I was also running on 4 hours of sleep so that didn't help.
The descent down gets very steep and with every step I couldn't help thinking that every step down means a steep step up when we have to ascend a few days later. After a sweaty, vertical three and a half hour drop we hit the road that eventually leads to Llahuar where we were staying on the first night of the trek. This is were things got a little sketchy.
We took a trail that we thought was leading us to the bridge to cross the river but ended up on a steep, steep cliff that was overlooking the bridge. With the weight of our bags, the steep drop off to our right and the slipperiness of the trail put us in an extremely, unsafe position.
We eventually turned around and had to back track to the road which finally led us to the bridge. If you'd like to see the drama check out the You Tube video of the Colca Canyon Trek without a Guide Day 1.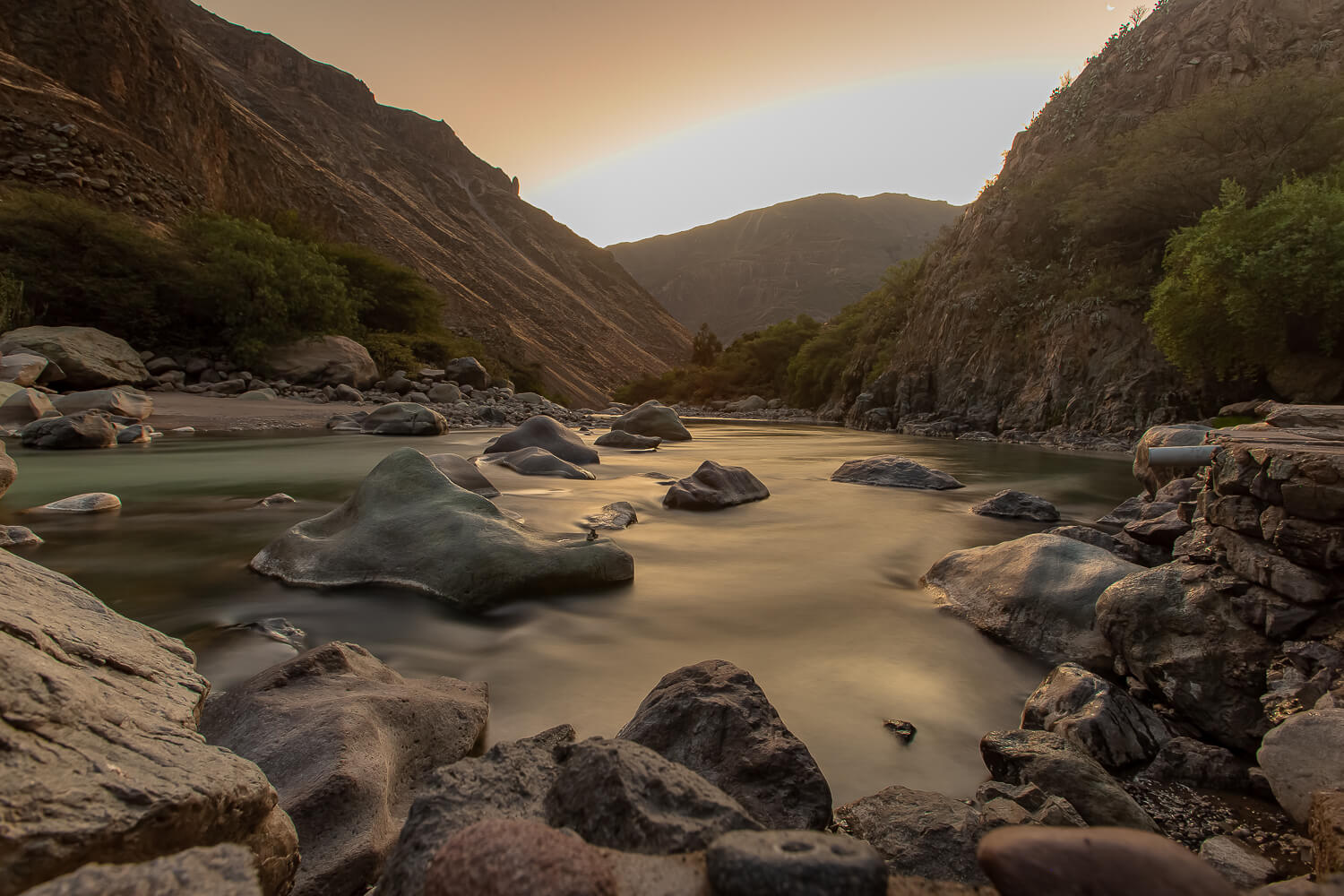 Finally, we arrived at the Llahuar Lodge perched on the mountainside. This was such a treat after a physical hike as we were rewarded with natural Colca Canyon hot springs tucked alongside the riverbed.
We soaked in the hot springs for hours to rest our sore muscles. Breakfast was included and dinner was available for an additional purchase. We were also able to purchase water and snacks for the next day's journey.
An awesome thing about hiking the Colca Canyon without a guide is that you can pre-book your accommodations. This was not the case when Joe and I trekked the Salkantay Trail without a guide, tent or reservations. I would highly recommend that you book your accommodations ahead of time especially during high season (June to October).
Day 2: Staying in an Oasis
Route: Llahuar to Sangalle
Difficulty: Strenuous
Distance: 6 Mies (9.5 Kilometers)
Duration: 5 Hours
Total Cost Per Person: $17 per person – Snacks, water, beer, dinner & lodging.
Day two of this Colca Canyon 3 day trek will be the longest day but not the toughest – we save that for last. After a scenic breakfast overlooking the Colca river, we hit the trails by 9 am.
Today we trekked from Llahuar to Sangalle aka the oasis. The route takes us up, across and back down to the canyon floor. We were feeling pretty good, soaking in the hot springs was such a relaxing and soothing way to end our day yesterday.
After 30 minutes of backtracking yesterdays route, we hit the road and began to climb to the village of Paclla. For the next hour and a half we climbed past hundreds of cacti, some sheep and spectacular views. Thankfully there was lots of shade on the trail as it was another hot day.
We eventually came upon a village where a bunch of children were playing soccer. The climb continued until we reached the Mirador of Achachiwa. This was the perfect spot to take off our packs for a break as there were benches and an epic view. You can actually see the oasis from here which was great for keeping us motivated.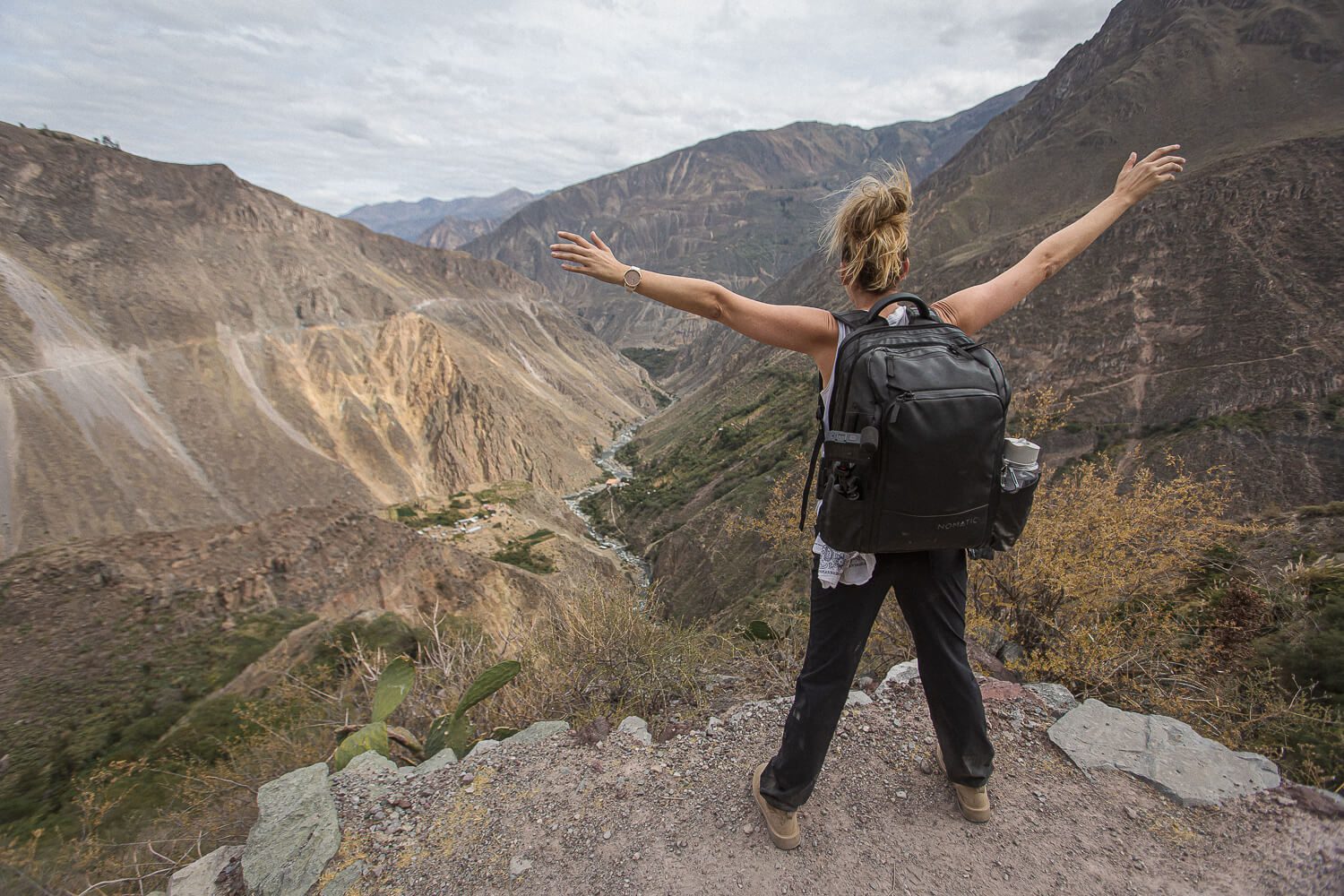 The next part of the trek was along a hot, dusty, dirt road with a gradual incline until we ran into some construction. They were blowing holes into the mountainside to insert pipes to be able to transfer water between villages and Cabanaconde. We had to wait it out for a half hour or so until we were able to proceed.
There were a two pairs of trekkers gathering with us as we waited out the construction and one couple was accompanied with a guide. Once we were cleared to move forward, we began our descent back down to the canyon floor.
From here there were a few different routes to take to reach the oasis. If it was Joe and I by ourselves, we would have continued on the road the long way to Sangalle as we were still a little shooken up about our sketchy encounter yesterday – but we weren't alone. The guide stepped over some 'red tape' and took his trekkers down a fairly steep hillside.
The red tape had skulls and crossbones on it, which made me a little uneasy but we were exhausted from the heat, miles and were ready to be at our destination. Needless to say, we followed suit and took the shortcut down the mountainside.
This story has a happy ending! The trail was only super steep at the beginning and it quickly leveled out to a sturdy trail. In the end we were very happy we took the shortcut.
Travel Tip: There is a small 'shop' before you reach the Sangalle oasis selling water, beer and snacks. Buying your supplies here is much cheaper than at your accommodations inside the oasis.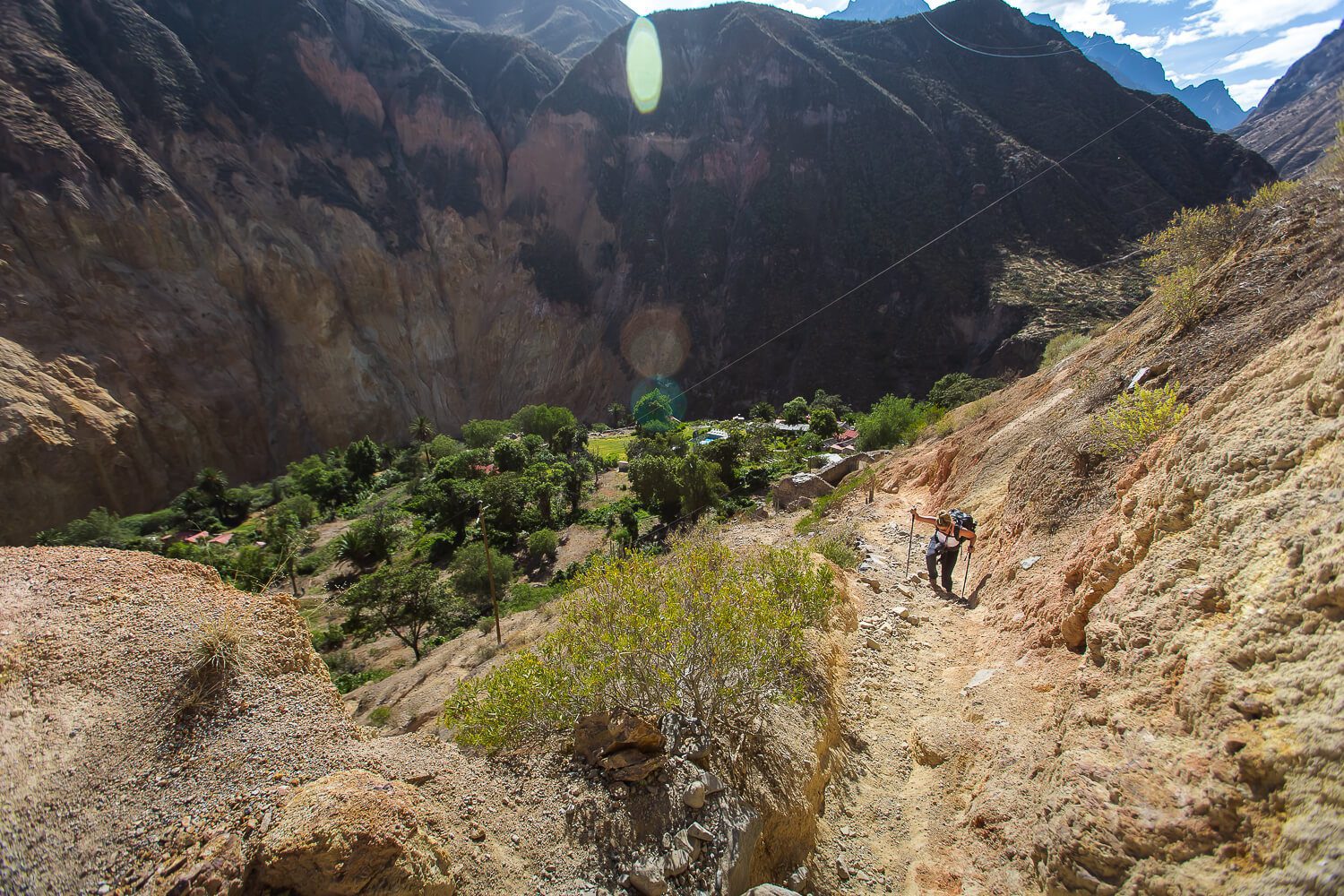 The oasis of Sangalle is one of the most popular villages in the Colca Canyon. Lots of travelers who don't have time for the 3 day Colca Canyon trek like us, hike down to Sangalle and back up to Cabanaconde the next day. This is why I would definitely secure accommodations ahead of time.
We stayed at Oasis Paraiso Ecolodge which was great. It had a pool, dinner and breakfast included in the price. Another good option of places to stay in Sangalle Colca Canyon include Paraiso Las Palmeras Lodge.
Day 3: The Steep Climb out of the Canyon
Route: Sangalle to Cabanaconde
Difficulty: Very strenuous
Distance: 2.8 Mies (4.4 Kilometers)
Duration: 3 1/2 – 4 Hours
Total Cost Per Person: $22 per person – Accommodations, dinner and snacks.
Let me start off by saying that, day 3 of the Colca Canyon Peru Trek is brutal. I thought I was mentally prepared for the climb out of the canyon especially after trekking Salkantay – let me tell you…it kicked my ass.
As usual, we started the final day of trekking around 9 am which we later found out, wasn't the best move. We were told before starting our trek that we should start todays journey either really early in the morning or later in the afternoon around 2 pm to avoid the hottest part of the day.
We of course didn't heed that advice and it was HOT. Not only was the ascent out of the canyon a steep incline, the heat made it that much more difficult. It's about 3 miles from Sangalle to Cabanaconde but it's steep, completely vertical and unshaded.
I was struggling getting up this canyon and I'm in pretty good shape. To say the hike out was challenging, would be an understatement. The trail was straight up and gave no break by leveling off. It was switchback after switchback after switchback. Throw in the lack of shade and heavy pack, you're in for a strenuous day.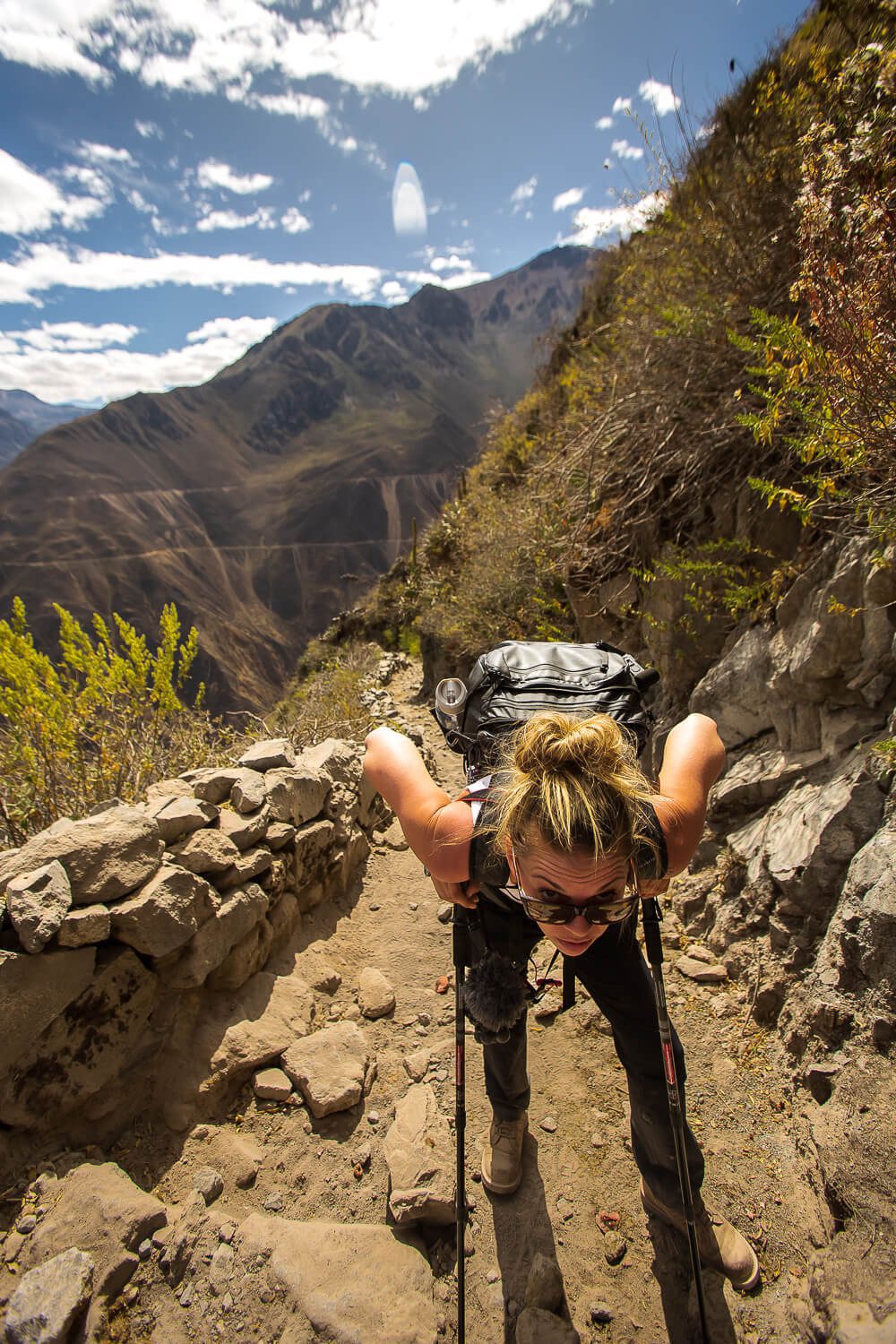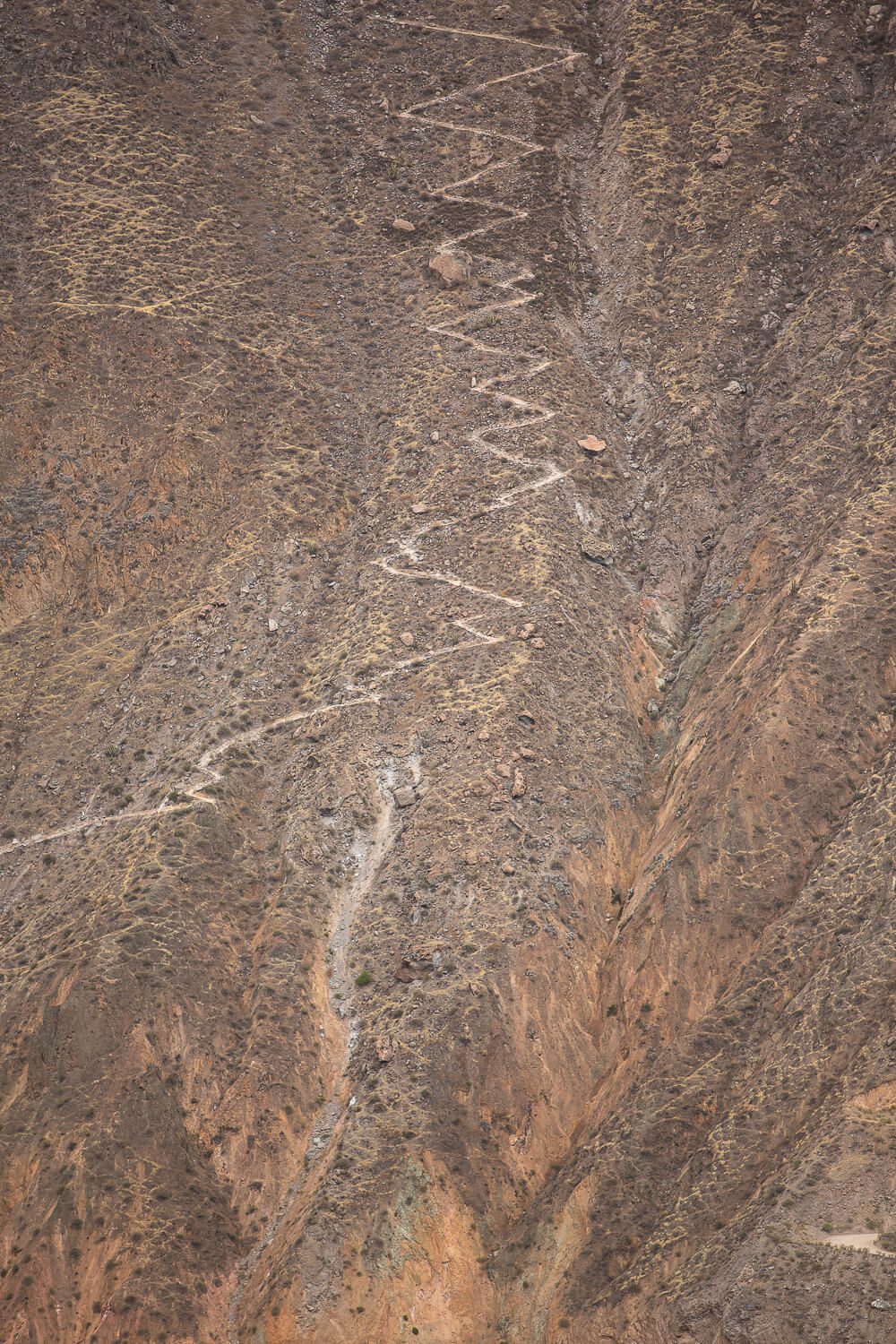 5 grueling hours later we finally arrived in Cabanaconde where we stayed the night before catching a bus back to Arequipa the next day. As I mentioned earlier, we stowed a small bag of clean clothes, soap and shampoo at Homestay Pachamama which was heaven sent. After a strenuous 3 day trek where our only showers consisted of soaking in the hot springs and a dip in the cold pool in the oasis, we were so stoked for a hot shower and clean clothes to wear.
A lot of trekkers don't stay in Cabanaconde on the final day, instead they leave Sangalle early and plan on catching the last public bus at 2 pm back to Arequipa. I personally think staying the night in Cabanaconde on the final day is the way to go. We weren't rushed on the way back to town, we had clean clothes and jumping on a bus after an exhausting hike did not sound fun to me.
The guys who run Homestay Pachamama were super awesome, friendly and knowledgable. Whether you book a stay here the night before you trek Colca Canyon or like we did on the final day, I would definitely plan a stay here.
If you found this article useful or have completed the Colca Canyon trek, I'd love to hear about your experience so please leave me a comment below.
Peru Travel Guides
📍Plan your Trip:

🗺 How long to travel Peru?  2 Week Peru Itinerary

☔️ Best Time to Visit:  Shoulder months of dry season – March-May or October-September.

💰 Average Daily Budget: $40 - 50 a day for basic accommodations and sit down meals.

⛺️ Peru accommodation Guides

🪂 Highlights

Machu Picchu
Sacred Valley
Trekking Cordillera Blanca
Arequipa

🧳 What to Pack: Salkantay Trek Packing List

🎥 Watch our Peru Series on YouTube

📧 Get on my Email list to see what I'm up to and all the best travel content!
Enjoy this Post?!?! Pin in for Later ↓