Humantay Lake is a turquoise alpine lake backdropped by dramatic mountains that is pictured in every tour agency in Sacred Valley as one of the best day trips from Cusco. Along with the Inca Trail, Rainbow Mountain and the Colca Canyon, this is easily one of the best hikes in Peru and after visiting this stunning lake, I have to agree that it's worth the hype.
The best part is that I'm going to let you in on how to visit this epic place in Peru without a guide. As I mentioned earlier, most tour operators offer Laguna Humantay tours which is great but if you're up for a little adventure, want to avoid the crowds and are on a tighter budget, I recommend visiting Lake Humantay independently.
For full transparency, I have sprinkled some affiliate links in this post.  As an Amazon Associate I earn from qualifying purchases that gives me a small commission at no extra cost to you if you decided to make a purchase.  As always, I would never recommend a product or service that I didn't truely believe in.  All proceeds go to keep Jess traveling and coffee ☕️.  I thank you in advance.
Humantay Lake Travel Vlog
Want to see exactly what it's like to travel from Cusco to the base of Lake Humantay and then hike up to almost 14,000 feet to view this incredible lake? Check out this travel vlog as we traverse our way to the small village of Soraypampa and hike Laguna Humantay without a guide.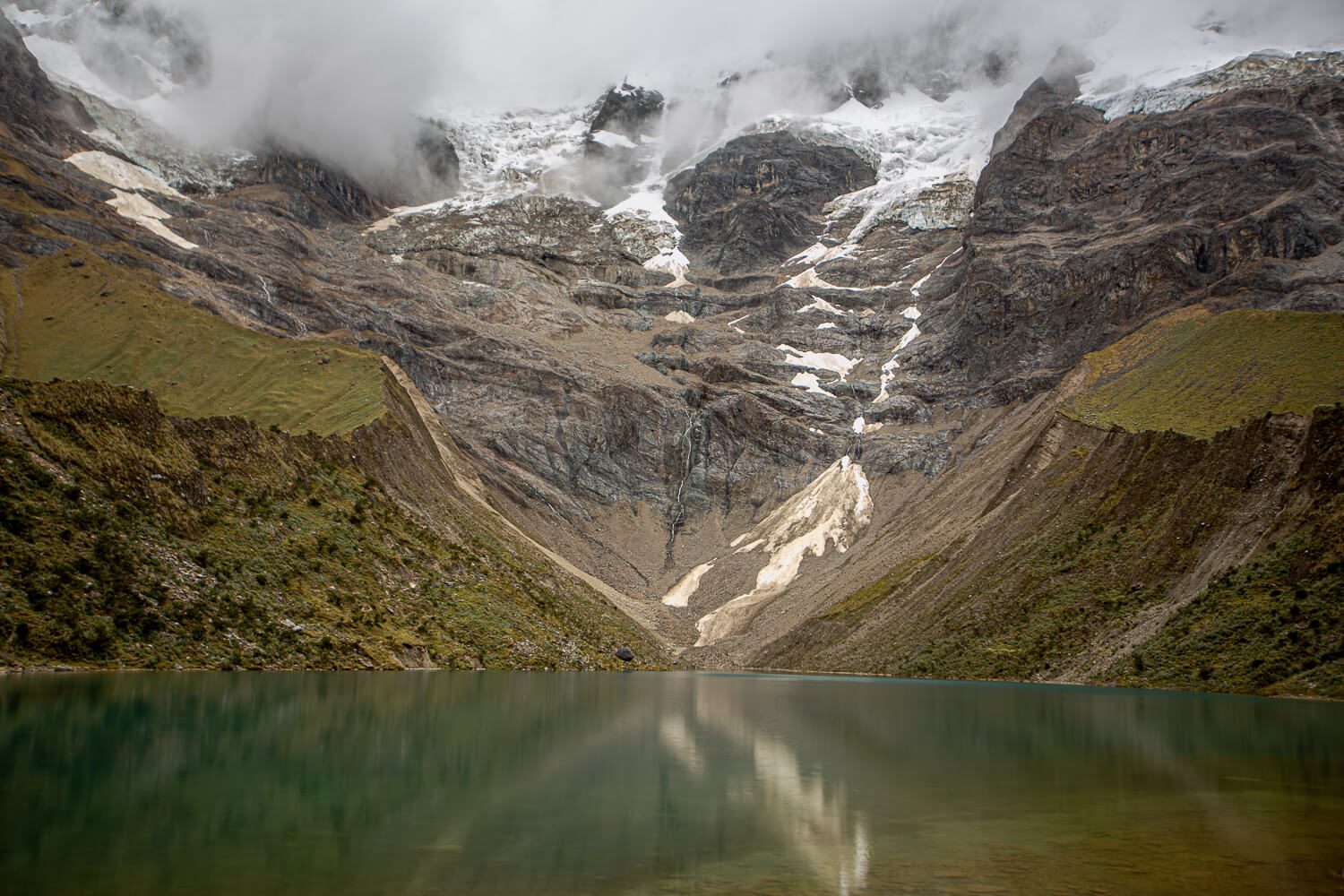 Difficulty: Strenuous
Duration: 2 Hours
Distance: 2.6 Miles
Peak Elevation: 13,900 feet at Humantay Lake
Total Cost Per Person: $16 USD = 60 Soles without a tour
Humantay Lake (pronounced Uman-Tie) is a popular trail located at the base of Soraypampa village. The strenuous 2.6 miles loop trail takes on average 2 hours to complete. Although it's only 2.6 miles, Lake Humantay hike starts at 12,700 feet in elevation and ends at 13,900 feet at the lake.
The high elevation makes it very difficult and you easily get short of breath. Standing at the base and looking up the mountain, the trail to Lake Humantay looks average. Not too hard yet not a walk in the park.
Boy was I wrong. This trail is steep! I'm an avid hiker and this hike kicked my ass. Granted I mostly hike at sea level on my home base of Maui, Hawaii and had fleeting moments thinking I wouldn't make it to the lake.
I'd take 3 steps and have to take a break because I thought I was gonna pass out. Throw in possibility of altitude sickness, you're in for a challenging hike. It sure is beautiful though. Along the hike you'll walk past horses, grazing cows and through fields of beautiful alpine flowers.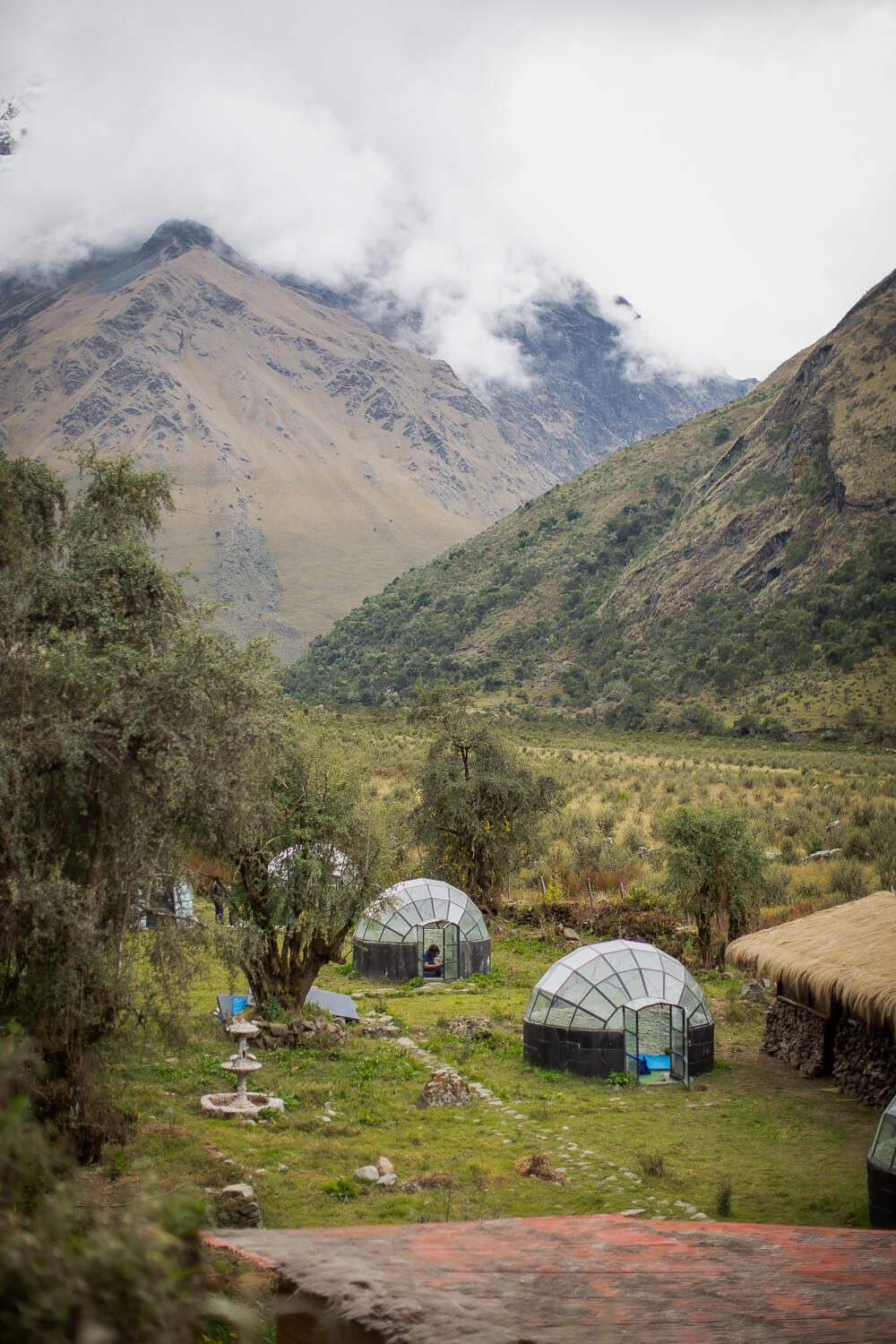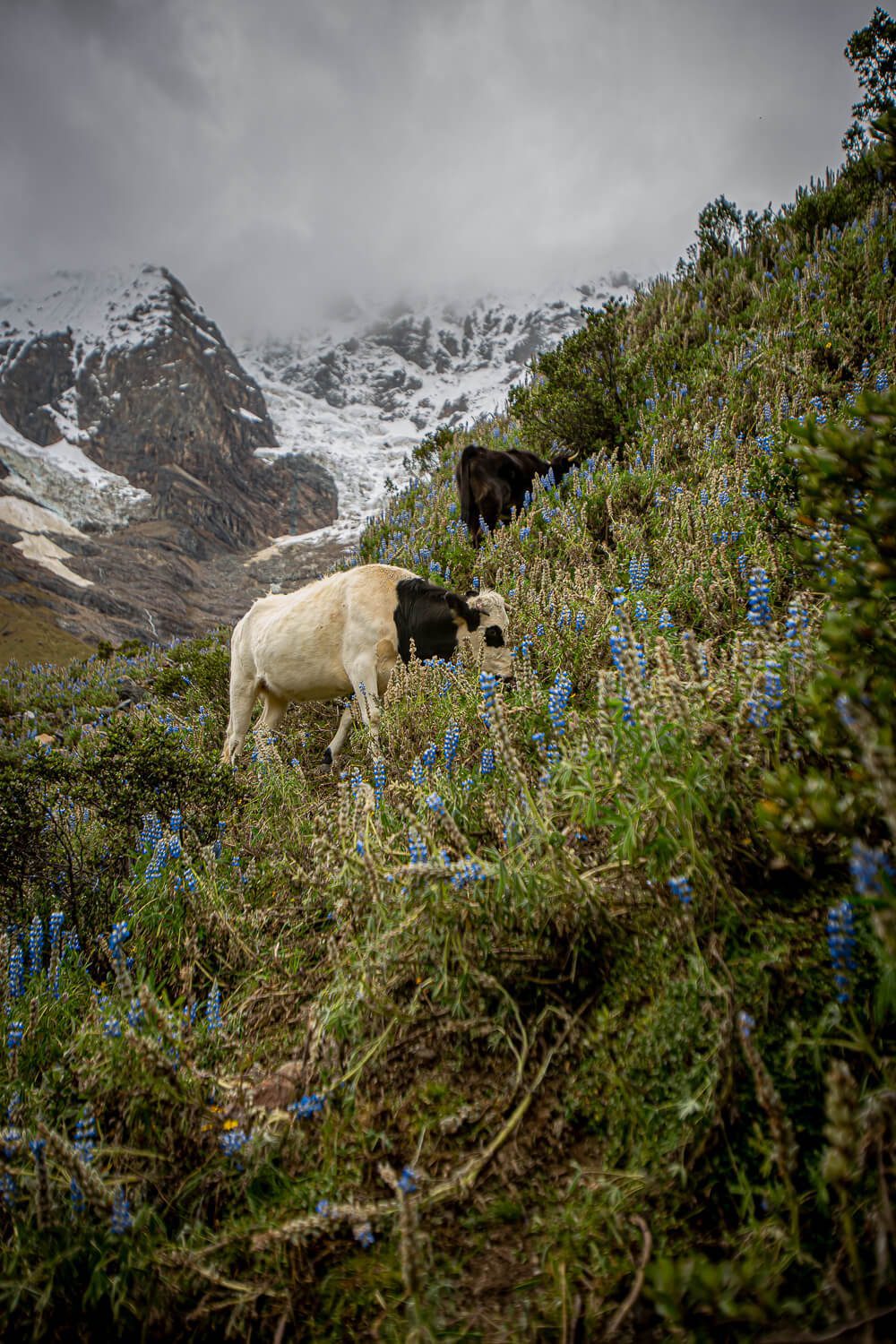 How to get to Lake Humantay
Most tour agencies start a tour to Lake Humantay at early at like 4 am. If you are getting to Humantay Lake on your own, you can start a little later at like 5 or 6 am. This will help you avoid the tour group crowds.
To get from Cusco to Soraypampa you must first catch a collectivo (shared mini-van) to Mollepata. They leave every hour when the van gets full. It took about an hour and a half and cost 20 soles.
There are several collectivo stations in Cusco that go to different towns and villages making it easy and cheap to go on day trips. If you download the Maps.Me app, the exact location of where the Mollepata collectivo station will pop up. The Maps.Me app has been one of the best apps and top tips to know before hiking the Salkantay Trek.
From Mollepata you'll then catch a cab to Soraypampa . On the way to the village, the cab was stopped by a few locals who were selling tickets to Humantay Lake. We filled out a clipboard with our names, nationalities and passport numbers and paid 40 soles total for two tickers.
The cab ride should cost around 20 soles so be prepared to stick to your guns. When we went, the cabbie ripped us off and we ended up paying 60 as he was arguing with us to pay more. What can I say, at this point we had just started our travels in South America and we hadn't perfected our Spanish or haggling skills yet.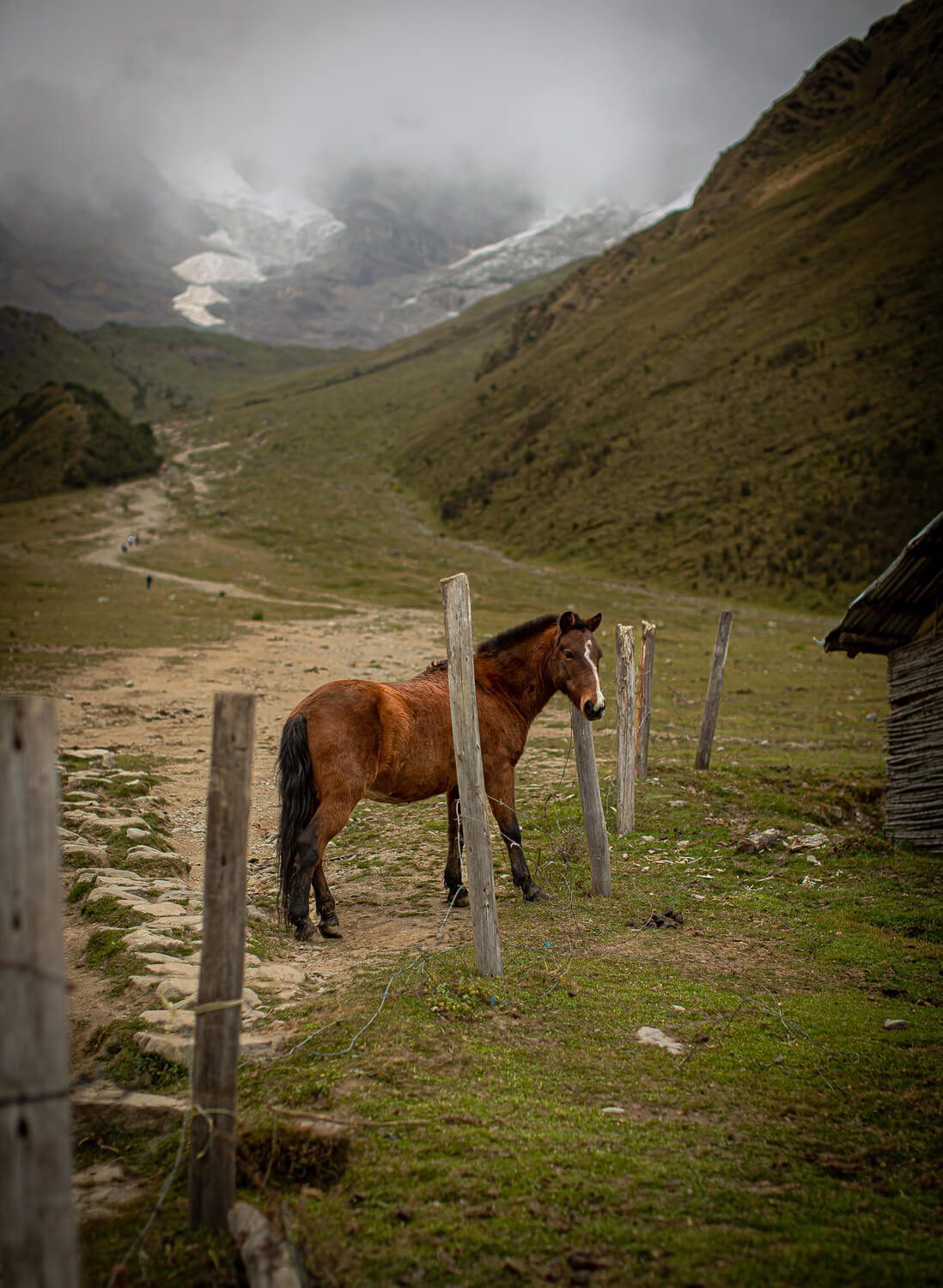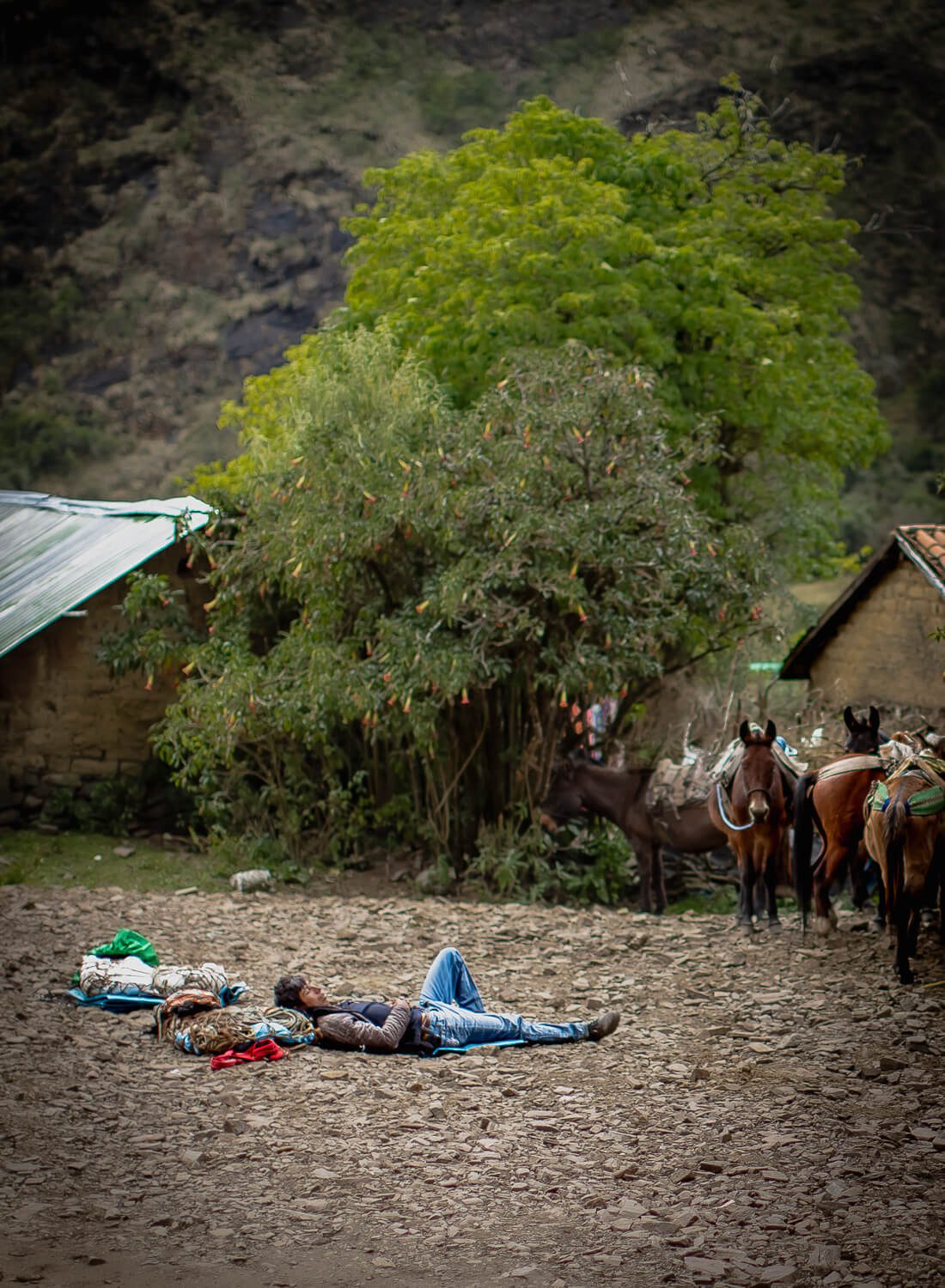 Where does Humantay Lake Hike Start?
Tour buses and taxisi will drop you off at a small building that sells water and snacks. From here take the trail to the left for about 30 minutes. You'll pass by a few lodges reserved for tour groups trekking the Salkantay Trail until you reach a cluster of buildings.
There will be some buildings on your left and Backpacker Humantay (where I stayed the first night of the Salkantay Trek) on your right that sells snacks and such. Walk between the buildings towards the glacier. You'll have to go through a gate that looks like someone's private property. On the other side of the gate, past some horses is the start of the trail.
How to Avoid the Crowds at Laguna Humantay
One of the best parts about visiting Humantay Lake independently without a tour group is that you can avoid all the other tour groups doing the same trip. Visit lake Humantay between 12:30-2 pm to avoid the crowds.
We starting hiking up to Laguna Humantay around 12-1230. We were the only ones going up as hoards and hoards of tour groups were coming down. We were up at the lake by 2 pm and besides two other people, we were the only ones there.
I was so tired by the time I made it to the top that I even took a cat nap on the rocks. There is a small hut at the top bythe lake with an adorable Peruvian man inside selling snacks, water and beer. This was a pleasant surprise and much needed victory beer.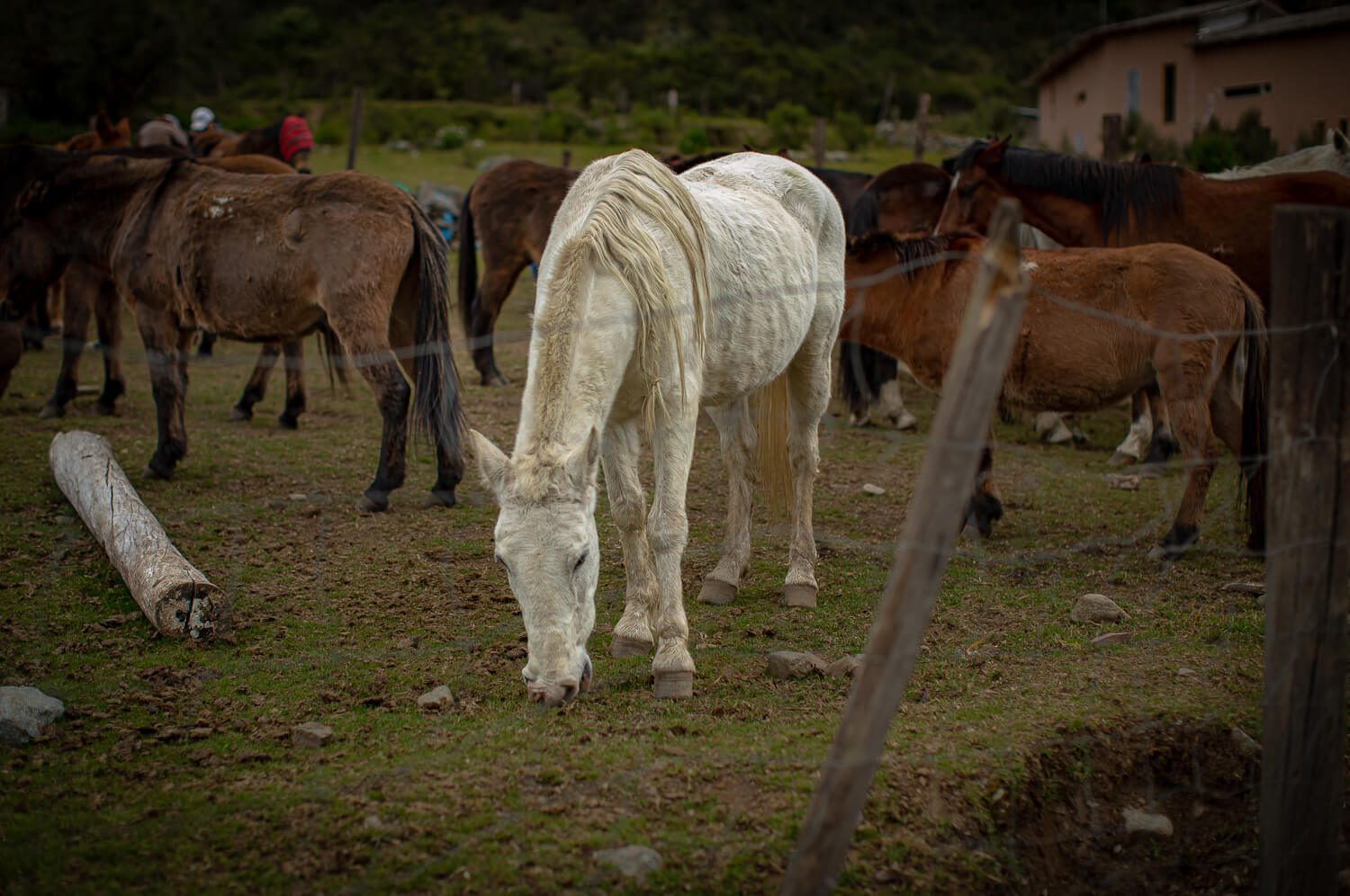 Humantay Lake Tour vs. Independently
If you opt for a tour, as I mentioned earlier, there are tons of tour agencies that offer a tour to this majestic lake. No need to book in advance as there are so many tour operators you can just walk in somewhere and book a tour.
It's also much cheaper to book in person in Cusco versus online. Guided Humantay Lake tours cost about at least 120 soles = 32 USD. Going to Humantay Lake independently cost 60 soles = 16 USD. This included entry ticket and transportation.
Joe and I always prefer to go on self guided tours. Our primary motivation for this is our budget and to go at our own pace in solitude. We vlog, blog and photograph all our adventures in depth so it takes us a bit longer to do things than the average traveler.
People Typically Prefer a Packaged Tour if:
Enjoy hiking with a group.
Prefer not to think about logistics
Like having everything pre-structured.
Have transportation arranged – easy pick up and drop off at your hotel.
Meals pre-planned.
Don't mind paying extra money.
Learn from the local guide about history and surroundings.
People Prefer to go Independently if:
Get a sense of accomplishment from planning and executing an excursion on your own.
Like to be on their own schedule – eat or hike when you choose.
Thrive on a sense of adventure.
Want to avoid the crowds.
Prefer flexibility and going at their own pace.
On a strict budget and want to save money.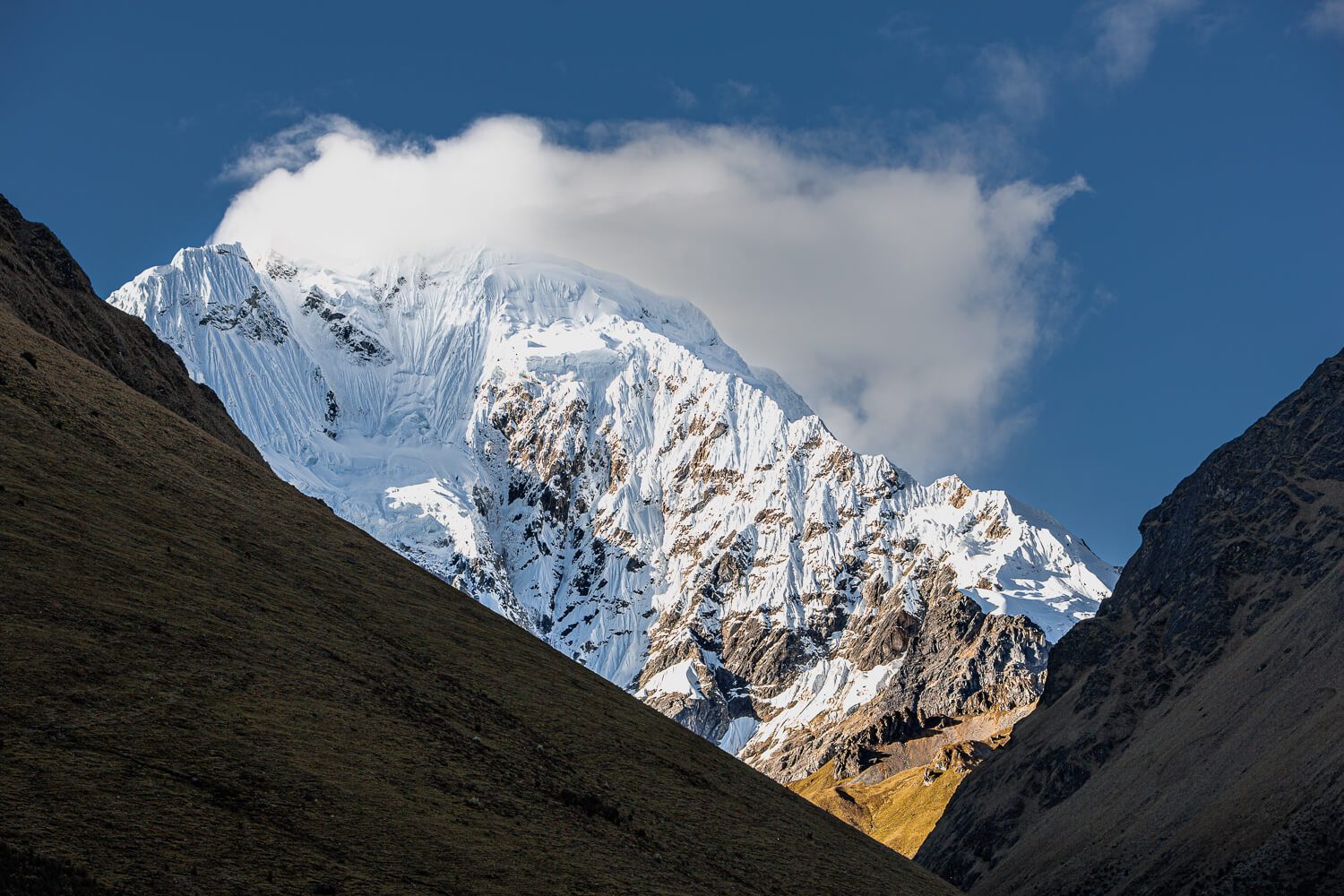 The Best way to Visit
Humantay Lake
The best way in my opinion to explore Laguna Humantay is by trekking the Salkantay Trail. Not only is this a bucket list adventure but staying the night at the base of the Humantay Lake is pretty amazing. I mean waking up to Salkantay Mountain shining bright is jaw dropping.
I get it though, a lot of people don't have as much time to dedicate to being off the grid for 4-5 days and if I'm being brutally honest, it takes a bit of endurance and fitness to complete the Salkantay Trek.
Even if you are just visiting Humantay Lake on a day trip from Cusco, you can still choose to stay in Soraypampa. If you do opt for staying in Soraypampa, then get to the village early to walk up and get a room.
I stayed at the Backpacker Humantay and we walked up and snagged one of the 4 cabins on property. There was also a dorm room if all you need is a bunk. It cost 50 soles per person for our cabin and 30 soles for the dorm. Dinner and breakfast could also included for 15 soles per meal, per person.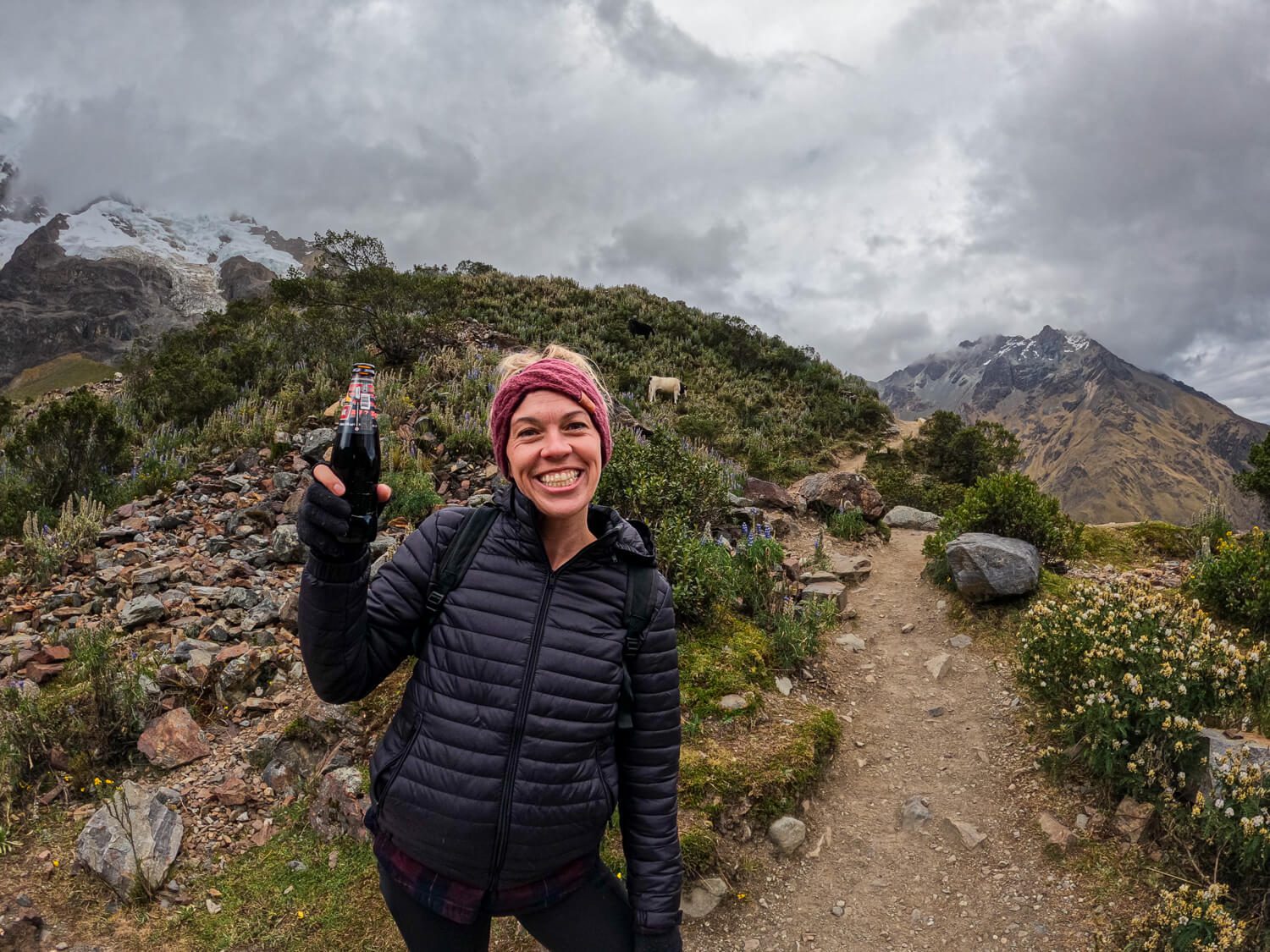 Tips for Hiking Humantay Lake Peru
Wear sunscreen. It may feel cold but being at such high elevation, will torch your skin.
Pack layers. You'll be stripping them off hiking up and putting them on going back down.
Bring ample cash.
B.Y.O.T.P. Bring your own toilet paper.
Hydrate, hydrate, hydrate.
Brings snacks and even a lunch. Although you can buy snacks at a few places in the village.
Coca leaves are a traditional way to relieve altitude sickness by chewing it or making tea with it. Coca leaves can be bought at any local supermarket and are available in most restaurants.
Sorojchpills are pills you can buy at the local pharmacy that help with altitude sickness.
Allows 24-36 hours of acclimatization before setting off on a hike.
Peru Travel Guides
📍Plan your Trip:

🗺 How long to travel Peru?  2 Week Peru Itinerary

☔️ Best Time to Visit:  Shoulder months of dry season – March-May or October-September.

💰 Average Daily Budget: $40 - 50 a day for basic accommodations and sit down meals.

⛺️ Peru accommodation Guides

🪂 Highlights

Machu Picchu
Sacred Valley
Trekking Cordillera Blanca
Arequipa

🧳 What to Pack: Salkantay Trek Packing List

🎥 Watch our Peru Series on YouTube

📧 Get on my Email list to see what I'm up to and all the best travel content!
Enjoy this Post?!?! Pin in for Later ↓