Rio Celeste, Costa Rica was a highlight of my recent trip to Central America and should be on anyones Costa Rica itinerary. The pictures may seem over edited but they're NOT the water really is aquamarine blue!
where is rio celeste costa rica?
Rio Celeste is located in Tenorio Volcano National Park about an hour and a half north of La Fortuna, Costa Rice.
If you're basing yourself out of La Fortuna, hiking Rio Celeste is a perfect day trip.
For full transparency, I have sprinkled some affiliate links in this post.  As an Amazon Associate I earn from qualifying purchases that gives me a small commission at no extra cost to you if you decided to make a purchase.  As always, I would never recommend a product or service that I didn't truely believe in.  All proceeds go to keep Jess traveling and coffee ☕️.  I thank you in advance.
rio celeste costa rica hiking guide
Celeste River in Costa Rica is a bright blue river is formed by 2 rivers merging together. One river has high acidity due to volcanic activity and the other river carries significant quantities of a type of mineral aluminosilicate, that is responsible for reflecting the blue color. When these 2 rivers mix to form the Rio Celeste, the aluminosilicate particles to enlarge giving the river a strong turquoise color.
The locals say that God dipped his brush in the river as he was painting the sky to give Rio Celeste its bright blue color.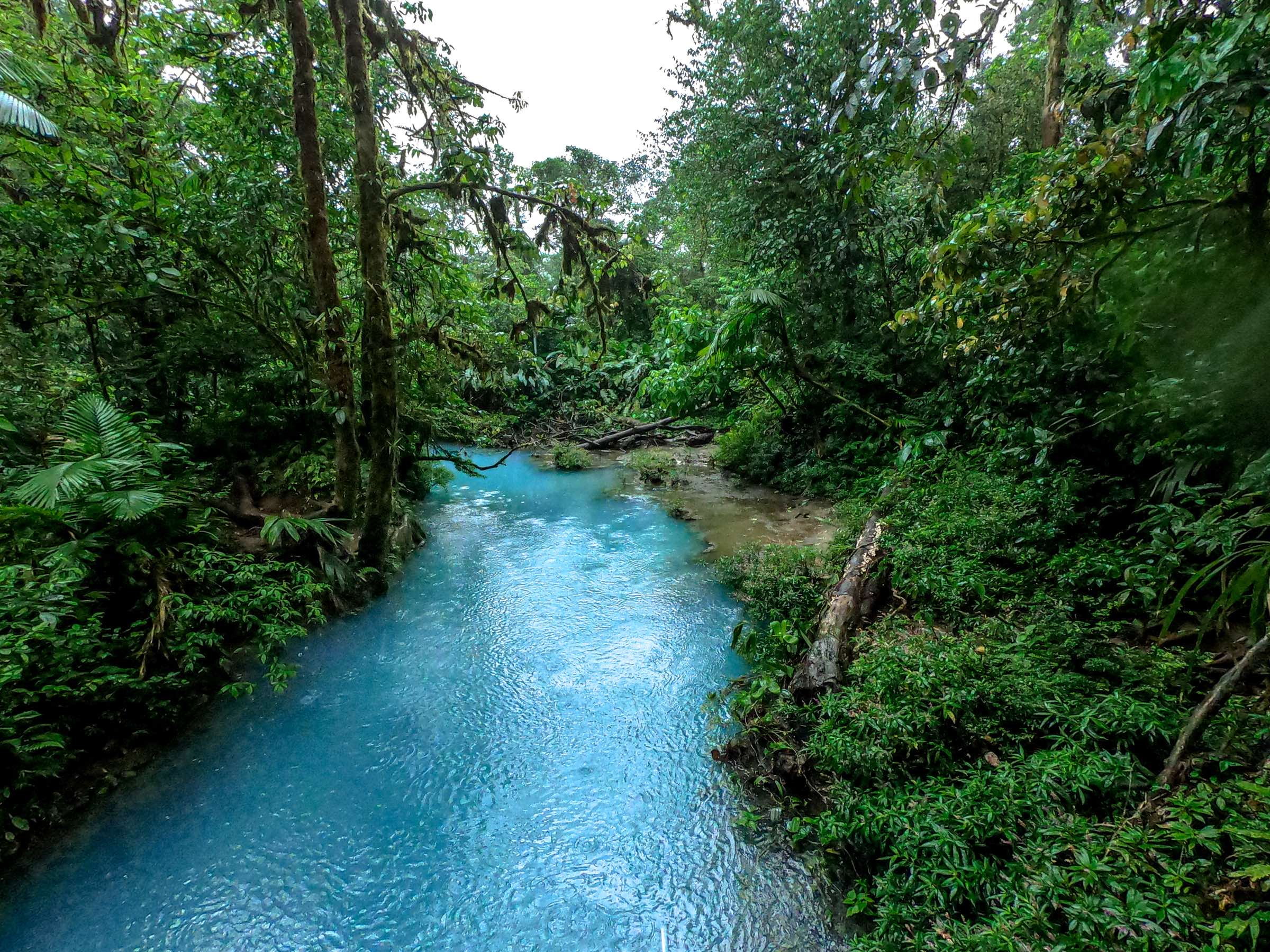 How to Get to Rio Celeste
From La fortuna to Rio Celeste is about a 1.5-2 hour drive depending on traffic. Rio Celeste is in the middle of the country up north towards the Nicaragua border in Tenorio Volcano National Park.
If you have your own transportation, you can just type in Rio Celeste into your GPS and it will take you right to the trailhead. Roads are straightforward and paved.
By taxi or car service, you can arrange some from the tour desk in your hotel. I went through a company called Arenal evergreen, which cost $50 per person round trip.
I booked the day before and received 5% off. They were quick to return my email and will pick you up at your hotel. They arrived promptly at 7:30 when scheduled and waited for us to hike then took us back to our hotel.
It was a great service if you're willing to spend the $50 bucks.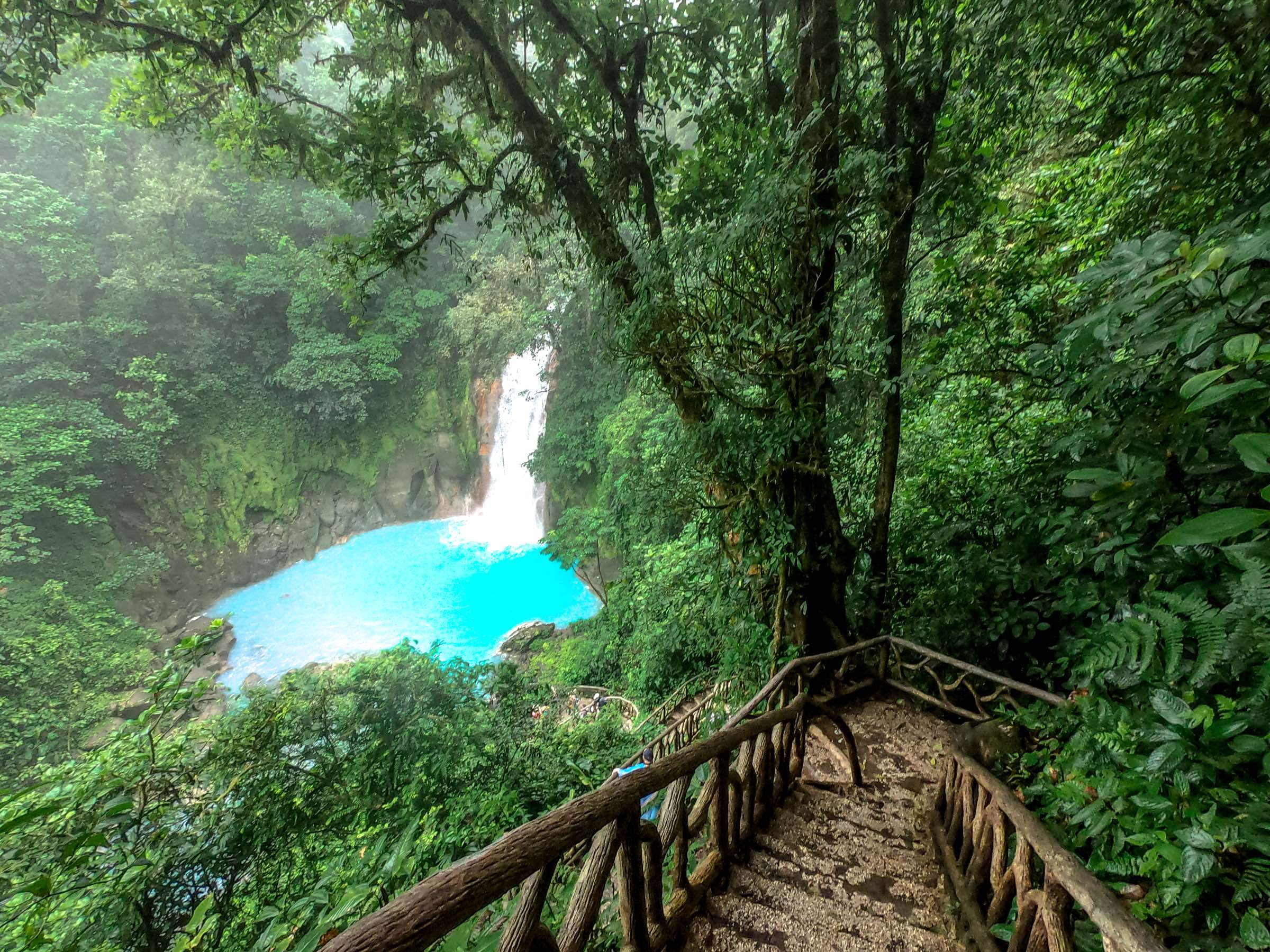 Admission into Tenorio Volcano National Park
The Tenorio Volcano National Park / Rio Celeste entrance fee for adults is $12 for adults. The park hours are every day from 8 am to 4 pm but you must enter before 2 pm.
Only 400 people are allowed on the trail at one time so its better to come early. No Smoking is allowed inside the park as they check you're bags before you enter.
There's a mini mart where you can buy snacks and water.
A place to rent water shoes.
Fruit stand
A couple restaurant's that are reasonably priced and an extra bonus is they have take away.
Restrooms are located by the ticket counter.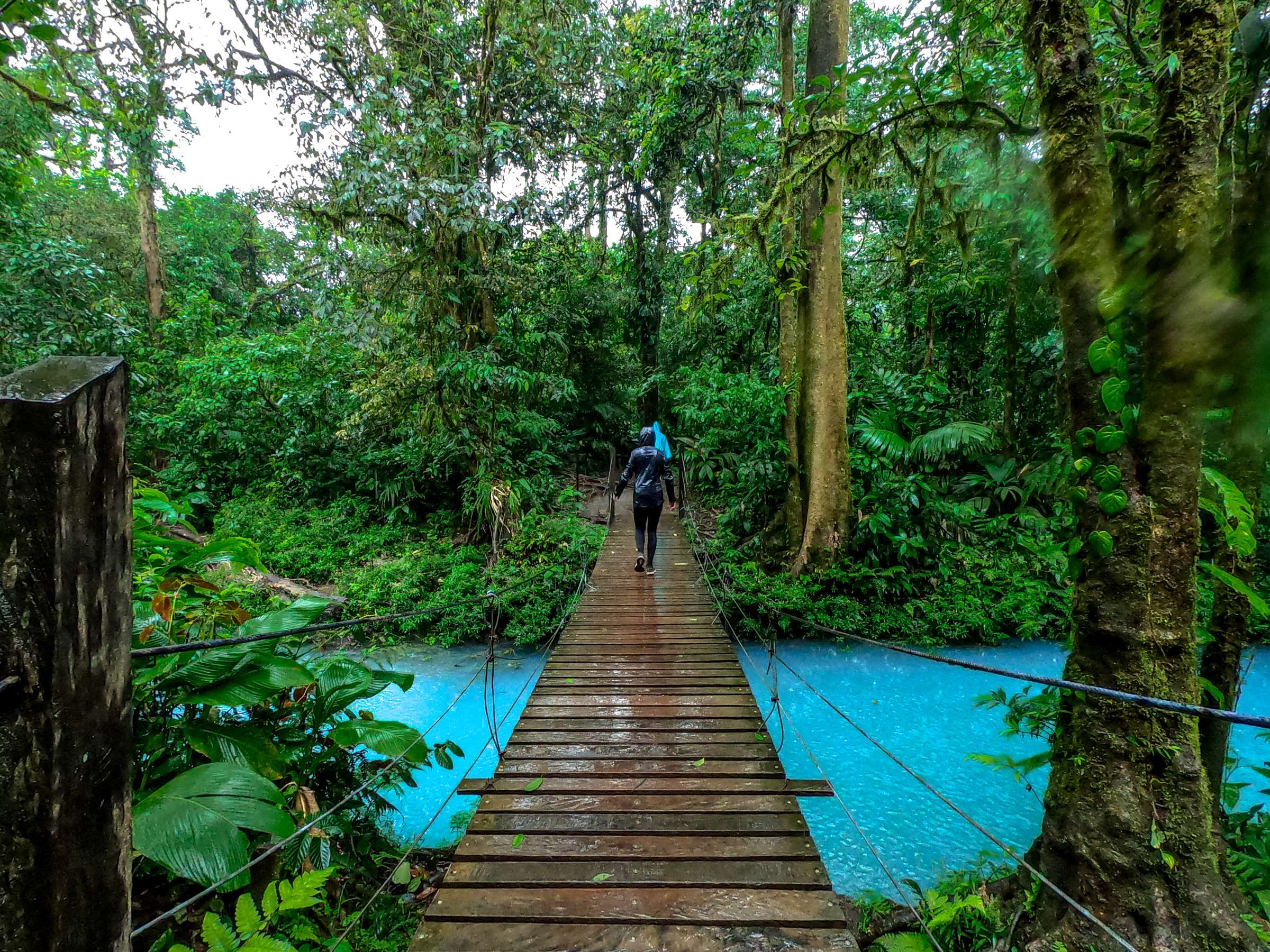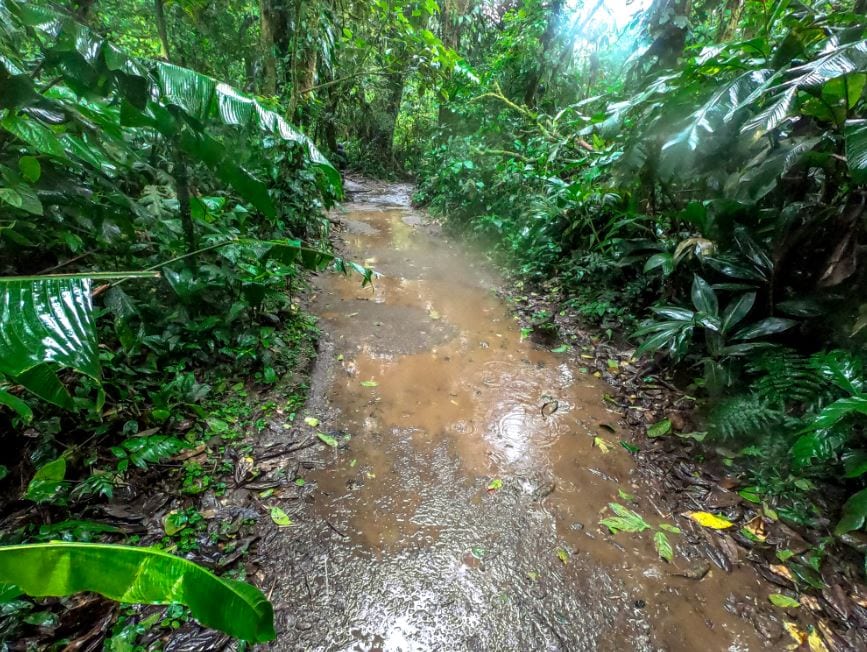 About the Rio Celeste Hike Costa Rica
Rio Celeste hike is a moderate 3.7 mile hike out and back. It takes 2-3 hours depending on how rainy it's been cause it has the potential to be very muddy. When I went, it down poured the whole time but so worth it!
The first section of the trail is paved and not very steep. 1 mile in, you come to a sign that points down to the Rio Celeste waterfall (catarata) and up to continue along the river.
To go down to the waterfall you'll have to descend a set of steep stairs but don't worry, there are hand rails. Don't forget to look up as you're walking down, there will be photo ops all along the way.
About a quarter of a mile on the trail along the river you'll come to a view point where you can step up the platform and get a good view of the rainforest below.
200 meters later you'll come to Laguna Azul, or the blue lagoon 😍.
Next you'll walk across a couple hanging bridges that gives great views of the river. To witness the turquoise blue glow of the waters next to the rich, lush, green of the rainforest is a magical experience.
Finally, at the end of the Rio Celeste waterfall hike you'll see where the 2 rivers meet and where the blue starts to become blue.
This part was amazing and I'm always blown away to think about how amazing our world is and all the magical things that Mother Nature can do.
What to Bring Hiking Rio Celeste
Definetly pack a rain jacke while Rio Celeste hiking.
Sturdy shoes, hiking boots or shoes you don't care to get muddy.
GoPro and make sure its waterproof.
Waterproof hiking pack or have a rain cover. It poured on me the entire time when I was in Rio Celeste Costa Rica.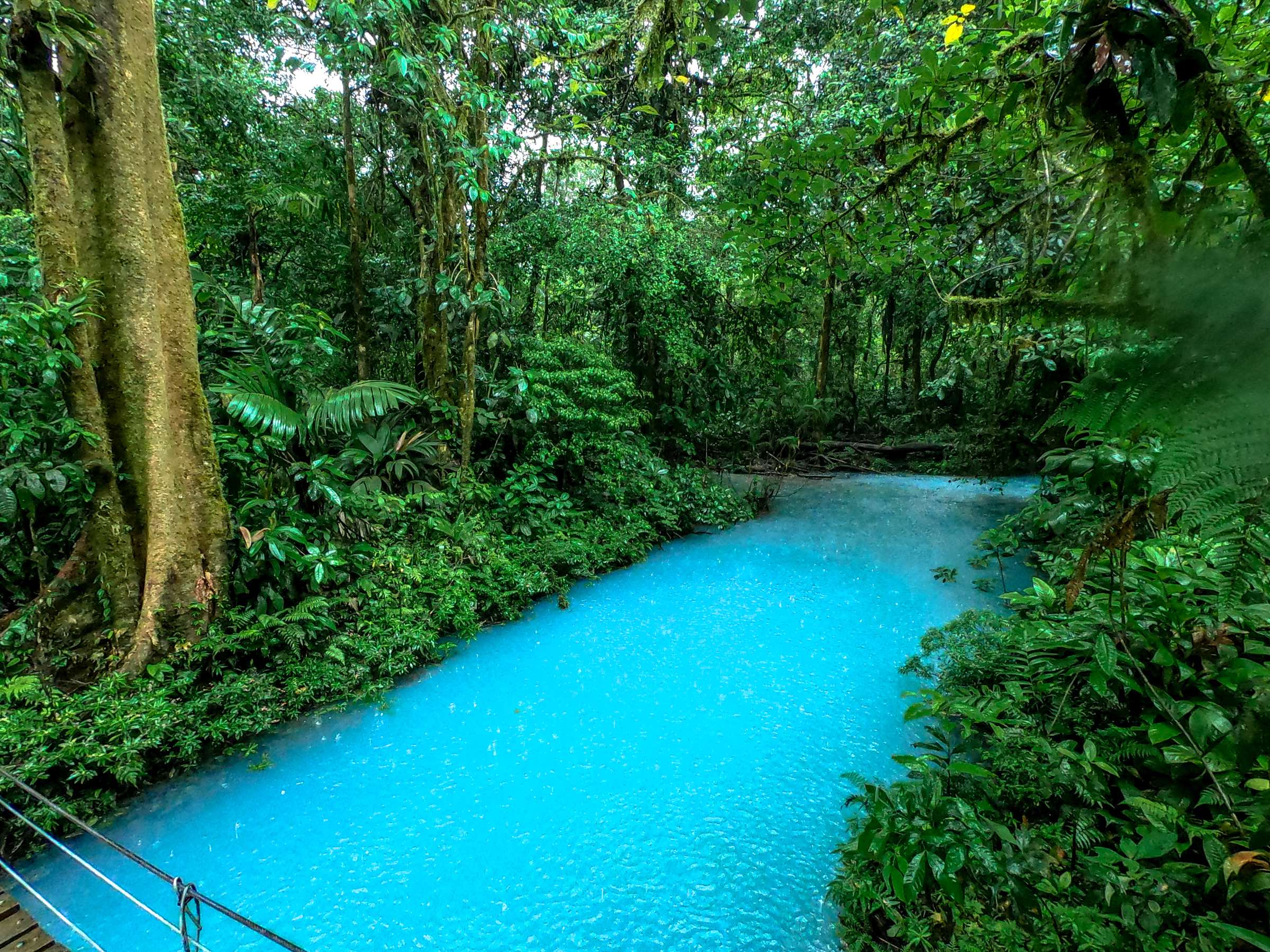 Rio Celeste Hideaway Hotel
If you're looking to stay in the area stay at Rio Celeste Hideaway Resort. It's luxury in the jungle with Rio Celeste at your front door. There is a jacuzzi, swimming pool along and free breakfast.
I stayed at La Tabacon Resort when I was in this area. The La Tabacon thermal springs is an experience you can't miss when your exploring Costa Rica. It was pure luxury with top of the line treatment.
The complimentary breakfast was out of this world. Anything you could imagine wanting was there. And don't even get me started on the fresh squeezed juices, I still dream about them!
Costa Rica Travel Guides Below↓
Enjoy this Post?!?! Pin in for Later ↓