The Lahaina Pali Trail is a popular hike on Maui. Known for its coastal views and windmills, the Pali hike is a heavily trafficked trail on West Maui and one of the best Maui hiking trails near Lahaina. I hike this trail often because it always gives me a workout and it is only 20 minutes away from my house.
For full transparency, I have sprinkled some affiliate links in this post.  As an Amazon Associate I earn from qualifying purchases that gives me a small commission at no extra cost to you if you decided to make a purchase.  As always, I would never recommend a product or service that I didn't truely believe in.  All proceeds go to keep Jess traveling and coffee ☕️.  I thank you in advance.
About this Guide to Hiking Maui's Lahaina Pali Trail in West Maui
We'll get into all the details to prepare you for the windmill hike in Maui. I'll cover everything you need to know about hiking the West Maui Pali Trail along with tips and tricks you'll need to know before you go. Here's what to expect:
Lahaina Pali Trail facts and information
Lahaina Pali Trail location
When to hike the Pali Trail
Tips for hiking this West Maui/Lahaina trail
What to pack for the Pali trail Maui
Other things to do in West Maui
Additional Maui planning resources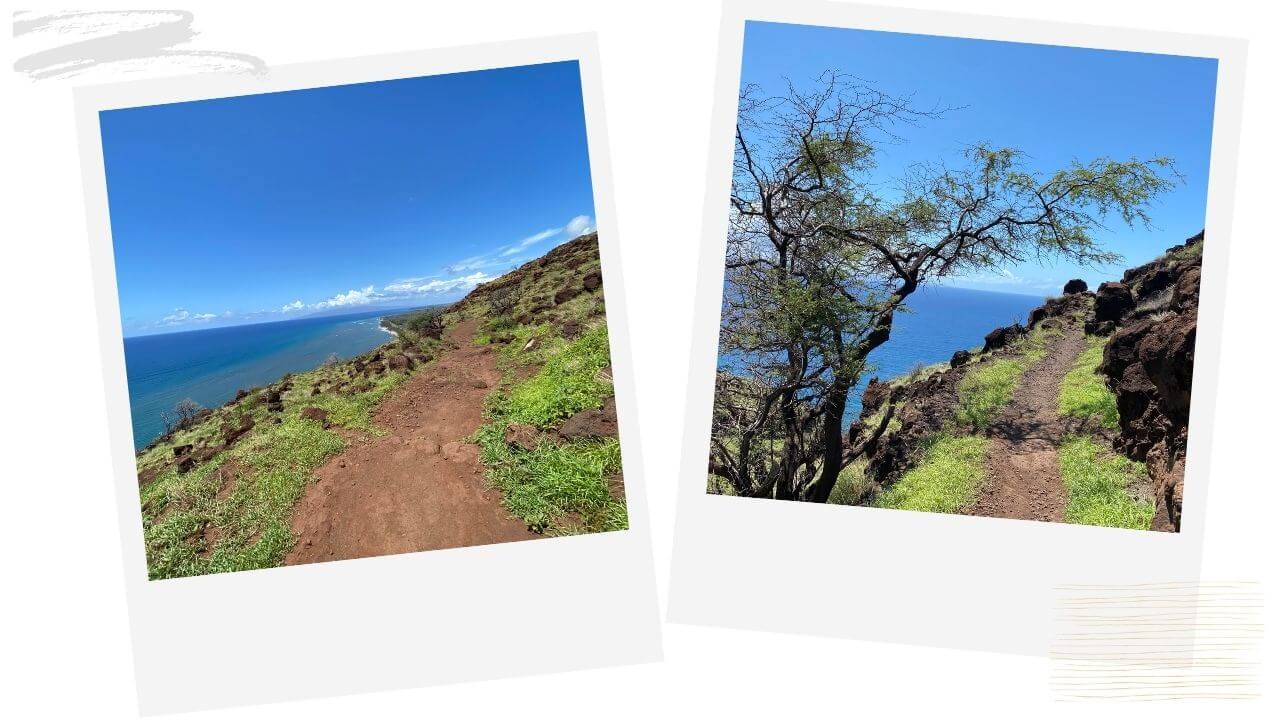 Lahaina Pali Trail Quick Facts
Difficulty: Strenuous
Duration: 3-4 hours to the windmills and back. 4+ hours if hiking from point A to point B.
Distance: 5 -10 Miles depending if you hike the entire trail from point A to point B (10 miles) or if you hike to the top and turn around at the windmills (5 miles).
Dogs are allowed on the trail.
Hiking the Lahaina Pali Trail on Maui
The Lahaina Pali Trail takes you up a rocky trail to the Kealaloloa Ridge by the Kaheawa wind farm. The 1,600 feet elevation gain + the Lahaina heat makes this hike strenuous. This is the perfect hike if you are looking for a workout.
The West Maui's Mountains are wet and it rains often, especially in the winter.
There are 3 ways you can hike this trail.
1. Out-and-back.

2. Two cars (drop one at the ending trailhead in Ma'alaea)

3. Or hitch-hike back to your vehicle.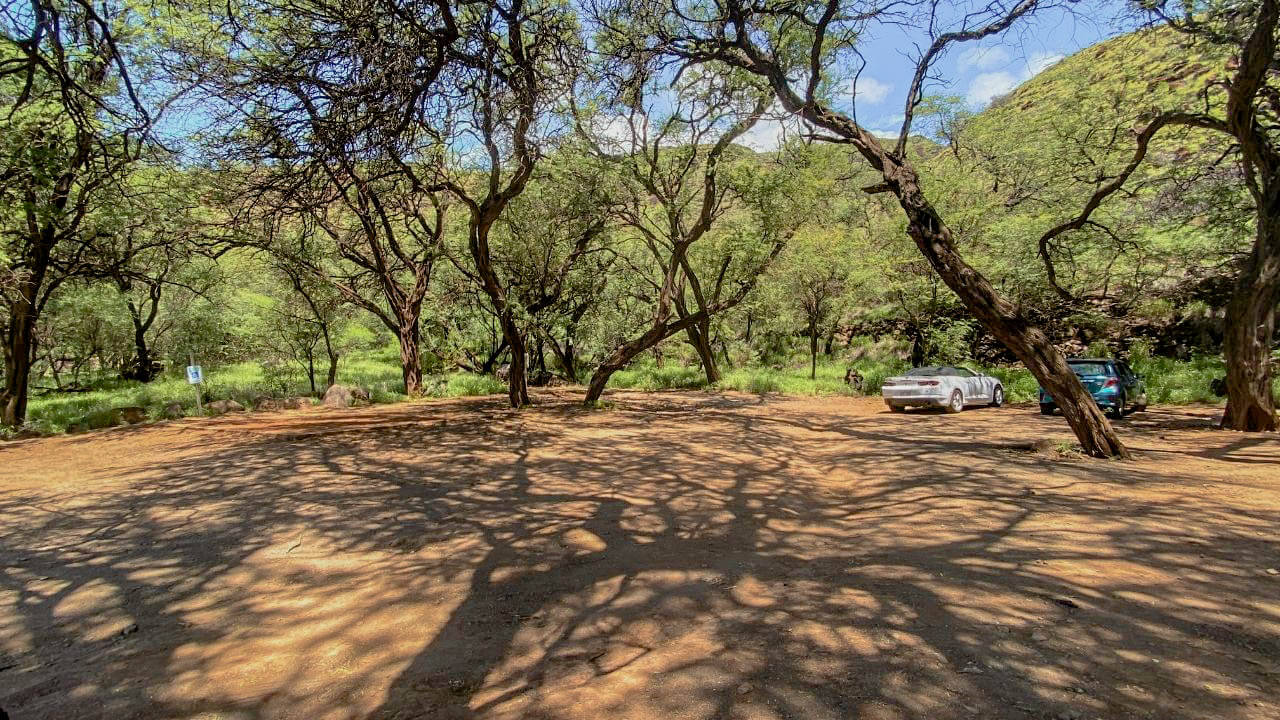 Lahaina Pali Trail Directions
Where is the Lahaina Pali Trail Located? The main Lahaina Pali trailhead (Western) at Ukumehame can be found on the mauka side (mountain) of the road just past Papalaua Wayside Park. It is about a 15 minute drive coming from Lahaina.
If you are coming from the airport it is a 25-30 minute drive along the Honoapi'ilani Highway and the parking area will be on the righthand side of the road just after you pass through a small covered tunnel.
Parking is limited to 15-20 cars but it never gets too crowded and its shaded. If you're hiking out and back, park at this trailhead.
If you have 2 cars, drop one off at the Maalaea trailhead (Eastern) and start the hike at the Ukumehame parking lot. Having 2 cars means you can hike up and over the Kealaloloa Ridge and end up the "second" car at the Ma'alaea trailhead 10 miles later.
Or of course instead of ending at a car you can hitchhike back to your vehicle if you want to hike the entirety and are limited to one vehicle.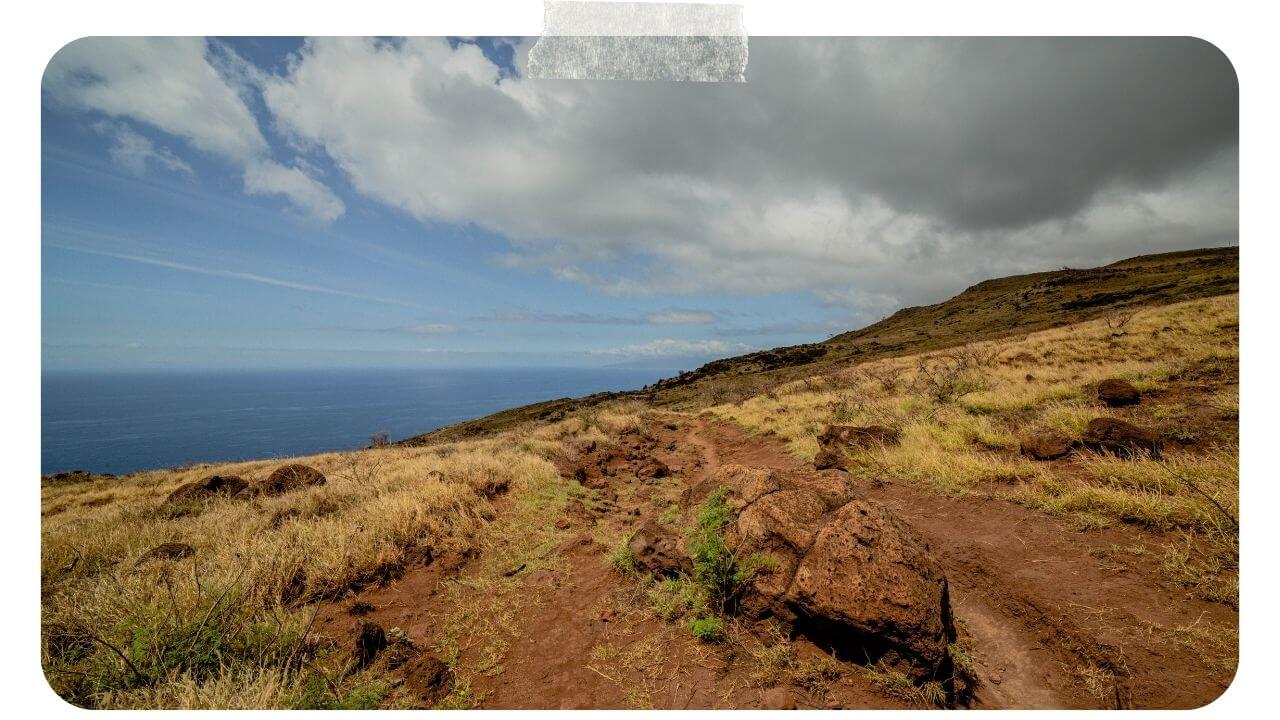 Checking the weather before you hike is always something you should do and Maui is no exception. The sun is brutal in Lahaina. Lahaina in Hawaiian is translated as cruel merciless sun after all. The sun is pretty harsh on this hike and there's not much shade. A hat is probably a good idea.
Brush fires aren't uncommon on Maui especially in the summer. There has been some damaging fires in this area. You may still see charred trees from a previous disaster.
Since it is Lahaina you won't need to worry too much about rain but the wind is a different story. The apex of the Lahaina Pali hike is the windmills which you can see from South Maui and on your drive over. Of course this is a green energy where the wind turbines use wind to make electricity, so it's going to be windy up there.
Get an early start to avoid the hottest part of the day and before the winds. It's never a bad idea to bring a rain jacket or shell, especially if you have expensive camera equipment.
You will need a proper pair of shoes or hiking boots to hike this trail. I don't hike with poles but I've seen lots of people hike with them. Sunscreen is also a must! I always have a bottle of reef safe sunscreen with me in my pack.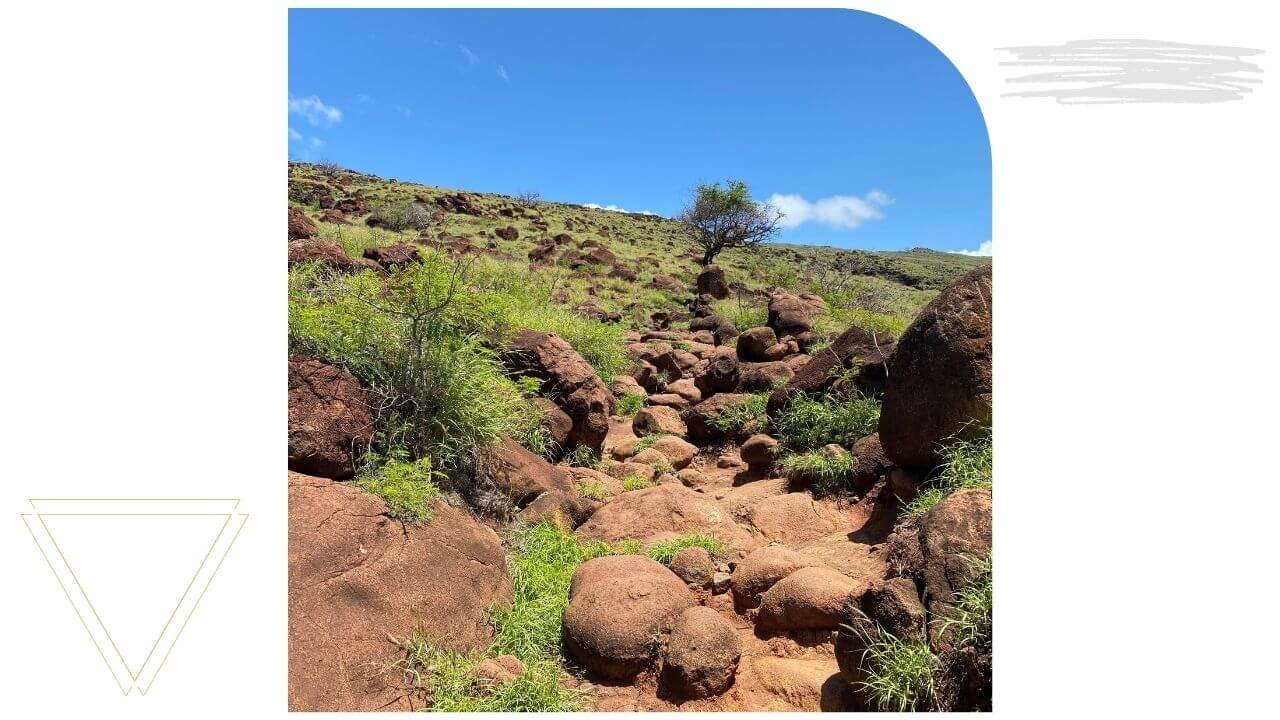 What to Expect on the Lahaina Pali Hike
The Lahaina Pali Trail makes a great hike due to its convenient location on West Maui and the caloric burn. More calories burned = more pina coladas you can enjoy.
The trail starts on a rocky path then quickly pops onto an old service road. Just shy of a quarter mile up the old concrete path make sure to turn left to start the trail and not continue up the service road. There is a large, orange arrow painted on the ground next to the sign. From here the trail goes up.
The next two and a half miles to the windmills will be the most difficult. You'll be tackling 1600 feet in elevation up a large, rocky trail along the Kealaloloa Ridge. The trail consists of large rocks and boulders.
By the end of the first mile you really start to feel the elevation gain. This compacted with the Lahaina heat and lack of shade makes for a difficult hike.
After an exhausting 3 miles or so up the trail you'll reach the pinnacle of the hike, the windmills. Take in the sights, ocean views and witness the massive size of the windmills up close and personal. If you're hiking out and back this is where you'll turn around and head back down.
If you opted to hike the whole trail from Ukumehame to Maalaea continue on the trail. The trail stays consistent of large rocks and boulders without shade. You have about 7 miles to go from here. Make sure you eat a power bar and drink lots of water, you're going to need it.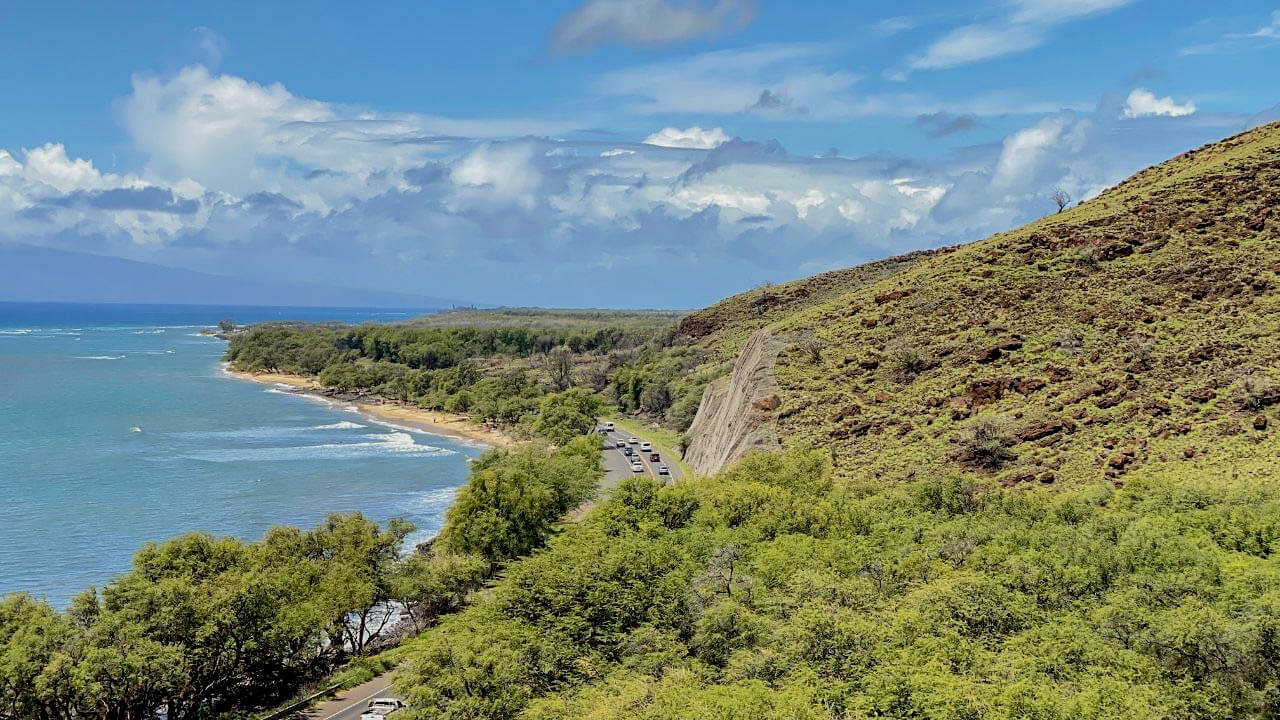 Tips for Hiking the Lahaina Pali Trail
Fuel up before you start this hike.

Even though it's only 5 miles out and back to the windmills and back it's a steep incline up.

Plus when you factor in possible heat and wind conditions, the hike will exhaust a lot of energy.
You are hiking to the windmills so it can pretty windy. Winds pick up more in the afternoon.
Brush fires aren't uncommon.
The heat is brutal on this hike and there's little shade. Lather up the sunscreen and wear a hat.
Dogs are allowed on the trail.
Drones are allowed.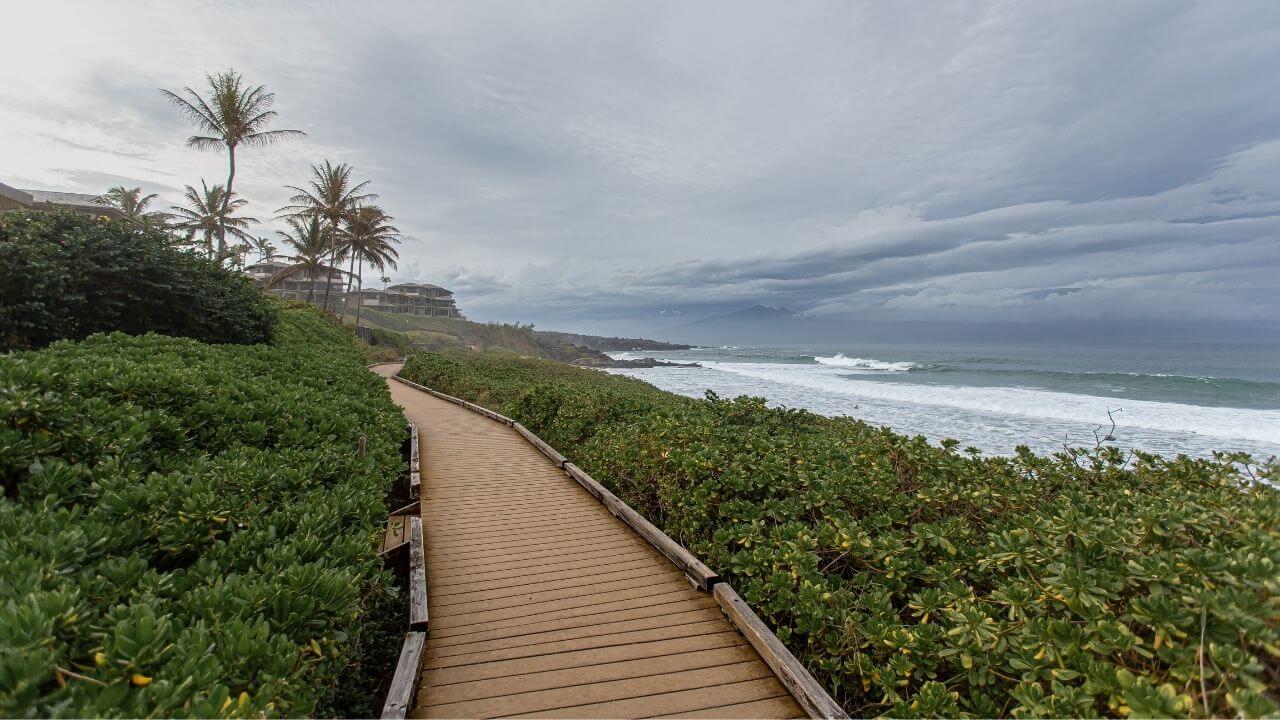 Other Things to do in West Maui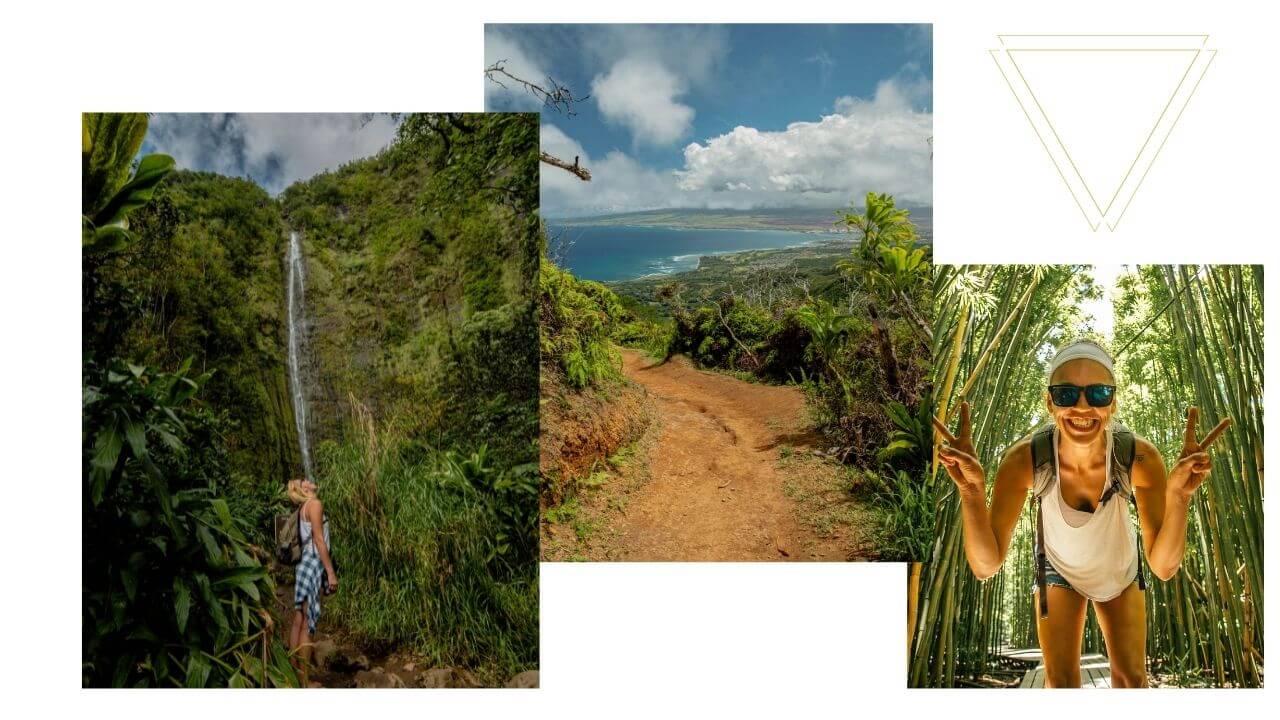 I have been living on Maui for over a decade and have had ample time to experience all of Maui's awesome hikes more than a handful of times. If you're interested in hiking on Maui when you are visiting, click on the hike links below to get a detailed guide of that trail.
Kapalua Coastal Trail – Family friendly coastal trail in West Maui.
Waihe'e Ridge Trail – Intermediate hike up the Waihee ridge offering scenic coastal and valley views.
Pipiwai Trail – One of Maui's most iconic hikes that takes you through an enchanting bamboo forest and ends at a 400 foot waterfall.
Sliding Sands – Difficult hike that takes you to the crater floor at the summit of Haleakala.
Ohai Trail – Easy 1 mile loop for the whole family.
Hoapili Trail –

The Kings Highway is a rugged trail along an unspoiled stretch of Hawaiian coast.

Mahana Ridge – Highlights include fresh fruit trees, a vivacious forest and occasional coastal views of Mokupe'a and Honokahua Gulches.
Kapalua Coastal Trail – Coastal path along West Maui offering coastal views, world class beaches and dramatic sea cliffs.
Halemau'u Trail – A popular 11 mile hike down to the Sliding Sands trailhead.
Waianapanapa Coastal Trail – Rugged coastal trail composed of jagged lava rock that goes all the way to Hana town.
Supply Trail – Located inside Haleakala NP. Starts at Hosmer's Grove and i

ntersect the Halemau'u

Trail.
That's everything you need to know about hiking the Lahaina Pali Trail. Do you have any favorite hikes on Maui? Let me know in the comments below.
Additional Maui Travel Guides ↓
Enjoy this Post?!?! Pin in for Later ↓