The Waihee Ridge Trail is a popular hike on Maui. This trail offers scenic coastal sights and views of the lush Waihee valley below as you ascend up the mountain.
This was the first hike I ever did on Maui on my second day of living here so as you can image it brings back fond memories. If you're looking for a trail that gives you a challenge and epic views, the Waihee Trail is the one for you.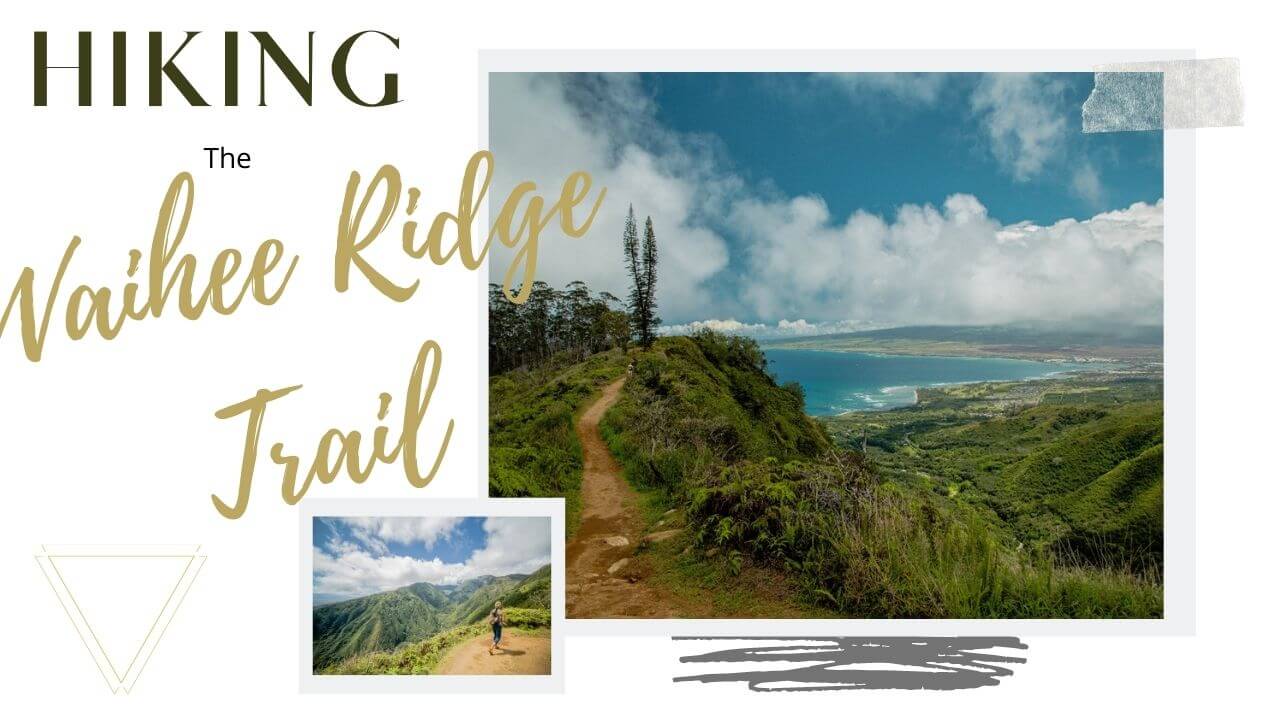 For full transparency, I have sprinkled some affiliate links in this post.  As an Amazon Associate I earn from qualifying purchases that gives me a small commission at no extra cost to you if you decided to make a purchase.  As always, I would never recommend a product or service that I didn't truely believe in.  All proceeds go to keep Jess traveling and coffee ☕️.  I thank you in advance.
Rather see what it's like? I've hiked the Waihee Ridge dozens of times and Joe and I finally decided to make a video of it. Enjoy.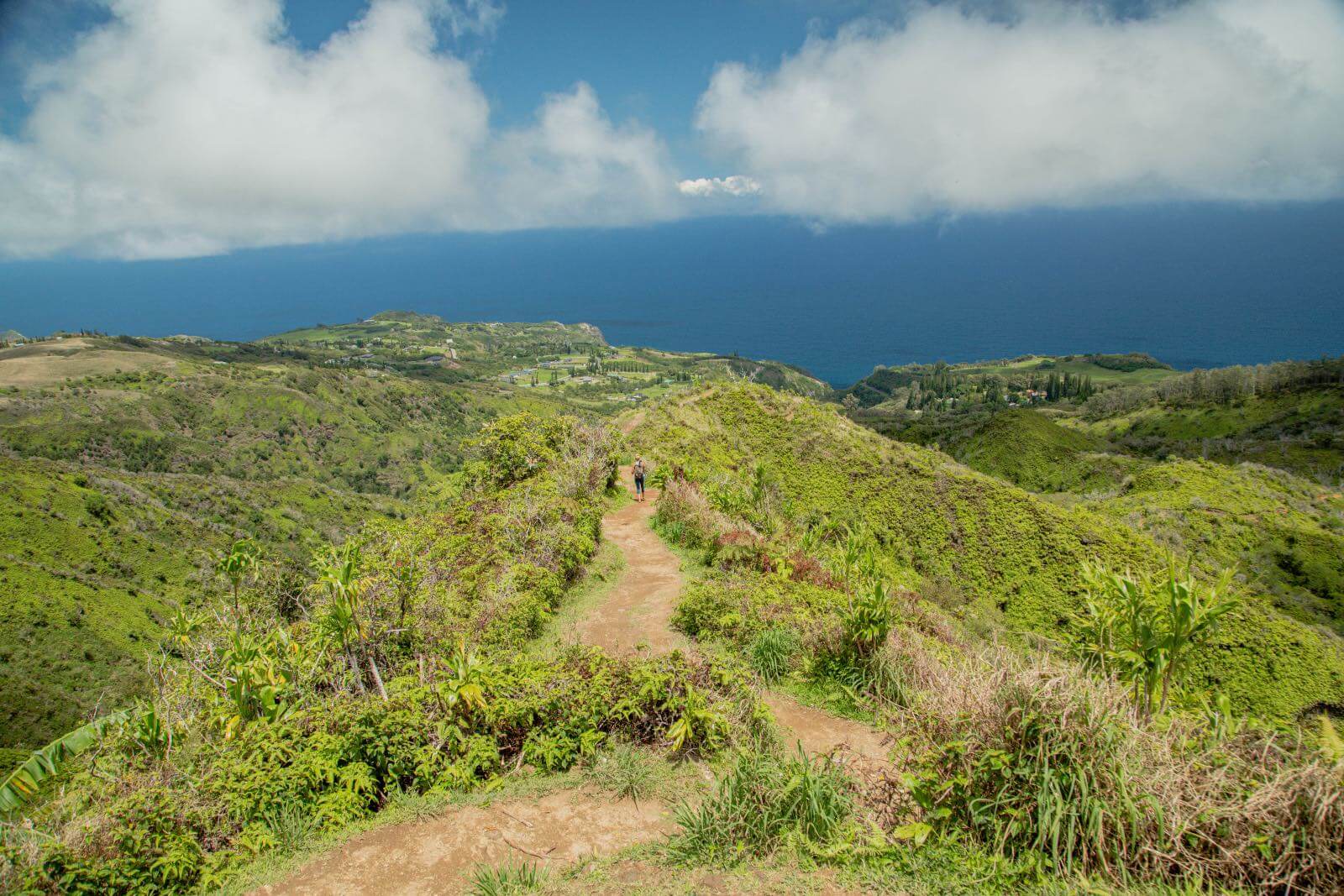 Hiking the Waihee Ridge Trail Maui
The Waihee Ridge Trail is a great hike if you're looking for a workout. If you have kids and you are an active family this hike can be easily managed.
Waihee Ridge Trail weather: Checking the weather before you hike is always something you should do and Maui is no exception. Flash floods can happen at any time, hence the name.
The West Maui's Mountains are wet and it rains often, especially in the winter. The Waihee Ridge Trail length and Waihee Ridge Trail elevation make this hike a bit of a challenge especially if it is muddy.
It's never a bad idea to bring a rain jacket or shell, especially if you have expensive camera equipment. You will need a proper pair of shoes or hiking boots to hike this trail as well. If you have bad knees, I would definitely recommend wearing a knee brace for the Waihee Ridge Trail hike.
If it has rained recently the trail has the potential to be muddy. This makes it more difficult to go up or down the trail. You are literally walking on the Waihee ridge so having proper footwear is crucial.
I wear the Hiking Shoes Terrex Free Hiker 2 Gore-Tex on days it's rained recently, which were a gift, thanks adidas! These hiking shoes provide the necessary grip and traction for a muddy trail. Hiking poles would also come in handy.
Sunscreen is also important. The sun is relentless in Hawaii, I always have a bottle of reef safe sunscreen with me in my pack.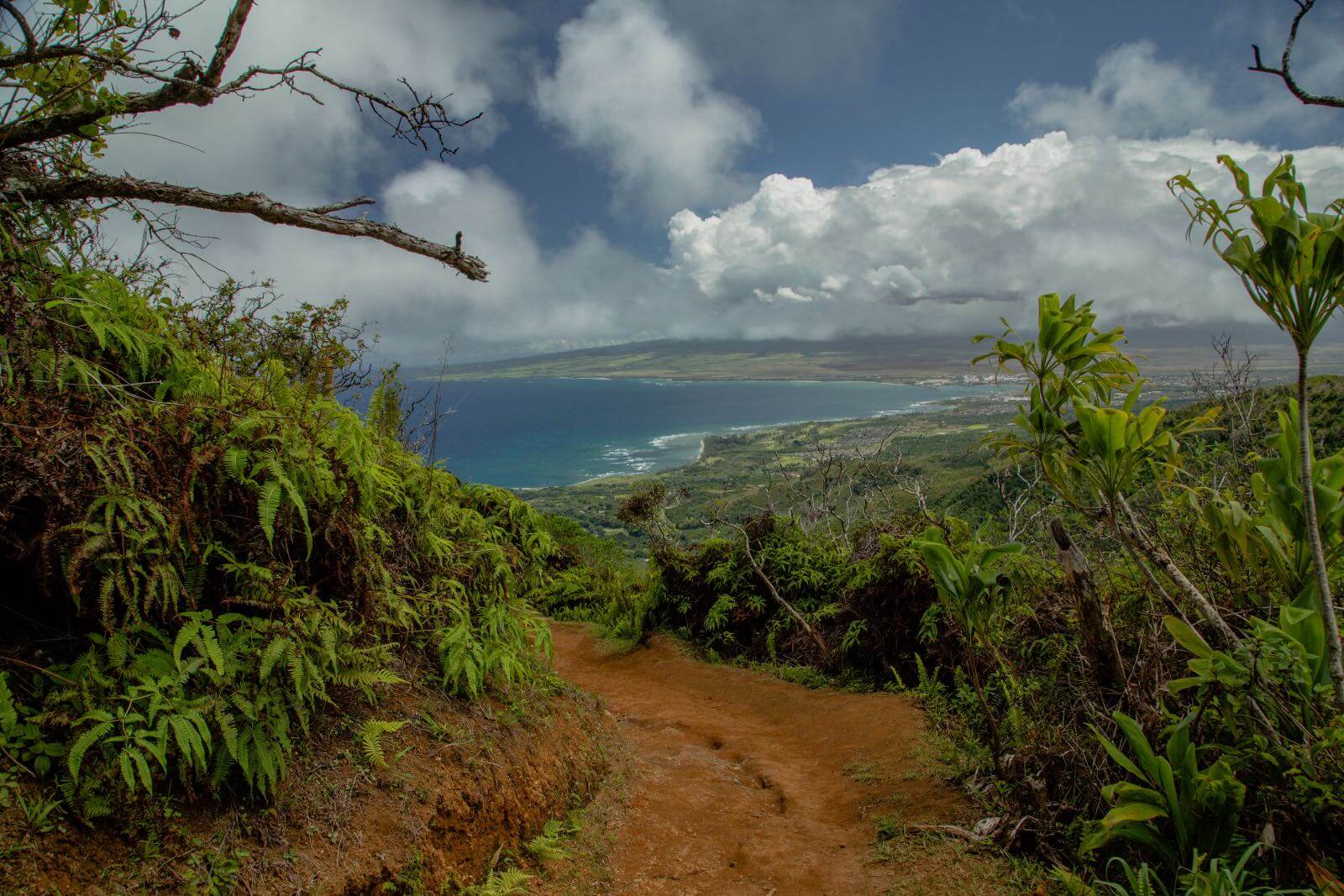 Where is the Waihee Ridge located?
Waihee Ridge Trail directions: The Waihee Ridge hiking trail is located on the back side of West Maui in you guessed in Waihee. This is a convenient hike to get to if you are staying on the North shore or Central Maui.
You'll drive through Wailuku to get to Waihee. Its 45-1 hour drive if you're coming from Lahaina. There is only one road that goes around this part of the island. This makes it easy not to get lost.
The road that leads to the Waihe'e Ridge Trail parking lot is located just before mile marker 7 across the road from Mendes Ranch. You will see Mendes Ranch on the right side of the road and the road to the parking lot will be on the left hand side and it is clearly marked.
There is an overflow parking lot at the start of this road, DON'T PARK HERE. Continue to drive about 3/4 a mile until you see a large, paved parking lot. There will be porter potties and probably other cars already parked in the lot. The gate for the parking lot opens at 7 am and closes at 7 pm.
You will see a sign for the Waihee Ridge trailhead on near the cattle gates on the left if you're looking at the porter potties. Once you've hopped over the gate take the steep concrete path uphill. I swear this is the hardest part of the hike and if you can conquer the steep concrete path this hike will be a breeze!
Overview of the Waihee Hike
The Waihe'e Ridge Hiking Trail is just shy of 5 miles out and back with gains of about 1,500 feet in elevation. I would consider this day hike moderate as the first 2 and a half miles are uphill and you'll be huffing and puffing.
The hike is in the West Maui Mountains region, known as Mauna Kahalawai. This area of Maui is very wet and it rains a lot, thus making the dirt trail very muddy at times.
The wet atmosphere makes the landscape very lush typical for Hawaii. The ridge trail is well marked and trafficked.
What to expect on the Maui Waihee Ridge Trail
As I mentioned before the first .25 miles will be on a steep incline uphill on a concrete path. Once you've powered through this "section" you'll see Makamakaole Falls in the distance to your right.
The trail will begin at this point and you'll start to head into the forest. The first forest that you will pass through will be a towering pine forest and you'll almost forget that you are on Maui. After the pines you'll come into a small forest of rainbow eucalyptus and soon after you'll pass by several Koa trees.
After trekking through several different types of forests the trail will open up and you'll be walking on the ridge line. There are a few benches and overlooks along the way as you ascend up the ridge that give phenomenal panoramic views.
Mile 2 is where the trail starts to feel the elevation gain. The trail begins to wrap up the mountain with a series of quick switchbacks.
This becomes difficult and a problem when it is raining or has recently rained because the trail gets very muddy and slippery. On a clear day you'll get aerial views of Waihee Valley below and of Maui's dramatic coastline.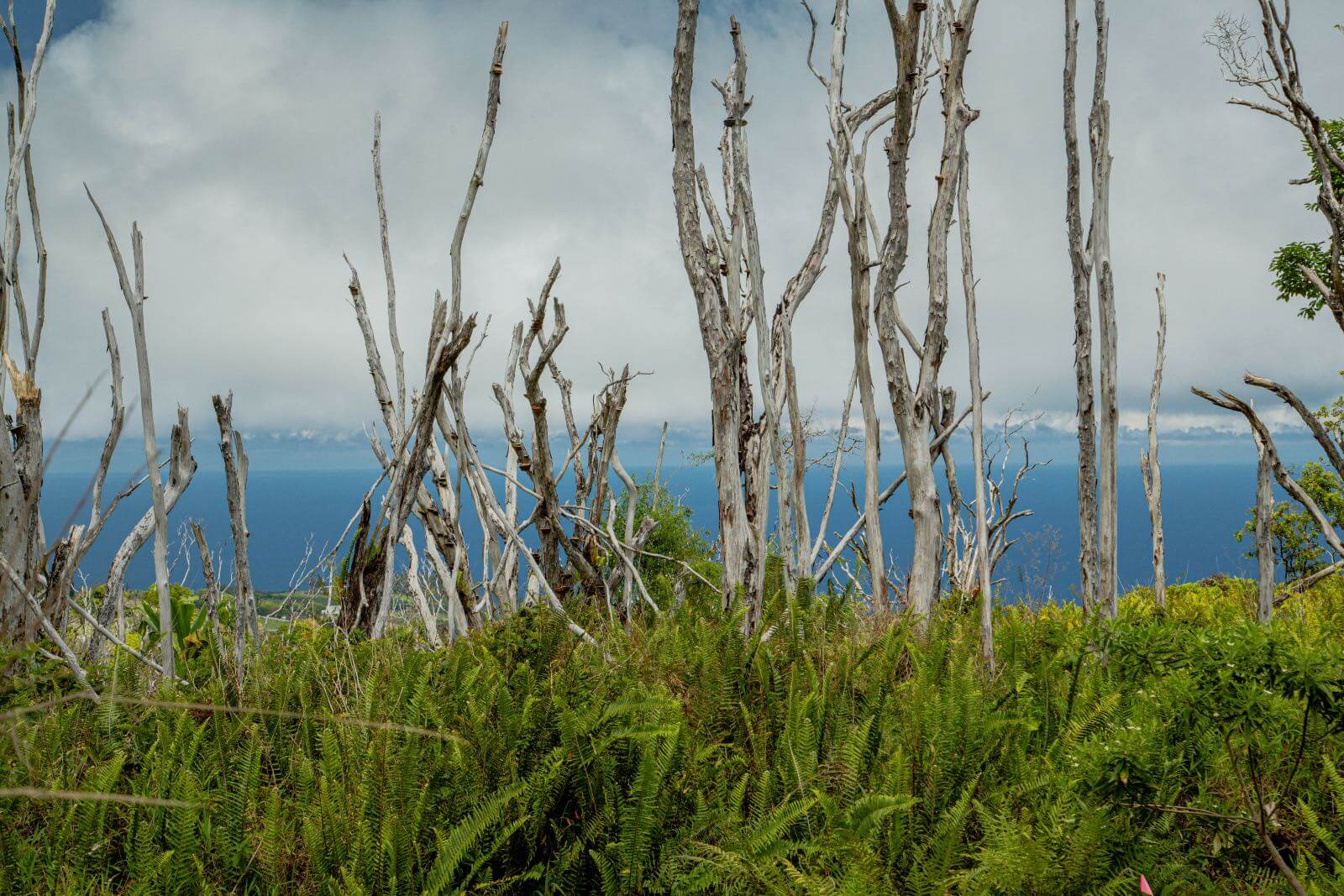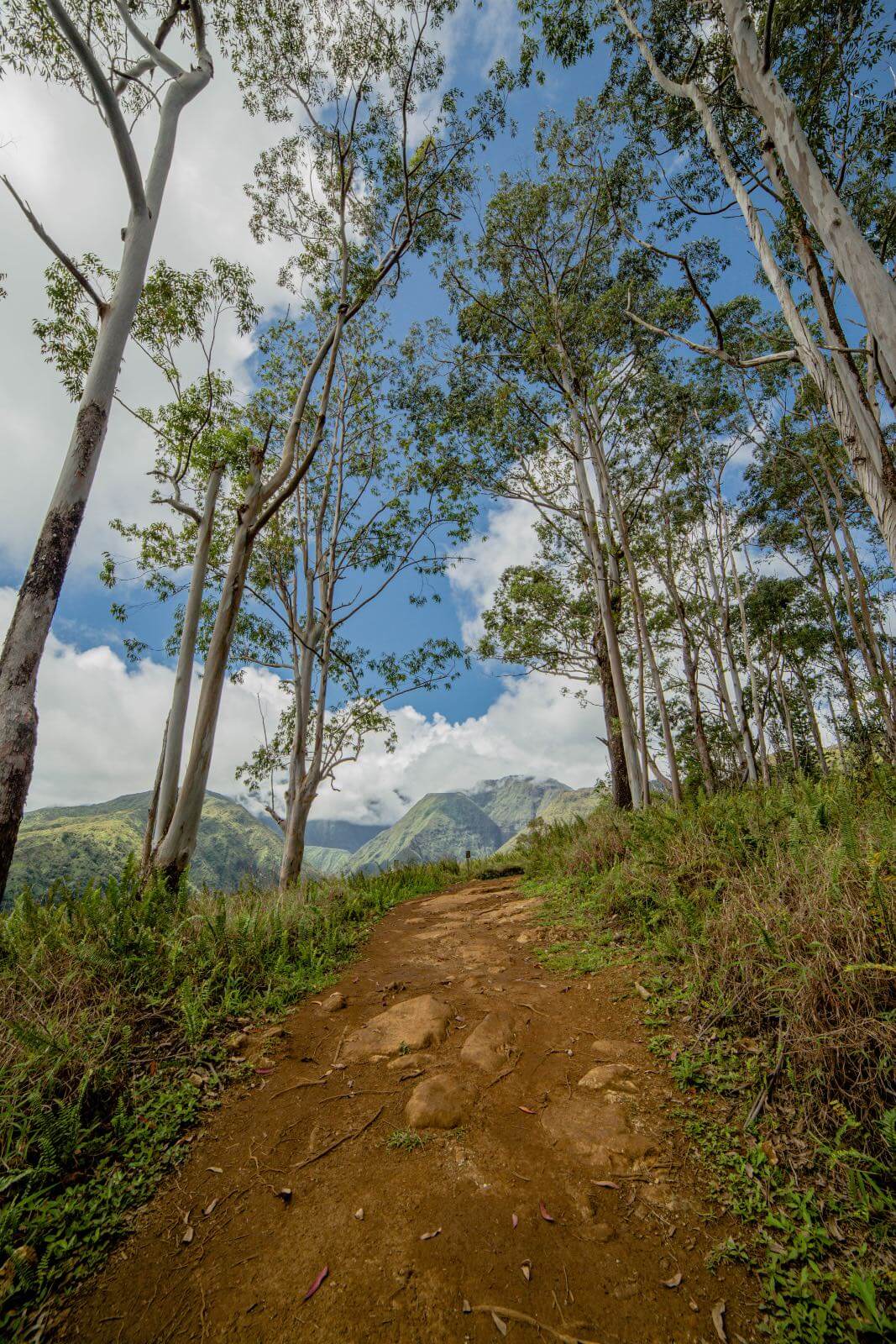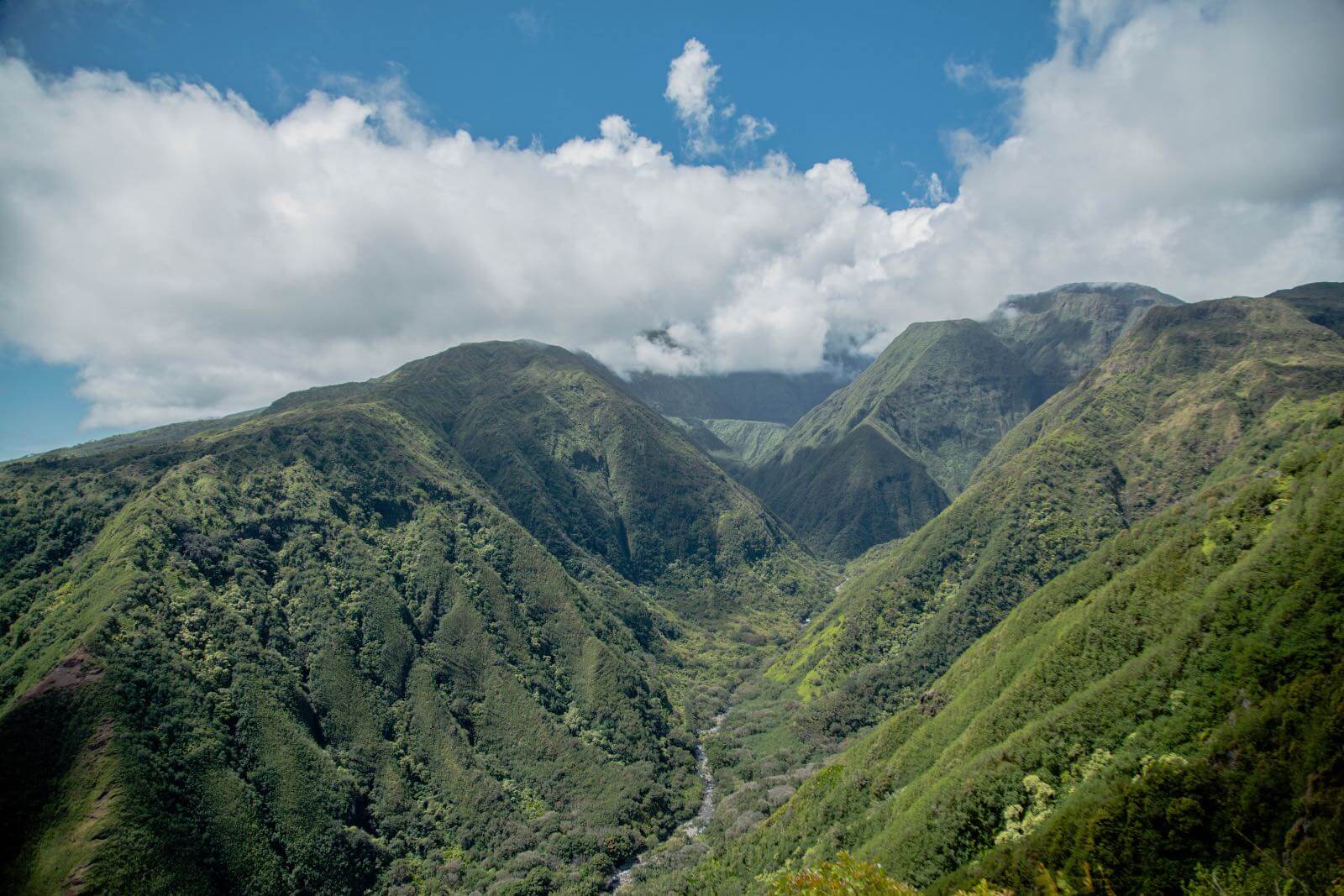 Finally at the pinnacle of the Waihee Ridge Trail there will be a platform that will give you sweeping views of Maui's coastline and the island of Molokai…on a clear day of course. There is even a picnic table to rest your tired legs and enjoy a snack.
The hike back down the ridge is arguably more difficult than coming up. If it's muddy then it makes for a slippery descent. But if you hike on a day like I did you will have no problems at all.
Tips for Hiking the Waihe'e Ridge Trail
Check the weather as it rains a lot in this area of Maui making the trail very muddy. The muddy trail makes more difficult to descend than ascend.
This is a quiet part of the island and there are not many restaurants around. Bring snacks to tide you over.
Drones are allowed.
Bring a long sleeve as it gets chilly on the W

aihee Ridge Trail top

of the mountain.
Other Things to do on West Maui
More Maui Hiking Inspiration below ↓
Enjoy this Post?!?! Pin in for Later ↓