The Hoapili Trail is a South Maui hike that takes you along Maui's South coastline, past secluded beaches, across barren lava fields and gives you a chance to see wildlife. The lightly trafficked out and back trail is primarily used for hiking, surfing, and fishing.
This is a historic trail that was once known as the Kings Highway. The King's Trail was a path built by King Piʻilani and his son hundreds of years ago that circled most of the island.
The trail takes you nearly ten miles but for the purpose of this post, the hike will end at Kanaio Beach which is where most people who want to hike a good chunk of the trail turn around.
Although lots of people walk a short portion of the trail to soak in the sights and then turn back. This Maui hiking trail should be apart of anyones Maui itinerary and is without a doubt one of Maui's best hikes.
For full transparency, I have sprinkled some affiliate links in this post.  As an Amazon Associate I earn from qualifying purchases that gives me a small commission at no extra cost to you if you decided to make a purchase.  As always, I would never recommend a product or service that I didn't truely believe in.  All proceeds go to keep Jess traveling and coffee ☕️.  I thank you in advance.
We'll get into all the details to prepare you for a trip to South Maui. I'll cover everything you need to know to hike the Hoapili Trail. Here's what to expect:
When to hike the Hoapili Trail
Hoapili Coastal Trail location
Trail facts and information
Tips for hiking the Hoapili Trail, Maui
What to pack for your hike
Other Things to do nearby
Additional planning resources
Maui Hoapili Trail Quick Facts
Difficulty: Easy/Moderate due to the harsh lava rocks
Duration: 3-4 hours
Distance: 5-6 miles out and back to Kanaio Beach
How to Get to the Hoapili Trailhead
The trailhead for Hoapili is in the parking lot of La Perouse Bay snorkeling area about 3 miles past the first entrance to Big Beach (one of Maui's best beaches). La Perouse Bay is located on Maui's South shore in the Ahihi Kinau Natural Area Reserve.
Take Hwy. 31 all the way until it becomes a dead-end in South Maui. Then turn right onto Wailea Ike Drive until the stop light, where you will then turn left onto Wailea Alanui Drive.
Follow Wailea Alanui until it turns into Mākena Alanui (also referred to as Makena Road). The road becomes narrow and a bit more rugged the further south you go. The road will turn from paved to a bumpy ride, keep going your almost there.
Once Makena road dead-ends, you'll find the trailhead parking. The trailhead itself is directly behind the La Perouse Bay sign. You will see the trail paralleling the shore and weaving south along the coast.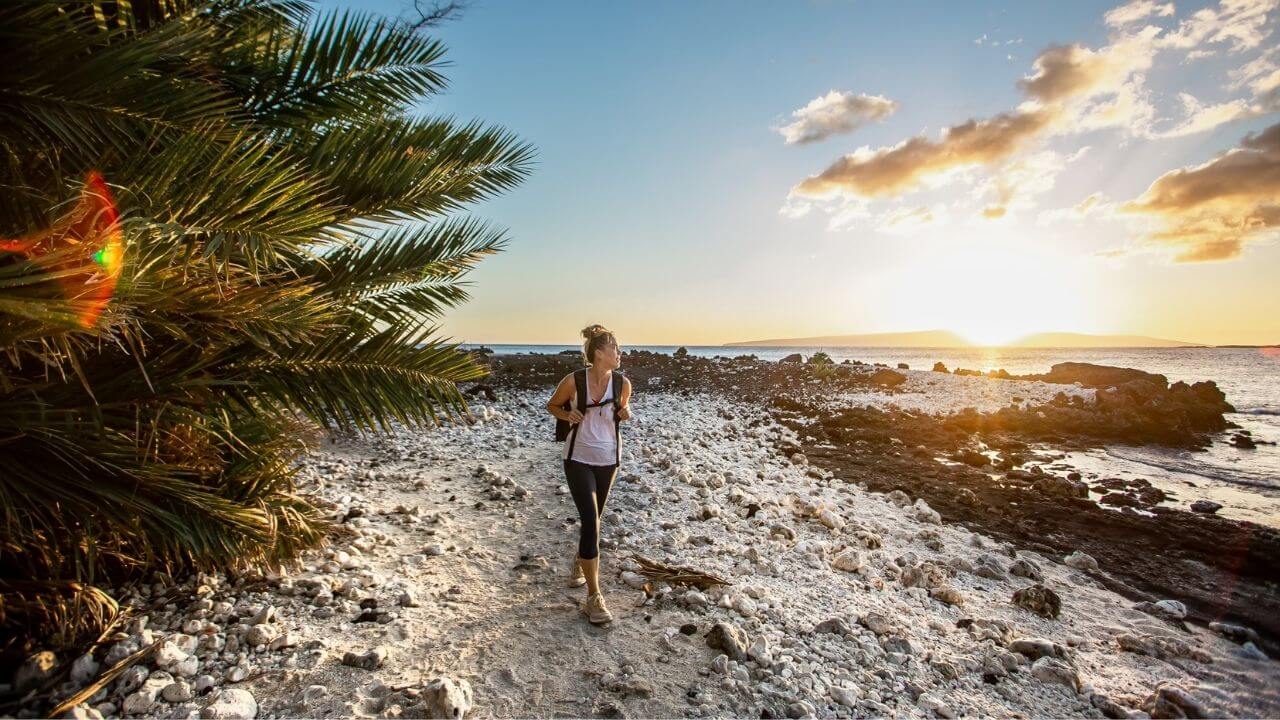 When is the Best Time to Hike the Hoapili Trail
You can walk the La Perouse hike any time of the year. This part of Maui is known for being very windy so it pays to get an early start to "try" to avoid some wind. I put try in quotations because it is probably gonna be windy no matter what time you start your hike but the morning could help you out a bit. Plus hiking in the mid day under the scorching sun across Maui lava fields isn't always the most enjoyable.
That being said, we starting hiking this trail at 4 so we could enjoy sunset on the way back. It was very, very windy but the sights were so breathtaking that it didn't matter. Just make sure you bring ample water and lather on that reef safe sunscreen as the trail doesn't provide much shade.
How Long Does it Take to Hike the Hoapili Trail Maui
The Hoapili Trail isn't a strenuous trek but it does take about 3 to 4 hours round trip to reach Hanamanioa Point Lighthouse at Kanaio Beach and return. The lava rocks create a harsh environment for your feet. So proper shoes are a must!
The trail isn't as much about hiking as it is exploring a side of Maui that most visitors don't experience. Even if you choose to only walk a small portion of the trail, do it! Its not everyday you get to trek across barren lava fields from a volcano that last erupted in 1790.
Practical Trail Information
The hike begins at La Pérouse Bay, named for the French explorer Jean François de Galaup, comte de Lapérouse, who was the first European to anchor near Maui in the late 1700's.
The bay features a rocky shoreline with several small coves that lie between the rocky points. La Perouse Bay is known for great snorkeling within the small coves that dot the northern end of the bay in the nature reserve.
You will follow the coastline for a little over a half mile passing through small patches of beach and overgrown Kiawe trees. You'll probably even see wild goats as they roam around these parts freely.
Once you see a lava rock structure on the right side of the trail, you've come upon a popular surf break in South Maui known as Laps, short for La Perouse. This surf spot is for experienced surfers only as swells get big and riding waves over sharp lava rock is no joke.
The trail will begin to gradually climb until you reach a sign letting you know that you are entering the King's Highways and to respect historic sites and surroundings. From here on out you are traversing across lava rock which make the hike difficult as you have to find your footing with every step. The trail is very straight forward and it's clear which direction to head – south.
If you keep going you'll see the lighthouse at Cape Hanamanioa which looks like an old and weathered pole. Keep on the trail for another 20 minutes or so and you will reach Kanaio Beach. Just before reaching the beach you'll pass a heart shaped tide pool – all I can say is magical. We so badly wanted to fly the drone but the wind was so fierce the drone didn't stand a chance.
On Kanaio Beach you'll notice the remnants of several structures, once part of an ancient fishing village. Be respectful and admire from afar, don't enter the structures. The beach itself is covered in sun-bleached coral with a mix of black and white sand underneath. Black lava rocks jut out into the ocean. It's quite the sight.
Don't be surprised if you are the only one here, that only adds to the allure. The views from the backside of Haleakala are stunning and I felt like I was in a scene from Land Before Time as I wondered around on the lava rock examining all the funky growths coming off of the inland tide pools.
Kanaio Beach is where most adventurers turn around. The Old King's Highway continues all the way to Highway 31 on the back side road to Hana, but the path is less noticeable. If you do decide to traverse farther, another 20 minutes along the shore brings you to Keawanaku Beach covered in coral that has been bleached white from the sun.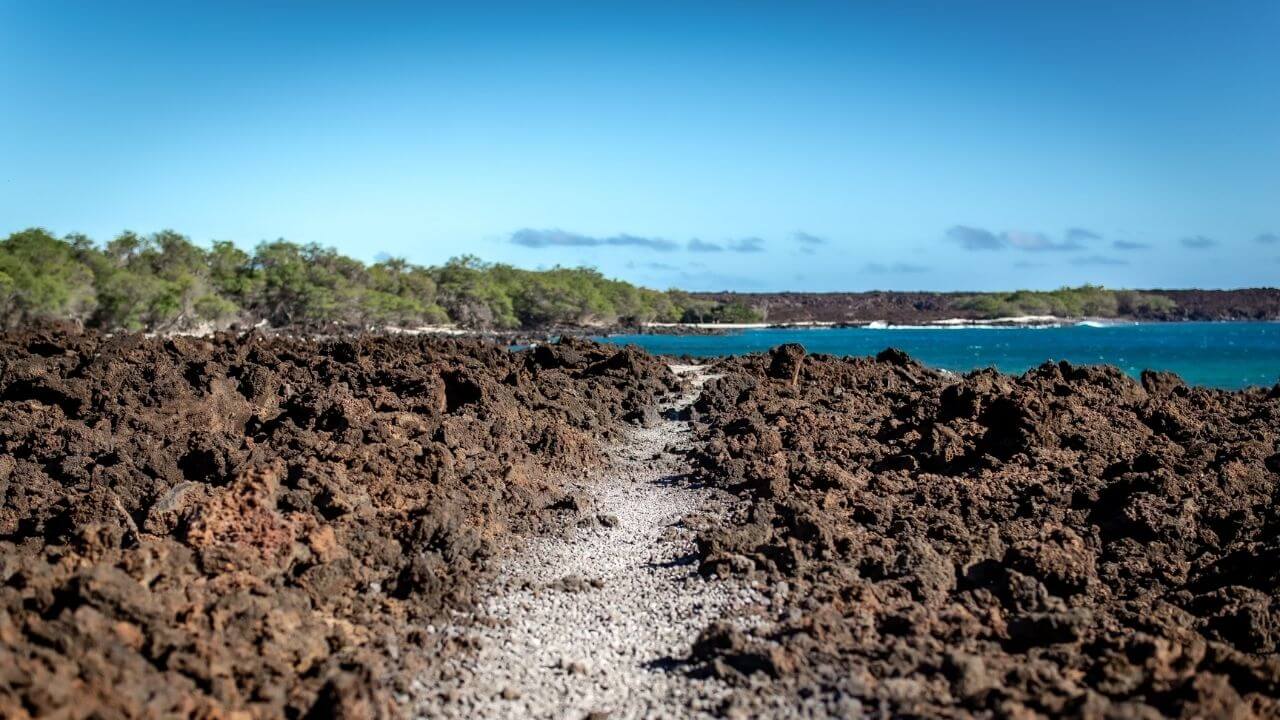 Travel Tips for the Hoapili Hike
Dogs must be leashed.
No Camping.
No Fires.
Bring sturdy shoes for trekking over the lava rock.
Bring ample water.
Sunscreen is a must.
Don't take the rocks, sand or cultural artifacts. Not only is it illegal but you will be cursed! Taking these objects off the islands, you will be struck with Pele's curse which will bring you a series of bad luck and misfortune until they are returned to where they belong.
Plenty of water
Snacks
Swimsuit if you're adventurous and want to take a dip along the way
Sturdy shoes
Check out these essentials I never hike without.
Camera
Iphone
Other Things to do in South Maui
Snorkel Molokini one of the best things to do in Wailea.
Experience Big Beach in Makena.
Sample beer at Maui Brew Co.
Attend a Luau.
Eat sushi at Miso Phat.
Kayak around turtle town.
Go shopping at the shops of Wailea.
Golf at one of the 3 golf courses in Wailea.
These are the best hikes on Maui not to be missed. Click on the blue links for a detailed post of each hike.
Kapalua Coastal Trail – Family friendly coastal trail in West Maui.
Waihe'e Ridge Trail – Intermediate hike up the Waihee ridge offering scenic coastal and valley views.
Pipiwai Trail – One of Maui's most iconic hikes that takes you through an enchanting bamboo forest and ends at a 400 foot waterfall.
Lahaina Pali Trail – A strenuous trail up to the windmills on the West Maui mountains.
Sliding Sands – Difficult hike that takes you to the crater floor at the summit of Haleakala.
Ohai Trail – Easy 1 mile loop for the whole family.
Mahana Ridge – Highlights include fresh fruit trees, a vivacious forest and occasional coastal views of Mokupe'a and Honokahua Gulches.
Kapalua Coastal Trail – Coastal path along West Maui offering coastal views, world class beaches and dramatic sea cliffs.
Nakalele Blowhole – Short but steep hike to the blowhole along West Maui's coast.
Halemau'u Trail – A popular 11 mile hike down to the Sliding Sands trailhead.
Waianapanapa Coastal Trail – Rugged coastal trail composed of jagged lava rock that goes all the way to Hana town.
Supply Trail – Located inside Haleakala NP. Starts at Hosmer's Grove and i

ntersect the Halemau'u

Trail.
Additional Planning Resources for Maui ↓
Enjoy this Post?!?! Pin in for Later ↓