I'm usually one who always opts out of the guided tours and goes at it on my own. I like to figure it out, be able to write about the process so that I can share it with you, not be on a strict time schedule, and its always a bonus to save few bucks. With that being said, I highly recommend getting a private guide (around $20 USD) on arrival or booking a small (max 4 people) Terracotta Warriors tour when seeing this site.
Visiting the Terracotta Warriors
For full transparency, I have sprinkled some affiliate links in this post.  As an Amazon Associate I earn from qualifying purchases that gives me a small commission at no extra cost to you if you decided to make a purchase.  As always, I would never recommend a product or service that I didn't truely believe in.  All proceeds go to keep Jess traveling and coffee ☕️.  I thank you in advance.
How to Get to the Terracotta Warriors
The Terracotta Warriors are located about an hours drive outside of Xi'An. You can reach the tombs by rental car, public bus, take a cab or DiDi (the Uber of China), or with one of the many tourist buses.
It cost 150 Yen, roughly $20 USD to enter. If you have a student ID then it is half the price.
Opening hours are from 8:30 a.m. -5:30 p.m during the months of December-February and till 5 pm the rest of the year.
By Bus: If you're taking public buses from the Xi'An Train Station head to the Eastern car park and take one of the air-conditioned green or blue, English labelled 'Terracotta Warriors' buses. 8 Yen, it takes one hour and leaves every ten minutes.
The reason I recommend a guide is because there is so much history and information that you'll only learn if a guide explains and shows you around the museums and tomb areas. I unfortunately did NOT go on a guided Terracotta Warriors tour when I visited thus found this out the hard way. I left feeling underwhelmed and wishing I wouldn't have been so stubborn and hired a guide.
About the Terracotta warriors tour & site
The Terrcotta Warriors are displayed in 3 different pits. Start with Pit 3 which is the smallest pit and contains 72 warriors and horses. This is believed to have been the army headquarters due to the number of high ranking officers contained here.
Next explore pit 2, which contains around 1,300 warriors and horses. Here you'll be able to examine a couple of the statues up close. The detail that went in to sculpting each and every warrior is truly mind blowing.
Finally you'll get to visit Pit 1 which is the largest pit and what you think of when you plan to visit this museum. This pit is believed to contain 6,000 warriors but only 2,000 are on display. It is a very impressive sight and is housed in what looks like an old airplane hangar.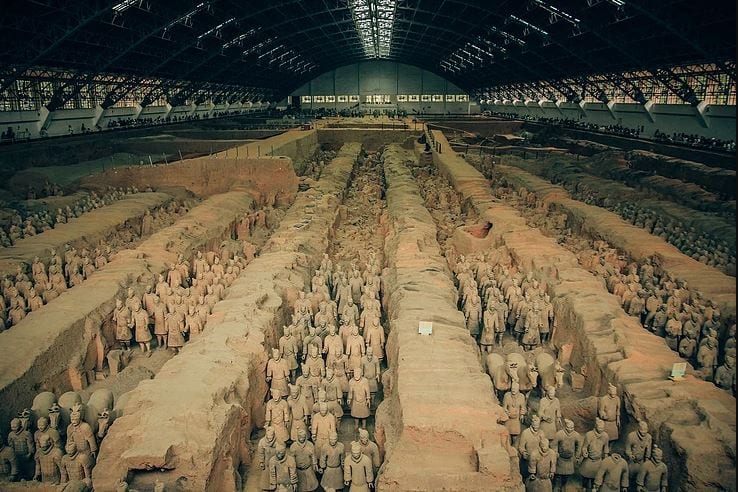 ↑ View from the first pit.
There is a small museum to the right of the large pit which has two bronzed horses with chariots and some weaponry that you can also view up close.
Exploring all of the museums and walking around the grounds should take about 3 or 4 hours. There are restaurants on the grounds if you want to grab lunch and enjoy a full day.
Fast Facts About the Terracotta warriors
The Terracotta Army is a collection of life-size terracota sculptures depicting the armies of Qin Shi Huang, the first Emperor of China.
The Army wasn't discovered until 1974 by local farmers!
The figures vary in height according to their roles, with the tallest being the generals.
It's one of the most famous archaeological finds in the world.
The figures include warriors, chariots and horses.
The three pits hold just under 10,000 warriors but a majority of them remain buried.
Work on the mausoleum began in 246 BCE.
The purpose of the warriors were to protect the emperor in his afterlife.
All the pottery warriors are facing east. According to historical records, the original ruling area of Qin was in the west and the other states were in the east. Qin Shi Huang always planned to unify all states, so the soldiers and horses facing east might confirm his determination for unification.
The same Emperor starting to building of the Great Wall of China.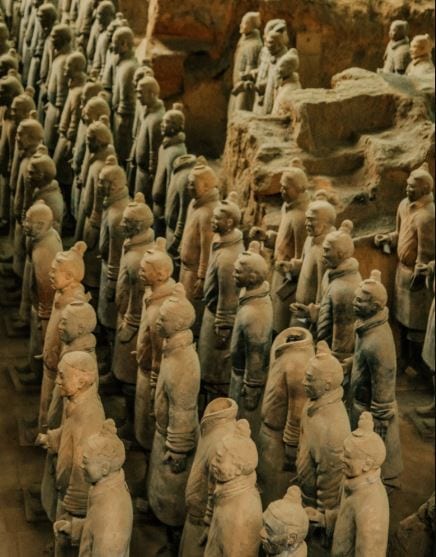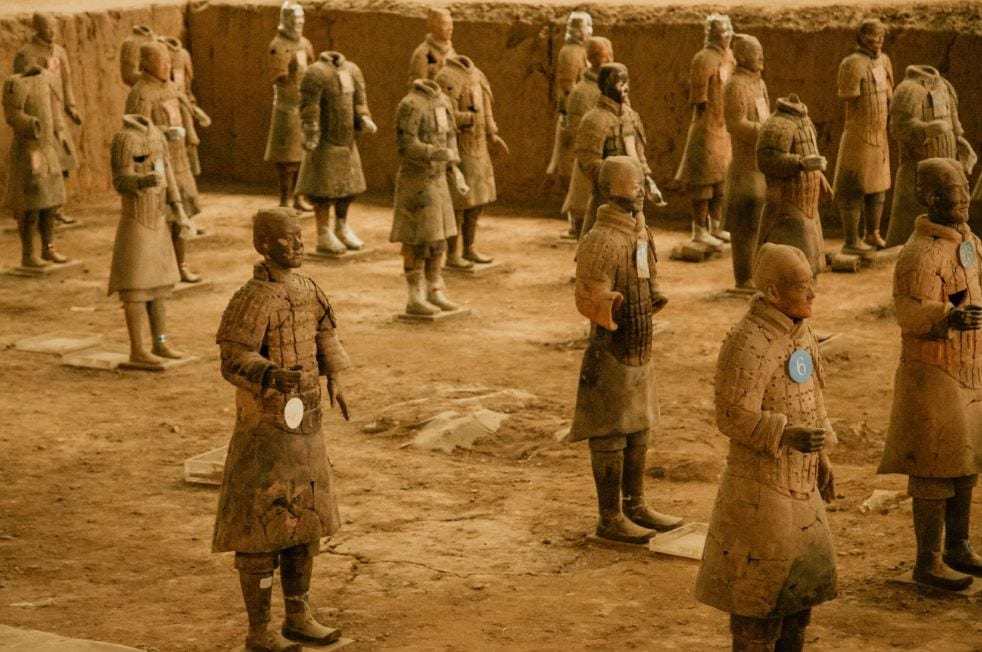 Headed to China? Check out some Guides ↓
Enjoy this Post?!?! Pin in for Later ↓