Huacachina is a man-made village built around a small Peru desert oasis. If you think this desert oasis looks insane from photographs, you should see it in real life.
We came to Huacachina for 2 nights as we wanted a full day here and it was the best decision. A lot of people visit Huacachina on a day trip but if you want to fully experience this small desert town, hop on a bus, stay a couple nights and be on your way.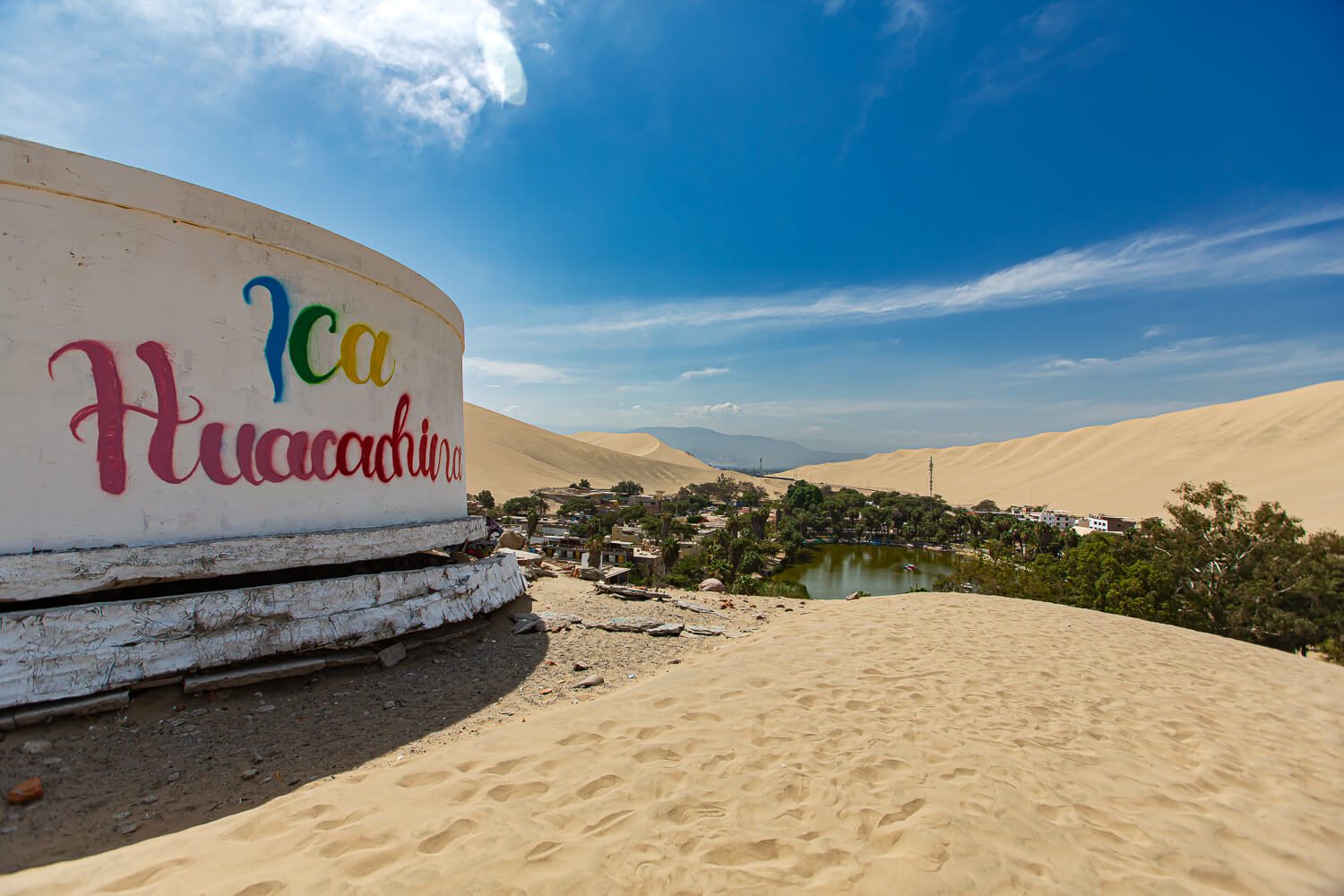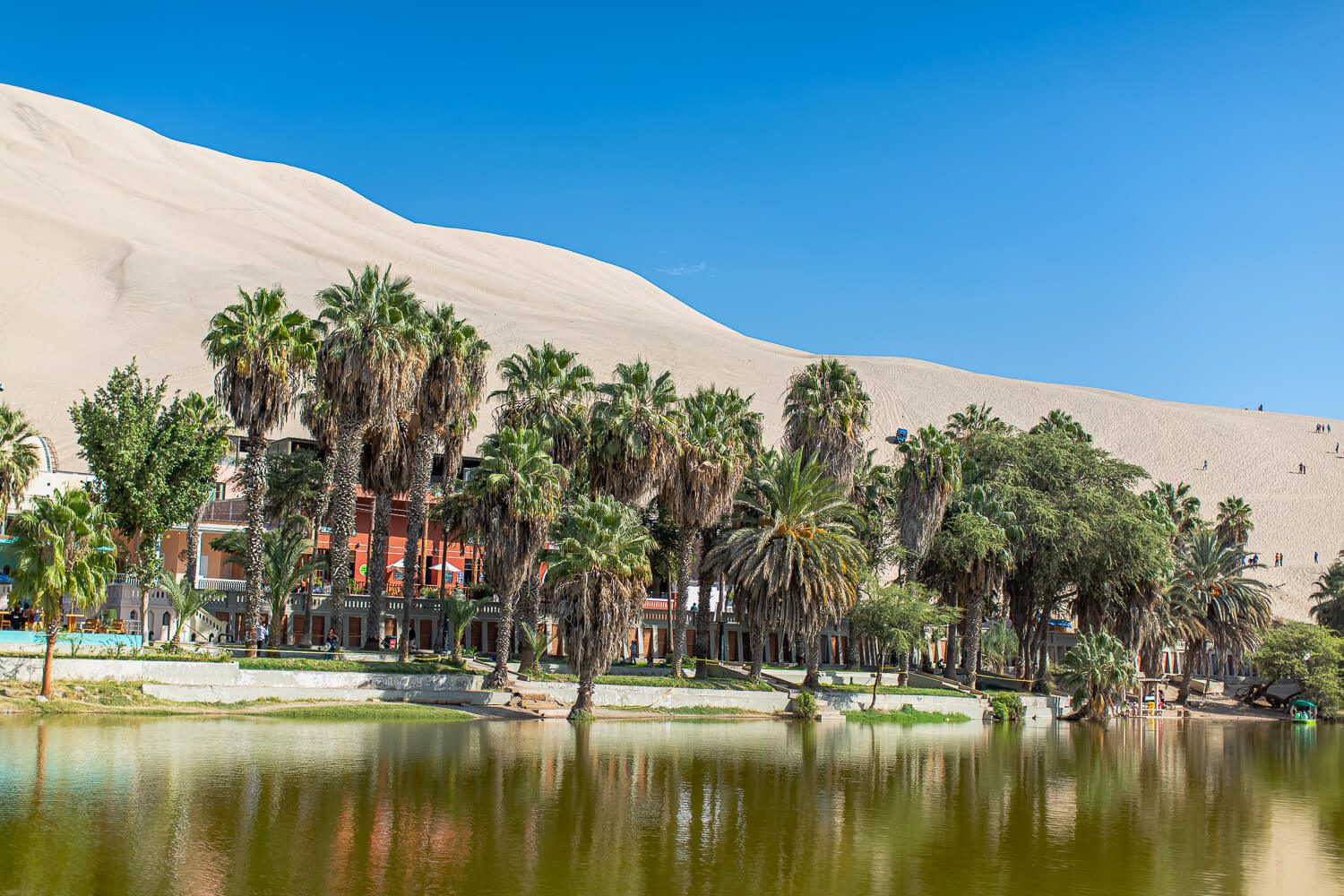 For full transparency, I have sprinkled some affiliate links in this post.  As an Amazon Associate I earn from qualifying purchases that gives me a small commission at no extra cost to you if you decided to make a purchase.  As always, I would never recommend a product or service that I didn't truely believe in.  All proceeds go to keep Jess traveling and coffee ☕️.  I thank you in advance.
Is Huacachina worth visiting? If you want to see what it's like to explore this Peru desert Oasis, check out this travel vlog as Joe and I explore Huacachina and hike up the giant sand dune not once, but twice to enjoy some epic views of the Peru oasis below.
Huacachina, pronounced as 'Waka-Tjseena', is a small desert town located in southwestern Peru. This tiny village is home to less than 1,000 local people. What draws people to experience this small Peru village is the Huacachina sand dunes.
Huacachina is completely surrounded by these sand dunes, which are the tallest sand dunes in South America. Not only are these dunes the tallest in South America but Huacachina is the only desert oasis in South America.
The Huacachina Oasis is full of adventures just waiting to happen, from sand boarding to dune buggy tours, Huacachina is a must stop on anyones Peru itinerary and one of the coolest places to see in Peru.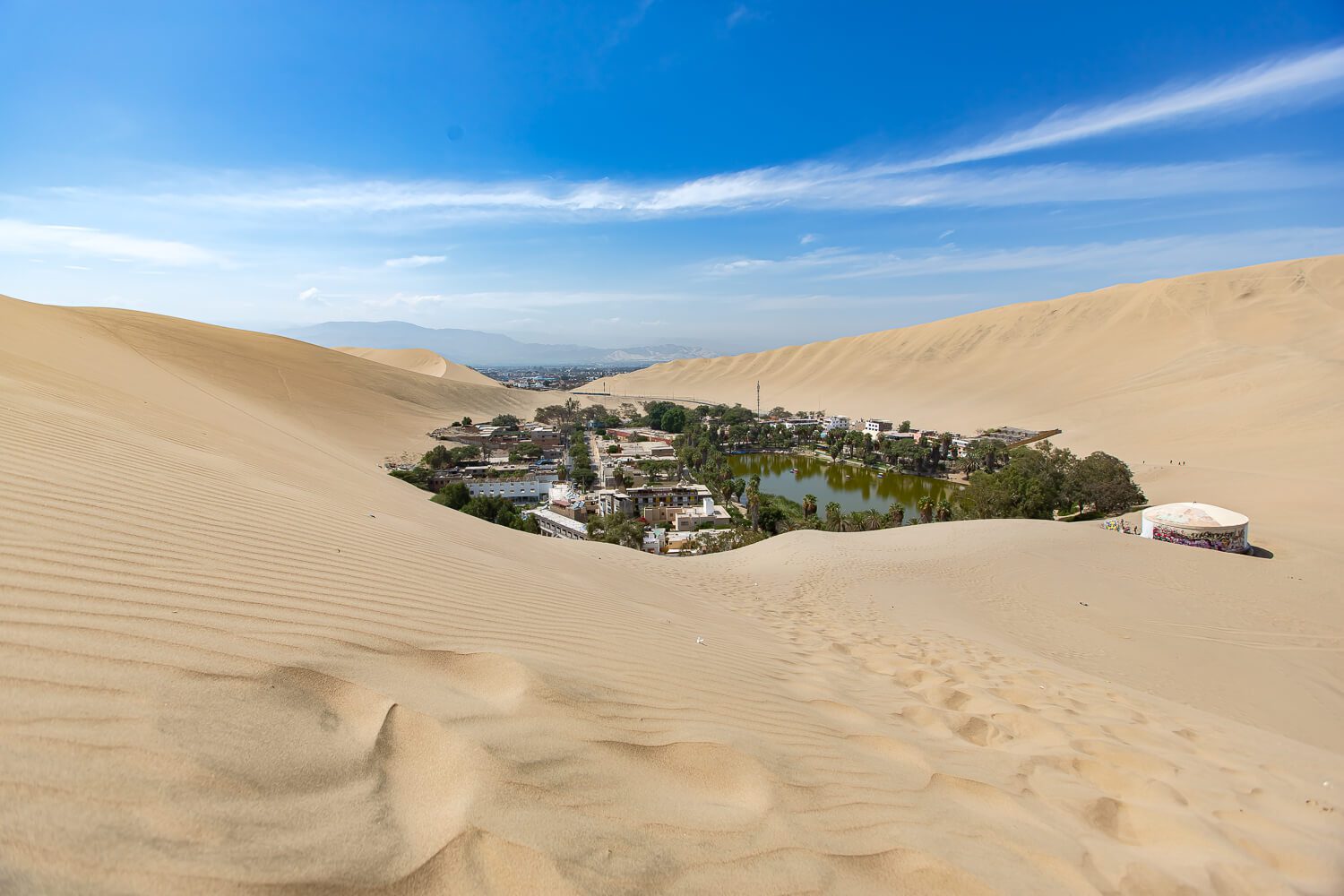 Things to do in Huacachina | Peru Desert Oasis
Most travelers make the journey to Huacachina for sand boarding and dune buggy tours. Since the town is so small there are only a handful of things to do in Huacachina.
Sandboarding Huacachina is the primary draw to this tiny desert town. This Peru sandboarding activity is suitable for all skill levels. Beginners can go down the slopes on their stomach, and the pros can go down snowboard style.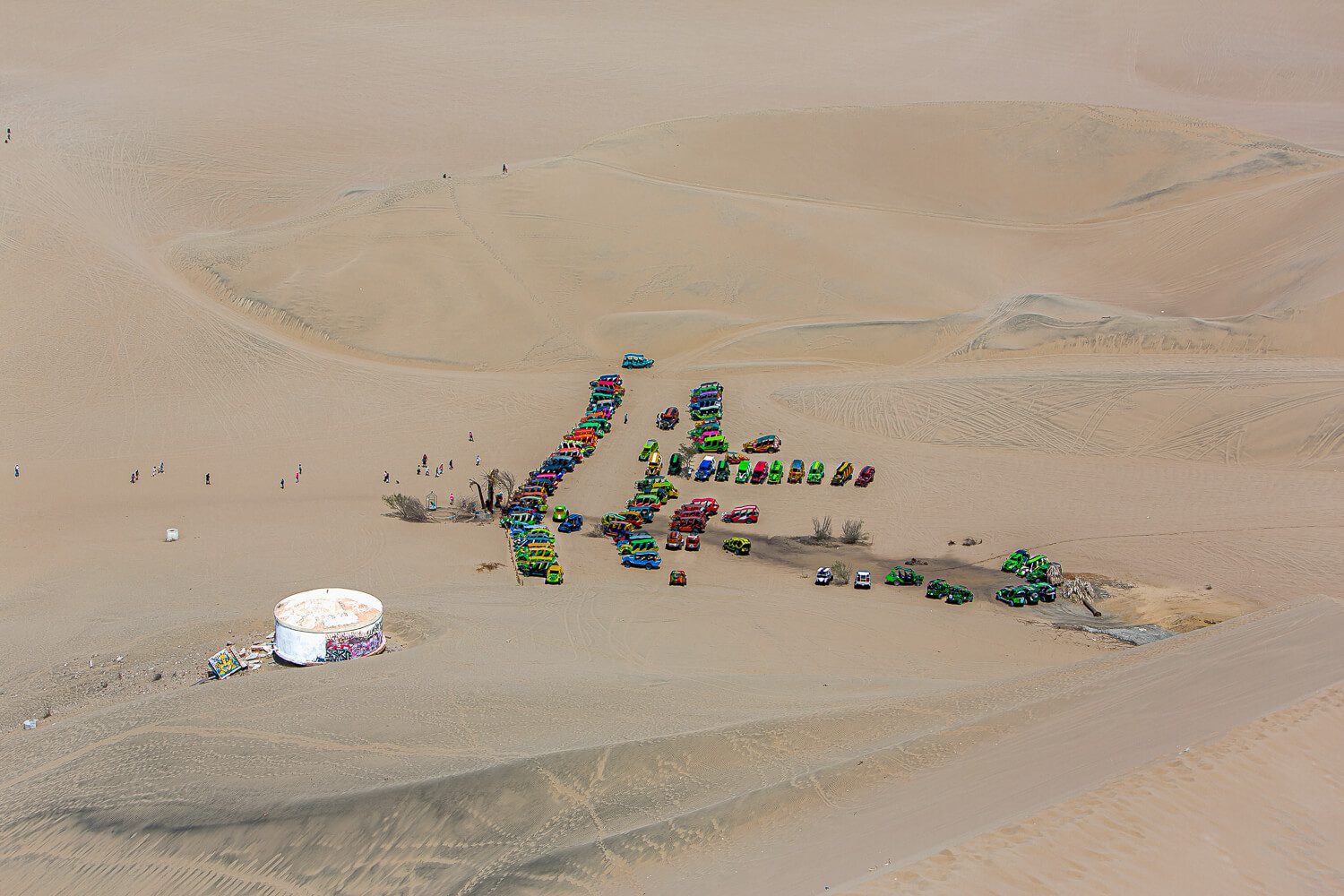 Another popular activity is embarking on a Huacachina dune buggy tour. On this incredible adventure, travelers hop in dune buggy then the local guides take you on a tour of the Huacachina dunes, flying over large humps in what seems to be a never-ending desert of sand.
If that wasn't adventure enough you can pair this tour with sandboarding down the sand dunes. If you are staying in Huacachina then you don't need to book a tour in advance, you can just walk up to the dune buggies and haggle a tour. But if you like to plan ahead you can book a tour here.
If you are visiting Huacachina on a day trip you can check out these tours below.
Boat Ride in the Huacachina Lagoon
The small lagoon at the center of Huacachina has paddle boats for rental. Rentals costa around 50 Soles and last for an hour. It is possible to swim inside the lagoon but I'd stick to the paddleboats.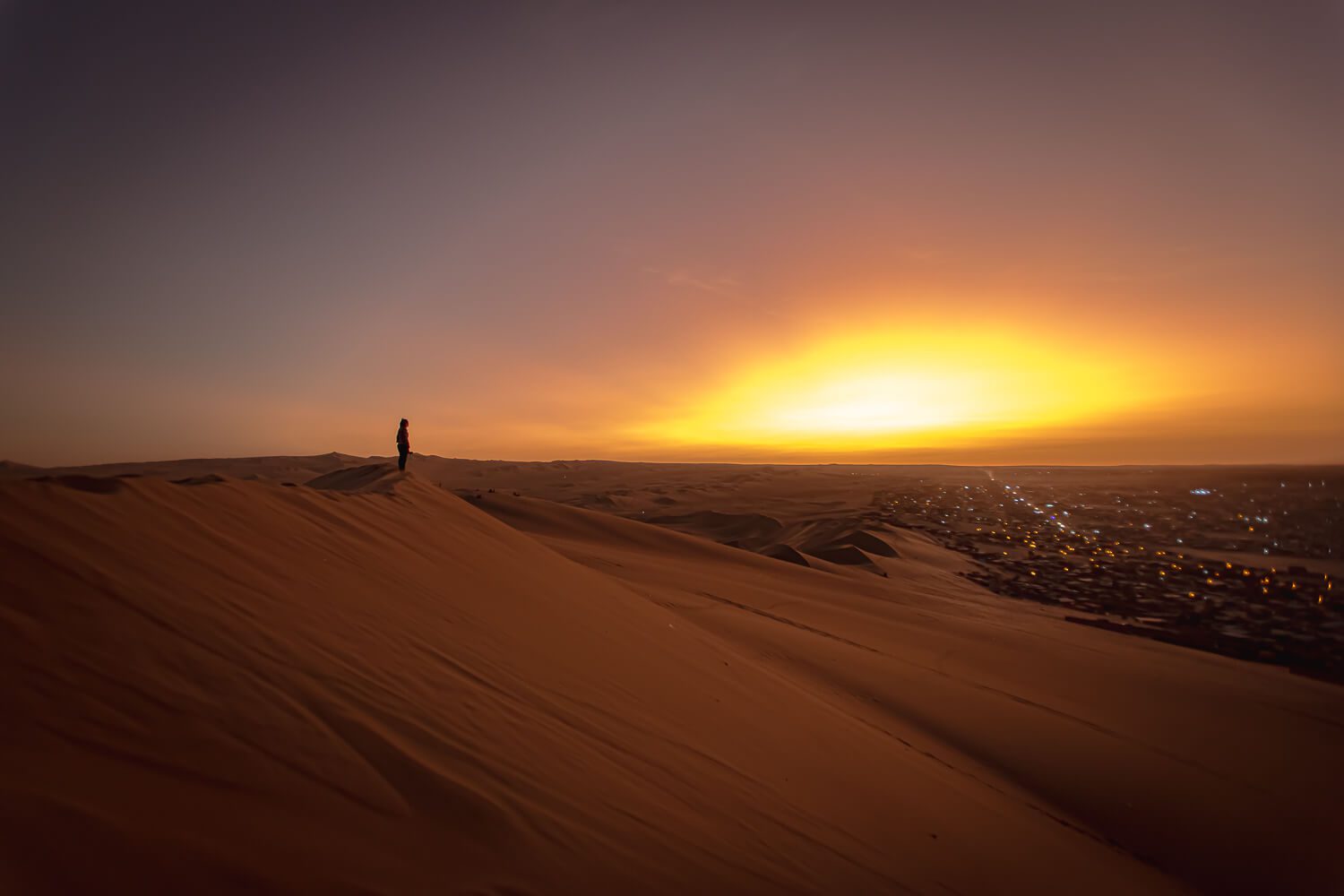 Sunset atop the Huacachina Dunes
If you want to experience a memorable sunset, climb the exhausting 20 minutes to the top of the dune for sunset. I promise this hike in Peru is worth it as the sunset is magical. Watch the lights of Huacachina and Ica light up as the sun sinks below the sand.
Travel Tip: Make sure you bring a sweatshirt or flannel as it gets cold once the sunsets.
Nearby Things to do Huacachina
If you are staying in Huacachina for several nights you can check out these day trips from Huacachina.
Apart from Huacachina, Ica is also famous for its Pisco and wine vineyards. Pisco is the national drink of Peru, and Ica is often called the home of Pisco. On a Pisco Vineyard tour, you will discover the history of this drink, see how it is made and try the delicious cocktail.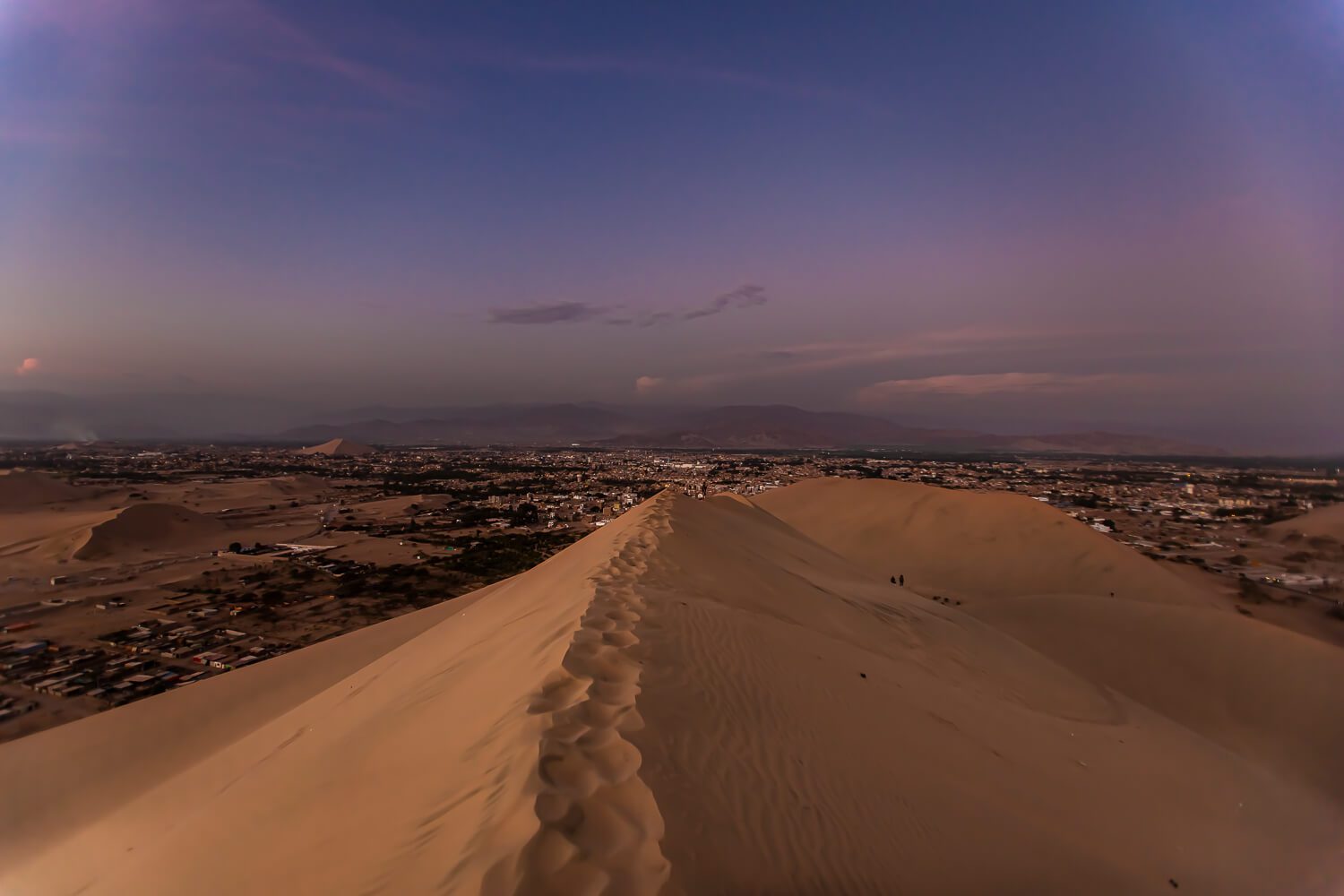 Discover Ica. Better yet, explore the city on a private tour paired with a chocolate factory and delicious wine tasting.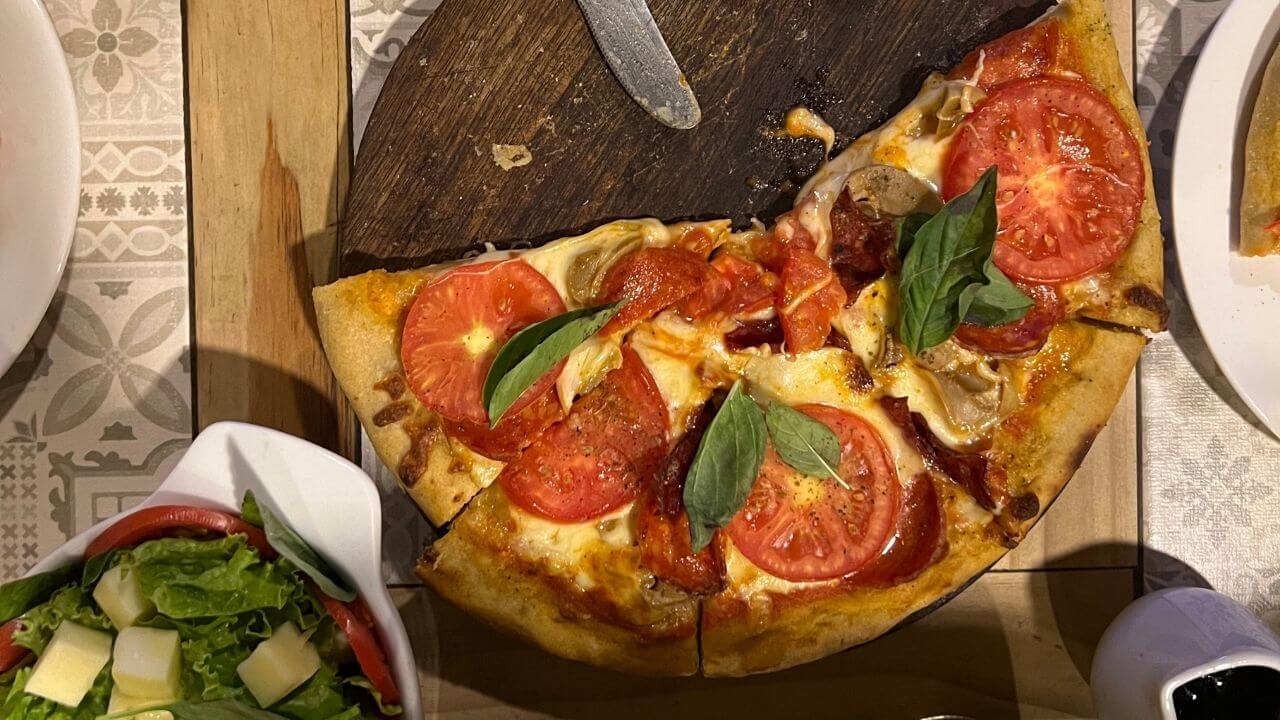 Where to Eat in Huacachina
If you eat anywhere in Huacachina, you must eat at the Wild Olive! This is by far the best restaurant in town. It's an Italian joint that serves up tossed pizzas, hand made pastas and fresh salads. Every meal that passed by our table looked amazing.
If you've read my 20 things to know before traveling to Peru, you'd know that portion sizes are huge! We had a salad and personal pizza and still left a slice on the table. We were hungry too as we had hiked to the top of the sand dune for the second time that day to catch sunset.
Huacafuckingchina right next door to the Wild Olive is another place to check out. It had great vibes as Javi who worked there really made the experience. He's full of energy and easy to talk to. The food was pretty tasty as well. It becomes quite a party at night so if you're looking for a more upbeat scene, this is your spot.
Huacachina is a small town and there are only so many options for food. But I can't stress eating at the Wild Olive enough…it was that good.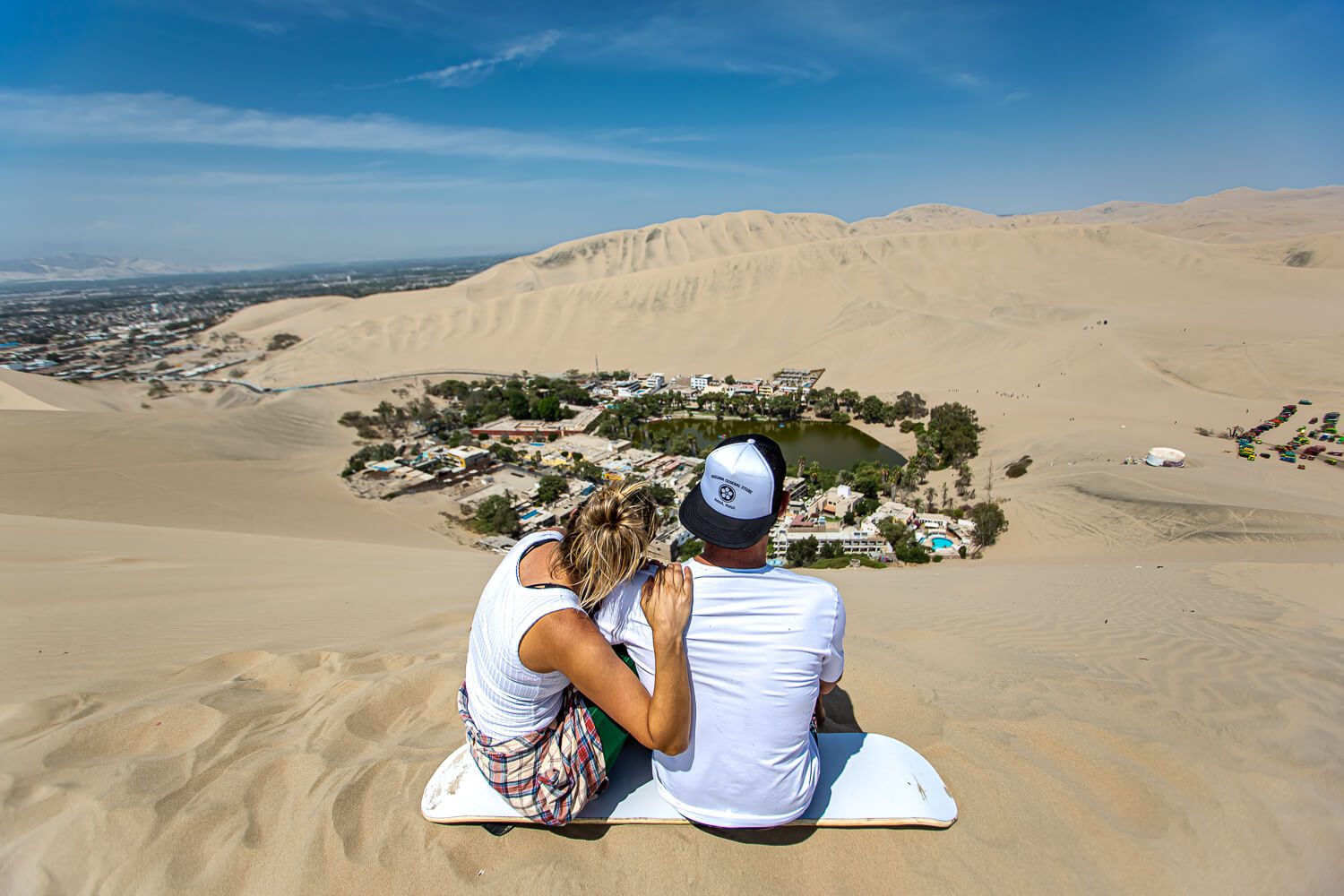 How to Get to Huacachina, Peru
There are a few options to get to Huacachina and they all involve a bus. The small oasis can only be reached by land with the following 2 options.
Lima to Huacachina by bus takes about 4 hours. If taking a public bus, you will have to take a bus from Lima to Ica. Once in Ica, you need to find a taxi to take you to the oasis of Huacachina. It takes about 15 minutes to get to the town from the Ica bus station.
Cusco to Huacachina by bus takes at least 16 hours. I recommend visiting Huacachina from Lima because a 16+ hour bus is not very fun. Plus once you arrive in Ica, you will need to take a taxi into the Peru desert oasis.
If you are looking for a direct bus to Huacachina, Peru Hop is the only direct bus to Huacachina. Read my honest review of Peru Hop to decide if this is the way to go.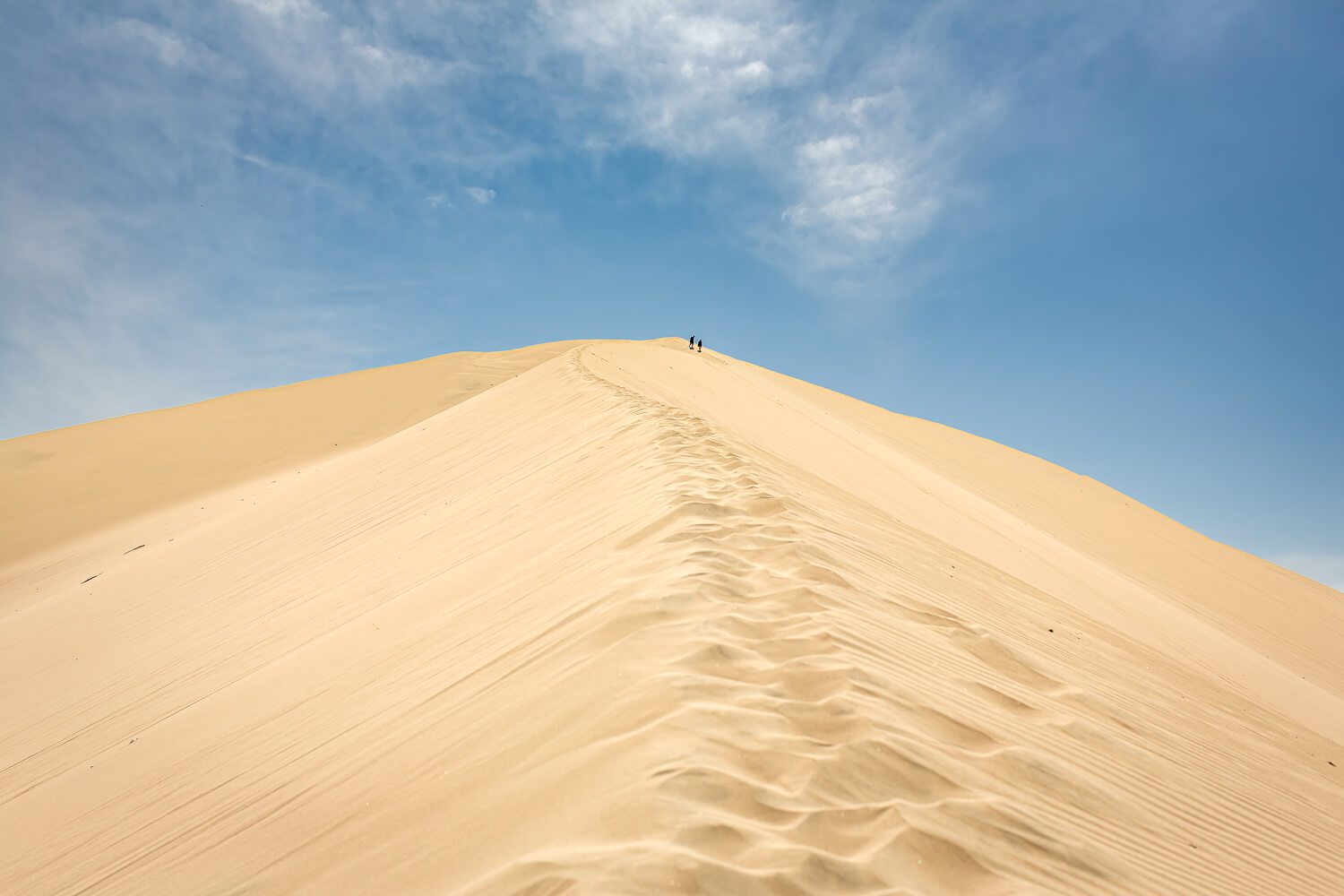 Where to Stay in Huacachina
I absolutely recommend staying in Huacachina town. Accommodations are a bit pricier but worth it to wake up inside a desert oasis in Peru.
I stayed at the Hostel Boulevard and it was basic, nothing great but nothing terrible. I heard good things about the Desert Nights Hostel directly next door. If you want more of a nightlife and popping scene check out the Wild Rover Hostel.
If you have a bigger budget book Hotel El Huacachinero or DM Hoteles Mossone. They both have nice rooms and lovely pools which is almost a necessity when traveling here in the summer.
Ica is a larger city located about 10 minutes away from Huacachina. You can always book accommodation in Ica and take a taxi into the Peru oasis for about 10 soles.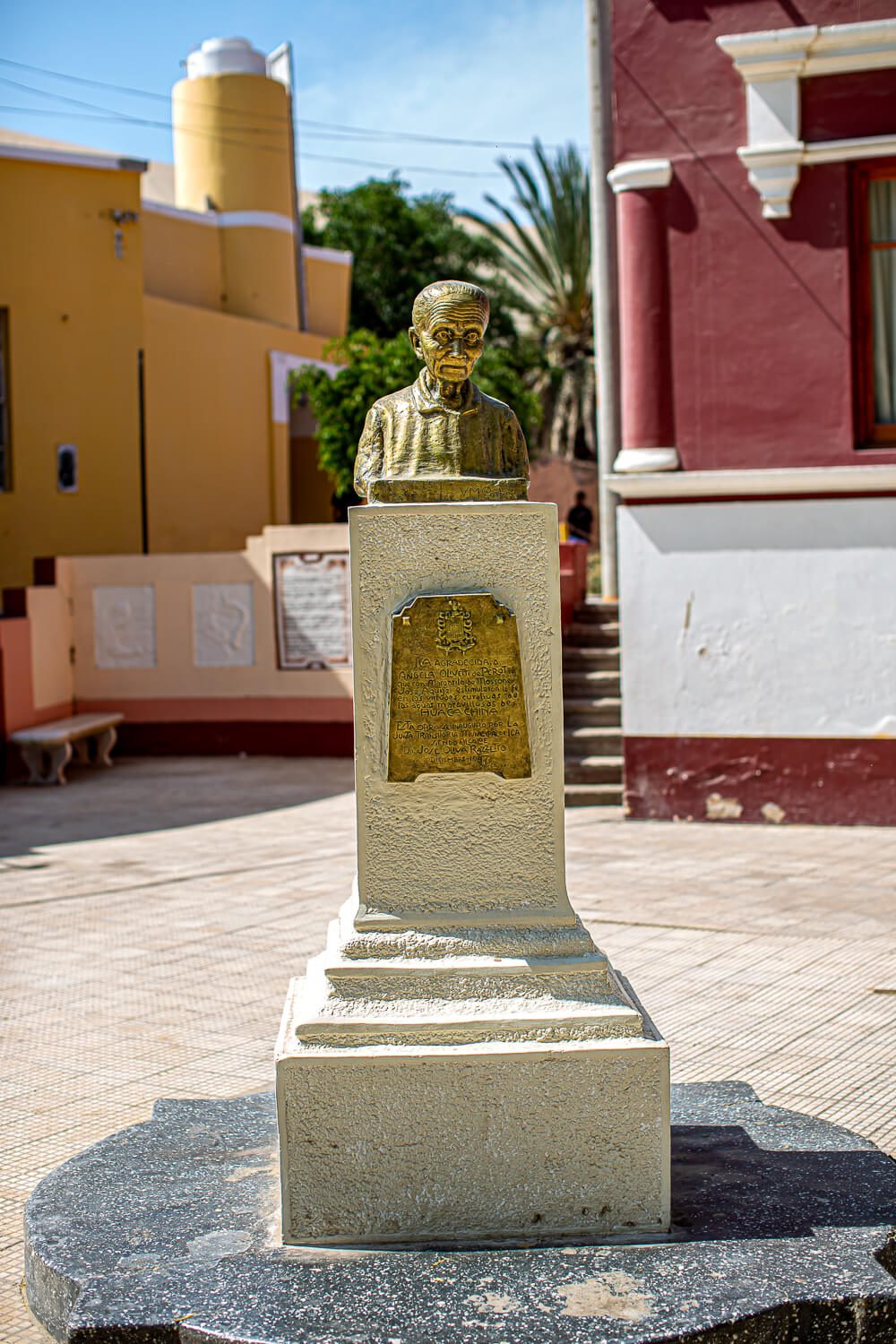 Tips for Visiting Huacachina, Peru
ATM's: I have read on several blogs that there are no ATMs in the town but I saw one right outside of the Wild Rover Hostel.

So this may be a new addition to the town but I would bring enough cash to get you through just in case it's down or out of money.
Weather: It is hot! Huacachina is a Peru desert oasis after all. I traveled through Peru during the Fall/Winter and it was high of 84 degrees during the day. I felt like I was back home in Lahaina, Maui during the summer. You will still want to pack shorts for the daytime even if you are traveling to Huacachina during the winter.
As soon as the sun goes down, it gets cold! If you are atop the dunes for sunset, make sure you have a sweatshirt or flannel to throw on die the way down.
Bring sunscreen as it's always hot and sunny. Check out this article for best reef safe sunscreens for your face.
Peru Travel Guides
📍Plan your Trip:

🗺 How long to travel Peru? 2 Week Itinerary through Peru

☔️ Best Time to Visit: The best time to visit Peru is in the shoulder months of dry season – March-May or October-September.

💰 Average Daily Budget: Peru Budget Guide

⛺️ Peru accommodation Guides

🪂 Highlights

Machu Picchu
Sacred Valley
Lima's Food Scene
Trekking Cordillera Blanca

🧳 What to Pack: What to Pack for Peru

🎥 Watch our Peru Series on YouTube

📧 Get on my Email list to see what I'm up to and all the best travel content!
I would love to hear your thoughts about Huacachina, Peru's desert Oasis? Let me know in the comments below.
Enjoy this Post?!?! Pin in for Later ↓