Iao Valley is a historic state park in Maui home to iconic Kuka'emoku commonly known as Iao Needle. This family friendly State Park is an ideal attraction for easy hiking, sightseeing and history.
In 1790 in Iao Valley the Battle of KepaniwaiIt took place. This battle was gruesome and vicious as Kamehameha defeated Maui's army. This ultimately changed the course of Hawaiian history which makes Iao Valley very sacred to the Hawaiian people.
Iao Valley State Monument is always on the Must See List as its easy to get to, quick to see and you'll be surrounded by lush tropical beauty. The small park has paved trails with handrails which makes it suitable for elders and children. This is one of the best things to do in Maui on a budget.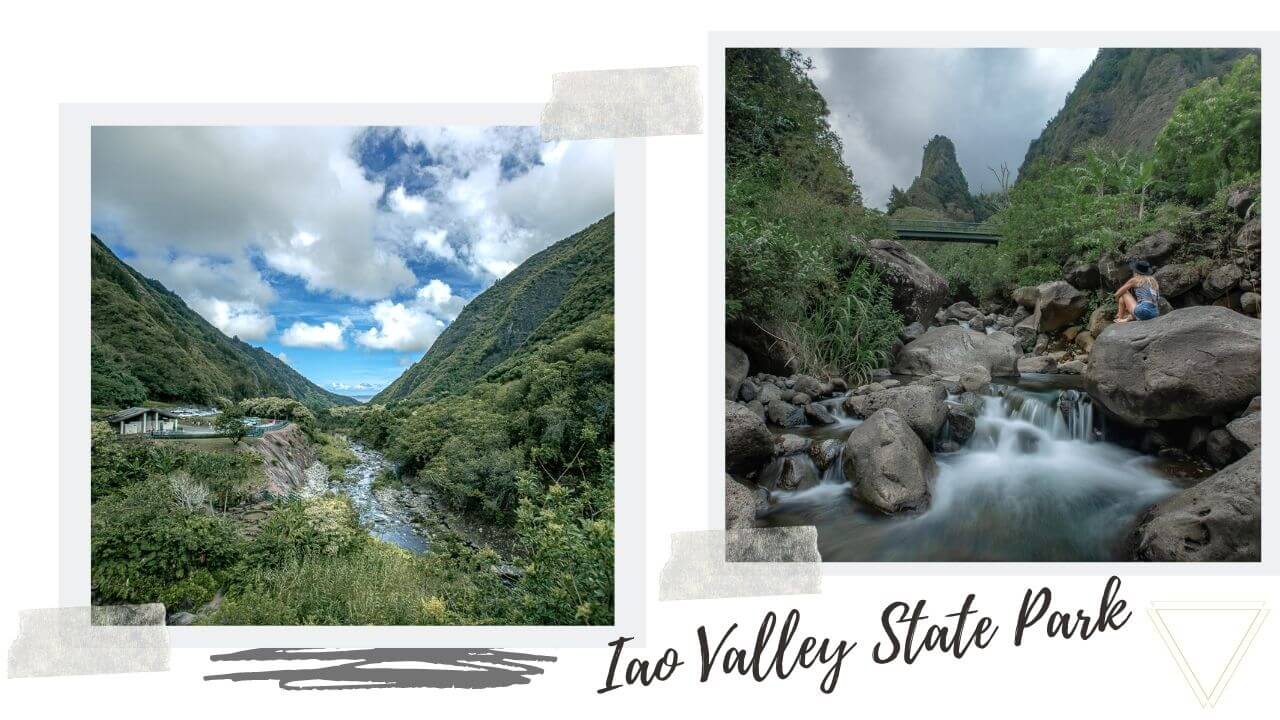 For full transparency, I have sprinkled some affiliate links in this post.  As an Amazon Associate I earn from qualifying purchases that gives me a small commission at no extra cost to you if you decided to make a purchase.  As always, I would never recommend a product or service that I didn't truely believe in.  All proceeds go to keep Jess traveling and coffee ☕️.  I thank you in advance.
Hours of operation: Open 7 days a week from 7 am to 6 pm.
Entrance Fees: Residents Free (with Hawaii DL)
Parking Fees: Residents Free (with Hawaii DL) Non-Residents $10
No Drones
Don't take the rocks, plants or sand.
No animals with the exception of service dogs.
Obey the signs. Kapu means Keep Out.
Things to do in Iao Valley State Park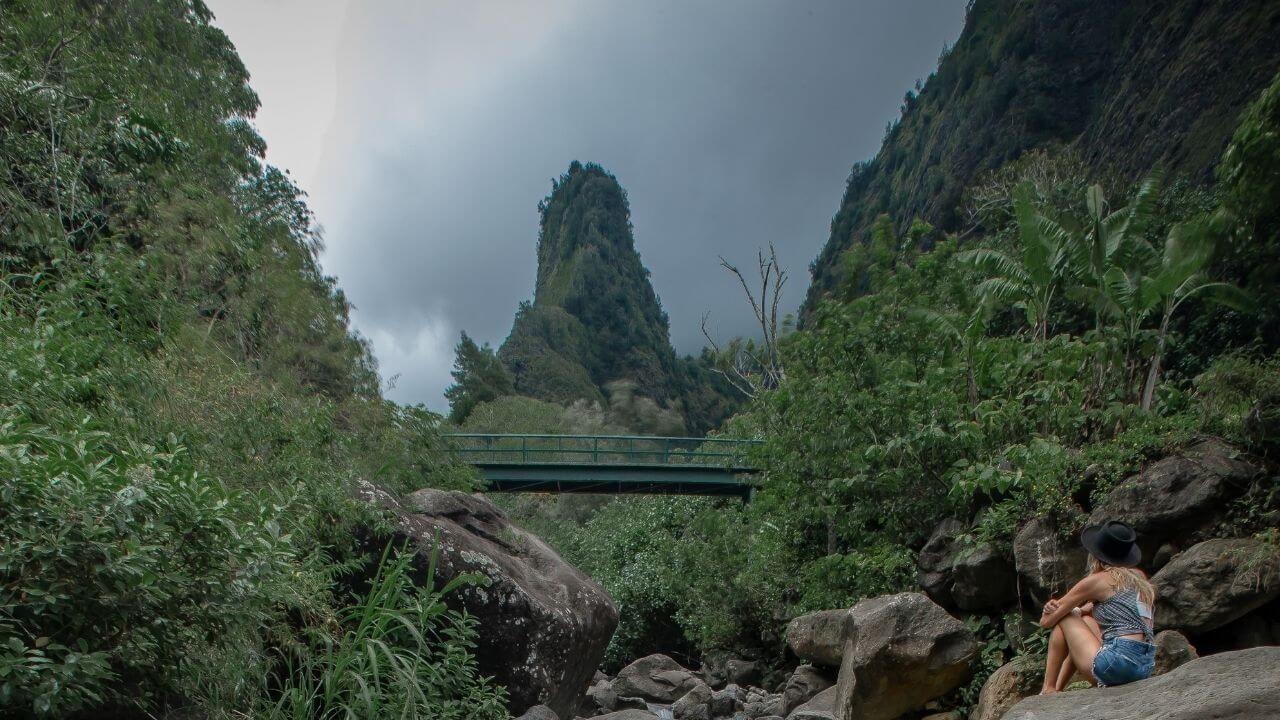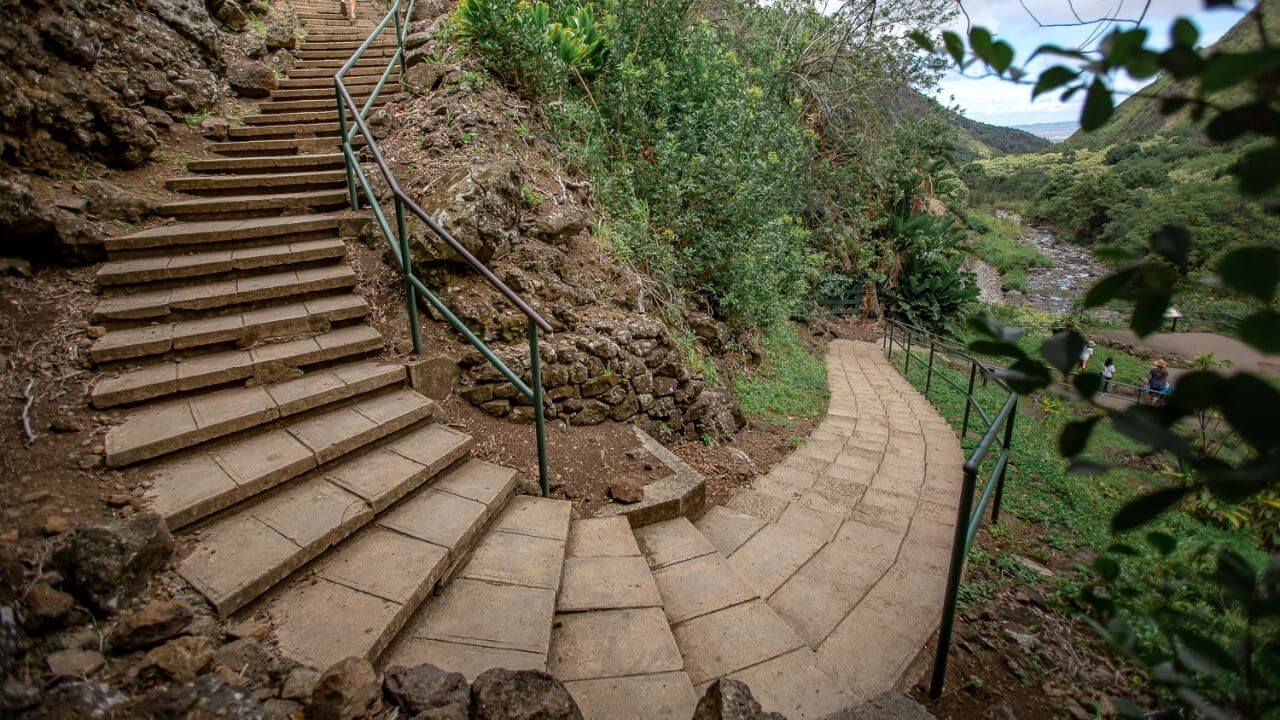 The main attraction here is Iao Needle – a steep peak of lush mountain jutting 1200 feet into the air. The Iao Valley Needle Trail is a well-marked, paved pedestrian 0.6 mile path leading from the parking lot to the Iao Needle lookout.
As you climb the stairs, you are greeted with incredible views of the valley floor below. Most anybody can visit the 'Needle' as the trail is paved, there are ample hand rails and the elevation climb is only 200 feet.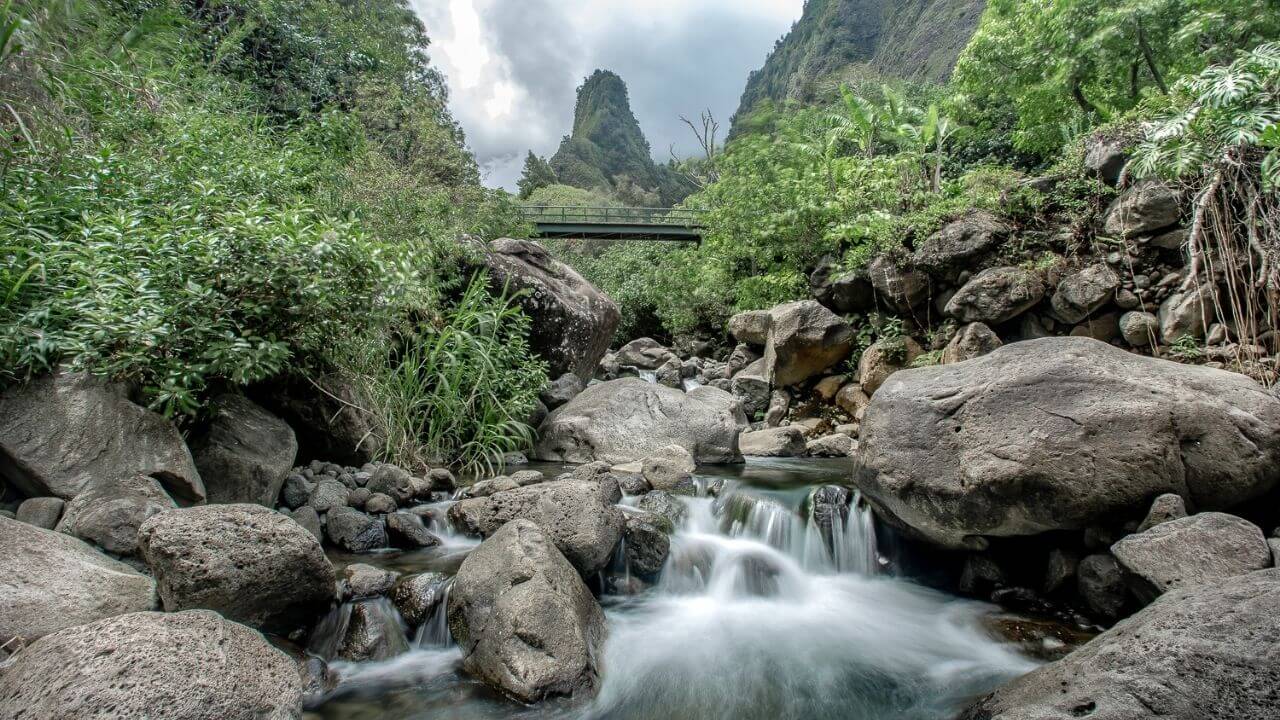 After you cross the bridge on the way to Iao Needle observation deck, you have the option to go up or down. Up leads you to the Needle and down takes you to the stream. There are places to swim around and cool off in the clean waters. Be one with nature as you relax by the stream.
Travel Tip: Stay on the trails and Do Not enter areas or trails with signs marked Kapu (keep out)! Wandering into & exploring off the marked trails is disrespectful & trespassing. The land is extremely sacred and we all must respect the 'Āina everywhere we go.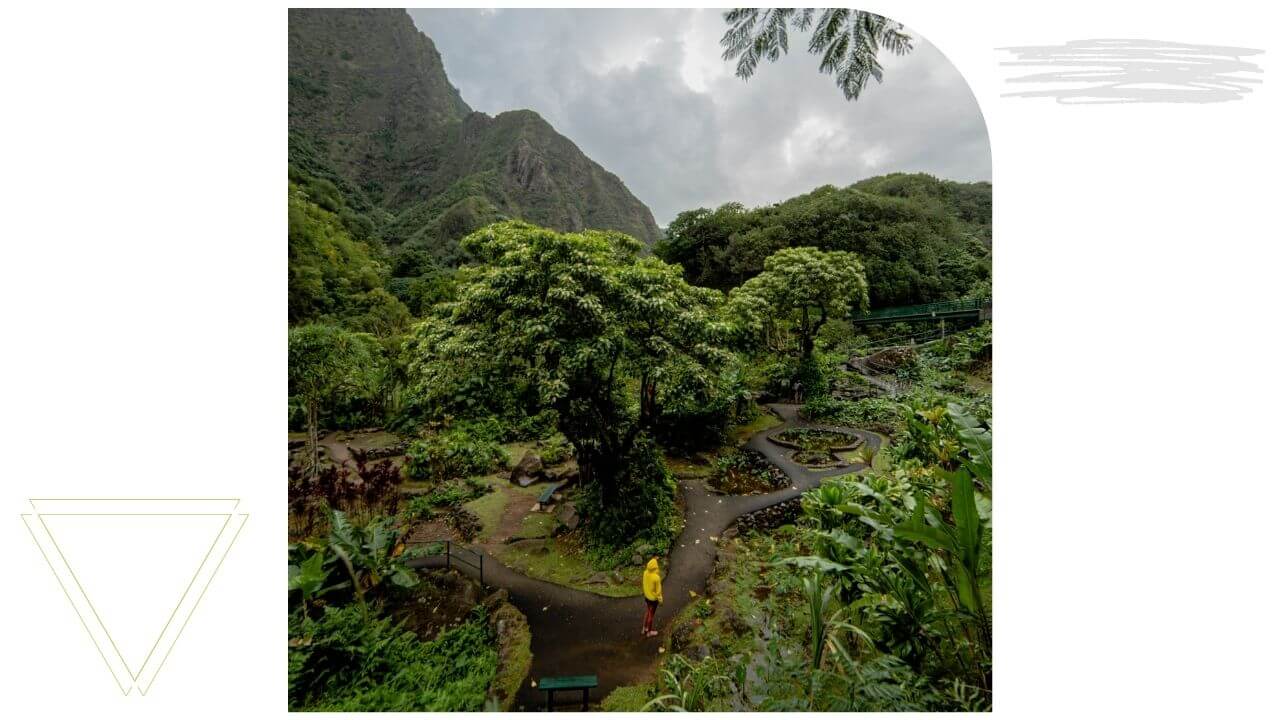 As you enter the park before the footbridge is a small exhibition area where the park has modeled what the historic valley once was. Learn about the type of plants that were cultivated before other cultures moved in.
Kepaniwai Park Heritage Gardens
Although not technically in Iao Valley is the Kepaniwai Park Heritage Gardens. On the road before the State Park are the gardens. The gardens are a nice place to stroll around and have a picnic lunch.
Restored in 1994, the gardens memorialize the multicultural history of Maui, with buildings and gardens representing Hawaiian, American missionary, Chinese, Japanese, Portuguese, Korean, and Filipino cultures.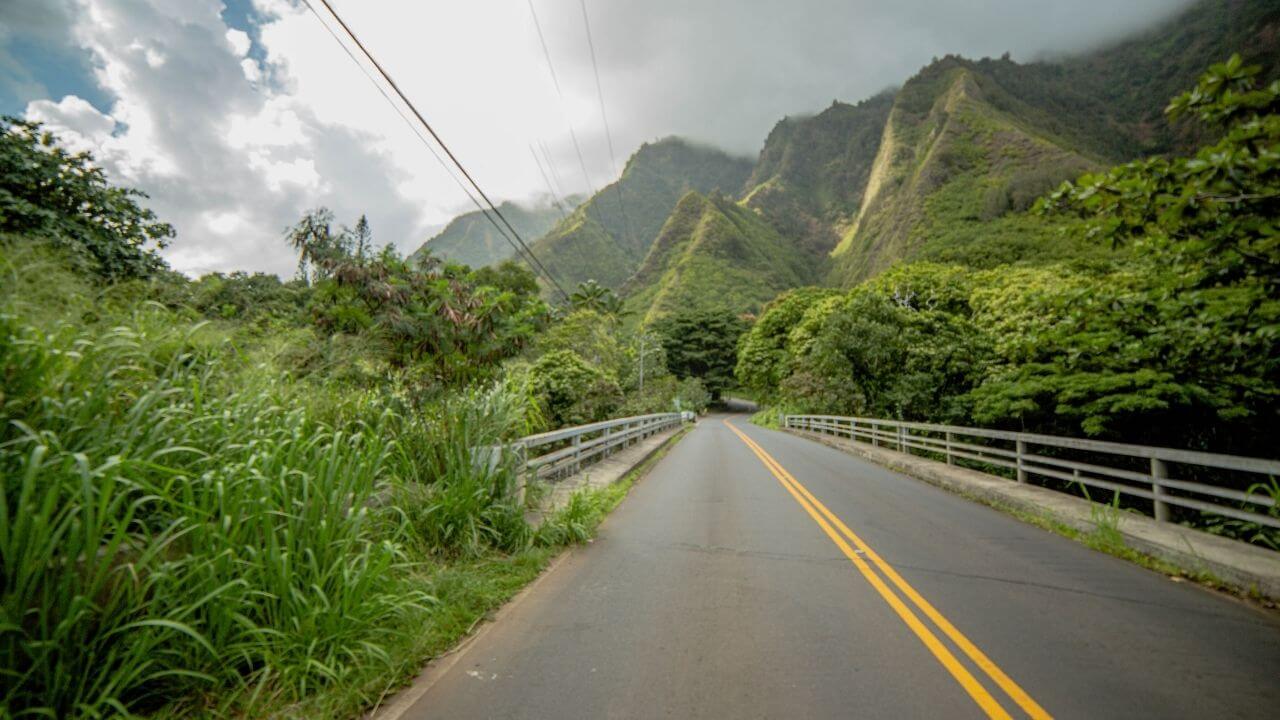 Iao Valley is located in Central Maui 3 miles West of Wailuku which is about 10 minutes in the car. Visiting Iao Valley is one of the most popular things to do in Central Maui.
From the North Shore of Maui it takes about a half hour to get to Iao Valley, Paia town is about 30 minutes away and Haiku is about 45 minutes away.
It may not look like it is that far to Iao from West Maui on a map as the actual distance from Lahaina to Iao is only 9 miles but there is only one road and it snakes the whole way to the valley.
From West Maui its takes anywhere from 1 hour to 45 minutes to get to Iao Valley depending on where you are staying on West Maui. From Lahaina Iao Valley State Monument is 45 minutes away and an hour away from Kaanapali (a popular resort area in West Maui).
From South Maui it takes 25 minutes to get here from Kihei and 35-40 from Wailea.
There is no public bus that will drop you off at Iao Valley. You can take the public bus to Wailuku and then catch a cab to I'ao but you would spend more time getting there than actually exploring the valley.
If you are traveling Maui without a vehicle you can catch an uber or lfyt but be prepared for that ride to cost anywhere between $50 – $100 depending on where you are coming from.
If you are planning on doing lots of exploring I recommend that you rent a car. Not only will it save you money on costly cabs but you'll have more time to explore the Valley Isle.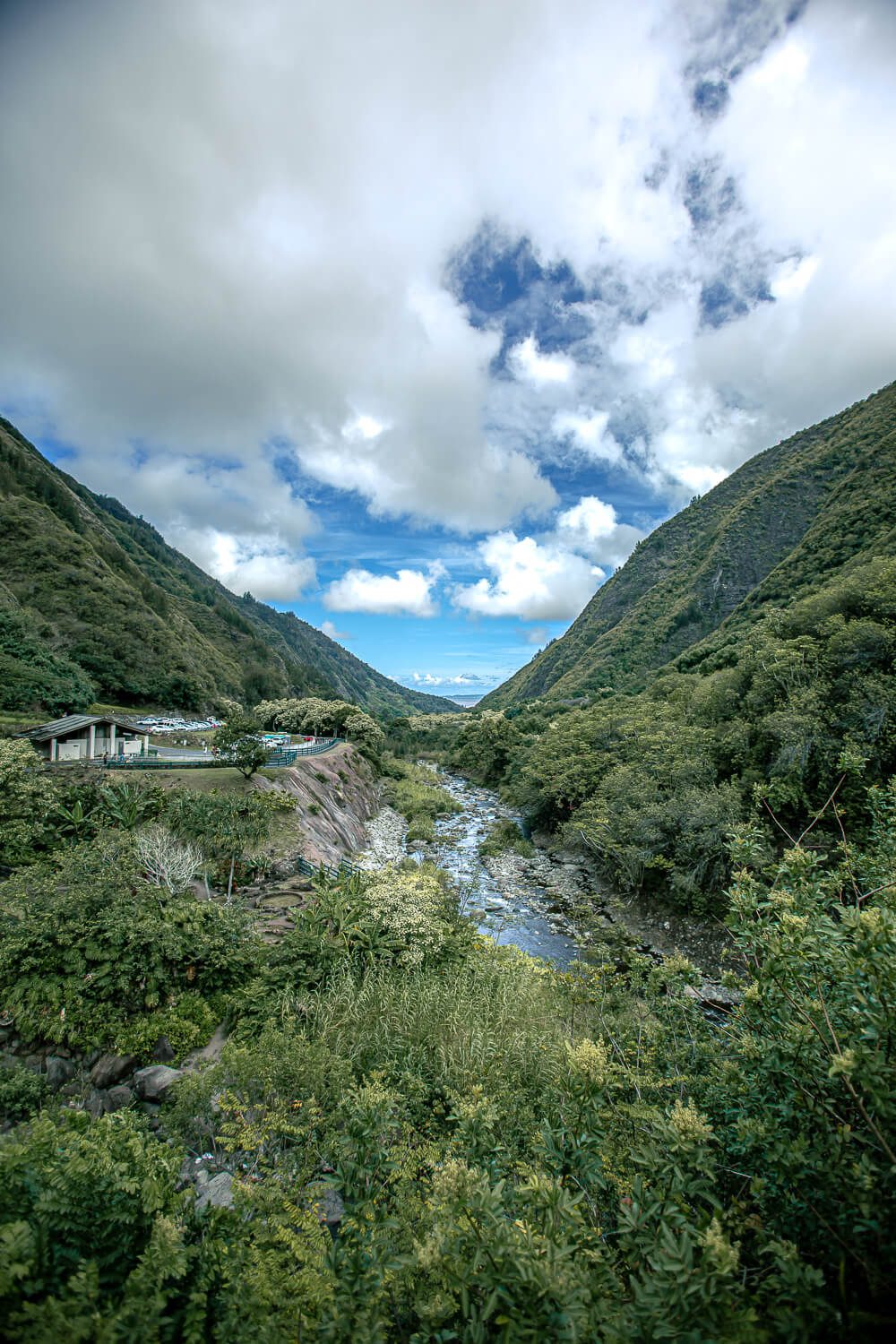 Best Time to Visit Iao Valley
The best time of year to visit the Iao Valley is usually in April or May when the weather isn't too hot, the crowds are smaller, and chances of blue bird skies are very high.
Iao Valley is the second wettest place in Hawai'i (the wettest being Mount Waialeale on Kauai). Winter months bring more rain so it'd be a good idea to bring a rain jacket if you are visiting Iao during the winter.
People always ask me is Iao Valley worth visiting? The answer is always yes. It is a relaxing place to enjoy the scenery, swim or hike around. I always recommend to visit Iao Valley on the day you are flying out of Maui as it only takes a few hours to explore and it is only 20 minutes away from the airport.
Other Things to do in Central Maui
Have you been to Iao Valley State Park? What do you think? Let me know in the comments below.
Enjoy this Post?!?! Pin in for Later ↓