Jardin, Colombia is a rustic, cowboy town located in the middle of Colombia's coffee triangle. There are plenty of things to do in Jardin that spending a few days in this charming pueblo will complete anybodys Colombian itinerary.
Although becoming more popular on the tourist route, Jardin still feels like you've stepped back in time. Colombian cowboys on horses clamor through town after a hard days work as locals gather to talk story over a cup of coffee or game of pool.
I really enjoyed Jardin, mostly because I felt more of an observer than a tourist. This town doesn't depend on tourism to thrive. Jardin was alive from break of dawn til the night with locals meeting up. Whether it was for a morning coffee and cigarette or night cap watching a soccer game, the town felt like a real community and we were able to get a small glimpse into local life.
For full transparency, I have sprinkled some affiliate links in this post.  As an Amazon Associate I earn from qualifying purchases that gives me a small commission at no extra cost to you if you decided to make a purchase.  As always, I would never recommend a product or service that I didn't truely believe in.  All proceeds go to keep Jess traveling and coffee ☕️.  I thank you in advance.
Jardín is a small Andean coffee town in northwest Colombia. The town is vibrant and full of colors. The main plaza is the focal point of the town which features rose gardens, the stunning Basilica of the Immaculate Conception and cute cafes.
Located about four hours from Medellin, Jardin is one of the prettiest and most colorful towns in Colombia. Whether you are traveling here to experience a coffee tour, disconnect from the hustle and bustle of Medellin or just be able to experience authentic Colombia, Jardin is a place for the wide eyed wondered looking for a taste of small, town colonial life.
Often referred to as the most beautiful town in Colombia (much like Barichara and Guatape), Jardin is a hidden gem gradually getting unearthed. I almost feel guilty about writing about Jardin, Colombia as I want to help preserve the 'secret' but I wouldn't be too good at being a travel blogger if I didn't let everyone know about the special places I encounter around the world.
Best Things to do in Jardin Colombia
Okay, now that you're inspired to visit Jardin, Colombia, let's get you booking that bus as these are the best things to do in Jardin. If you don't have time to read the whole article, below is a quick list of the top Jardin activities. Click on the links for more details on each activity.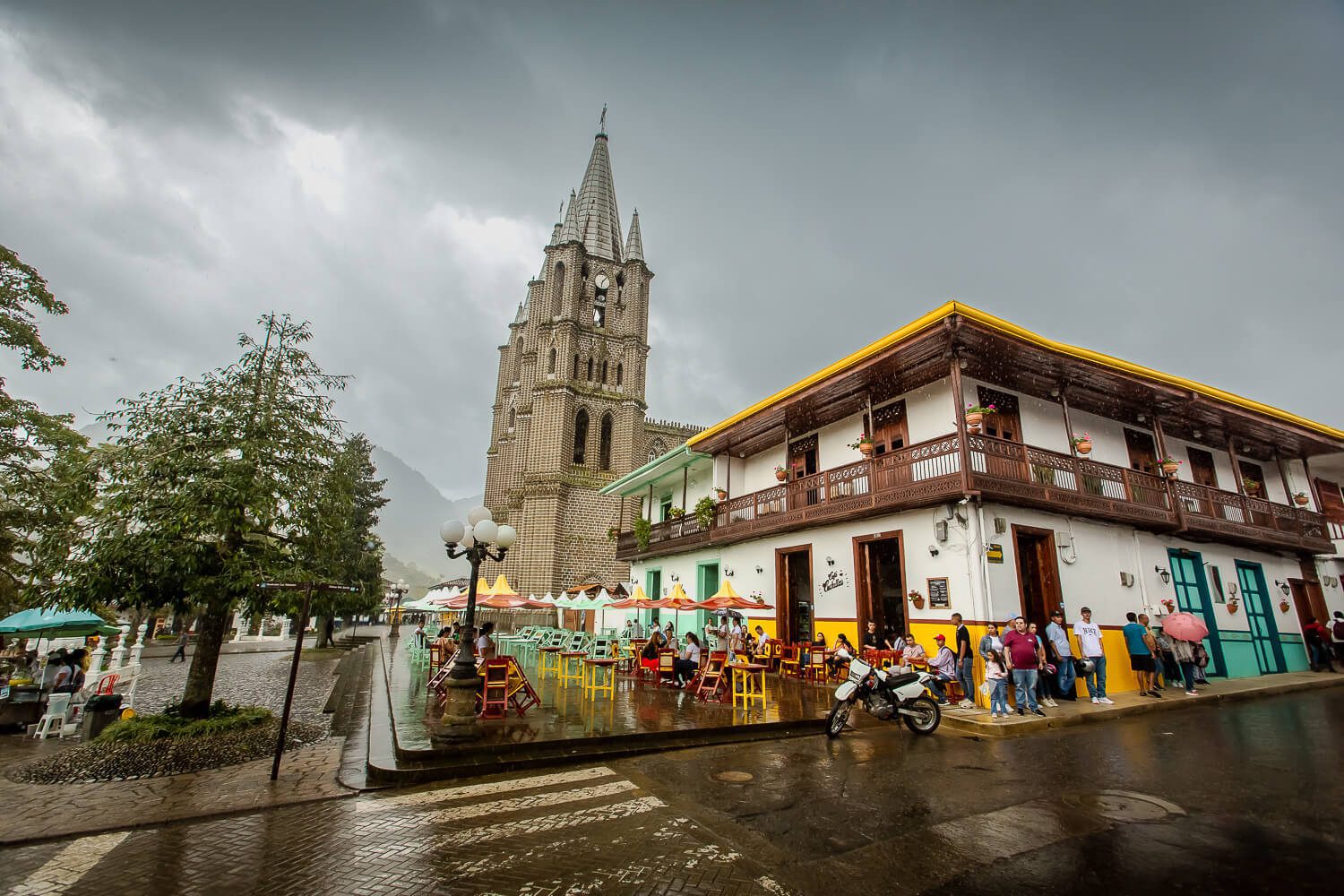 Coffee on the Main Square
Unfortunately the budget hotel I stayed at in Jardin didn't serve coffee in the morning. Fortunately the main square was a block away and we got to enjoy coffee every morning with the locals.
Having multiple coffees next to adorable Colombian cowboys everyday was one of my favorite things to do in Jardin. The main square is lined with cafes and I think we tried coffee at every spot as we have multiple large cups of coffee every morning.
Yes I'm addicted to caffeine.
My favorite place to enjoy a cup of Colombian Joe was on the balcony of Delos Andes Cafe. Not that I enjoyed the coffee flavor more but I was able to order grande Americanos and it came in a larger cup than the normal dainty pour served at the other cafes.
That being said, a cup of cafe at any of the cafes are only 1,000 or 2,000 pesos (.25 or .50 cents) so go crazy.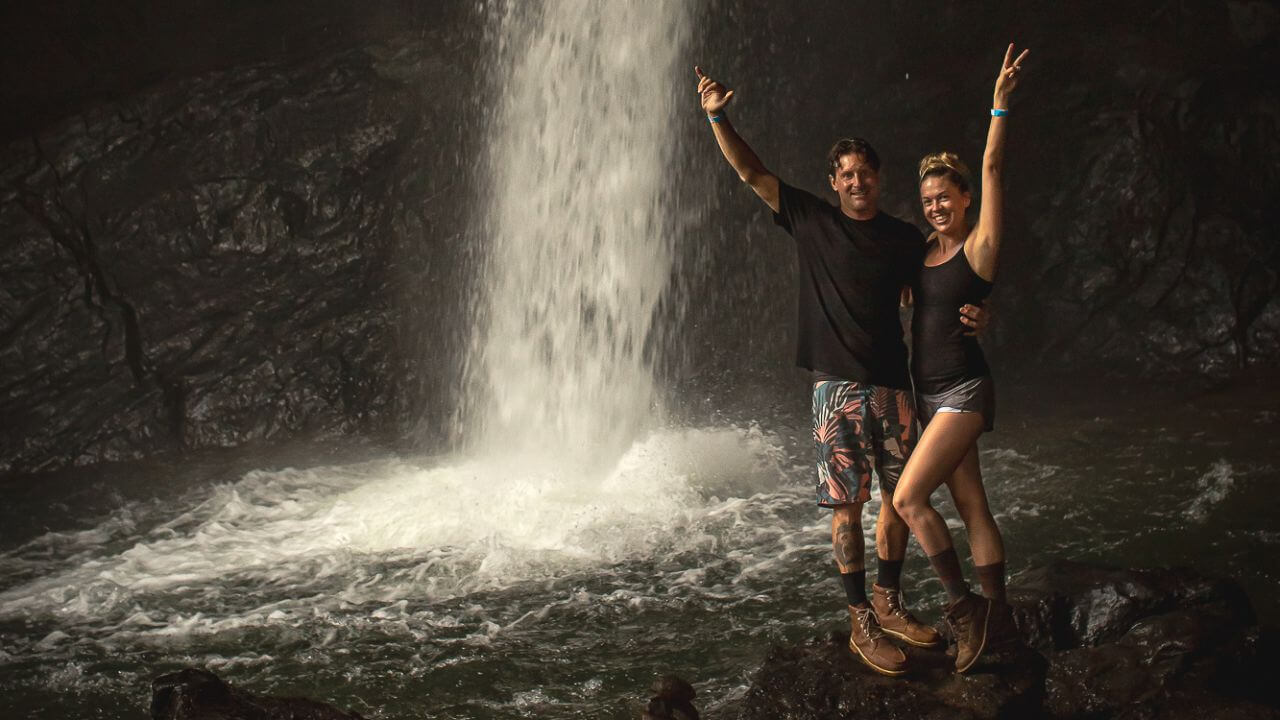 If you do one adventurous thing in Jardin, make it the cave of splendor. The Cueva des Splendora is a rushing waterfall that flows through a cave! It's a beautiful sight and a bit of an adventure to get there.
The easiest way to experience this Colombian waterfall is on a tour. A tour to cave of splendor cost around 200,000 Colombian Pesos (about $44 USD) but if you thrive on adventure, don't mind a few extra miles of hiking and want to save a little bit of money, then I suggest you explore the cave of splendor independently.
I opted for the independent option when doing this Jardin activity. I won't go into too much detail but If you're interested in exploring the cave on your own, check out this blog post on exploring the cave of splendor without a tour which will explain exactly how to get there, how much it cost and any other useful information you'd need to know before you go.
Okay so I was pretty excited about this thing to do in Jardin. La Garracha is a wooden gondola/tram that takes you across the river to a beautiful view point over looking the cute Pueblo.
As of writing this, in July 2022, the wooden Garracha is now aluminum. I was a little disappointed but still very much enjoyed riding La Garracha.
It was definitely still 'primitive' and let me tell you, this thing had some power. We got in and it zipped us across the river gorge. Every time it would thrust us forward, I would smash into the door that got me into the tram. If I'm being honest, that made me feel a bit uneasy every time and yes we were extremely high in the air.
A wooden Garracha woulda felt a bit sketch. I mean wood rots and the 5 days I spent in Jardin, it rained everyday. Turns out, I wasn't so disappointed after all.
There is an adorable restaurant that overlooks Jardin where you can grab a bite, coffee or cerveza. Plus the views are some of the best you'll find in town.
Eat a Traditional Colombian Meal
There are dozens of restaurants in town that serve típica Colombian fare. Traditional Colombian dishes include:
Mondongo – Pork, tripe and chorizo soup,
Arepas – a cross between a tortilla and a pancake can be filled with cheese, meat and even made as a desert.
Arepa de Huevo – Same as above but this is a deep fried egg.
Ajiaco – Potato and chicken soup (my favorite).
Bandeja Paisa – A HUGE dish that consists of rice, minced meat, red beans, chorizo, arepa, a fried egg, chicharron (fried pork skin), sweet plantain, and a half of avocado.
Patacones – Plantains that have been flattened and deep fried served with a sauce of your choice.
Obleas – Thin wafer sandwiches filled with a variety of ingredients such as blackberry jam, milk cream, condensed milk, peanuts, coconut, fruit syrups, chocolate sprinkles, and even cheese.
Sancocho – Chicken, Beef rib or Fish soup that contains potato, yuca, plantain.
Empanadas – Deep fried pockets filled with meat, potatoes, chicken, and rice.
Fiambre – Rice, sausage, fried pork, ground meat, boiled or fried egg, a slice of ripe banana and arepa wrapped in banana leaves.
Enjoy the Views at Cafe Jardin
Cafe Jardin is an awesome cafe perched on the mountainside overlooking the town of Jardin. There are two ways to get here, grab a tuk tuk or hike up.
If you know anything about how I travel, I'm always the friend that says 'let's just walk there'. We opted to hike up to cafe Jardin and it was worth the climb.
The hike in total took about 45 minutes. Along the way you'll pass Cristo Rey which will knock out two things to do in Jardin in one swoop. The hike up takes you through banana trees and coffee plants.
Once at cafe Jardin you'll be greeted with sweeping panoramic views of Jardin, Colombia. In my opinion, this spot offers the best views of Jardin and is absolutely a must do when visiting this adorable Colombian town.
Plus you can take a picture next to the huge ❤️ Jardin sign to remember your love of the town.
Camping on a trout farm is one of the most unique things to do in Jardin. Truchera MonteMar is a trout farm that offers camping. Don't expect much on the camping side of things, its a few tents on a wooden platform but there's nothing like falling asleep to the sound of stream water flowing by.
Located on the river, you can fish during the day and when you've caught your very own trout, the restaurant will prepare your catch for lunch. Either way, eating trout or trucha is a must when visiting this part of Colombia.
Christo Rey is the white statue of Jesus that you can see anywhere from town. Perched on the hillside, it takes about 30 minutes to hike to the statue where you are greeted with epic views of the cute pueblo below.
The trail is pretty easy to find. You can just plug Cristo Rey into google maps and it will show you the way. In case you don't have access to google maps, head to the North end of town and the trail will be on your left. It's a fairly trafficked trail that's worn and well marked.
Cristo Rey can also be reached via tuk tuk or horseback.
Chorro Blanco is a hidden gem in Jardin that is over 320 feet tall. Although pretty expensive, a popular way to explore this stunning waterfall is on a horseback ride via a tour. Waterfall Chorro Blanco is surrounded by majestic beauty and crystal clear waters.
If you love hiking and are up for adventure, it is possible to hike to this waterfall independently. You can check out this post for information on how to do it without getting lost.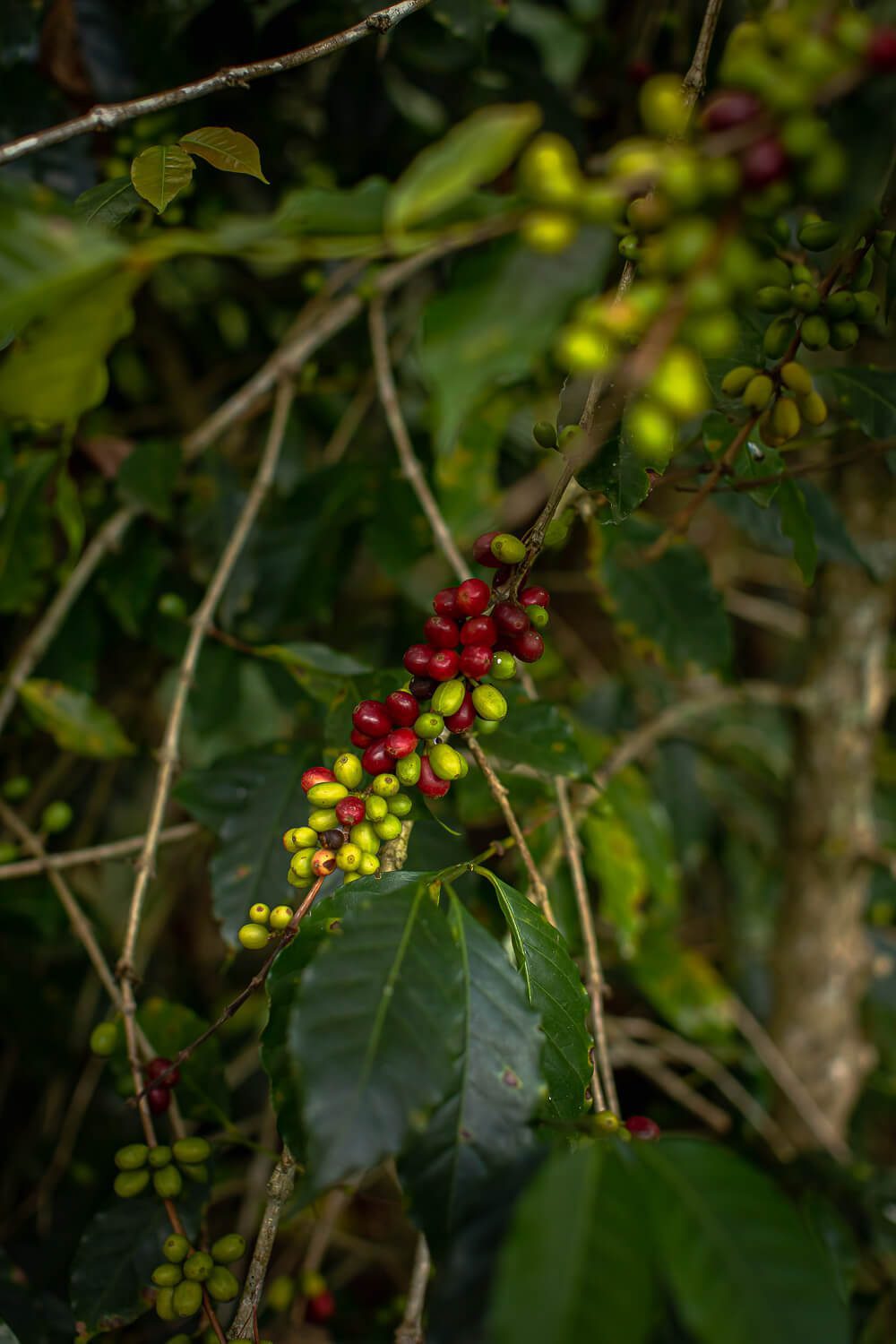 It is no secret that Colombia is known for its coffee. One of the main reasons that travelers visit Jardin is to visit a coffee farm, I mean Jardin is located in the middle of Colombia's coffee triangle after all.
There are several coffee farms located the mountainsides that surround Jardin where you can take a coffee tour to learn everything about the coffee making process. From planting the coffee seed to picking, cleaning, roasting, grinding, brewing and finally tasting the perfect cup of coffee – you'll be able to experience it all.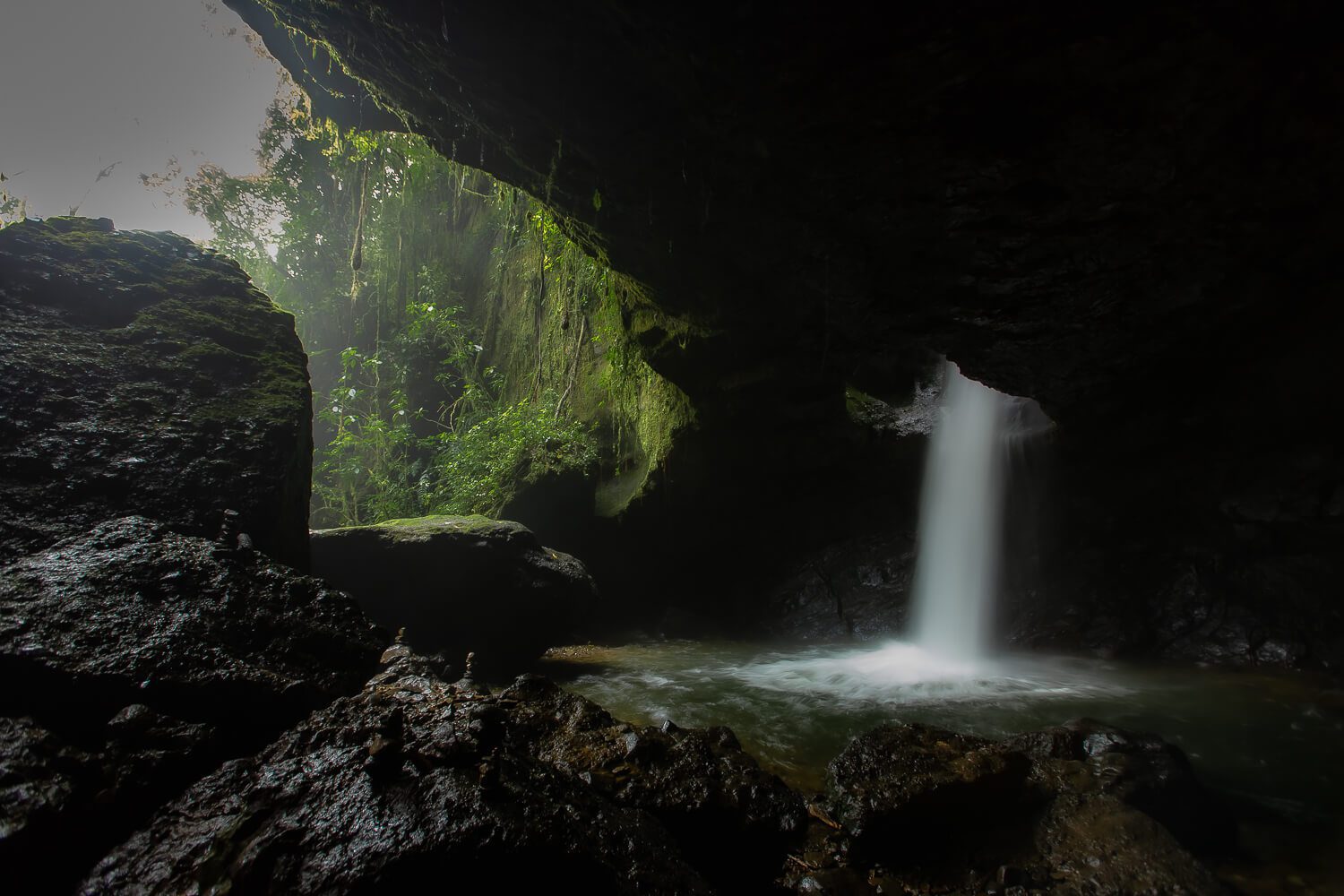 If you love action, water and aren't afraid of heights, add waterfall repelling to your list of things to do in Jardin. When you opt to go waterfall repelling, you feel the rush of water fall around you as you lower yourself through and down the slippery mountainside. This outdoor activity requires decisive decision making and a thirst for adventure.
Cascada La Escalera is another stunning waterfall you can visit when exploring Jardin, Colombia. This waterfall is a lot easier to access than the previously mentioned waterfall – Cueva del Esplendor. It takes about 30 minutes to walk up a paved road to reach this refreshing double flowing waterfall.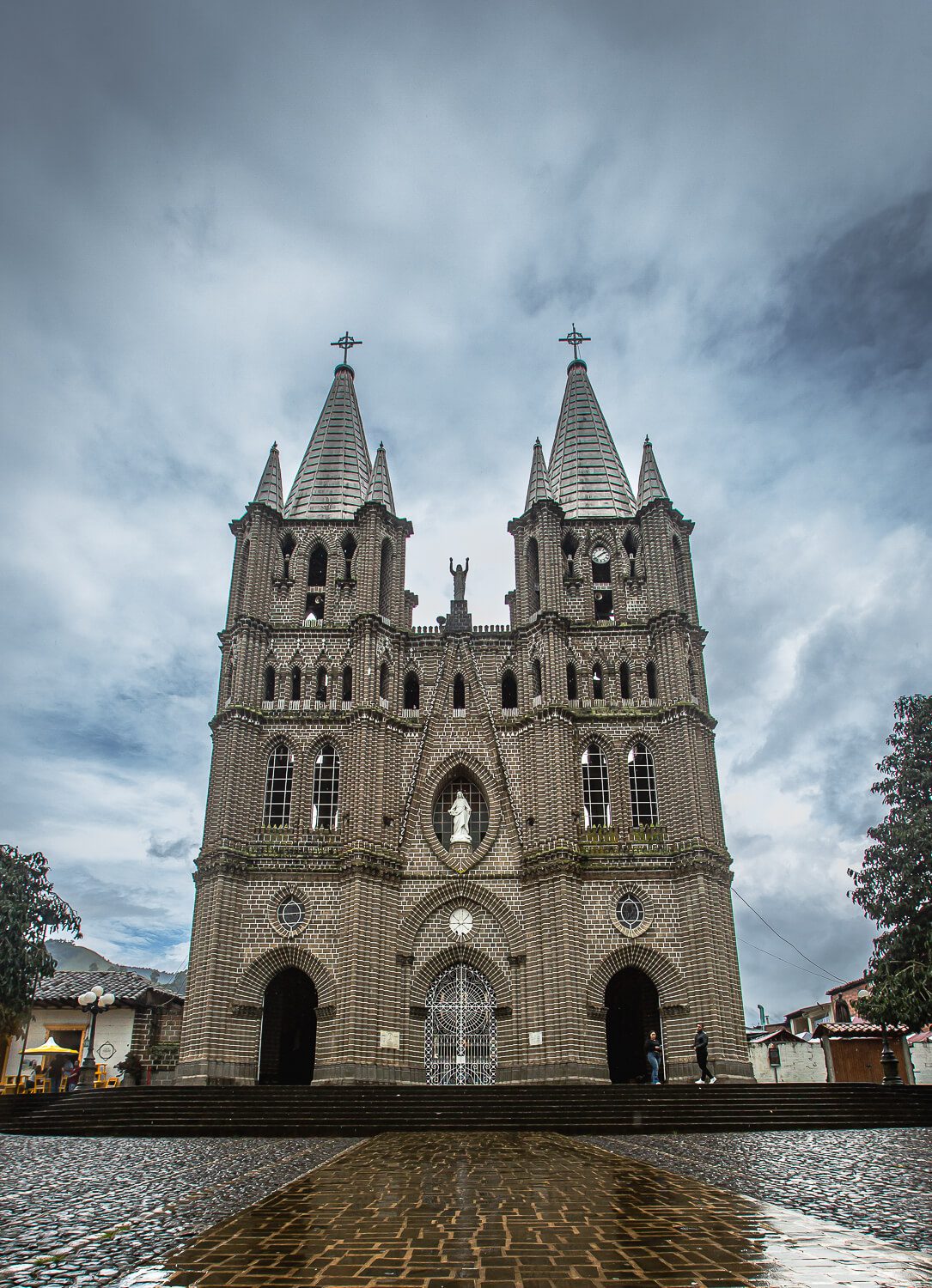 Basilica of the Immaculate Conception
You can't visit Jardin without checking out the Basilica of the Immaculate Conception. This is the beautiful church is the focal point of Jardin. The church was built in the Neo-Gothic style entirely of hand-carved stone and is considered one of the most beautiful structures in Colombia.
Have a coffee at one of the shops nearby to admire the structure or climb the bell tower for panoramic views of the town and surrounding mountains.
There are horseback riding tours that take you through the lush, mountainous countryside. There's even a horseback riding tour that takes you to Cave of Splendor if you're not into hiking.
Reserva Natural Gallito de la Roc
If you love nature and birds than check out Reserva Natural Gallito de la Roc for some of Jardin's most impressive natural sights. Best visited in early mornings or evenings for the gallitos de las rocas, the Andean Cock-of-the-Rock.
These beautiful birds show off their red cluster of feathers and are considered one of the most beautiful birds in South America.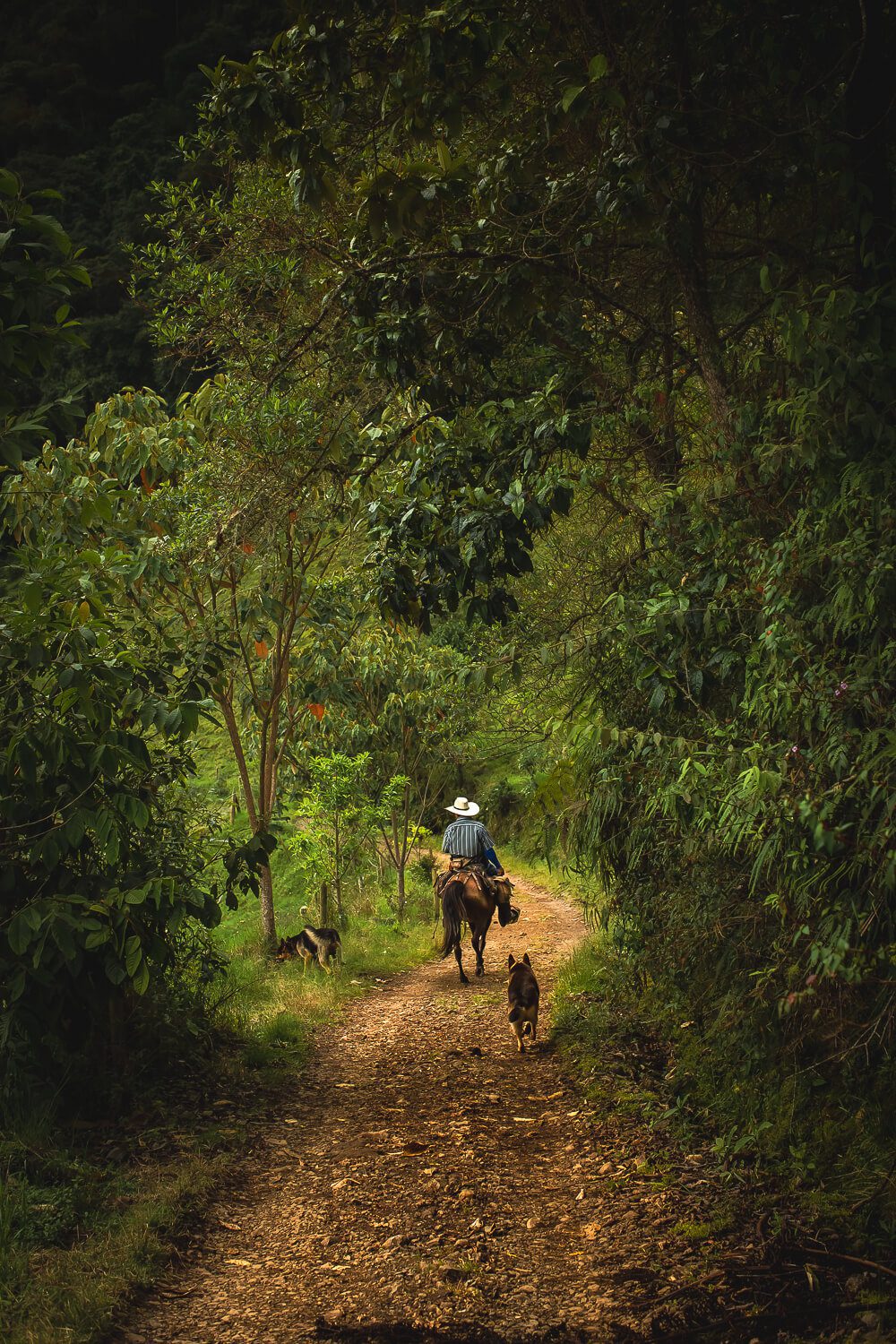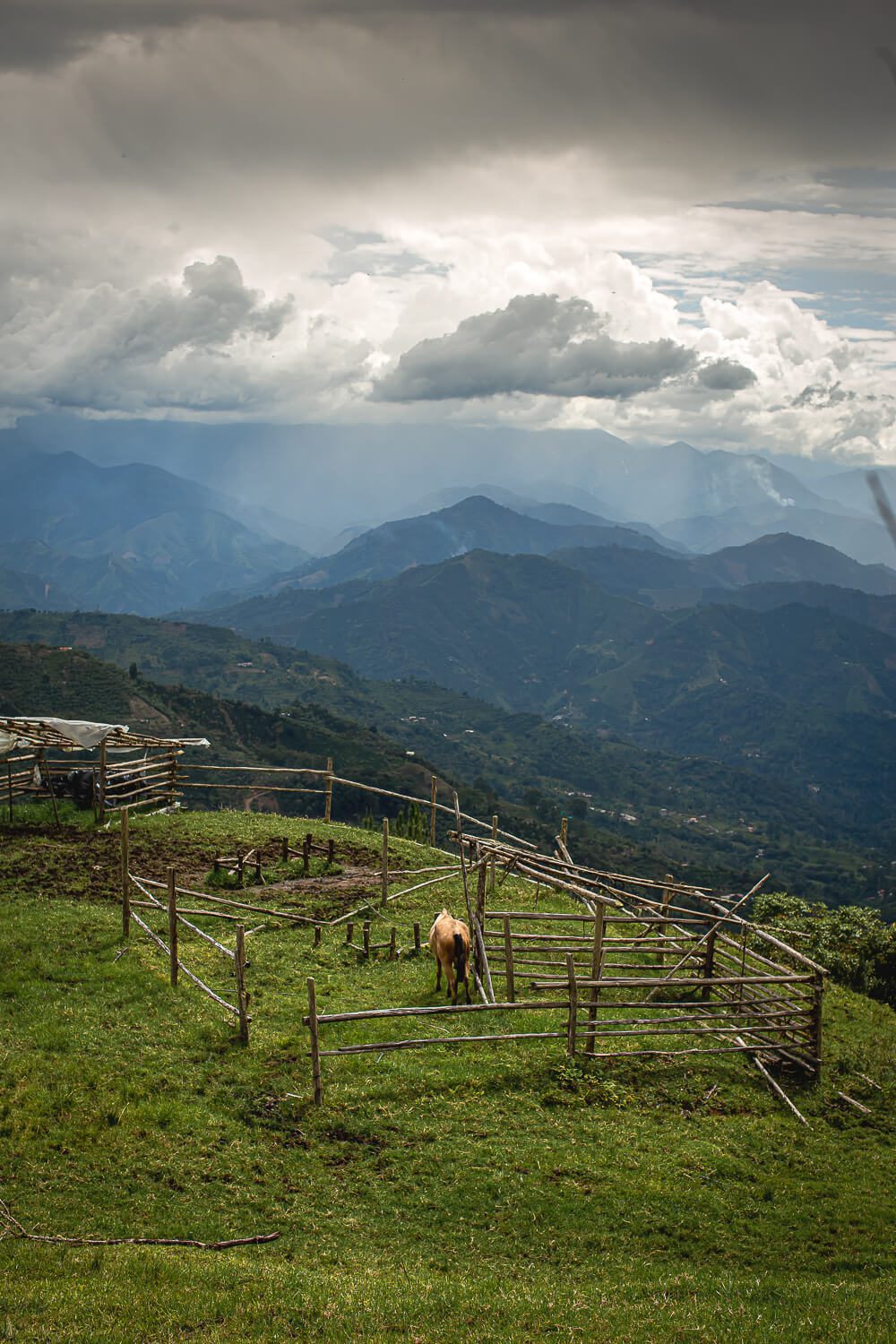 Best Time to Visit Jardin, Colombia
Colombia is considered a year round destination as it's located close to the equator. Generally, the best time to go to Colombia is December through March which is considered dry season.
Traveling to Colombia during dry season also means busy season, especially December through January. But if you time it right, you can travel during the off peak months which allows you have the best of both worlds – great weather and thinner crowds.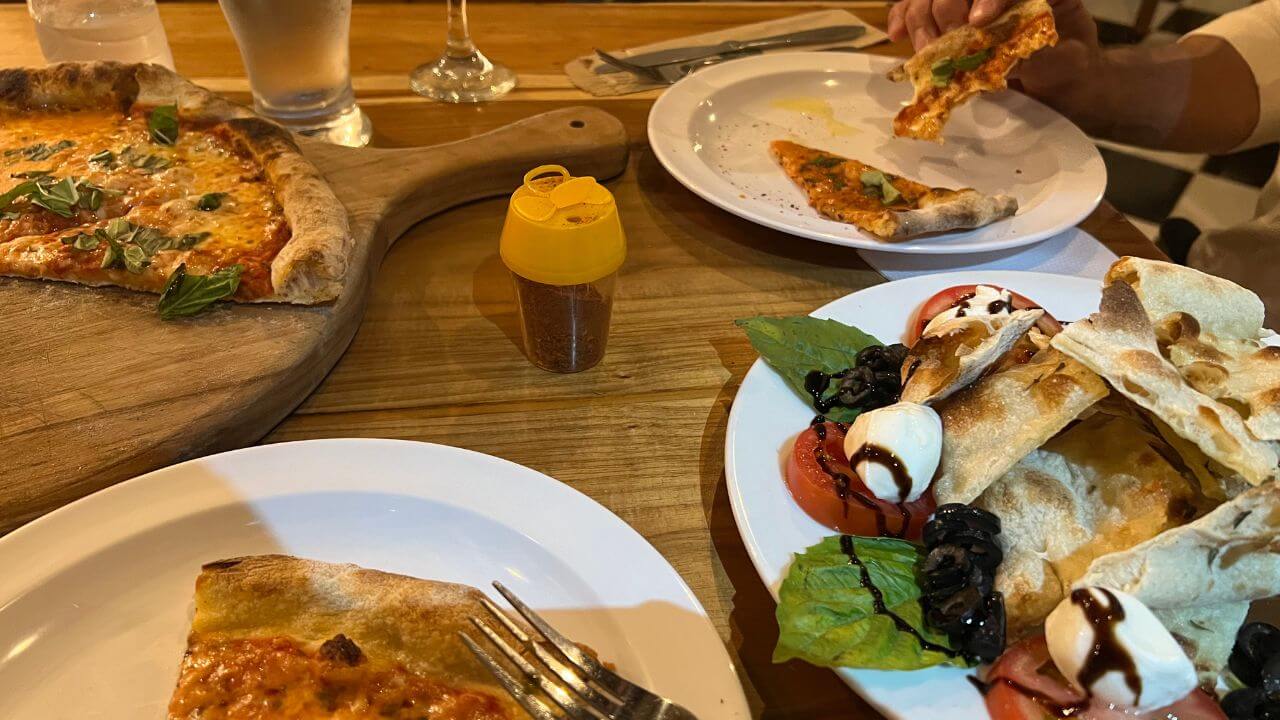 Where to Eat in Jardin, Colombia
Unfortunately, there weren't a lot of restaurants in Jardin that blew me away. But there was one restaurant that you absolutely must dine at when exploring Jardin, Colombia…Bella Italia.
Yes, an Italian restaurant. Surprisingly there were a handful of Italian restaurant scattered around town and we tried a few, but Bella Italia was by far the best. The joint is run by an Italian and his momma taught him right because the pizza tasted like it came straight from Italy.
Pizza and the caprese salad paired with a nice bottle of wine is the perfect way to end a day after doing all the things there are to do in Jardin.
Where to Stay in Jardin, Colombia
There are a handful of options to choose from when deciding where to stay in Jardin. We stayed at Hotel Casa Grande. It was a budget friendly hotel with great location in the center of town.
It is literally steps away from the bus station, so if you're on a budget and want to be in the middle of the action, Hotel Casa Grande is an excellent choice. My only complaint was the outside rooms were a little loud being in the center of the town.
Here are other Jardin hotel recommendations to consider when planning your visit to Jardin.
Budget Places to Stay in Jardin, Colombia
Hotel Orillas del Pizano – This is a great place to stay in Jardin if you are looking for seclusion, quiet and nature. Town is located about 20 minutes from the property. The hotel has amenities like a restaurant, shared kitchen, balconies and falling asleep to the sound of the river.
Mid Range Accommodations in Jardin
Hotel Kantarrana Urbana Jardin – Close to everything such as restaurants and markets yet far enough away to have some privacy. Located a few blocks away from the main plaza, this stay has cozy rooms and great breakfast.

Creo Ecolodge Jardín – A remote ecolodge surrounded by nature. Stay here if you want to disconnect and chill out. Beautiful views and a relaxed vibe with lots of cozy places to hang out.
Where to Stay in Jardin for Luxury
Hotel Plantación – An adults only hotel located about a 5 minute walk away from the city center. This property focuses on ecotourism and being environment friendly. Beautiful decor, excellent food and relaxing accommodations.

Casa Passiflora Hotel Boutique – A high quality hotel amidst a beautiful setting. The beds are comfy (especially for Colombia standards) and there's a jacuzzi.
How to Get to Jardin, Colombia
Getting to Jardin is pretty straight forward, there are only two ways to get here – by car or by bus.
If you are coming from Medellin you'll leave from Terminal Sur near El Poblado (Medellin has two bus terminals). It takes about 4 hours by bus to reach Jardin.
When we came to Jardin, we traveled from Guatape. Medellin to Guatape leaves out of Terminal Norte so we had to transfer between terminals. It was about a 15 minute cab ride.
If you are going to Jardin from Salento, you'll have a connection in the town of Rio Sulce. We went to Salento after Jardin and this was an all day experience.
From Bogota it would be minimum 12 hour bus ride if everything went as planned. I wouldn't recommend it.
Enjoy this Post?!?! Pin in for Later ↓