I've been searching for the perfect watch that accompanies my lifestyle and I finally found it with the JORD WATCH. And just what kind of lifestyle do I lead? I thought you'd never ask.
For full transparency, I have sprinkled some affiliate links in this post.  As an Amazon Associate I earn from qualifying purchases that gives me a small commission at no extra cost to you if you decided to make a purchase.  As always, I would never recommend a product or service that I didn't truely believe in.  All proceeds go to keep Jess traveling and coffee ☕️.  I thank you in advance.
If I'm not off on an adventure somewhere across the globe, I'm lounging on the beach, hiking or playing in the ocean on the island of Maui in Hawaii. I needed a watch that looked classy – an elegant, stylish watch that I could still rock with a pair of Lululemon yoga pants or at the beach. That's when I found the Cora Polaris Koa & Rose Gold watch from JORD.
The Cora Polaris Koa & Rose Gold Watch has a wood and metal minimalist yet feminine design. This is the first ladies' JORD timepiece to feature an automatic self-winding movement. Small Swarovski crystals dot the face plate in the shape of the Little Dipper giving it a glimmer of elegance at every glance.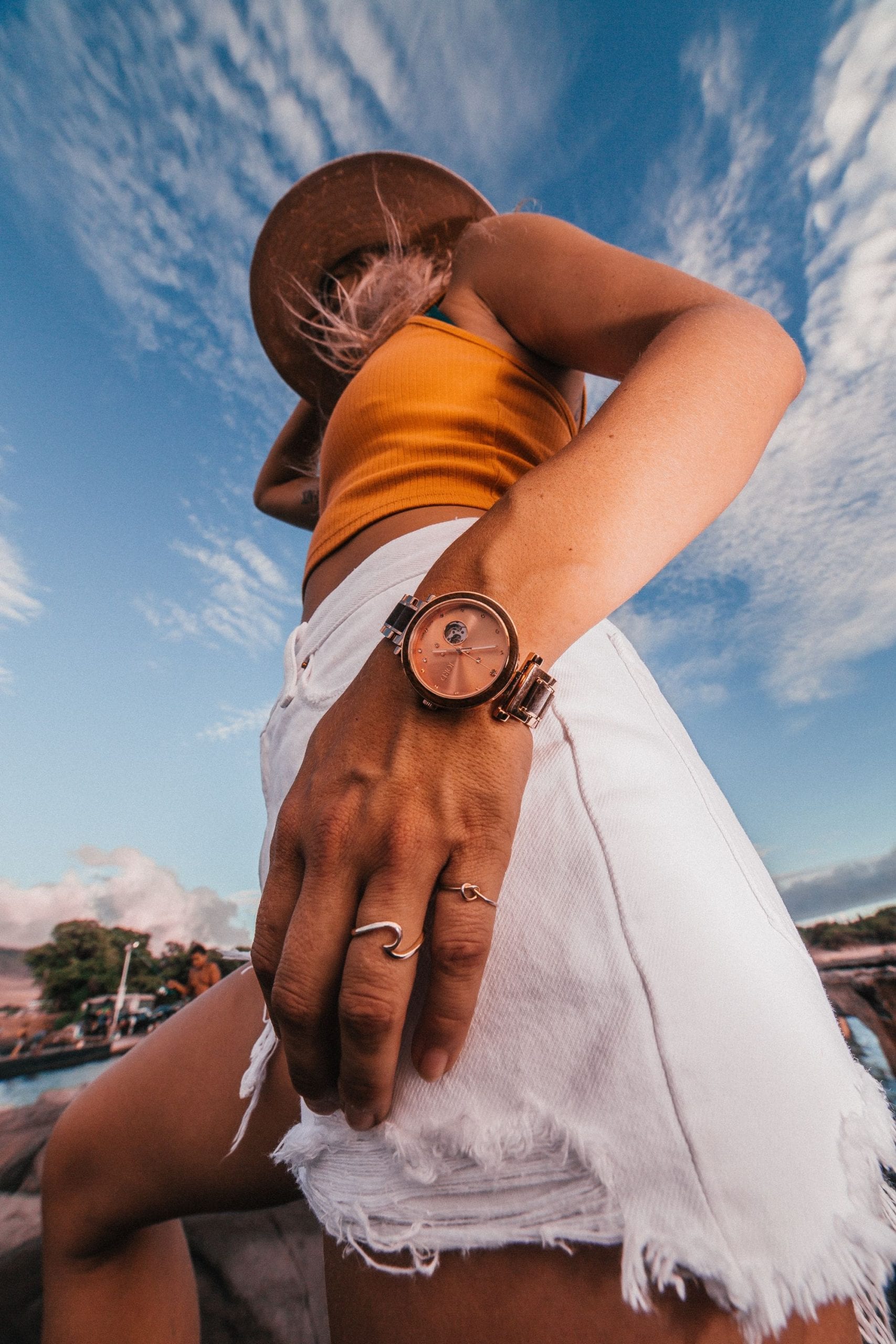 One of my favorite details of the watch is the rose gold color that intertwines with Koa wood and shines through on the dial. I am always drawn to this color and I think it screams elegance. Another detail of the watch that resonates with me is the high quality of my wood watch. Koa is a species of wood native to Hawaii and is widely considered to be the most beautiful of the native hardwoods. Living on Maui, I see a lot of Koa wood in furniture, jewelry, and various trinkets. Having lived here on Maui for almost 10 years, the Koa wood resonated with me and I knew I had to have this watch.
Not only do I like the Cora Polaris Koa & Rose Gold Watch but I love what this young company is all about. JORD (pronounced YODE) is a Norse word that means 'Earth' and its watch designs are inspired by nature with a modern flair. I feel like that's exactly the theme of my blog. I was inspired by nature at the beginning and the modern flair is me trying to keep up with the ever growing internet and technology.
The JORD wood watches are priced from $179 – $350. These beautiful wood watches make the perfect gift as you can gift them in a personalized engraved cedar watch box. Certain styles also allow an engraving on the back of the face dial. It can be one of a kind laser engraved handwriting, logo, or image of your choice. The sky's the limit! I always buy quality over quantity and this watch is no exception as you can see in the craftsmanship and style.
Whether I'm on a plane looking forward to my upcoming trip, on a beach daydreaming about my next adventure, or at work on my computer, my JORD watch is currently my favorite accessory besides a smile of course.
Want to find a unique accessory that best suits your style? Enter my giveaway now and get a $100 discount code: https://www.woodwatches.com/g/imjess_traveling
Even if you don't win, you still get a 10% discount coupon to shop the entire JORD collection!
Love traveling? Check out some Guides below ↓
Enjoy this Post?!?! Pin in for Later ↓