If you are planning on exploring Khao Sok, the best way to experience this stunning National Park is with a stay at one of the many Khao Sok floating bungalows. There are about a dozen floating raft houses Khao Sok and resorts to choose from.
In this article, I'll go over my honest (and unsponsored) review of my experience, let you in on any tips you'll need to know before you go, what to pack and list other Khao Sok National Park floating bungalow options.
📍 Plan your trip: Khao Sok Travel Guides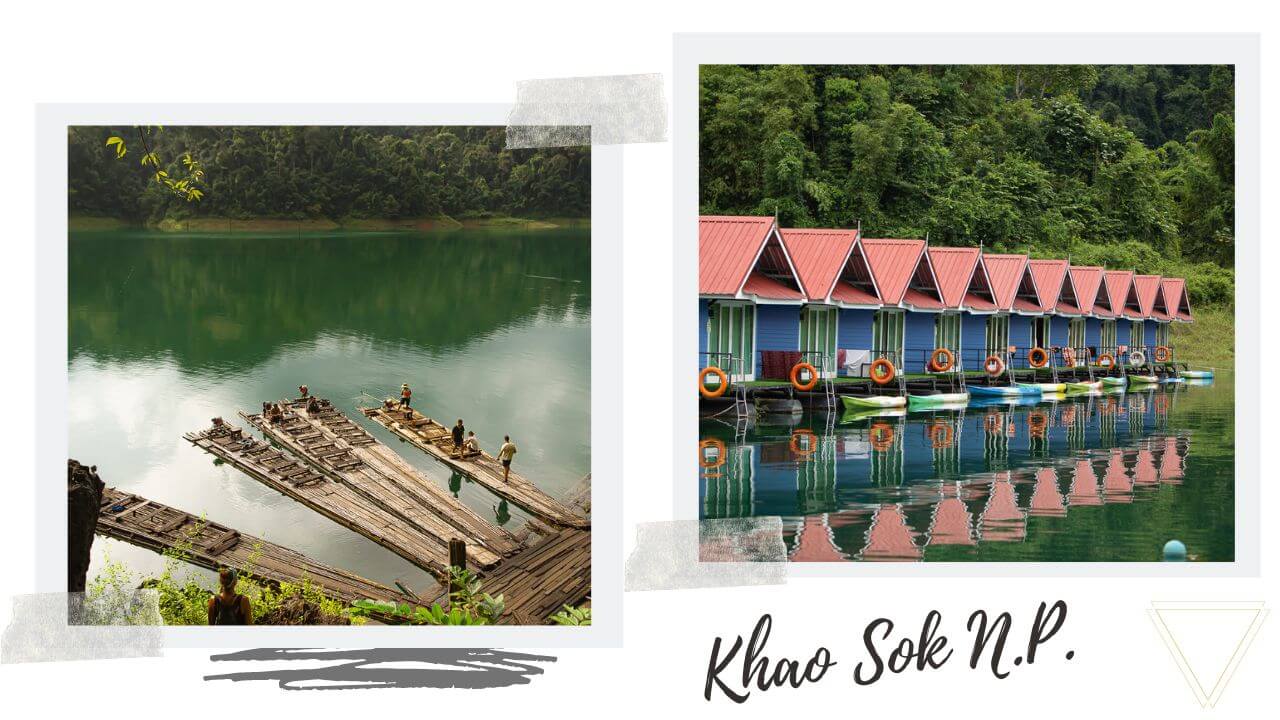 For full transparency, I have sprinkled some affiliate links in this post.  As an Amazon Associate I earn from qualifying purchases that gives me a small commission at no extra cost to you if you decided to make a purchase.  As always, I would never recommend a product or service that I didn't truely believe in.  All proceeds go to keep Jess traveling and coffee ☕️.  I thank you in advance.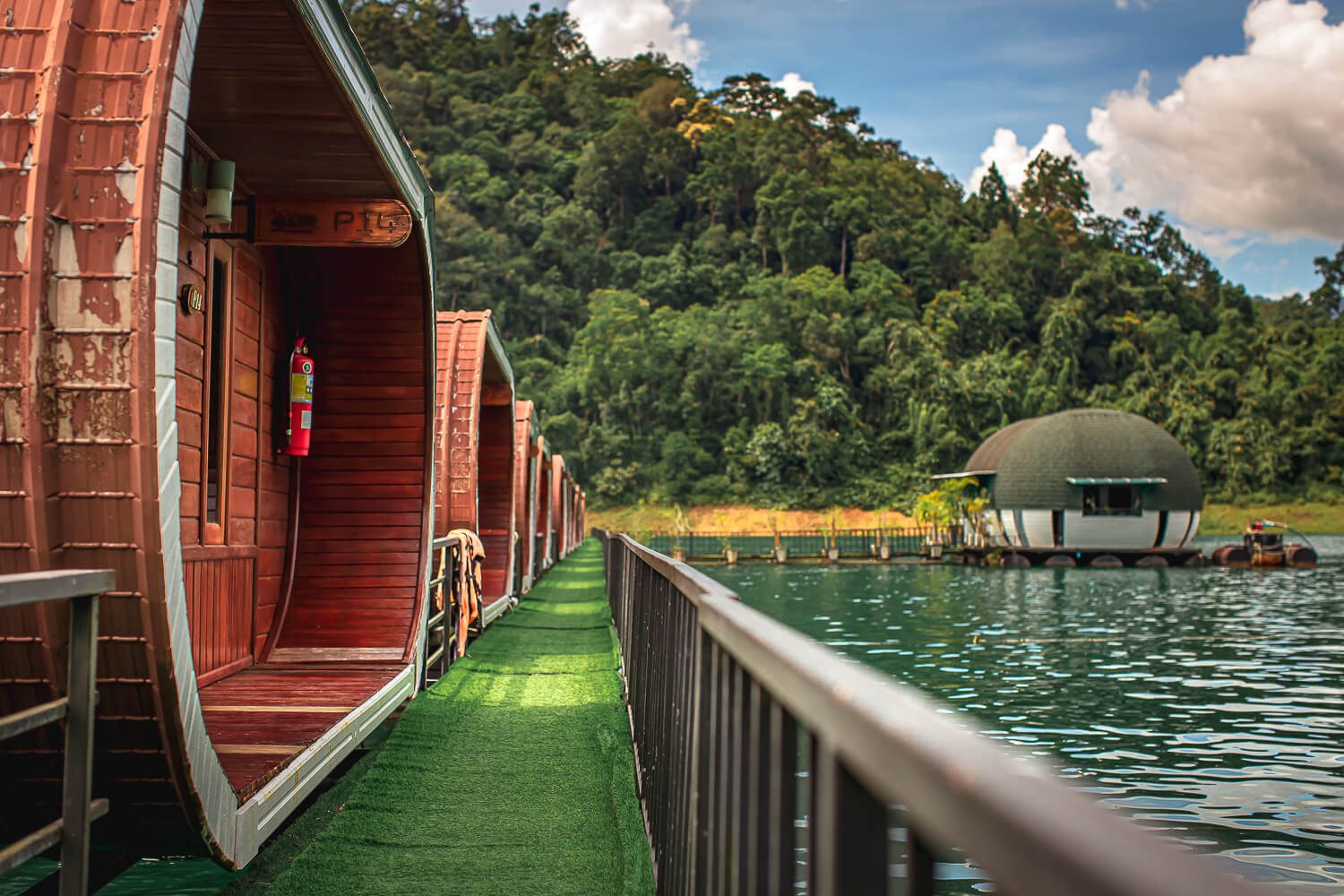 How to Get to the Cheow Lan Lake Floating Bungalows
Most people going on a Khao Sok Floating Bungalows tour package are usually already in the National Park.
You can arrange a private transfer for 1500 baht. That's the going rate everywhere, I asked around. Unless of course you haggle with a taxi and that's if you find a taxi.
Save the hassle and book the private transfer. If you are traveling with a group, it gets much cheaper which the more people you split the private minivan with.
They picked us up promptly at 9 am just as they said. Per usual, I waited til the last minute to pack my weekend pack, was hustling to the reception and the van was already here. They even had a sign being held upside down with my name on it waiting for us. Adorable.
It took about an hour to reach the boat ramp. From there we hopped on a longtail boat and 30 minutes later we arrived at Phutawan Floating Capsules.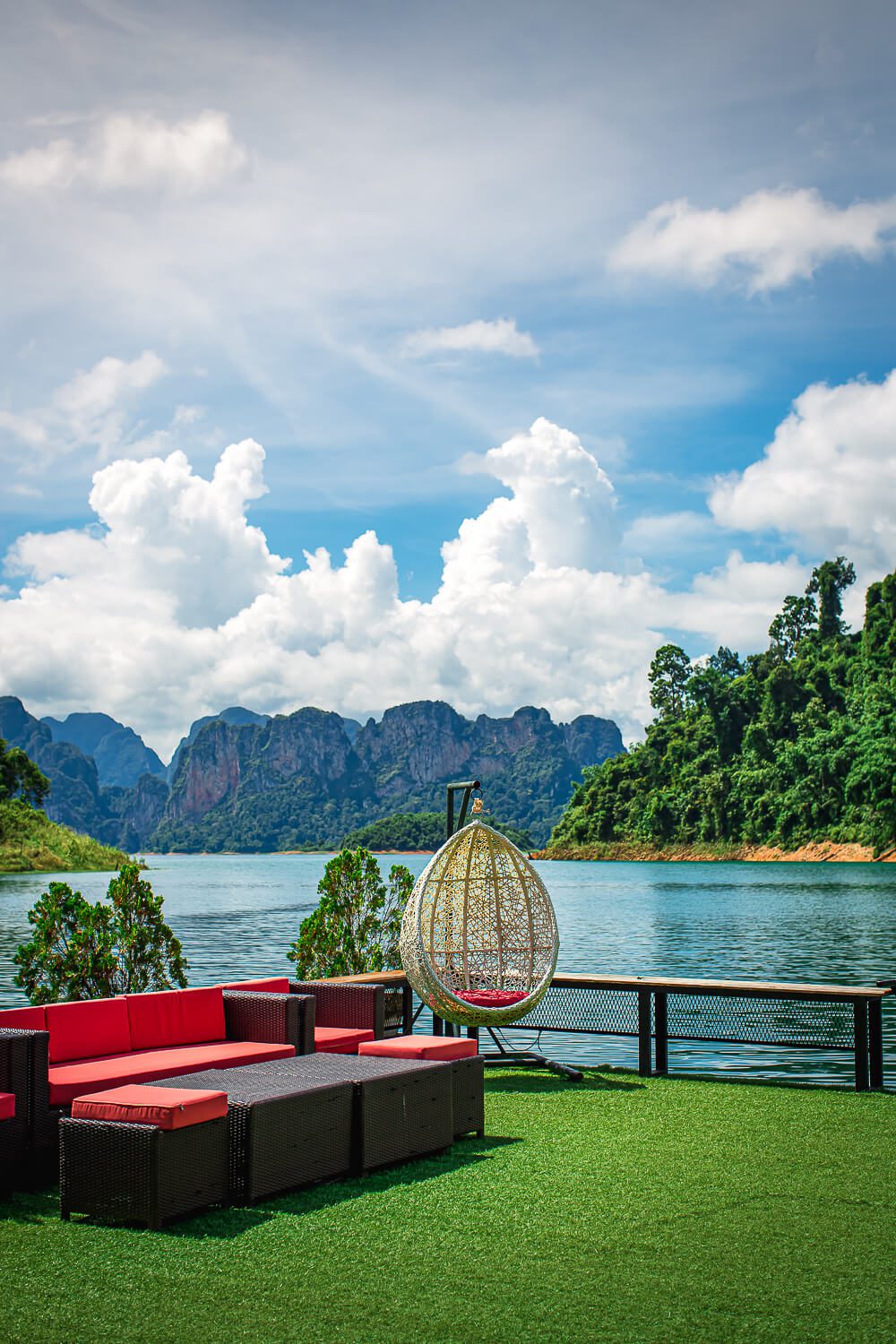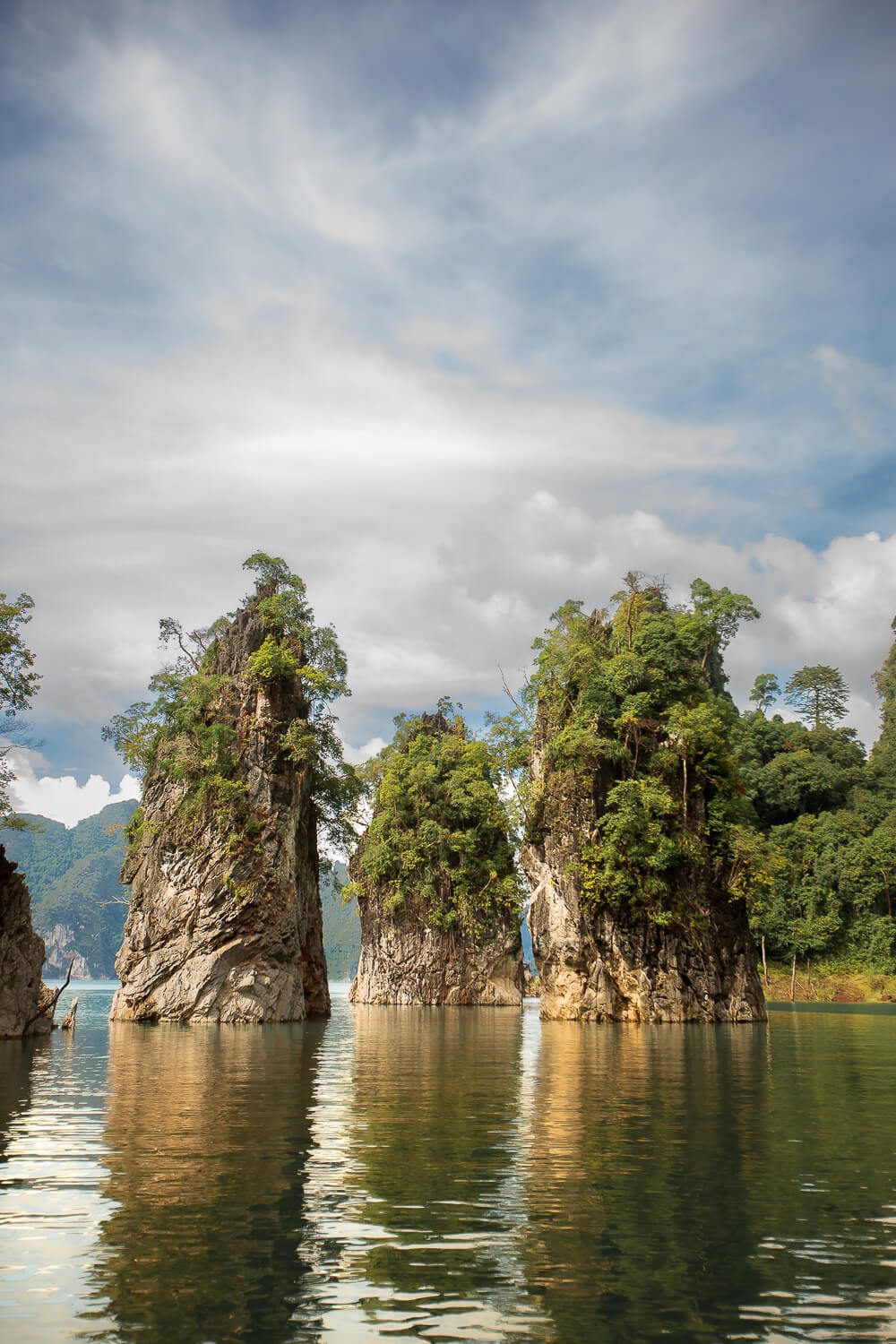 Spending the Night at the Khao Sok Floating Bungalows
The small lodge on the lake is breathtaking beautiful. Although I imagine any of the raft houses in Khao Sok you book on Cheow Lan Lake is a stunning site.
We went with the Phutawan Floating Capsules and it was such a great choice. There are 30 capsules and each capsule can accommodate up to three or four people. They all have a private patio complete with a ladder to get in and out of the lake gracefully.
We booked the Khao Sok Lake Floating Bungalows tour as a two night trip. Booking two nights on a floating bungalow inside Khao Sok National Park was the BEST decision.
It's so relaxing and peaceful. On the second day we had ample time to chill on the deck by reception with a Thai tea in hand. This was especially rewarding as we were the only ones there. Our entire group moved on after the first night as they all booked a one night stay.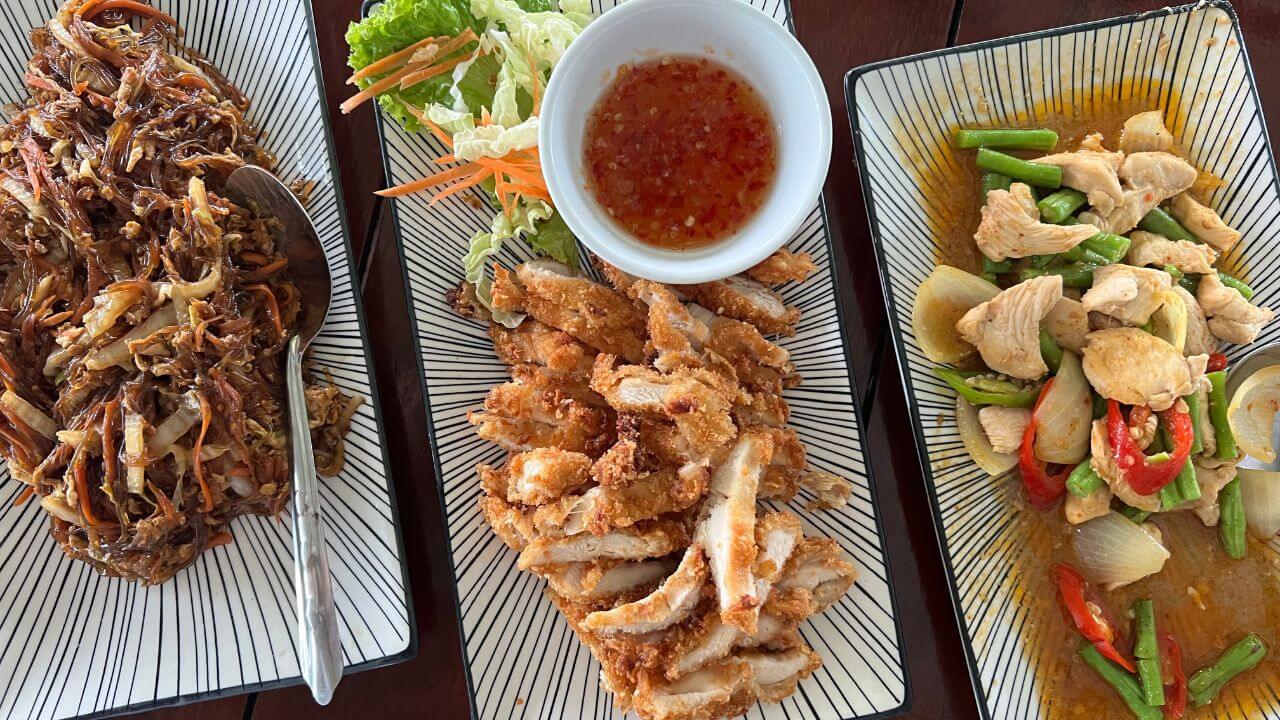 Let's talk about the food at this specific Khao Sok floating bungalow. 6 meals where included with our package. 2 breakfast, 2 lunch and 2 dinners. MEALS WERE HUGE.
The first picture is lunch and the second picture is breakfast. They serve only traditional Thai dishes, we were definitely eating local. We were so stuffed but it was so good!
Some of the dishes were Tom Gai, an entire Fried Fish, Massaman Curry (my favorite) and heaps of steamed rice.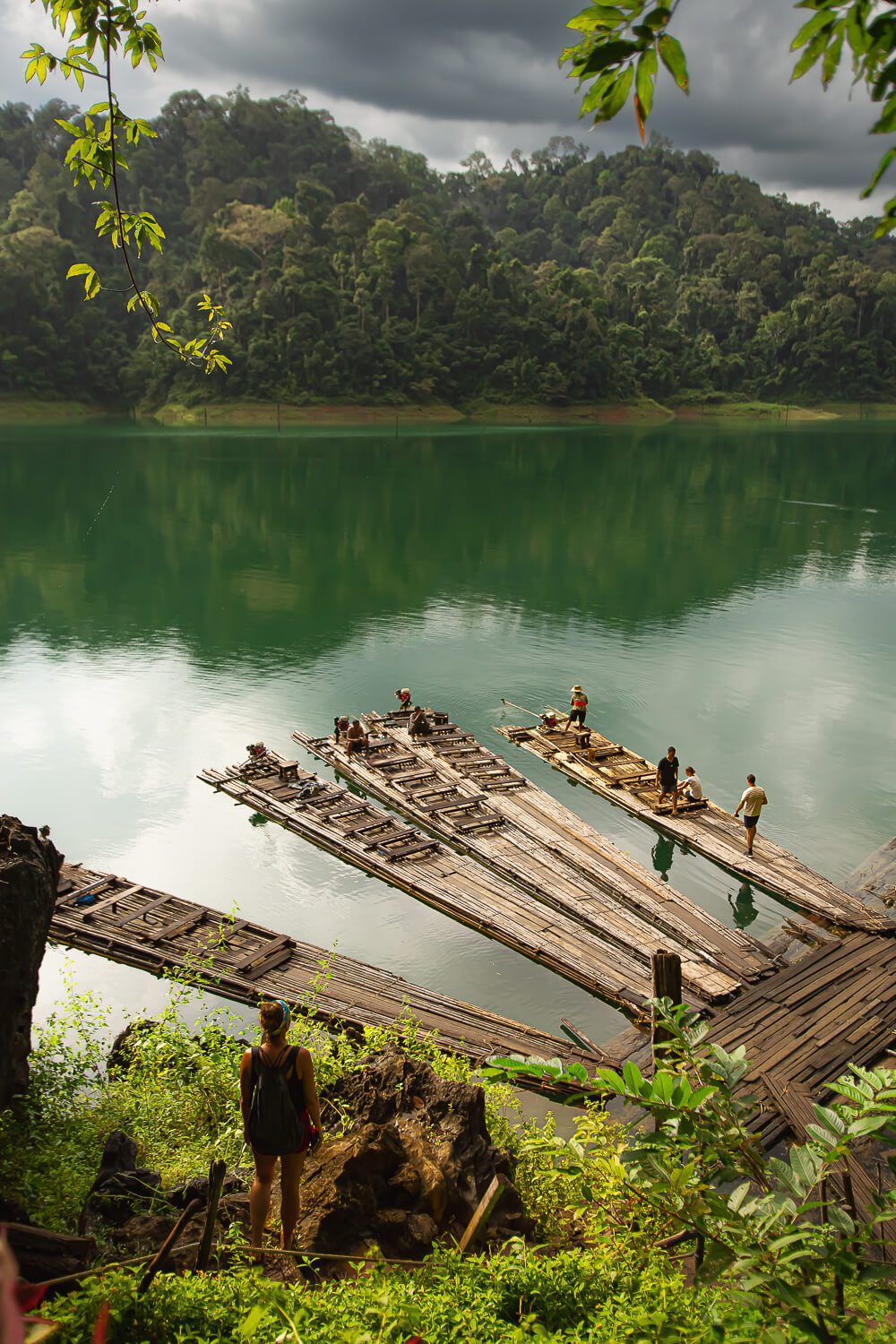 Now that you've booked a floating bungalow, you're in perfect location to experience Khao Sok Lake. Cheow Lan Lake is one of the most spectacular places I've ever seen. The mountain range is a dramatic limestone karsts that stick high up into the air. Formed millions of years ago, the range starts in Guilin, China and runs through much of Thailand.
One of the best ways to explore Khao Sok National Park is on a boat tour. A typical Cheow Lan Lake tour will take you by Khao Sam Kloe (the Guilin of Thailand) and to Coral Cave via bamboo raft.
The long tailboat ride through the lake is like a dream. The dynamic mountains jutting out of the water is some of natures best work.
Fun Fact: Cheow Lan Lake is a man made and was built in 1987. It took a year to divert a nearby river and flood the 185-square-kilometre basin.
Thailand is lush and green, that's because it get 1,200-4,500 mm of rainfall each year. Chances are, you're going to get rained on when you're exploring the lake. Trust me, this only adds to the experience.
We got poured on before we reached our first destination. The longtail boat takes you to a part of the lake where you then have to trek through the rainforest to get to the other side where a bamboo raft is waiting for you.
Wearing something quick drying would be a good choice. It took about 20 minutes to trek up and down a muddy trail. Also leaches live here. Wear flip flops to be able to check for the tiny little blood suckers.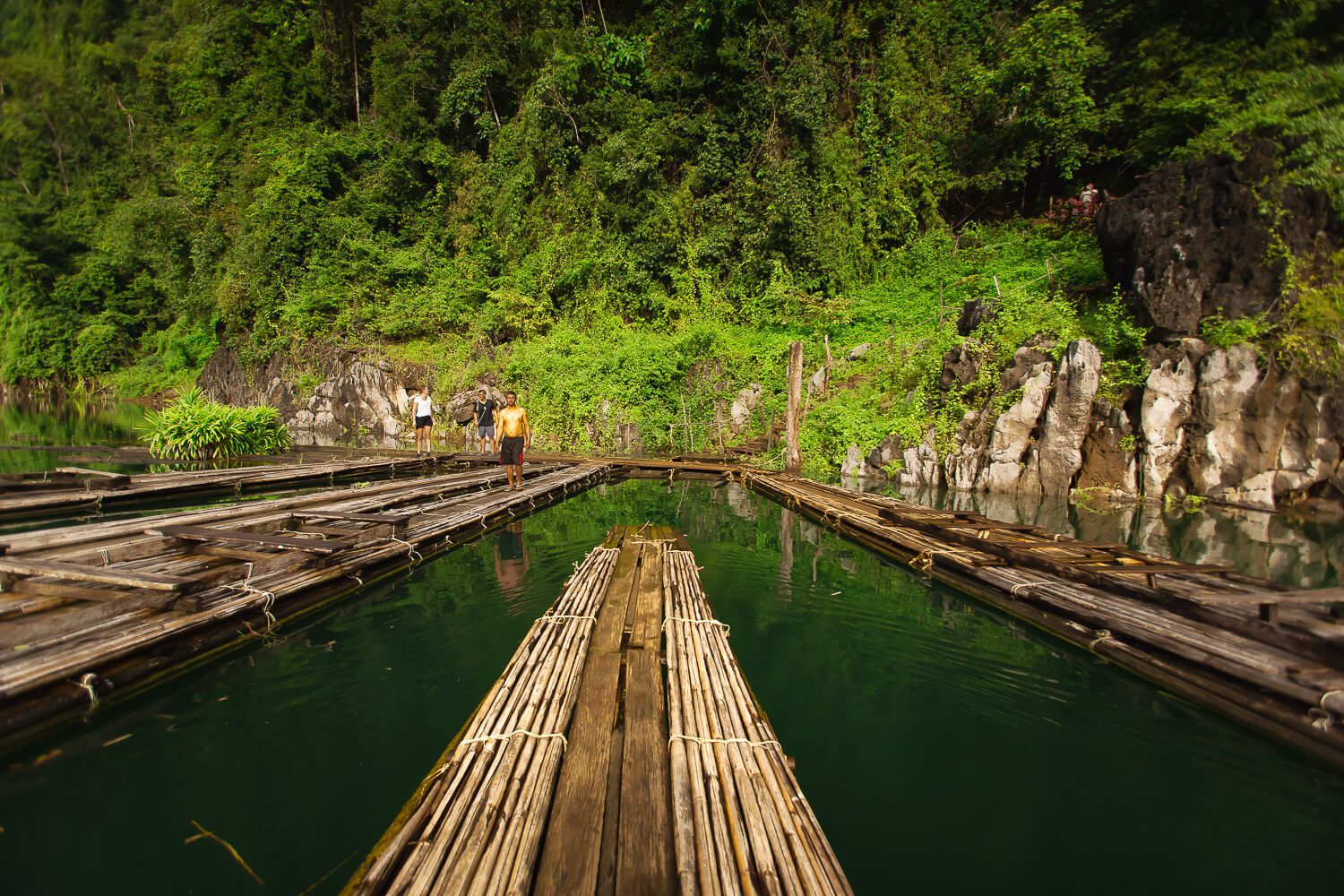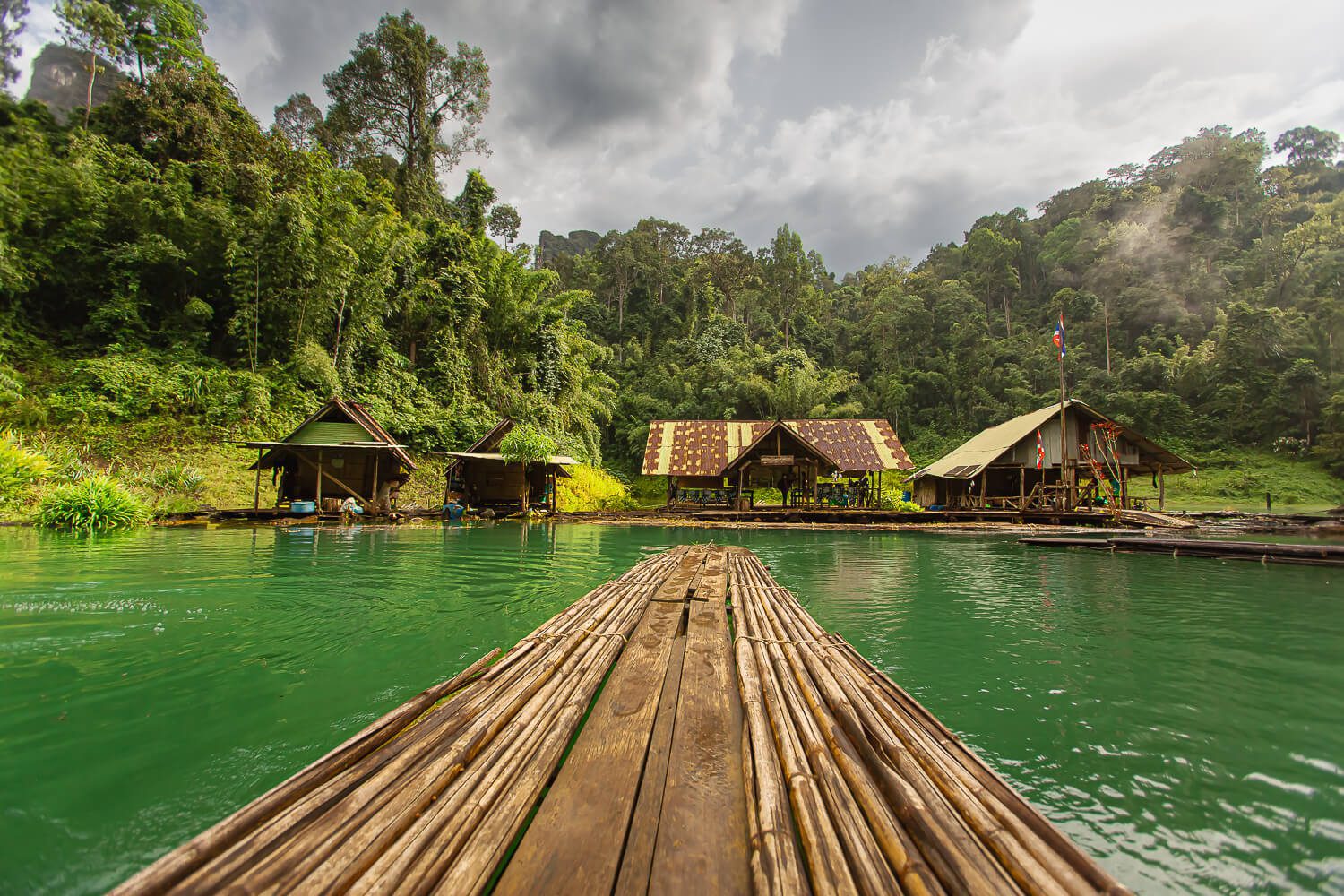 The bamboo raft then took us 15 minutes to the coral cave. The Pakarang Cave was a nice refugee from the constant drizzle outside.
We rafted and trekked back to the longtail boat. After stopping at a spot looking for wild elephants. Yes there are 10 elephants that live freely here and can be spotted freely drinking water around the lake!
Sadly we spotted no elephants but we had the most magical journey back to the raft house. It started dumping rain again and it was so beautiful.
The water was a milky blue, with black trees stumps sticking out of the water and with a misty, mountainous background. Add in the heavy rains, it was my favorite moment of the trip. I felt so alive being outside listening to the rain cascade down on me from the heavens above.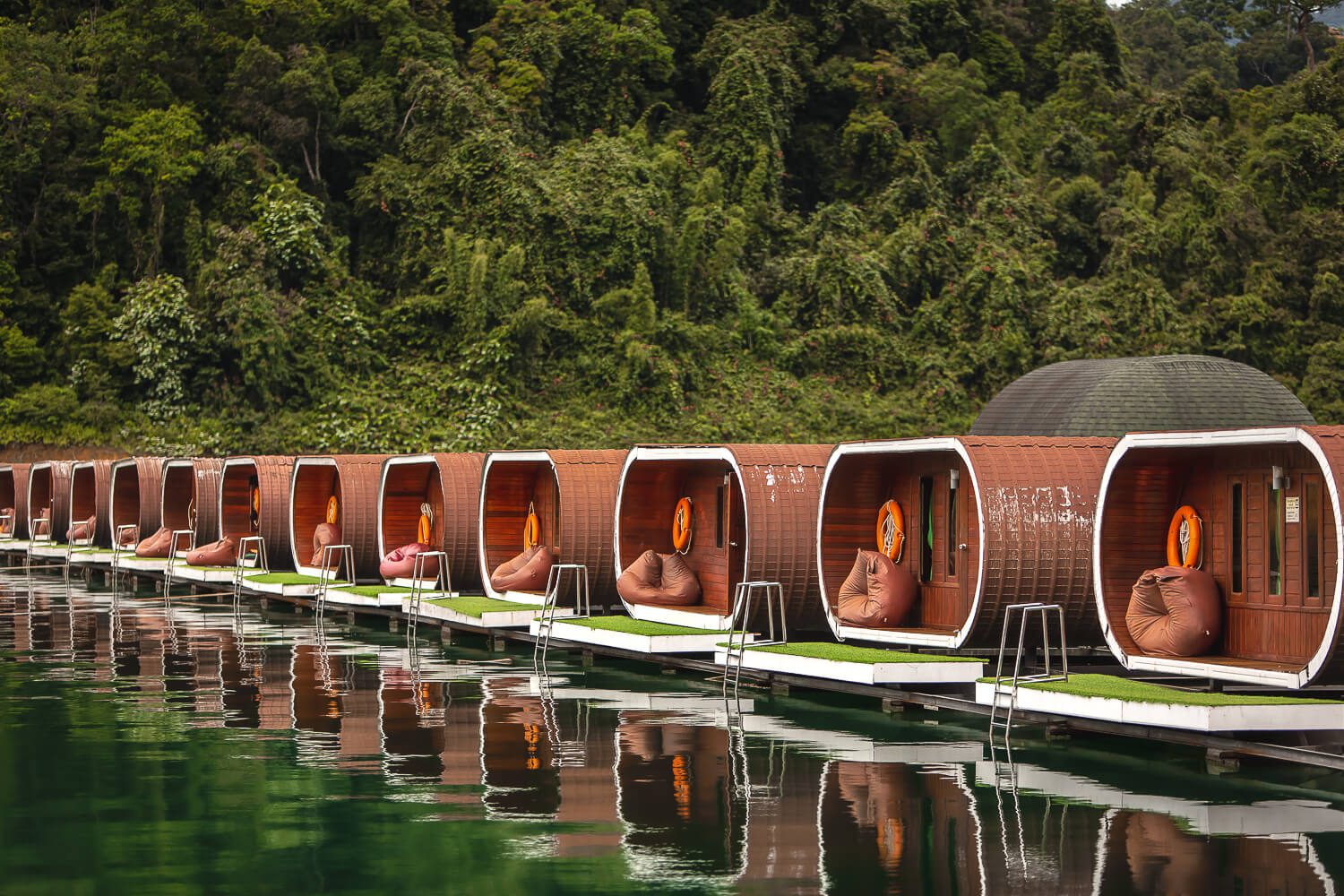 Choosing a Khao Sok Floating Bungalow
Tips for the Khao Sok Floating Bungalows
These tips can be applied to most Khao Sok floating bungalows but it would be a good idea to check or ask the property if something listed below is a make or break amenity for your trip. For example Khao Sok bungalows have limited wifi.
Power was only available between 6 pm and 8 am. So utilize the electricity and charge your devices.
Bathrooms are communal.
No wifi.
There is strong cell signal though.
There is a bar on site to order beverages on your downtime.
If you have time stay 2 nights.
Pack only a weekend pack and leave tour main suitcase with your tour company.

Best bet is to book away transportation with them so they can pick you up with your suitcase.
What to Bring to the Khao Sok Overwater Bungalows
Bathing Suit
1 Pair of Jean Shorts
Sleep Pants/ Sleep Shorts
2/3 Tops
2 Underwear, Bra
Sweatshirt
Bug Spray
Phone, Phone Charger
Book
Camera & Space on your Memory Card
Camera accessories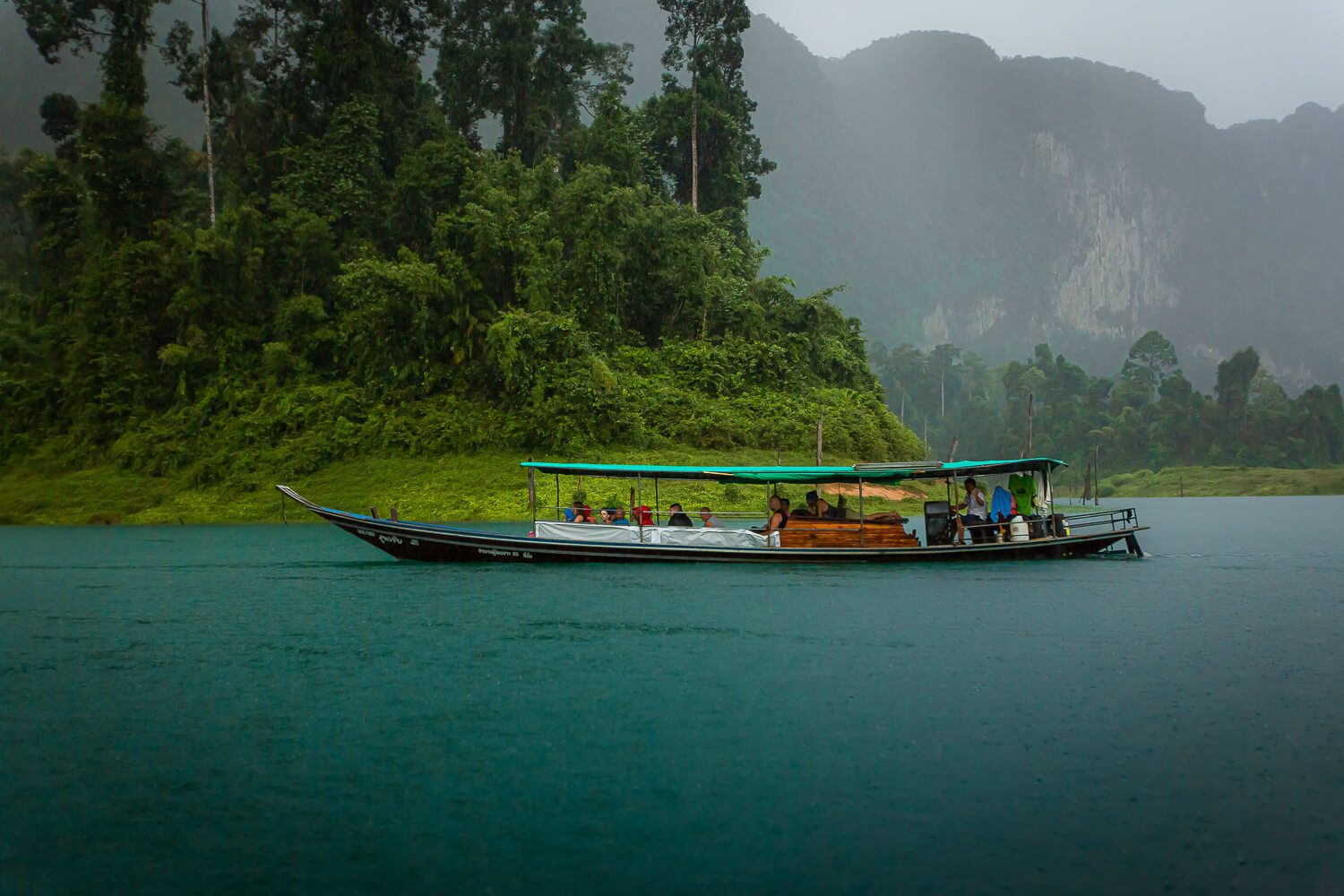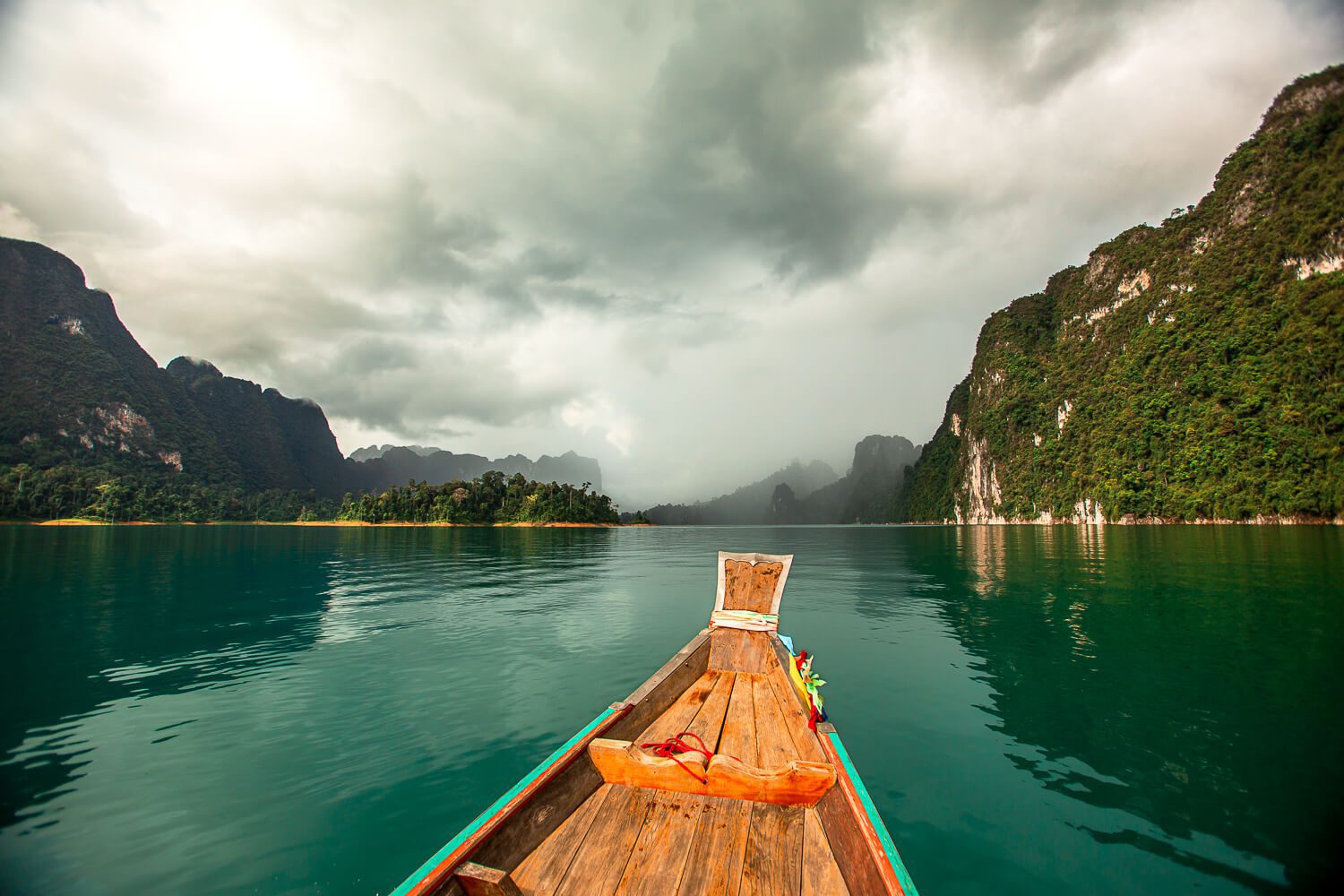 Other Things to do in Khao Sok National Park
I loved Khao Sok, it's officially my favorite place in Thailand. For more information of things to do inside Khao Sok National Park check out this post. If not, here is a quick list of things to do in Khao Sok NP
Tubing down the river
Bird Watching
Jungle Trekking
Kayak Khao Sok Lake
More Thailand Inspiration ↓
Enjoy this Post?!?! Pin in for Later ↓