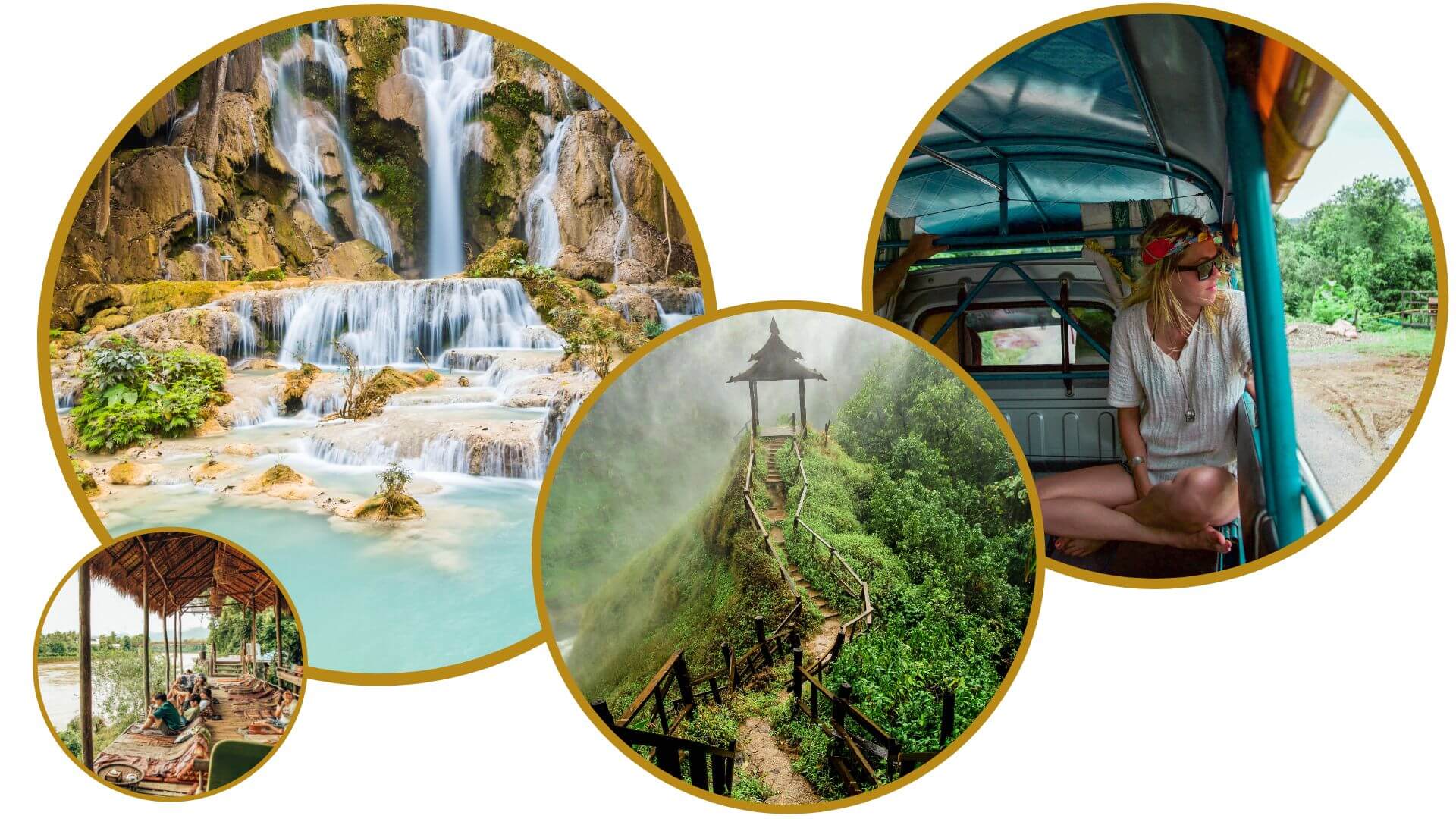 🇱🇦 CAPITAL | VIENTIANE
💷 CURRENCY | KIP – 14,875 = 1 USD
🙊 LANGUAGE | LAO
Laos is a land locked country is Southeast Asia. Nestled between Cambodia, Thailand, China, Myanmar and Vietnam, this country often gets skipped because its not directly on the 'banana pancake' backpacker trail.
This "forgotten" nation is filled with beautiful waterfalls, culture and a struggling past. Most visitors only visit Laos on a stop over or visa run from Thailand and thus miss all the beautiful places to visit in Laos.
Laos has much to offer and is worth a trip to witness her untouched beauty first hand. This is your Laos travel guide.
🐍 LUANG PRABANG
The ancient capital in northern Laos, lies in a valley at the confluence of the Mekong and Nam Khan rivers. Known for it's laid back vibes and lush waterfalls. A Laos travel guide essential.
🥃 Vang Vieng
Once a popular backpacker party destination, Vang Vieng today has rebranded itself and is now a popular destination for outdoor adventure including tubing, hiking and rock climbing.
🏍 Bolaven Plateau
Full of dramatic waterfalls, rice fields and country side, this area is best explored via motorbike.
🦂 4,000 Islands
The four thousand Islands is a collection of islands in Southern Laos near the border of Cambodia in the Mekong River. If you're looking for a place to kick back, relax, and throw down a few beers, then the 4000 Islands Laos is your spot!
🛶 Slow Boat Journey
Imagine 2 full days on a local Laos boat floating down the Mekong River to cross the border from Thailand into Laos.
Top 5 things to do in Laos ↓
More Things to do in Laos
Kuang Si Falls is one of the best places to visit in Laos. Located only 45 minutes outside of

Luang Prabang

sits this famous waterfall. The three tiered waterfalls hidden in the jungle cascade down each level creating natural infinity pools.

Every morning locals rise early to give alms (tak bat) to the monks and show their appreciation. The monks only eat before sunrise and the food is all donation from the alms they received that morning.

This was a highlight of all the things to do in Luang Prabang.
Tubing in Vang Vieng used to be a giant 'rager' at all times. You rent a tube, then float down the Nam Song River getting lassoed in by people so you can come to their bar along the river for a drink.

Rope swings and slides have since been taken down. Now only a few bars line the river. Although its not the large production that it once was, its still a highlight on this Laos travel guide.

Explore the Bolaven Plateau by motorbike. Southern Laos is full of roaring waterfalls and ruins. The Thakhek motorcycle loop is the best way to explore the area. Less populated than the north. Come here to be in nature and have the place all to yourself.
Slow down in the 4,000 Islands. Don Det is an one of the many islands that make up Si Phan Don. They are a labyrinth of sandbars and islets located in the middle of the Mekong Delta. Getting to it will take several bus, boat, and tuk tuk rides but its worth the trek.
Plain of Jars is Laos' quirkiest landmarks. The stone "jars" date back thousands of years. Jars is a bit of an under statement as they range from 3 to 10 feet tall and weigh around 14 tons each.
Cross the border into Laos from Thailand on a 2 day slow boat journey. The journey takes you from Chiang Khong, Thailand to Luang Prabang. Two 8 plus hour days crammed on a slow boat.
The USA and most European countries need a visa to travel Laos which you can obtain at the border. The cost of a visa is $30 USD but varies depending on which passport you are holding. Check here to find out how much a visa cost for you.
Make sure to have at least 6 months validty on your passport and a blank page for the visa.
May through September is rainy season or monsoon season which conisides with summer.
This means that it dumps rain every day for at least a couple hours. Prices are cheaper and you don't have to book ahead of time because it is off season.
Laos isn't as developed as other countries so this makes things very muddy.

November to February are the nicest months for a Laos vacation. It will be cold at night in the mountains.
March and April are the warmest months and the more south you go, the more humid it becomes.
If you've made the long, exhausting trek to get to Laos, give yourself at least 2 weeks to explore this untouched nation. Traveling between towns takes up an entire afternoon and sometimes an entire day, which cuts into your time to explore. Joe & I traveled here for an entire month and still didn't see everything we wanted to.
Laos is a developing and emerging country. They are building new roads throughout the country but it is still a work in progress. Most bus rides will be on a bumpy road full of pot holes.
Potholes mean muddy roads and walkways when it is monsoon season.
You can get WIFI in most hostels and guesthouses, along with bars and cafes but be surprised if the signal is weak.
SIM cards are reasonably priced, a 5 Gig SIM card good up to 30 days a cost 70,000 KIP or $8.75 USD.
ATM's are widely available except in the 4,000 Islands so plan accordingly.
Google Translate: Translates characters to English by taking a picture with your phone.

Grab: The Uber of Southeast Asia.

Whatsapp: Talk/text to friends and family anytime you are connected to the internet for free.

Rome2Rio: Calculates different routes from point A to point B, showing you the cheapest, quickest etc…

Trail Wallet: Easy to keep track on your expenses if you are traveling Laos on a budget.
Hi, we're Jess (& Joe). We hope you're enjoying our free travel guides and tips. If so please consider buying us a coffee ☕️. We appreciate your support!
💲 Laos Travel Guide Costs
You can spend $40 a day in Laos, living comfortably and not denying yourself any comforts or pleasures. It is possible to get by on $15 -20 a day traveling through Laos but that's roughing it.
You'll be glad for your own bathroom and shower at the end of the night after being muddy all day so it's worth having the slightly bigger budget.
Dorm | $3-7 USD.

A basic room with private bath | $15-18 USD.
Budget luxury hotel | $30 USD.
Luxury $40 & above on this Laos travel guide.
Beer Lao | $1.25 or 15,000 KIP
Street food | 15,000-30,000 KIP
Sit down meal | 40,000 KIP
Happy pizza in Vang Vieng | 110,000 KIP
2 day Slow Boat | $30
Tuk Tuk | 30,000 KIP
Moped rental for the day | 80,000 KIP
Giving alms to the monks | FREE
Tubing in Vang Vieng |60,000 KIP
Blue Lagoon |10,000 KIP
Renting a bike in Don Det | 5,000 KIP
A bed in a dorm will cost 3- 7 dollars. You can get comfortable accommodations for $20 a night. A higher budget allows you luxury that's worth the cost. Laos is a great place to travel on a budget.
⭐️ Worth the Splurge: Little Eden Resort 4,000 Islands, Don Det.
Here are some Laos travel guides for lodging to help plan your trip.
Enjoy this Post?!?! Pin in for Later ↓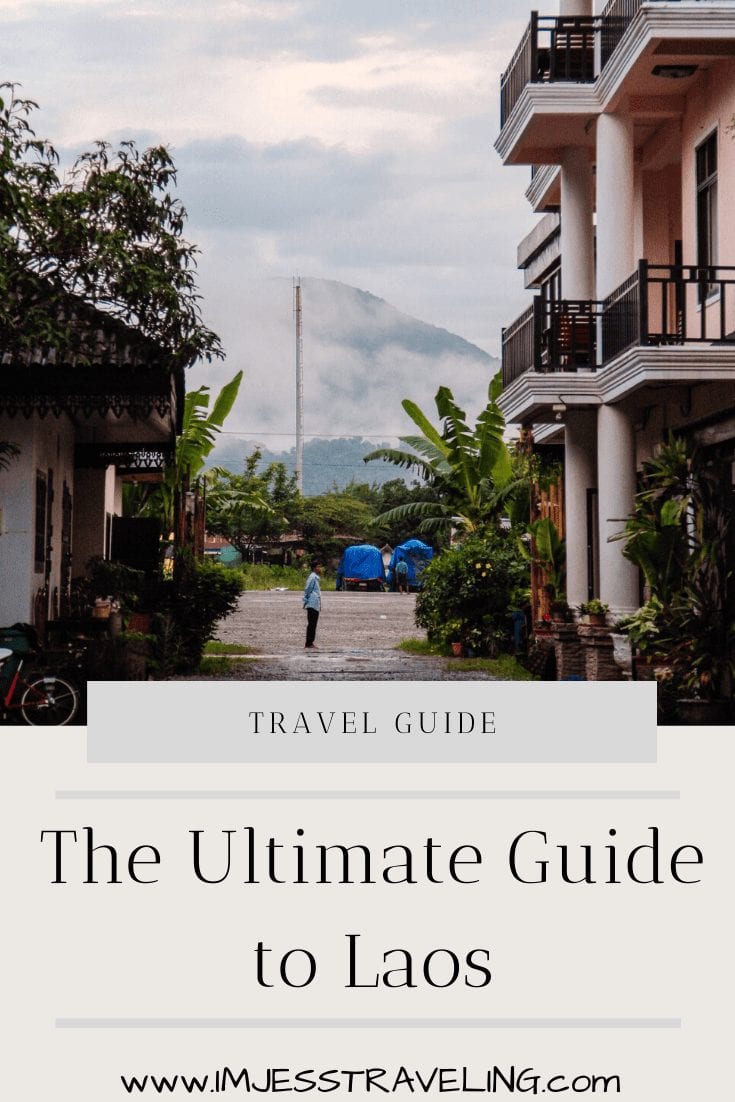 By Plane: international flights fly into Laos capital airport of Vientiane (VTE), Luang Prabang and occasionally Vang Vieng.
If you're flying from a neighboring country such as Thailand or Cambodia, tickets are around $100 USD which is worth it as you save days of travel time.
Jetradar, Skyscanner and Kayak are sites that are flexible and give you the cheapest rates. AirAsia, JetStar, Tiger amongst other budget airlines are all listed through these search engines. This always ensures getting shown the latest and cheapest prices. Just don't expect much frills on these budget airlines and luggage will cost extra.
By Bus: If you're traveling slow and/or throughout Southeast Asia, it's likely that you'll be taking a long bus journey at some point or another. International buses are cheap, plentiful and comes from all the neighboring countries including Thailand, Cambodia and Vietnam.
Overnight trips are a doozy.
Read Next: Border Crossing Laos to Cambodia with AVT
By Boat: The 2 day slow boat journey is by far the most memorable way to get into Laos.
Transportation around Laos
Transferring between towns is straight forward and easy to navigate. Download the apps Bookaway and 12Go Website. They are very helpful to check bus, boat, and train schedules ahead of time.
Getting around in Laos is an adventure in itself. I was on an overnight bus and completely over slept our stop by several hours. Needless to say, that was an insane bus ride.
By Bus: The easiest way to get to Laos and transfer between cities will be by bus. Buses are frequent within the country.
The roads are filled with pot holes and its not uncommon to have a road destroyed by a land slide especially in monsoon season.
By Tuk Tuks or Sawngthaews: Hire a driver to take you to places like Kuang Si Falls or the blue lagoon.
Moped or Motorbike: The best way to explore the country.
Packing is always the hardest part. You'll most definetly want a rain jacket for wet season and comfortable clothing that are suitable for the warm, humid weather of the warm months. A warm jacket and comfortable yoga pants are also essential for the winter months.
Laos is a conservative country and you'll need to be covered up when entering the temples. I always bring a wrap skirt that I can throw on when I need to be covered up.
Don't leave home without theses Laos travel guide essentials.
Sarong (to cover up to enter temples)
2 Pairs of shorts
1 Pair of Jeans
1 or 2 Pairs of Leggings
5 shirts/Tanks
Underwear
3 Pairs of Socks
1 Sweatshirt (for travel days)
Swimsuit
Converse Sneakers
1 Flannel
Toothbrush & Toothpaste
Hair Brush
Hair Ties & Bobby Pins
Feminie Products
Deodorant
Razor
Band aids
Hand Sanitizer
For more packing inspiration, check out these posts.
Safety is an important factor in planning any trip, espicially when it is international. Here are some Laos travel guide safety tips.

Laos is

a safe country to travel to as a solo female traveler.

Pickpocketing and thievery will be your biggest concern.

As always use your wits and common sense.

Pharmacies can be found in all major towns and cities. This is the best your going to get so if something major happens while traveling Laos then your best bet is to head to Thailand for better healthcare.
You can find the U.S. Embassy in Vientiane.
Travel insurance is very important. There is nothing worse than being in need of medical care in a foreign country without insurance! Protect yourself! This is your best investment.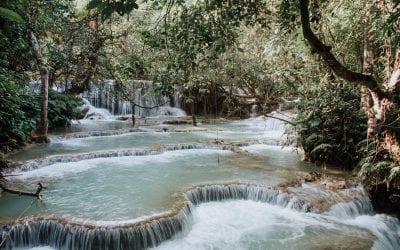 Wondering what to do in Luang Prabang?  Don't worry, there are plenty of things to do in Luang...
read more