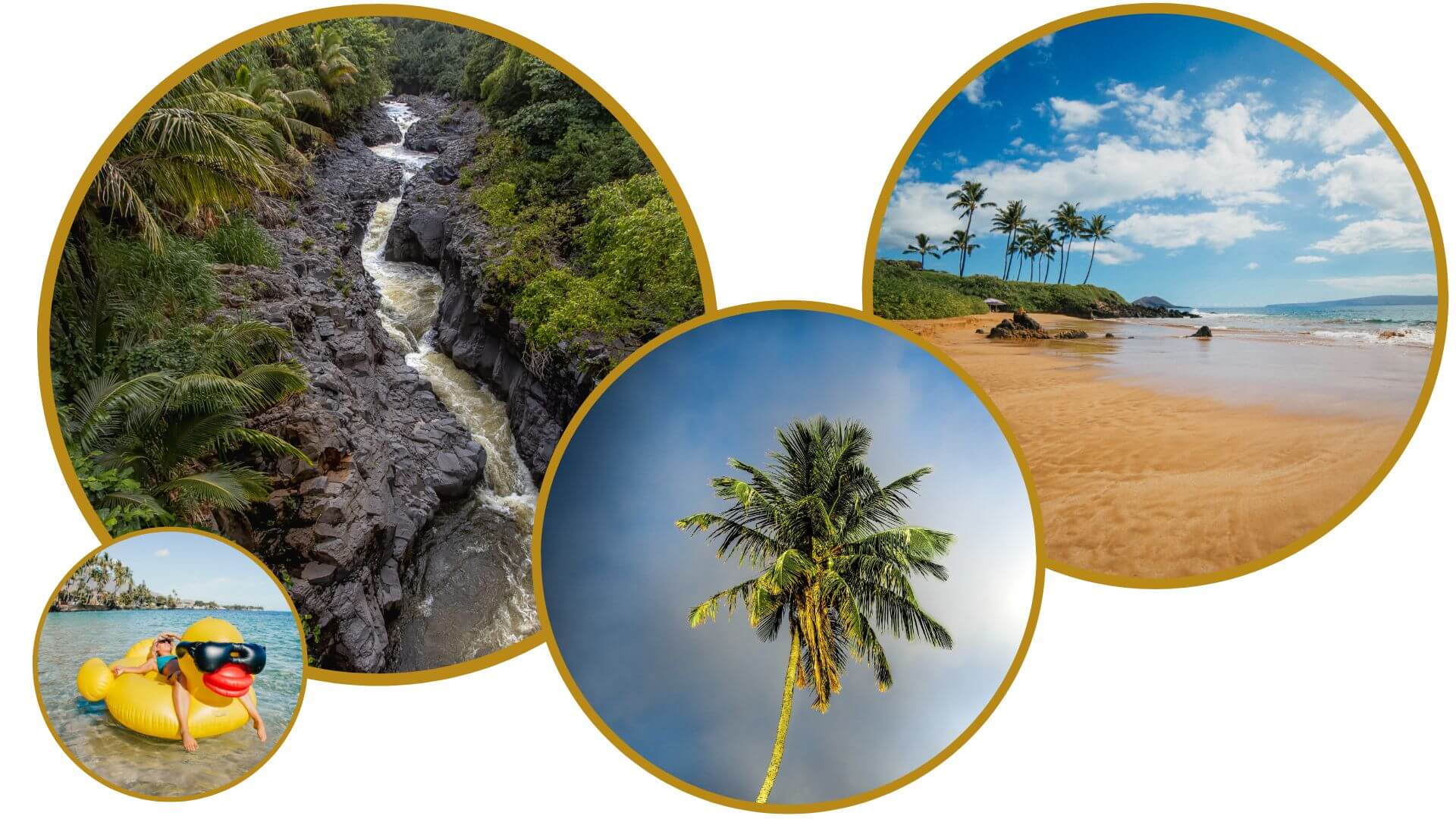 🇺🇸 CAPITAL | WAILUKU
💷 CURRENCY | USD
🙊 LANGUAGE | HAWAIIAN | ENGLISH | PIDGIN |
Welcome to the ultimate Maui Travel Guide. There is a saying here, 'Maui No Ka Oi' which means Maui is number one and I couldn't agree more. Known as the valley isle, Maui is the second largest Hawaiian Island. With over 120 miles of coastline finding your own secluded world class beach won't be a problem when you're traveling to Maui.
Maui is full of adventure on and off land. Hike through a dormant volcano or test your driving skills as you plunge the road to Hana. Prefer to set sail on your adventures?!?! Take a snorkel tour to the neighboring island of Lana'i or hop on a whale watch for a once in a lifetime experience.
Maui is adventure, luxury and relaxation all wrapped into one. Make sure you allot some time to let yourself get pampered in paradise and to work on your tan. I mean did you even travel to Maui if you didn't get a tan?
Lastly, uncovering Maui's culture will only amplify her beauty. Wear a helmet as you'll begin to fall head over heels like I did.
🐳 West Maui
West Maui is one of the most popular areas in Maui and is home to many of the islands most popular tourist attractions, including the world-famous Kaanapali Beach, Lahaina Harbor, Napili Bay and Kapalua Bay. It is also home to the historic Lahaina Town – a charming, picturesque town that was once the capital of Hawaii.
🌺 South Maui
South Maui is another popular area on Maui that is known for its stunning beaches, world class resorts and incredible sunsets. From the championship golf courses of Wailea to the many snorkeling spots in Makena and the family friendly beaches in Kihei, there is something for everyone on this part of Maui.
🏄‍♂️ North Shore
Maui's North Shore is a stunning landscape of lush tropical forests, dramatic cliffs and pristine beaches. From the famous surf spots at Hookipa Beach to the laid back town of Paia, many travelers head to the North Shore for a taste of Hawaii life at a slower pace.
🌋 Upcountry
Upcountry Maui is the area of Hawaii located on the slopes of Haleakala, the world's largest dormant volcano. Upcountry is known for its rolling hills and lush green valleys. This area is home to a winery, local farms and the Summit District of Haleakala National Park.
🍍 Central Maui
Central Maui is the business district of Maui. Home to Kahului Airport (OGG) this is where you'll be flying in when you travel to Maui. This area is full of restaurants, a few cultural sites, Iao Valley, grocery stores and shopping malls.
🎋 East Maui
East Maui is a remote area of Maui. Known for its lush rainforest, waterfalls, hiking and spectacular sunrises, it's an adventure on its own to get here as you must traverse the famous road to Hana . East Maui is home to the Kipahulu District of Haleakala National Park and some of the most beautiful and secluded beaches in the entire island.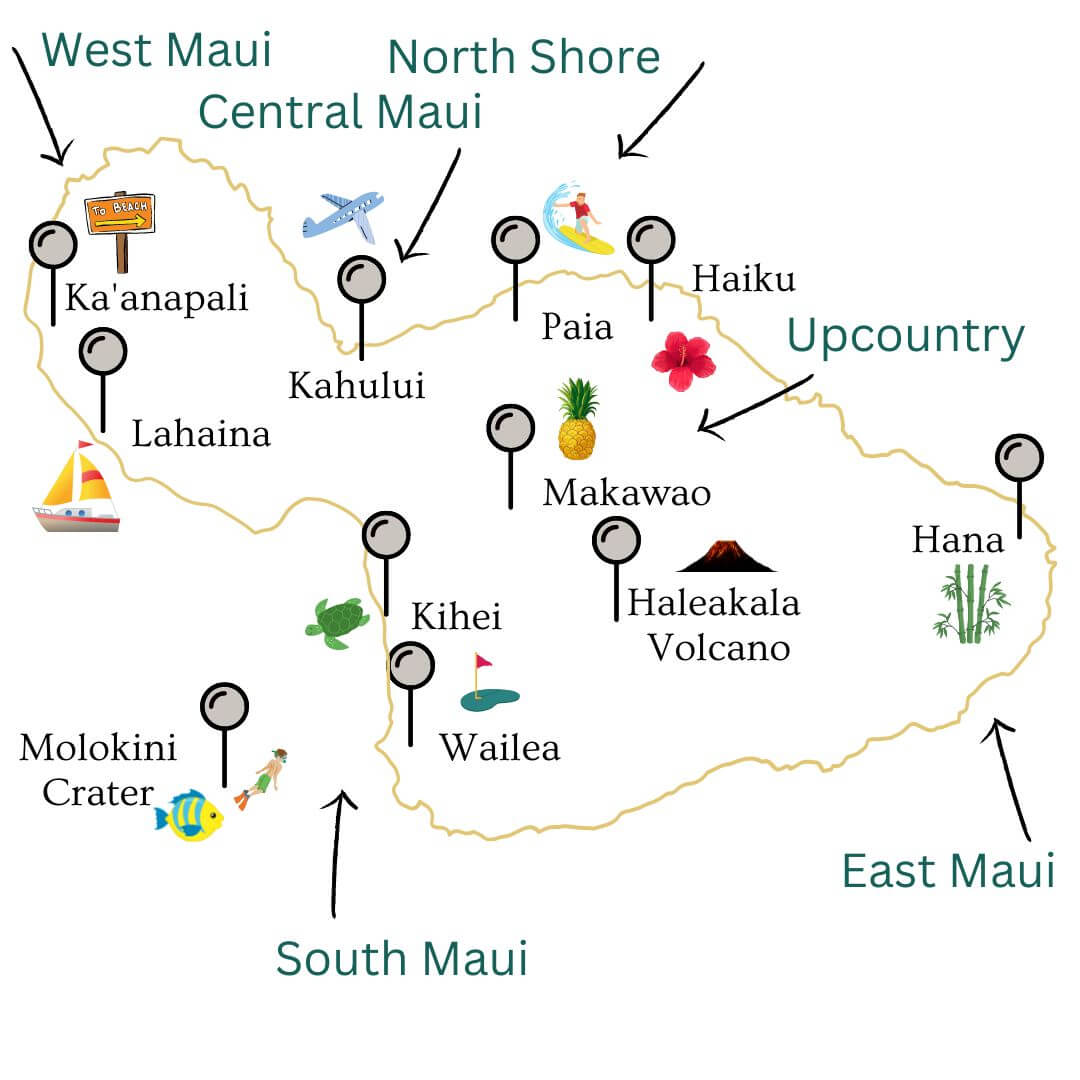 Best Things to do in Maui
There are so many things to do on Maui that you can spend a few weeks on this island and not see and do everything. Below I've listed the most popular tourist attractions on Maui because this is the ultimate Maui guide after all.
Road to Hana – 52 miles of twisty curves that take you from Kahului to Hana on East Maui. Highlights include numerous road side waterfalls, stunning seascape views, lush rainforest and exotic beaches.
Watch Sunrise atop Haleakala – Imagine sunrise atop a dormant volcano at 10.023 feet where the sun rises above the clouds with volcanic cinders cones as your backdrop.
Witness the Beauty of Waimoku Falls – Waimoku Falls is a 400 foot waterfall that can be reached by hiking the Pipiwai Trail in the Kipahulu District inside Haleakala National Park. The beautiful trail takes you past photogenic banyan trees, several waterfall loutlooks and through a whispering bamboo forest.
Snorkel Molokini – Molokini Crater is one of Maui's most premier snorkeling spots. This semi-submerged volcanic crater has crystal clear waters and a vibrant reef providing an ideal habitat for a variety of marine life making it a must-visit spot for any snorkeling enthusiast.
Explore Exotic Beaches – A trip to Maui is never complete until you get to enjoy the world class beaches. The beaches of Maui are pristine, elegant, and exotic.
Go on a Whale Watch – One of the best tours on Maui and most magical experiences you can have is to witness the humpback whales in action. This is a MUST experience on your Maui vacation if you visit Maui during season mid December – mid May.
Learn to Surf – Learning to surf is a great way to spend a few days of your time on Maui. Hawaii is the Mecca of surfing and there are plenty of beginner surf spots around the island where you can take a lesson and learn the ways of the water. Some of the best beginner breaks include Breakwall, the Cave in Kihei and Launiupoko Beach Park.
Hike through a Dormant Volcano – For the ultimate caloric burn and exploration of the crater connect Sliding Sands Trail with Halemauu Trail towards Holua. This will lead you out of the crater through a series of rocky, misty switchbacks.
Set Sail on the Ocean – Just imagine a warm, tropical breeze, salty ocean spray on your face, wind in your hair and the sun on your face as you glide across Maui's tropical Hawaiian waters.
Spend a Day Upcountry – Upcountry on Maui is referred to the agricultural land and 'country' towns on the slopes of Haleakala. There's lots of different ways to explore this area of the island.
Sample Local Cuisine – You can't have a Maui travel guide and not talk about food. Hawaii has its own unique and traditional cuisine. Make sure you try dishes like kalua pork, poi, ahi poke, lomi salmon and haupia.
Go Hiking – Maui is full of hiking trails ranging in different lengths and difficulty. Some of Maui's best hikes include the Hoapili Trail, Lahaina Pali and Mahana Ridge.
Attend a Luau – Watch traditional Hawaiian performances like the hula, enjoy delicious Hawaiian cuisine and drink fruity cocktails.
Know Before you Travel to Maui
I moved to Maui about 12 years ago and have lived all over the island but I've spent most of my time in Lahaina. I've had over a decade of beach bumming, mai tai tasting, trail blazing and waterfall chasing to be a expert in all the awesome and fun things to do on Maui. Trust me adventure is on the horizon.
How big is Maui? Maui is bigger than you expect. Although it is possible to drive around Maui in one day there's so many places to see and things to do in Maui that a week won't be enough. If possible move around the island and stay multiple places so you get the real feel of this magical paradise.
When to go to Maui will depend on what you want to do and your travel budget. December 15 to May 15 is official whale season with February & March being the most active months.
The busiest time in the islands is during the holidays, Christmas and New Years. Winter brings heavier rains and bigger surf. – Check out 12 Things to do in Maui when it rains if you find yourself caught in the rain.
Summer time flights are cheaper and temperatures are hotter by 10 degrees especially in Lahaina.
I would recommend visiting Maui for at least 10 days. There is so much to do and explore on Maui that you still won't be able to see and do everything that you want to. 10 days gives you enough time to experience the highlights of each area of Maui.
Hi, we're Jess (& Joe). We hope you're enjoying our free travel guides and tips. If so please consider buying us a coffee ☕️. We appreciate your support!
Useful Apps to Travel Maui
GOOGLE MAPS: Very helpful when you're trying to navigate public transportation and traffic updates.

SHAKA GUIDE: This app is useful when driving the road to Hana.

UBER& LYFT: Yes we have that here.

DUOLINGO – Offers the Hawaiian Language.

MAUI WATCH – Useful for traffic updates. A must have for this Maui travel guide

TIDE ALERT – Tells you when its high and low tide.

808 PICKUPS: Get food delivered straight to your door from all the hottest restaurants. We also have Door Dash.
Happy hours are a fun and easy way to keep expenses down.
Renting a car is always a good idea. Driving around the islands and and being able to stop whenever is a must on the road to Hana.
Support local business as much as you can. Living on Maui is expensive and supporting locals goes a long way.
Stay on the trail and respect the aina (land). Don't wonder or hop fences where it is posted to private property. Kapu means keep out.
The ocean is powerful. Abide the surf warnings.
Only wear reef safe sunscreen in the water. It protects the reef and is required by law.
Read 10 Maui Insider Tips before you go.
Try to learn about the culture, there's more to Hawaii than luau's and pina coladas.
Maui visitor guide travel budget- $250 and up depending on how frugal you are. Thankfully there are a lot of activities that are free in Hawaii like sunsets and beaches but Hawaii is expensive – there is no way around it.
And let's be real, you don't visit the Hawaiian Islands to skimp, you come to paradise to pamper yourself in luxury. Still, it is possible to travel Maui on a budget. Check out the budget Maui travel guides below.
Camping | $20 & up
Hostel | $55 dollars and up.
Mid Range hotel | $200 and up.
Luxury | $350 and up.
Happy Hours are how locals live $3-12 for drinks and pupus
Spam musabi | $2
Gallon of milk | $8
Gas | $5 per gallon
Happy Hours are how locals live $3-12 for drinks and pupus
Spam musabi | $2
Gallon of milk | $8
Gas | $5 per gallon
Whale watch | $60
Helicopter ride | $250-500
Private surf lesson | $120 & up
Parasailing | $90
If you're traveling to Maui splurging on a resort is apart of the experience. An average night in a resort/hotel is $300+ a night. To enjoy all of Maui and experience all of her wonders hop around the island and stay multiple places. Check out these Maui travel housing guides to help you out.
⭐️ Worth the Splurge: Hana-Maui Reosrt
Enjoy this Post?!?! Pin in for Later ↓
There are several direct flights flying from the West coast of the United States including Las Angeles, San Fransisco, Seattle and Portland. There are even direct flights from Dallas, Texas.
If you're not flying to Maui directly, you'll more than likely be connecting through Honolulu in Oahu which is only a 20 minute flight so its not that bad. Usually if you're looking for a cheap flights to Maui you'll connect through HNL.
Main airport codes for Hawaii
The Big Island – Kona – KOA – Hilo – ITO
In order to travel as much as I can I usually try to book the cheapest flight. There are a handful of websites that I search in order to find the cheapest flights to Maui. My go to site is Skyscanner.
I love Skyscanner for so many reasons. If you're flexible about the dates you travel and/or where your departure city is, this site makes it easy to search a broad area of time and space to find you best and cheapest flights.
Jetradar, Skyscanner and Kayak are sites that are flexible and give you the cheapest rates. AirAsia, JetStar, Tiger amongst other budget airlines are all listed through these search engines. This always ensures getting shown the latest and cheapest prices. Just don't expect much frills on these budget airlines.
🚗 Transportation around Maui
Maui is one of the few places that I'd recommend renting a car because there are so many beautiful places to explore that you can't get to by public transportation.
The public transportation system is limiting and it's rather difficult getting around Maui without a car.
Rental cars are your best option when exploring the islands. One of the best things to do is explore the island by driving around. You'll want your own wheels to pull over and snap photos and to be on your own schedule.
There are "city" buses that connect you to the major part of the islands. This is the cheapest option but not the most time effective.
I wouldn't travel Maui without my own wheels or traveling with someone who has them. The best parts of Maui are only accessed by having your own vehicle.
Packing is always the hardest part. You don't want to overpack but you also don't want to be left wanting. Don't leave home without theses Maui travel guide essentials.
For more on packing, check out these posts.
Safety is an important factor in planning any trip. Hawaii has always felt very safe to me. I've never had a sketchy moment and I've lived here for almost 10 years. There are a few things I'd be aware of though. Here are a few Maui travel guide safety tips.
Don't be suprised to see homeless people especially when you walk around at night.
It's not uncommon to be offered to buy pakalolo (weed) when you're walking down the street.
Travel insurance is very important. There is nothing worse than being caught in a situation where you're not insured. Protect yourself! This is your best investment.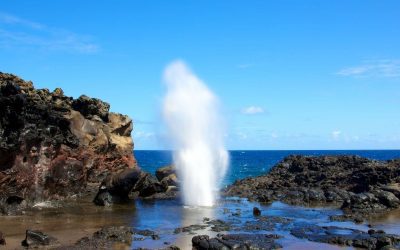 The hike to Nakalele Blowhole Maui is a 1.25 mile round trip trail that takes you past steep,...
read more