The hike to Nakalele Blowhole Maui is a 1.25 mile round trip trail that takes you past steep, rugged, coastal cliffs, through 'Acid War Zone' and finally past Nakalele Point and the Nakalele blowhole. The main attraction here is obviously the blowhole which spits water up into the air by passing through a hole in the ground – we'll go over what exactly is a blowhole a little later.
Located on West Maui, the blowhole is one of the most popular stops while you are driving the West Maui loop. This isn't one of the most strenuous hikes that Maui has to offer but it can be difficult due to the steepness, terrain and wind.
TRAVEL TIP: If you would prefer to follow along to an audio tour as you explore the coast line of West Maui, I recommend the Shaka Guide! The Shaka guide tours are great for independent explorers who want the freedom to explore on their own terms, but like to learn about the spots they're visiting.
The tours use GPS to offer turn-by-turn directions and audio narration with stories and music. This will leave you with a deeper understanding and connection to Hawaii.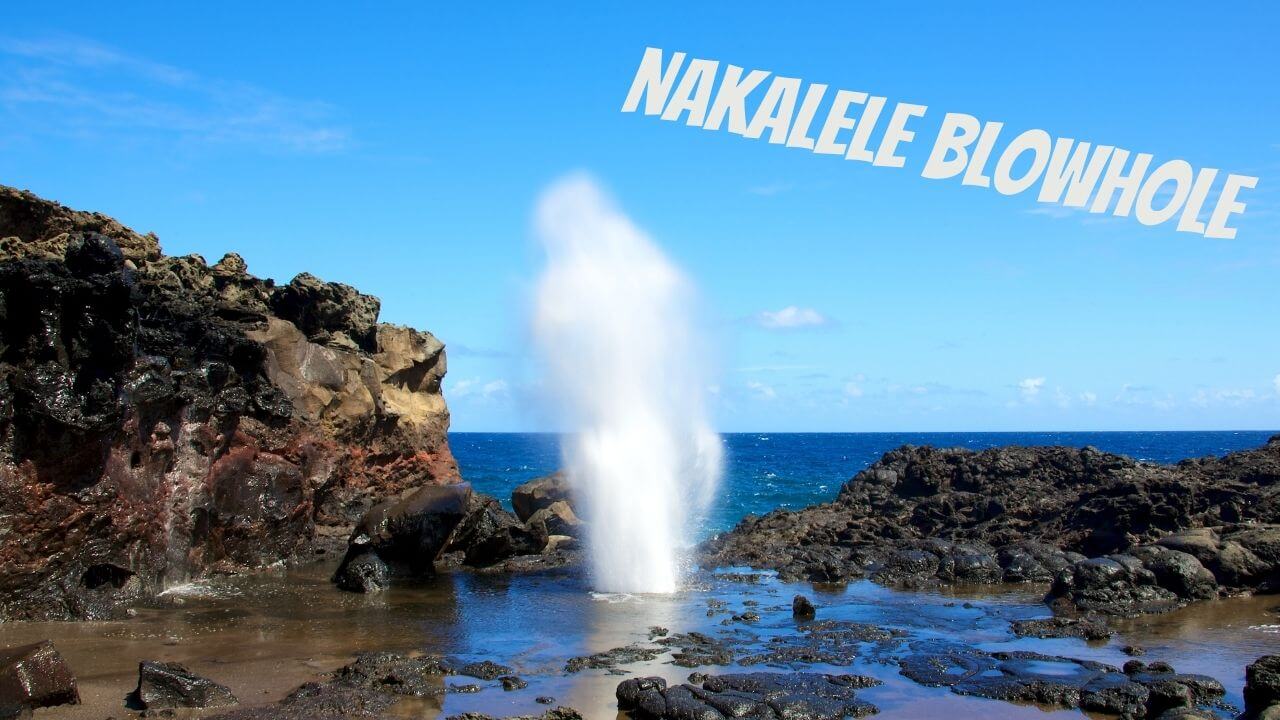 For full transparency, I have sprinkled some affiliate links in this post.  As an Amazon Associate I earn from qualifying purchases that gives me a small commission at no extra cost to you if you decided to make a purchase.  As always, I would never recommend a product or service that I didn't truely believe in.  All proceeds go to keep Jess traveling and coffee ☕️.  I thank you in advance.
The Nakalele Blowhole is located on the backside of West Maui. The Maui Blowhole and surrounding area is about 50 minutes North of Lahaina town or a half hour if you are staying up North in Kapalua.
The Nakalele Blowhole can be accessed from two different parking lots, both ending up at the same place. The first parking lot for the Nakalele blowhole is after mile marker 38 (on Highway 30). This is the best place to start if you would prefer to view it from afar and not hike in.
The second parking lot for the acid war zone trail is located around mile marker 38.5. This would be the parking area to start from if you want to soak in the sights and hike about a mile though Acid War Zone, past the lighthouse and eventually end up at Nakalele Point and the blowhole.
Both parking areas are on the left hand side of the road and are basically a worn, dirt path although the second lot has more of a shoulder to pull off at. You can check out the location on google maps here.
If you come later in the day you won't miss it as there will be a pile of cars parked along side the road. In my opinion this kind of takes away the lure of off-the-beaten path Maui.
It is also important to note the parking area is a hot-spot for smash-and-grab thieves– bring valuables with you to the blowhole and leave the car unlocked to avoid broken glass.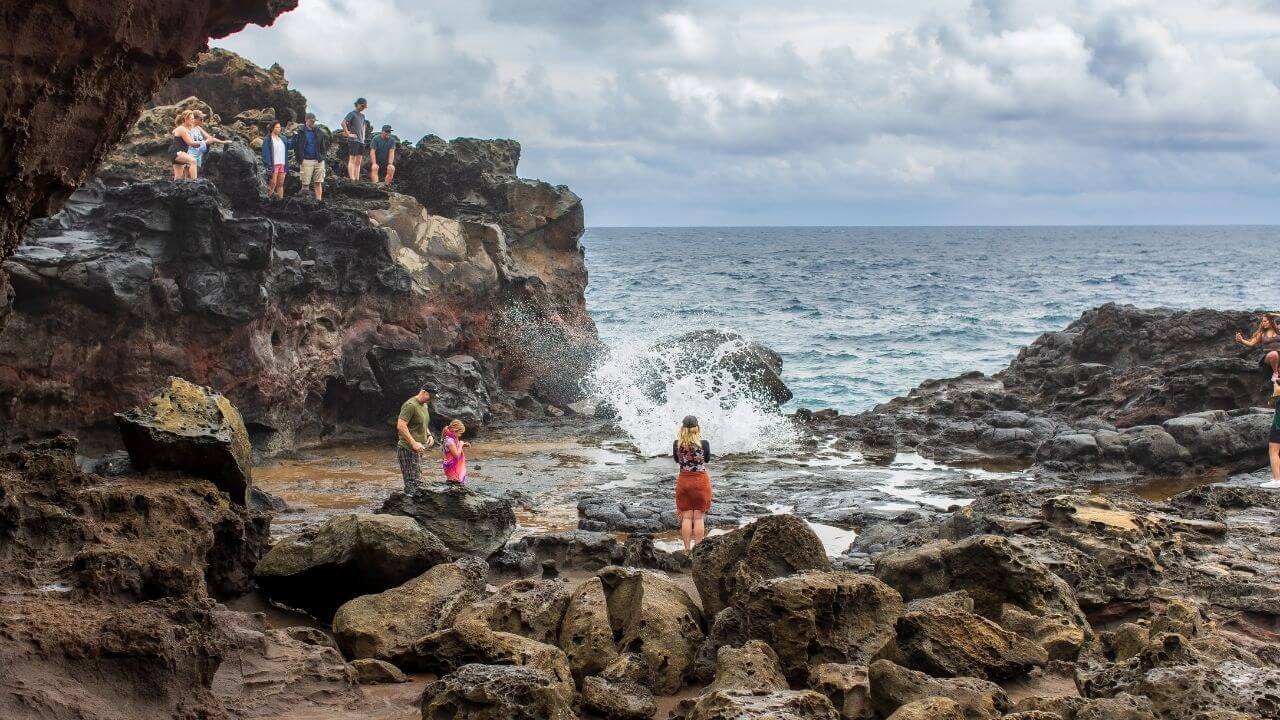 About the Nakalele Blowhole Maui & Surrounding Area
First, what is a blowhole? A blowhole also referred to as a marine geyser is a sea cave that has grown upwards and is exposed at the surface. When the ocean rises or waves violently crash into the partially submerged ocean cave, water rushes into the sea cave and bursts out in a high pressure releasing misty water (similar to a whale blowhole) resulting in a geyser like experience. Blowholes are likely to occur in areas where there are crevices like lava tubes along a rocky coast.
From the second parking lot there are a series of worn paths that take you out towards the lighthouse. Once you've made it to the lighthouse you are greeted with sweeping views of the Pacific Ocean. From here the path will start to head down hill and this is arguably the toughest part of the hike.
The trails are sandy and rocky and at points steep so take your time getting down. At the bottom of the trails is an area that is referred to as Acid War Zone. This is the area between the light beacon and the Nakalele Blowhole. You'll quickly understand how it got its name as its a barren landscape dotted with large boulders.
Next up is the Maui blowhole. It's about the size of a manhole cover and is very powerfu, especially during the winter months. On high surf days, the blowhole can erupt up to 50 feet in the air.
When to Visit the Nakalele Blowhole on Maui
From 10 am – 4 pm trying to visit the blowhole will likely be crowded. Like most tourist attractions on Maui, the best time to avoid the crowds is coming early in the morning or later in the afternoon.
Now I can't write a post about the Nakalele Blowhole without having to talk about safety. If you have done any other research on the Nakalele Blowhole and surrounding area, you should have read how controversial this attraction is. Some people (mostly tourists without understanding of the waves or ocean) have lost their lives. Many more have been seriously injured.
People will get too close to the blowhole and on high surf days, the force of the water shooting through the blowhole can fling people up into the air. Pair that will landing on sharp lava rock or worse getting swept out into the ocean – it does not end well.
That being said, the safest time to visit is in the summer – June-early September – when large surf is rare. This doesn't mean that there won't be exceptions in the summer when surf is up but this is a general rule of thumb.
Since this is the safest time to visit is when waves are smaller, that means that the blowhole will be smaller and less intense. It's kind of a catch 22.
In the winter time – November-April is when there is bigger surf on the North shore. If there is any kind of moderate surf, much larger "rogue" waves occasionally arrive. The larger waves create a larger blowhole spray.
If you are visiting during one of these times it is imperative that you stand far enough from the blowhole to be out of harms way. Large waves crash up against the lava rock walls and sweep by standers out into the open ocean where the rip current is strong.
SAFETY TIPS: Checking for waves visually. Do NOT just assume there are no waves if when you arrive and there are none or that they are small. Bigger waves come in sets about every 15-20 minutes or longer and can be spaced very far apart. You can think you are safe only to soon realize you are in real danger.
If you are washed into the open ocean in this location, chances of survival are slim for even the strongest of swimmers. The rip current is very strong and if you need help, your location isn't easily accessible.
Check the rocks to see if they are wet and shiny looking. Wait it out from a safe distance to make absolutely sure that it is suitable to approach the blowhole at a closer distance.
If there are locals around and they tell you that it is not safe to be that close to the blowhole, believe them! People have been swept into the blowhole and out to open sea and by waves standing too close to the blowhole and/or waters edge which have resulted in death.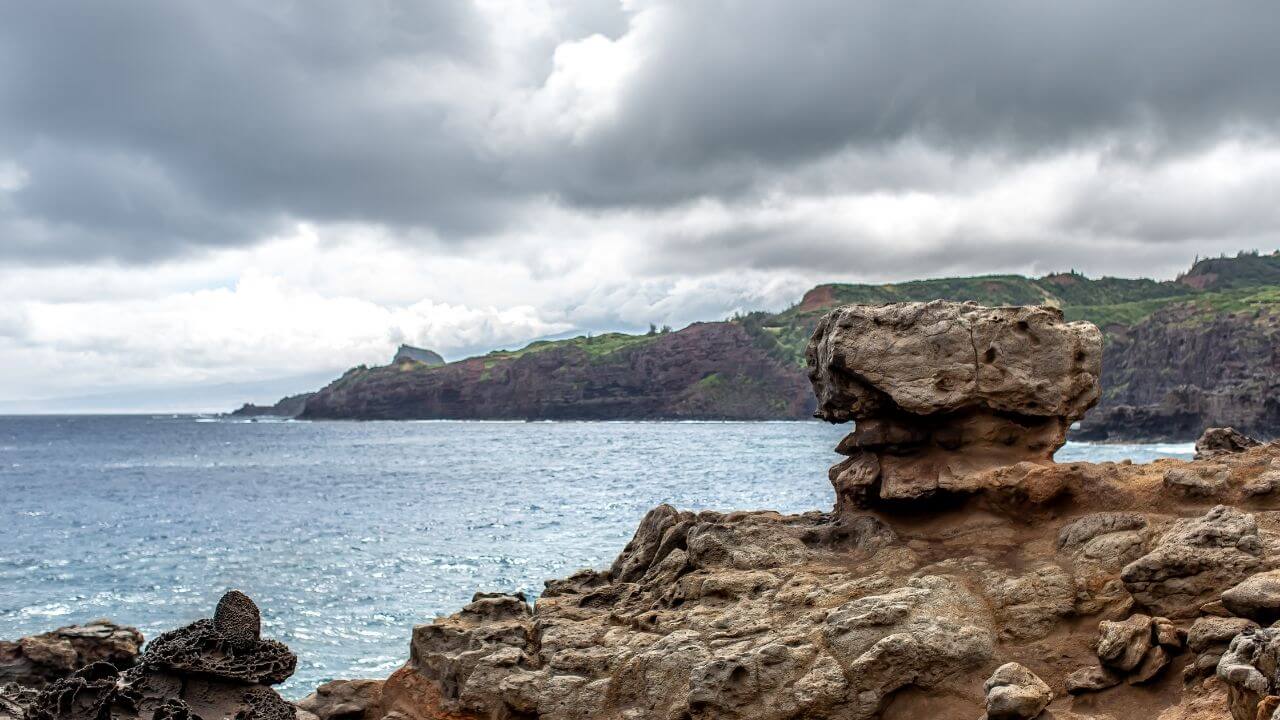 Tips for Exploring Nakalele Point, Nakalele Blowhole & Acid War Zone
Be aware of your surroundings, waves have taken many lives and many more have been injured.
Check the surf report before you visit the Nakalele blowhole.
Bring valuables with you.
Wear close toed shoes to hike down to the Maui blowhole.
Parts of the worn

nakalele blowhole

trails can be slidey with loose rocks, dirt and sand.
Come early to avoid the crowds.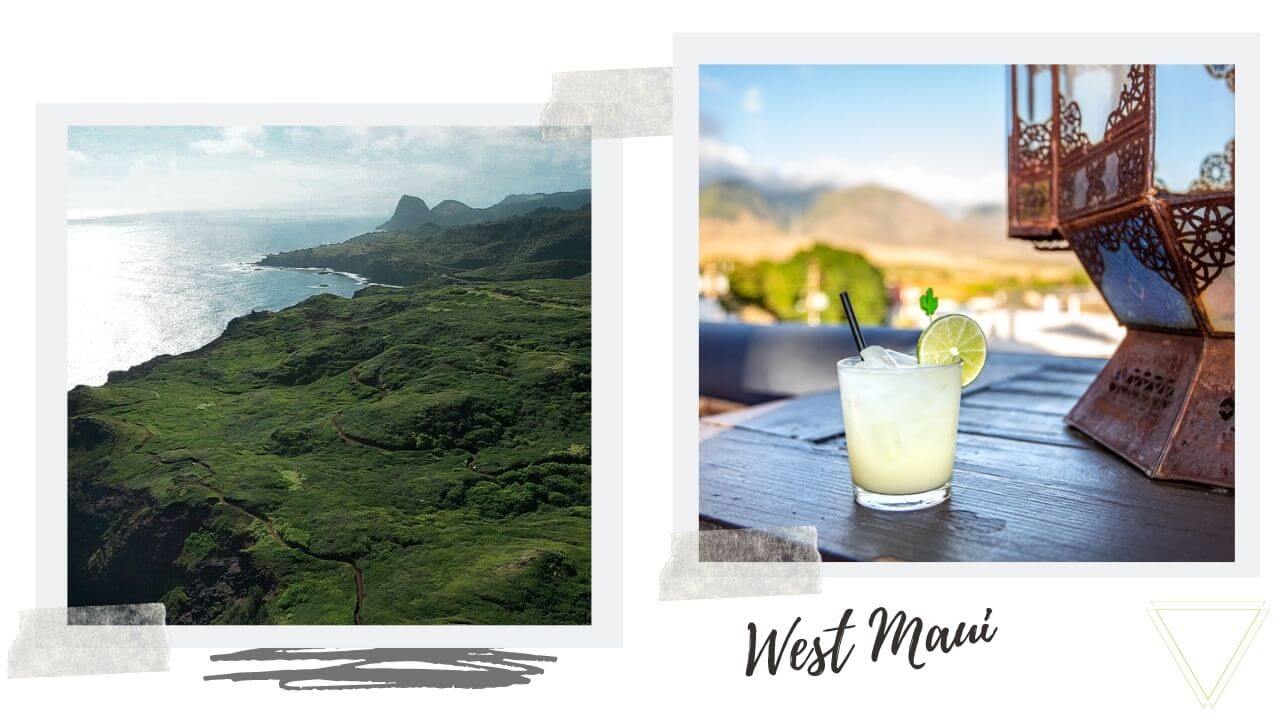 Other Things to do in West Maui
These are the best hikes on Maui not to be missed. Click on the blue links for a detailed post of each hike.
Kapalua Coastal Trail – Family friendly coastal trail in West Maui.
Waihe'e Ridge Trail – Intermediate hike up the Waihee ridge offering scenic coastal and valley views.
Pipiwai Trail – One of Maui's most iconic hikes that takes you through an enchanting bamboo forest and ends at a 400 foot waterfall.
Lahaina Pali Trail – A strenuous trail up to the windmills on the West Maui mountains.
Sliding Sands – Difficult hike that takes you to the crater floor at the summit of Haleakala.
Ohai Trail – Easy 1 mile loop for the whole family.
Hoapili Trail –

The Kings Highway is a rugged trail along an unspoiled stretch of Hawaiian coast.

Mahana Ridge – Highlights include fresh fruit trees, a vivacious forest and occasional coastal views of Mokupe'a and Honokahua Gulches.
Kapalua Coastal Trail – Coastal path along West Maui offering coastal views, world class beaches and dramatic sea cliffs.
Halemau'u Trail – A popular 11 mile hike down switchbacks to the Sliding Sands trailhead.
Waianapanapa Coastal Trail – Rugged coastal trail composed of jagged lava rock that goes all the way to Hana town.
Supply Trail – Located inside Haleakala NP. Starts at Hosmer's Grove and i

ntersect the Halemau'u

Trail.
Have you been to the Nakalele Blowhole and surrounding areas? What was your experience?
Enjoy this Post?!?! Pin in for Later ↓