If you love the great outdoors, there are some incredible Peru hikes to challenge yourself on when you are exploring this South American country. Hiking is one of my favorite ways to explore an area. It's always a great way to travel on a budget and a beautiful way to experience the world.
Peru is an adventure lovers paradise and full of all types of hiking trails suitable for all fitness levels. Whether you are searching for the best hikes in Peru with ancient ruins or an advanced caloric burn on a multi-day Peru trek, there is a Peru hiking trail for everyone.
For full transparency, I have sprinkled some affiliate links in this post.  As an Amazon Associate I earn from qualifying purchases that gives me a small commission at no extra cost to you if you decided to make a purchase.  As always, I would never recommend a product or service that I didn't truely believe in.  All proceeds go to keep Jess traveling and coffee ☕️.  I thank you in advance.
There are three main hiking areas in Peru – Cusco, Cordillera Blanca/Huaraz, and Arequipa.
Cusco and the surrounding area include all the Machu Picchu hikes from day hikes to multi-day treks. If you embark on any hike in Peru, chances are it will be here first.
Cordillera Blanca/Huaraz is the most well known area for trekking. This is a great area for experienced hikers as you'll have altitude and extreme weather conditions to deal with.
Arequipa is the gateway to Colca Canyon country. Think hot, desert, dry climate.
In no particular order these are 10 awesome hikes in Peru. For a detailed post and/or vlog of each Peru hike click on the links below.
Inca Trail
Rainbow Mountain
Laguna 69
Laguna Parón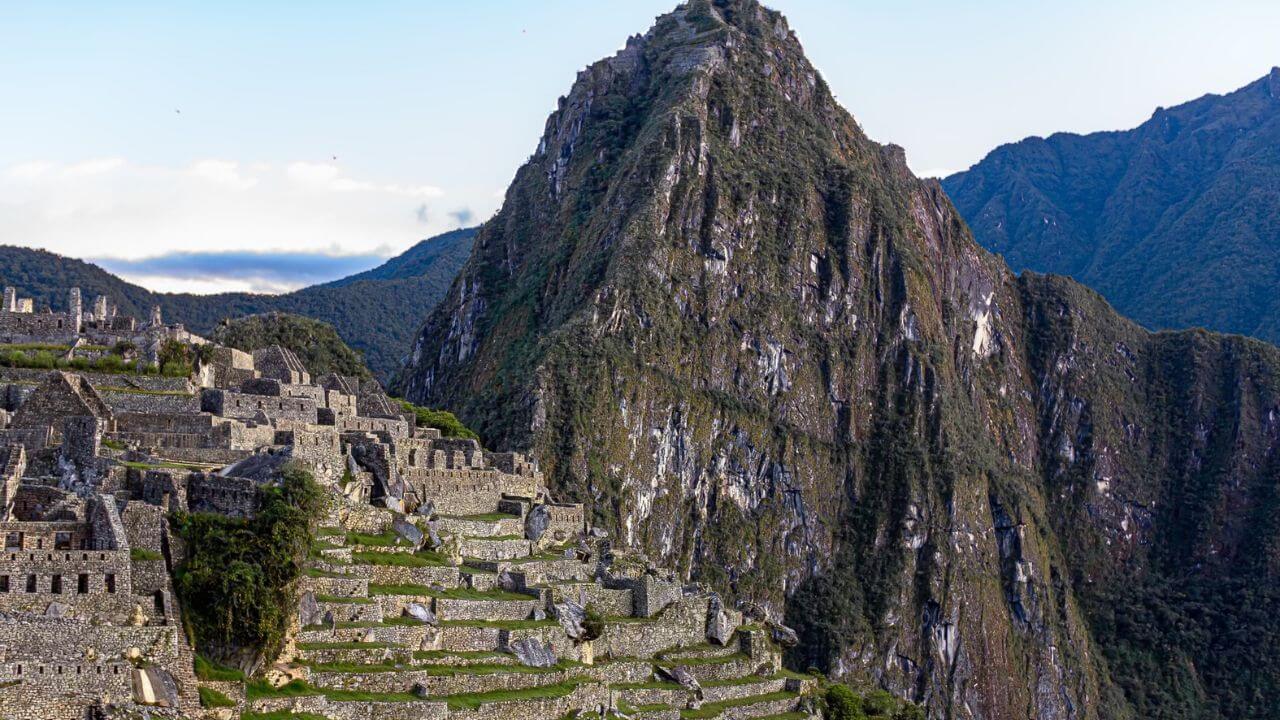 Difficulty: Moderate/Strenuous
Duration: 4 Days
Distance: 26 Miles
Peak Elevation: 13,828 feet
Elevation Gain: 7,063 feet
Of course I can't have a best hikes in Peru list without including the classic Inca Trail. The Inca Trail to Machu Picchu is by far the most famous trek in South America. I personally did not trek the Inca Trail because I opted for the Salkantay Trail instead.
A permit is required to hike the Inca Trail, thus the only way to experience this trek is on a guided tour. The Classic Inca Trail is considered a moderate/strenuous level hike. The average trek takes four days but it is possible to complete in three or five days.
The entire trek is 26 miles in total that ends at the famous Sun Gate. You'll trek up stone steps, past majestic mountains and through thick cloud forests. If you are looking for a true pilgrimage, plan ahead for this hike in Peru. You can book a tour here.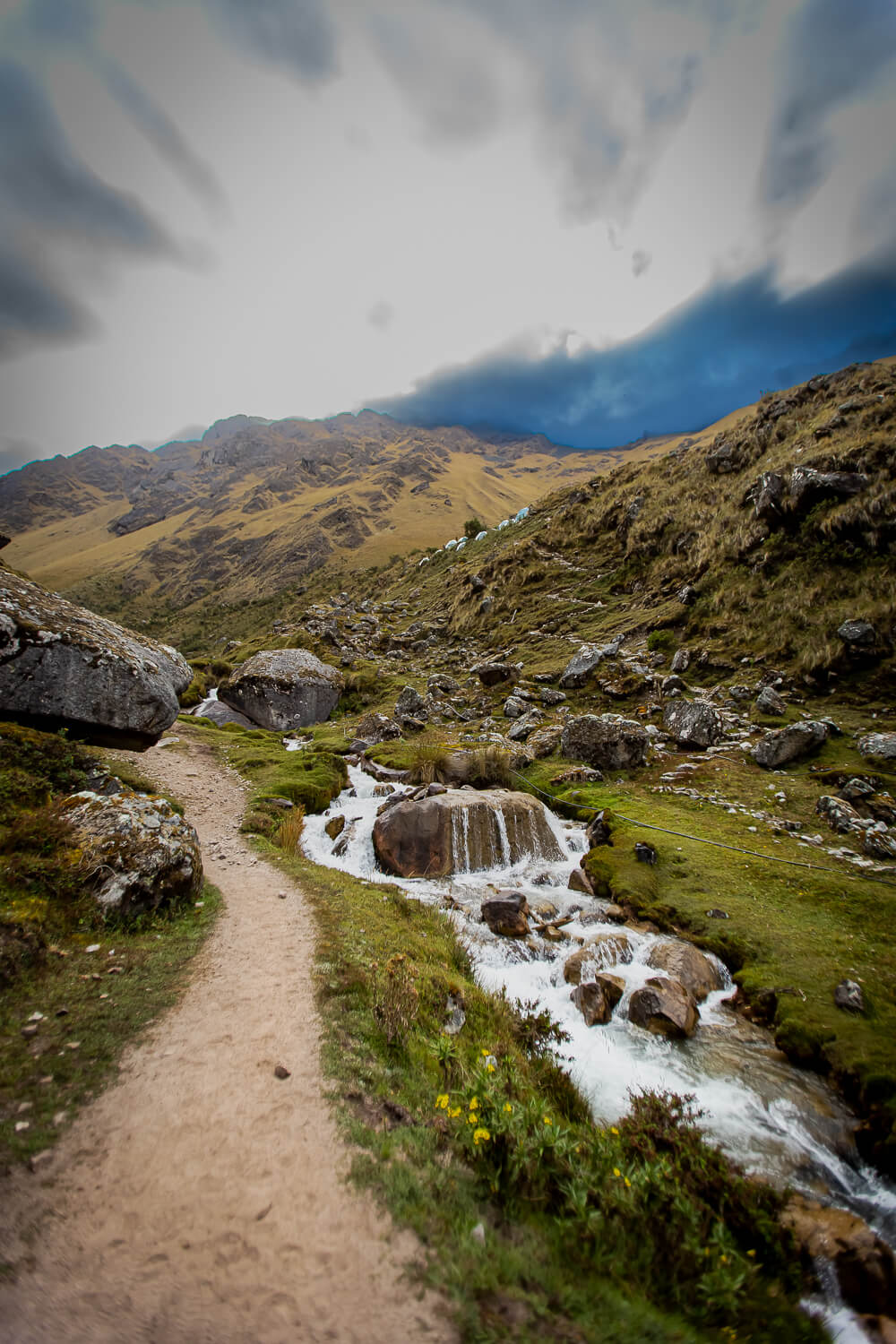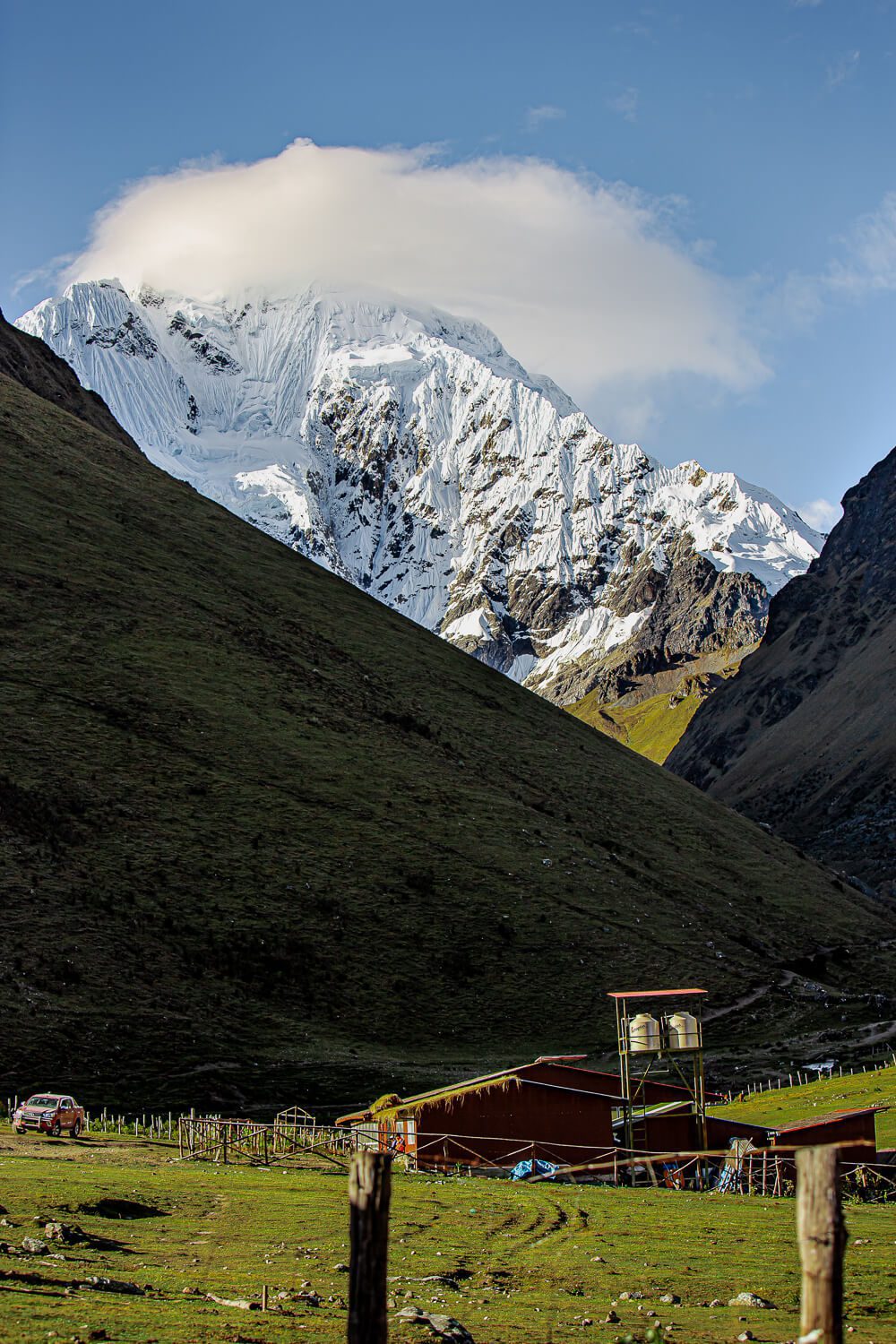 Difficulty: Strenuous
Duration: 4-5 Days
Distance: 46 Miles
Peak Elevation: 15,090 feet at Salkantay Pass
Elevation Gain: Roughly 6,000 feet
The Salkantay Trek is a 46 mile trail that takes you the alternative route to Machu Picchu. Unlike the classic Inca Trail, the Salkantay Trail doesn't require a guide or permit.
This Peru hike is considered to be one of the top 25 hikes in the world. If you are looking to go hiking in Peru, the Salkantay trail should be on the top of your list.
The hike takes you through some of Peru's most beautiful landscaped. Snow capped mountains, free roaming horses, deep river beds, cascading waterfalls and alpine lakes are just some of the natural beauty you'll encounter.
This trail is not for the casual hiker as this trek takes a lot of physical endurance, determination and mental toughness. You'll hit a maximum elevation of 15,090 feet at the Salkantay Pass.
The Salkantay Trek to date is one of my biggest fetes in my hiking career. We even managed to do the Salkantay Trek without a guide, tent, reservations or any sort of training. If you'd like to see for yourself what it was like, check out these Salkantay Trek Travel Vlogs.
If you are interested in trekking Salkantay independently check out these blog posts to help you on this adventure.
Difficulty: Moderate
Duration: 3 Hours to go up and come back down
Distance: 1.2 Miles
Peak Elevation: 8,835 feet at the top of Huayna Picchu
Elevation Gain: 3,280 feet
Huayna Picchu Mountain (also know as Wayna Picchu) is one of the best ways to see Machu Picchu as it overlooks the iconic, preserved city. Huayna Picchu is the tall mountain you see in the background of the most famous photographs of Machu Picchu.
The only way to access this Peru hike is through Machu Picchu in the most northern corner. Huayna Picchu requires its own separate ticket which must be booked months in advance.
The trail loops around the mountain and eventually you'll reach the top. It takes about an hour to hike to the top of the mountain. As you climb up the mountain, you will find steep and narrow stairs known as the "stairs of death."
Closer to the top there are different temples, altars and terraces that offer panoramic views and a place to catch your breath. A friendly reminder – you have to go down the same way you come up. To see exactly what it's like, check out this vlog.
Difficulty: Strenuous
Duration: 3 Hours
Distance: 4.5 Miles
Peak Elevation: 17,060 feet
Elevation Gain: 3,937 feet
Rainbow mountain is an iconic Peru hike located in the Andes Mountain range near Cusco. The hike takes you past a vibrant green valley and finally to the stunning seven colored rainbow mountain with the snow capped peak of Apu Ausangate towering in the distance.
The high elevation and weather conditions make this hike very difficult. The hike to rainbow mountain will take 3-4 hours round trip and totals a distance of 4.5 miles.
This hike is difficult to access by yourself as you need a four wheel drive vehicle to get there, thus the easiest way to enjoy this hike in Peru is on a tour. Every tour operator in Cusco offers excursions to rainbow mountain that booking a day in advance will be suffice. Make sure you acclimate in Cusco at least a few days before trying to take on this Peru hike.
If you like to plan ahead, here are a few highly rated Rainbow Mountain Tours.
Difficulty: Strenuous
Duration: 2 Hours
Distance: 2.6 Miles
Peak Elevation: 13,900 feet at Humantay Lake
Elevation Gain: 1,200 feet
Humantay Lake (pronounced Uman-Tie) is a popular trail located at the base of Soraypampa village. The strenuous 2.6 miles loop trail takes on average 2 hours to complete. Although it's only 2.6 miles, Lake Humantay hike starts at 12,700 feet in elevation and ends at the lake at 13,900 feet.
Like rainbow mountain, the high elevation makes it very difficult and you easily get short of breath. Standing at the base and looking up the mountain, the trail to Lake Humantay looks average. Not too hard yet not a walk in the park.
Boy was I wrong. This trail is steep! I'm an avid hiker and this Peru hike kicked my ass. Granted I mostly hike at sea level on my home base of Maui, Hawaii and had fleeting moments thinking I wouldn't make it to the lake.
I'd take 3 steps and have to take a break because I thought I was gonna pass out. Throw in possibility of altitude sickness, you're in for a challenging hike. It sure is beautiful though. Along the hike you'll walk past horses and grazing cows through fields of beautiful alpine flowers.
If you'd like to see the suffering for yourself, check out this travel vlog about Day 1 Salkantay Trek to Lake Humantay
Difficulty: Strenuous
Duration: 6 Hours with lake time
Distance: 7.2 Miles round trip
Peak Elevation: 15,091 feet at Laguna 69
Elevation Gain: 2,600 feet
Laguna 69 is one of the top attractions in Peru. This lake is the crown jewel of the Cordilleras and sits at the base of Chacraraju Mountain. This hike is best enjoyed as an overnight trek, although it is possible to be done as a long day hike.
The hike is 3.7 miles one way but that doesn't make it a stroll in the park. The elevation gain, high altitude and steep sections make this hike difficult. Since this hike is located in the Huascaran National Park it cost 30 soles for a single day pass. Like several of the Peru hikes on this list, you will want to be acclimatized before embarking on this adventure.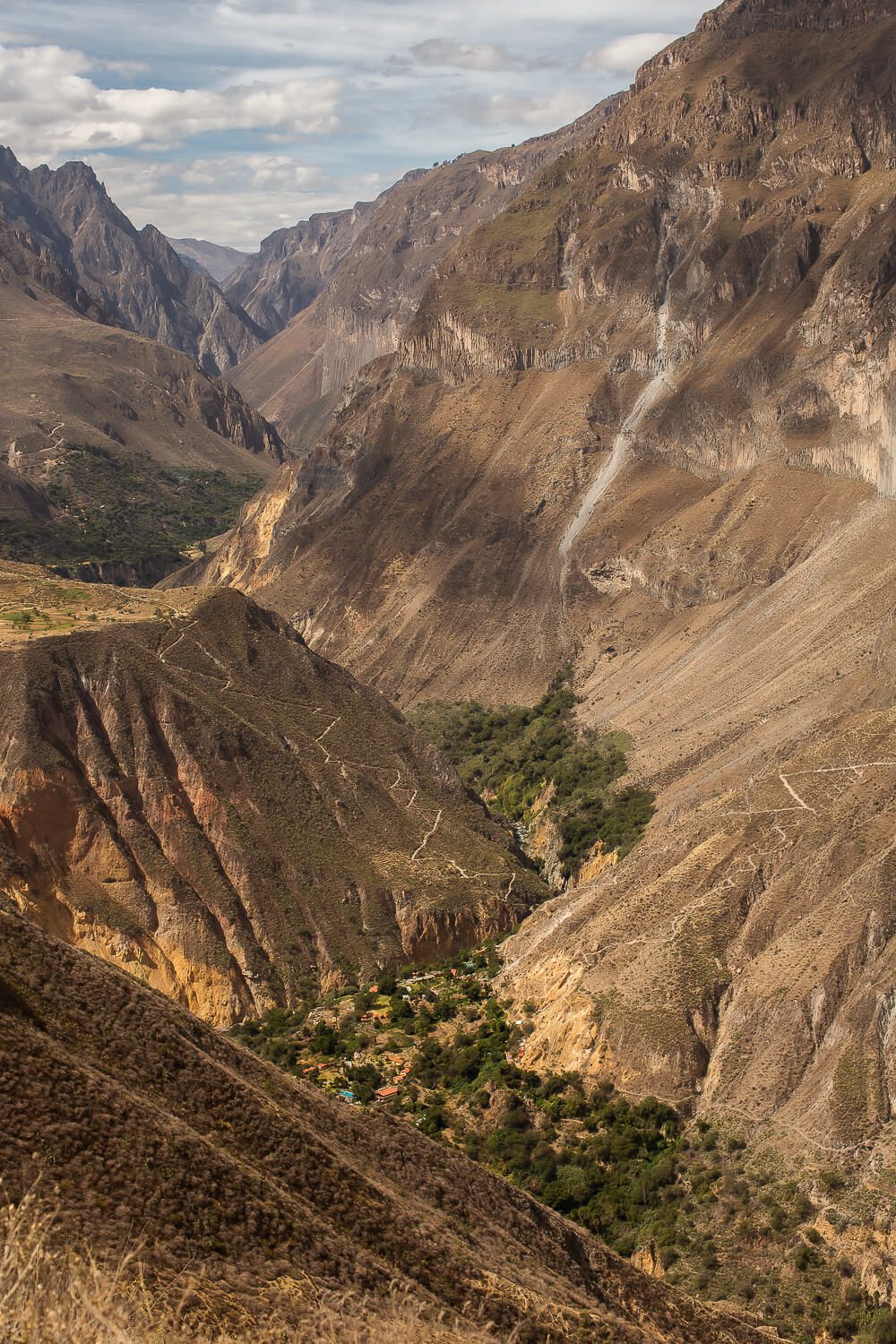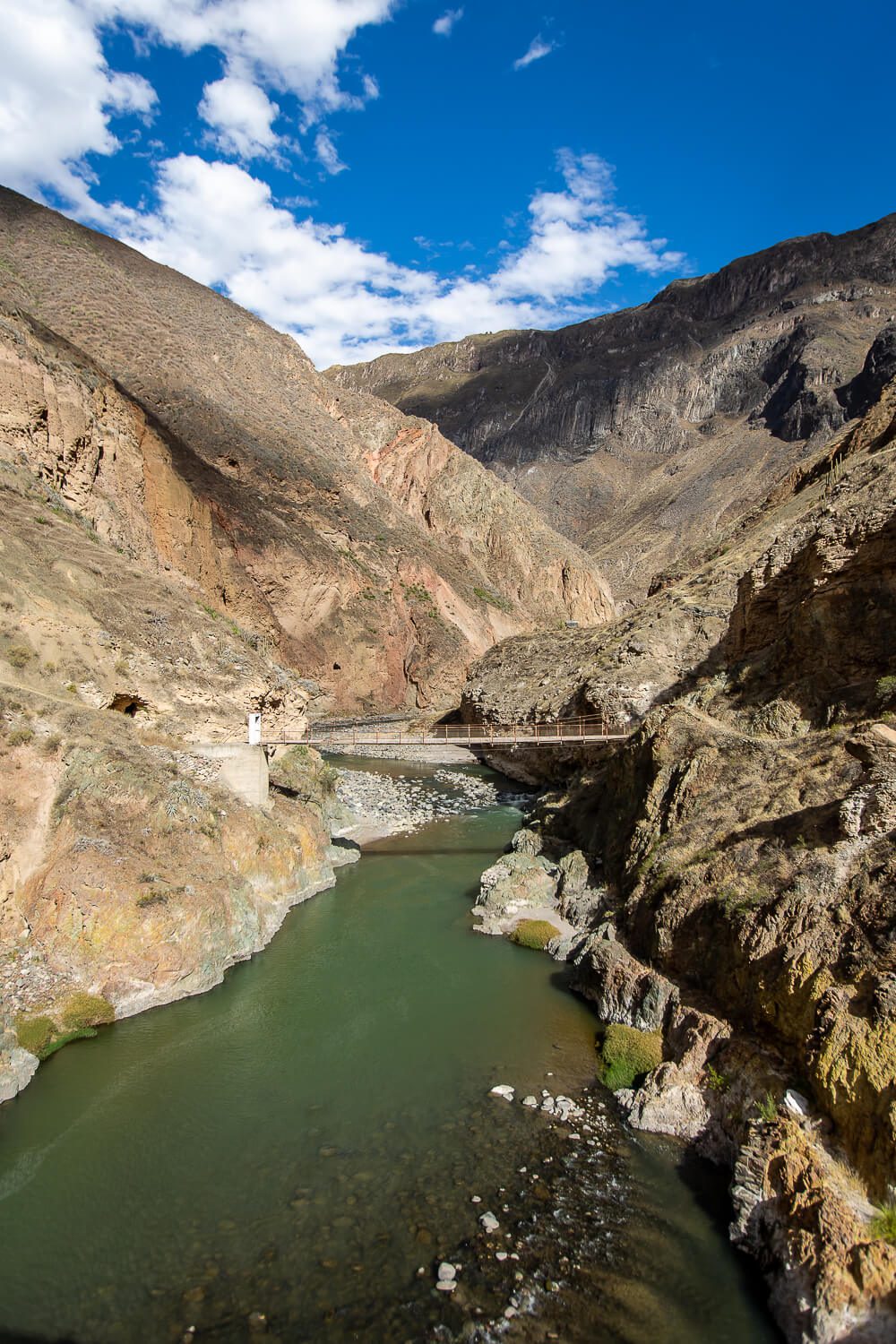 Difficulty: Challenging
Duration: Varies from 1 to 4 days
Distance: 5-20 Miles
Peak Elevation: 10,826 feet in the town of Cabanaconde
Elevation Gain: 4,000 feet from Sangalle to Cabanaconde
The Colca Canyon is the world's second deepest canyon and one of the best ways to experience it is on a trek. There are a handful of different routes you can take that traverse you past vast landscapes and small rural towns located deep within the canyon.
Trekking routes vary in time from 2-4 days with a few overnights at the local villages you pass along the way. I personally hiked a 3 day 2 night trek through the Colca Canyon that totaled 15 miles.
Overall the Colca Canyon Trek is pretty challenging no matter which route you choose. Your fitness level, pace and route will contribute to the difficulty of the trek.
All treks begin with a grueling descent into the canyon floor. Climbing out of the canyon is steep, completely unshaded and the high elevation makes it extremely difficult,
The Colca Canyon was my second long trek in Peru and we also managed to trek Colca Canyon without a guide. If you like to see for yourself what it was like, check out these Colca Canyon Trek Travel Vlogs.
If you are interested in trekking Colca Canyon independently check out these blog posts to help you on this adventure.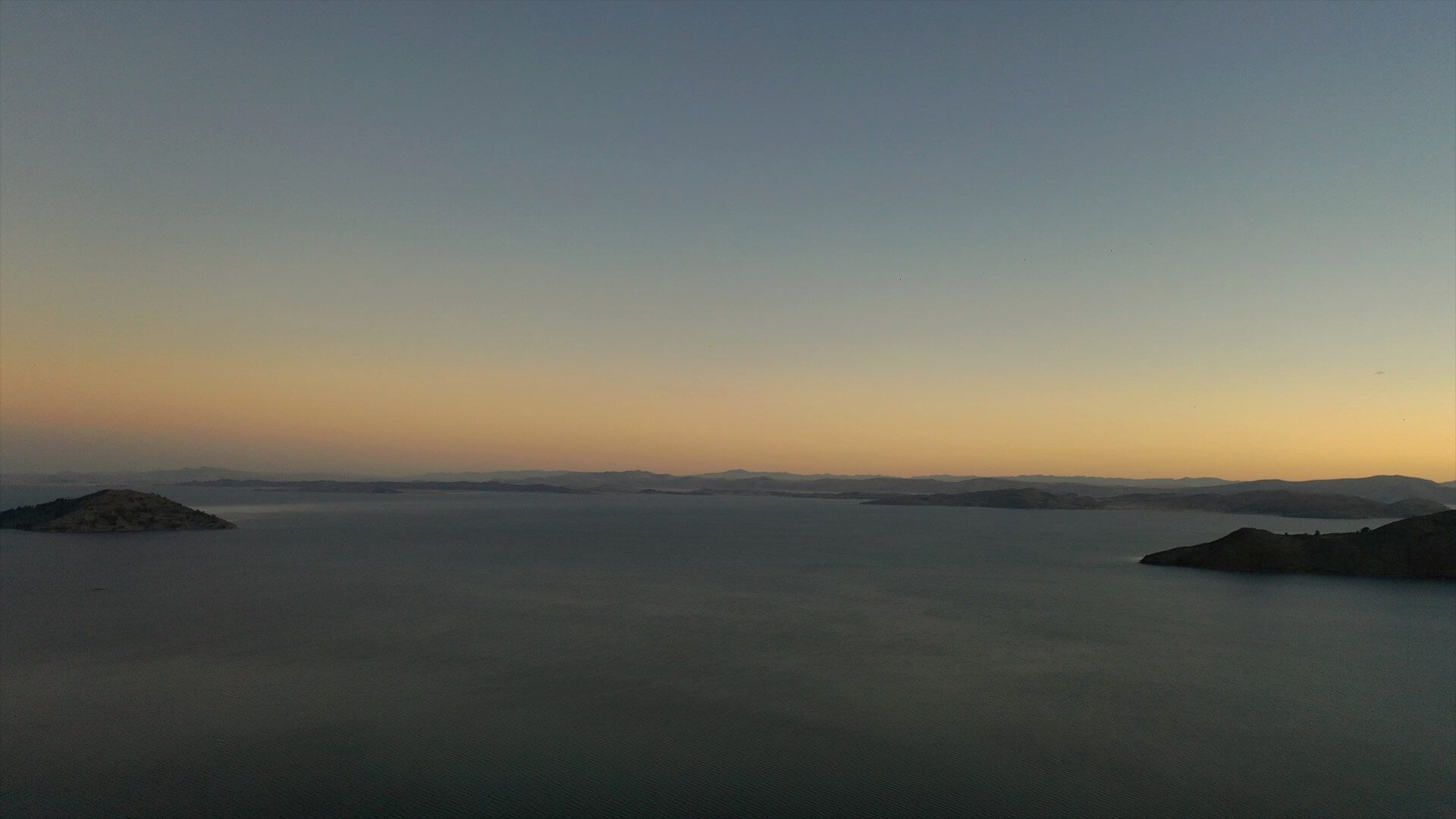 Difficulty: Easy – Moderate
Duration: 2 Hours
Distance: 3.4 Miles roundtrip
Peak Elevation: 13,600 feet
Elevation Gain: 1,023 feet
Pachamama & Pachatata are the highest peaks on Amantani Island located inside Lake Titicaca. Both are temples, Pachamama representing Mother Earth and Pachatata paying tribute to Father Earth.
It takes about an hour to trek to the top and this hike is best enjoyed at sunset. Check out this travel vlog where we enjoy a homestay on Lake Titcaca and hike to Pachamama. (Skip to 6:30 minutes if you only want to check out the hike).
Difficulty: Easy
Duration: 1-3 Hours depending on how much time you spend at the lake
Distance: 1.1 Miles
Peak Elevation: 13,780 feet
Elevation Gain: 485 feet
Lesser known, but equally beautiful, Laguna Paron is another turquoise alpine lake that sits at an elevation just shy of 14,000 feet. Located in the Cordillera Blanca hiking area, Laguna Paron is one of the best day hikes from Huaraz.
Laguna Paron is the largest lake in Huascaran National Park and one of the least visited making it a perfect trail if you dislike crowds. If you are looking for an acclimatization hike with a stunning backdrop, this is your hike.
Most hikers have a taxi drop you off at the Electroperu station at Laguna Paron. From here, it takes about 45 minutes to hike 4,500 meters to the lake. The final stretch involves navigating your way over huge boulders.
Once at the lake, it takes about 2 hours to ramble around (note you are not able to circumvent the lake as the south shore is extremely dangerous). It is possible to camp or stay in the small lakeside refuge at the lake.
Travel Tip: Make sure to pay to have your taxi wait for you to finish the hike as it will be very difficult to find transportation afterwards.
Difficulty: Moderate
Duration: 20 Minutes to the top of the dune
Distance: .50 Mile
Peak Elevation: 1,600 feet
Elevation Gain: 1,600 feet
If you have a chance to visit Huacachina in your travels through Peru, climbing the tallest sand dune behind the Wild Rover hostel is worth the trek. This is shortest Peru hike on the list but it doesn't make it less epic.
It's a steep 20 minutes to reach the top. I recommend doing this climb at sunset for a spectacular site. Watch the lights of Huacachina – Peru's desert oasis light up as the sun sinks below the sand.
Check out this vlog as we traverse up the giant sand dunes not once but twice for some epic views of Huacachina below.
Do you have favorite Peru hikes? I'd love to hear about your experiences – drop me a comment below!
Hiking Guides from Around the World ↓
Enjoy this Post?!?! Pin in for Later ↓