It's no surprise that there are some stunning places to camp in Maui. Image waking up to a sunrise over a black sand beach or inside a dormant volcano! Those are just a few of the campsites that await your arrival if you plan to go camping on Maui.
If you are looking for some epic places to camp on Maui, then you've come to the right place. In this guide we'll go over 10 Maui campgrounds to help plan your next outdoor adventure. Get ready to listen to the waves gently crash against the rocky shore as you rise with the sun.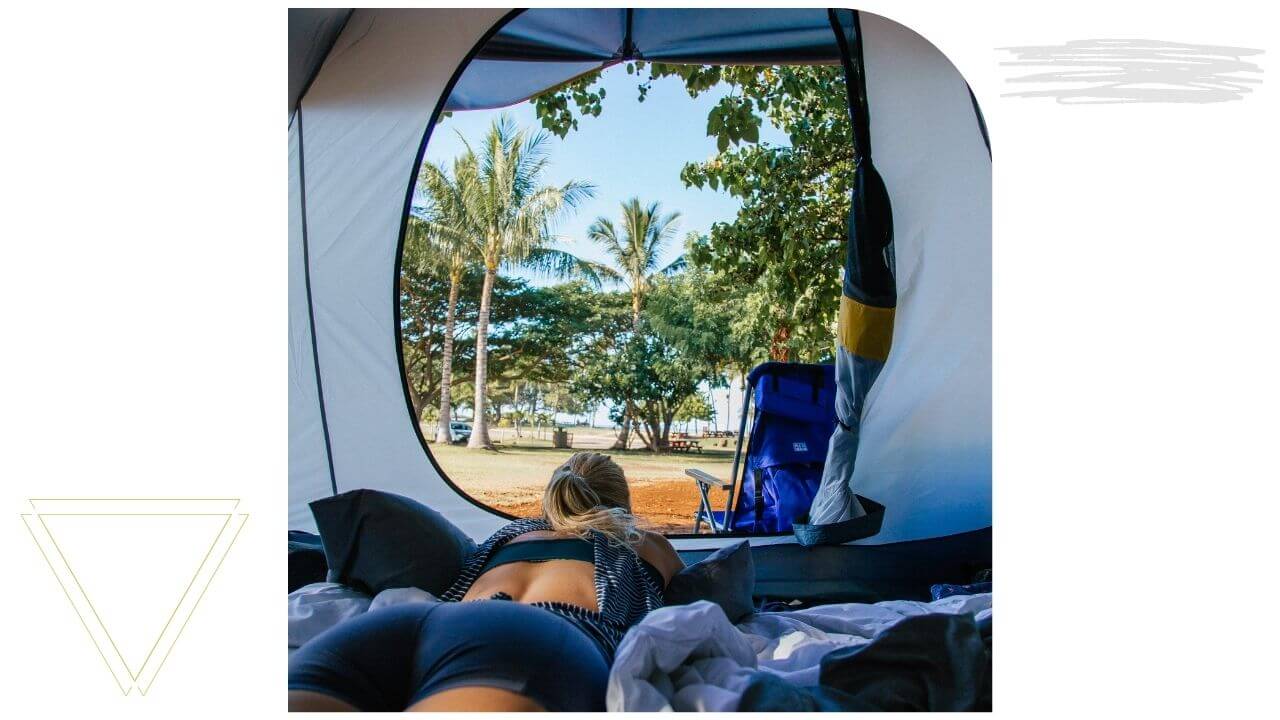 10 Epic Places to Camp in Maui
Below I have listed 10 epic places to camp in Maui. Click on the links below for a detailed guide of each Maui campground.
Holua Campground
Paliku Campground
Polipoli Spring State Park
Papalaua Wayside Park
Kipahulu Campground of Haleakala National Park
Waianapanapa State Park Camping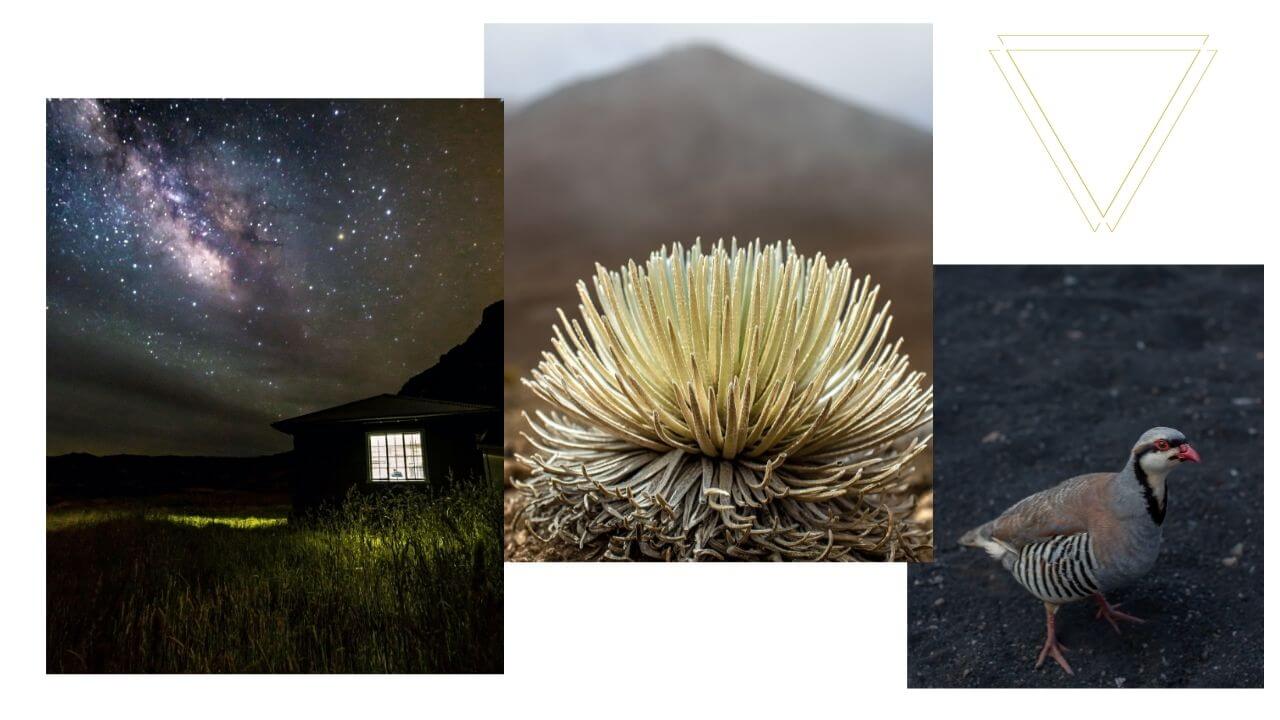 Haleakala is the volcano on Maui that covers about 75% of Maui's landmass. There are several places to camp on the slopes of Haleakala or inside Haleakala NP. Since the summit of Haleakala sits at 10,023 feet, temperatures are much cooler up here and require warm clothing and the proper gear.
If you are looking for Haleakala National Park camping inside the Summit District of Haleakala NP and a Maui camp spot that has facilities then stay at the Hosmer Grove Campground. Located on the slopes of Haleakala at about 7,000 feet, this Haleakala campground can be accessed within minutes of entering the National Park.
Each campsite has a picnic table and a fire pit with attached grill. There are no showers or electrical outlets but there is a water station and toilets which is great for 1 or 2 nights of camping. Reservations are required in advance and cost $5, you can check availability here.
A short 1 mile guided nature trail (Hosmer Grove Trail) begins and ends at the campground. Since this trail is lower in elevation than the summit you'll pass through sub-alpine tress like eucalptus, sugi pine, spruce, cedar, Douglas fir, deodar and sandalwoods.
Staying at a cabin inside the wilderness district of Haleakala National Park is an awesome place to camp on Maui. Even better because you don't have to set up and break down a tent or haul around a camp stove. All you have to do is hike in with your sleeping bag, food and water and everything else is provided.
There are 3 historic wilderness cabins within the crater inside the summit district of Haleakala National park – Holua, Paliku & Kapalaoa.
Holua Cabin – Located at the bottom of the Halemau'u Trail.

This is the easiest cabin to reach by hiking

down Halemau'u Trail and back up if you aren't up for a whole day hike from the summit to Holua Cabin.
Paliku Cabin – The ideal cabin for hiking Kaupo Gap, one of the toughest hikes on Maui.
Kapalaoa Cabin – The perfect Haleakala Cabin to spend several days as it's close to several short Haleakala Crater hikes nearby.
The only way to reach these cabins is by foot. From the Visitors Center just below the summit of Halakeala you can start hiking down the Keoneheʻeheʻe (sliding sands) trailhead and then connecting to the Halemauʻu trail at different places. You can check out my vlog from staying at the Holua Cabin here if you'd like to get a visual of what you'd be getting yourself into.
A Haleakala cabin rental cost $75 per night, for a maximum stay of three nights. Reservations open up 6 months in advance and go quickly. You can check availability here.
There are two primitive wilderness tent camping areas which are accessible only by hiking on foot. The two campsites are Hōlua and Palikū. Both campsites have pit toilets and non-potable water available nearby. The water must be filtered or treated before drinking.
Holua can be reached by hiking the 3.7 miles one way down the switchbacks of the Halemau'u Trail or 7.4 miles one way on the Sliding Sands Trail. This Haleakala Campground is located in close proximity to the Holua Cabin. Permits are required and you can book them here.
Paliku Campground is the other primitive wilderness camping area that I mentioned before. As with the Holua Campground, pit toilets and non-potable water available nearby and the water must be filtered or boiled before drinking.
This Campground is located is on the east end of the Wilderness valley at the base of a rain forest cliff. Paliku Campground can be reached hiking about 9 miles one way on the Keoneheʻeheʻe Trail (Sliding Sands) or 10 miles one way hike on the Halemauʻu Trail.
If you're up for a difficult but thrilling adventure, hike into this campground for the night and out the Kaupo Gap. Permits are required and you can book them here.
Polipoli Spring State Recreation Area
The Polipoli Spring Recreation Area can be found on midway on the slopes of Haleakala. Sitting at an elevation of 6,200 feet, the area is composed of 10 acres of the Kula Forest Reserve.
Like the Maui campgrounds listed previous in this article, it can get cold up here so dress warm. There are four hiking trails in the Polipoli Spring State Recreation Area.
There is also a cabin available for rent but you are unable to rent a cabin online. If you would like to go camping in Maui at a Poli Poli cabin you must call this number (808) 984-8109.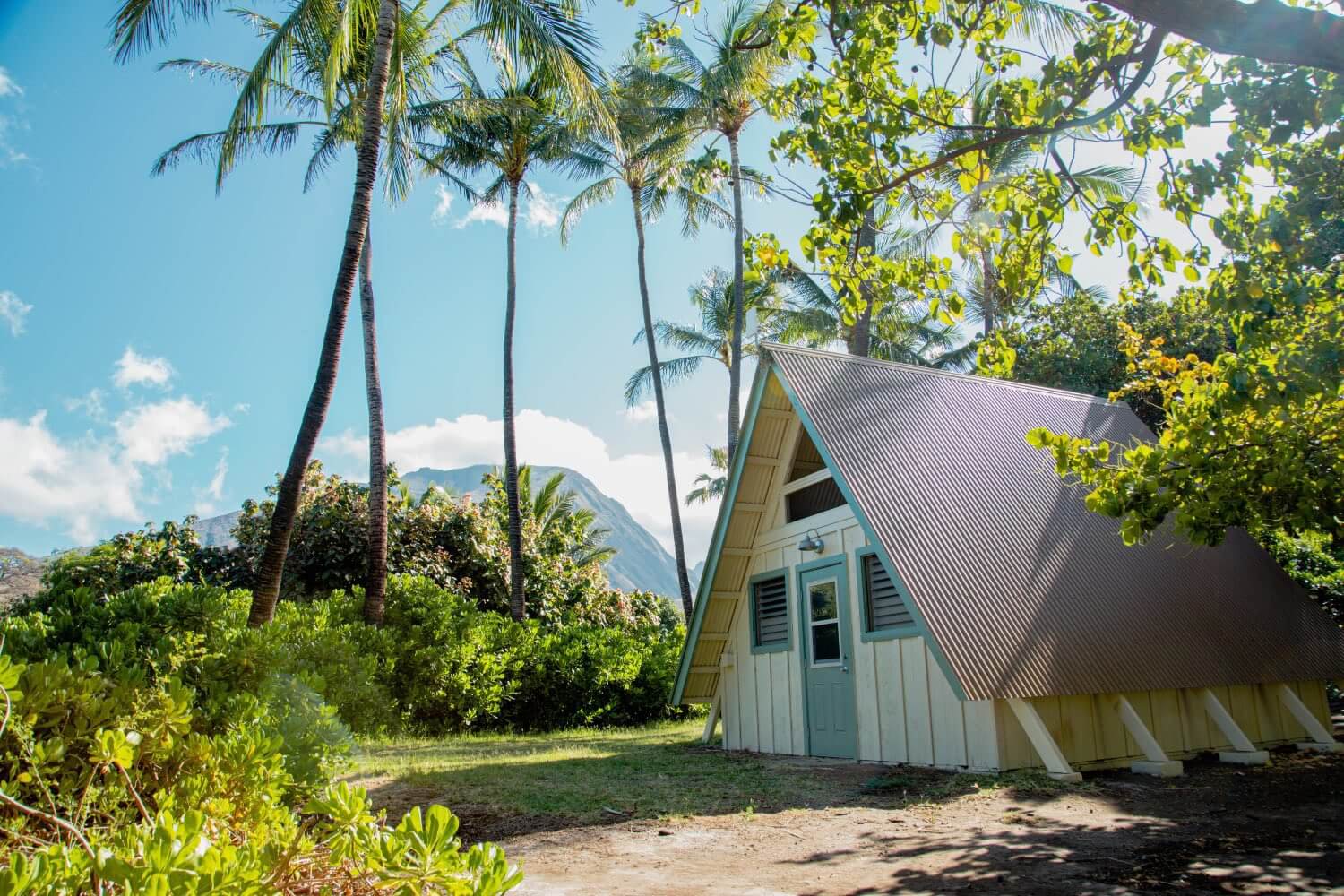 Camping in West Maui is kind of the complete opposite of camping in Haleakala Crater. The weather is much warmer and you'll be next to the water basically sleeping on the beach.
The Papalaua Wayside Park is Maui camping directly on the beach. This campground located on the Pali, directly on the side of the road. Can we say car camping Maui?
You literally pull off the road and voila you're on site – this makes the Papalaua Wayside Park one of the most accessible places to camp in Maui.
Holidays and weekends have different prices compared to the weekdays. Porter potties and picnic tables are available for use. If you are looking for a Hawaii camping spot to throw up your hammock and rest for the night, this is your spot. You can apply for a permit here.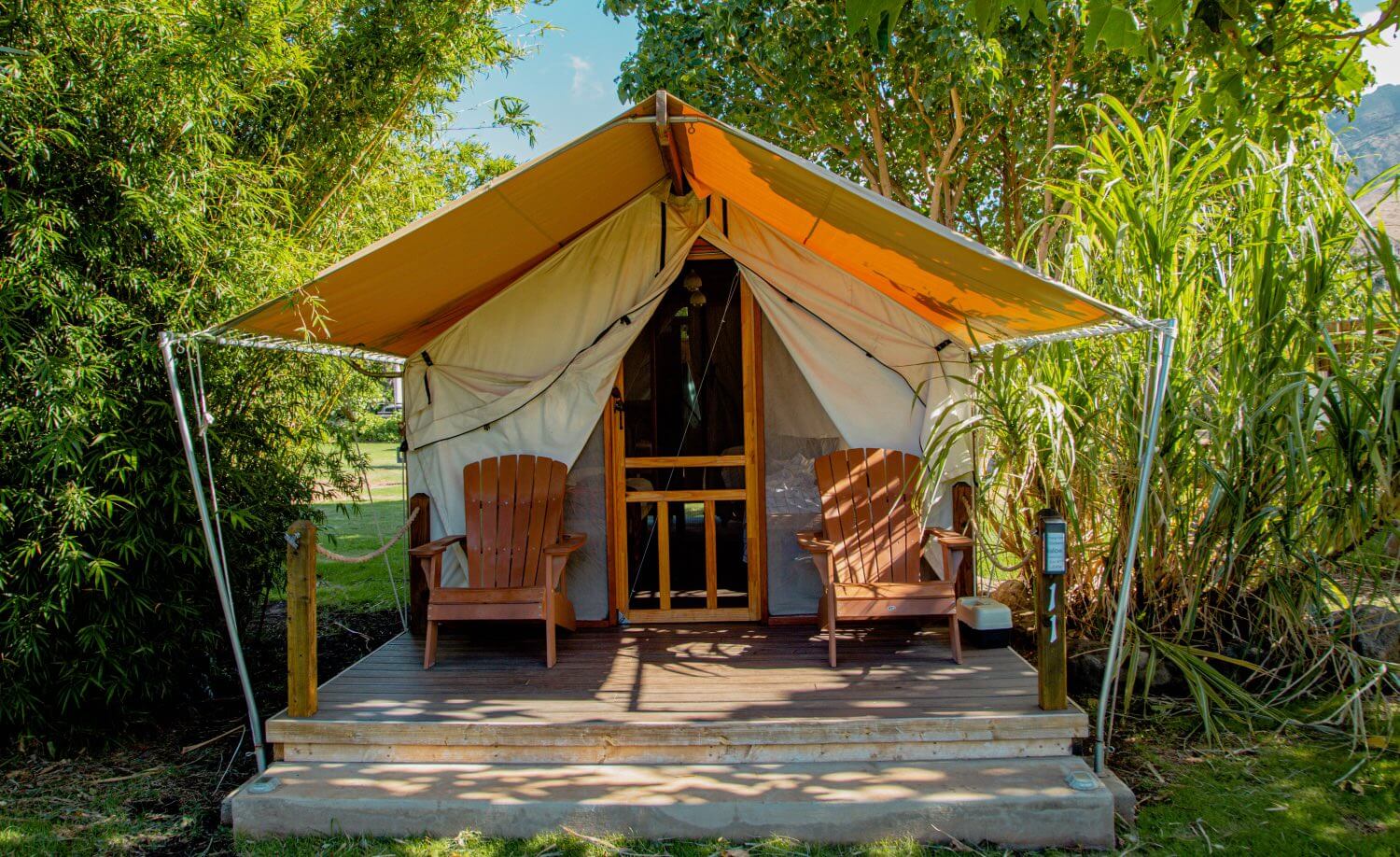 If you're looking for more of a glamping Maui experience then book a cabin or tentalow at Camp Olowalu. Camp Olowalu offers affordable beach camping experiences in West Maui. This modern campground is utilized for retreats and gathering place for groups.
There are 4 camping options to choose from, campsites, van or car camping, tentalows or cabins. Even if you choose the basic camping option, you have access to all these amenities like bathrooms with sink and mirror, hot showers, outdoor dishwashing station, Wifi at checkin, charging stations and BBQ grills. You can reserve a site here.
Camping Hana is what you expect when imaging what it's like to camp in Hawaii. Staying on East Maui allows you to be close to hidden waterfalls, bamboo forests and secluded swimming holes.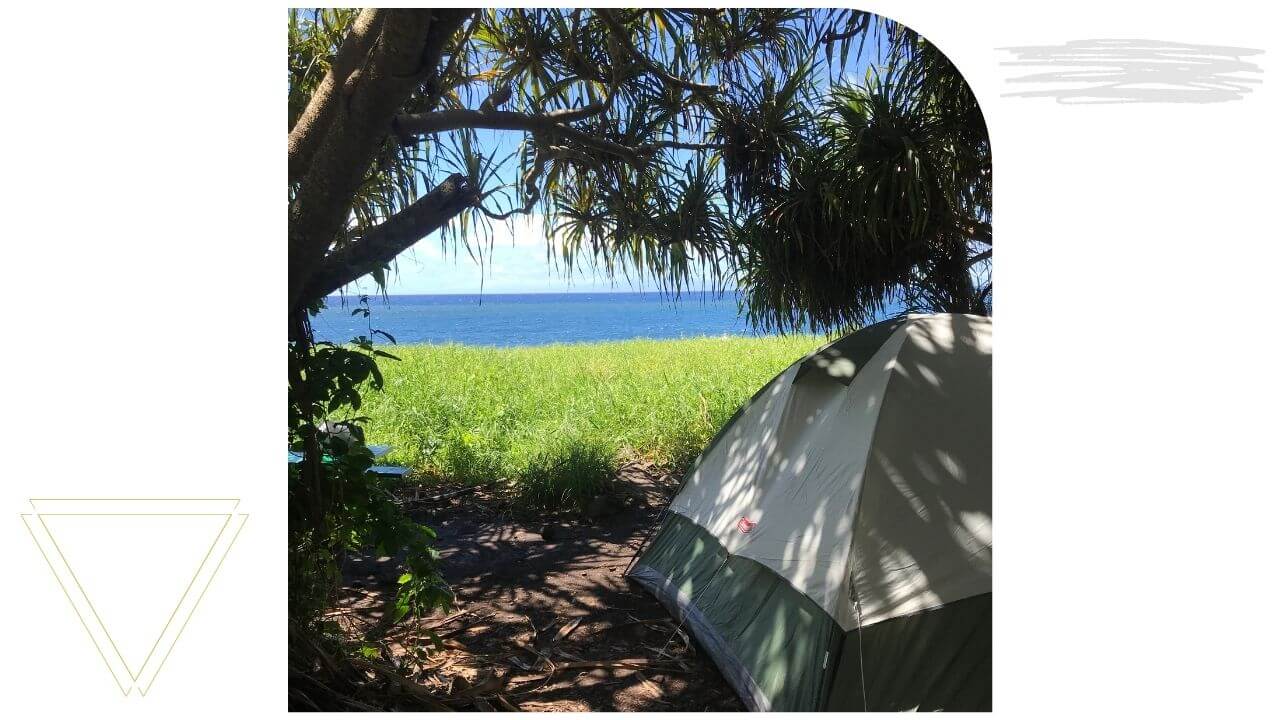 Kipahulu Campground inside Haleakala National Park
The Kipahulu Campground inside Haleakala National Park overlooks ocean cliffs and is a short walk away from ʻOheʻo Gulch. The Pīpīwai Trail, one of Maui's best hikes is also within walking distance.
There are grills and picnic tables at each site and bathrooms close by. Pre-Covid campsites were first come, first serve. As of March 2022 you need a reservation in advance which costs $8 – you can do that here.
Camping at Waianapanapa is a dream. Stunning black sand beaches, coastal hiking trails and lava fields as far as the eye can see are all at your fingertips. Waianapanapa State Park can be found on East Maui about 10 minutes before Hana Town.
There are campsites and campervan spots available for rent. For tent camping/campvervans it costs $20 per night and for non-residents: $30 per night. You won't run out of things to explore and views to soak up.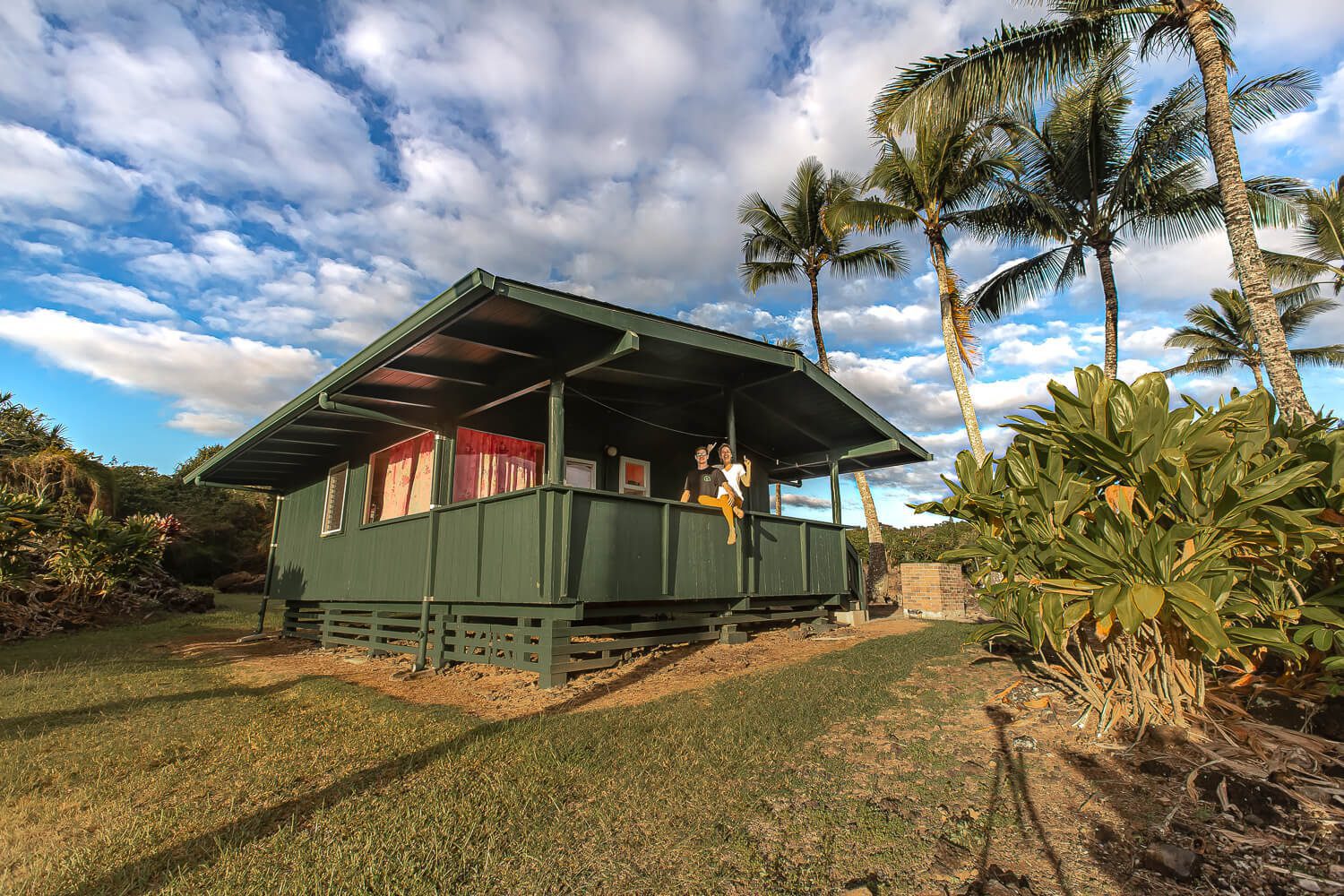 One of my favorite places to camp on Maui is at the Wai'anapanapa Cabins. I swear I do my best thinking here. The cabins at Waianapanapa State Park are a great way to see Hana, keep costs down and still have a few more "luxuries" than traditional camping.
I'm talking a hot shower, full size fridge, hot plate and a bed! Reservations open up 30 days in advance and fill up quickly. You can make a reservation here. Make sure you check out this travel vlog on my first time staying in the Waianapanapa Cabins.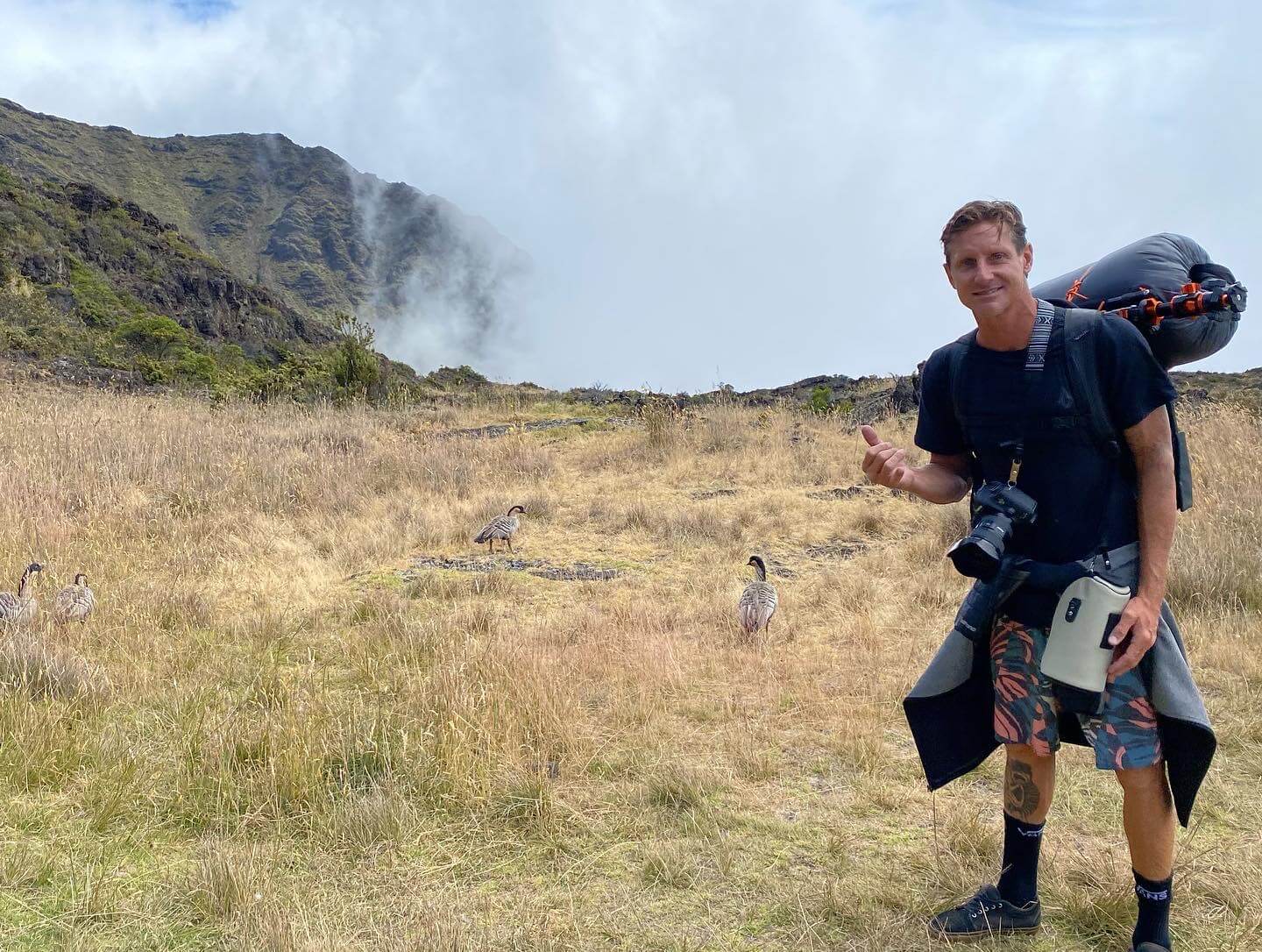 Outdoor Ethics | Hiking & Camping Etiquette
Leave No Trace is a philiosophy of outdoor use that has become the standard for responsibly enjoying the outdoors. The idea is to minimize human impact on the land and the natural flaura and fauna.
There are 7 basic leave no trace camping principles.
Plan and prepare ahead of time.
Hike on trails and camp on campsites.
Use stoves whenever possible and limit campfires.
Dispose of waste properly.
Leave the area undisturbed.
Respect wildlife.
Respect other visitors.
No camping is allowed at Ahihi-Kina'u Natural Area Reserve, Honolua Bay Marine Reserve, and Oneloa (Big Beach) state park.
Don't camp in undesignated camping spots. A permit or permission to camp
Haleakala temperatures get very cold so warm clothes is a must.
Pack it in, pack it out. Meaning don't leave your trash behind. It's disrespectful and not very nice.
Have Aloha and respect your neighbors.
More Maui Travel Inspiration ↓
Enjoy this Post?!?! Pin in for Later ↓