Traveling from Shkoder to Valbona via the Lake Komani Ferry offers an incredible journey though the spectacular landscapes of the Albanian Alps. This requires several modes of transportation and a full day. Along the way, you'll pass through picturesque mountain villages, winding roads and breathtaking valleys.
Most people embark on this journey as they begin an adventure through the Albanian Alps. This includes exploring Valbona Valley National Park, through-hiking the infamous Theth to Valbona Trek, Grunas Waterfall, Theth Village, Theth Blue Eye and much more.
In this article I'm going to explain exactly how to get from Shkoder to Valbona via the Lake Koman Ferry, talk about onward travel through the Albanian Alps and fill you in on any information you'll need to know before you start the journey.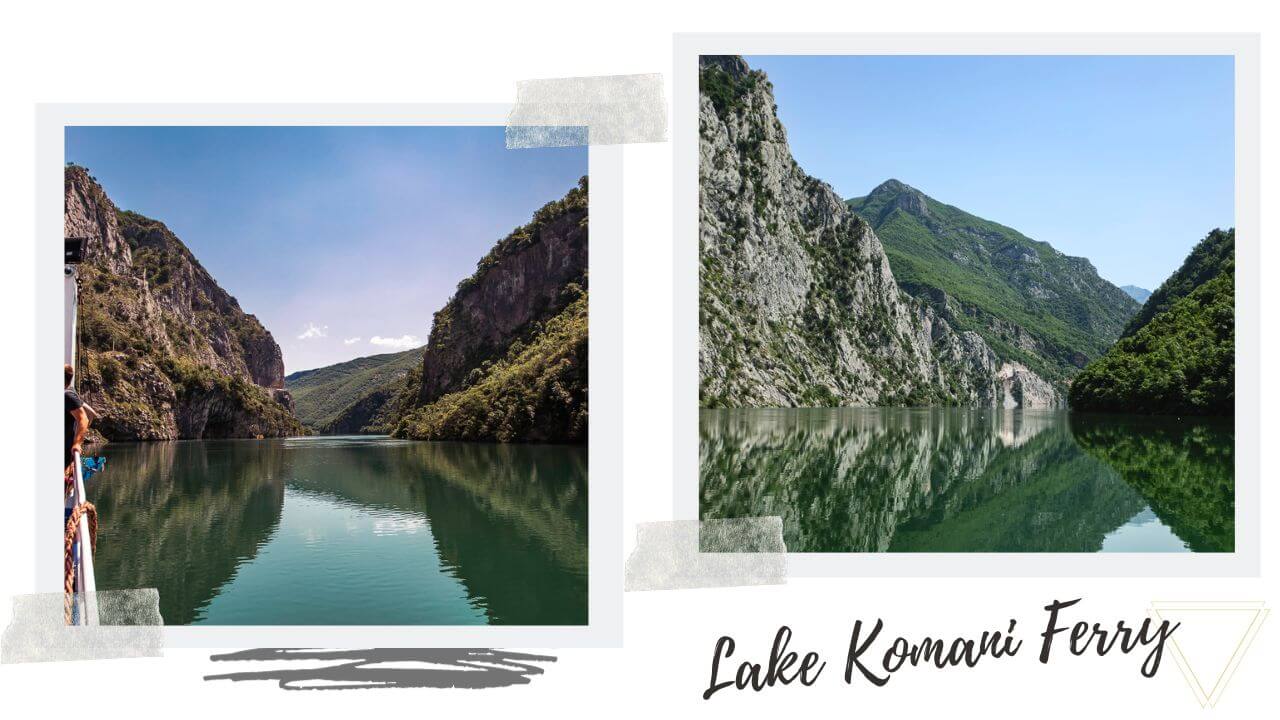 For full transparency, I have sprinkled some affiliate links in this post.  As an Amazon Associate I earn from qualifying purchases that gives me a small commission at no extra cost to you if you decided to make a purchase.  As always, I would never recommend a product or service that I didn't truely believe in.  All proceeds go to keep Jess traveling and coffee ☕️.  I thank you in advance.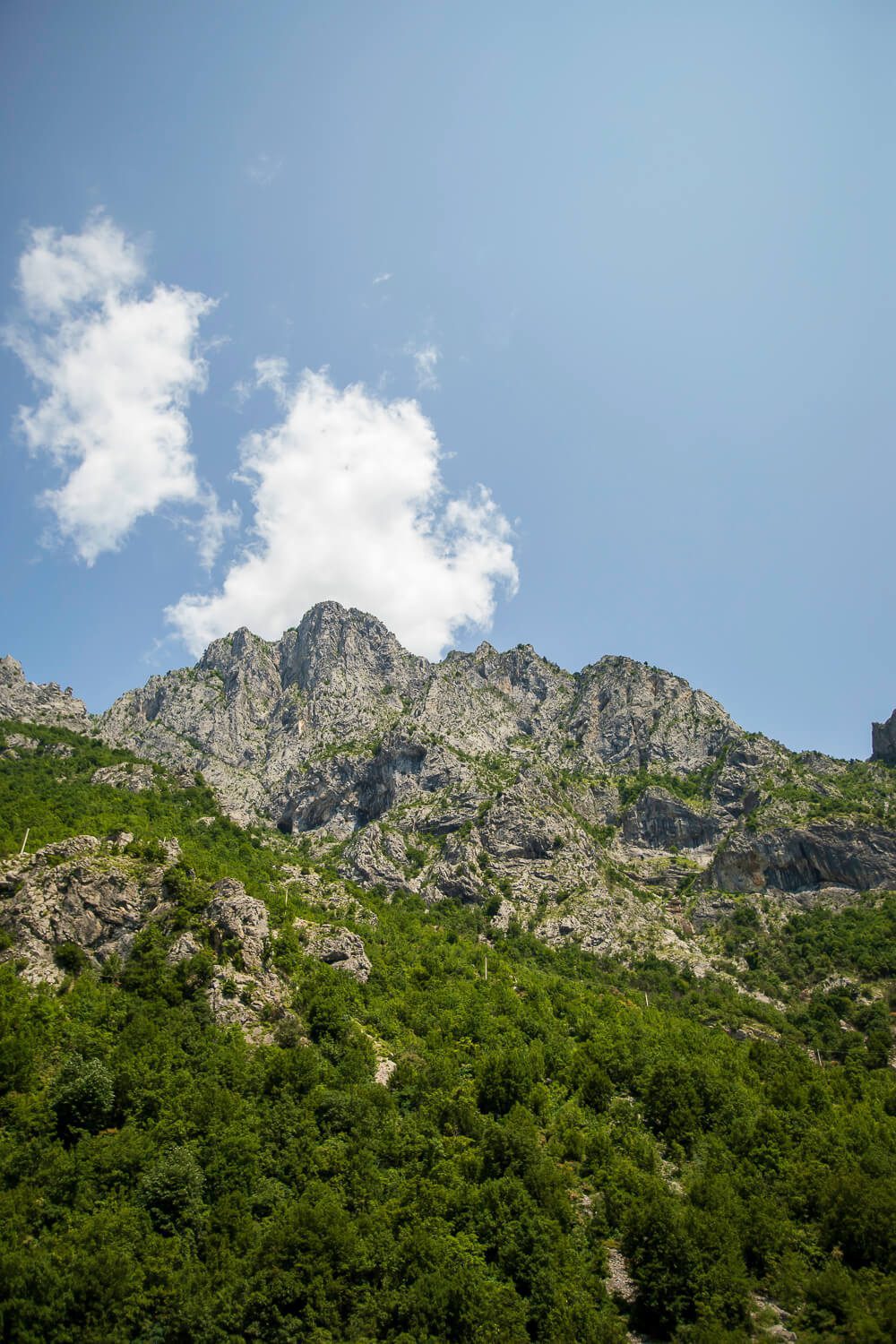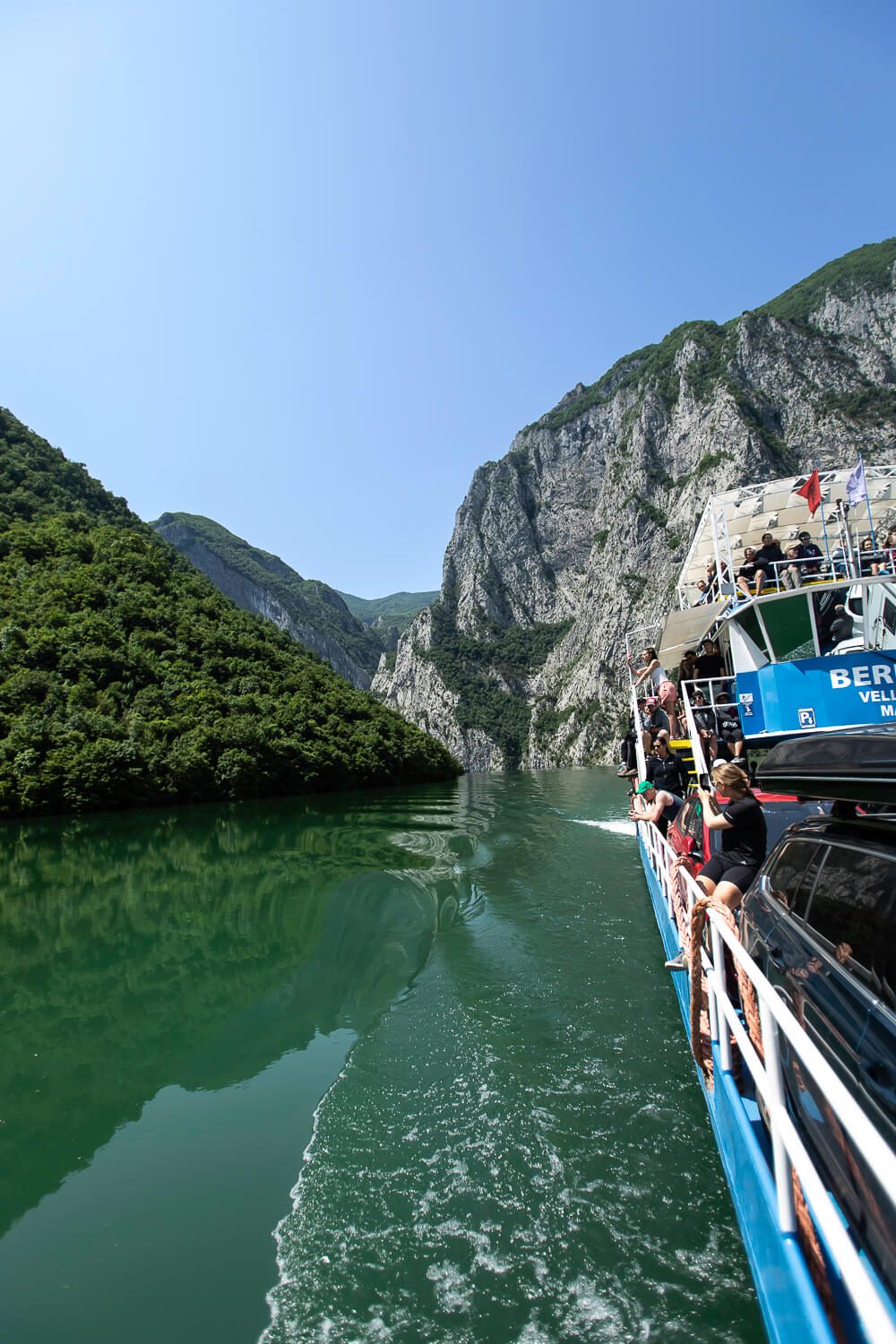 How to Get from Shkoder to Valbona via Lake Komani Ferry
The entire route from Shkoder to Valbona via the Koman Ferry is about an 8 hour journey. This requires 3 separate modes of transportation – 2 minivans and a ferry.
Bus from Shkoder to Ferry Terminal – 2 Hours

Komani Ferry to Fierze – 2.5-3 Hours

Fierze to Accommodation in Valbona – 1 Hour
You can prebook all three tickets with your accommodation in Shkoder or you can book them yourself, there is no difference in price. However booking the tickets yourself gives you more options for the ferry ride. I booked through our accommodation and the ferry ride was extremely packed. I'll talk more in detail in the Lake Komani Ferry section.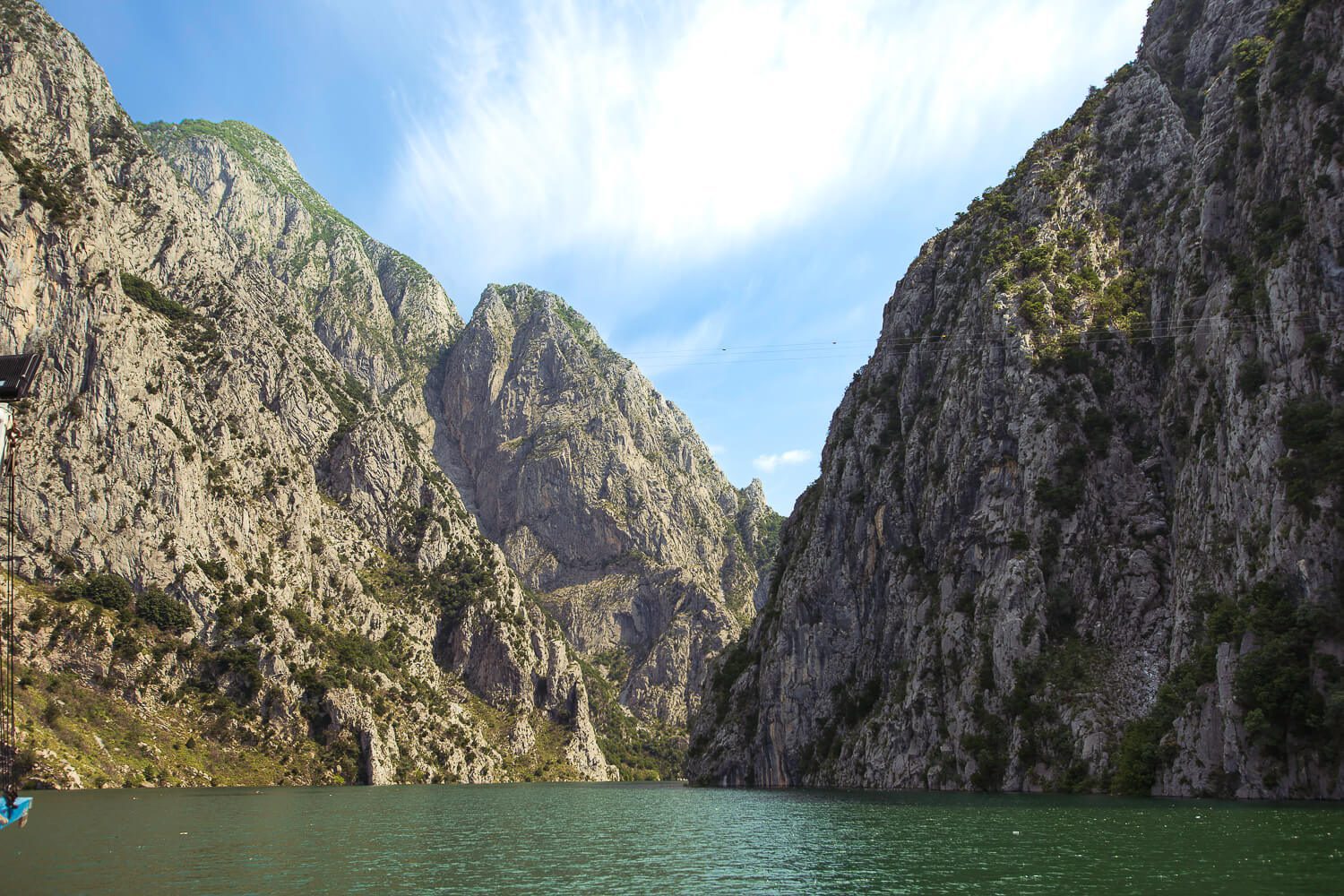 Step 1: Minivan from Shkoder to Koman
Shkoder is the gateway town to hiking the Albanian Alps. Most people breeze through the town, only spending one night before the early wake up call to start the journey to Valbona via the Komani Ferry.
If you have more time, I'd spend a full day exploring Shkoder as it has lots of cultural charm and natural attractions to explore. If you want more information about Shköder, check out the articles below.
The pickup point for all minivan transfers going to Koman from Shkoder is at the water fountain in the middle of Kole Idromeno Street. This is a pedestrian walking street full of cafes, boutique shops and bars. Many tourists hotels are located on this street.
It costs 800 Lek (7€) and pickup time is at 6:45am. Joe and I arrived at 6:30 and pickup was closer to 7am. We saw many minivans coming and going. This is also where the minivans pick you up if you are headed in the other direction to Theth.
The minivan to Koman takes about 2 hours. The route offers panoramic views of the majestic mountains and lush forests. We even stopped at a lookout point of the river about 15 minutes before we got to the ferry terminal.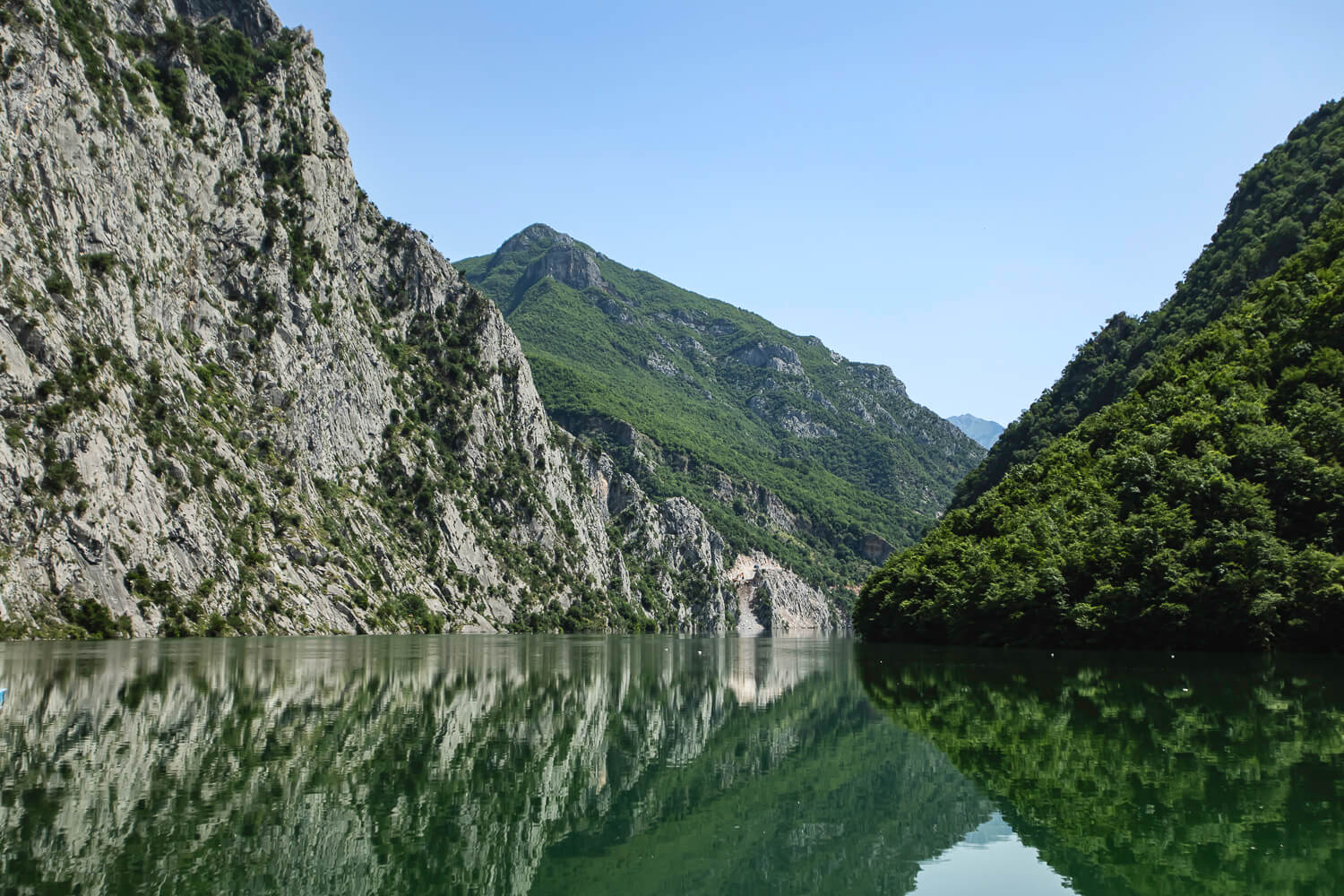 Step 2: Lake Komani Ferry to Fierze
If you do anything in the Accursed Mountains, I highly suggest taking the Lake Komani ferry for a scenic journey. The ride was beautiful and traveling via ferry makes it more of an adventure, but there were some positives and negatives.
The Lake Komani Ferry takes about 2.5 – 3 hours to travel from Koman to Fierze. This is a car ferry, so if you were roadtripping through Albania, the journey on the Lake Komani Ferry won't stop you. I would definitely book car passage of the ferry at least 30 days in advance if you are driving.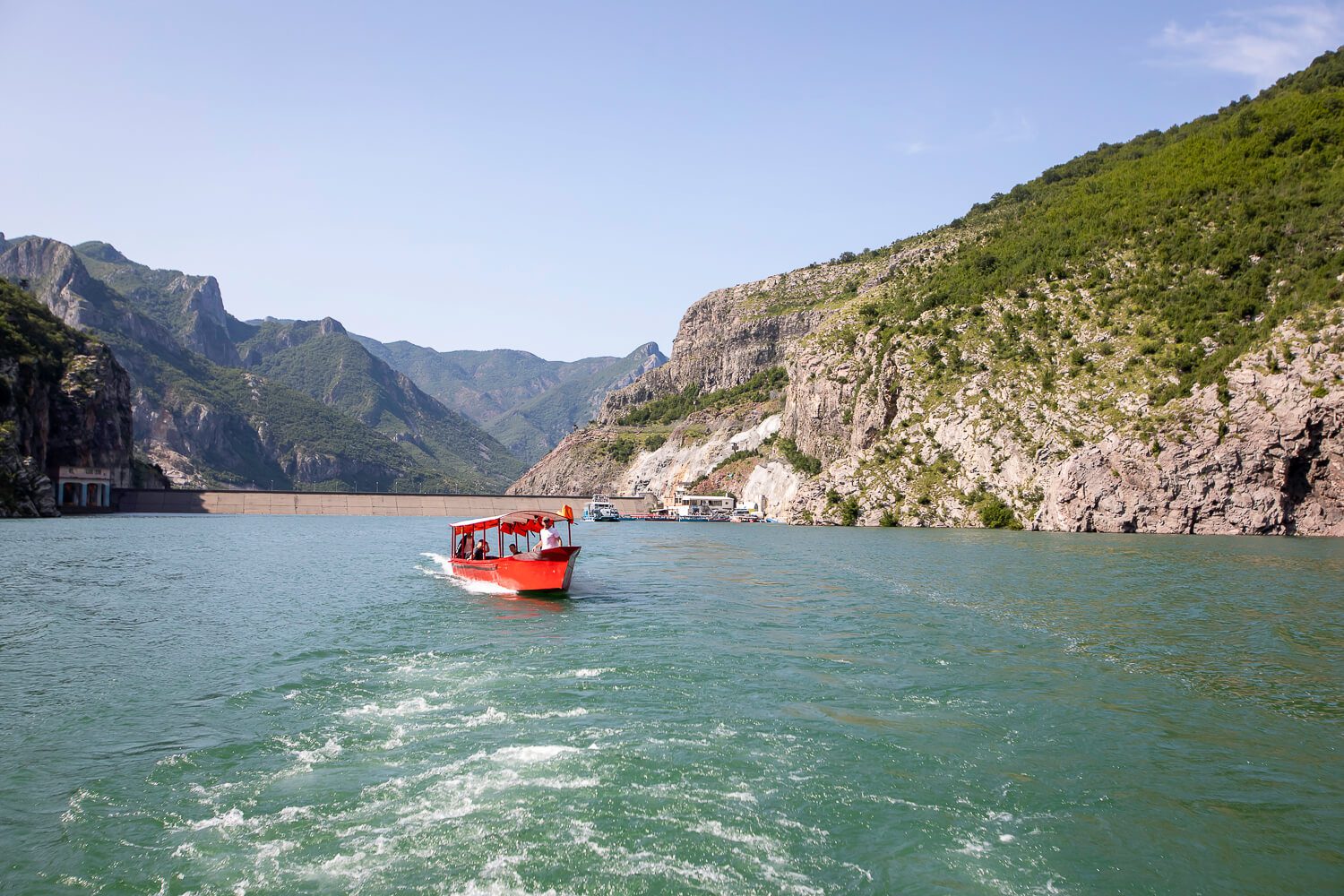 Ferry Schedule: The Komani Ferry Line runs everyday from Koman – Fierze at 09:00am and from Fierze – Koman at 1pm. You can book tickets ahead of time with your accommodation in Shkoder, it'll be a package deal or do it yourself online here. You won't save any money by arranging tickets yourself as it's the same price.
But, if you book tickets yourself, you can look into other ferry lines. I saw some Lake Komani Ferries that were completely empty like this one Ferry Rozafa. It doesn't look as easy to book online so maybe that's why they were empty.? If you are looking for a less crowded experience, try to contact them for tickets.
The ride along Koman Lake is a beautiful journey. There's nothing like being on the water with towering mountains surrounding you on both sides.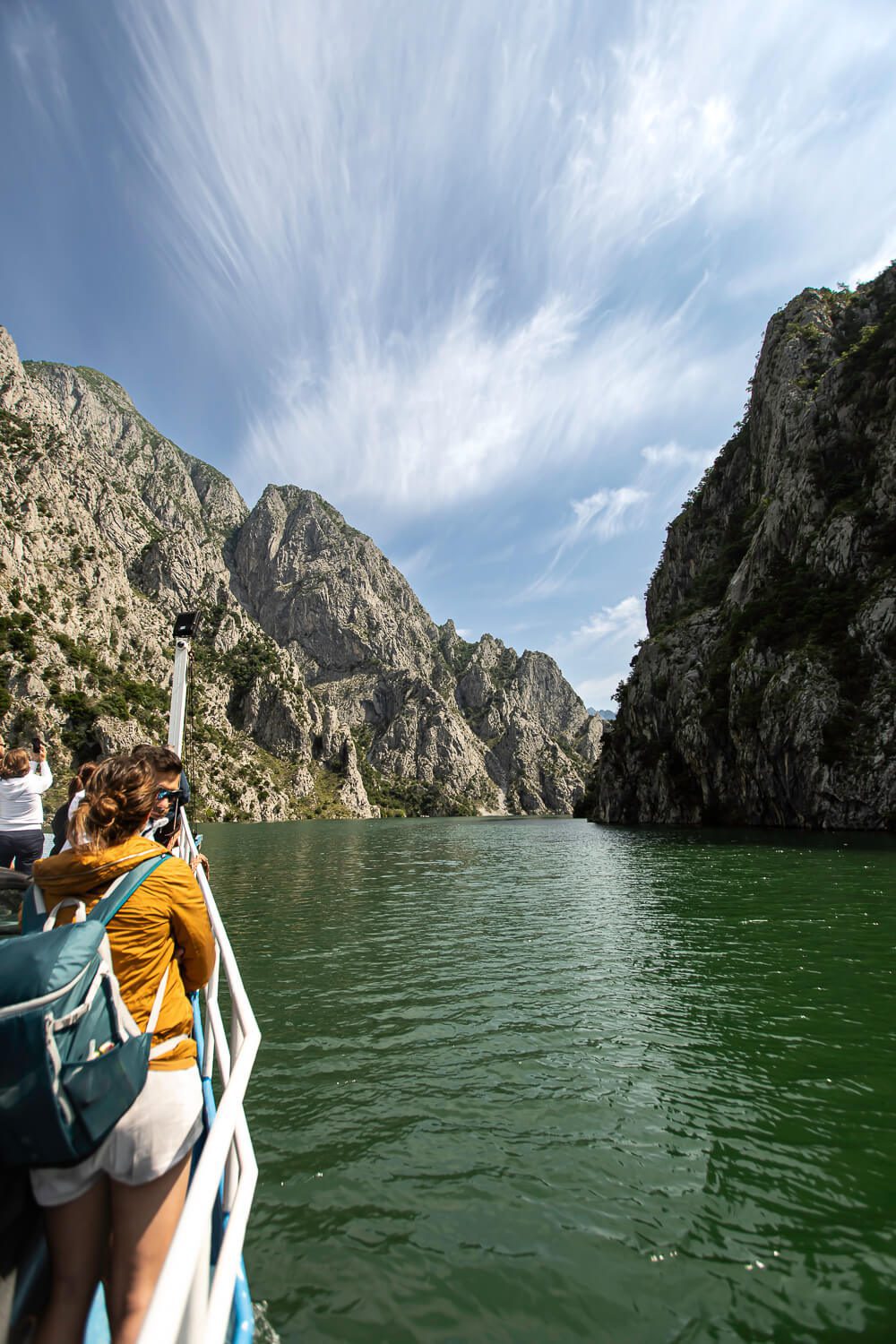 I don't know if the Komani Lake Ferry has an excellent marking program or it was just an extremely busy day, but when I rode the ferry, it was PACKED! Joe and I ended up crawling over and in between a few cars to snag a spot against the railing.
Not only did we have to stand the whole time, there was absolutely no room to move around. That's why booking your own ticket on a less crowded boat would be worth the extra effort.
There was also a lot of trash floating in the river. I hate to see such beautiful nature and landscapes being destroyed by trash caused by humans. Even with the trash, the ride was scenic, gorgeous and worth it.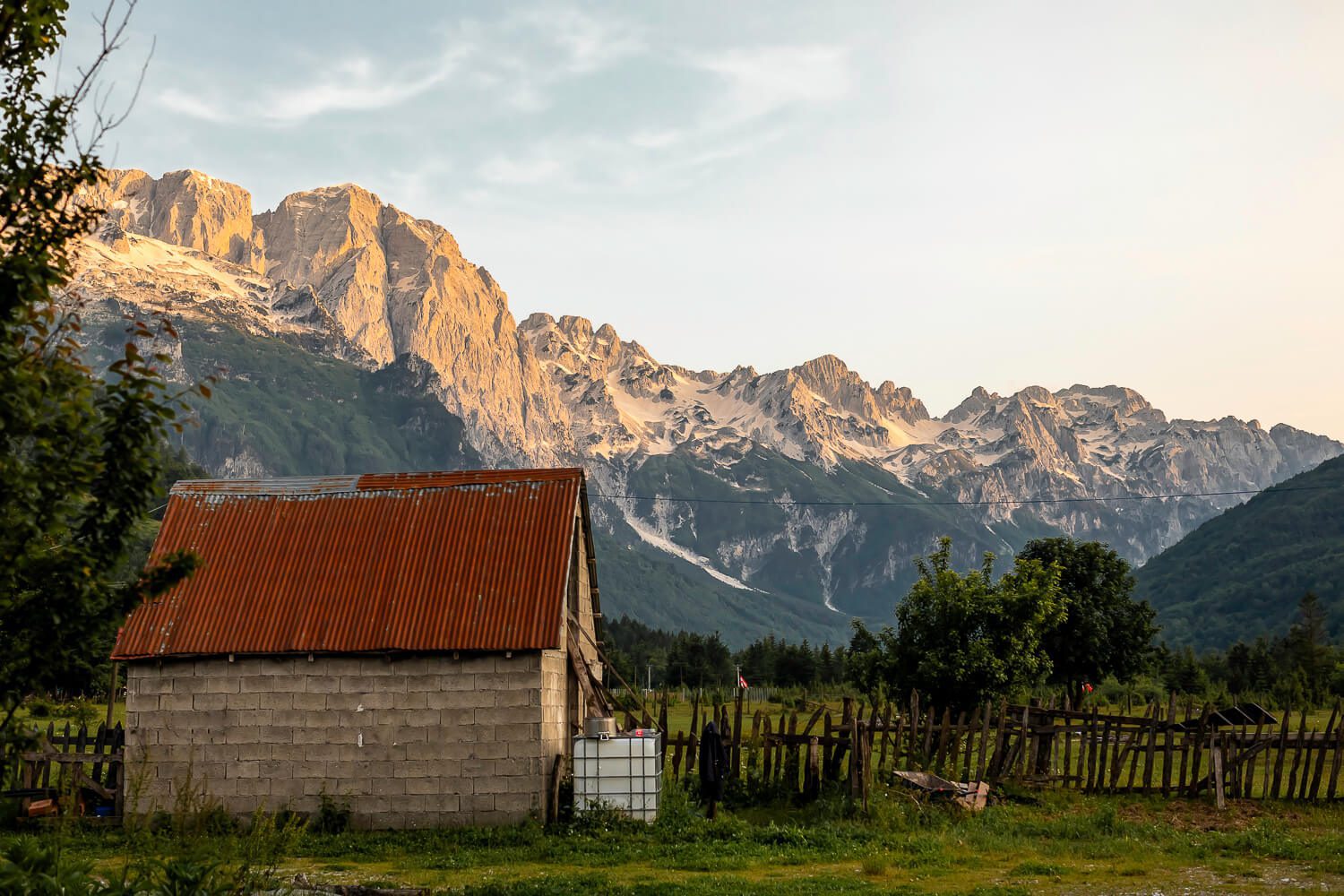 Step 3: Minivan Transfer from Fierze to Valbona
Once you've docked, there are several mini vans carpooling people to Valbona. If you did not pre-book a ticket you can do so as so as you step off the ferry.
There were plenty of people pointing you in the direction of men selling bus tickets for 800 Lek. This is also how much it cost for a pre-booked ticket.
The ride to Valbona is about an hour. Try to resist the urge to sleep because the drive is breathtakingly beautiful as you wind along the gushing river.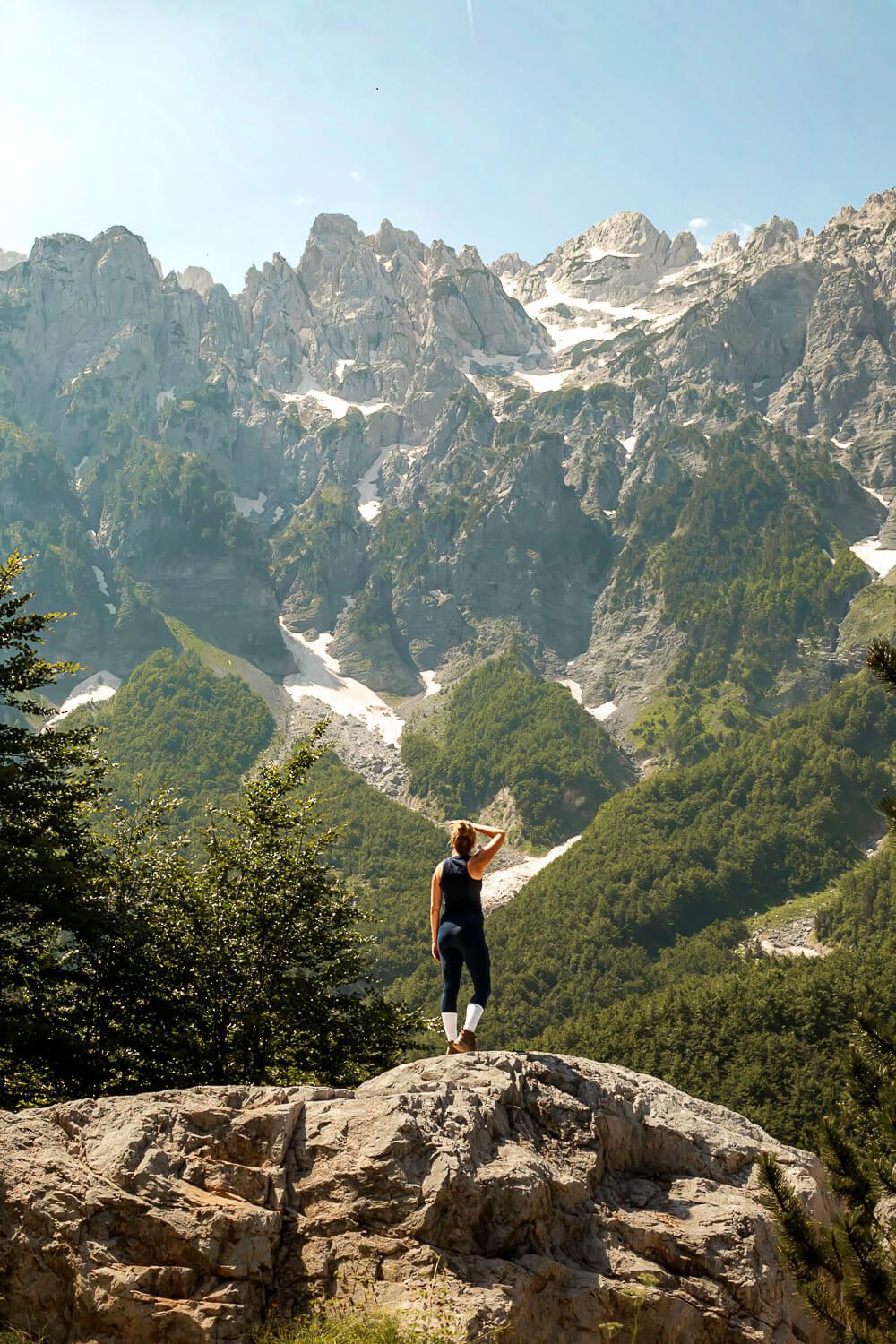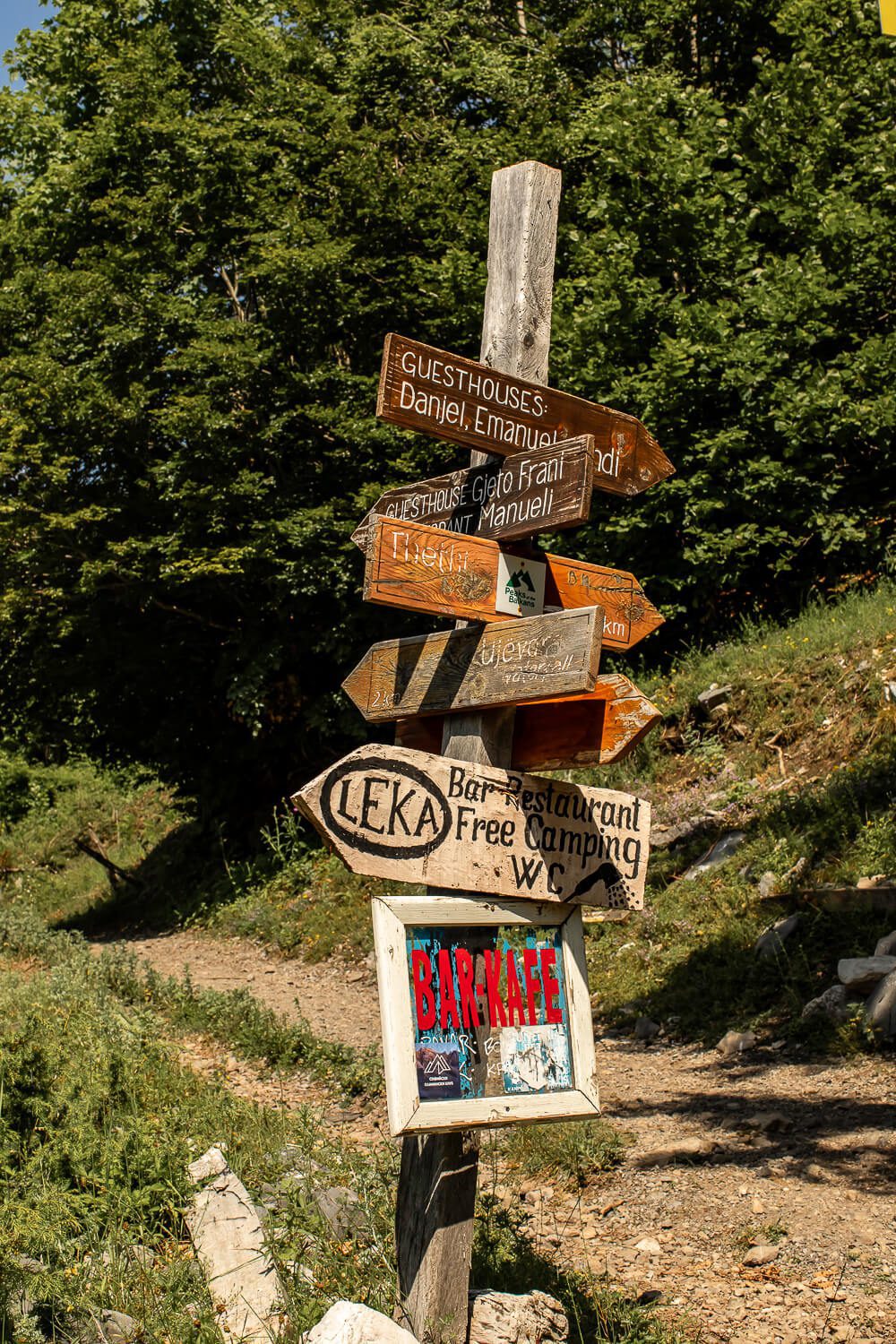 Valbona is a very small village, more spread out than Theth. The driver will ask for the name of your accommodation and will drop you off at your homestay in Valbona.
Upon reaching Valbona, you'll be greeted by the stunning Valbona Valley National Park. The park is renowned for its unspoiled natural beauty. The valley is home to Valbona River, which reflects the surrounding mountains and creates a peaceful atmosphere.
Most travelers spend the rest of the day and night in Valbona before rising early to start the Valbona to Theth Trek. If you have the gift of time, spend a couple nights in Valbona so you can explore the National Park. There are lots of hiking trails that lead to pristine alpine landscapes.
We spent 2 nights in Valbona and hiked to Rosi Peak the next day. It was one of the most beautiful hikes through alpine meadows and vivacious forests as it carved up the mountain to the border of Montenegro.
I completely underestimated this hike and it was a lot tougher than I anticipated. Once we were greeted with stunning views of the mountains in Montenegro, it made all the pain worth it.
Total Cost of Transportation from Shkoder to Valbona
Tickets Prices:
Bus from Shkoder to Ferry Terminal – 800 Lek (7€)

Komani Ferry to Fierze – 1000 Lek (10€)

Fierze to Accommodation in Valbona – 800 Lek (7€)
Total Cost: 24 Euros Per Person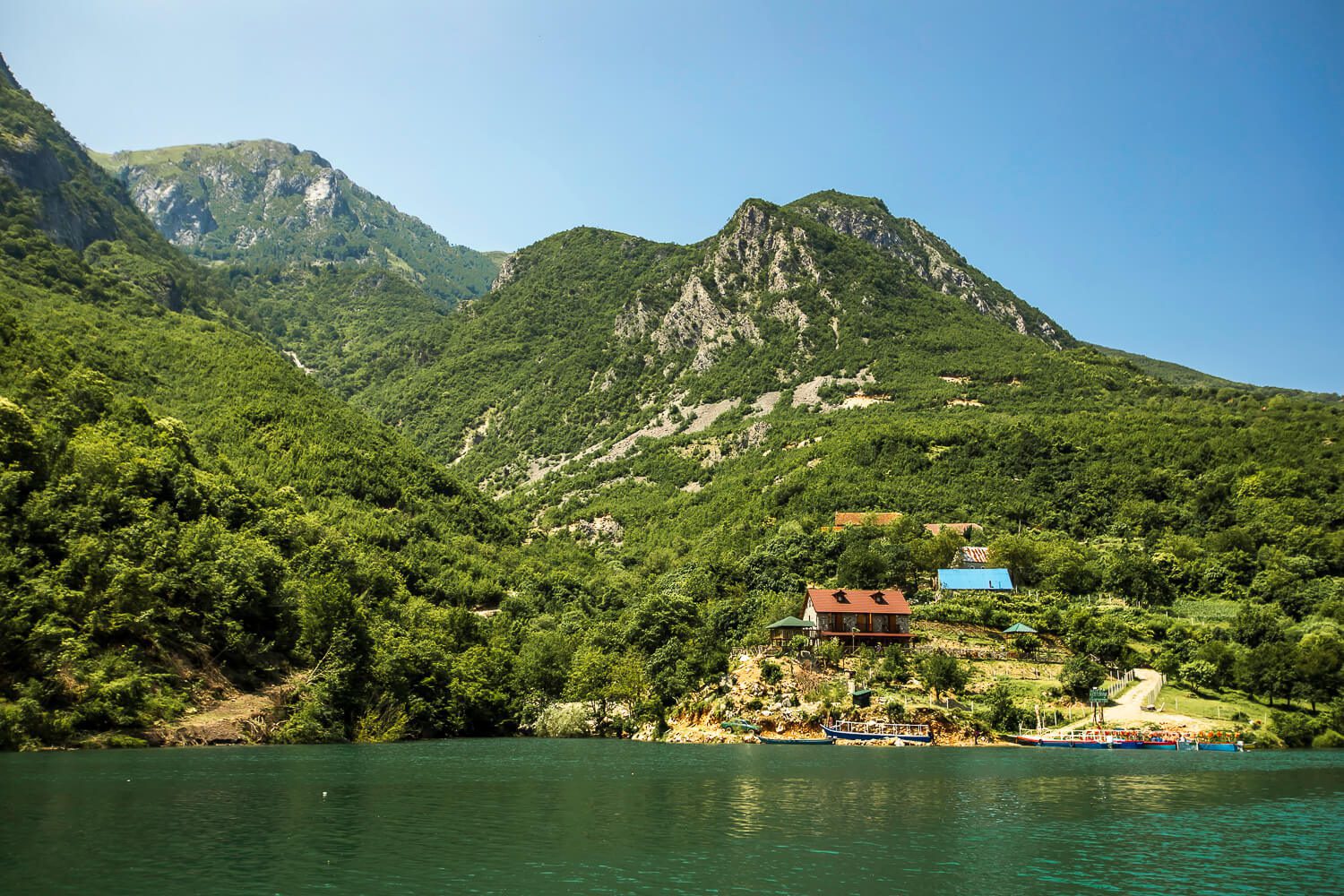 It doesn't save you any money to book your tickets as a package but it does save you time. For more transportation options, book the tickets yourself. In my opinion, this will give you the best experience with less crowds.
The journey to Valbona promises a memorable time filled with awe-inspiring sights and the opportunity to explore one of Albanian's most stunning natural wonders.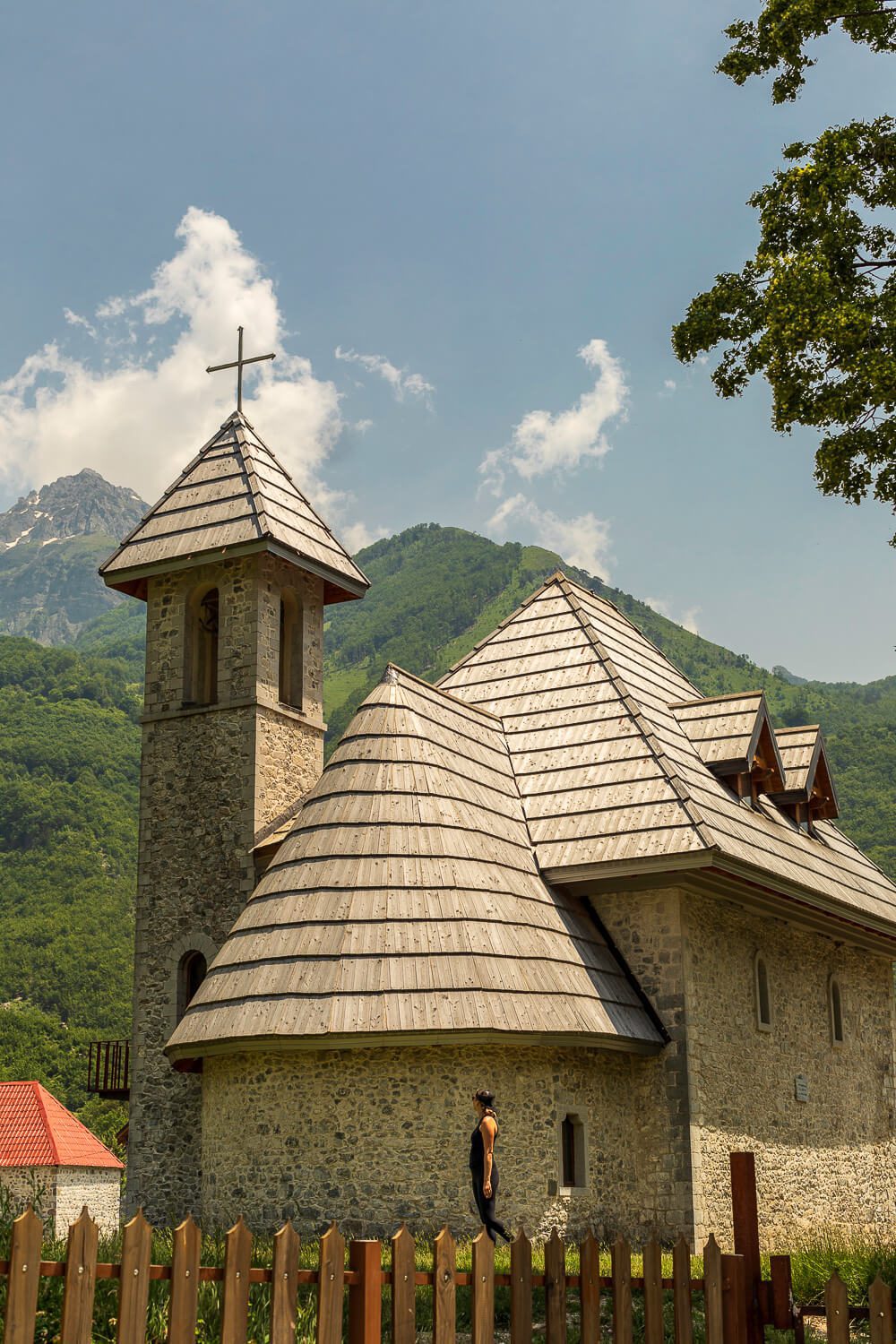 Onward Travel in the Albanian Alps
Explore Shkoder – the gateway town to the Albanian Alps.
Kayak on Lake Shkoder
If you have a van, roadtrip around Lake Koman. You'll get awesome pictures.
Explore Theth – a remote mountain village that can be reached by a minivan in 4 hours.
Hiking in Valbona National Park – think snow capped mountains and alpine meadows.
From Theth Hike to Theth Blue Eye.
Cold plunge at the Grunas Waterfall.
Peak of the Balkans for the experienced trekker.
Albania Travel Tips
📍Plan your Trip:

🗺 How long to travel Albania?  3-6 Day Albanian Alps Hiking Itinerary

🛂 Visas: Up to 90 Days on arrival for most countries.

☔️ Best Time to Visit:  Peak season = July & August.  May, June, September & October = Less crowds & costs.

💰 Average Daily Budget: Expect to pay 50 USD's a day for basic accommodations, sit down meals at a cafe and entrance fees.

⛺️ Albania accommodation Guides:

🪂 Highlights

Tirana's Coffee Culture
The Albanian Riviera
Valbona Valley National Park
Peak of the Balkans for the experienced Trekker

🧳 What to Pack: What to Pack for Albania

🎥 Watch our Albania Series on YouTube

Get on my Email list to see what I'm up to and all the best travel content!
Enjoy this Post?!?! Pin in for Later ↓