Did you know that it's possible to stay the night at a monastery? In fact, there are several monasteries throughout the world that allow visitors to hang their hat for a night or two.
My first experience of spending the night in a monastery was at the Rila Monastery in Bulgaria and it did NOT disappoint. This impressive monastery is one of the most important monasteries in Bulgaria. So if you are asking yourself, is the Rila Monastery worth visiting, the answer is an over enthusiastic yes.
In this article, I'll go over any details you'll need to know before visiting the attraction, give you my unbiased review and let you know how to get to and from the Rila Monastery.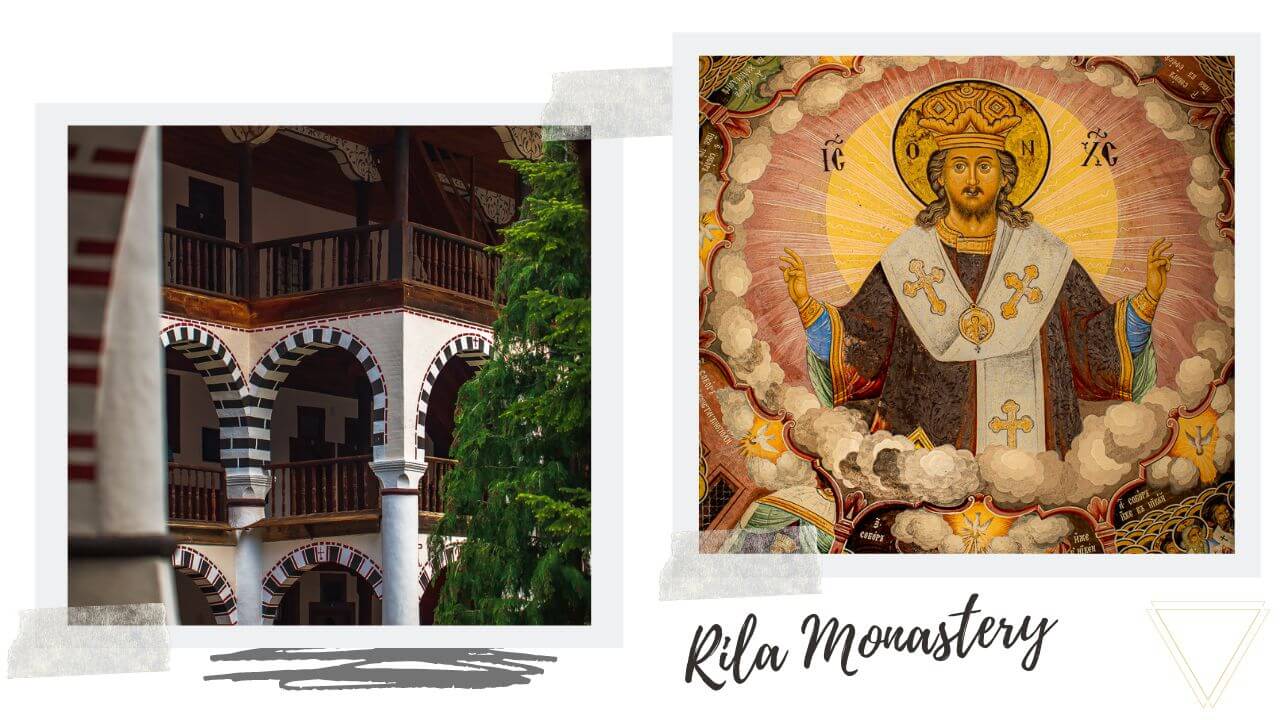 For full transparency, I have sprinkled some affiliate links in this post.  As an Amazon Associate I earn from qualifying purchases that gives me a small commission at no extra cost to you if you decided to make a purchase.  As always, I would never recommend a product or service that I didn't truely believe in.  All proceeds go to keep Jess traveling and coffee ☕️.  I thank you in advance.
Would you rather see exactly what it was like to stay the night in the Rila Monastery? Our time in Bulgaria was a whirlwind and way to short (don't worry we have another trip planned to Bulgaria so we can properly explore for a month or two). But we did manage to hang out in Sofia for a few days and make a trip to the Rila Monastery where we stayed the night and filmed a vlog of our experience.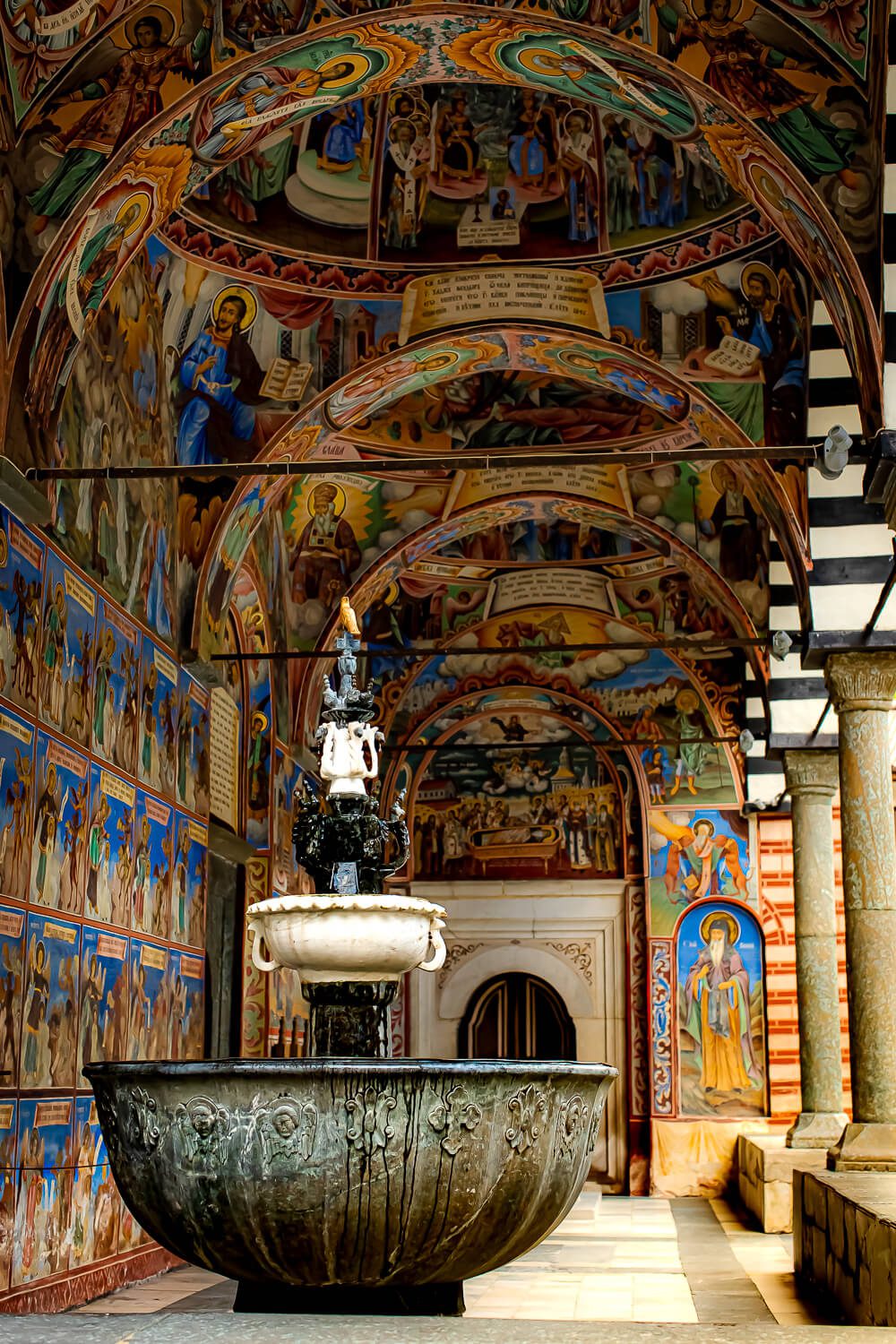 The Rila Monastery pronounced (reel-a) is a beautiful and important monastery located in the southwestern mountains of Bulgaria. It was founded in the 10th century by St. Ivan Rilski, a hermit who was venerated after his death in the year 946.
The monastery has a central role in the Bulgarian Orthodox Church and is considered to be one of the holiest places in the country. The monastery is located in a remote and scenic setting in the Rila Mountain range, surrounded by lush green meadows and high peaks. Its location has made it one of the most visited tourist destinations in Bulgaria.
In fact, the Rila Monastery is actually dependent from Bulgaria. Meaning it doesn't pay taxes and stuff like that, but the community around the monastery pays taxes to it. Basically it's like a Vatican but in a much more peaceful setting.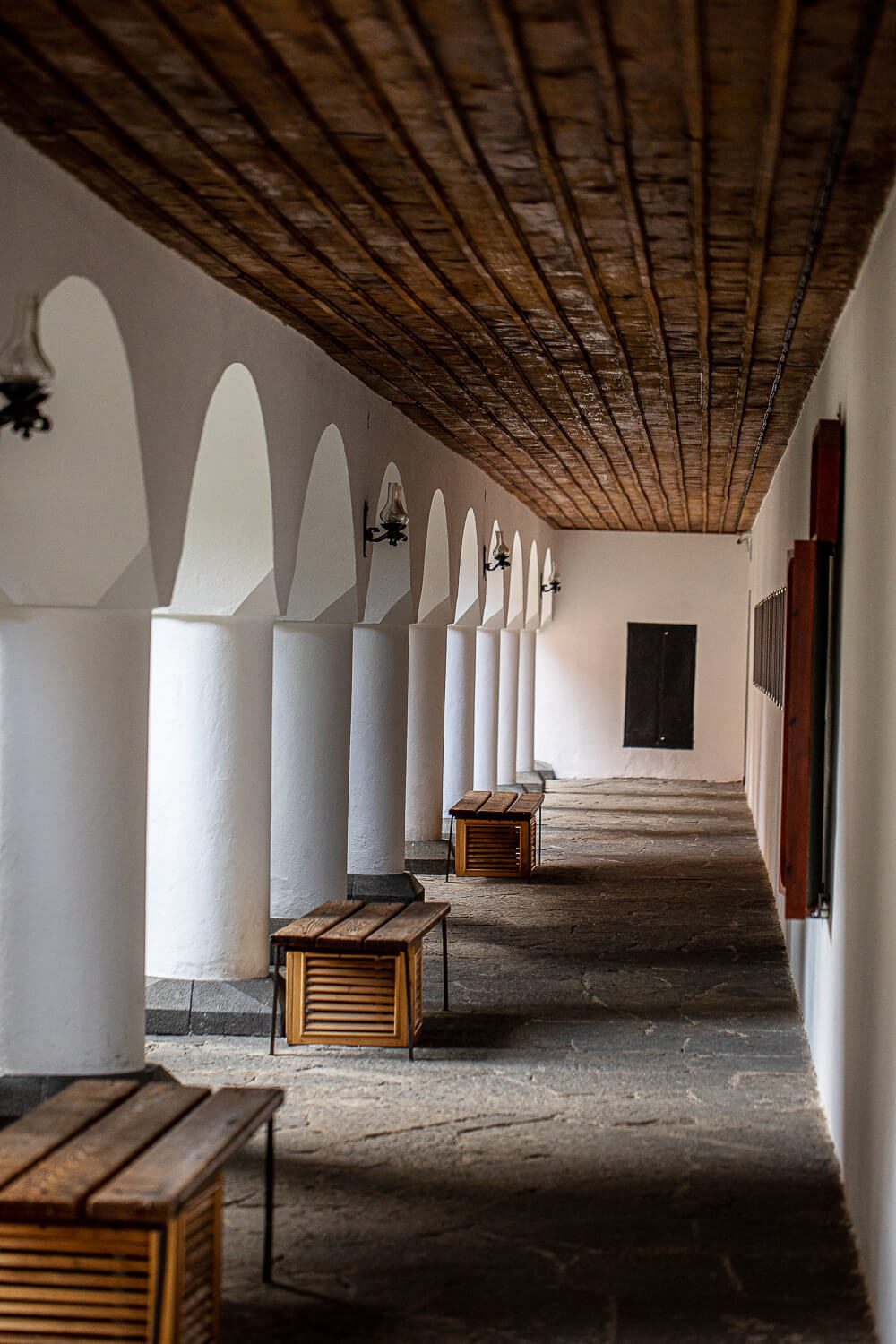 The monastery has 4 floors and 400 rooms, and luckily for us, some of which you can stay. And who doesn't want to stay in a monastery?!
The main buildings of the monastery, which were most recently constructed between the 18th and 19th centuries, include a tower, four churches and various outbuildings. The churches vary in style and interior decorations, some of them including frescoes painted during the 19th century.
The main church is absolutely stunning! It's literally plated with gold and covered in frescoes. Honestly, it was one of the most stunning places I've ever seen in my life. You have to see it to understand for yourself.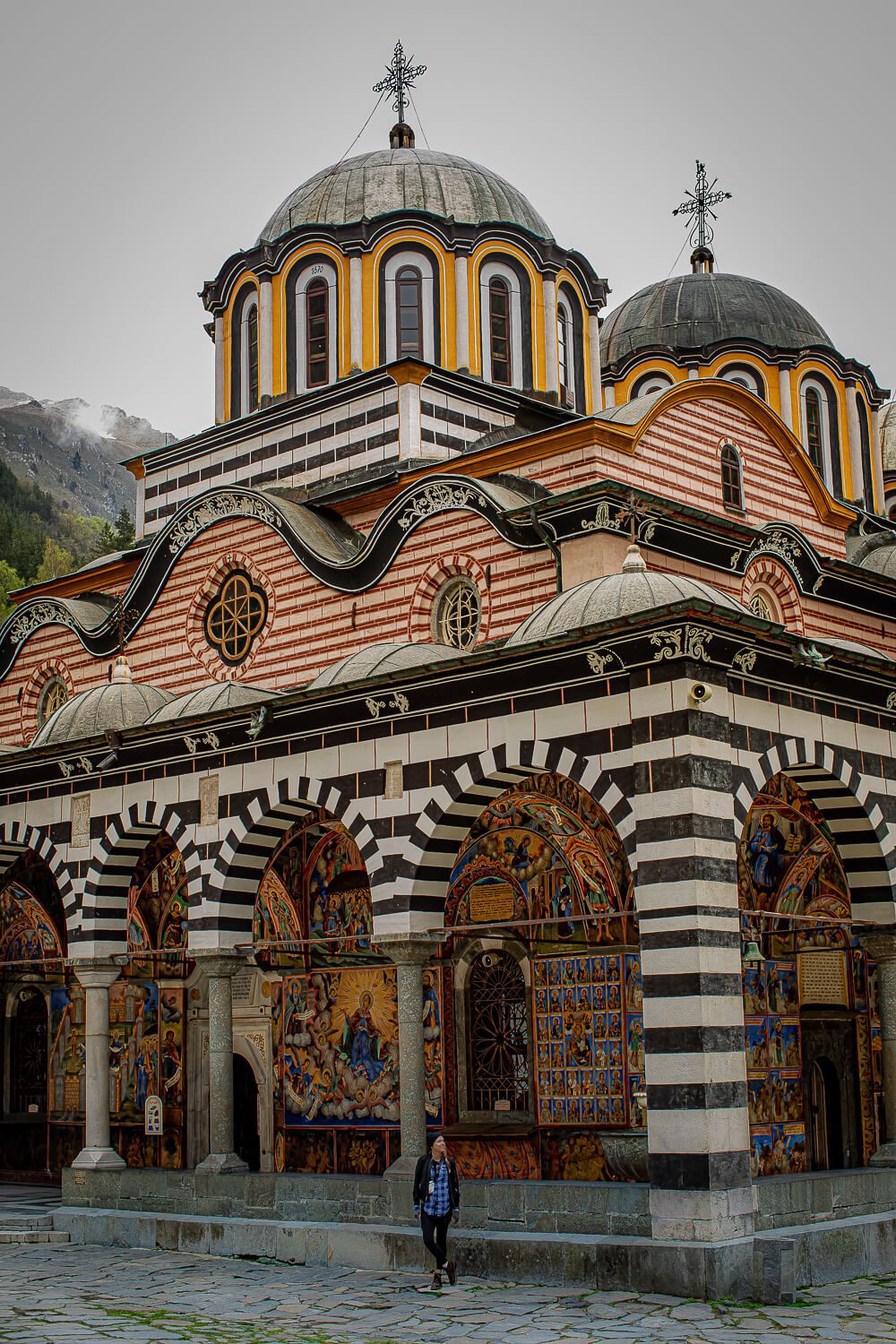 The importance of the Rila Monastery lies in its spiritual power and its spiritual presence in Bulgarian culture. It is a pilgrimage center from many Orthodox Christians who come to visit its numerous churches and admire its beautiful interior decorations and paintings.
Rila Monastery became a UNESCO Heritage site in 1983 and is one of the most important places in Bulgarian history as Boris the last kings tombstone is inside the monastery. Okay, enough of the history lesson, let's get to what it was like to stay the night in a monastery.
💡 Fun Fact: There is a face in the stone opposite of the main cathedral that is pictured of the last architect of the Rila Monastery.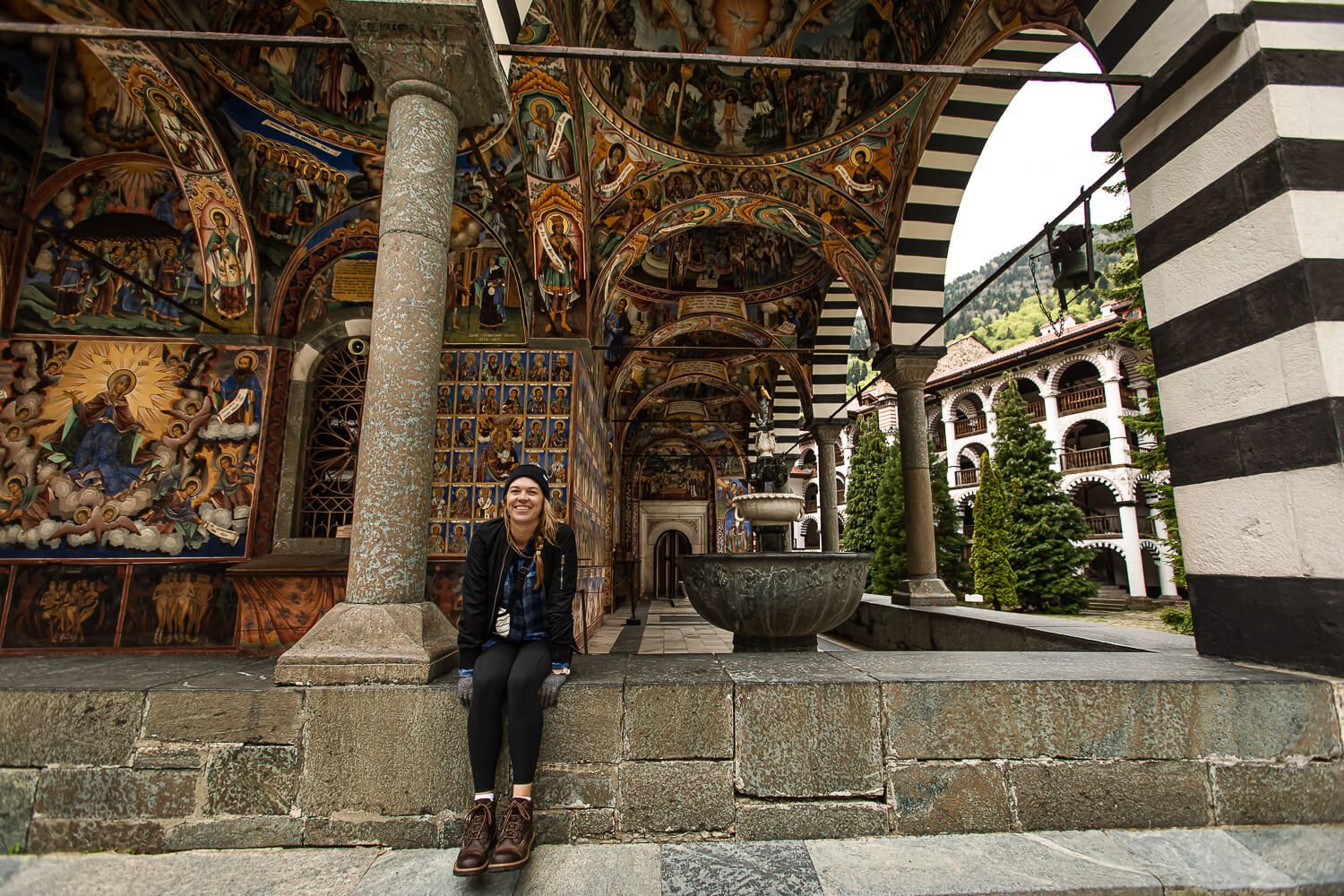 My Experience of Staying at the Rila Monastery
Staying the night at the Rila Monastery was by far one of the coolest places I've ever had the pleasure of spending the night. Nestled at the foothills of the Rila Mountain range, the monastery is surrounded by vibrant green trees, lush vegetation and the sounds of nature.
Its secluded location makes the Rila Monastery a perfect home base to explore Rila Lakes which is part of Rila National Park. Rila National Park is Bulgarias largest National Park and many locals stay at this monastery in the summer to explore this beautiful part of Bulgaria.
Joe and I had visited Rila in mid May, which was surprisingly still very cold. Granted, we came from Hawaii so anything feels cold to us but every local commented on how rainy, cold and not normal the weather has been.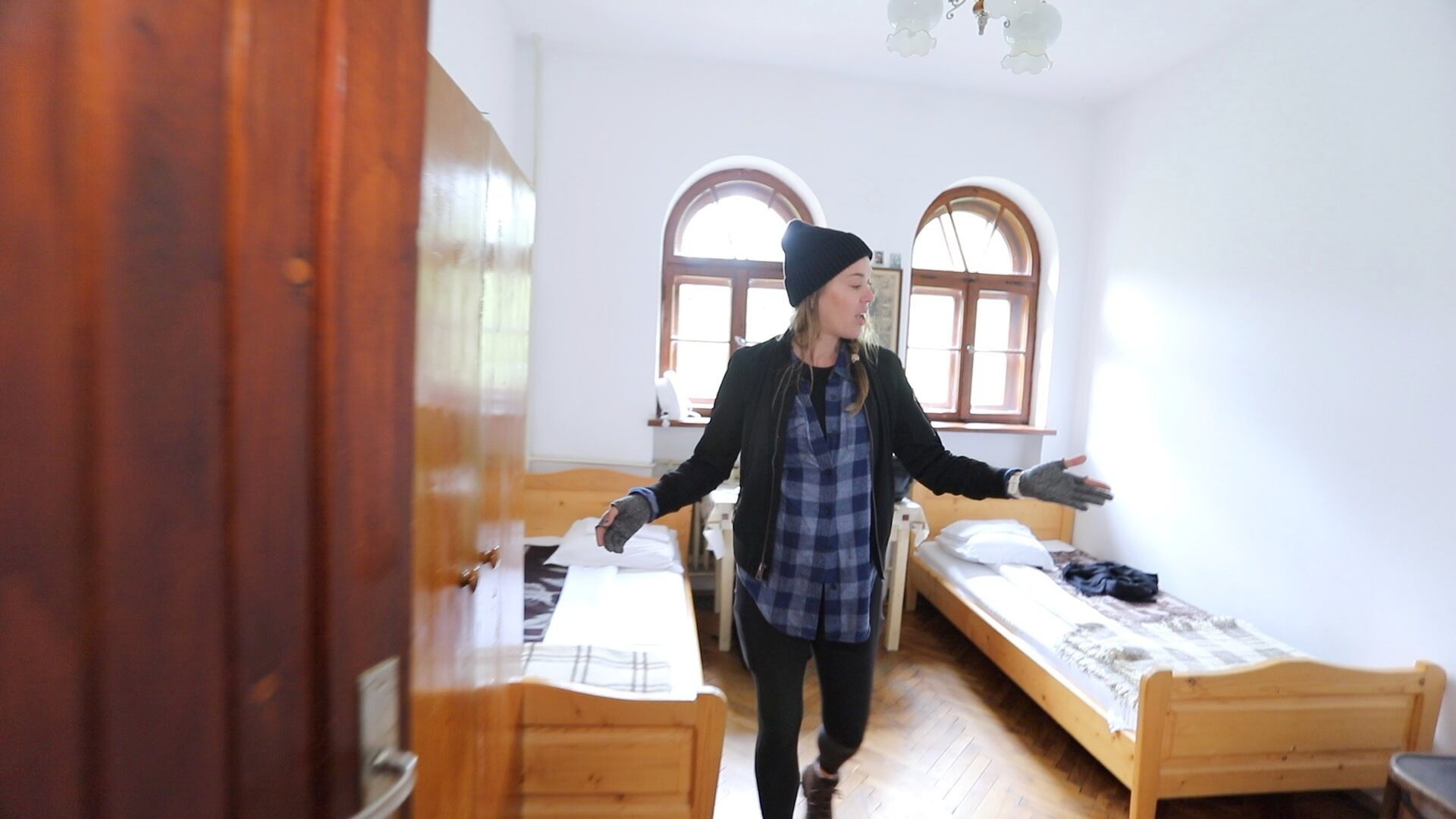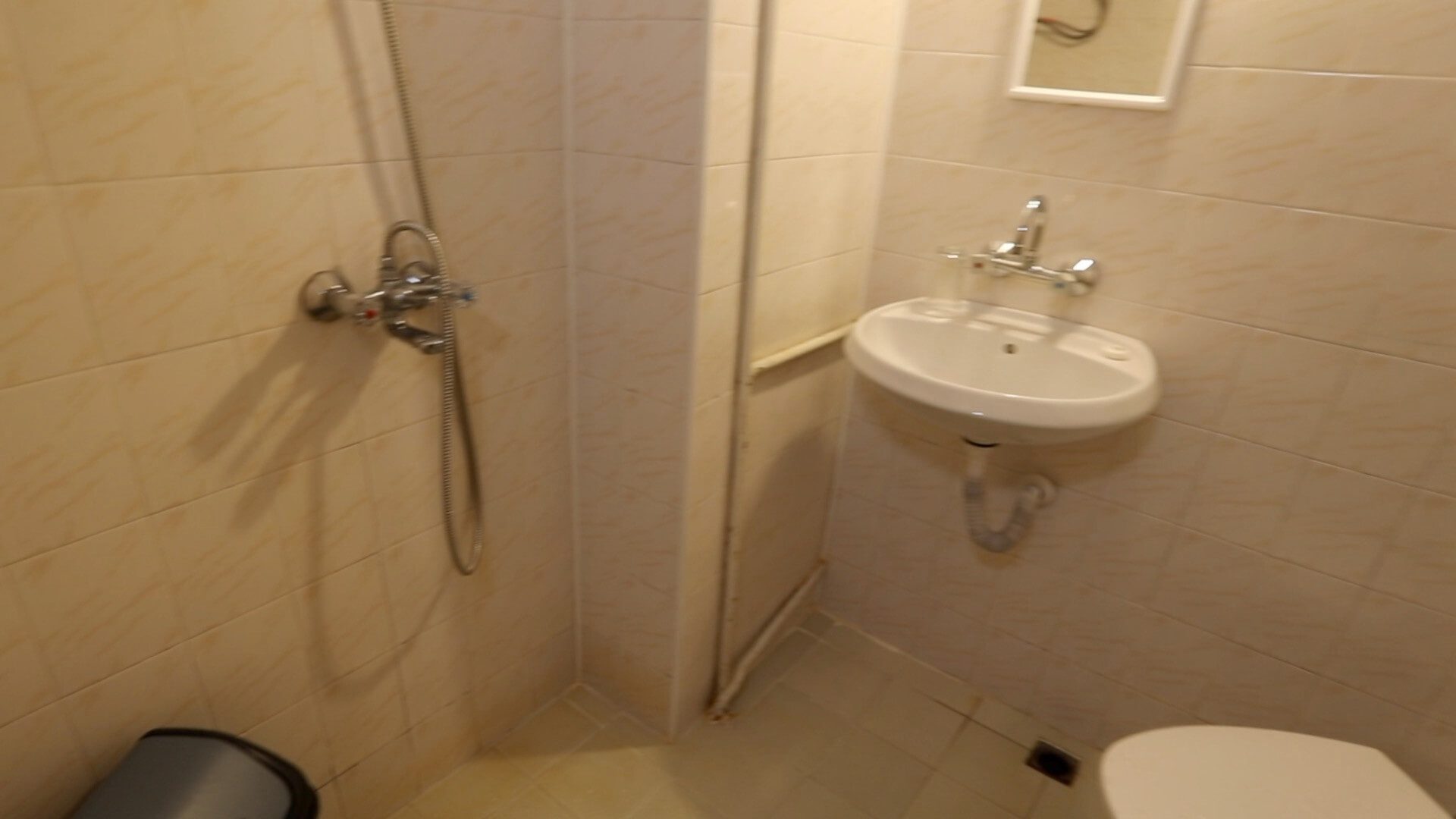 Rooms were basic but equipped with 3 single beds and ensuite bathroom with a shower. Monastery accommodations at its finest. Staying at the Rila Monastery costs 50 lev for one night. That's about $27 USD plus there was heating.
Make sure you dress appropriately when visiting the Rila Monastery. This is the Dress Code: Man and women should be wearing clothes covering their shoulders and knees. Women especially should not wear short shorts or skirts. Also you should not put your hands in your pockets as its a sign of disrespect.
Let's talk about the food. There is one restaurant outside the monastery that you can enjoy lunch and dinner at. Prices were reasonable and (not)surprisingly tasty! I tried the shopska salad (my new favorite salad) which consists of tomatoes, cucumbers, a type of grated goat cheese and peppers. Many balkan countries have a version of shopska salads and I'm officially a fan!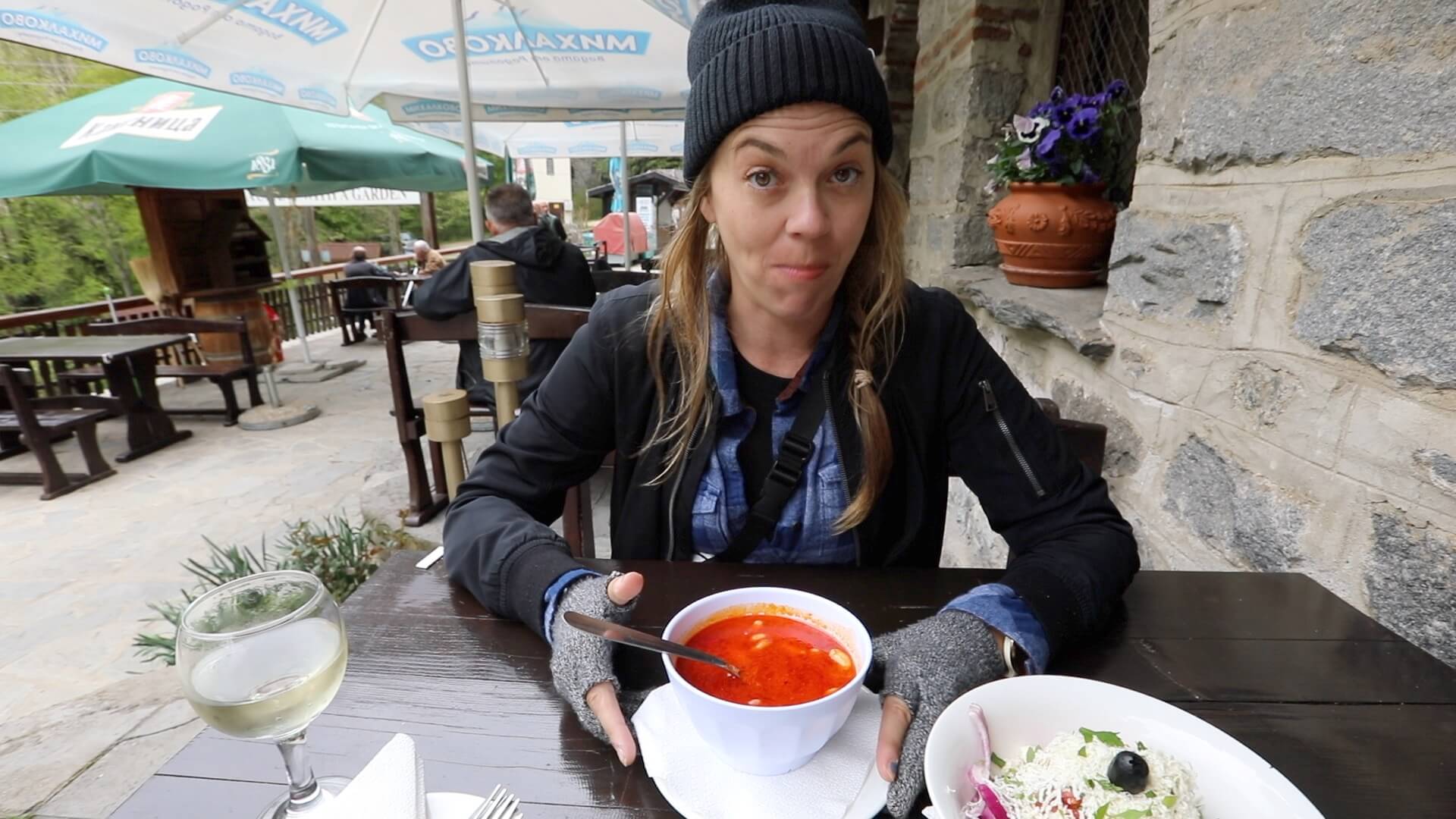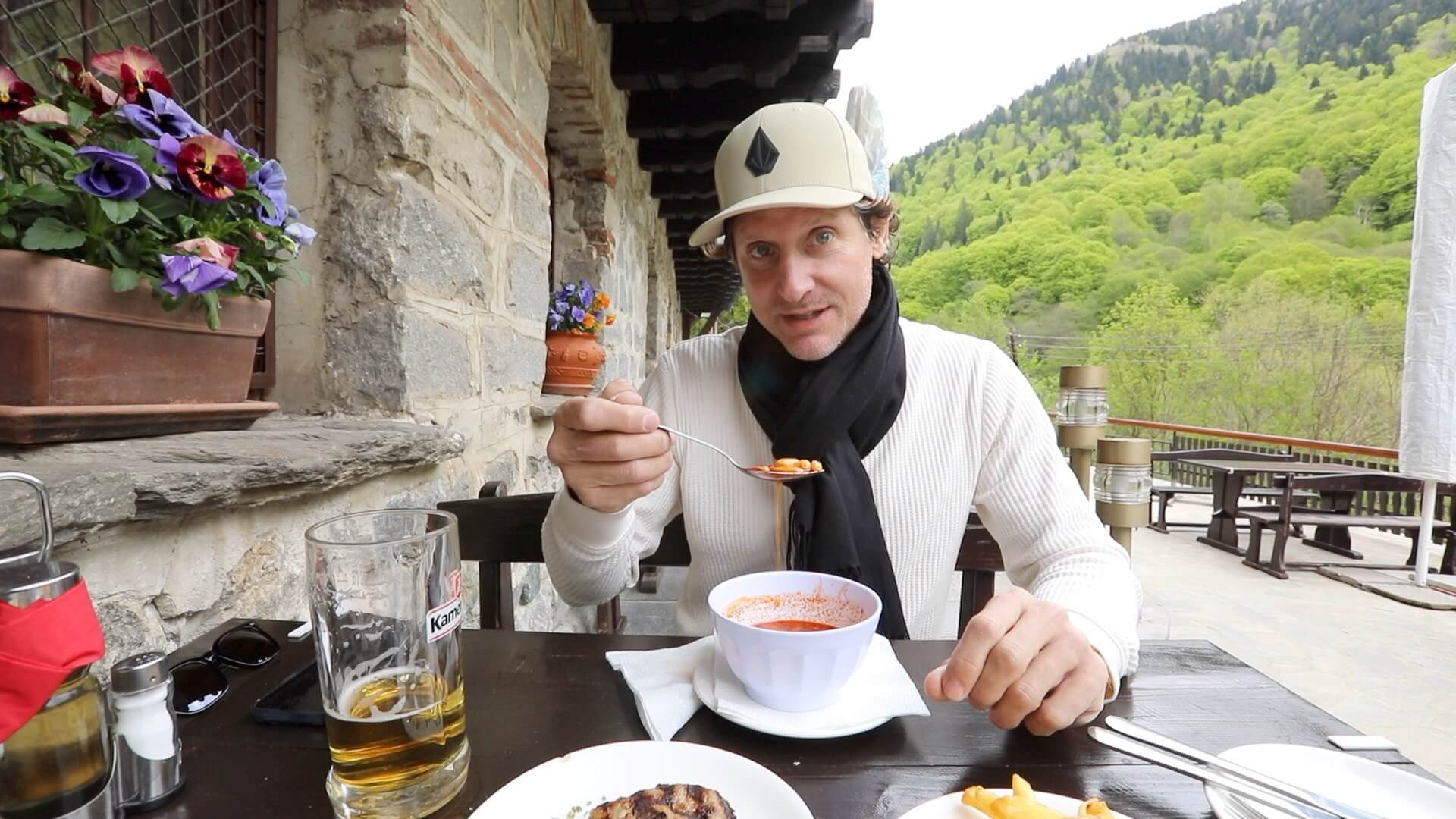 There was no WIFI but do you actually need WIFI when you're staying at a monastery. Cell service was good and I can embarrassingly say that I used my cellphone hotspot all night to plan our trip through North Macedonia…so yes one does actually need WIFI when staying in a monastery.
We rose early to catch a what we thought would be a peaceful sunrise. We bee-lined it for the coffee vending machine that sit just outside the monastery gates. 3 lev later, we fueled up on a lack luster sip of caffeine. Yes, the lack of a proper cup of coffee would be my only complaint.
After filming a couple shots, Joe stayed out to capture more photos and I researched (very last minute might I add) how we were going to leave the Rila Monastery as we took a tourist bus here. This is where things turned chaotic.
How to Get to the Rila Monastery (and From!)
This is where our day got, let's say…exciting. Getting to the Rila Monastery is pretty straight forward if you are coming from Sofia. We booked a tourist bus leaving from the Alexander Neveski Cathedral in the center of the city.
Tickets were $20, stopped at the Bayana and had a tour guide in English. I used this site and don't have any complaints. We left at 9 am, stopping at the Boyana Monastery and then a few hours later arrived at Rila around 12.
There is also public transportation available which you can take a bus from Sofia to the village of Rila or Blagoevgrad and then a bus from Rila to the monastery. Either way you'll be taking multiple buses and have limited options. You can look up time tables here.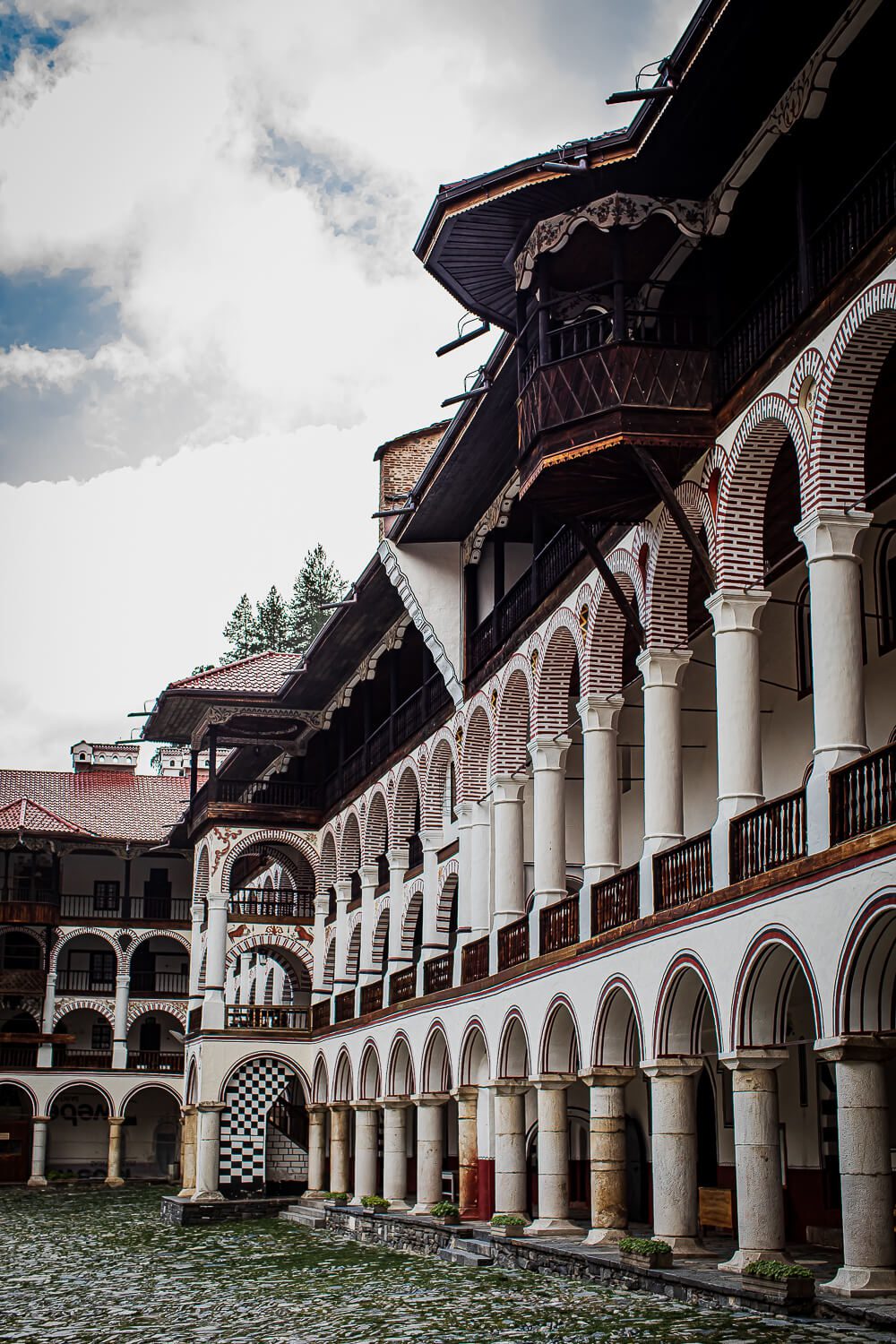 Reception to the monastery for walk-in reservations did not open until 2 pm. Therefore, we enjoyed the tour and all the interesting facts that our guide had to offer.
If you can speak Bulgarian or have a translator, you can call this number to reserve a room ahead of time. Call the Rila monastery monk brotherhood directly at +359 896 872 010 (call between 2:00 pm and 6:30 pm) for booked ahead reservations.
Leaving the next day after staying at a monastery. Unless you have your own transportation, this is where things get complicated. If you are traveling in off seasons like we were, there will be a limited number of cabs.
At around 7:52 am I found this site that lists the ways to go and leave the Rila Monastery. It stated that a bus was due to pick up from the Rila Monastery at 8 am. The next one wasn't scheduled until 4:50…time was now not on our side.
Luckily, we didn't unpack the night before and we were able to frantically "pack" our bags, (not)brush our teeth and book it to the monastery gates in a matter of minutes. A few buses arrived around 8, one to Blagoevgrad and one to Dupnitsa.
We need the one to Blagoevgrad. There apparently wasn't enough people that needed a bus so we ended up in a car with 2 others (whom did not speak English and we did not speak Bulgarian) headed to what we hoped was Rila Village.
This was the case and it cost 3 lev ($1.50) a person. I won't go into too much more detail, but if you'd like to read or watch our experience about leaving the Rila Monastery and crossing the Macedonian border, you can do so below.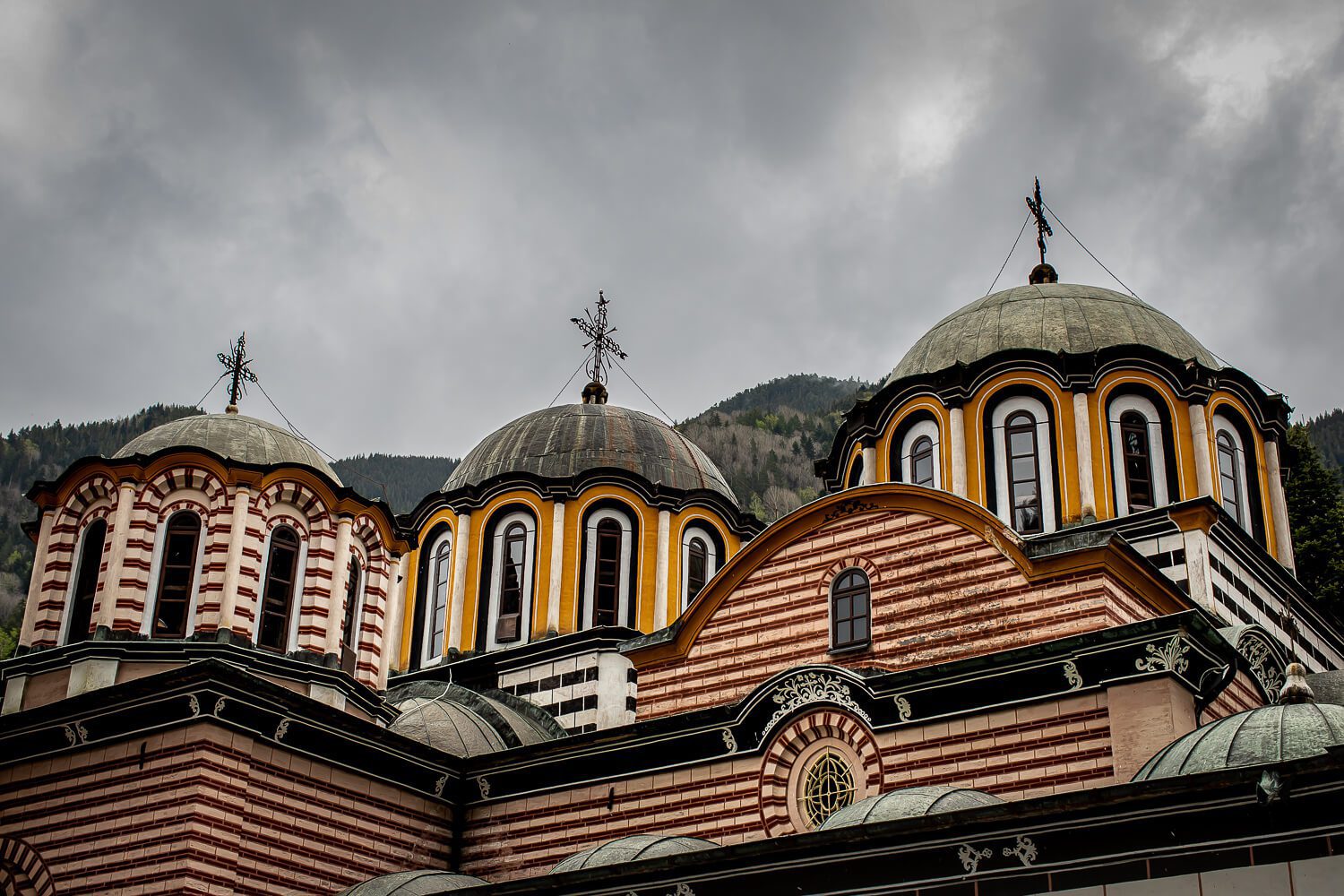 Don't have enough time in Bulgaria to stay the night at the Rila Monastery? Take a tour to be able to get a small glimpse of its stunning beauty.
Overall, my experience of staying in a monastery was something I would definitely recommend to my friends. Have you stayed the night in a monastery? Let me know in the comments below.
More travel guides to help plan your trip to Bulgaria.
Best Things to do in Sofia
Where to Stay in Sofia
Enjoy this Post?!?! Pin in for Later ↓