Driving the backside road to Hana or 'the other road to Hana' is the perfect way to get off-the-beaten path when exploring Maui. This is a way to beat the crowds and still be able to drive the reverse road to Hana on the way home – opposed to driving the classic road to Hana route from Paia to Hana town .
In this guide about driving the back road to Hana, we'll go over what to expect, how long it will take, where it starts, all the best stops and any necessary tips you'll want to know before embarking on this Maui road trip.
Important Note* The first one and a half hour stretch of the back road to Hana is usually forbidden by rental car companies and is stated in the rental car agreements. This means you are taking all the risk when driving the reverse road to Hana.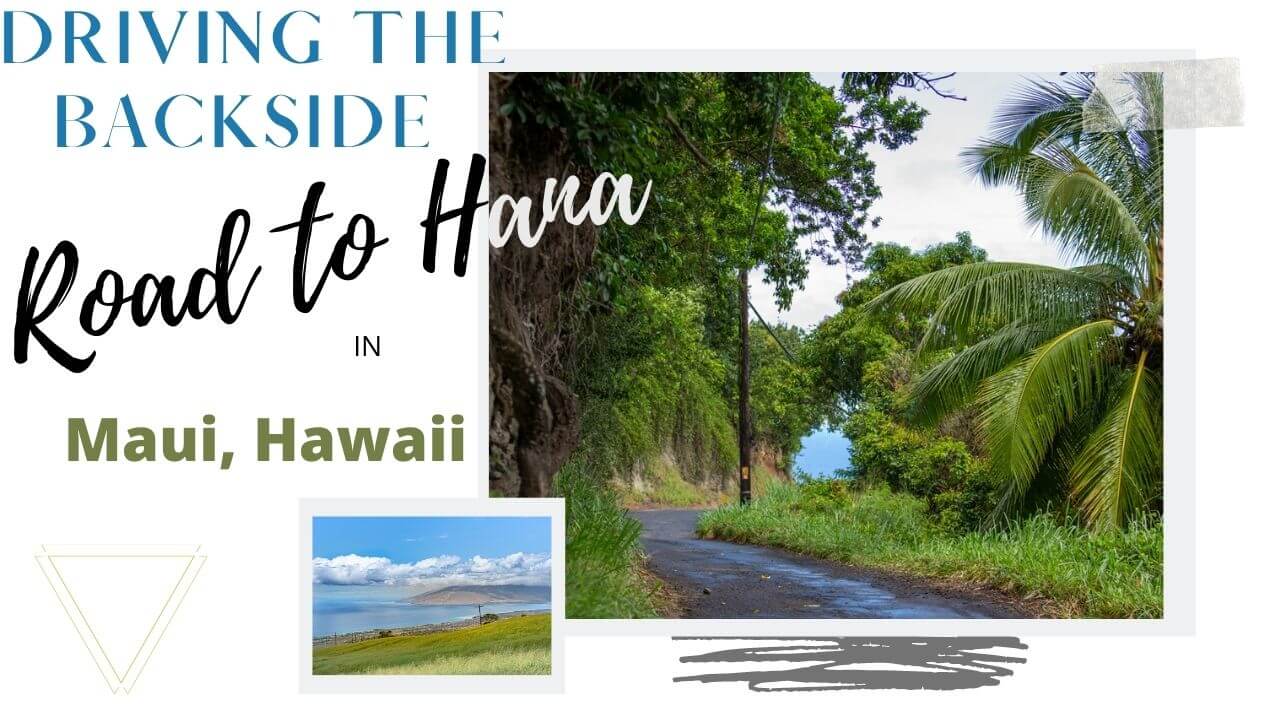 For full transparency, I have sprinkled some affiliate links in this post.  As an Amazon Associate I earn from qualifying purchases that gives me a small commission at no extra cost to you if you decided to make a purchase.  As always, I would never recommend a product or service that I didn't truely believe in.  All proceeds go to keep Jess traveling and coffee ☕️.  I thank you in advance.
TRAVEL TIP: If you would prefer to follow along to an audio tour I recommend the Shaka Guide! The Shaka guide tours are great for independent explorers who want the freedom to explore on their own terms, but like to learn about the spots they're visiting.
The tours use GPS to offer turn-by-turn directions and audio narration with stories and music. This will leave you with a deeper understanding and connection to Hawaii.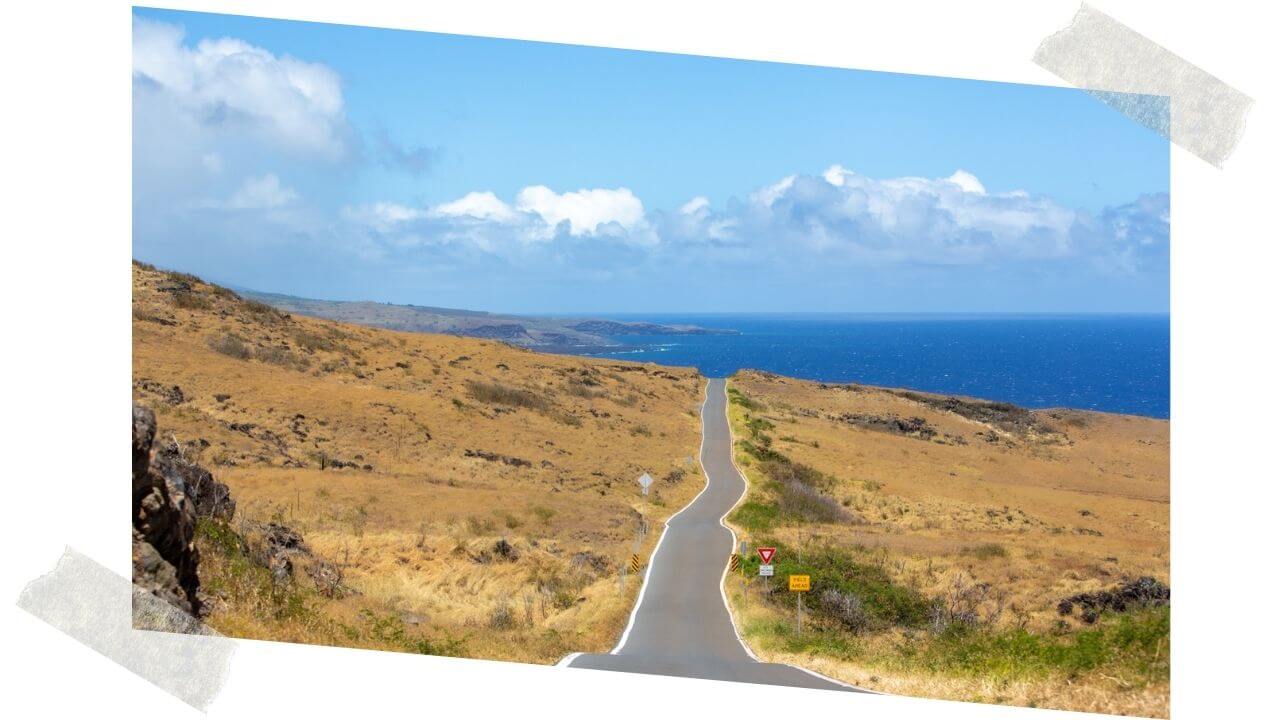 Expect scenic views, volcanic structures and the sweet taste of freedom. The backside of Hana has some one lane graded dirt roads and rusty guardrails so the drive requires extra caution.
The back road to Hana conditions are as followed. Some parts of the road are unpaved and it can get narrow. Other parts get windy and are on a side of a cliff. And some of those narrow and windy parts of the road are without a guard rail.
Along the way you'll see various farm animals, views of Kahoolawe and Molokini the horse shoe shaped atoll. Snorkeling at Molokini is one of the best things to do in Kihei.
Travel Tip: Since the roads are sketchy at points, some rental companies do not want you driving through this area of Maui. Read the fine print as driving the back road to Hana, Maui may breach your rental car agreement or insurance.
Where does the back way to Hana start?
The back road to Hana starts in Kula town about 15 minutes past Makawao, one of Maui's most charming towns. This part of Maui is known as Upcountry. Starting your journey to Hana on this side is a great way to experience this side of Haleakala volcano.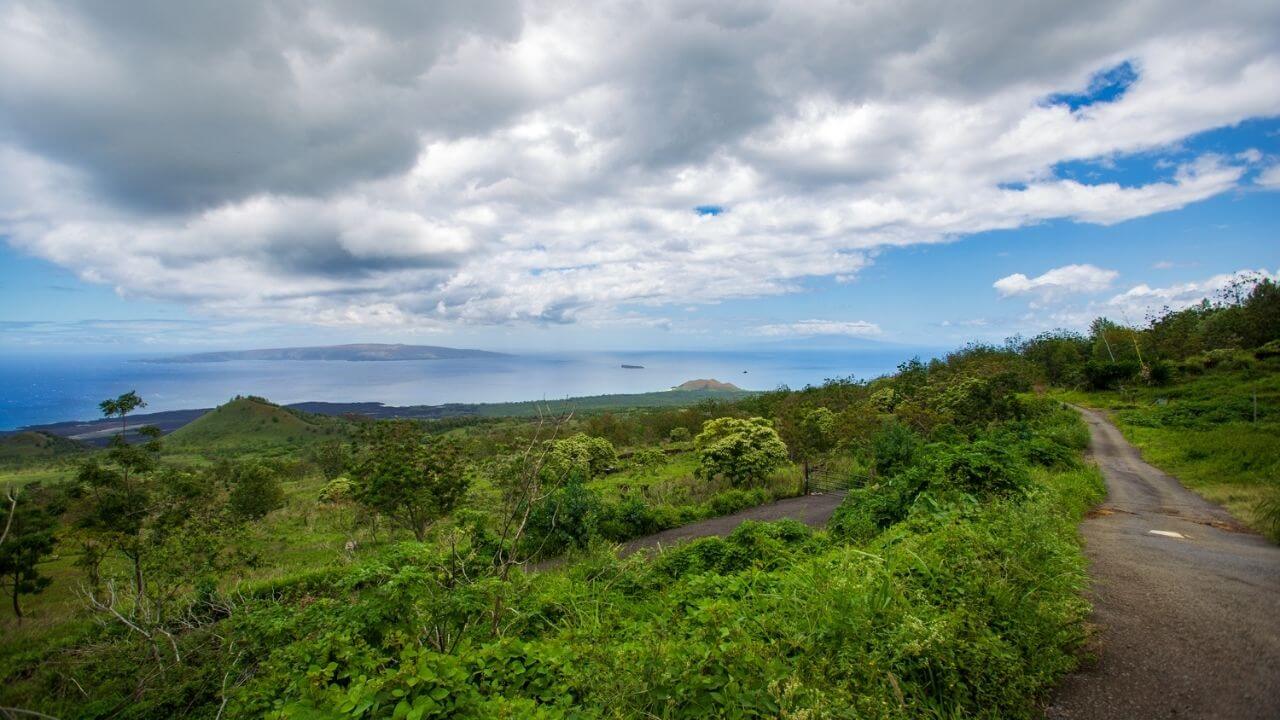 How long does it take to drive to Hana backside?
The drive time from Kula town to Kahului is about 4 hours, but with all the fun things to do and see this is a whole day excursion – let's say 10-12 hours. Of course if you only want to drive the back side of the road to Hana because you want to reach Haleakala National Park Kipahulu District sooner, you can turn around after exploring the park and drive back the way you came.
Plus if you are staying in a popular area like Ka'anapali on West Maui it is another 45 – 60 minuets getting to the starting point and back to your hotel. Yes this is going to be a long day but I promise its worth it!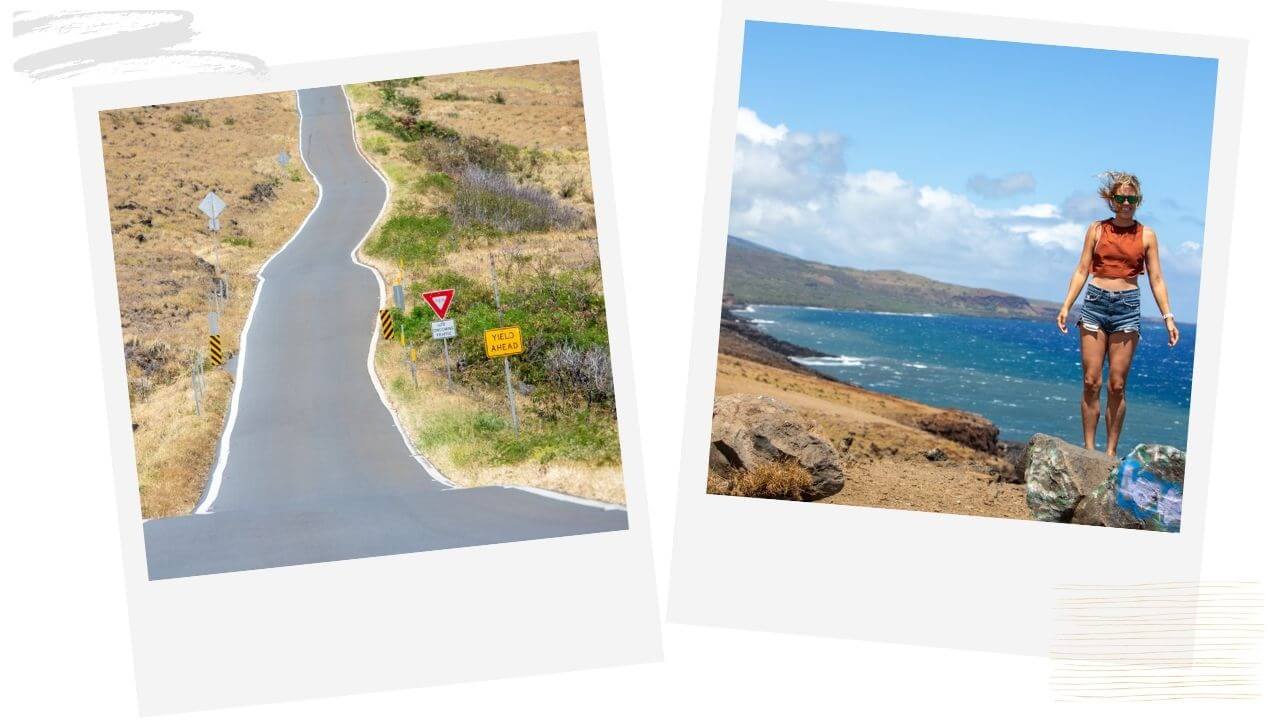 The best stops along the backside road to Hana
Now let's get to the exciting part – the best stops along the backside road to Hana!
Before you embark on your adventure, you want to make sure you have a full tank of gas. The last gas station until you get to Hana is right next to Grandmas Coffee House which is one of the best breakfast spots on Maui.
Next up is Ulupalakua. This towns contains the Ulupalakua Ranch Store. This is a great place to use the restroom and grab snacks/food for a picnic somewhere on the road.
Shortly after the ranch store is Maui's only winery. The offer free wine tastings and are known for their pineapple wine. Sipping pineapple wine is an unusual thing to do in Maui and is one of the best things to do Upcountry Maui – although I recommend that you spend a separate day exploring as there are many cool things to do Upcountry.
Soon after the winery keep a lookout on your right for epic view of Kahoolawe, Molokini Crater and volcanic cinder cones (pictured above ↑). This view may be one of my favorite views on Maui.
Next on the left side of the road perched on a hill, you'll see a little shop with several potted plants and such. This is the honey bee sanctuary. It's worth a stop if you have time. They have a small shop with local, handmade 'Hive to Home' and 'Bees to Body' products.
This is one of the best things to do in Maui on a budget. Grab a cup of coffee and try it with their lavender honey. Yum!
As you continue driving down the Piilani Highway you'll come up on some old homes and a bunch of run down old cars. In ancient times most of the Hawaiians lived in this area opposed to current day West Maui or South Maui.
About 40 minutes into your drive you'll spot the Kihikinui wind turbines. If you haven't already, you will soon understand why this is a perfect spot for them. It gets pretty windy!
There are plenty of shoulders to pull over, take in Maui's beauty and also take a few pictures. Check out this view of a beautiful overlook of a gulch.
Soon you will come up on St. Joseph's Church, this is such a beautiful piece of Maui. From the grounds you can get a great view of kaupo gap. They hold masses here on the 5th Sunday of every month but you can explore the grounds at any time. Don't be surprised to share space with several chickens and cows that live here.
Next you'll see a rainbow colored sign, that's the Kaupo store. At this historic store you can purchase snacks and use a restroom if you are a customer. It only costs a donation and just remember you are off-the-beaten path Maui so don't expect much. It will make you feel like your on a wild foreign adventure tho.
*Update when I was here May 2021 during a weekday around noon they were closed. Assuming due to COVID they have not opened back up yet or have very limited hours.
Another beautiful coastal church on the back way to Hana drive is Huialoha Church. You are able to drive down the road to see the church up close or there is a viewpoint that overlooks the church on the bay after the bend in the road. If you only have one day, there's still a lot to see, so snap a picture and be on your way.
After the viewpoint the road gets narrow to a point that only one car fits. So drive with caution and be very aware. Know that there's a possibility that you'll have to reverse if a car is coming in the opposite direction.
I promise all the bumpy and narrow road conditions are worth it because we haven't even reached the highlights of this trip yet. The first being Alelele Falls which you can find on google maps here.
Alelele Falls is a short hike that takes 15-20 minutes to reach. These falls are some of the best waterfalls that Maui has to offer. The trailhead is located after the bridge on your left.
The water that cascades down creates a small pool at the bottom of the falls that you can swim in. I know it may sound tempting but swimming under the falls is dangerous as rocks get unlodged and fall from the top of falls which can knock you in the head. So avoid temptation and swim around the falls and NOT under.
Need a coffee or fresh fruit after your refreshing waterfall plunge? Stop at the Laulima fruit stand next. Here they sell fresh fruits, smoothies and coffees all grown locally on their farm. Let's support local and sustainability.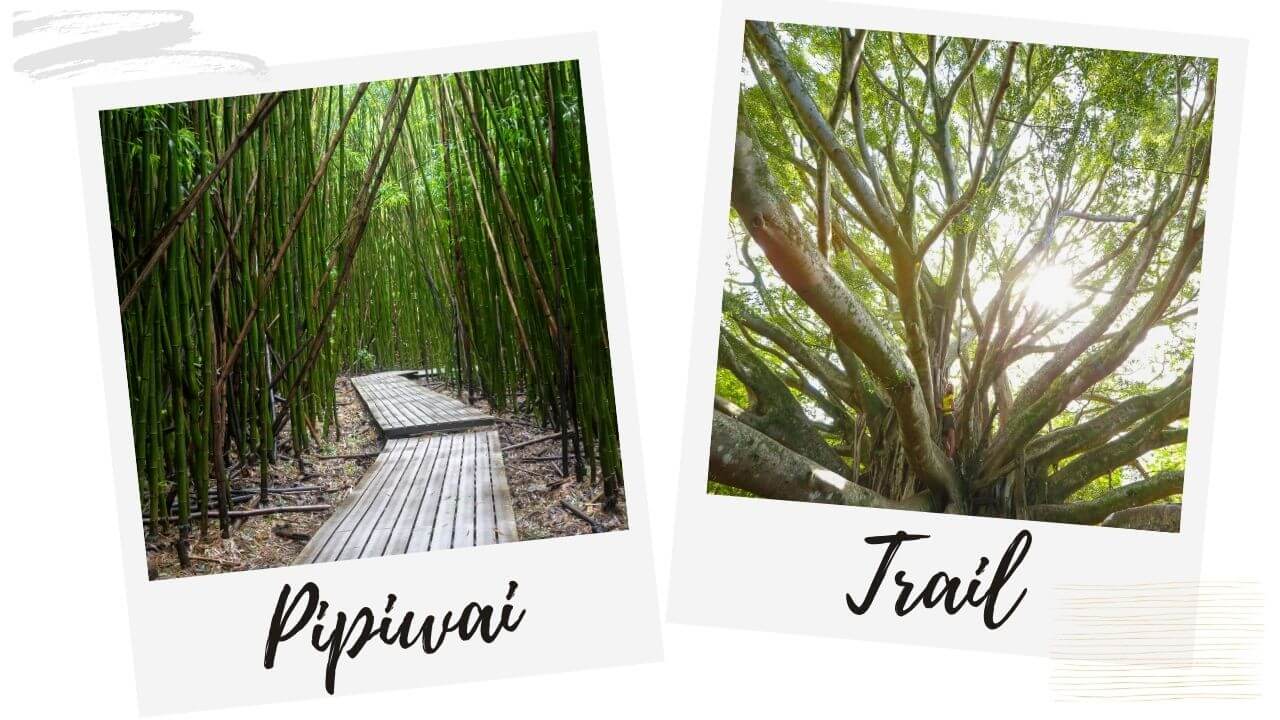 Finally, the highlight of the back road to Hana is the Kipahulu entrance to Haleakala National Park. Inside this entrance is the Oheo Gulch aka seven sacred pools and one of Maui's most iconic hikes, the Pipiwai Trail.
The Oheo Pools are a tier of waterfalls that flow into pools and eventually into the ocean. On a calm day you are able to swim inside the pools.
The Pipiwai Trail is a moderate hike that is 4 miles out and back. It takes anywhere from 2 to 4 hours to complete depending how long you stop and take it in.
The rainforest trail starts near the National park visitors center and takes you past 2 waterfall outlooks, an ancient banyan tree, through a magical bamboo forest and eventually to the awe inspiring 400 foot Waimoku Falls.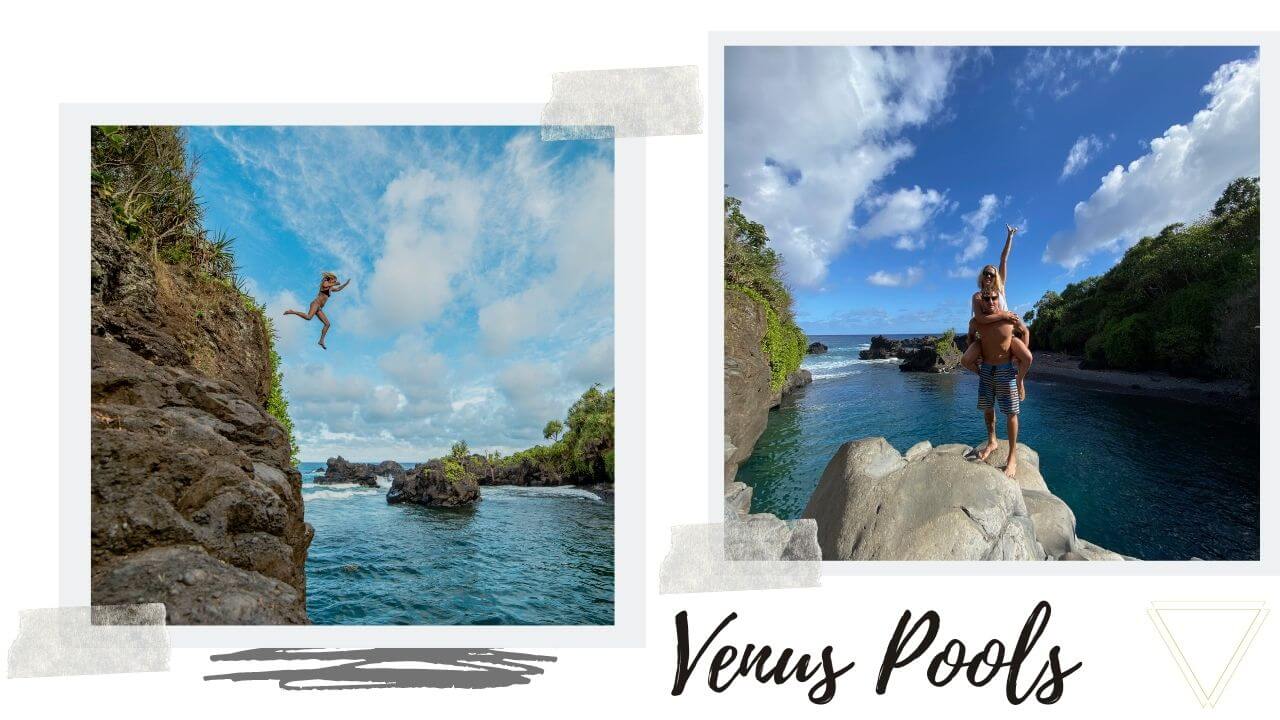 At last you've made it to Hana town. There are many adventures to have in Hana so I always recommend staying a night or two in Hana to be able to experience all that Hana has to offer. Your other option is to turn around and drive back the way you came or continue around the island on the Hana Highway a.k.a. road to Hana.
There are twice as many awesome things to do on the road to Hana as there are on the back side to Hana so again that will also be an all day excursion hence why I recommend staying a few nights in Hana.
Check out these Hana guides to assist you on your travels.
Tips for driving the Reverse road to Hana
If you'de like to see a video of driving the back way to Hana check out this Vlog and skip to 1:10 when the drive starts.
Check your rental agreement and insurance this activity may breach your contract as this area of Maui is usually forbidden by rental car companies. This being said, travel at your own risk.
Risks include tow trucks that take a long time and costs lots of money.
Some parts are of the road are unpaved and it gets narrow and twisty. Plus you're on a cliff side and at some points without a guard rail. Drive with caution and be very aware at all times.
If driving the reverse loop all the way around back to Kahului make a reservation in advance for Wai'anapanapa State Park. This park contains one of Maui's only beautiful black sand beaches.
Break ins do occur. Take your valuables with you or at the very least keep them out of sight.
Bring cash: most places on this part of the island don't except credit cards.
Malama Aina – which means take care of the land. Do this by picking up your trash and staying on the trail.
You came, you saw, you conquered. Did you enjoy driving the backside road to Hana? Tell me your favorite stop in the comments below!
Enjoy this Post?!?! Pin in for Later ↓