The North Shore of Oahu is known for its beautiful beaches, epic surf, stunning sunsets and tasty food trucks. The are plenty of things to do on the North Shore Oahu, Hawaii that spending a few days exploring this area will complete your Hawaiian experience as its a far cry from the bustling city of Waikiki.
The North Shore is about a 45 minute drive from Waikiki without traffic. North Shore, Oahu is a stretch of coast known for big waves and professional surfing contests are held here every winter. The waves die down in the summer which creates perfect snorkeling conditions as the reefs are teeming with marine life.
North Shore, Oahu has 7 miracle miles of beautiful beach waiting to be explored. Whatever it is that draws you here, these are the best things to do on the North Shore, Oahu.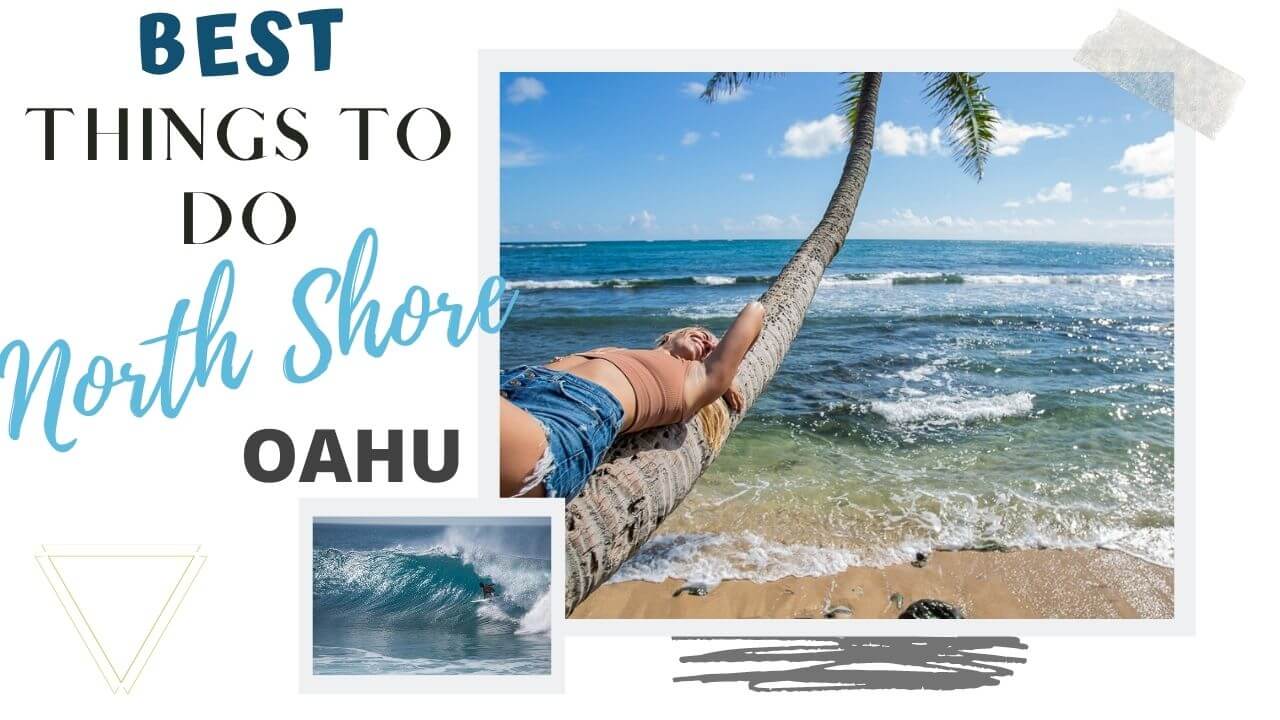 For full transparency, I have sprinkled some affiliate links in this post.  As an Amazon Associate I earn from qualifying purchases that gives me a small commission at no extra cost to you if you decided to make a purchase.  As always, I would never recommend a product or service that I didn't truely believe in.  All proceeds go to keep Jess traveling and coffee ☕️.  I thank you in advance.
Sharks Cove
Waimea Bay
North Shore Oahu Ziplines
North Shore Food Trucks
Banzai Pipeline
Polynesian Cultural Center
Haleawa Town
Sunset Beach
Hawaiian Shave Ice
Hike to the Ehukai Pillboxes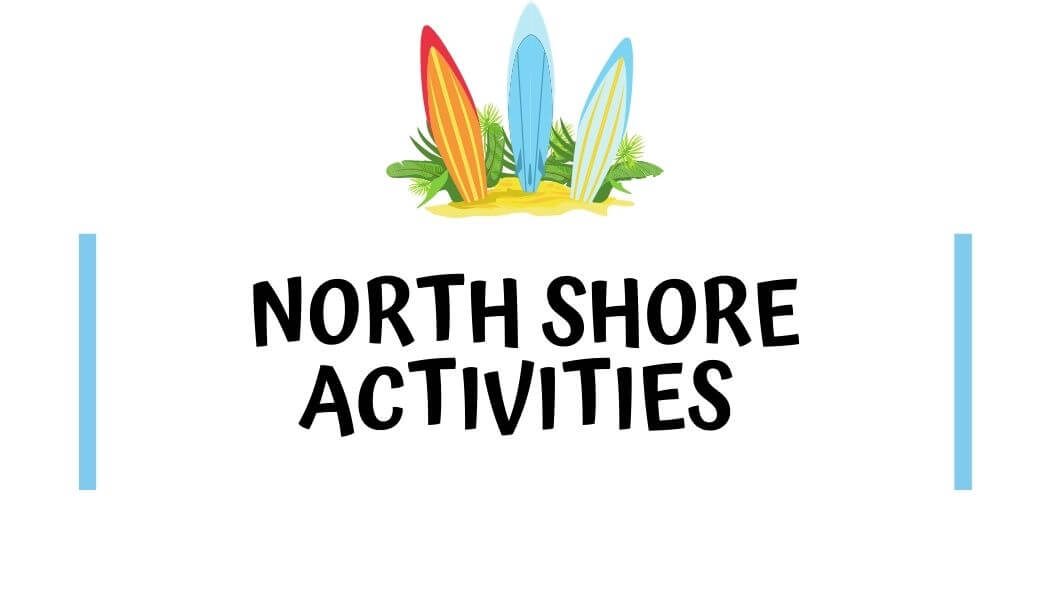 North Shore Oahu Activities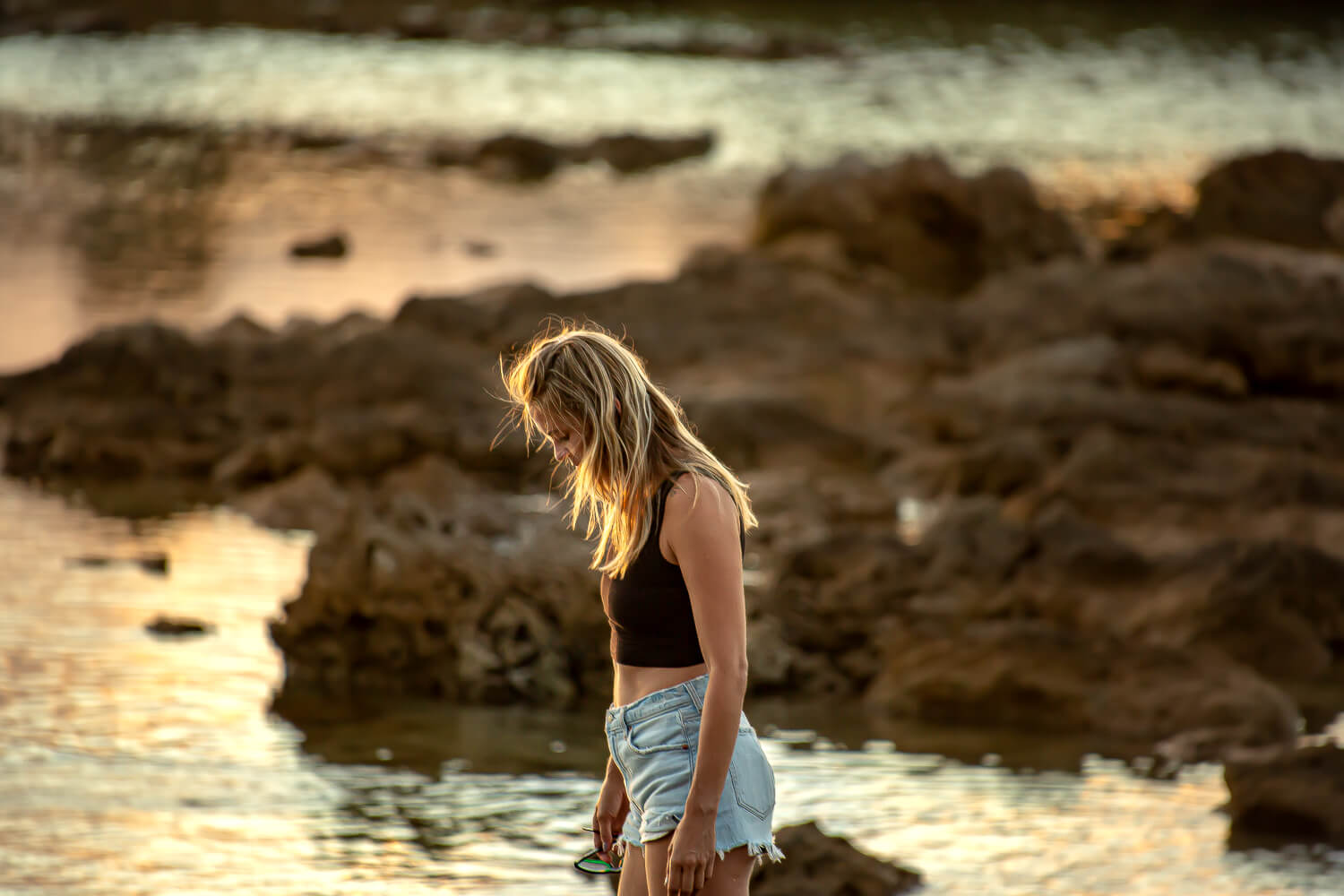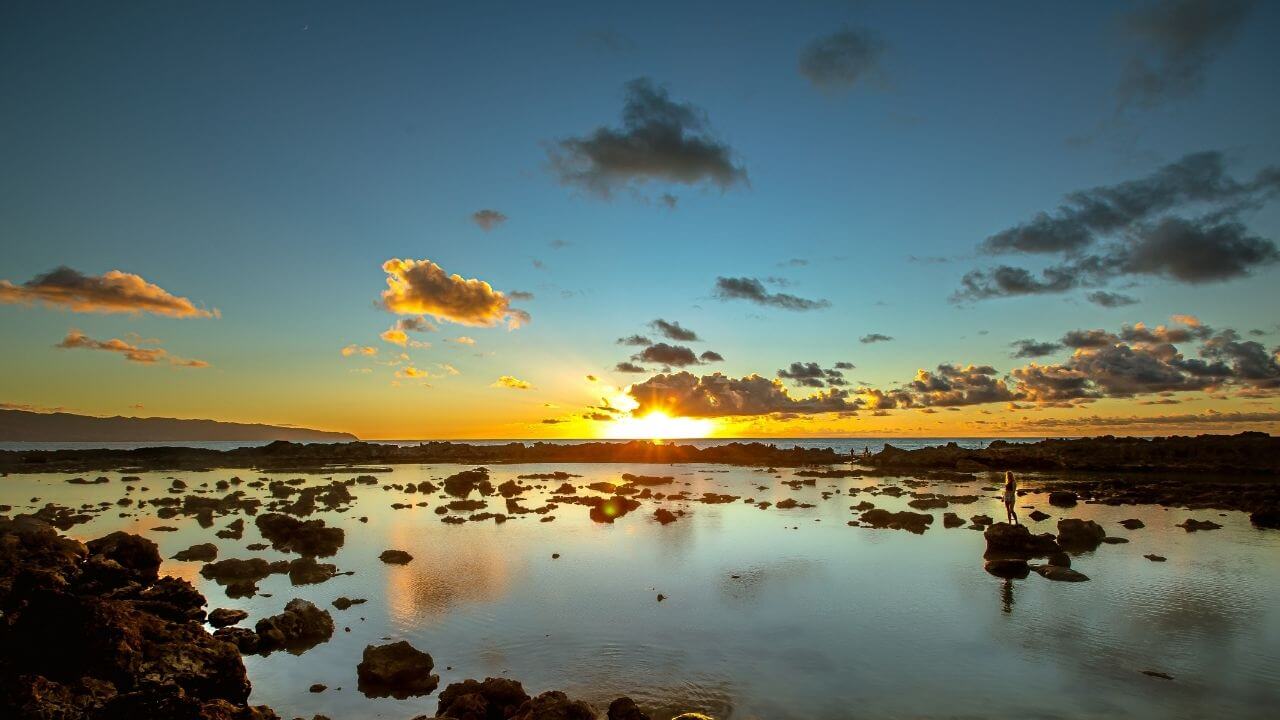 Located between two of the biggest, big wave surf spots, Waimea Bay and the Banzai Pipeline, Sharks Cove is one of Oahu's best snorkeling and dive beaches.
Sharks Cove is a small rocky bay that forms part of Pupukea Beach Park. The cove is home to impressive amounts of marine life including butterfly fish, parrot fish, trigger fish, jacks, needle fish, eels, turtles, crustaceans, and much more.
The south side of Sharks Cove are the Pupukea tide pools which is a great place to wade, explore and watch sunset.
Tips for Visiting Sharks Cove:
Winter time brings large swell to the North shore so checking the surf report is pertinent before going for a snorkel. Do not to attempt to snorkel when there are waves.
Parking could be a problem if you arrive at Sharks Cove later on in the day. Try to get there early to avoid this problem.
Restroom and shower facilities can be found by the parking lot.
Always wear reef safe sunscreen! – Check out this post for the a list of the best reef safe sunscreens for your face.
Obey warning signs, they are there for a reason.
Experience North Shore from Above
There's nothing quite like experiencing Oahu's North Shore from above. Enjoying an Oahu helicopter tour gives you a birds eye view of places that can't be seen from land like aerial views of remote valleys, lush mountain peaks and hidden waterfalls.
In addition, a North Shore helicopter ride will take you above Kāne'ohe Bay and the fabled North Shore surf breaks. Feeling saucy? Opt for a doors off helicopter experience.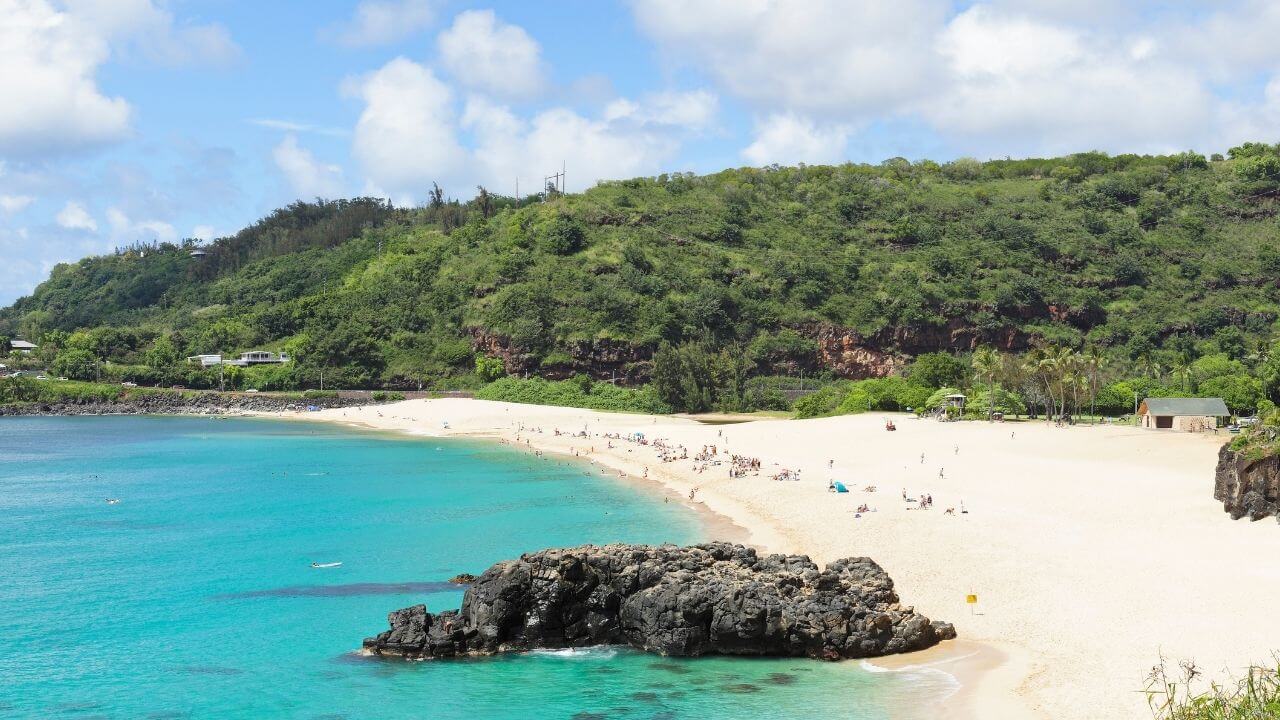 Waimea Bay is one of Oahu's most famous beaches. Here you can enjoy a large, beautiful white sand beach. There is ample parking although due to its popularity in order to get a parking spot you must arrive early.
The winter months bring monster surf where you can watch the worlds best surfers surf 30 foot waves. This break is for experts only as the waves are dangerous and life threatening. But for a spectator Waimea Bay is one of the best spots to watch world class surfers in action. Iconic events such as the Eddie Aikau Big Wave Invitational are held here every year.
During the summer, waters are calmer and Waimea Bay becomes a great spot for swimming, snorkeling, diving and even cliff jumping. The rocks that surround Waimea Bay on both sides are part of marine sanctuary which limits the amount of fishing in the area therefore the bay is full of vivacious marine life.
Across the street from Waimea Bay are the Waimea Falls and the Waimea Botanical Gardens which brings us to the next thing to do on the North Shore of Oahu.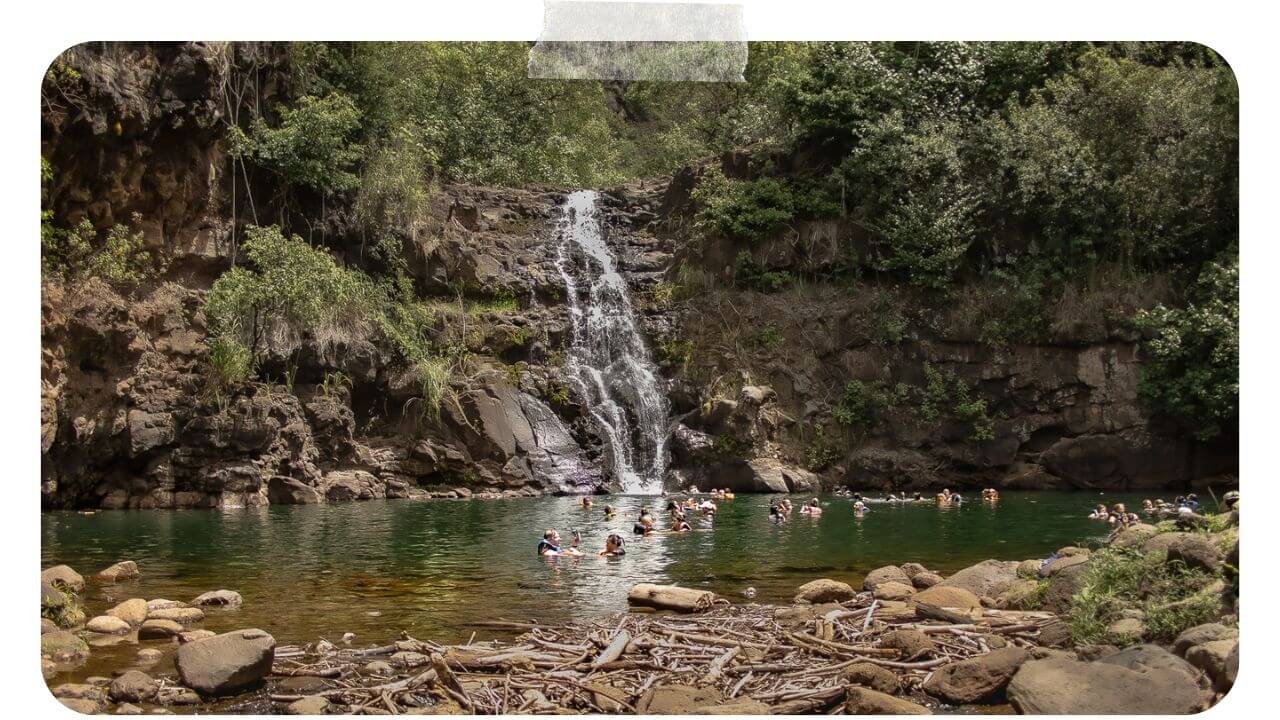 Waimea Falls & the Botanicle Gardens
Waimea Falls also known as the Wailele Waterfall is a 30 foot waterfall that cascades down the mountain side into a large pool that you can swim around. This is a great family friendly attraction to enjoy if you are traveling Oahu with kids.
To get to Waimea Falls you stroll through tropical jungles which make up the Waimea Botanical Gardens. The vegetation is very lush and green. Native and exotic plants are marked and there will be plaques along the way informing you about all the different types of vegetation.
The trail is 1.5 total miles round trip along a mostly flat, paved, meandering path. The path itself is a concrete, well-marked and maintained. There are several off-shoots you can explore that take you through different native and exotic plants and Hawaiian Hale structures.
North Shore Oahu Ziplines
The North Shore Zipline by CLIMB Works Keana Farms is a three-hour guided zipline tour that includes Oahu's longest ziplines ranging from 500 feet to nearly half a mile long.
This is anther great family friendly thing to do on the North Shore where you will go zip lining with an ocean view, walk over 3 sky bridges through the forest and ride ATV's through the Ko'olau mountains.
Splurge on the Turtle Bay Resort
If you're looking for a bit of luxury as you explore all the things to do on the North Shore of Oahu, then splurging at the Turtle Bay Resort is right up your alley. Located in Kahuku, Turtle Bay will leave you with an unforgettable experience.
Here you will enjoy miles and miles of unspoiled and secluded shoreline. With over 5 miles of shoreline and beaches, there are 12 miles of maintained trails that you can explore, take it slow and enjoy time with your loved one.
Spend your days surfing on the legendary waves that line Oahu's North Shore or escape to the beautiful pools to soak up the natural wonders around you. With a luxurious spa, beautiful grounds and ample activities within arms distance, the Turtle Bay resort is a top Hawaii honeymoon resort and worth the splurge.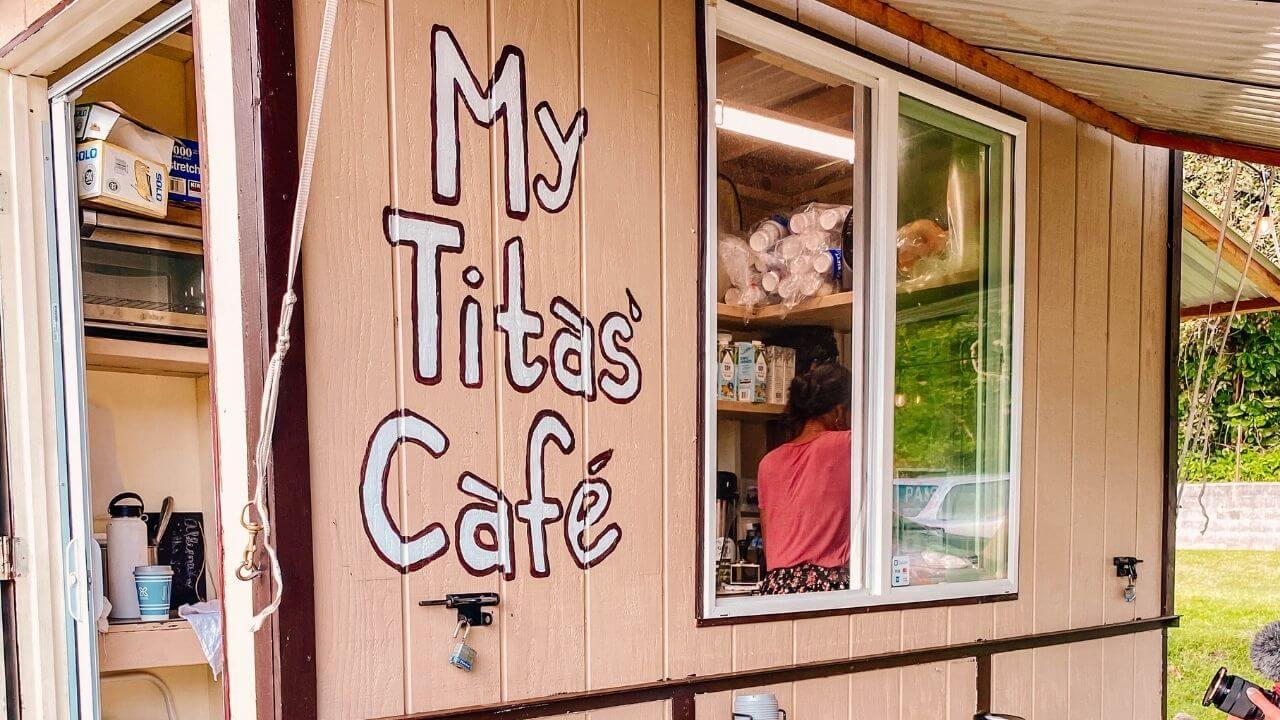 Eat at North Shore Food Trucks
Oahu's North Shore is full of food trucks of all types of styles from tacos to poke bowls. You'll find local surfers fueling up after a long day of getting barreled and tourists trying to sample all types of local cuisine. These are some of the best North Shore food trucks not to miss!
Giovanni's Shrimp Truck
Surf N' Salsa
No. 7 Japanese Food Truck
Haleiwa Bowls
The Elephant Truck
Impossibles Pizza
Leonardos Malasada Truck
Mikes Huli-Huli Chicken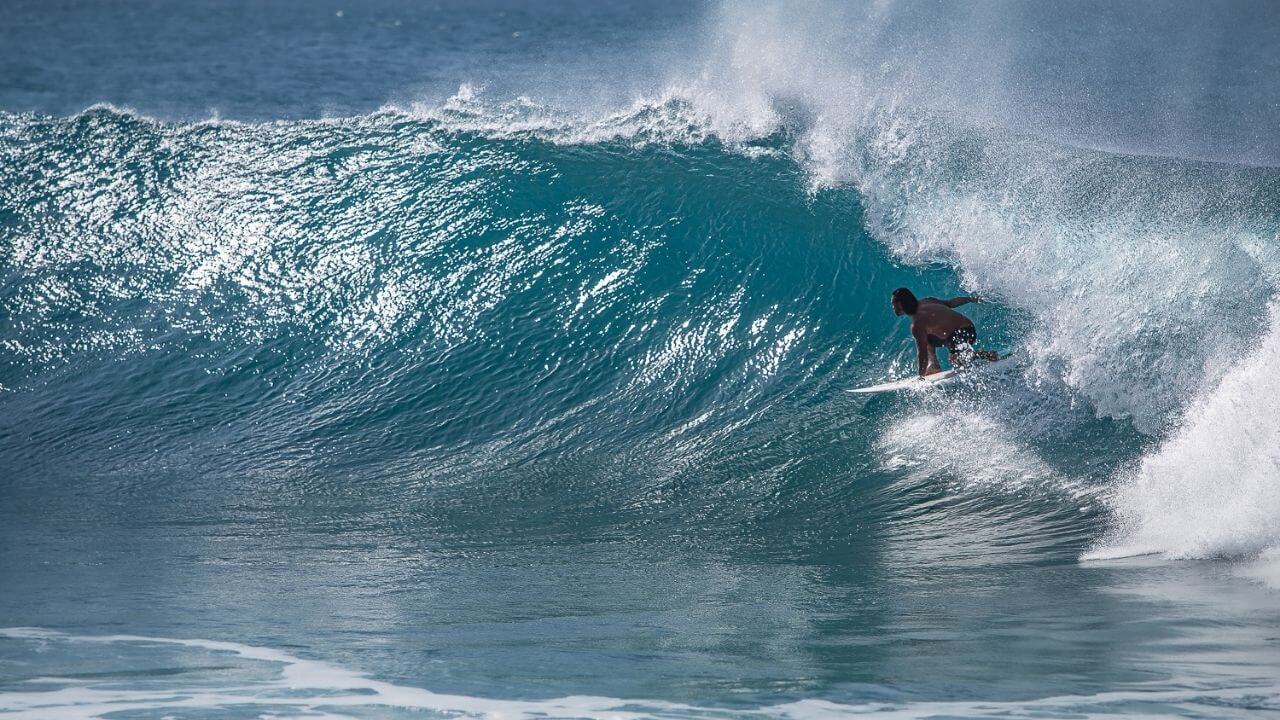 Witness the Power of Pipeline
The Banzai Pipeline may be the top experience on your North Shore Oahu itinerary and not to be missed when searching for North Shore winter activities.
The Banzai Pipeline is known for powerful waves that break over a sharp reef no more than a few feet from the surface. These massive tubes make this one of the most dangerous surf spots in the world and the most famous…I mean the North Shore is thought of as the surfing capitol of the world.
Pipeline is one of the venues for the Triple Crown of Surfing and if you have a chance to attend this event you're in for a treat. The lively atmosphere, monster waves along with the best surfers in the world, makes for an unforgettable experience.
As the waves die down in the summer, Ehukai Beach Park is a great place to catch some rays and live the good life as it doesn't get much better than this.
Shark Diving North Shore Oahu
If you are looking for the ultimate adrenalin rush as you explore Oahu's North Shore then opt for a shark cage diving Hawaii adventure. You'll travel 3 miles out to sea to cage dive with these magnificent sharks in their natural habitat.
This safe, fun, and exhilarating North Shore activity will create memories that will last a life time. Not only will you see sharks but along the way its not uncommon to cross paths with dolphins, turtles and even whales.
Polynesian Cultural Center
The Polynesian Cultural Center is a family-friendly cultural theme park and living museum. Located along the North Shore Oahu in Laie the Polynesian Cultural Center features 6 authentic villages representing the island cultures of Hawaii, Fiji, Aotearoa (New Zealand), Samoa, Tahiti, and Tonga.
Inside the Cultural Center is a lagoon that offers canoe tours, the Ali'i Luau, an evening show "Ha: Breath of Life" and the Hukilau Marketplace where you can shop for handiworks, clothing, jewelry, and treats.
The Polynesian Cultural Center is open Monday, Tuesday, Thursday, Friday, Saturday from 12:45am – 9:00pm and closed Sundays & Wednesdays.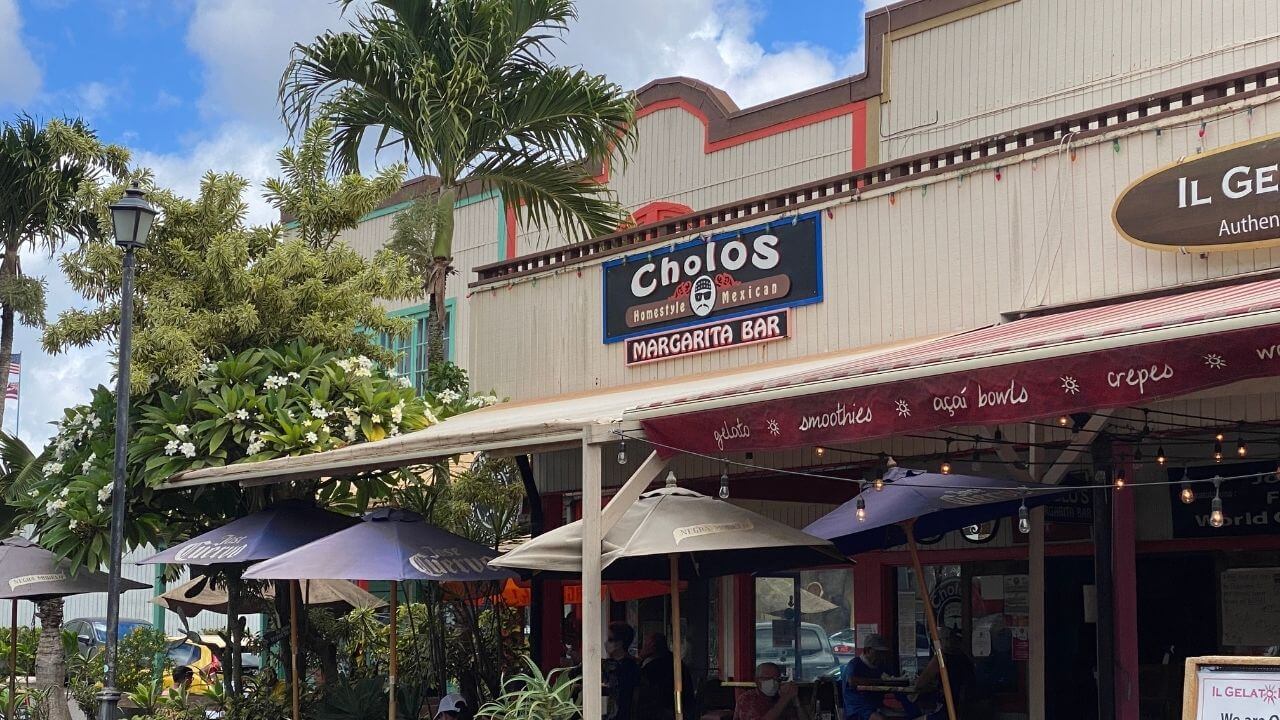 Haleawa is a small laid back surfer town located on the North Shore of Oahu. Filled with surf shops, boutique shops, art galleries and food trucks, Haleiwa is one of the best things to do on the North Shore Oahu.
When exploring Haleawa town you'll find surfers replenishing after a day full of surfing world class breaks, visitors sampling their first taste of Hawaiian shaved ice and locals enjoying the vibes of the town. If you are looking for a laid back version of Hawaii you can find it on Oahu's North Shore.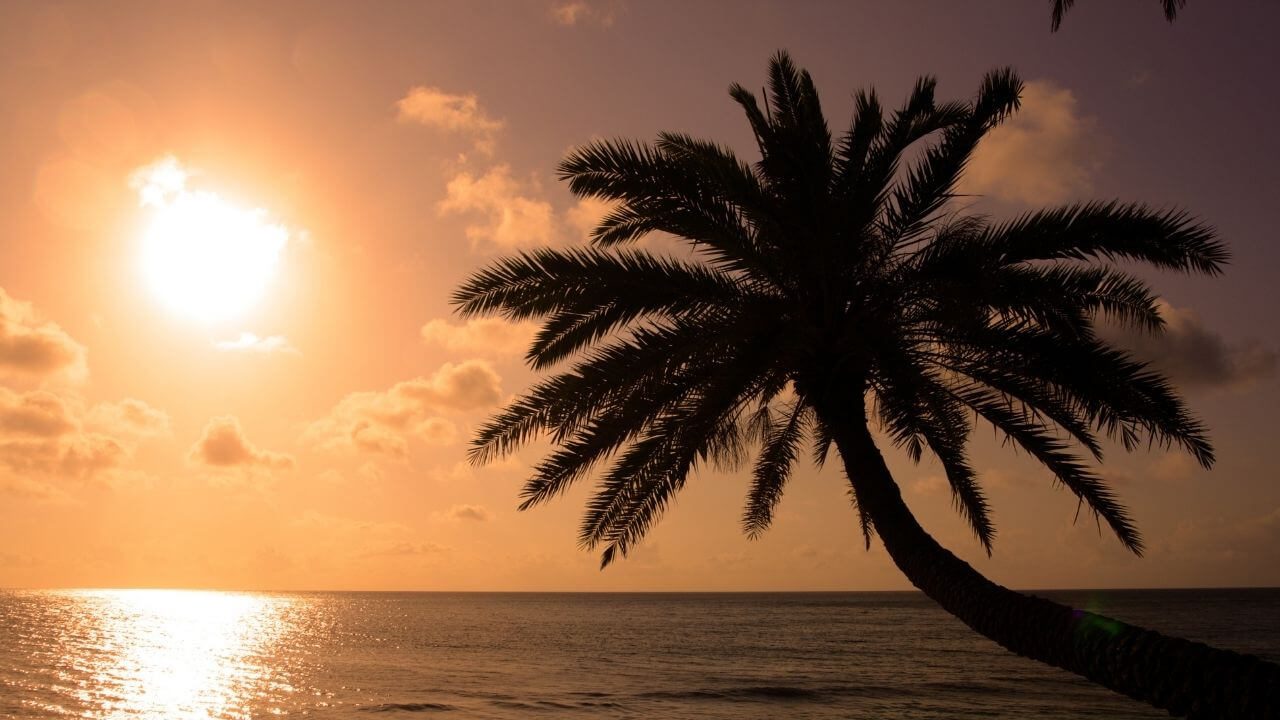 Catch Sunset at Sunset Beach
Sunset Beach Oahu is another stunning beach where you can watch big wave surfing in the wintertime. Famous surfing events like the Vans Triple Crown is held at Sunset Beach every year. This is one of the best surfing contests to attend as its the second leg of the Triple Crown, the other two legs are Waimea Bay and Banzai Pipeline.
During the summer time as the waves calm down, Sunset Beach State Park is a beautiful beach for relaxing, snorkeling and swimming. The 2 mile stretch of sand is great for families as there's ample room to find your own nook without being crowded by others.
Let's not forget the main reasons to visit this beach, the epic sunsets. If you've had a full day of exploring the North Shore, make a stop at Sunset Beach for sunset before heading back to busy Waikiki as this is one of the best free things to do North Shore Oahu.
Tips for Visiting Sunset Beach:
There is a life guard on duty.
The parking lot is free.
Restrooms are available.
There are beach showers.
Break ins do occur so bring your valuables with you.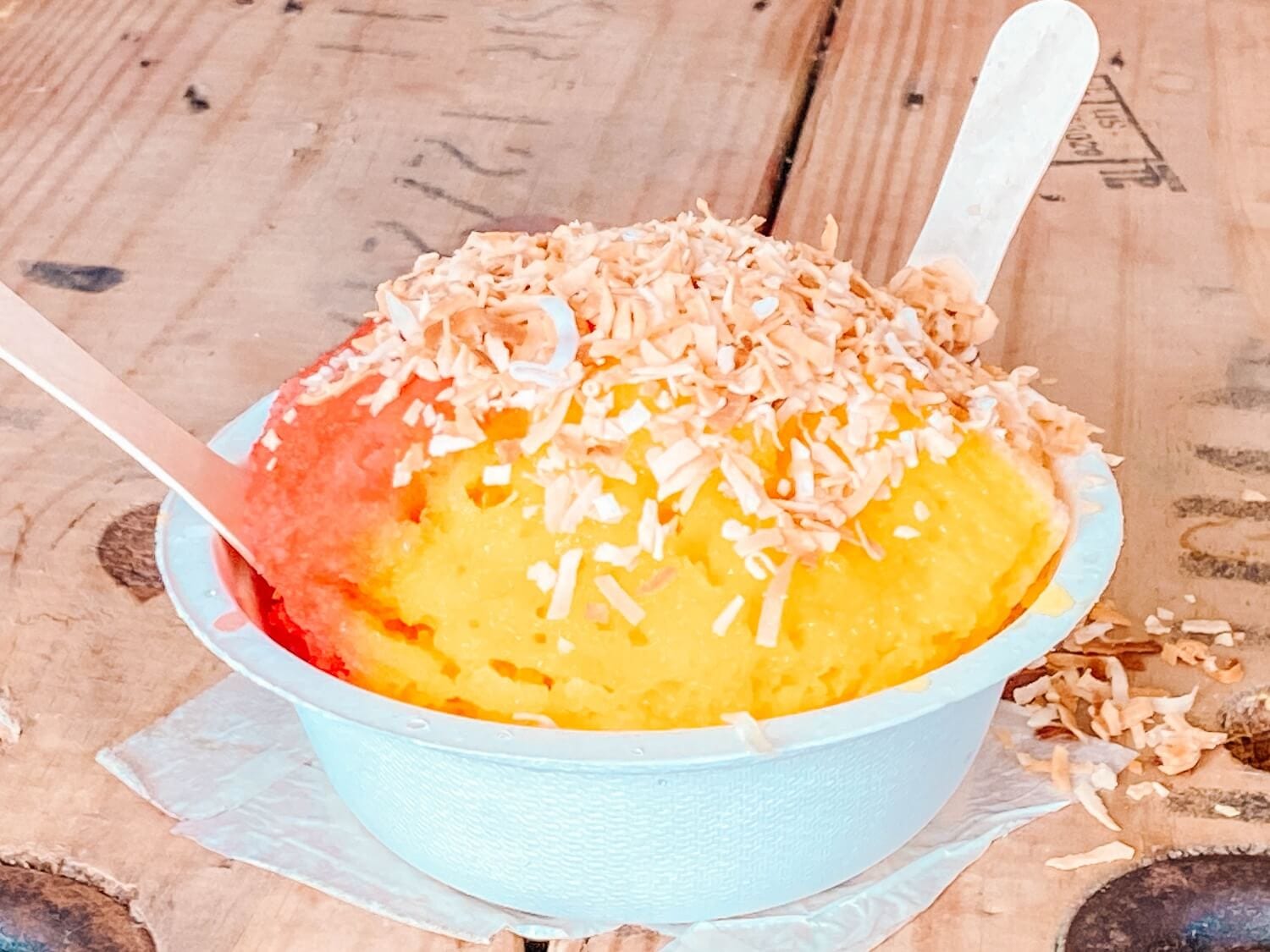 Hawaiian shave ice is a staple dessert for anyone visiting Hawaii. This iced concoction is made from a block of ice that gets shaved off into something that resembles snow.
You then pick your flavor (most places have too many flavors to choose from) and the sweet, condensed syrups are added to the shaved ice. Since the shaved ice is a bit thicker it is able to hold onto the syrup giving each bite a full, flavorful, sweet taste.
To add to this already sugar packed dessert is a scoop of ice cream. Yes thats right, not only do you get a sugary, delicious iced concoction, it also comes with a scoop of ice cream. The Hawaiian made ice cream come in choices like haupia (coconut) and mango.
Check out these places for the best shave ice on Oahu.
Originally operated as a fruit stand beginning in 1950, the Dole Plantation opened to the public in 1989. Today, Dole Plantation is one of Oahu's most popular attractions and has more than one million visitors a year.
The Dole Plantation is a family friendly North Shore Oahu activity with fun things to do including the Pineapple Express Train Tour, the Plantation Garden Tour, and the Pineapple Garden Maze.
Hike to the Ehukai Pillboxes
The Ehukai Pillbox Trail is a 2.3 mile heavily trafficked loop trail located near Haleiwa Town. This intermediate hike will take approximately 30 minutes to reach the first of two military pillboxes that sit at the top. Along the trail you'll pass beautiful wild flowers and have epic coastal views from the top.
Have you visited this part of Oahu? Let me know your favorite things to do on the North Shore Oahu in the comments below!
Enjoy this Post?!?! Pin in for Later ↓