Looking for a quick Shanghai travel guide to Shanghai? Look no further! Shanghai is a concrete jungle with so many layers that most visitors hardly scratch the surface. Whether you're here for the world class shopping, the unique food, the architecture or the late night party scene, theres a little something for everyone.
Before You Go:
---
Daily Budget:
Budget: $40 and Under
Dorm Bed
Eating Street Food
Free Museums
Subways and Bike Shares
Mid Range: $120 and Under
Double Room in a Mid Range Hotel
Meals in a sit down restaurant
Drinks and a few nights out
Taxis
Luxury: $120 and Up
High End Hotel
Fine Dining
Personal Driver
---
DISTRICTS:
The Bund and People's Square:
The center for most peoples visit to Shanghai. In this district you can visit the Bund, which you must see during the day and fight the crowds to see it at night because the lit up skyline is truly electrifying.
#JESSATRAVETIP get an early start to see locals practicing tai chi amongst the backdrop of the Bund skyline.
Shanghai Museum is also located here which is home to a lot of Chinese history and the best part is that its FREE!
Go to People's Square if you're here on the weekend to see parents arrange marriages for their children and stroll East Nanjing Road, where you can shop till you drop if the neon lights don't make you drop first.
Old Town:
This part of town contains Yuyuan Garden and Bazaar. Find tranquility inside the garden and the mayhem of the bazaar outside. Roam around the surrounding neighborhood as you'll get a feel of old Shanghai and forget you're inside the most populated city of China. Also check out the mid-lake pavilion tea house (warning will be crowded).
French Concession:
Take in old French Architecture amidst the modern city. Wonder Fuxing Park where you can see locals practicing Tai Chi and playing MohnJong. Stroll the Tianzifang area to try out some Chinese delicacies like scorpion or starfish on a stick!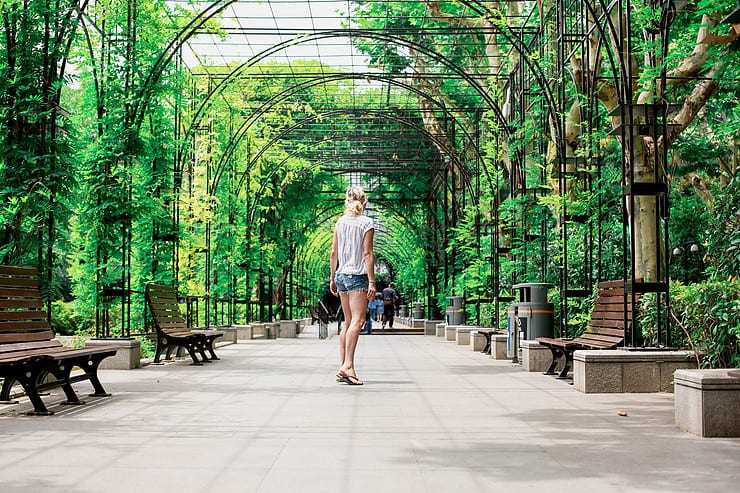 Jing'an:
This district contains M50 with its edgy art scene which is always fun to wonder and explore. The Jing'an Temple is right by the subway station, a modern temple tucked away between large skyscrapers and expensive shopping. Jade Buddha Temple is a few subway stops from Jing'an and is one of Shanghai's only active Buddhist monasteries. If you're here on the weekend check out the Muslim Market which is only held on Friday's between 10-3. Check out my Guide to Shanghais Muslim Market to get directions and a food guide.
Pudong:
The actual skyline, but up close and personal. Get fancy and pick an observation deck to get amazing views of the city. Some of the favorites are the Shanghai Tower, Oriental Pearl TV Tower, and the Grand Hyatt.
West Shanghai:
Hands down go to Qibao, it'll be hard to believe that you're still in the city! This ancient settlement prospered during the Ming and Qing dynasties. It's small, the alley ways are crowded, just hop on line 9 and bring your appetite.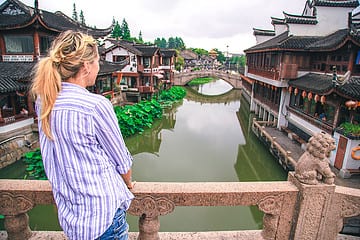 TOP SIGHTS:
The Bund skyline, day and night
Jade Buddha and Jing'an Temple
Observation decks
Tianzifang for wacky eats
Yuyuan Gardens, the Bazaar and the surrounding neighborhood
Nanjing road for shopping and neon lights
People's or Fuxing Park for people watching and relaxing
Stroll the financial district
Qibao for some old school feels
Natural History, Aurora, Shanghai, or Shanghai history Museums
SHOPPING:
If you like to shop you can find it here, and yes its probably made in China. Don't forget to wear your bargaining pants, you're gonna need them.
NIGHTLIFE:
I didn't personally go out to the clubs as I'm a grandma but Barbarossa, Long Bar, and MINT are the lively spots. I mean MINT has a shark tank! #JESSATRAVELTIP get fancy, you will NOT be allowed in if you don't pass the dress code. I.e. no sneakers, jerseys, or flip flops. And theres always karaoke bars!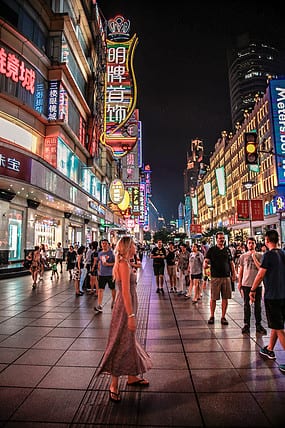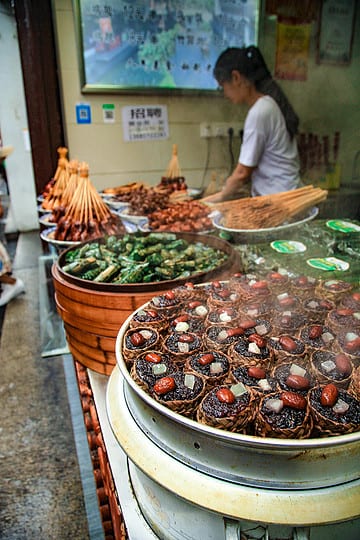 FOOD:
You won't starve in this city. Be adventurous or not, they have everything you could crave. A must eat: xiaolongbao – a crab and pork filled dumpling served on bamboo steamers.
TRANSPORTATION:
Subways:
Easy to navigate even if you don't speak or read mandarin. The lines are color coded and numbers are universal. Read the numbers and count the stops. Be warned that when exiting the subway car people don't wait for you to get off before they get on, so you must be a little assertive getting on and off the tram.
Taxis:
Plentiful and cheap. With Shanghai being so vast its a fast and efficient way to get around town especially if you only have a few days. This would be my top choice to get around on this Shanghai travel guide.
Trains:
There are three stations in the city and they can get you anywhere. They range anywhere from fast bullet trains to slower over night trains. It caters to every budget.
DiDi/ride share:
Didi the Uber of China. Very useful, the destination is in the app so you don't have to worry about getting your address written in characters. Download the app before you arrive in China to make things a little easier.
Bike Share:
Used and shared bikes found all over the cities that can be ridden, used, and unlocked by the use of an app. Pick it up anywhere the bikes are kept, open it with the app, you will be charged for how long you use it and then leave it basically anywhere. Some bike share apps are Mobike or Ofo.
Planes:
Usually late and of course chaotic. Give yourself plenty of time to get to the airport and check in. Don't forget your patience!
---
Where to Stay on this Shanghai travel guide:
Budget
Mingtown Nanjing Road Youth Hostel – Located halfway between the Bund and People's Square and close to the metro line. Has laundry, a kitchen, a DVD room and a pool table. Beds start at $12 a night.
Captain Hostel – Best location and bar offers views of the Bund. All bathrooms are communal but there is a microwave and washing machine. You stay here for location. Prices start at $45 a night for a double room.
Mid Range
Sofitel Shanghai Hyland – Located on East Nanjing Road, this place will offer you location at a decent price. Facilities include a spa, fitness center, and multiple dining options. Prices start at $138 a night.
The Waterhouse at South Bund – This old warehouse converted into a hotel is nothing short of hip and trendy. A bit farther away from the action but a cool stylish place to stay. Rooms start at $150 a night.
Kevin's Old House– Located in the French Concession District. Elegant and affordable. Close to the subway. Prices start at $115 a night.
Luxury
Waldorf Astoria Shanghai on the Bund – Elegant, stylish, and luxurious. A perfect blend of old world and new world charm. Located on the southern end of the Bund with sweeping views of the river. Rooms start at $290 a night.
Fairmont Peace Hotel on the Bund – One of the most iconic hotels in Shanghai, the Fairmont Peace hotel screams style and luxury. Many on site bars, restaurants and an upscale spa. With the Bund and Nanjing Shopping Street at arms length, this is the obvious choice. Rooms start at $360 a night.
---
LANGUAGE:
Most people will not speak English even in the higher end places. Google translate comes in handy and knowing your basics will get you a long way. It's all part of the journey but you will definitely have to work for what you want.
---
BEST DAY TRIPS:
Hangzhou – Located 45 minutes south west of Shanghai, West Lake stealing the show.
Suzhou – A quick 25 minute train ride to a town known for its canals and gardens. Plus theres a cat cafe!
READ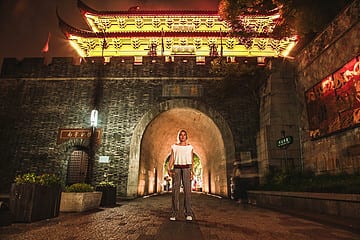 ---
Basic Chinese Phrases to know for your Trip:
Nǐ hǎo (Nee how) – Hello
Xiè Xie (sshyeah-sshyeah) – Thank you!
Bù kèqì (Boo kuh-chi) – You're welcome
Bù shì (Bu-sheh) – No…I used this a lot when you're being haggled
Jiù mìng – Help!
Duō shǎo? (Dwuh shauw?) – How much?
Măi dān (My dahn) – Check, please.
Cèsuǒ (tser-swor) – Restroom
Hào chī (How chir) – Delicious
Zài nǎlǐ? (… dzeye naa-lee?) – Where is…?
Nǐ hǎo ma? (Nee-haoww-mah?) – How are you?
Ganbei (gon bay) – Cheers
Pijiu (pee-joo) – Beer
---
Shanghai travel guide SURVIVAL TIPS:
The language barrier is real!
Be prepared to squat when using the toilet. Also a good idea to bring toilet paper/napkins with you as most places won't provide them for you.
Don't be alarmed if you see and hear lots of people spitting and the occasional person peeing in the wide open…like in a trashcan or on the street.
Look both ways before crossing the road as people and vehicles come from both directions and they will run you over.
VPN- download one before you arrive in China so you can access your favorite sites
Do yourself a favor and buy a Chinese SIM card when you arrive, it'll run you about 15-20$ and you'll be connected at all times. Can we say google maps?
Carry your passport on you at all times, you'll need it to book hotels, trains, flights, and even to enter places (i.e. the Forbidden Palace.)
Subways stop running at 10:30…I learned this one the hard way.
If you have a student ID show it to the ticket agent when buying a ticket as you'll get half price on all entrance fees.
It's legal to drink on the street.
Be prepared to walk a lot of stairs.
Lastly, prepare yourself for some questionable smells.
---
BOOM! Now your ready to take Shanghai by storm. Happy travels!