There are plenty of things to do in Ankara, Turkey that a visit to the capital city will only leave you wanting to explore more of this fascinating country. From friendly locals to exquisite museums, there's things to see in Ankara for every type of traveler.
Is Ankara worth visiting? Located in the northwestern part of the country, Ankara is often skipped on the typical tourist route. That's why I'm here to let you in on all the wonderful places to visit in Ankara – Turkey's second largest city. To let you know that, Ankara is definitely worth a visit.
After we've gone over what to do in Ankara, at the end of this post I'll also include some practical information that will aid you in your trip to Ankara. Including where to stay, how to get there, best time to visit and any useful tips to know before you go.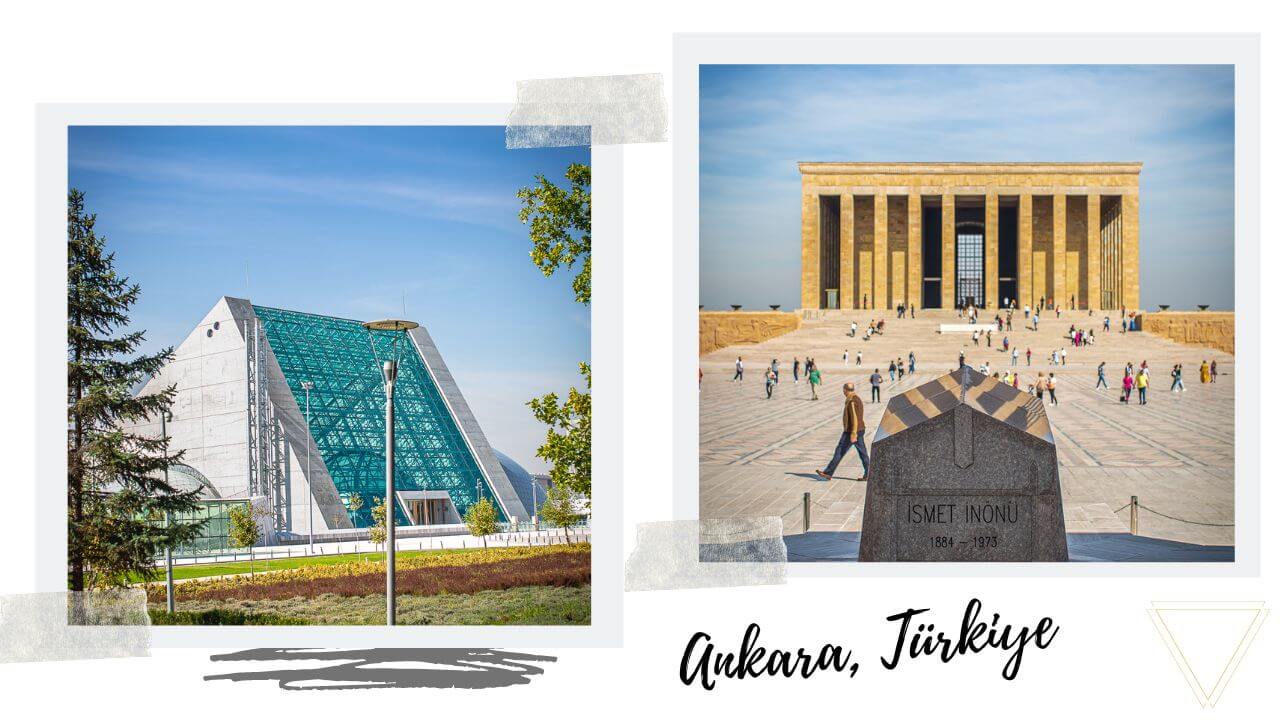 For full transparency, I have sprinkled some affiliate links in this post.  As an Amazon Associate I earn from qualifying purchases that gives me a small commission at no extra cost to you if you decided to make a purchase.  As always, I would never recommend a product or service that I didn't truely believe in.  All proceeds go to keep Jess traveling and coffee ☕️.  I thank you in advance.
Below I have a listed the best things to do in Ankara for easy viewing. If you are in a hurry and don't have time to read the whole article you can just screen shot this page and be on your way.
If you'd like more information on a certain activity, click on the blue links below for a detailed post or vlog of that specific thing to do in Ankara.
Explore Ankara Castle (YouTube Skip to 2:00)
Wander Through Local Markets
Drink Cay with Locals
Antikabir Museum (YouTube Skip to 4:08)
Check out the Roman Baths
Soak in the Views from Atakule
Relax at Gençlik Park
Go Souvenir Shopping in Old Quarter
Kocatepe Mosque (Turkish: Kocatepe Camii)
Free Walking Tour
Haci Bayram Mosque
Visit the Museum of Anatolian Civilizations
Catch a Performance the Ankara State Opera House
Day Trips from Ankara Quick List
Kartalkaya Ski Resort
Safranbolu
Ruins of Hattuşa
Alacahöyük
Gordion
Would you rather see what visiting Ankara is like. Ankara was the first stop on my month long Turkey travels. I definitely didn't get to visit all the places in Turkey that I wanted to but that's okay because I am already planning a trip back.
Best Things to do in Ankara, Turkey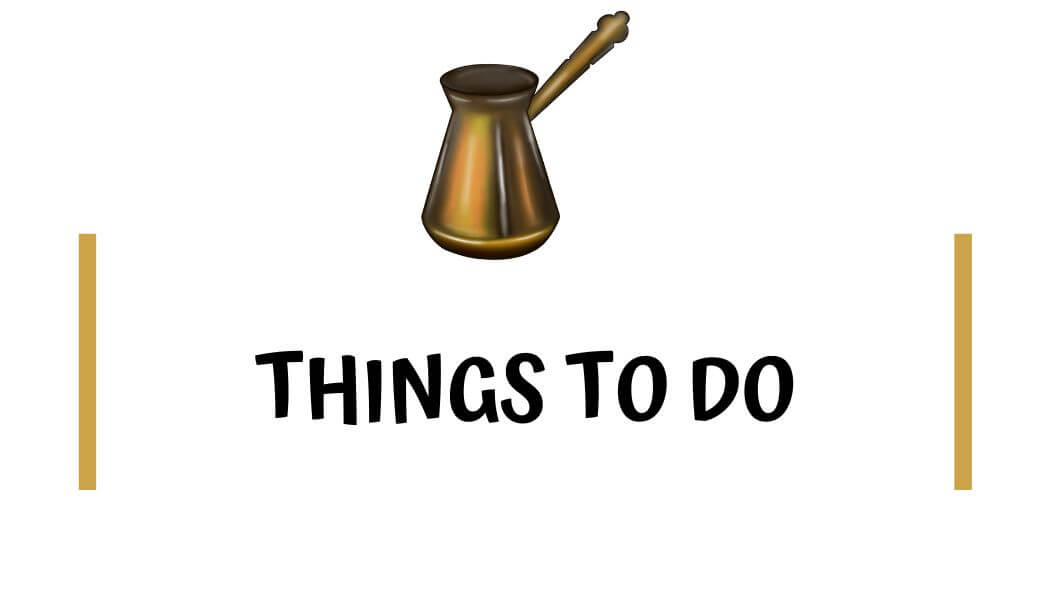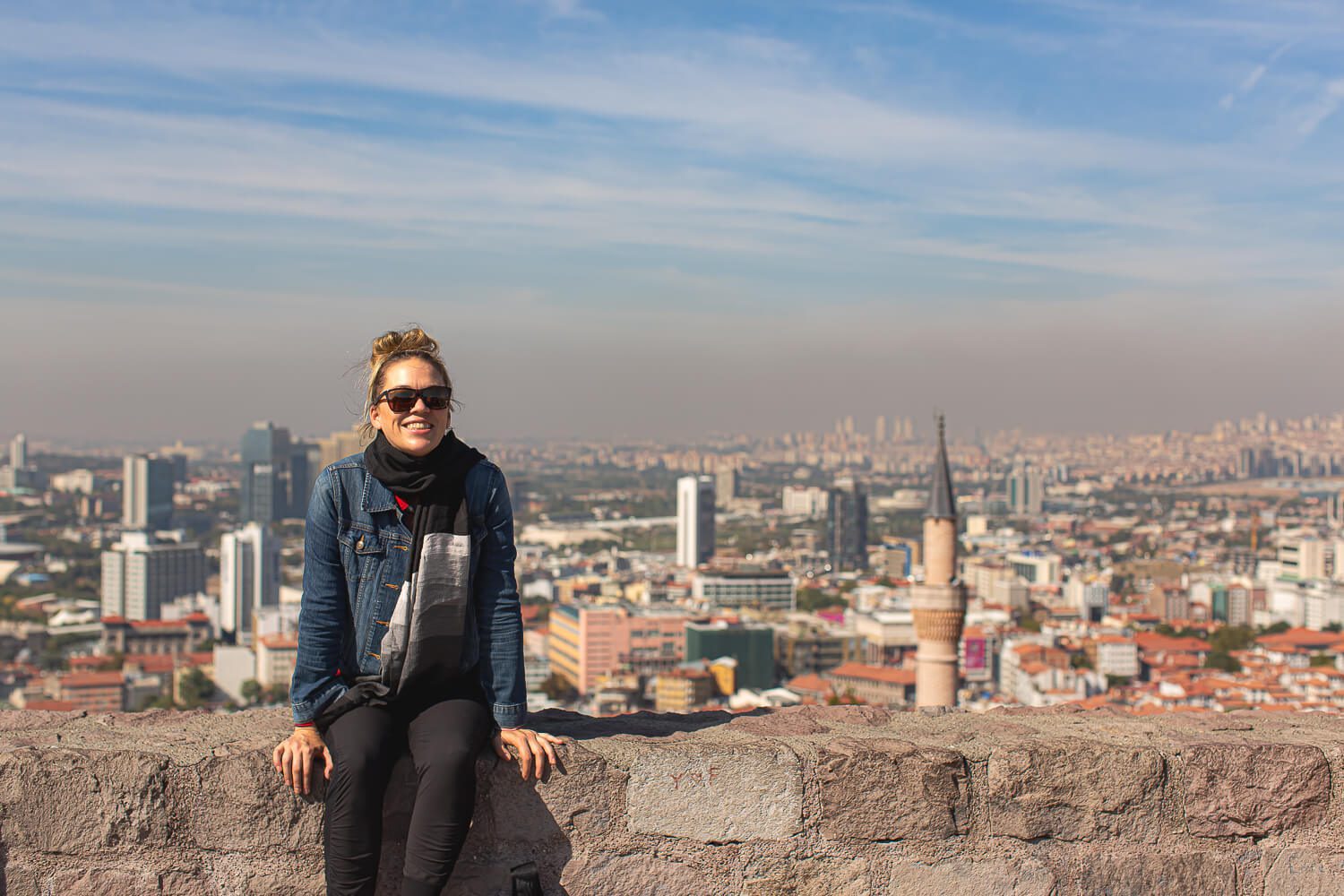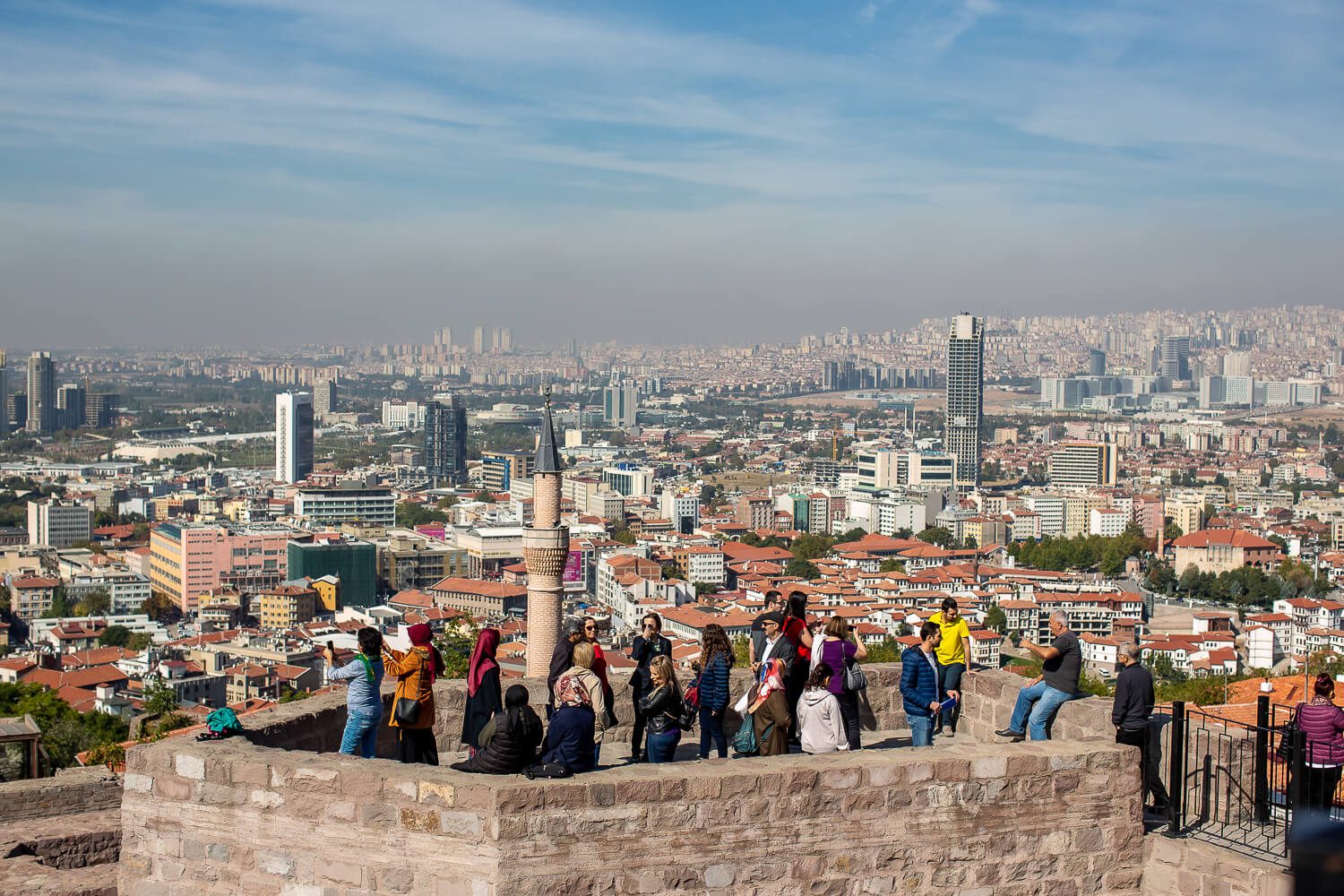 Ankara Kalesi aka the Ankara Castle is a historic castle located in the popular tourist area of Ulus District in Ankara. The castle has been an important landmark in the city since the 12th century when it was constructed by the Seljuks.
Ankara Castle is strategically located on a hill that overlooks the city skyline and is surrounded by walls that were built during the Byzantine Empire. Inside the castle you can wander around and walk on the walls for epic views of the city.
There was even a cat hanging out on the castle accepting as many pets that you could give em' and a few guys playing music on drums. Definitely check out the Ankara Castle to take in the views and soak up the history of Ankara.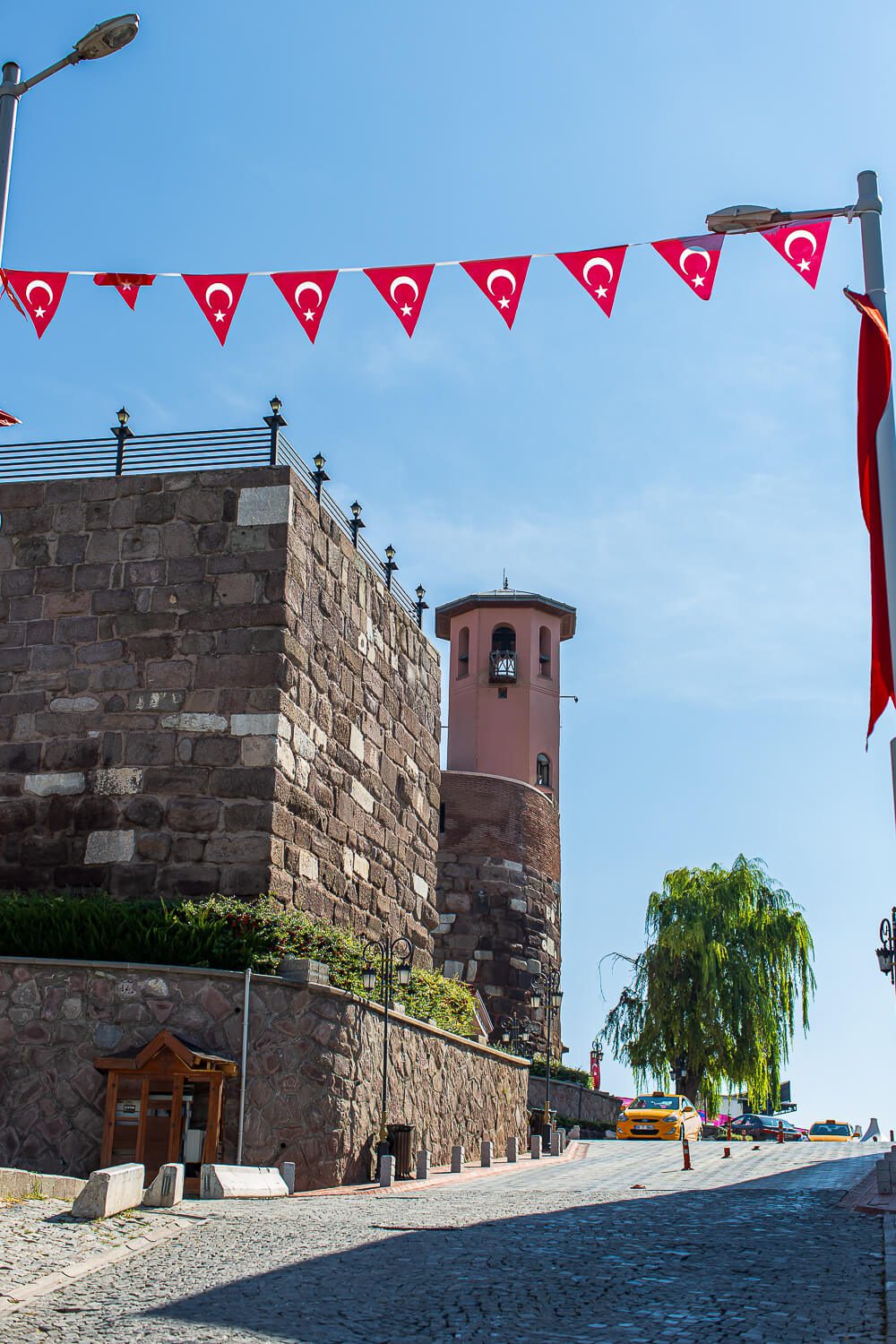 Wander Through Local Markets
Wandering through the local markets was one of my favorite things to do in Ankara. From the bright, vibrant displays of traditional Turkish spices and fruits to the rich, smoky aromas of freshly-cooked kebabs and baklava, the sights, sounds and smells only added to the experience.
If you are staying in the Ulus district of Ankara, there are several markets within walking distance. We checked out these markets on our first morning in Ankara looking for a hijab (headscarf) for me so I could enter the mosques.
We found lots of stores selling hijabs and got several from an awesome family for less than $2 a piece. Whether you're looking to take home a souvenir or just looking to soak up the atmosphere, make sure you check out a few of the local markets.
Tea or as it is called locally, çay is a sign of hospitality in the Turkish culture. If a local invites you for çay, you accept. This beloved beverage is Turkey's national drink.
It is brewed from a combination of black tea leaves and fragrant herbs and is usually served in a small, traditional tulip-shaped glass. When it's served, the cay is usually accompanied with a cube of sugar or a sweet pastry.
When Joe and I were wandering through the markets of Ankara, a delightful family invited us in for tea. Of course we said yes! The communication barrier was real it was one of our most memorable moments in Ankara.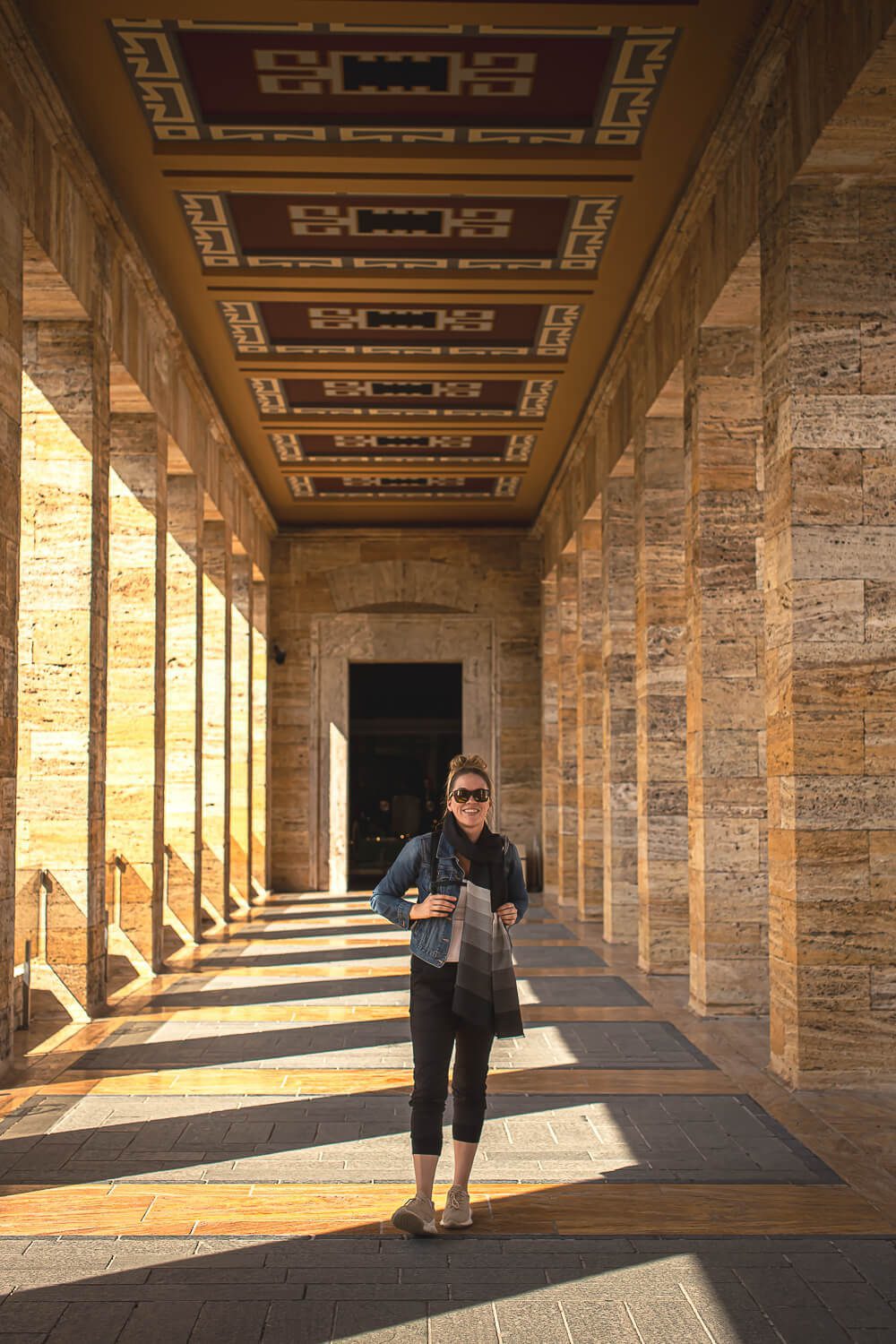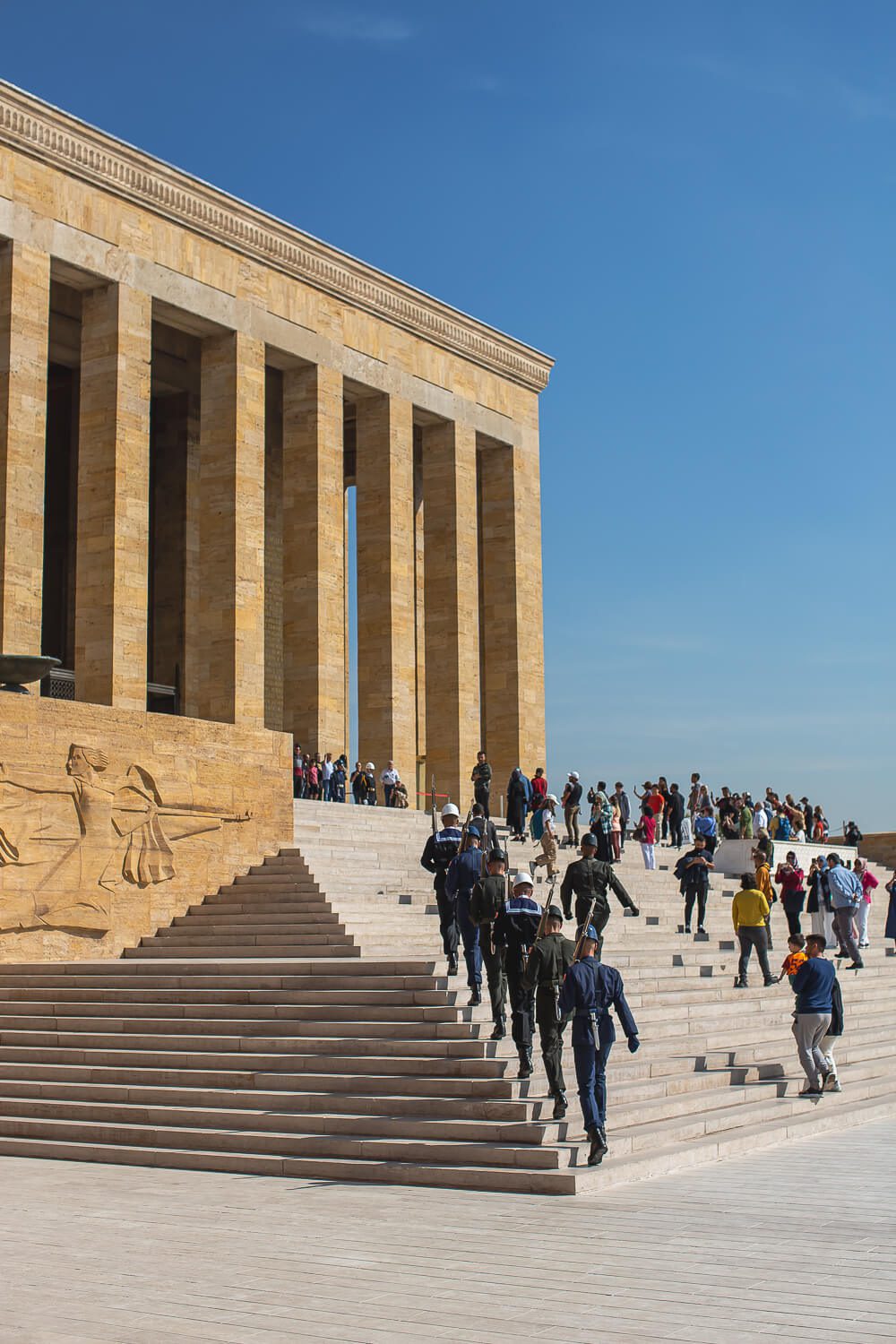 Visiting the Antikabir Museum is one of the best things to do in Ankara. Located in the city's largest park, the museum is dedicated to the memory of Mustafa Kemal Atatürk, the founder of the modern Turkish Republic.
The museum consists of a number of buildings and monuments and is a stunning sight when you see it in person. There were soldiers performing a Turkish military march which I think happens multiple times a day in the middle area of the museum.
Besides the interactive exhibits, audio-visual displays and interactive tours – the Antikabir Museum offers great views of Ankara. The best part is, this museum is totally free to enter. This is must-see destination for any visitor or local to learn about the history and culture of Turkey.
The Roman Baths in Ankara are a fascinating site to explore. Built over 2000 years ago, the baths are still in remarkable condition. The Roman baths are another Ankara attraction located in the Ulus district.
You can explore the intricate mosaic floors, the underground tunnels and the central courtyard when exploring the area. The baths are believed to have been used for socializing, bathing and religious ceremonies.
Today, visitors can still experience the baths in their original form as they have been carefully preserved by the Turkish government and turned into an open air museum.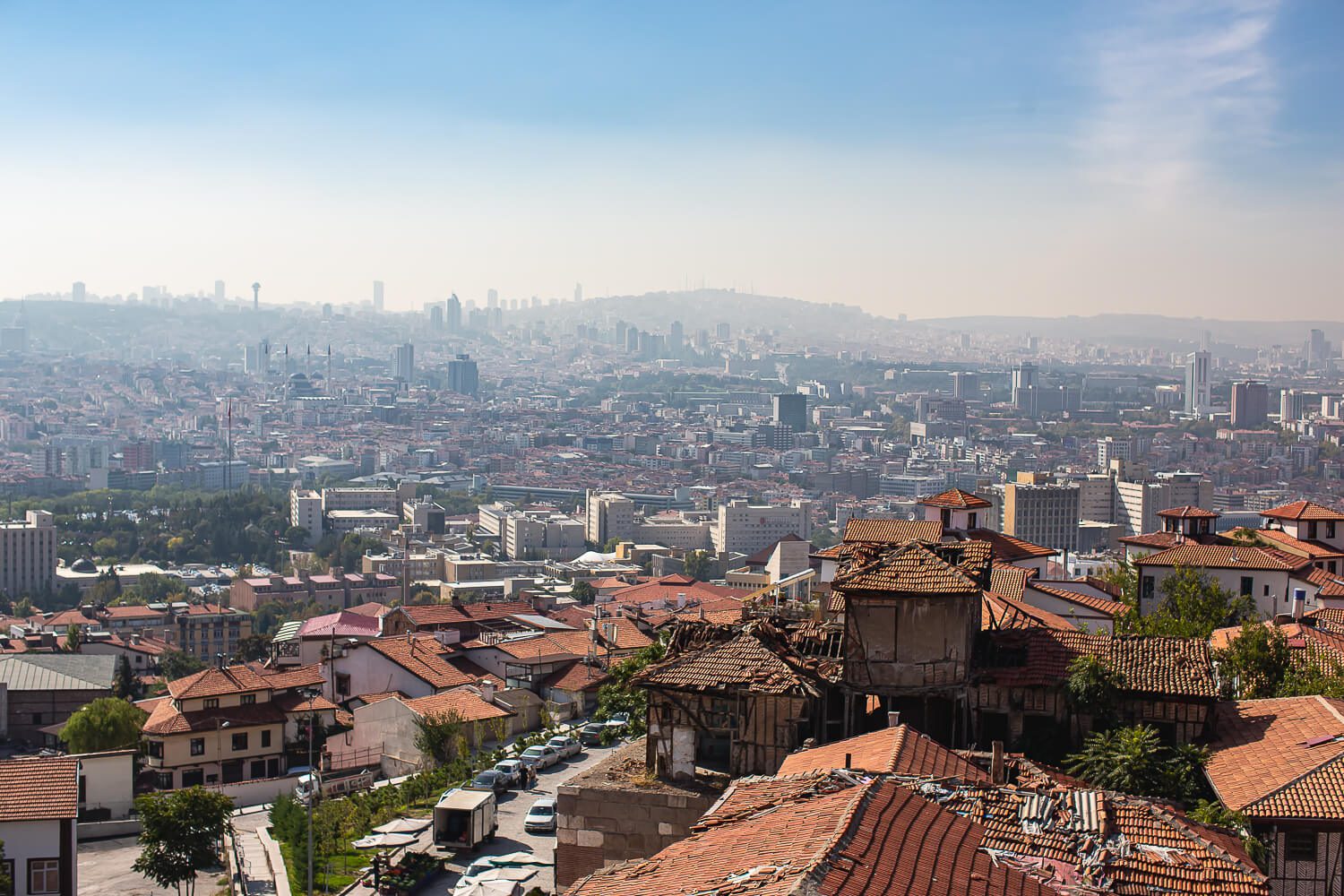 Soak in the Views from Atakule Observation Deck
Atakule Tower is a modern shopping and entertainment complex located in the heart of the city and is one of the best things to do in Ankara at sunset. The complex is 125 meters tall and consists of four floors of retail stores, restaurants and on the top floor is the observation deck.
The observation deck is a popular spot for travelers to take in the beautiful panoramic views of the city and surrounding countryside including the Anitkabir Museum I talked about earlier. The observation deck is a great place to catch sunset as theres also a revolving restaurant. On a clear day, it is possible to see the snow-capped mountains of the nearby Anatolia region. Opening hours are from 10am – 10pm daily.
Genclik Park is a popular park located in the Ulus district of Ankara. The park is home to a variety of attractions including a lake, playgrounds, picnic areas, walking paths and a ferris wheel. We could actually see this park from the hotel we stayed at in Ankara. It looked beautiful all lit up at night.
The park puts on many festivals and events throughout the year so make sure you look into this as you are planning your trip to the capital. When you're exploring Gençlik Park, you can enjoy restaurants, shops and an entertainment venue within the park. This is a great escape from the hustle and bustle of the city and one of the best places to visit in Ankara.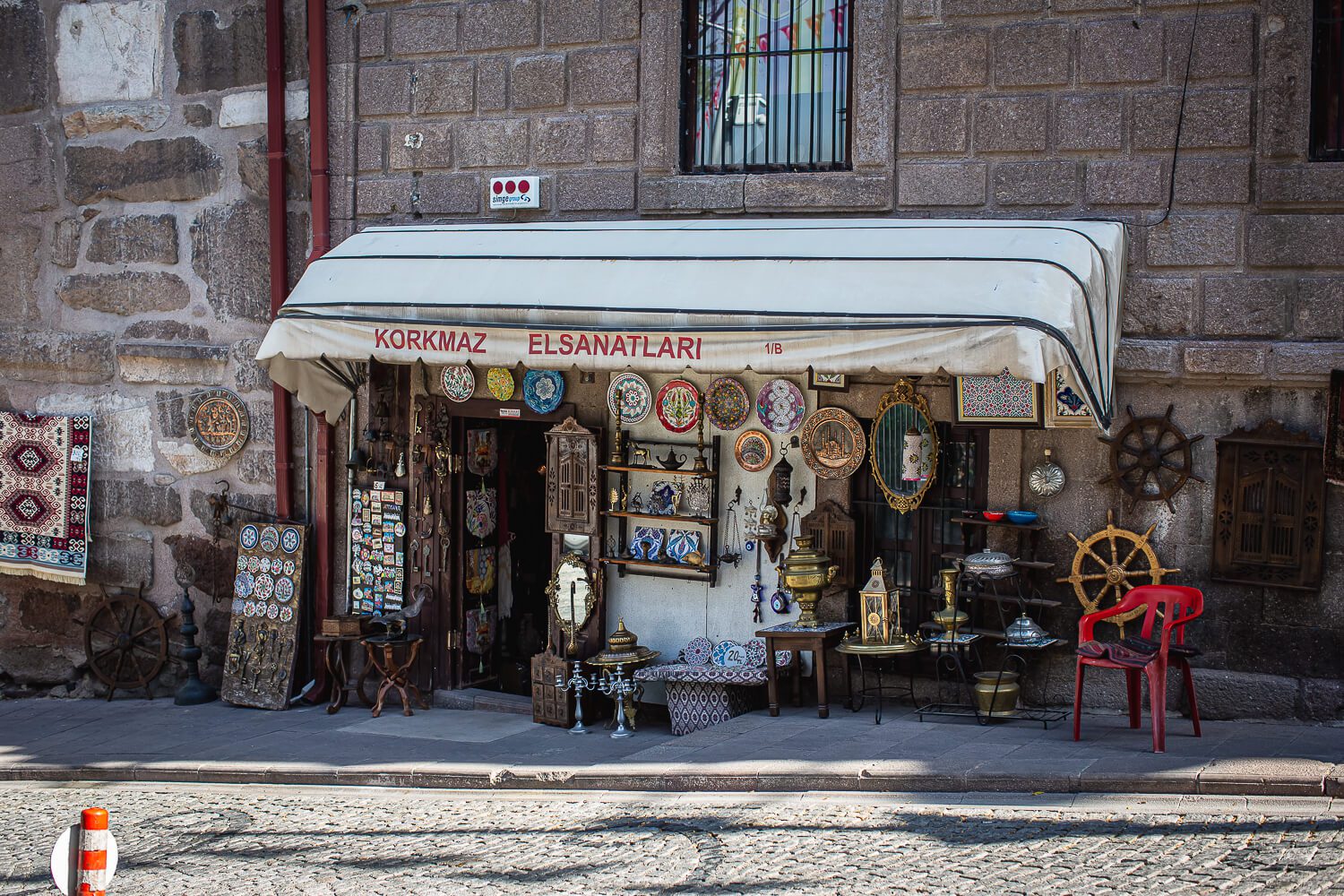 Go Souvenir Shopping in Old Quarter
Located in the center of the city, the Old Quarter is filled with charming alleyways, old-fashioned markets and unique souvenir shops. Old Quarter is known for its variety of souvenirs and is a great place to find unique items to take back home. Proof you were in Ankara!
From handmade jewelry to Turkish coffee pots you're bound to find something cool and antiquey to take home. The Old Quarters are what to see in Ankara if you are looking for insight into local life.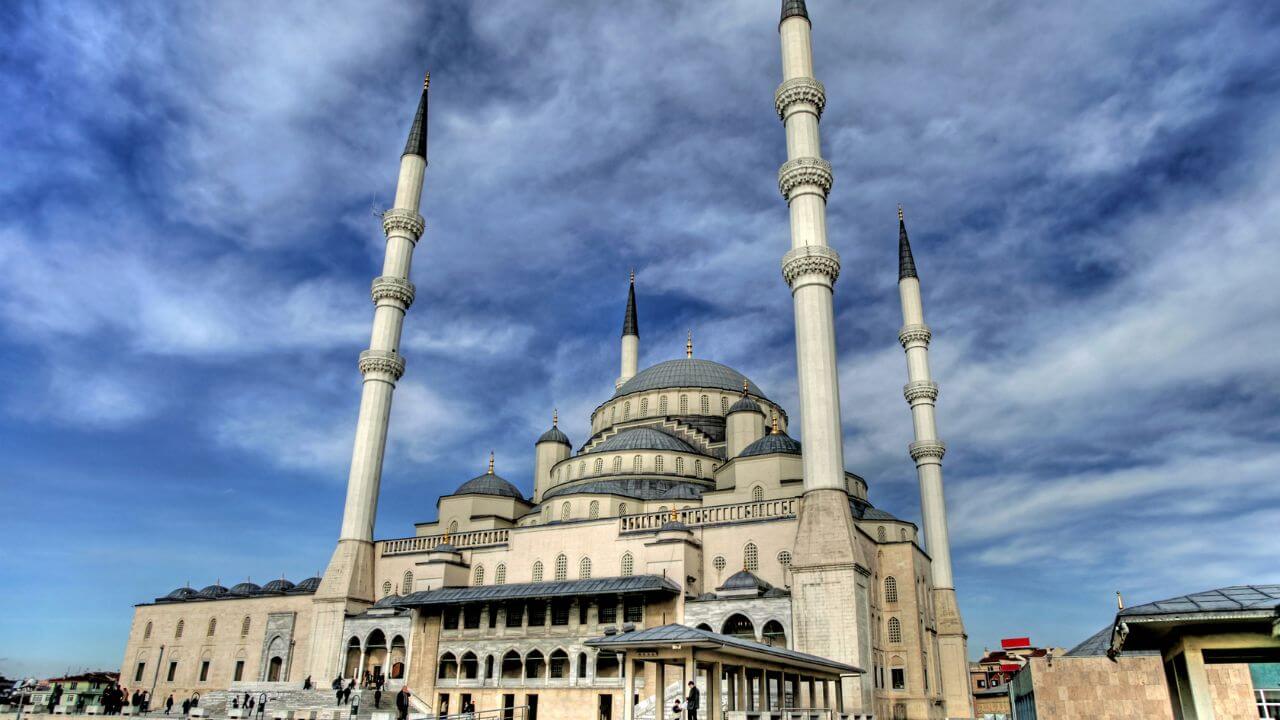 Kocatepe Camii or Kocatepe Mosque in English is an impressive landmark in Ankara. Built in 1987, the Kocatepe Camii is the largest mosque in the city.
The mosque has four minarets and a large dome which is covered in beautiful tiles. It also features a grand prayer hall and a library. Inside, you will find a stunning Islamic art and intricate carvings.
Visiting this mosque you will find stunning Islamic art and intricate carvings. This is a popular thing to do in Ankara and when you're here you can enjoy panoramic views of the city from the mosque's terrace.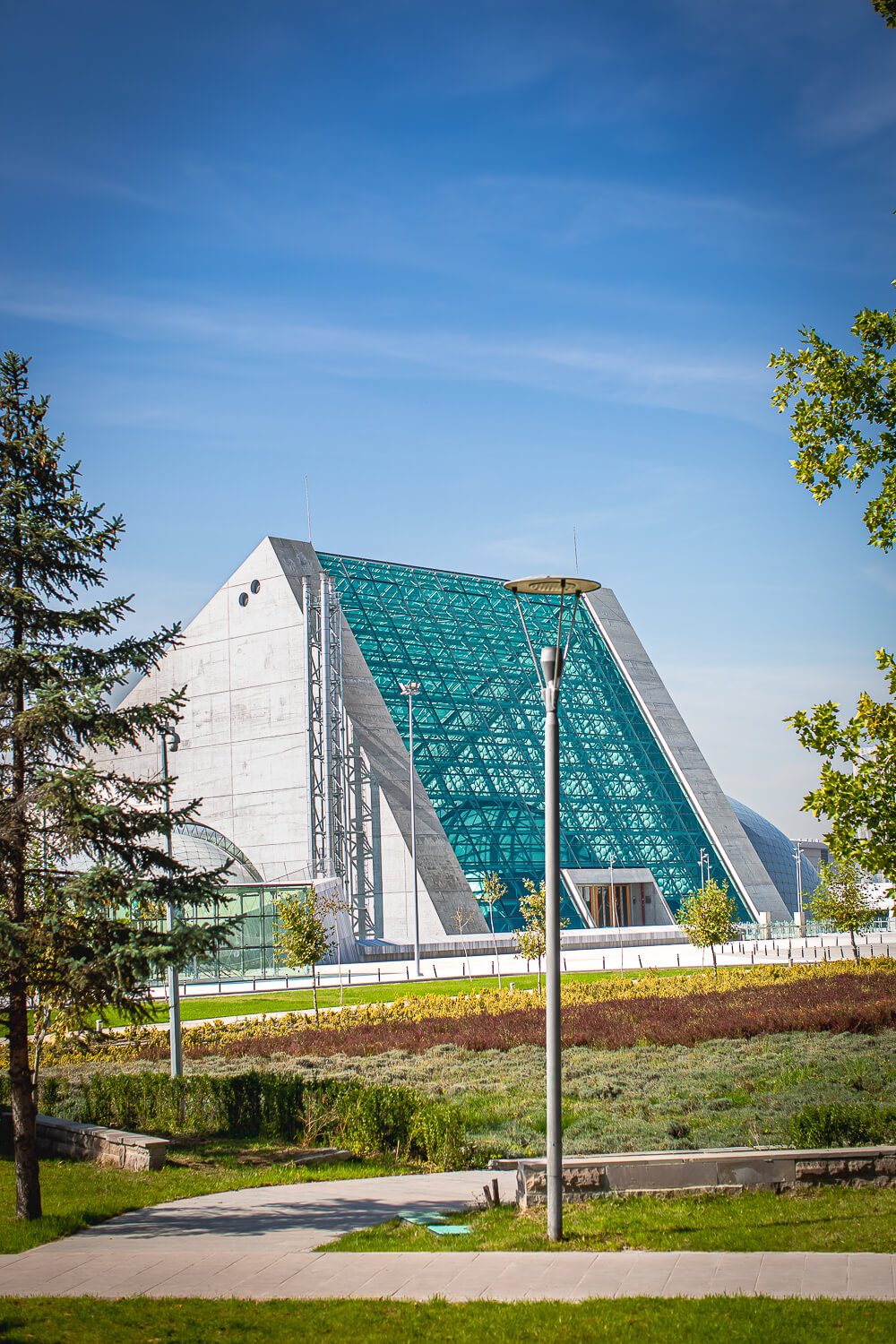 Go on a Free Walking Tour
The best way to get to know a city and your bearings is by going on a free walking tour. It's even better when you can do so with a local guide and a group of like-minded travellers. Plus it's pretty cheap!
A walking tour is a great introduction to a new area and in my opinion one of the best free things to do in Ankara. You can usually book a tour with your hostel if that's where you happen to be staying. Tours usually last around 2 hours and a local guide will be able to answer any questions that you have.
Another mosque to make the best things to do in Ankara list is the Haci Bayram Mosque. This beautiful Ottoman mosque was built in 1427 and is considered one of the most important mosques in Turkey.
The mosque is made of cut stone, brick and plaster and is decorated in various shades of blue, green, red and yellow. The Haci Bayram Mosque is visited by thousands of people each year so prepare for crowds and a stunning sight. The mosque is open 24 hours to visitors and is free to enter.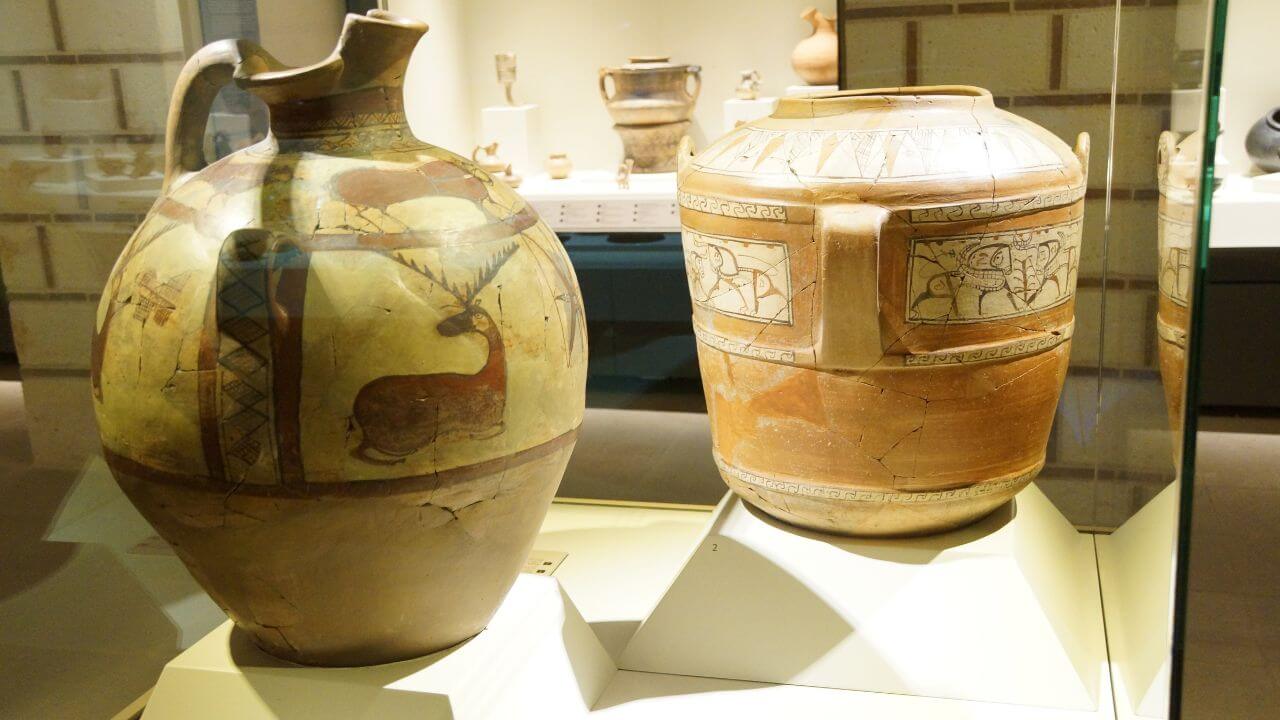 Visit the Museum of Anatolian Civilizations
The Museum of Anatolian Civilizations is one of the most renowned museums in Ankara. Located in the historical center of the city, the museum features an impressive range of artifacts from the ancient civilizations of Anatolia.
Some of its permanent galleries include historical artifacts from the Paleolithic era through the Ottoman Empire including sculptures, jewelry, pottery and other artworks. The art museum also houses a library, a research center and education workshops if you're a history buff and into that sort of thing.
The museum is open 7 days a week from 8:30am to 5:30pm and costs 40 Turkish Lira to enter, which is roughly $2 USD's. Don't miss out on this place to visit in Ankara.
Catch a Performance at the Ankara State Opera House
One of the coolest buildings in Ankara is the Ankara State Opera House. The building itself is a masterpiece, with its ornate architecture and elegant design. The grand and beautiful building is a symbol of the city's vibrant artistic culture and is home to some of the best performances in the country.
Opera and ballet season generally runs from September to June so if you happen to be visiting Ankara during that time, I'd be awesome to try to catch a performance, concert or play.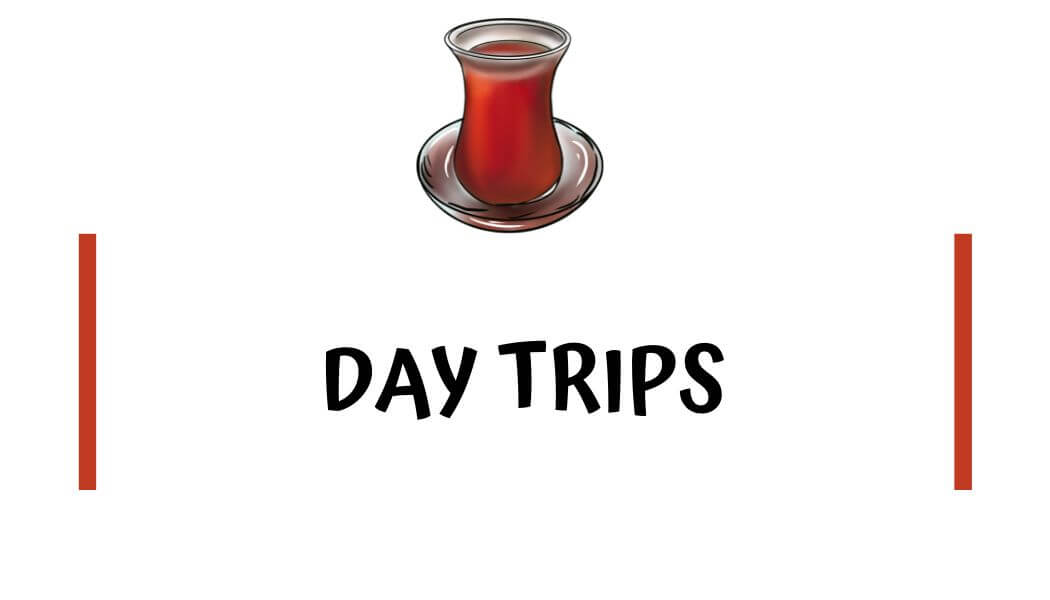 If you love skiing or snowboarding as much as I do, then make sure you organize a trip the Kartalkaya Ski Resort if you are traveling to Ankara during the winter months. This is a popular ski destination for skiers of Ankara.
This ski resort offers a variety of ski runs for all levels of skiers but is best suited for beginner and intermediate skiers. There are 16 lifts and it even has a terrain park.
You can reach the Kartalkaya Ski Resort several different ways – on a tour, in a private vehicle or by bus. It will take you anywhere from 1 -3 hours each way depending on which mode of transportation you take.
Beypazari is a charming town located about 2 hours west of the city and is one of the best day trips from Ankara. The adorable town is known for its traditional architecture, with wooden houses lining the narrow cobblestone streets and carrots.
That's right, Beypazari is located in the epicenter of Turkey's carrot growing region and there's even a giant carrot statue proudly displayed in the center of town.
When you explore the town, you can stroll the town sampling baklava, biscuits and made to order carrot juice. The streets are full of bakeries, spice shops, jewelry stores and souvenir shops. There's also a viewpoint marked by a flag if you don't mind a bit of a hike.
Located about 3 hours north of Ankara is Safranbolu. The designated UNESCO World Heritage Site renowned for its well-preserved Ottoman era architecture, which includes mosques and old stone & red roofed Ottoman houses.
Safranbolu has a vibrant culture as its holds several festivals and traditional events throughout the year. When visiting the small town, you can wander the winding streets of the old town and shop for local handcrafts and souvenirs.
If you want to experience a traditional Turkish bath on your trip to Turkey check out the nearby Tarihi Cinci Hamam. It is a restored 17th century bathhouse still in operation today.
Another awesome day trip from Ankara are the Ruins of Hattuşa. This incredible archaeological site dates back to the Hittite Empire. Built in the 13th century BC, these ruins are the remnants of an ancient city and have been incredibly well preserved.
The UNESCO site is home to a plethora of archaeological remains including impressive fortifications and a variety of temples, palaces and city walls. You can explore the ruins as well as view a variety of artifacts and remains that have been uncovered by excavations over the years.
The Ruins of Hattusa are located about 100 miles east of Ankara and can take 3 – 5 hours to get there depending on what form of transportation you take.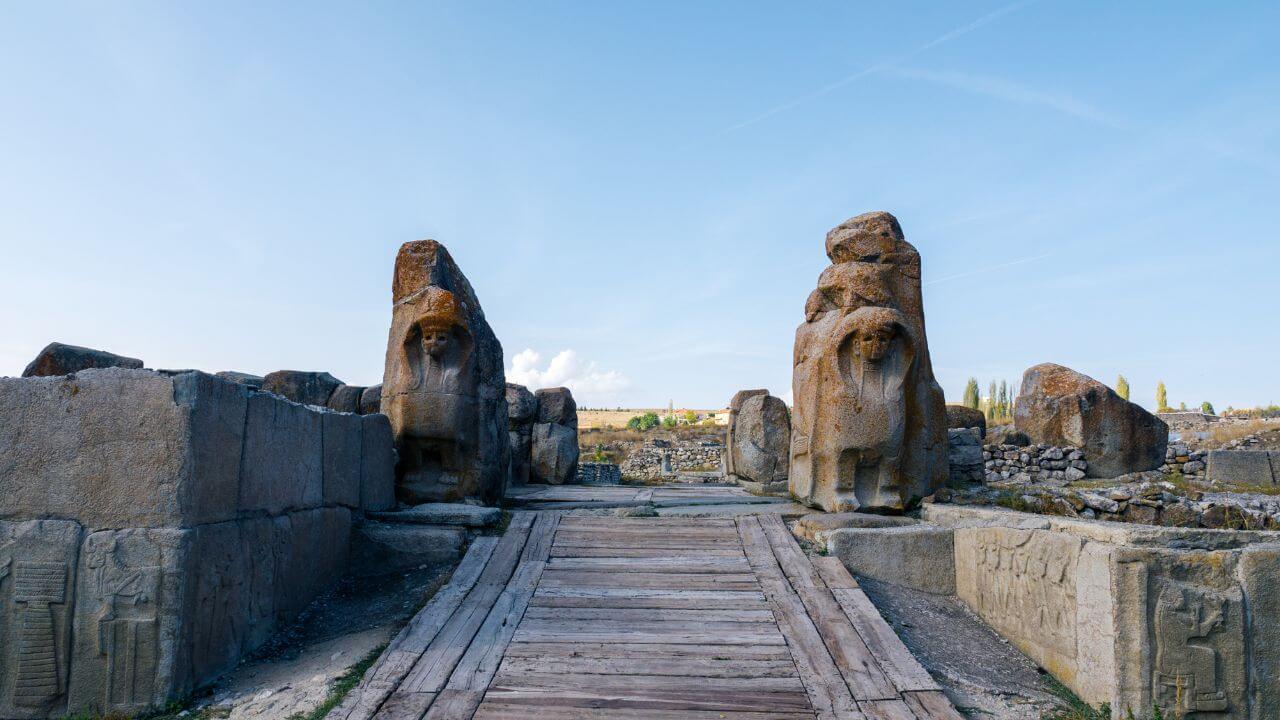 Alacahöyük is another set of archaeological ruins located only 20 miles northeast of Hattuşa so you can visit both of these sites on the same day trip from Ankara.
This ancient Hittite city was first inhabited in the 3rd millennium BC, which makes it one of the oldest cities in the world. Back in its time, Alacahöyük was the capital of the Hittite Empire and a center of religious and political activity. If you love ruins, this archaeological site will offer an insight into the history of the Hittite civilization.
The last day trip from Ankara that I will be mentioning in this post is Gordion. Gordon is best known as the home of King Midas, you know the man with the golden tough.
The ancient city dates back to the 8th century BC and was the capital of the Phrygian Empire. Present day, it is a major archaeological site with excavations revealing the citadel, a number of temples, tombs and other structures. It is also home to a museum of Phrygian antiquities and the remains of the wooden yoke that was famously cut by Alexander the Great.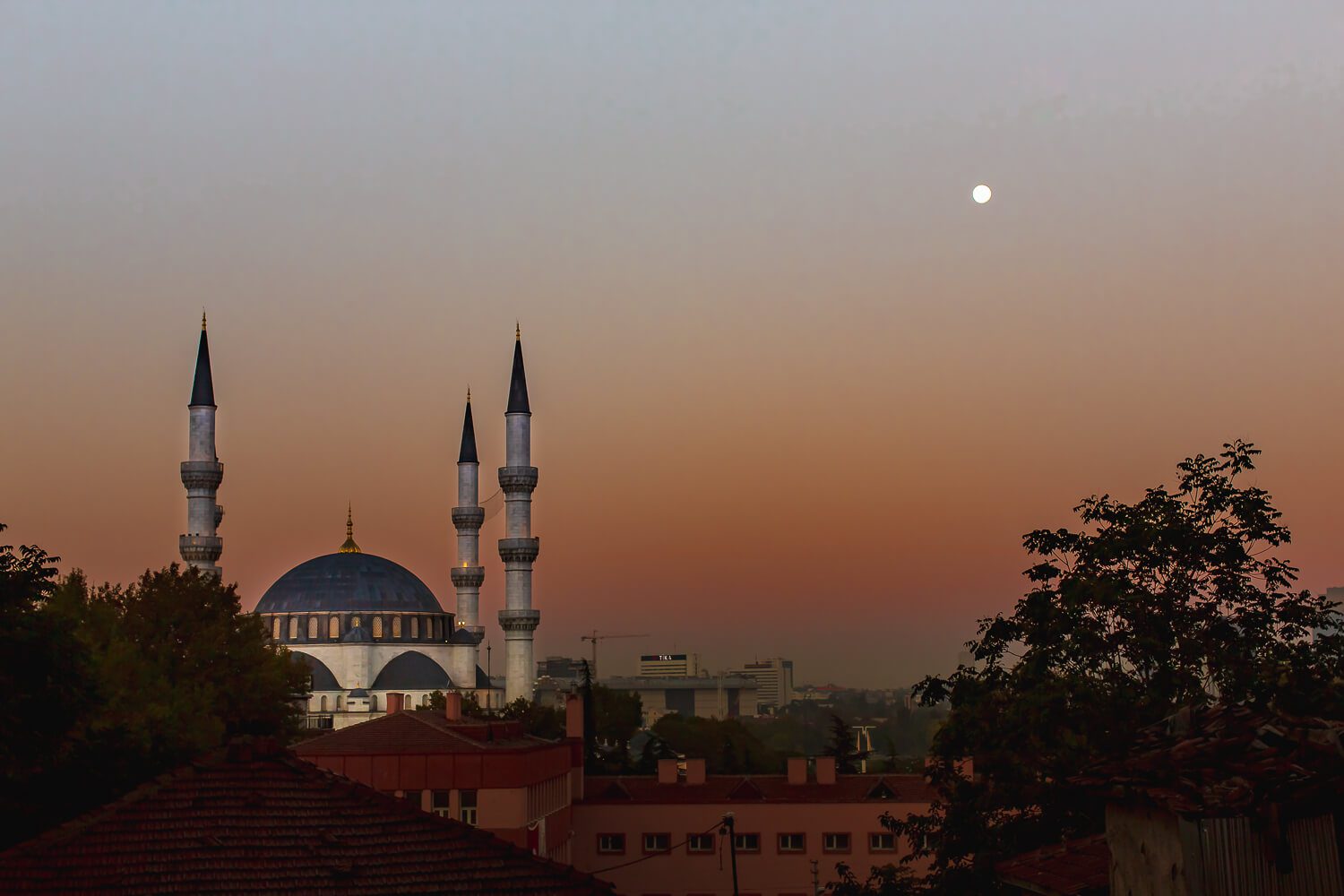 There are lots of places to stay in Ankara that will accommodate every type of traveler and on every type of budget. These are the top picks on where to stay in Ankara.
If you are already in the country, all major towns and cities have buses or trains going to and from Ankara. This will be your cheapest option Sometimes these bus rides can be long and exhausting though.
I do not recommend taking an overnight bus in Turkey! Turkey does not have lay down seats and you're in for a uncomfortable and restless night. Trust me, I made this mistake once and will not make it again.
You may surprised to find out that flying domestically within the country of Turkey is extremely affordable. So if you are coming from Istanbul or Izmir, I would look into flights before buses.
Renting a car in Turkey and exploring with your own two wheels is also a great option. Roads are paved, well marked and very westernized. We rented a car twice during the month we traveled Turkey and we wish we had a car the entire time.
Best Time to Visit Ankara
The best time to visit Turkey is during the spring season, from April to mid-June and during the autumn months. During these months, the weather is pleasant and mild which allows you to explore the city without feeling too hot or too cold.
This allows you to take advantage of the outdoor activities in the city like shopping at the markets, visiting the parks and walking from Ankara attraction to attraction. During these months you can also have a chance to attend popular festivals and cultural events that occur throughout the year like the Nevruz Festival, the International Ankara Music Festival and the Jazz Festival.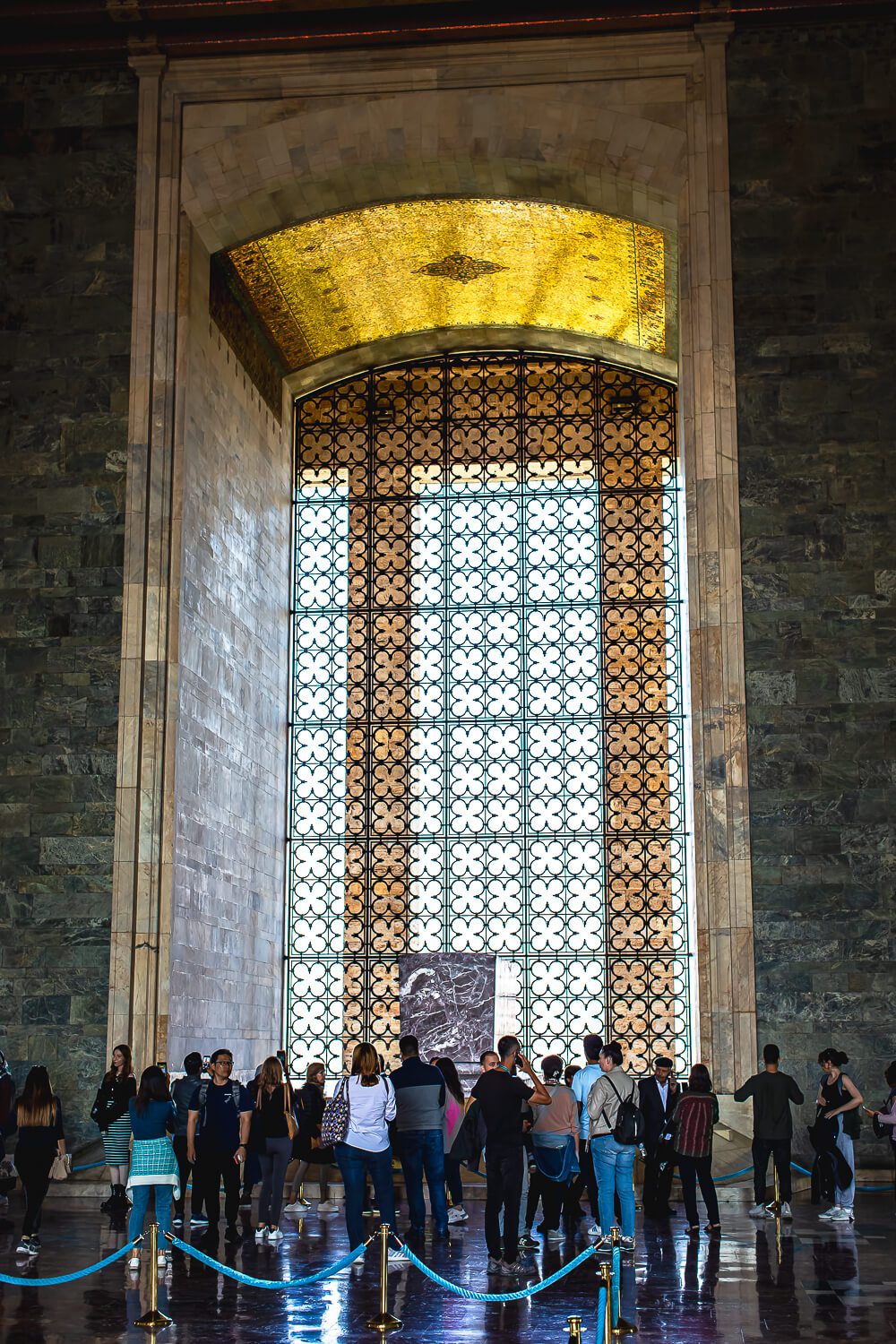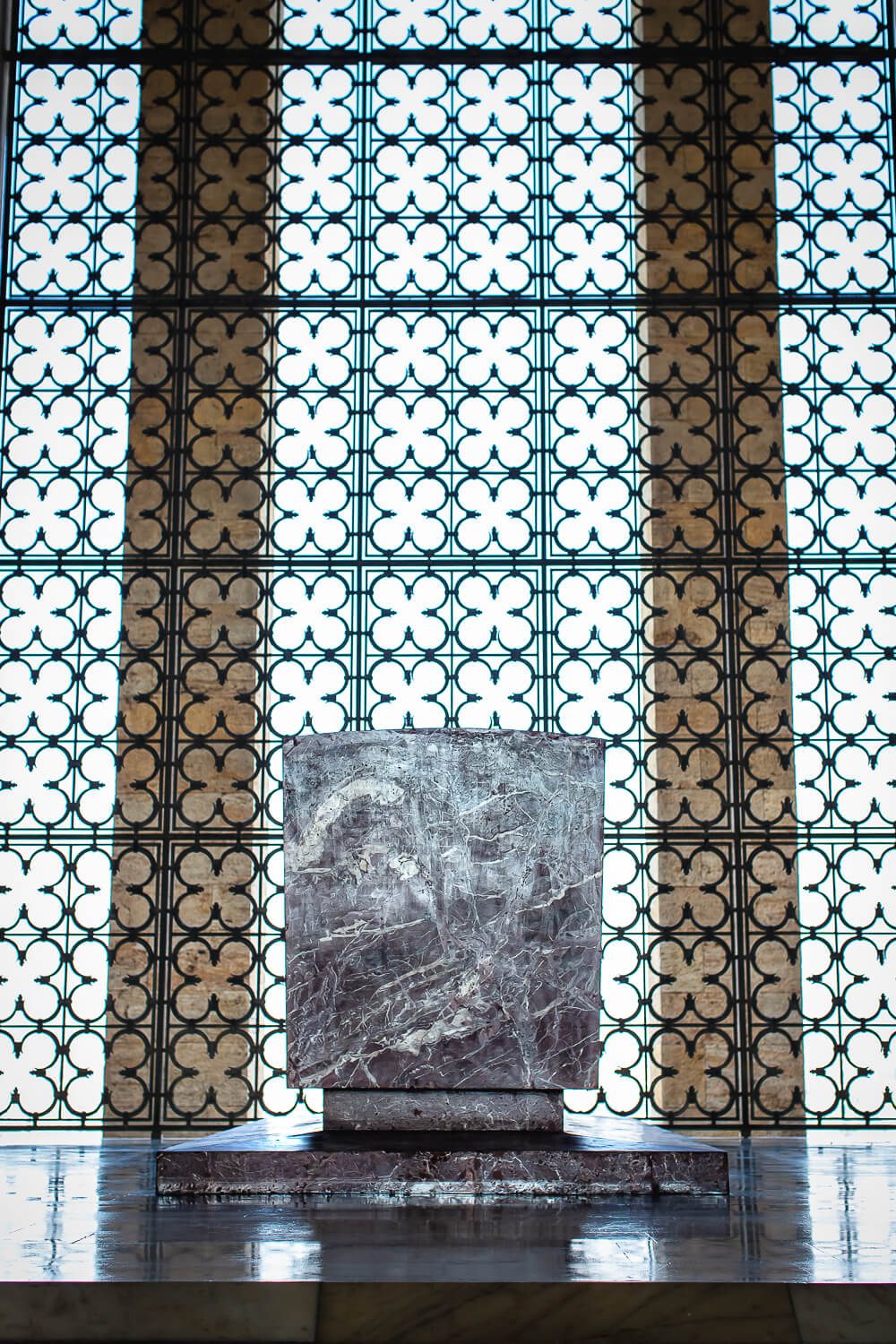 You need a visa to enter Turkey. Planning ahead for these make the visa more affordable.
Women must have their heads, shoulders and knees covered before entering mosques.
Using the okay symbol 👌 is offensive in Turkey.
Blowing your nose loudly in public is rude.
Opening hours for Ankara attractions are usually shorter in the winter opposed to the summer.
Credit cards are widely accepted throughout the country.
People greet each other with kissing twice on the cheek.
Tea is a sign of hospitality
Take off your shoes before entering someones home.
Turkey Travel Tips
📍Plan your Trip

🗺 How long to travel Turkey?  2 Weeks to hit the highlights, 4 Weeks to really immerce yourself.

🛂 Visas: Get your E-Visa

☔️ Best Time to Visit:  April, May, September and October are the best months to travel Turkey.

💰 Average Daily Budget: Expect to pay 30-50 USD's a day for basic accommodations, sit down meals at a cafe and entrance fees.

⛺️ Turkey accommodation Guides

🪂 Highlights

Exploring Ephesus
Pergamon Ruins
Antalya

🧳 What to Pack: What to Pack for Türkiye

🎥 Watch our Turkey Series on YouTube

📧 Get on my Email list to see what I'm up to and all the best travel content!
Those are the best things to do in Ankara, Turkey. If you found this article useful let me know in the comments below.
Enjoy this Post?!?! Pin in for Later ↓