Ao Nang is a coastal town located in Southern Thailand in the Krabi Province. There are plenty of things to do in Ao Nang, Thailand that a visit to this dreamy destination should not be missed when exploring the islands of Thailand.
Most travelers who pass through this area either splurge to stay in Railay or hop on a ferry and head straight for the Phi Phi Islands. If you are short on time, Ao Nang is a great base to explore all the Krabi Province has to offer.
In this article I'll spill all the beans on what to do in Ao Nang, as well as give any essential and helpful information such as the best time to visit, where to stay and how to get there.
Okay, let's get to the good stuff, these are 13 awesome things to do Ao Nang, Thailand.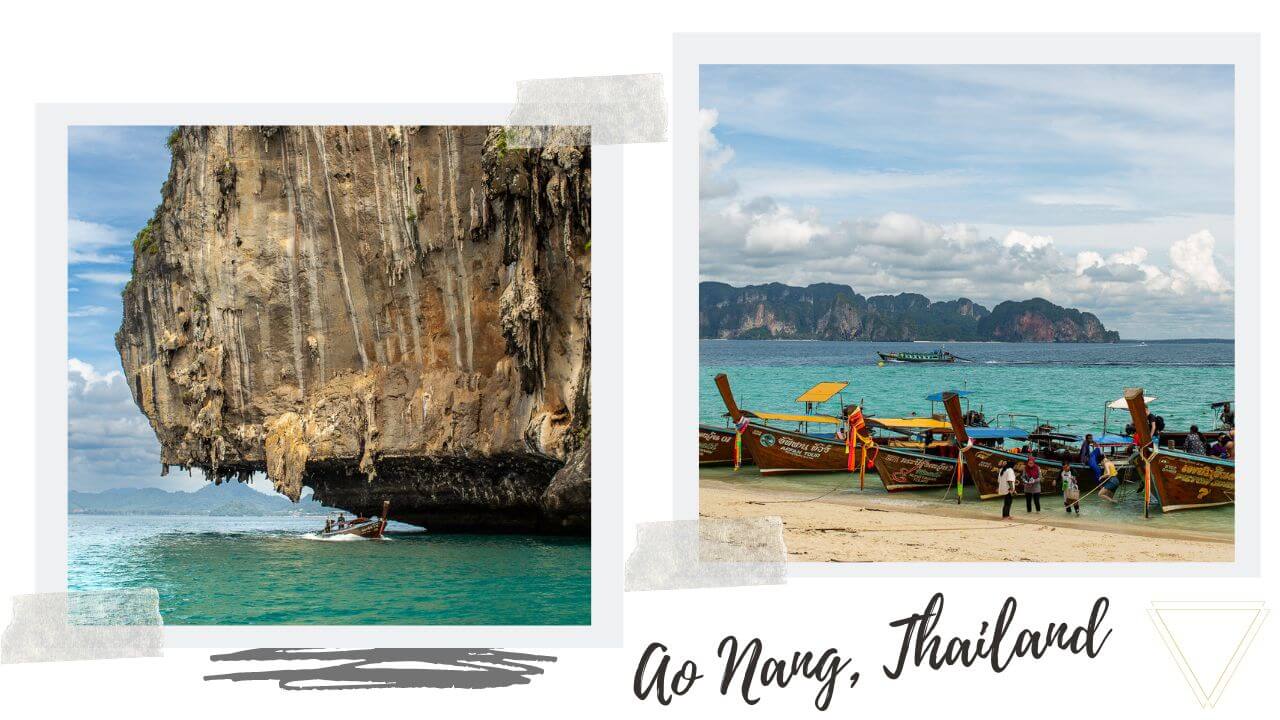 For full transparency, I have sprinkled some affiliate links in this post.  As an Amazon Associate I earn from qualifying purchases that gives me a small commission at no extra cost to you if you decided to make a purchase.  As always, I would never recommend a product or service that I didn't truely believe in.  All proceeds go to keep Jess traveling and coffee ☕️.  I thank you in advance.
Eat at the Night Market
Private Longtail Boat Tour
Day Trip to Railay
Visit Krabi
Day Trip to the Phi Phi Islands
Rent a Moped & Explore on 2 Wheels
Tiger Cave Temple
Namtok Ron Hot Spring Waterfall & Emerald Pool
Snorkeling
If you love cheap, tasty food then you'll love the Night Market in Ao Nang. Located on the other side of the road from the ocean is the Ao Nang night market.
There are about 40 different booths selling all types of assorted food items. The best part is everything is made to order and it's so darn cheap.
We ate here all three nights we stayed in Ao Nang. The first night I got a Pad Thai for 50 baht and Joe got sticky rice and lots of chicken skewers for 80 baht. That's about $3.50 USD total.
The second night we conducted a do-it-yourself food tour and ordered the most traditional and exotic looking foods. Let's just say the mango sticky rice (50 baht) that we finished our night off with changed my life.
Thai teas, curries, spicy papaya salads, you name it. This is the best thing to do in Ao Nang at night. The Night market is open daily from 4-10 pm.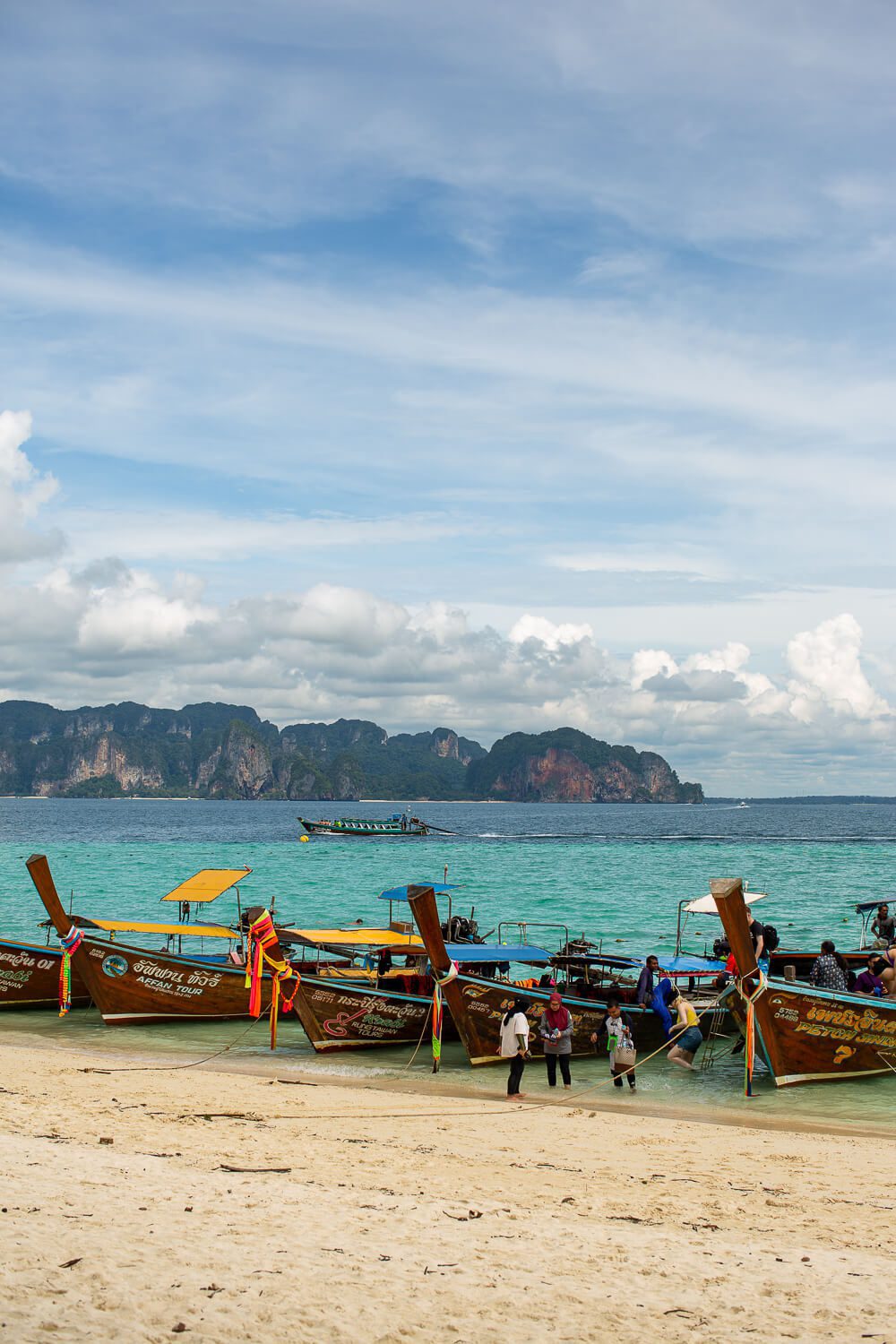 Thailand is famous for its iconic longtail boats and you can't visit Southern Thailand without hopping on a longtail for the day.
The typical boat tour from Ao Nang is the Four Island Tour. This tour takes you island hopping to Koh Poda, Chicken Island, Koh Tub, and Koh Mor. It also stops at the beautiful Phra Nang Cave Beach at Railay.
On Koh Poda you'll have to pay a national park fee of 200 Baht. On appropriately named Chicken Island you'll have time for a snorkel. Plus you'll have a Thai-style buffet lunch. We were on a private tour so we utilized the time we would have been eating lunch for a photo op on our longtail boat.
If you are strict on time and/or traveling in the high season, book your tour in advance. If you have more flexibility in your travel schedule, book a tour in person when you arrive in Ao Nang.
These are the top rated four island tours.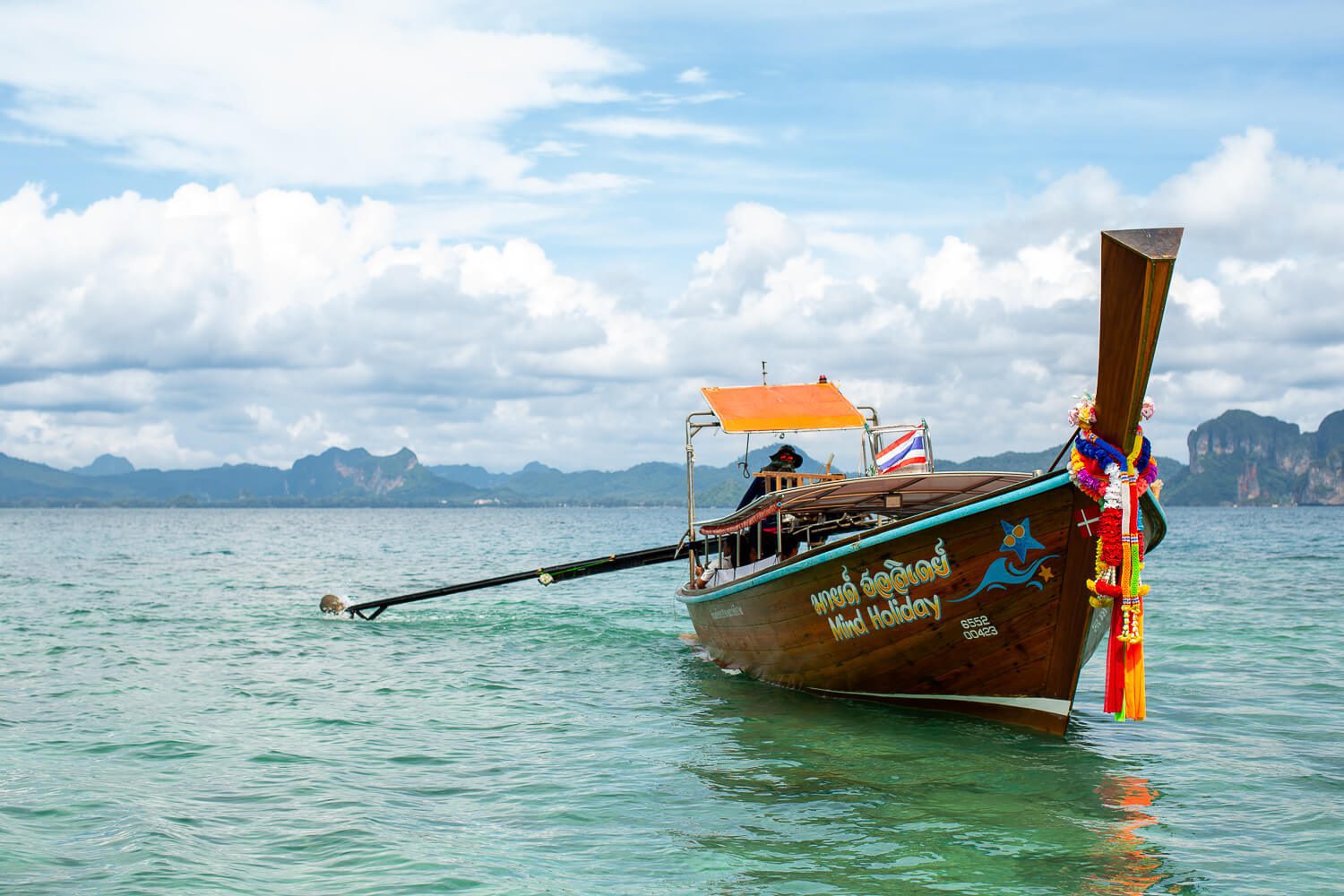 Private Longtail Boat Tour
It is also possible to book a Private Longtail Boat tour and visit all the islands and Railay beach. That's what we did and it was a blast.
We flew the drone, went on our own time schedule and our boat captains were awesome. You'll have more privacy and be able to take epic photographs and video.
This was a bit more pricey 1700 baht for 6 hours not including the National Park fees (200 baht) per person. If you are traveling with a larger group, it'll be way cheaper splitting the cost with more people.
It's super easy to rent a longtail boat for the day. The booth is on Ao Nang beach, right in front of all the longtails waiting to give you a tour.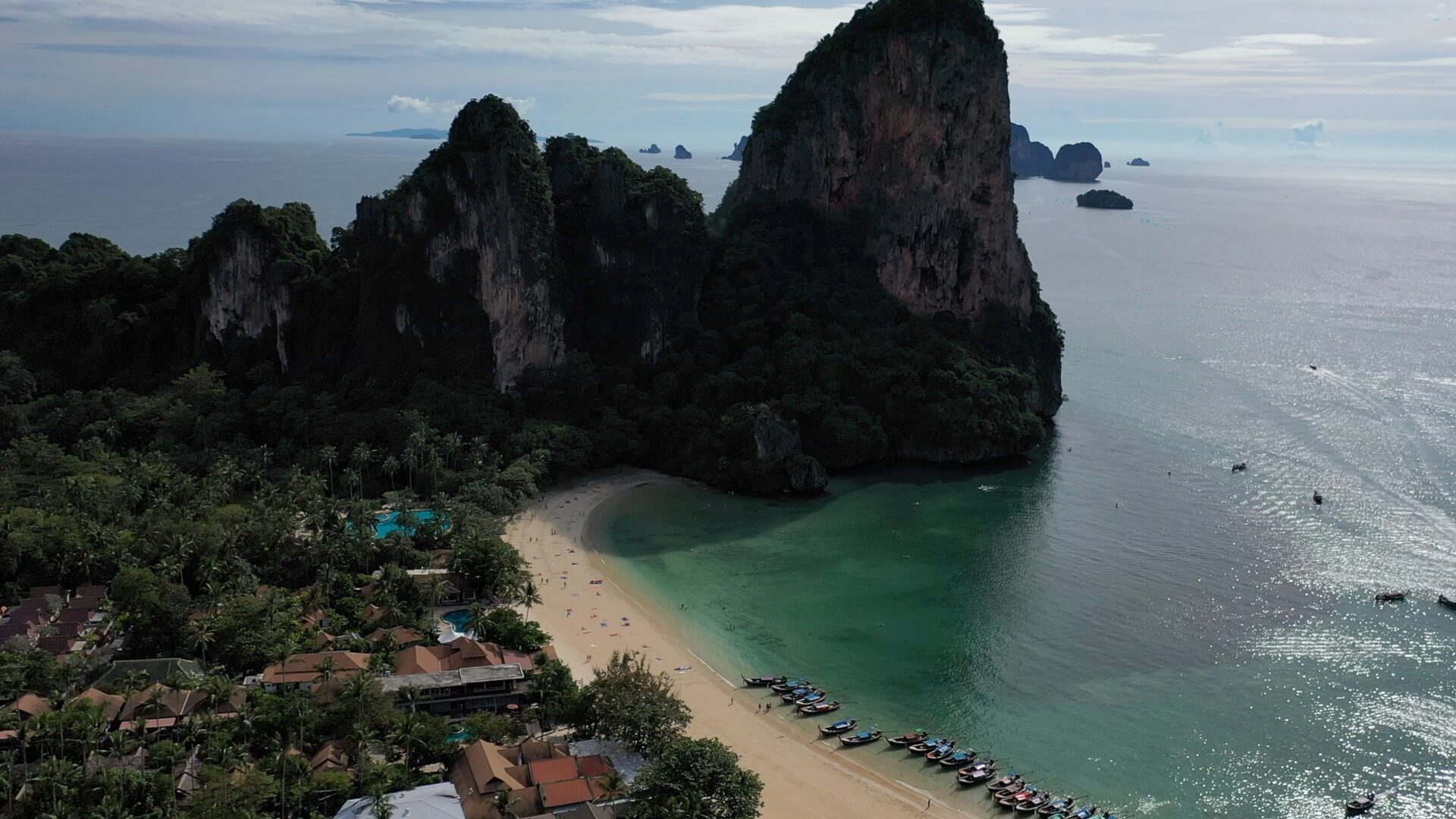 Located right next to Ao Nang, the only way to get to Railay is by boat. Surrounded by tall limestone mountains, although technically apart of the mainland, the mountains are so steep that it's isolated from the rest of the mainland.
Railay is known for its awesome rock climbing, longtail boats and beautiful white sand beaches. Do yourself a favor and don't visit the Krabi region without visiting Railay.
Railay boasts some of Thailands most beautiful beaches – Phranang Cave Beach or Phranang Cave Bay. This is one of the best things to do in Ao Nang.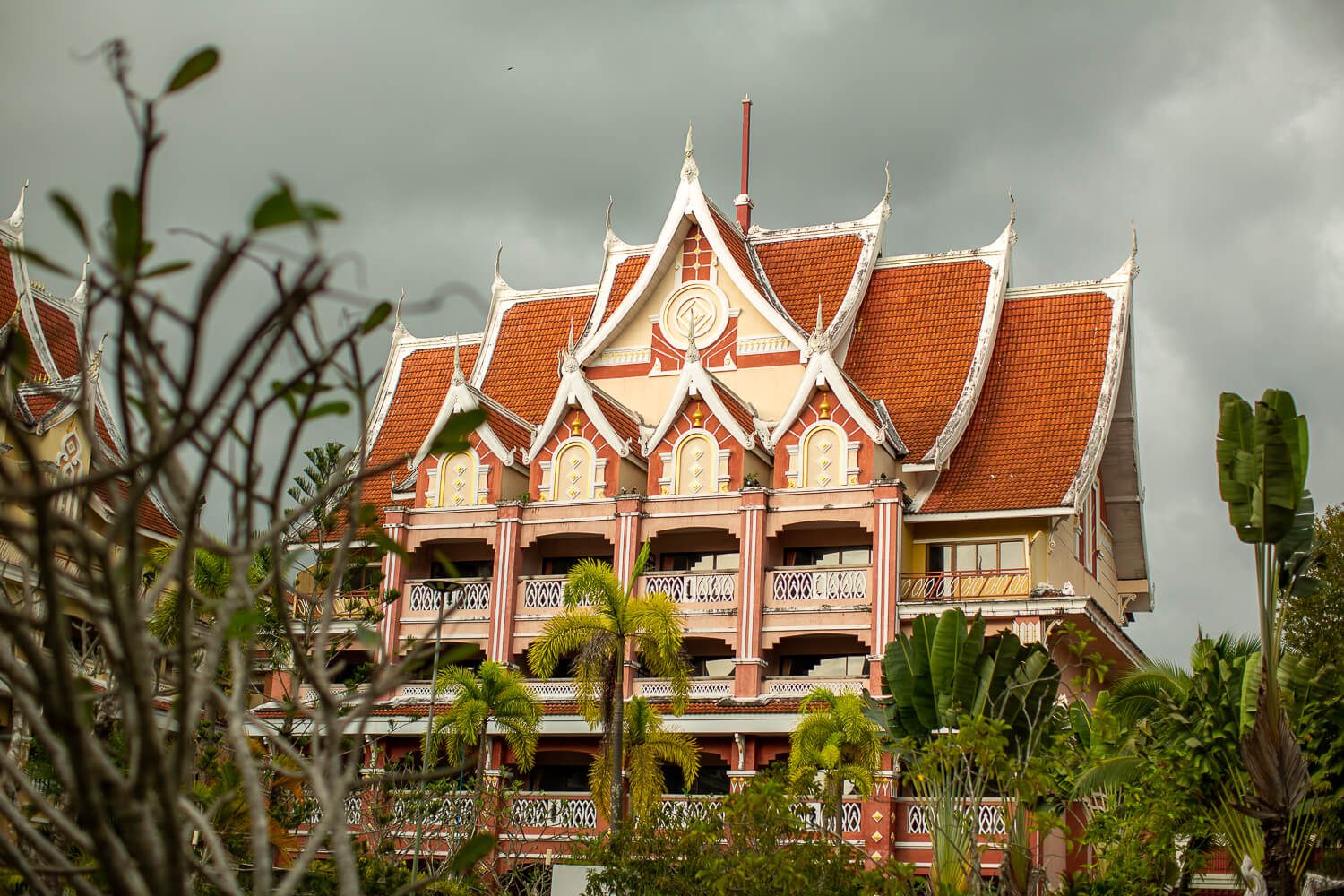 Spend the Night in a Palace
Okay so maybe not an official palace but this hotel looks like a palace. Staying at the Ayodhaya Palace puts you in prime location to walk to the Ao Nang night market and to the boat "office" to book your private boat tour.
The pool is pretty big and if you're lucky you can get a room with private access to the pool. We booked last minute per usual and got a great deal at the palace for $35 a night.
We got the deluxe pool room that had a sitting room, large bathroom with a shower and a soaking tub, king size bed and private patio that had stairs leading down into the pool. This is one of the most unique places to stay in Ao Nang.
Krabi town is about a 20 minute drive from Ao Nang. Krabi is worth a visit if you want to experience more of a local feel without heading all the way North to Chiang Mai.
Enjoy a fresh catch at one of the local restaurants in town and sit back and enjoy the views. Krabi is best experienced on two wheels.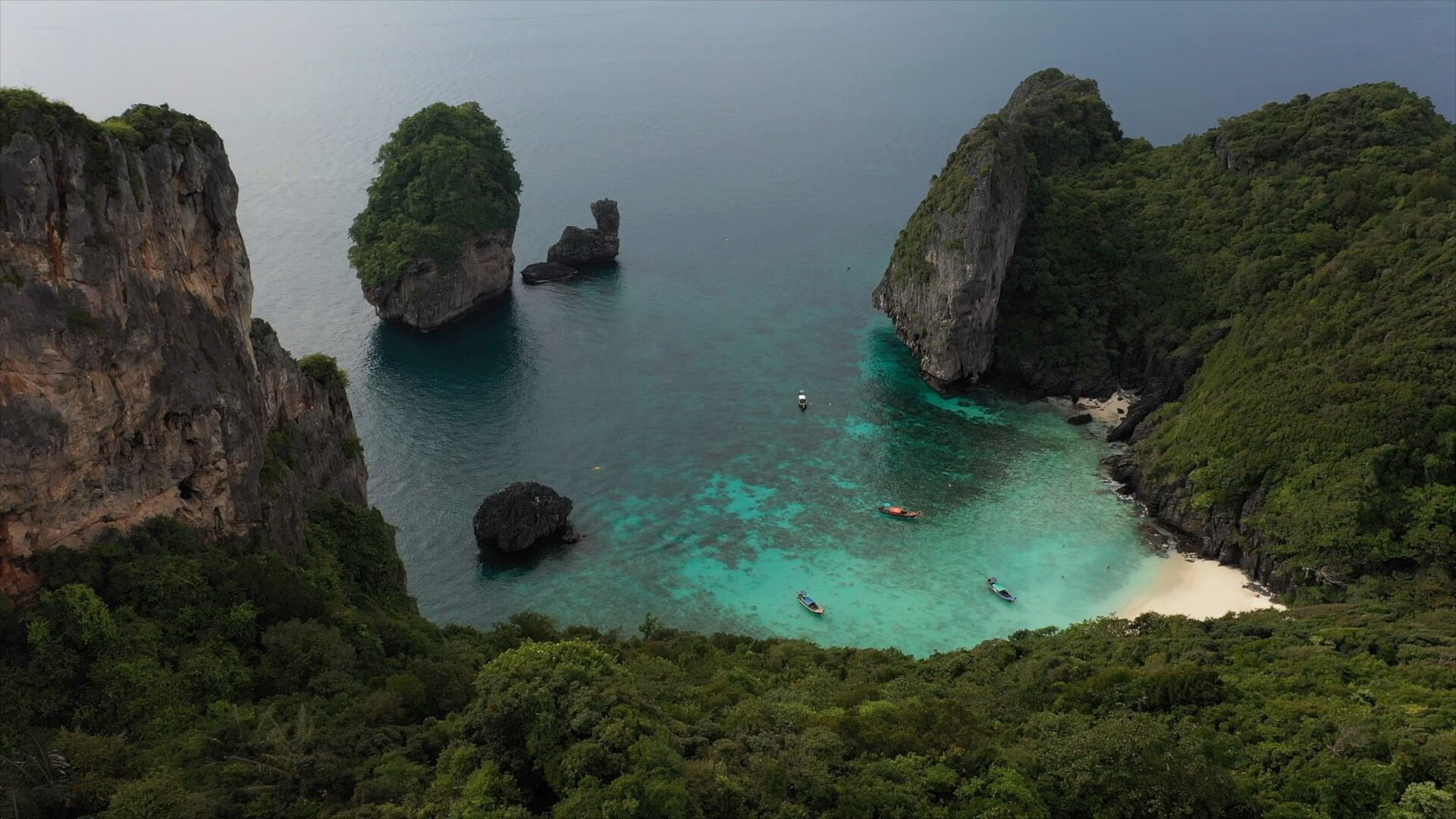 Day Trip to the Phi Phi Islands
Nothing quite compares to the Phi Phi Islands. Home to the famed Maya Beach – where the Leonardo DiCaprio movie 'The Beach' was filmed, these islands attract visitors from all over the world.
There's many things to do in the Phi Phi Islands. Play with monkeys on Monkey Island, snap the iconic pick on Maya Bay and snorkel with the colorful fish.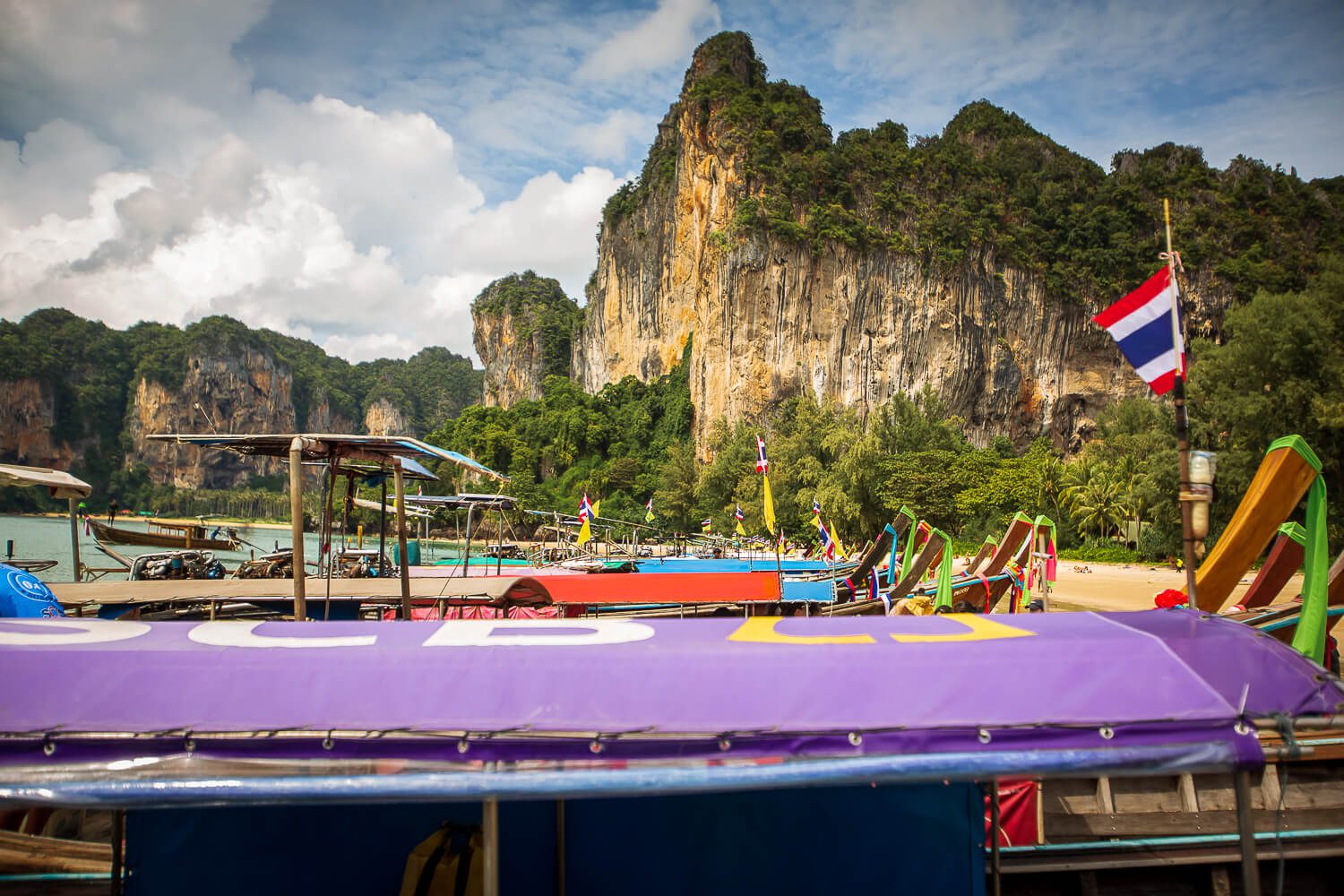 Rent a Moped and Explore on 2 Wheels
Renting a moped for the day is budget friendly thing to do in Ao Nang that gives you freedom and a change of pace. The back side of Railay is just stunning. The drive to Krabi is a scenic drive. Think dramatic, green limestone mountains on both sides of the road.
Take a drive to Krabi town and up to Tiger Cave. Mopeds are pretty inexpensive and rent out by the day. Expect to pay around 300 Baht per day.
Travel Tip: Get an International Drivers License before you rent a moped overseas. It's super easy to obtain if you already have a legal license.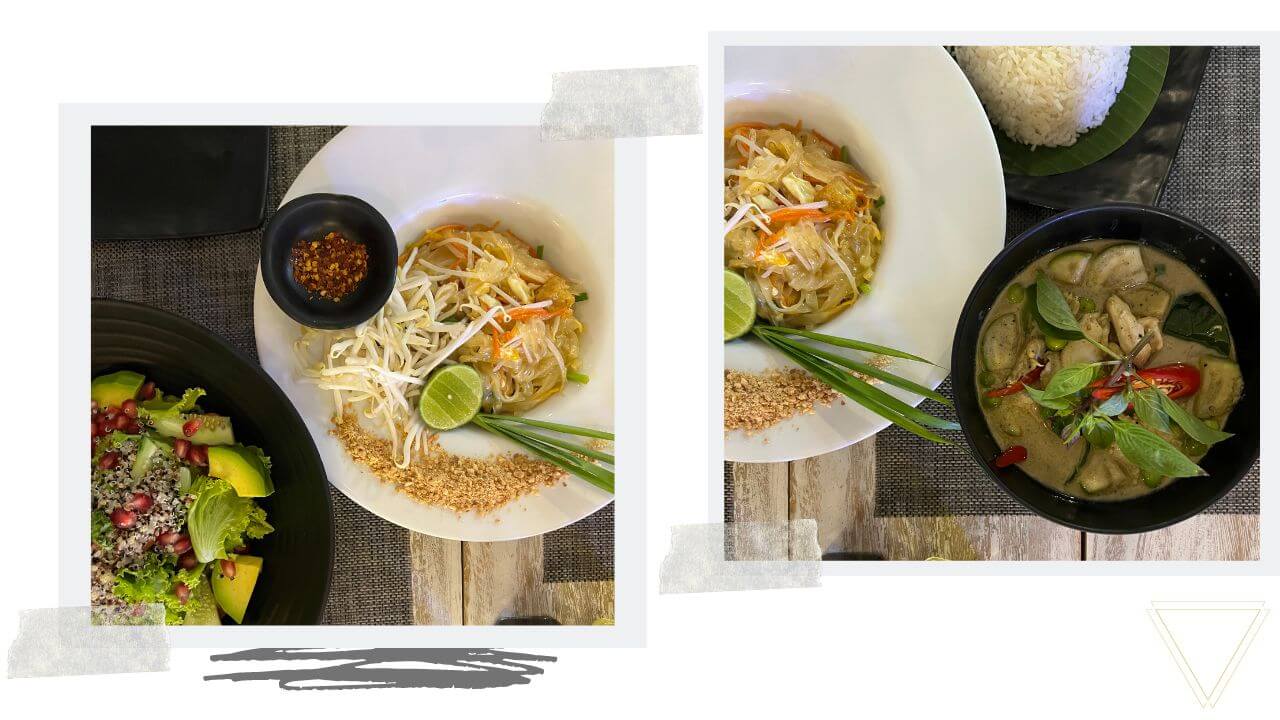 Eat all your hard work after a you take a Thai Cooking Class. First you'll wonder a local market searching for local, fresh ingredients. Then you'll learn first hand how to make authentic Thai dishes such as massaman curry, pad thai and spicy papaya salad.
Here are some tours to check out:
Wat Than Suea (Tiger Cave Temple)
The Tiger Cave Temple is a Buddhist temple located northeast of Krabi. The temple is called Tiger Cave as it's known for the tiger paw prints in the cave. This is a thing to do in Ao Nang that can be done independently if you rent a moped for a day.
The site sits on a hilltop with a giant Buddha statue and offers sweeping views of the countryside below. It takes about 1,260 stairs leading to the summit. Prepare for a sweaty 30-40 minute climb.
Namtok Ron Hot Spring Waterfall & Emerald Pool
Located about an hour away from Ao Nang, the Namtok Ron Hot Spring Waterfall are natural thermal waters. It cost 160 baht to enter the site and enjoy the hot springs.
After enjoying the hot springs, climb down the Emerald pool. The Emerald pool is a refreshing dip after you've spent some time in the Namtok Ron Hot Spring Waterfall.
This is an activity best enjoyed as an independent excursion as a tour will charge a bit more than I think it's worth. This thing to do in Krabi gets busy and by doing it independently, can help you avoid the crowds.
Did you even visit Ao Nang if you don't go snorkeling?! One of the most popular things to do in Ao Nang is to enjoy it from a different perspective underwater.
If you go on a Four Islands Tour or hire a private longtail boat, snorkeling will probably be included on your itinerary. Spend the morning on the crystal clear water at some of Thailand's best snorkel spots that can only be reached by boat.
Thailand has over 1,000 species of tropical fish, so don't forget to charge your Go Pro and put on the underwater housing.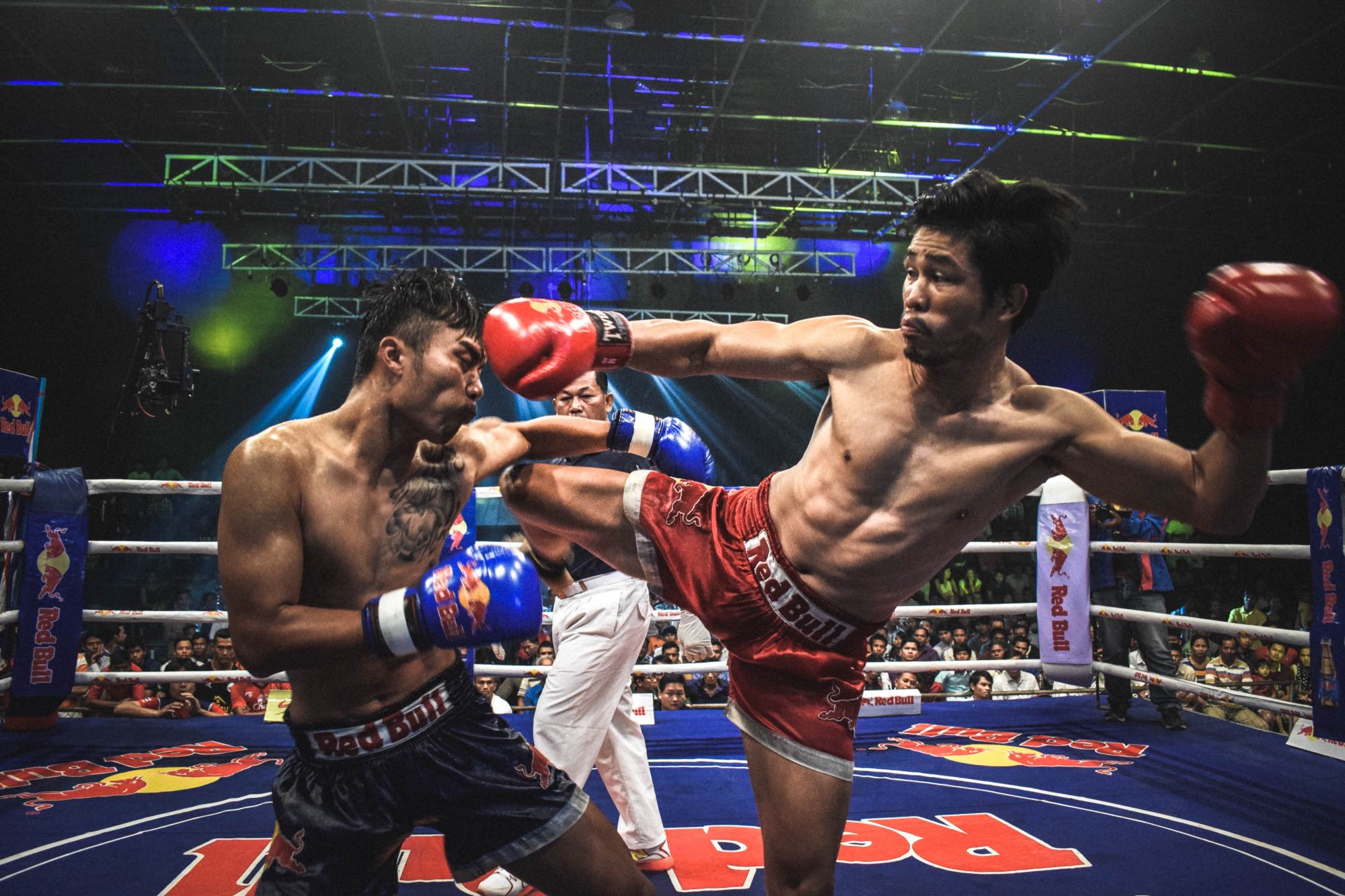 Muay Thai is a martial art that originates from Thailand. Muay Thai is known as the "Art of 8 limbs" because it makes use of 8 points of contact namely, punches, elbows, knees and kicks. If you are in Ao Nang on a Friday Night, get tickets to watch a muay Thai fight in action.
How to Get to Ao Nang Krabi
How to get to Ao Nang is pretty straight forward. There are five different ways and combinations to get to Ao Nang – by plane, by bus, by train or private taxi.
Flying – The most efficient way to get to Ao Nang is flying there. The closest airport to Ao Nang is Krabi International (KBV). From here it is a 30 minute taxi ride to Ao Nang. You could also fly into Phuket (HKT) and from there its a three hour minivan ride.
Alternatively you can fly into one of Bangkok's two international airports – Suvarnabhumi Airport (BKK) or Don Mueang (DMK) – then take a bus or train down to Ao Nang. If you choose this option, you're in for a long travel day(s).
By Bus – Buses are frequent from Bangkok. A bus ride from Bangkok to Ao Nang will last 13-14 hours and a lot of waiting around. You can easily book a bus to Ao Nang from anywhere in the country.
By Train – Trains in Thailand are cheap and much more enjoyable than the bus. If you are coming from Bangkok, book an overnight sleeper train to Thung Song and from Thung Song its a 2 hour taxi to Ao Nang.
By Boat – If you fly into Phuket, you can then take a speed boat to Ao Nang.
Traveling around Thailand is extremely easy and straightforward for foreign travelers. Most people speak English and Thai people are very accommodating. If you look lost, someone will be able to point you in the right direction.
GetTransfer and 12Go and the two websites I use in Southeast Asia to book transportation tickets. For flights, Skyscanner is the best way to find the cheapest price. In person, there are tons of tour operators that will arrange transportation for you.
Do you have any favorite things to do in Ao Nang. Let me know if the comments and as always thanks for reading.
Enjoy this Post?!?! Pin in for Later ↓