Eger, Hungary is a charming town located in the northeastern part of the country. Known for its thermal baths and vibrant wine scene, there are plenty of things to do in Eger that a visit to this part of the country is a must-do when exploring Hungary.
The town's most iconic landmark is the Eger Castle, which sits atop a hill and offers panoramic views of the surrounding area. Another Eger attraction is the Eger Cathedral, a grand cathedral with stunning interior artwork and a towering central dome.
In addition to its architectural treasures, Eger is also known for its wine production, particularly the renowned Agri Bikavér, or Bull's Blood wine. Wine lovers can visit local wineries, take wine tours and indulge in tastings.
Is Eger worth visiting? In this article, I'll go over what to do in Eger, list the best day trips from Eger and at the end of this post I'll also include some practical information that will aid you in your trip to this gem of a town. In short, yes Eger is definitely worth a stop on your Hungary itinerary.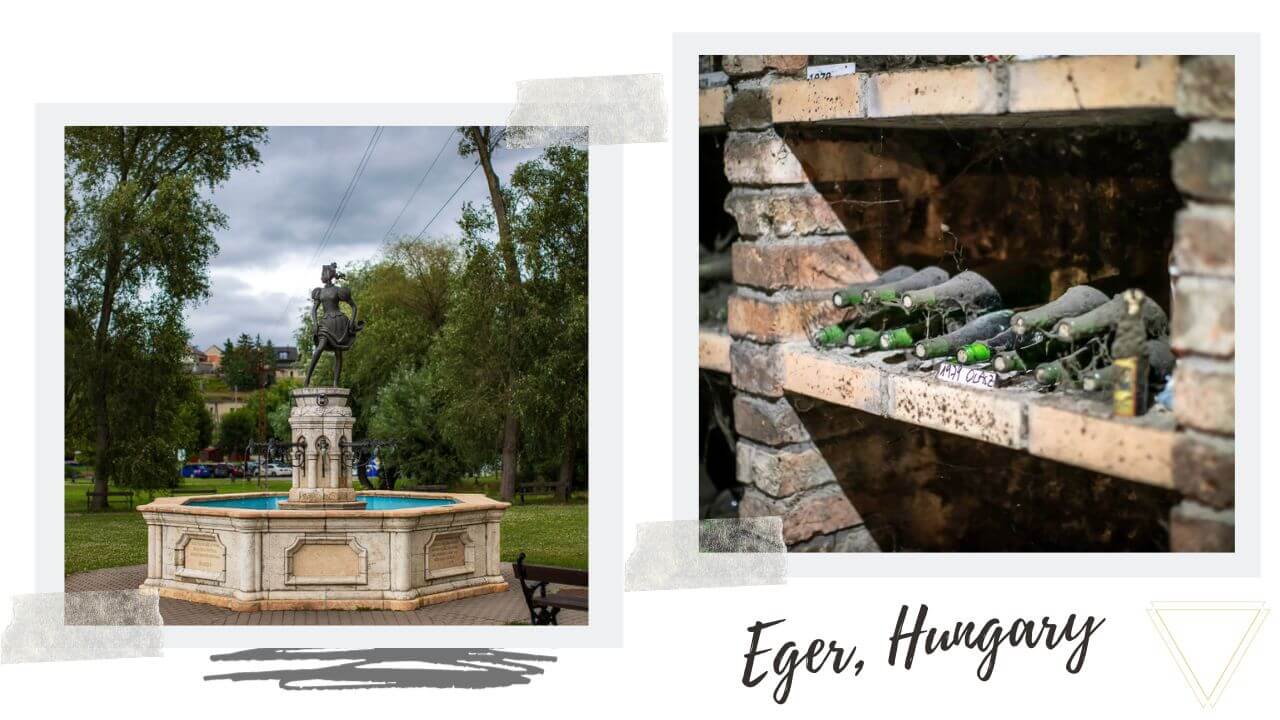 For full transparency, I have sprinkled some affiliate links in this post.  As an Amazon Associate I earn from qualifying purchases that gives me a small commission at no extra cost to you if you decided to make a purchase.  As always, I would never recommend a product or service that I didn't truely believe in.  All proceeds go to keep Jess traveling and coffee ☕️.  I thank you in advance.
Below I have a listed the best things to do in Eger for easy viewing. If you'd like more information on a certain activity, click on the blue links below for a detailed post or vlog of that specific thing to do in Eger.
Eger Castle
Church of Anthony of Padua (Minorite Church)
Wander Old Town
Lyceum Observatory
Eat a Traditional Hungarian Meal
Climb Torok Kori Minaret
Eger Thermal Bath
Dobó István Square
St. Nicholas Church
Egri Road Beatles Múzeum
Day Trips from Eger Quick List
Things to do in Eger, Hungary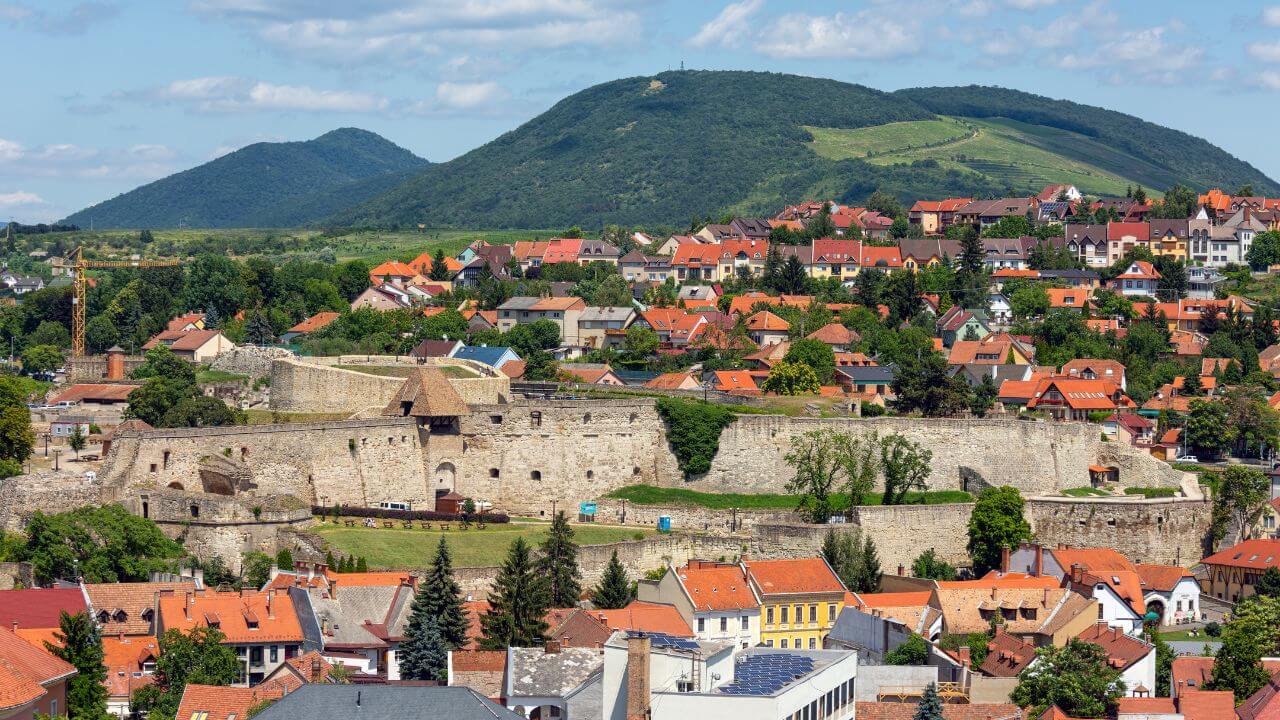 Eger Castle is the most important attraction in Eger. Set atop a hill, this formidable fortress offers breathtaking panoramic views of the city below. The castle is a short walk from the city center.
There is a museum inside, which allows you to delve deeper into the castle's history, showcasing artifacts and exhibitions that reveal the resilience and courage of its inhabitants throughout the centuries. Sometimes you'll even get a show as the staff dresses up as warriors and fire guns at noon.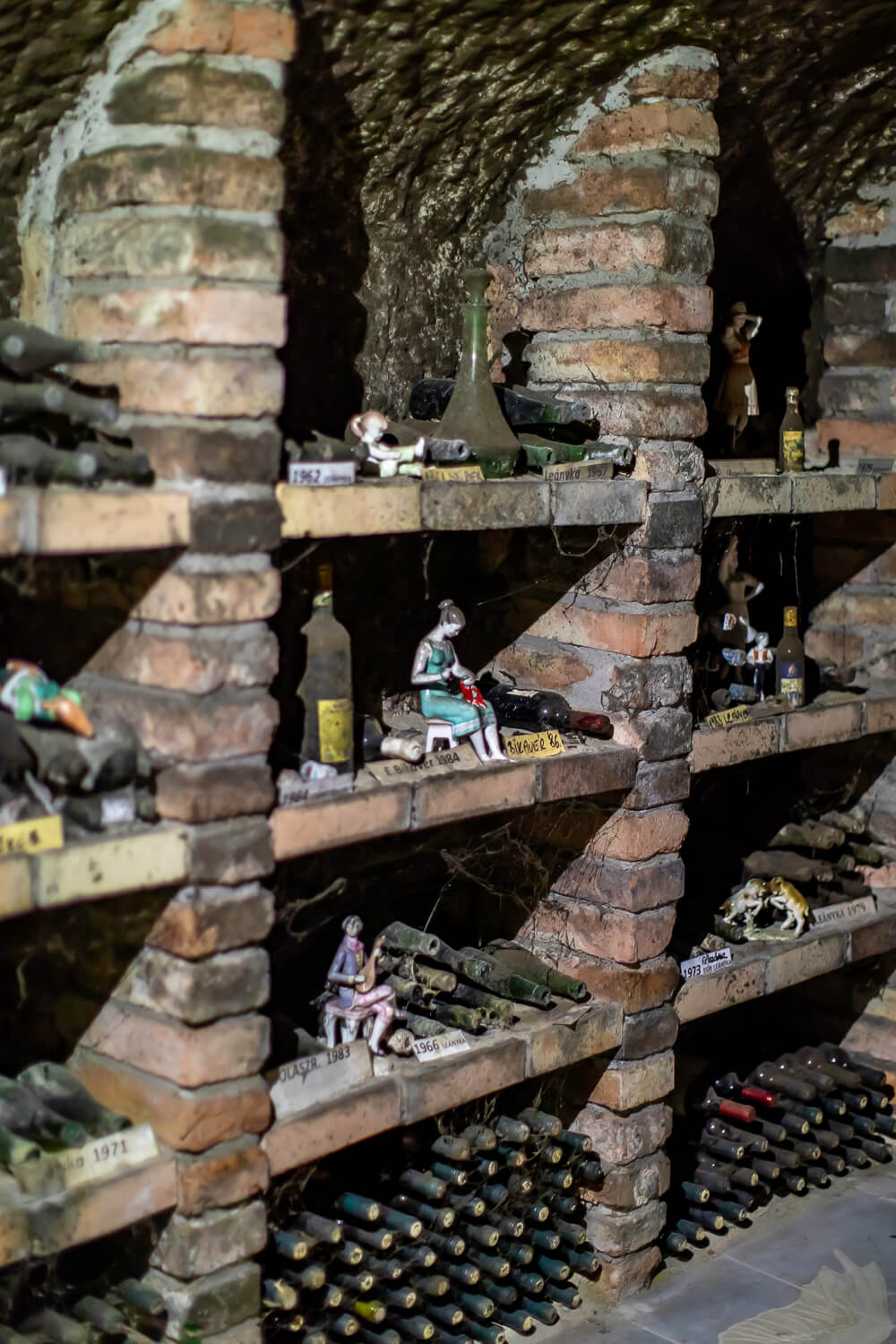 Try Bulls Blood in the Valley of the Beautiful Women
Trying Bulls Blood Wine in the Valley of the Beautiful Women was the reason we came and was my favorite thing to do in Eger. Bulls Blood wine in Eger holds a prominent place in Hungary's winemaking heritage.
Produced in the Eger wine region, Bulls Blood (or Egri Bikavér) red wine is known for its rich and full-bodied character. The name "Bulls Blood" refers to the legend that Hungarian soldiers fortified themselves with this wine before going into battle, as it was believed to give them strength and courage.
Made primarily from the Kékfrankos grape, Bulls Blood wine exhibits deep color and complex aromas of dark fruits, spices and earthy notes. On the palate, it offers a harmonious blend of bold flavors, with hints of black cherry, plum, and tobacco.
Walkable from Eger's Old Town is the Valley of the Beautiful Women. There are a few different stories on how the valley got its name. Some say it's named after a very beautiful woman who sold wine in one of the cellars. Others say the valley was name after a noble lady.
This scenic valley is known for its stunning vineyards, historic wine cellars and of course, its exceptional wines. Spend the majority of the day exploring the different traditional wine cellars, tasting a wide range of local wines and eating some traditional Hungarian food.
Church of Anthony of Padua
Next on our best things to do in Eger list is visiting the Church of Anthony of Padua or as its most commonly referred to as the Minaret Church. Built in the 1700's the Minaret Church is one of the most glorious baroque buildings in the world.
Located in the heart of the city, the church's impressive Baroque style and intricate details immediately capture the eye. The awe-inspiring exterior is adorned with stunning sculptures and elegant domes, showcasing the grandeur of Hungarian religious architecture.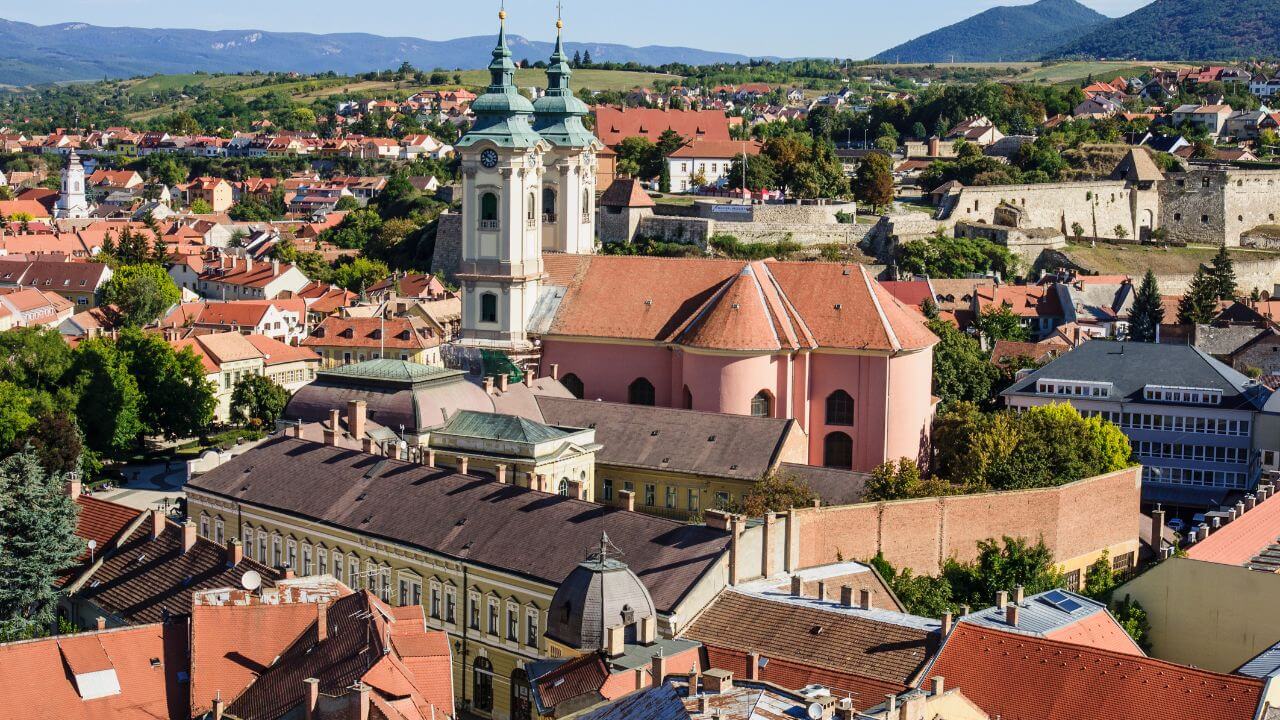 Wandering around Old Town is one of the most enjoyable things to do in Eger. As you stroll through the narrow cobblestone streets lined with colorful, centuries-old buildings, endless tales of the past seem to emerge from every corner.
The town square smells of hearty Hungarian cuisine waft through the air. Old Town is a great place to try out a classic Hungarian dish.
The Lyceum Observatory allows visitors to explore the wonders of the universe. This thing to do in Eger is informative and fun, offering a unique opportunity to gaze at the stars, planets and other celestial objects through its state-of-the-art telescopes.
The "Magic Tower" is located on the upper floors of the College of Eger. You get a little bit of everything here, you get to see the inside of the beautiful building, learn about astronomy, experiment with physics and the rooftop observation area offers a panoramic view of Eger and some of the surrounding countryside.
💡 Travel Tip: Beware of limited opening hours and there is no elevator.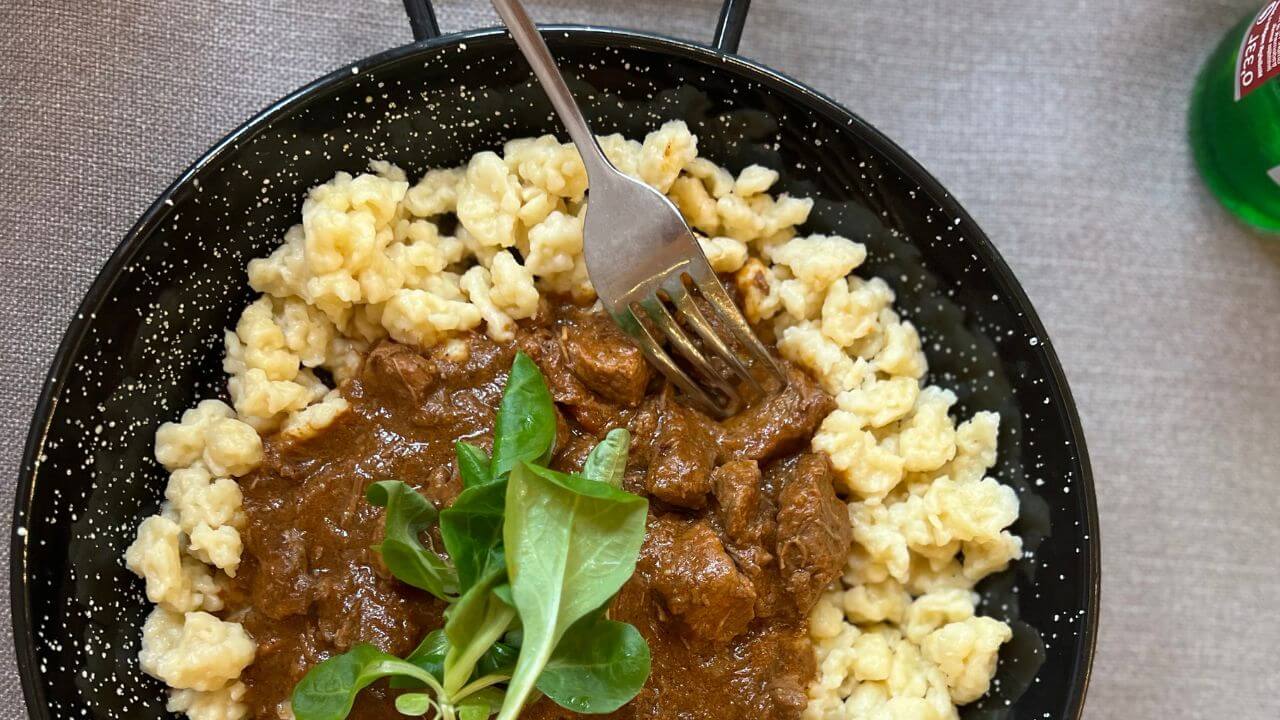 Eat a Traditional Hungarian Meal
You can't visit Hungary without trying a traditional Hungarian meal. The feast typically begins with a hearty vegetable stew brimming with tomato, peppers, and onions, served alongside fresh bread.
The main course often features iconic dishes such as goulash, a rich beef stew with paprika-infused broth, tender meat and root vegetables. For a carnivorous indulgence, one can savor mouthwatering Hungarian sausages, known as kolbász.
No Hungarian meal is complete without a sweet finale, and a slice of layered Dobos torte or a spoonful of somlói galuska, a heavenly trifle layered with sponge cake, whipped cream, and chocolate sauce, promises to leave taste buds dancing with delight.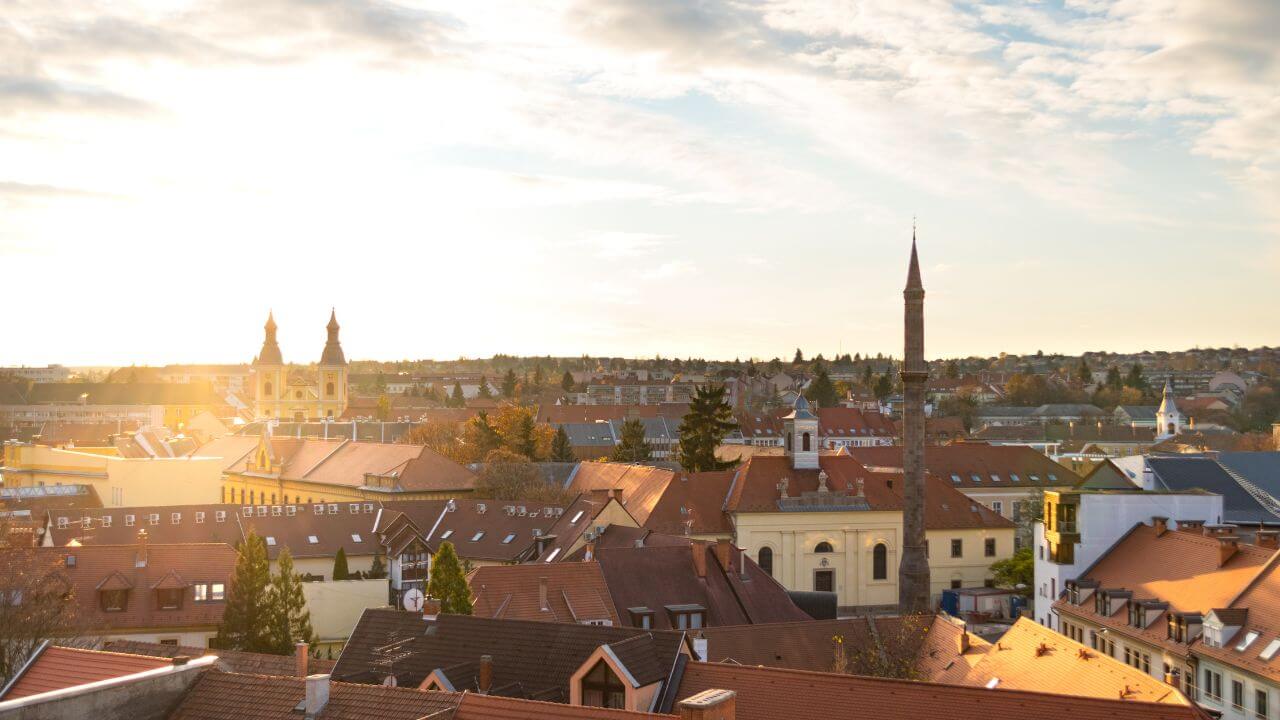 If epic views are a must when you travel, this is one of the best things to do in Eger. Torok Kori Minaret is a historic tower that stands as a symbol of Eger's history and provides epic panoramic views of the city.
But by the Ottoman Turks in the 16th century, the minaret offers a unique glimpse into the city's past. As you ascend the spiral staircase, the ancient stone walls whisper tales of battles and triumphs.
The Eger Thermal Bath is one of the top things to do in Eger. This thermal spa offers travelers a unique and relaxing experience. The bath complex features a variety of indoor and outdoor pools, tube slides and a 17-th century Turkish bath.
Each pool is filled with natural thermal water rich in minerals known for their therapeutic properties. Whether it's the soothing warm waters or the invigorating cold plunge pools, hanging out at the thermal bath in Eger is a real treat.
Dobo Istavan Square is the heart of Eger, and a gathering point for locals and visitors alike. The main square is named after a Hungarian nobleman and hero who played a key role in defending the city from the Ottoman Empire.
The centerpiece of the square is the Dobó István Castle. Surrounding the castle are the charming cobblestone streets lined with cafes, restaurants and shops. The square also hosts various events and festivals throughout the year, including the popular Eger Wine Festival.
St. Nicholas Church is one of the best sights in Eger. This stunning medieval church stands proudly in the heart of the city. The church's Gothic architecture is adorned with intricate stone carvings and delicate stained glass windows.
Inside, the atmosphere is serene and solemn, with the soft light filtering through the colorful windows, creating a peaceful ambiance. As you explore the church, you'll discover beautifully preserved frescoes and intricate woodwork.
The church's tower on the side of the church offers a breathtaking view of the city, with its tiled rooftops and surrounding landscape. A visit to St. Nicholas Church is one of the best attractions in Eger.
The Egri Road Beatles Museum is a must-visit Eger thing to do for any Beatles fan. Located in the historical town of Eger, Hungary, this unique museum pays tribute to the legendary band that revolutionized music.
The museum showcases an extensive collection of Beatles memorabilia, including rare photos, instruments, vinyl records and personal belongings of the Fab Four. When attending this thing to do in Eger, you can immerse yourself in the Beatles' world, learning about their historic converts, iconic albums, and impact on pop culture.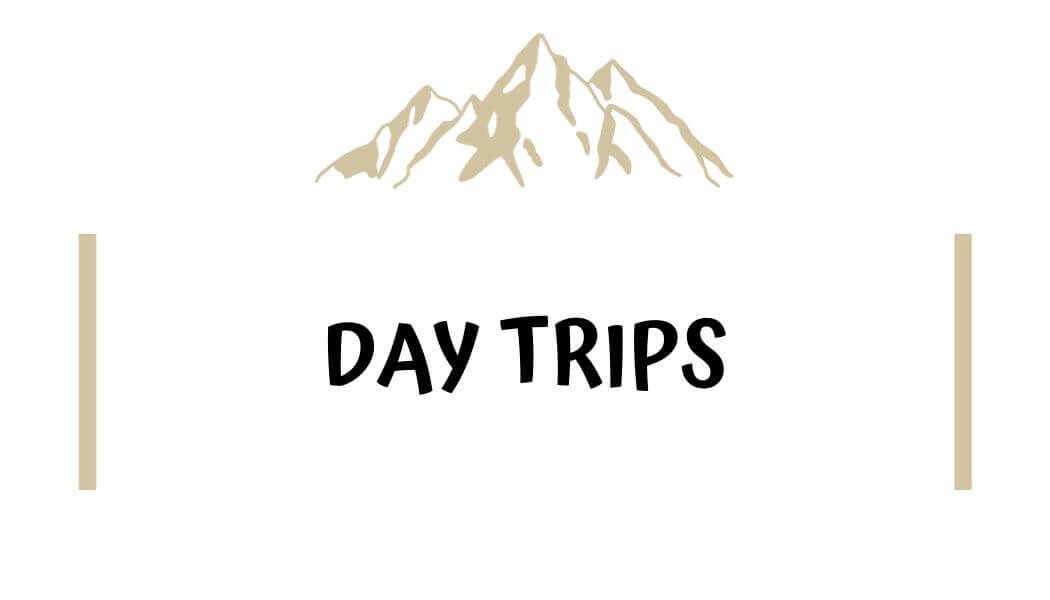 I couldn't write a things to do in Eger post without including a few of the best day trips from Eger. Eger is a small town and you will be able to cover all the Eger activities I listed above in a few days.
If you are staying in Eger for longer and have your own transportation, these day trips are perfect ways to experience the surrounding countryside.
Bükk National Park is one of the best day trips from Eger and appeals to the nature lovers and outdoor enthusiasts. Located in northern part of Hungary, this national park offers picturesque landscapes and outdoor activities.
Hike through the enchanting forest trails, where you'll be surrounded by lush greenery, tranquil streams and charming waterfalls. Don't miss exploring the limestone caves such as the Baradla Cave, which stretches for over 24 kilometers underground.
Okay, so I wanted to include the Cave Thermal Bathes on this list of day trips from Eger because most articles that you read have this tourist attraction listed. Unfortunately, I did not have the best experience here and I wanted to share why.
The Cave Thermal Bathes are located in the nearby town of Miskolctapolca. There are several thermal pools inside and out, the inside representing a cave-like setting.
When I visited these Hungarian thermal baths, it was so crowded that it wasn't worth the experience. I came to these thermal baths mid week, around noon, during the month of July (peak season).
If you are visiting Eger during off-peak season, it may be a different story. Plus, it was an additional fee on top of the entrance fee to enjoy the sauna and cold plunge which is the reasons we came here in the first place. Needless to say, we were pretty bummed out.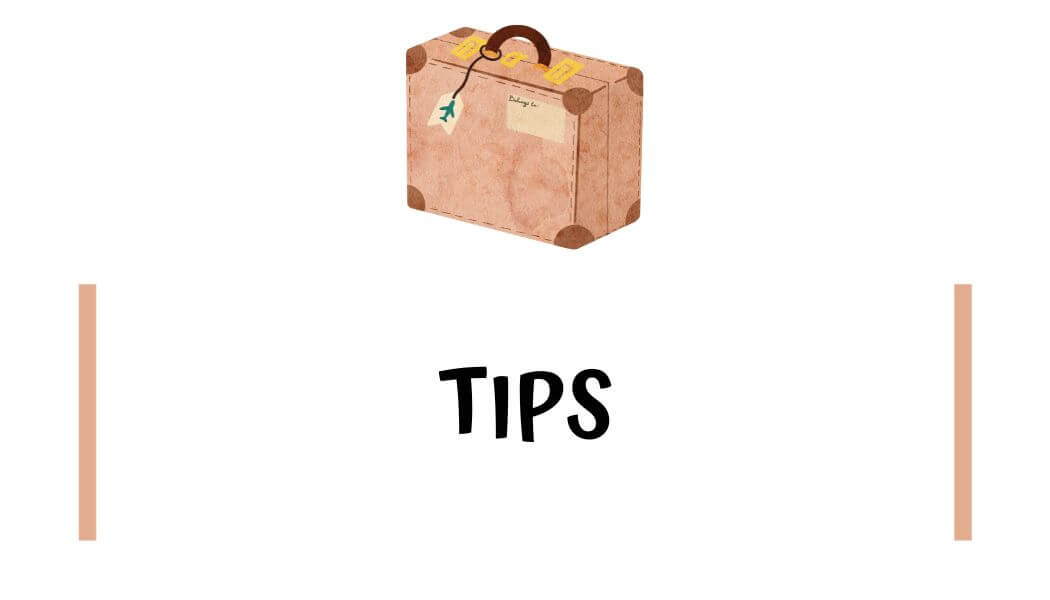 Taking a tour is a great way to learn about the history of Eger. Also if you are short on time, you can visit Eger on a day trip from a popular nearby destination like Budapest. Here are a few Eger tours with great reviews to check out.
📌 Eger Tours:
Would you rather see what it's like to travel Hungary? Joe and I filmed several travel vlogs while we explored this landlocked country. Check them out after you read this post and please subscribe or give us a thumbs up. It doesn't cost you anything and really helps us be able to continue creating free content for you to enjoy 🙂.
🎥 Watch our Hungary series on YouTube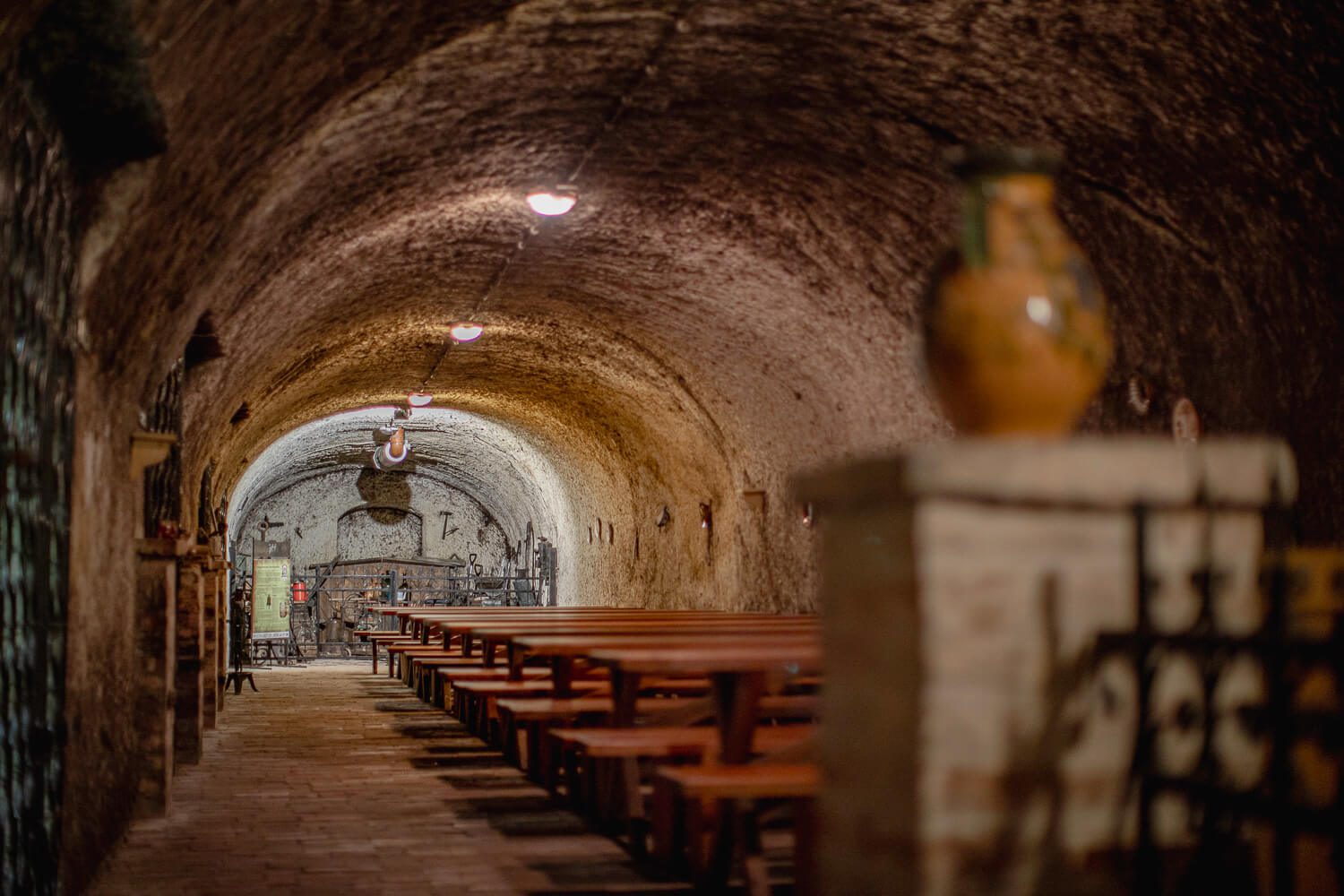 There are a handful of places to stay in Eger that will accommodate every type of traveler and on every type of budget. These are the top picks on where to stay in Eger, Hungary.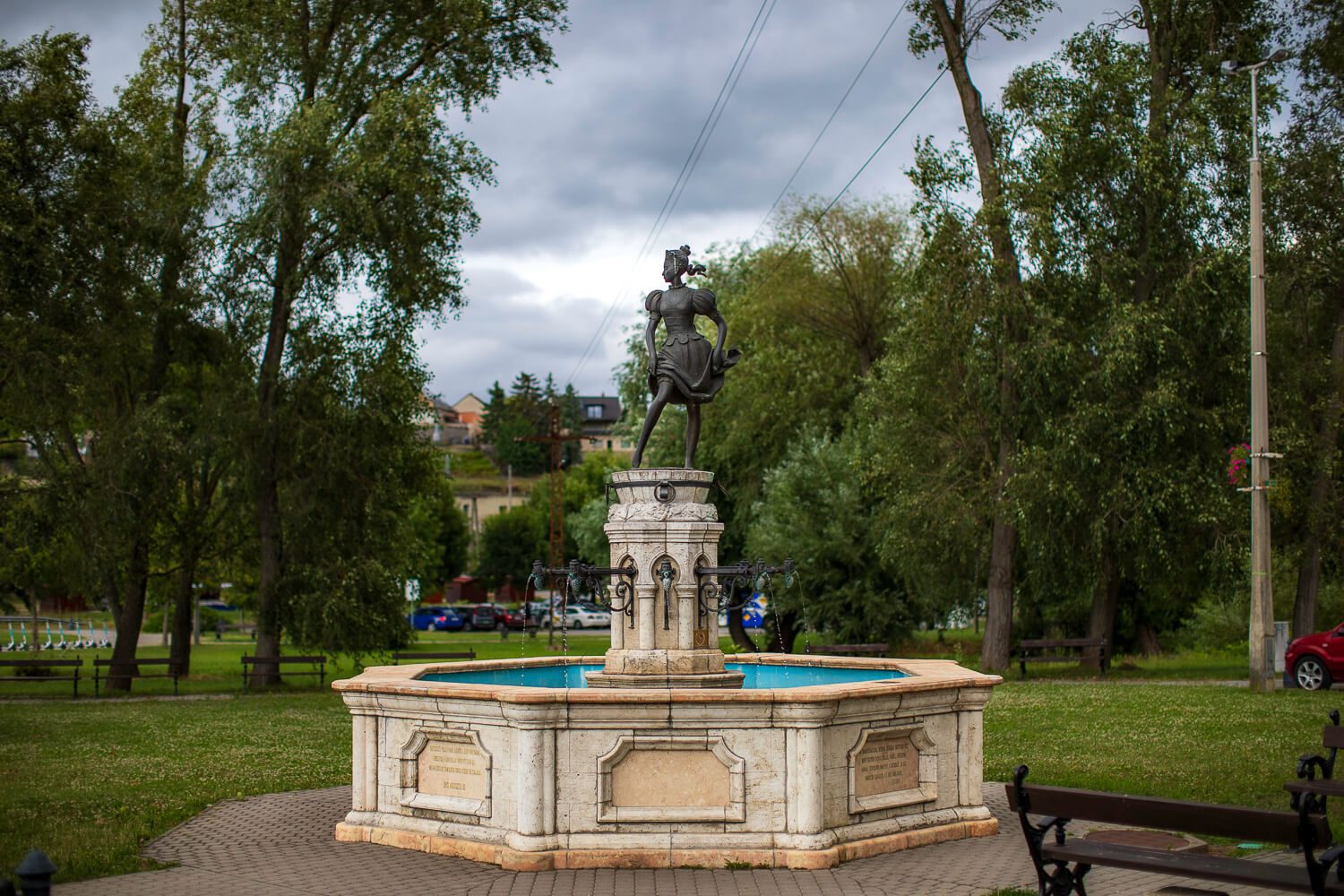 To get to Eger, there are several options available depending on your starting point. Assuming your coming from Budapest, you can either drive, use public transportation or visit on a tour.
If you are coming from Budapest, the most convenient way to visit Eger is to take a train. The journey typically takes around two hours and trains operate frequently throughout the day.
Another option is to take a bus, which offers regular services from Budapest to Eger. The bus journey takes a bit longer, usually around two and a half hours, but it allows you to enjoy the scenic countryside along the way.
If you prefer driving, you can rent a car and take the M3 motorway from Budapest towards Eger. Overall, Eger is easily accessible by train, bus or car.
Eger and the Hungarian countryside are best explored with your own set of wheels.
Visiting Budapest is a MUST! You won't be disappointed with the grand architecture and refreshing thermal bathes.
Don't forget to bring Bull's Blood Wine home for the holidays.
Hungary is a well-connected country that offers a range of onward travel options for visitors. The popular capital city, Budapest, is easily accessible from Hungary's major cities by train or bus.
Hop on the train for 2 and a half hours to reach Vienna, Austria. Known for its imperial palaces, classical music and vibrant coffeehouse culture.
A quick one hour train ride and you'll reach the charming city Bratislava, Slovakia.
Head South to Belgrade, Serbia to start your Balkan adventure.
Press East and learn about Dracula in Romania.
Travel 8 hours South to Zagreb to start your Croatian adventure.
For those seeking more distant adventures, flights from Budapest provide convenient access to destinations across Europe and beyond. Hungary is the perfect gateway to a range of enticing destinations, offering travelers an abundance of opportunities for onward travel.
Those are the best things to do in Eger. If you found this article useful let your fellow travelers know in the comments below ↓
Traveling Hungary? Check out these guides for inspiration and trip planning.
Best Things to do in Budapest
Where to Stay in Budapest (Best Areas & Hotels)
Best Hotels in Tokaj
Enjoy this Post?!?! Pin in for Later ↓