Gjirokaster is a charming city located in southern Albania. Nicknamed the 'Town of a Thousand Stairs', there are plenty of things to do in Gjirokaster that a visit to this medieval city will be worth the climb.
Known for its preserved old-world charm and white Ottoman-era buildings, exploring Gjirokaster will transport travelers back to another time. Narrow cobbled streets flow through a maze of white-washed houses and walking through the narrow alleys of the Old Bazaar is a must-do activity in Gjirokaster.
One of the major highlights is exploring the Gjirokaster Castle. This impressive fortress dates back to the 12th century and offers breathtaking panoramic views of the city.
Is Gjirokaster worth visiting? In this article, I'll go over what to do in Gjirokaster, list the best day trips from Gjirokaster and at the end of this post I'll also include some practical information that will aid you in your trip to this UNESCO World Heritage Site.
Including where to stay, how to get there, what to pack and any useful tips to know before you go. You'll quickly find out that, yes, Gjirokaster is definitely worth a day or two on your Albania itinerary.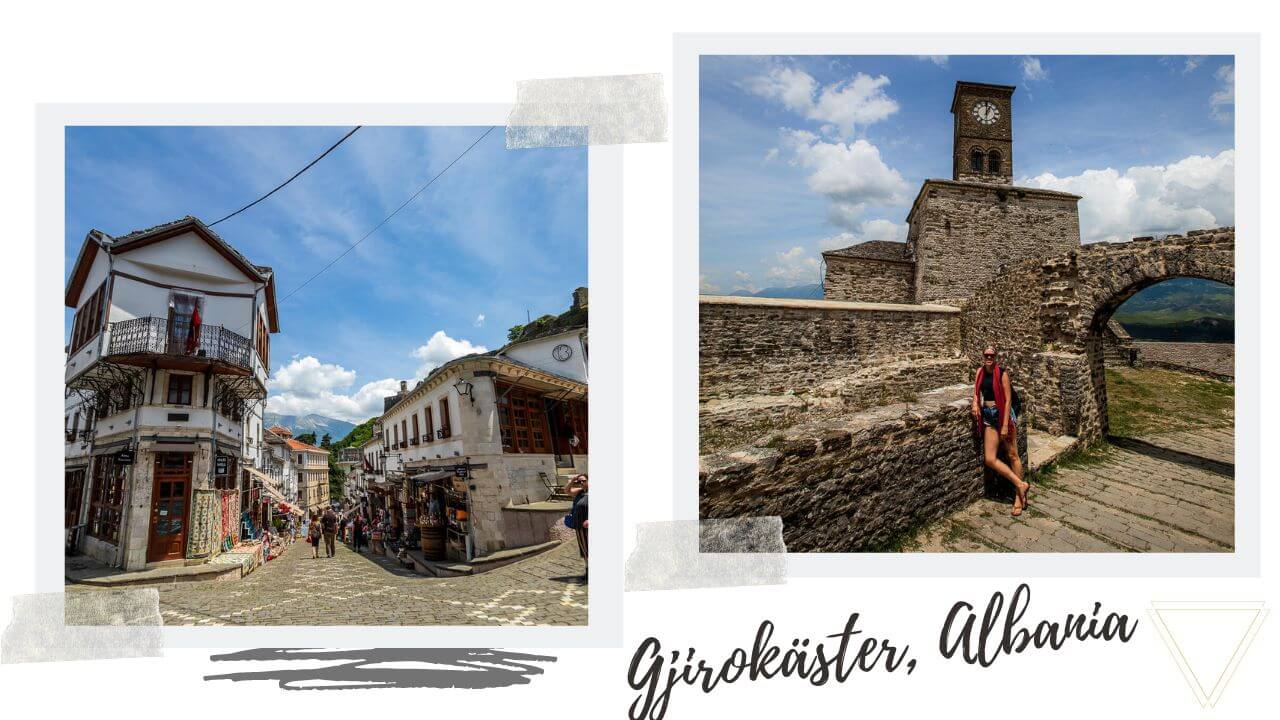 For full transparency, I have sprinkled some affiliate links in this post.  As an Amazon Associate I earn from qualifying purchases that gives me a small commission at no extra cost to you if you decided to make a purchase.  As always, I would never recommend a product or service that I didn't truely believe in.  All proceeds go to keep Jess traveling and coffee ☕️.  I thank you in advance.
Below I have a listed the best things to do in Gjirokaster for easy viewing. If you'd like more information on a certain activity, click on the blue links below for a detailed post or vlog of that specific thing to do in Gjirokaster.
Explore Gjirokaster Castle
Learn about the History of Gjirokaster inside Gjirokaster Museum
Tour the Cold War Tunnel
Wander the Old Bazaar
Take a Peak at the Bazaar Mosque
Skenduli House
Eat at Odaja Restaurant (Skip to 5:48)
Watch Sunset from atop the Hill in the Manalat District
Visit the Ali Pasha Bridge
Zekate House
Ethnographic Museum
Explore the Surrounding Area with your own Wheels
Day Trips from Gjirokaster Quick List
Would you rather see what visiting Gjirokaster is like? We filmed a few vlogs during the few days that we were in Gjirokaster which you can check out above.
Best Things to do in Gjirokaster, Albania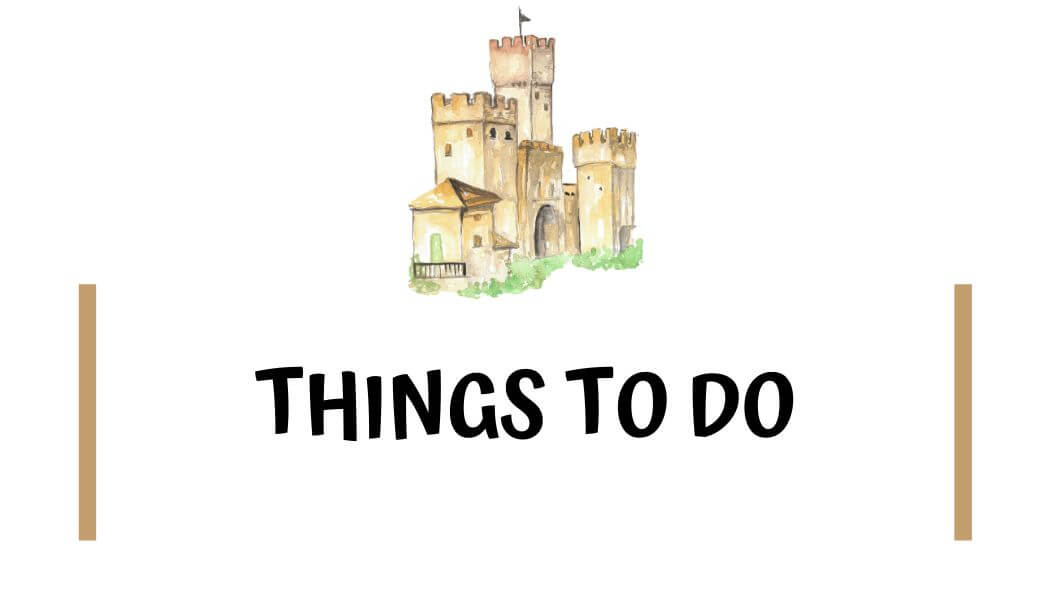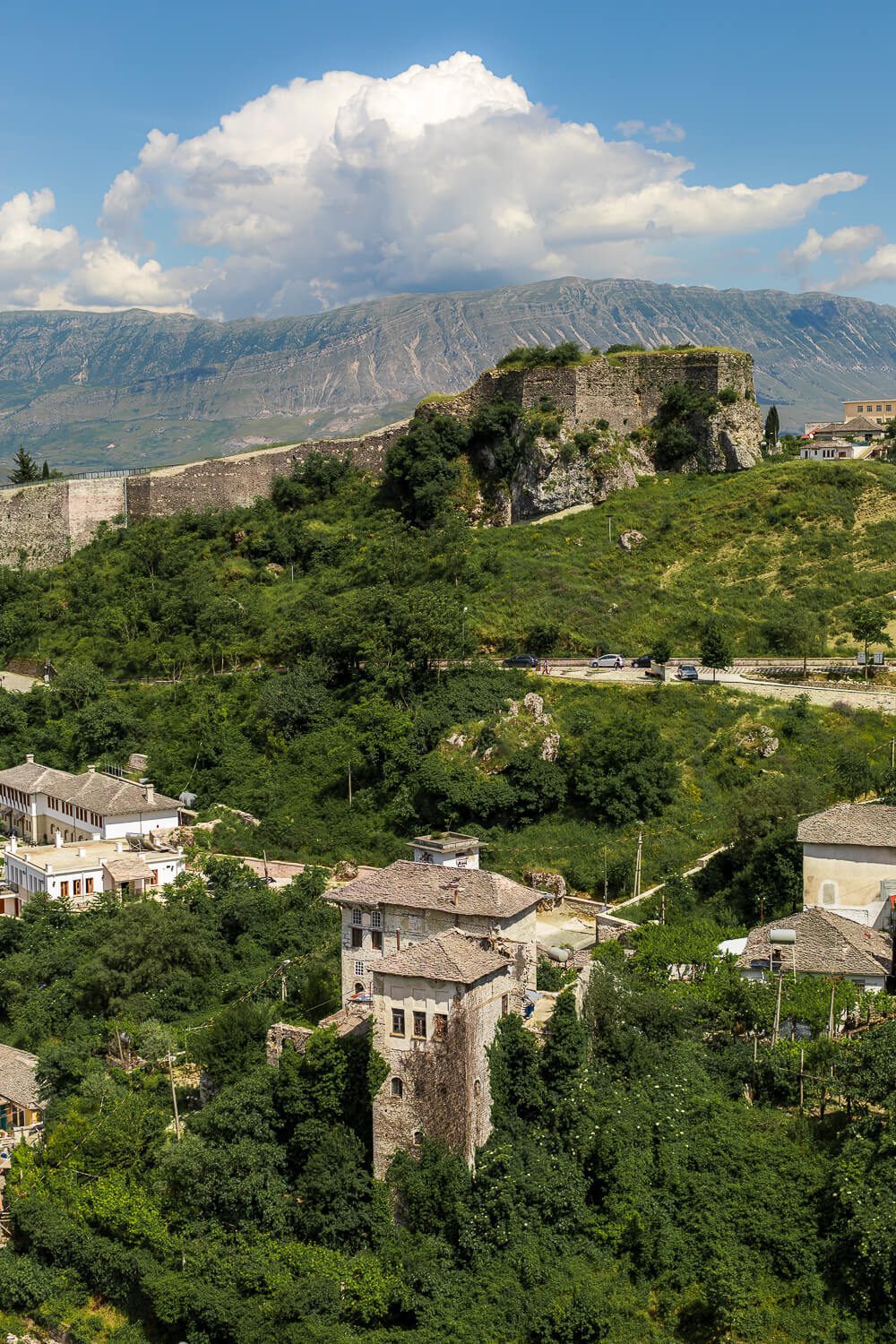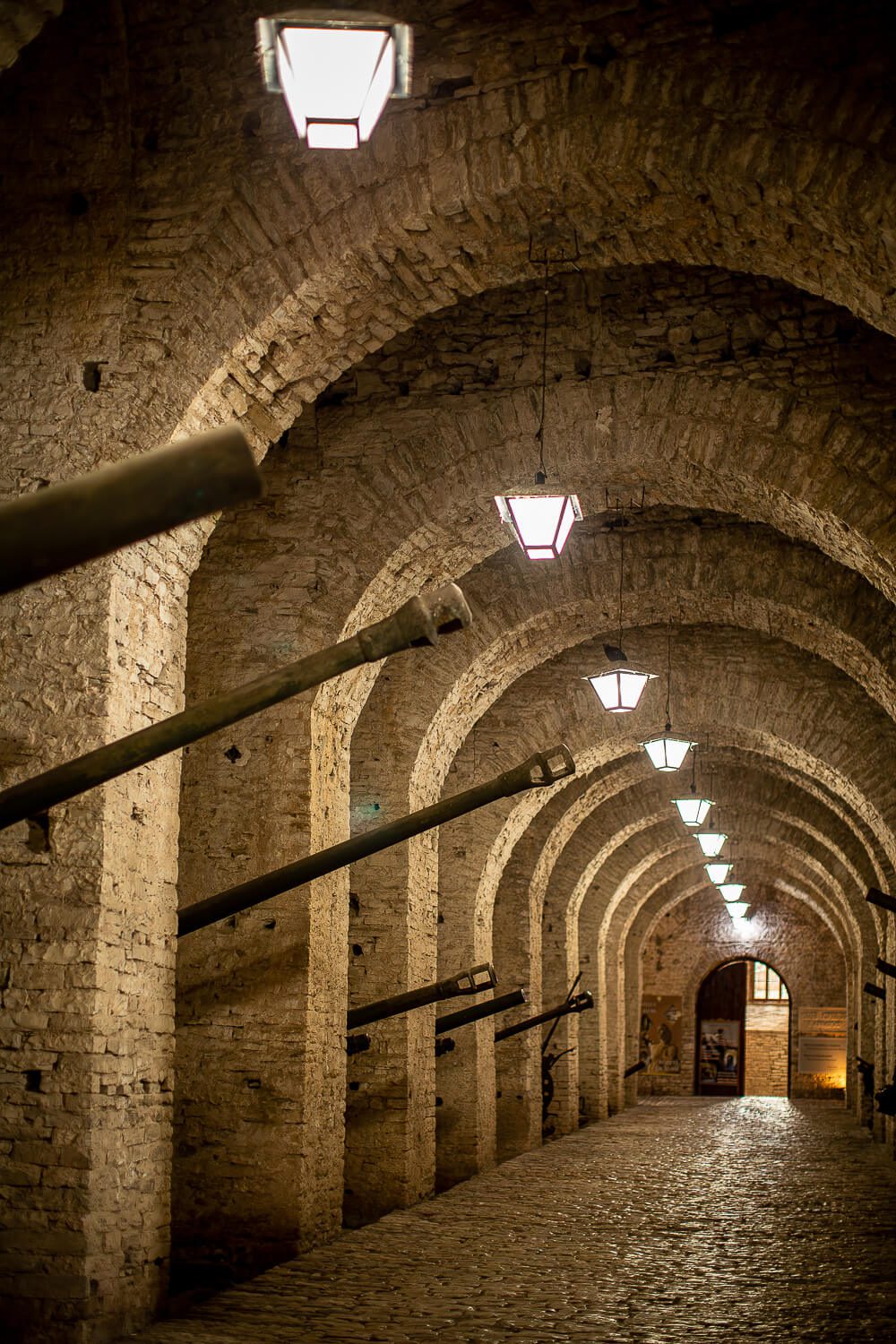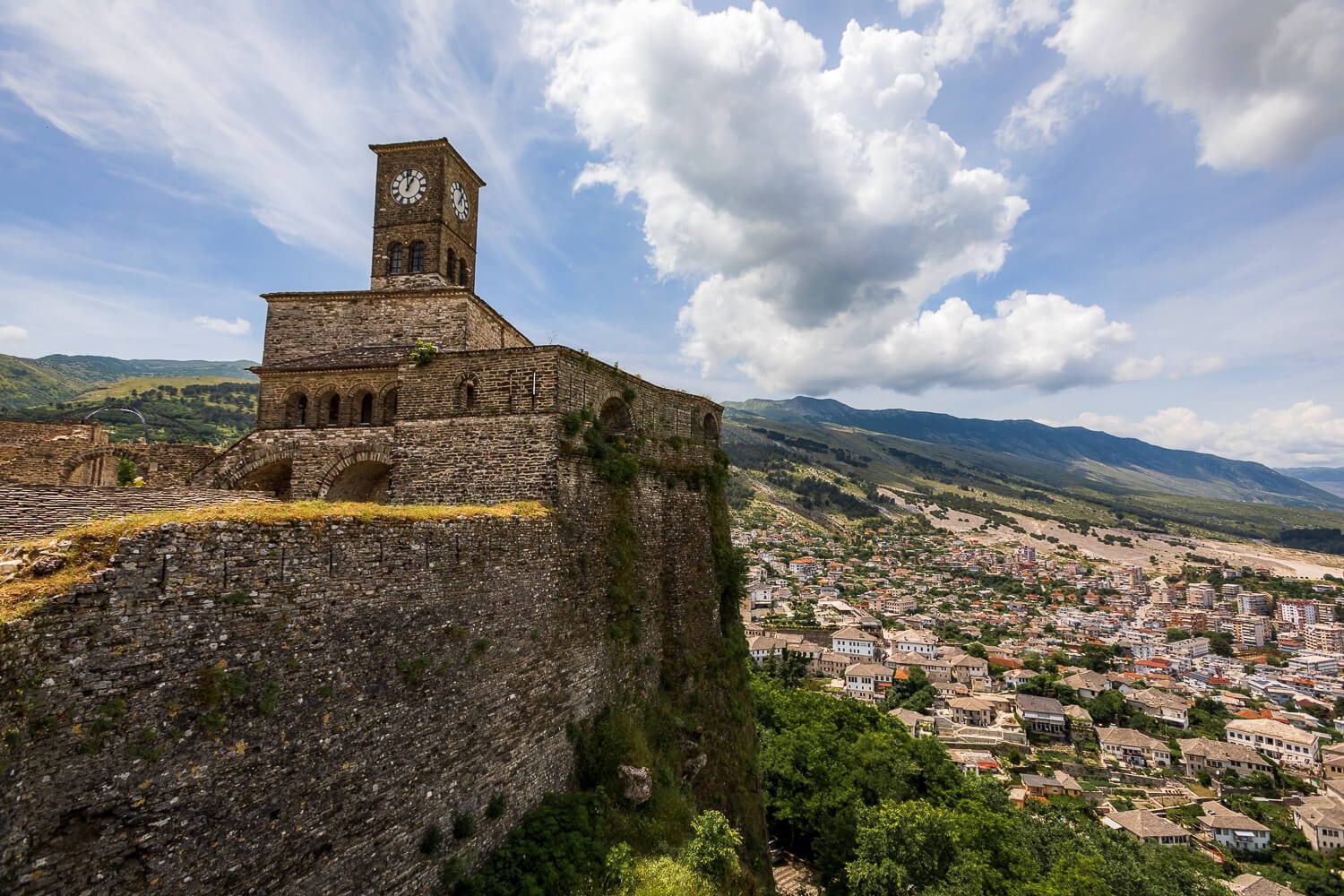 Explore Gjirokaster Castle
The most popular thing to do in Gjirokaster is to explore the Gjirokaster Castle. This fortress is a magnificent structure that is steeped in history and offers a fascinating glimpse into the past.
Aside from the historical significance, the castle also offers breathtaking views of the city and surrounding landscapes. Situated on a hilltop, the castle provides panoramic vistas that are truly awe-inspiring.
As you explore the castle grounds, you'll find a bell tower, a museum which we'll talk about in the next section and there's even an abandoned USA Aircraft.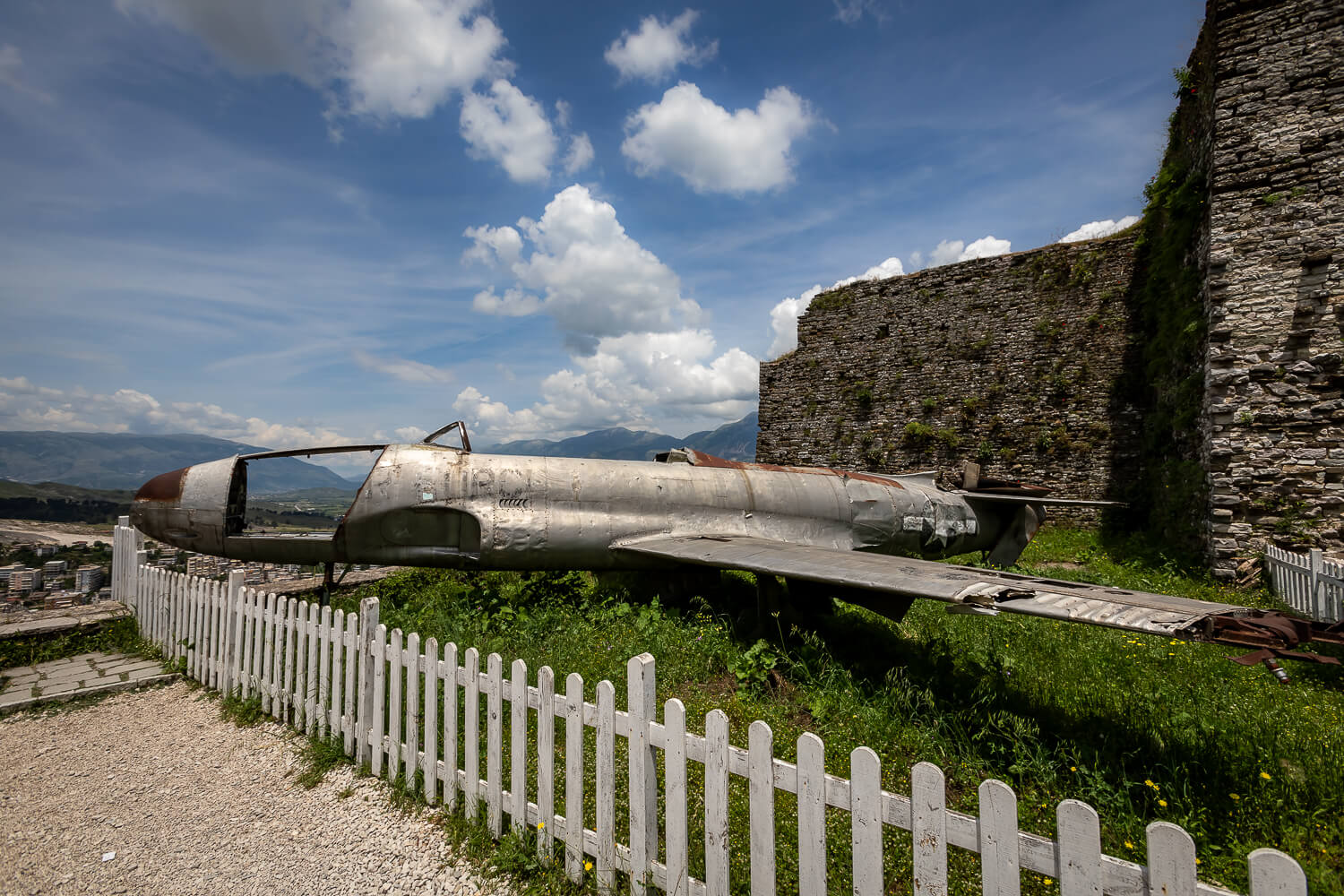 The American Air Force plane has two sides of a story to why it is there – the American side and the Albanian side. The Americans side of the story states that the pilot had to make an emergency landing due to fog but the Albanians say that it was a USA spy plane and they forced it to land. Which one do you think is true?
The castle costs 400 lek (about 4 USD) to enter and whether you're a history enthusiast, a photography lover or simply interested in immersing yourself in the beauty of Albania, the Castle of Gjirokastra is a must see in Gjirokaster.
✏️ Quick Facts: Entrance fee is 400 lek. Opening Hours are Monday through Sunday 9am – 6pm.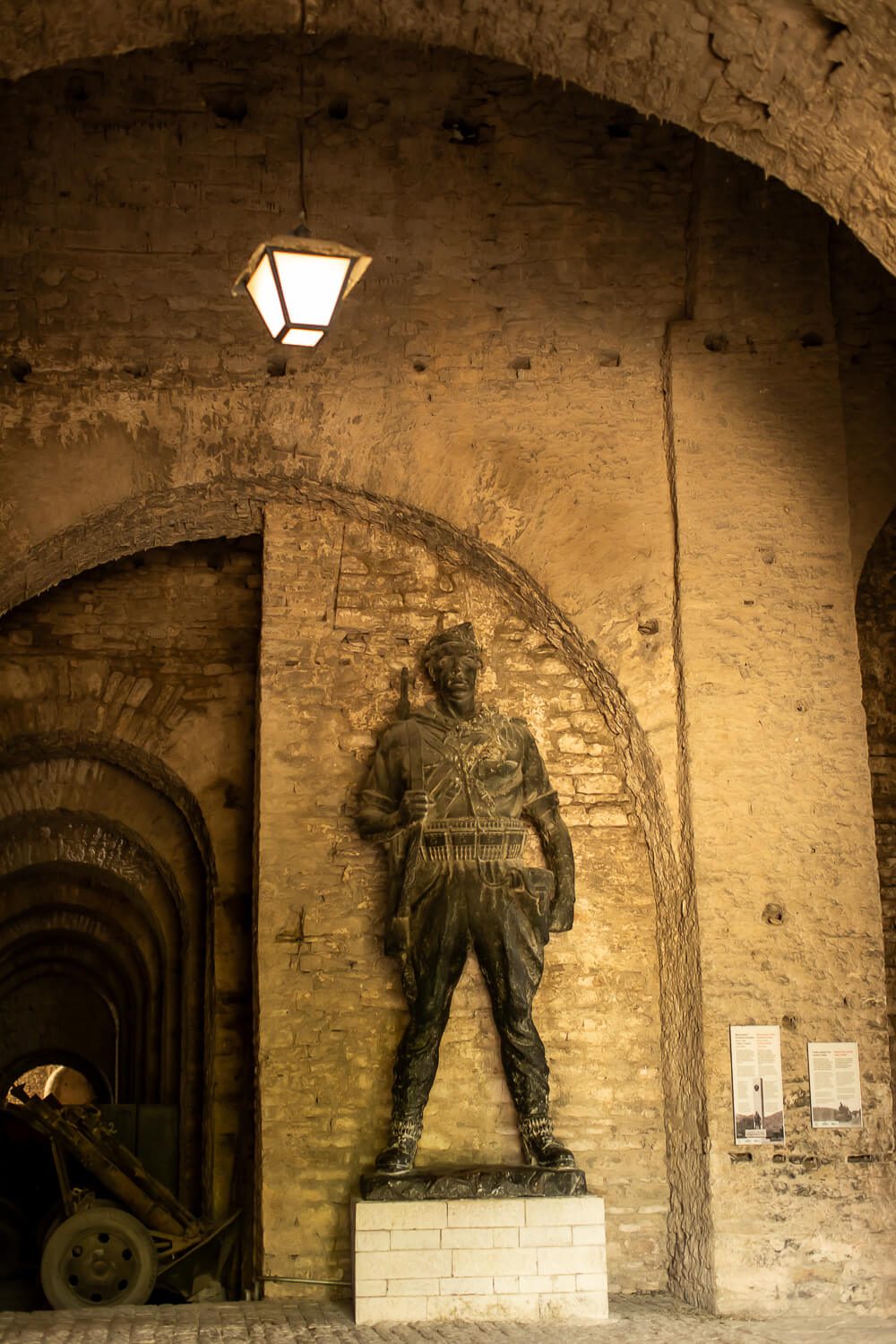 Inside the castle walls, you'll find the Gjirokaster Museum, which houses a diverse collection of artifacts and exhibits that span several centuries. From artifacts and weapons to traditional clothing and jewelry, the museum showcases the evolution of Albanian culture over time. It costs an extra 200 Lek to enter on top of the entry fee for the castle.
Another one of the most popular things to do in Gjirokaster is tour the Cold War tunnel. Located 30 meters beneath the fortress, the only way to view the Cold War tunnel is on a tour which cost 200 Lek.
Constructed in the 1960's, the tunnel was part of a secret network of underground bunkers and tunnels that were built to protect the ruling Communist Party in the event of a nuclear attack. The crazy thing is, this tunnel wasn't discovered til the early 90's.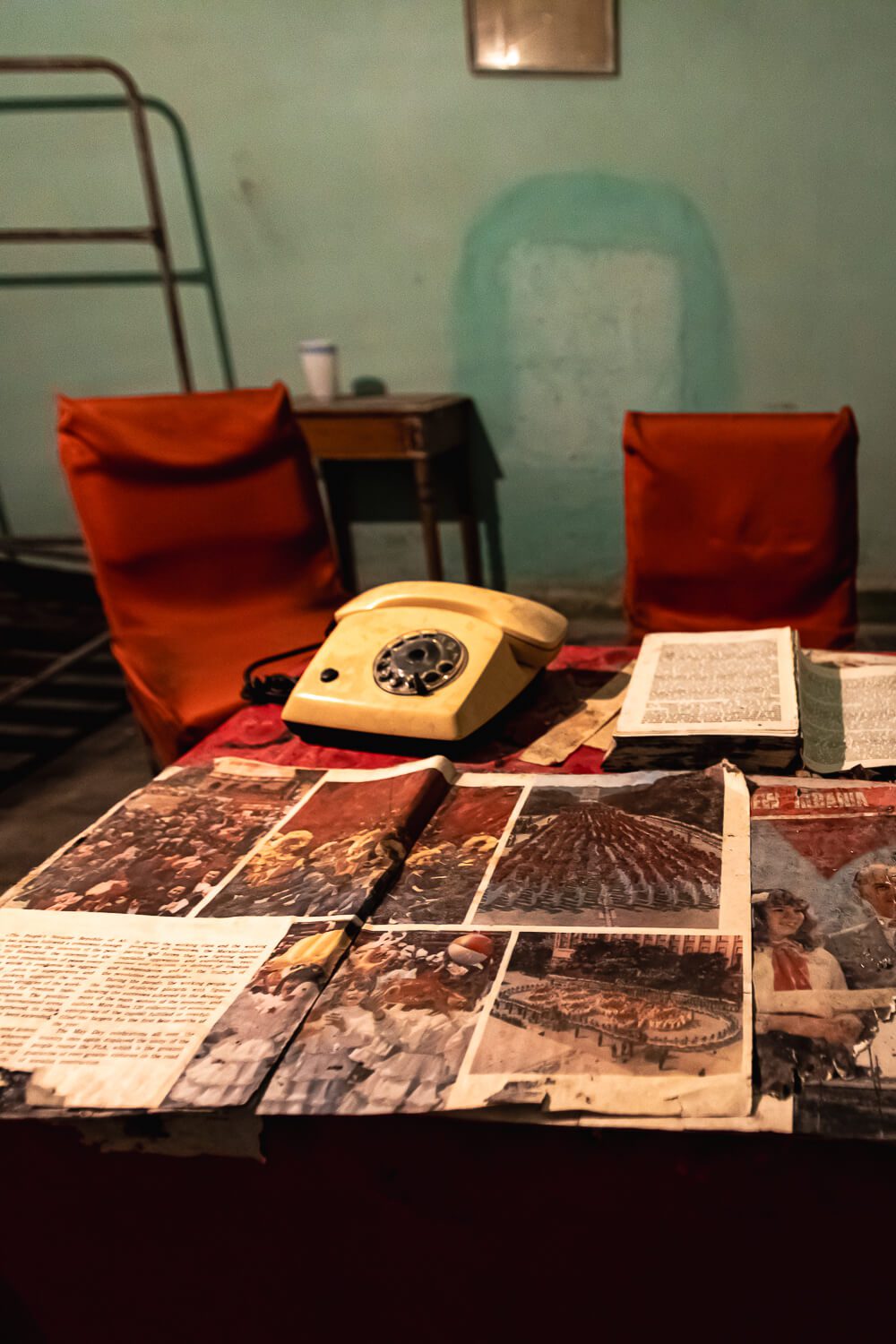 Now visitors can explore a section of the Cold War tunnel, which features original equipment like communication devices, maps and gas masks. Although most of the items in the tunnel were stolen when the tunnel was discovered, as our tour guide put it "This is Albania", it's still interesting to check out. It's also a pleasant, cool escape from the relentless summer heat!
✏️ Quick Facts: Tours are available between 9am-5:30pm and depart from the Tourist Information Office. The tour lasts about 20 minutes and costs 200 lek per person.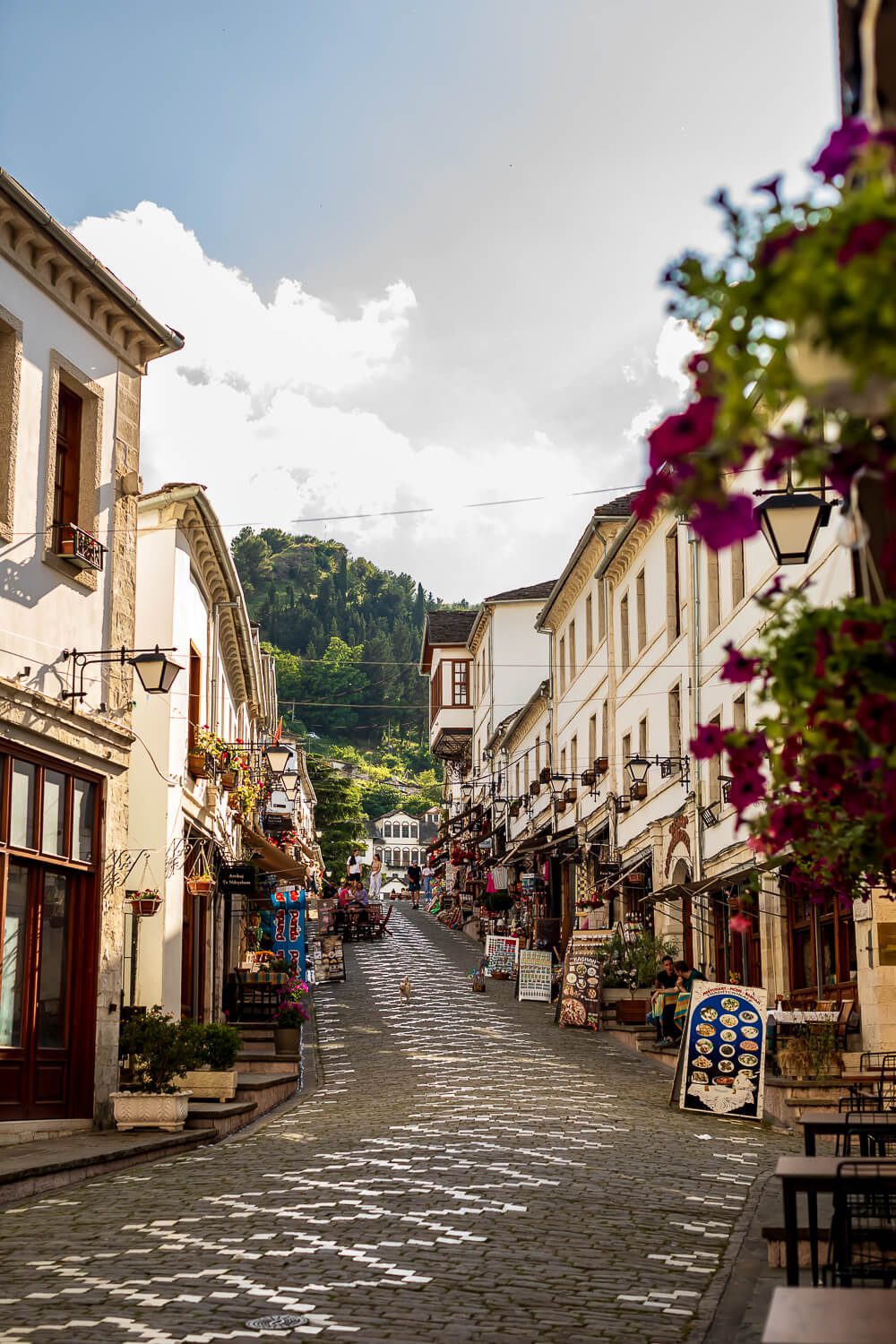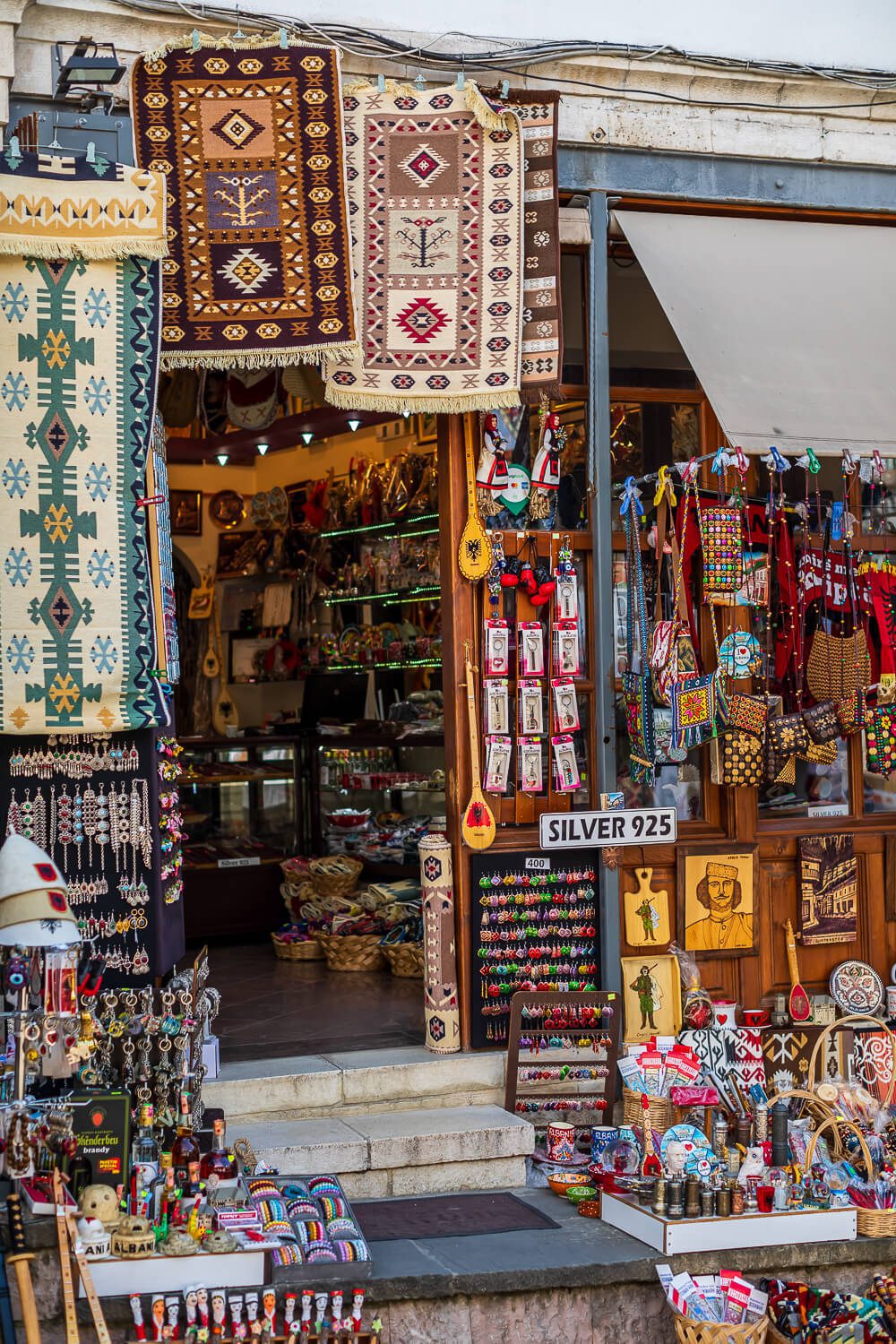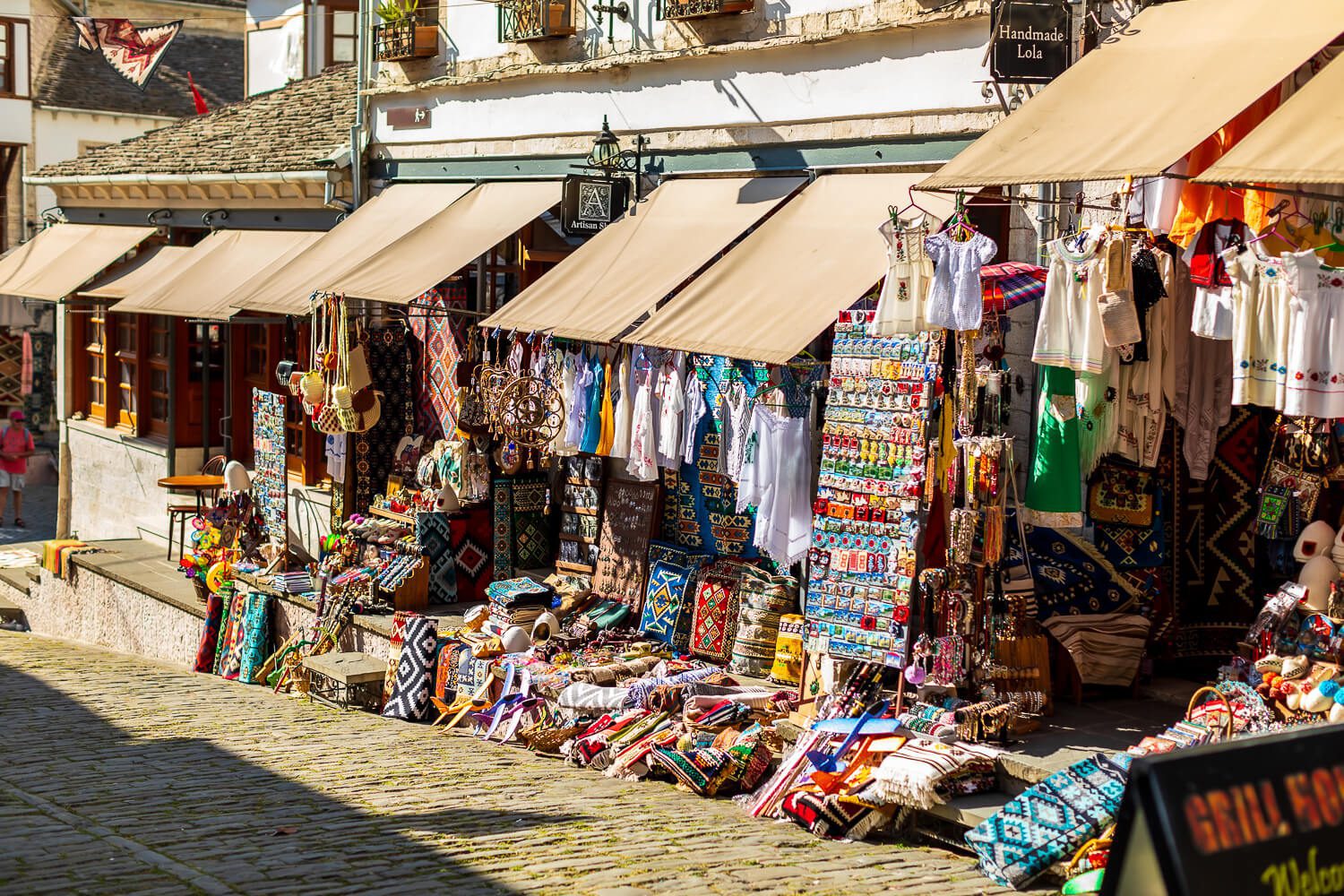 Wandering the narrow streets of the Gjirokaster Old Bazaar is a great way to spend an afternoon and one of the best things to do in Gjirokaster. This captivating destination will take you on a journey through time. Strolling through its ancient cobblestone streets, you'll be immersed in a medley of sights, sounds and aromas.
The old town market showcases a vast array of traditional Albanian crafts, vibrant textiles, local produce and numerous cafes and restaurants. This is the best place in Gjirokaster to pick up some souvenirs or simply spend an afternoon people watching and enjoying a glass of homemade wine. The lively atmosphere, friendly locals and timeless ambiance make this a must do in Gjirokaster.
Take a Peak Inside the Bazaar Mosque
While you are strolling around the Old Bazaar take a peak inside the Gjirokaster Mosque or Bazaar Mosque. Dating back to the Ottoman era, inside the mosque, you can appreciate the unique blend of Ottoman and Albanian architectural elements.
🕌 Travel Tip: Remember to dress appropriately when entering mosques. Women are required to cover their heads. Hijab's are inexpensive, beautiful and can be purchased many places throughout the bazaar. I always carry one with me.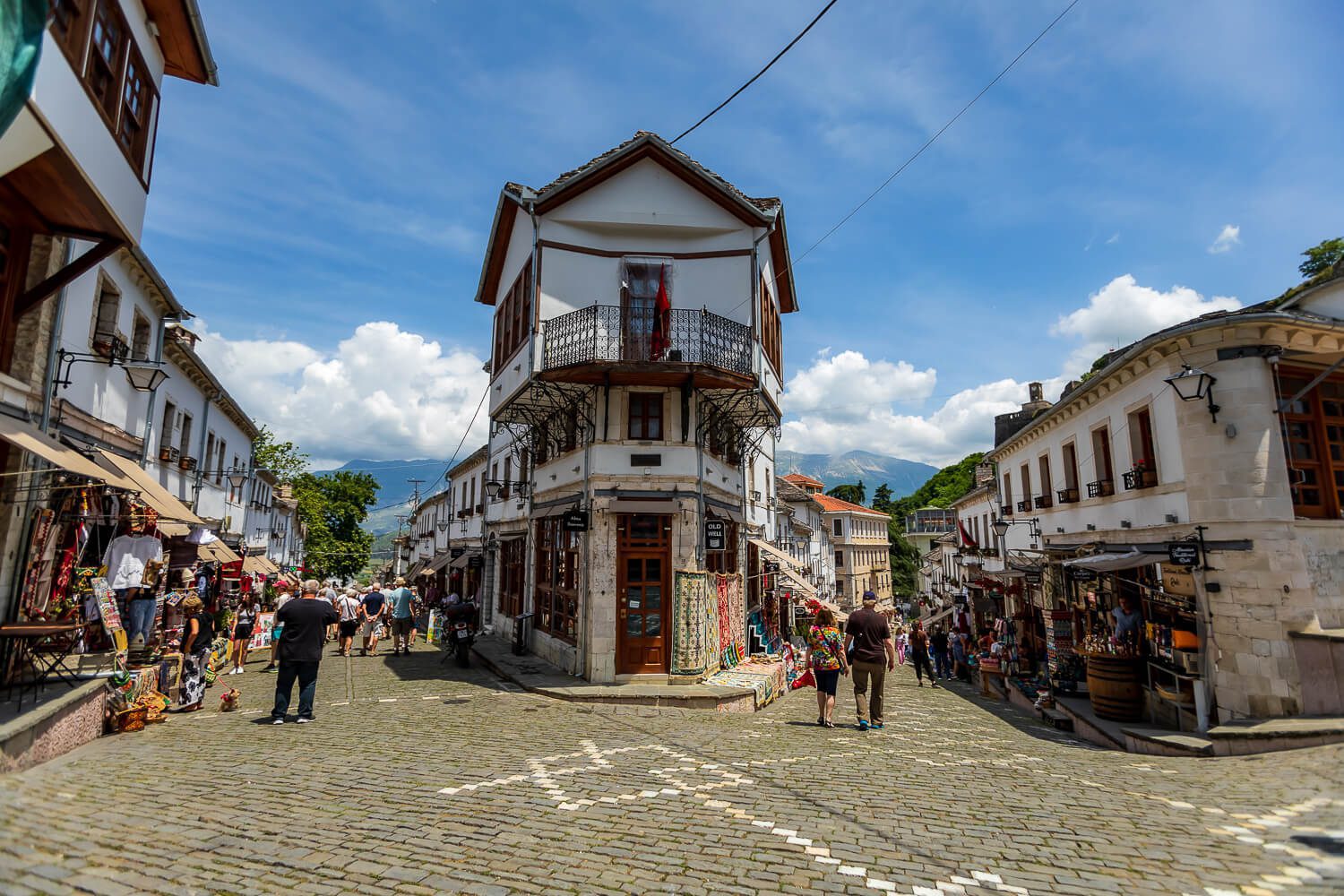 The Skenduli House is a historic house, dating back to the 19th century, is a prime example of Ottoman architecture and offers a glimpse into life during this time period. The beautifully preserved interior boasts intricate woodwork, hand-painted ceilings and traditional furnishings.
Aside from the architecture and design, the Skenduli House also offers you the opportunity to learn about the daily life of the people who lived there during this time. Each room is staged with authentic artifacts and household items.
This lovingly restored house has been in the hands of the same family for many generations and chances are a family member will be showing you around the house. The many windows offer good views over the city.
✏️ Quick Facts: Skenduli House is open from 9am-7pm. Entrance with a guided tour costs 200 lek per person.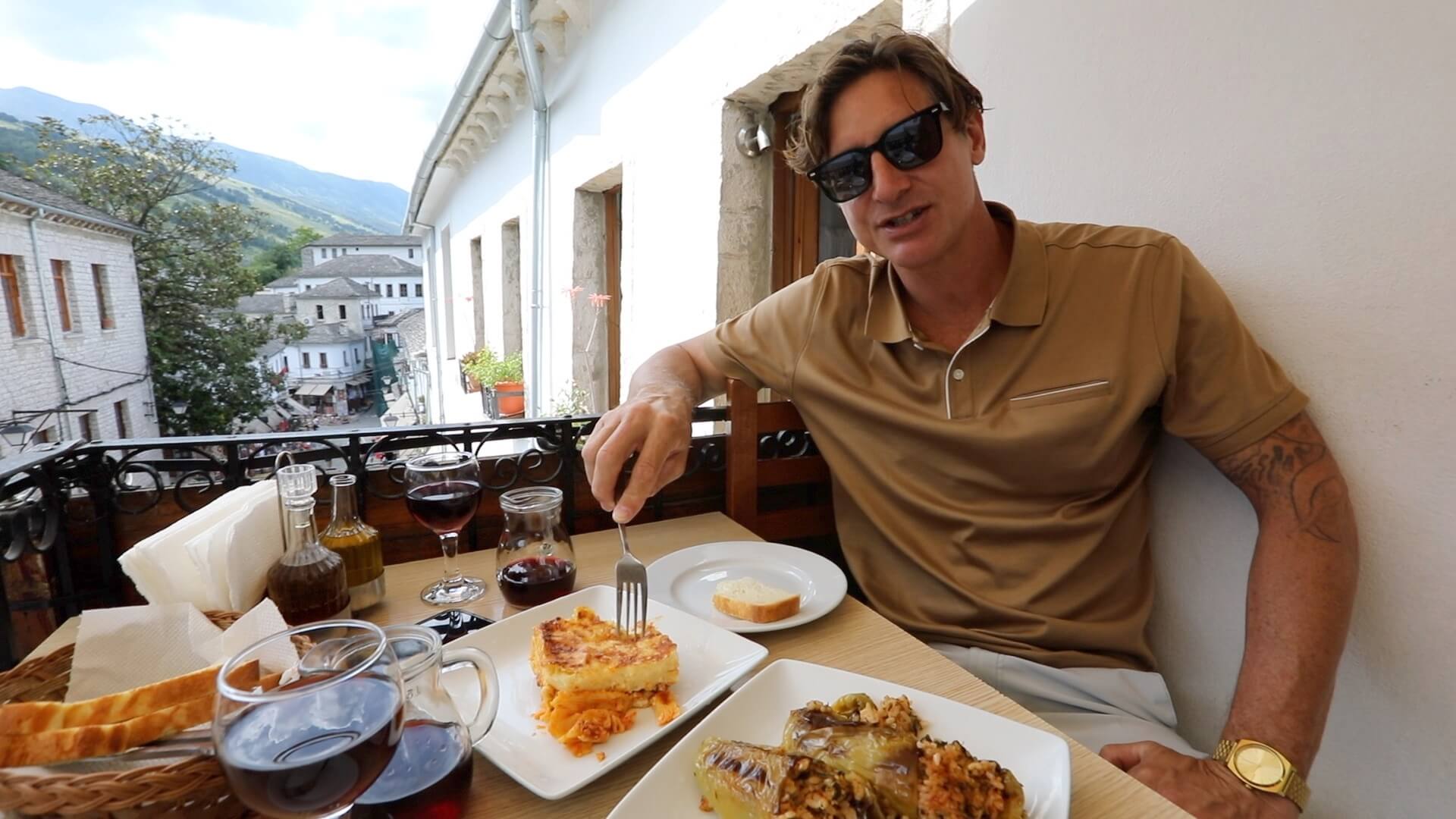 Eat a Traditional Meal at Odaja Restaurant
If you are looking for a traditional Albanian meal, eat at Odaja Restaurant. This cute family owned establishment serves up tasty dishes and has prime location in the midst of the Old Bazaar or Gjirokaster Old Town.
Must try items include the meatballs and moussaka. They also serve a tasty homemade wine for $2.50 a glass and orange cake for dessert 🤤.
🍜 Other Gjirokaster Restaurants to try include Gjoça and Kujtimi.
Take a Traditional Albanian Vegetarian Cooking Class
Since we're on the topic of food, another tasty thing to do in Gjirokaster is to take a vegetarian Albanian cooking class. On this tour, you'll learn how to make three traditional Gjirokaster dishes – Qofte bobollaqe, Qifqis and the desert called Hasude.
Watch Sunset from atop the Hill in the Manalat District
The Manalat District is the hilly portion of Gjirokaster that offers paralleled views of the castle and epic sunsets. If you are staying in this district, catching sunset here will be an easy thing to do in Gjirokaster. If you are staying closer to the bazaar, prepare for a steep climb up as you try to find the perfect viewing spot.
Visit the Ali Pasha Bridge
If you don't mind a sweaty climb, another Gjirokaster activity is to hoof it to the Ali Pasha Bridge. Its about a 45 minute walk uphill to reach the bridge or rather aqueduct.
This landmark serves as a testament to the ingenuity of its builders at the time. If you are traveling to Albania during peak season in the summer, bring lots of water and sunscreen.
Another activity in Gjirokaster is checking out the Zekate House. Much like the Skenduli House that I mentioned earlier, the Zekate House is an incredible three-storey house that dates back to the early 1800's.
It has twin towers and a double-arched facade, complete with carved wooden ceilings, stained-glass windows and detailed frescoes. To get here just follow the signs past Hotel Kalemi, one of the best places to stay in Gjirokaster.
Another museum in Gjirokaster to visit is the Ethnographic Museum. Built on the site of Enver Hoxha's former house, this museum showcases a collection of artifacts that reflect the history and daily life of the people of Gjirokaster.
✏️ Quick Facts: Ethnographic Museum is open from 9am-6pm during peak season and 10am-4pm during off season. Entrance fee costs 200 lek per person.
Take a Wood Crafting Workshop
If you want a souvenir that's personal and unique, take a wood crafting workshop and make your own. In this workshop, you'll learn about this local tradition and how to make small wooden objects such as necklaces or key chains.
Explore the Surrounding Area with your own Wheels
If you have your own transportation or rented a car in Albania, you must explore the surrounding area at your own pace. There are a few days trips to take that I talk about in the next section but the drive to Gjirokaster is beautiful in itself. Head down on SH4 and turn up SH78, to drive the winding mountain road around Gjirokaster that offers stunning vistas of the picturesque landscape.
Ironically, most people visit Gjirokaster on a day trip itself either from Berat or from Saranda or Ksamil on the coast. We spent two nights in Gjirokaster and enjoyed it immensely. These are the best day trips from Gjirokaster.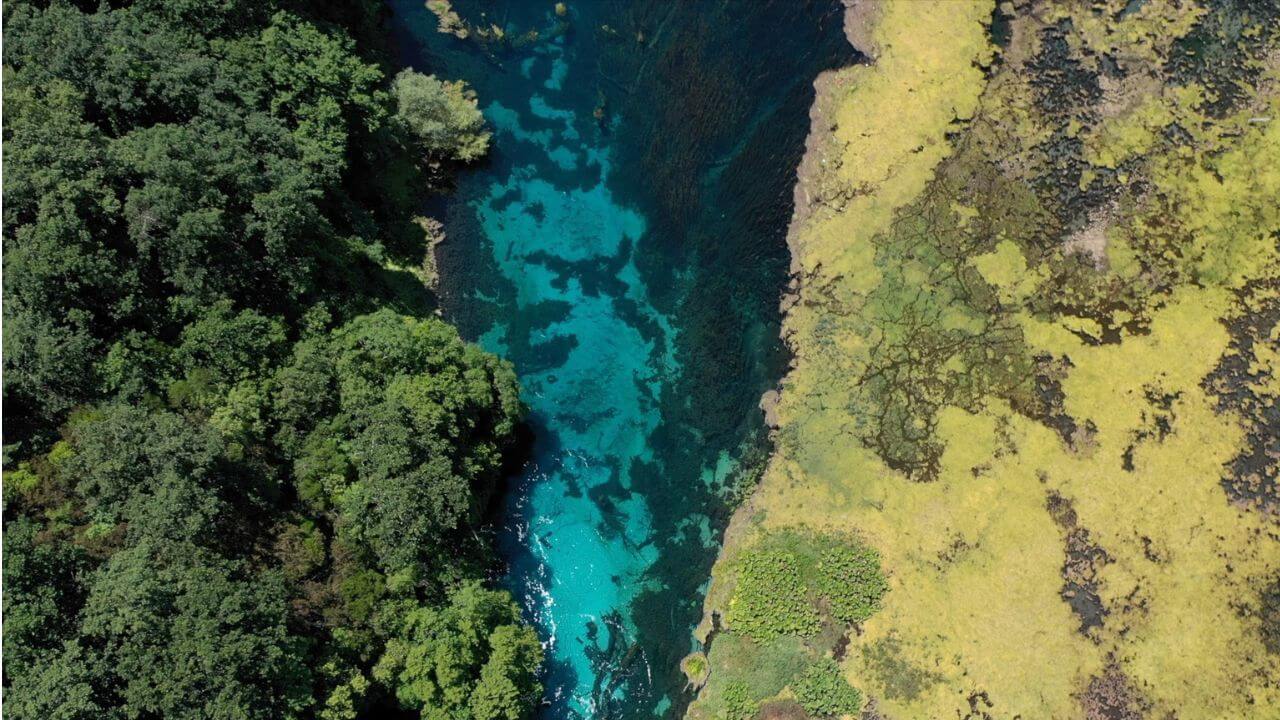 There are actually 2 different blue eyes in Albania. We'll call this one the Blue Eye of Southern Albania or Blue Eye Saranda. Located about an hours drive from Gjirokaster, the Blue Eye is a natural spring that forms a stunning pool of crystal-clear water with a mesmerizing deep blue hue. Because of the depth and surrounding vegetation, the water takes on brilliant hues of turquoise and azure.
Once you arrive at the Blue Eye, it's about a mile trek to get to Blue Eye itself. There are electric scooters you can rent that will help you with the slog as its a paved path/road the entire way.
The sheer clarity and vibrant color of the water are simply mesmerizing and you can't help but be captivated by its tranquil and ethereal ambiance. This is one of the largest natural water supplies in the country and sadly, I've been told that it was sold to Italy so I'm not sure when they take over the rights.
When we were here in the beginning of June, the water was very cold so if you're into cold therapy a swim would do wonders for the body. We waded through the water and that was enough to cool us down and we felt refreshed and satisfied.
There are a few restaurants and a shop at the Blue Eye so you can enjoy a beverage and take in the serene surroundings. It cost 50 lek per person to enter and 100 lek to park if you drove here yourself.
Where to Stay in Gjirokaster
There are plenty of places to stay in Gjirokaster that will accommodate every type of traveler and on every type of budget. These are the top picks on where to stay in Gjirokaster.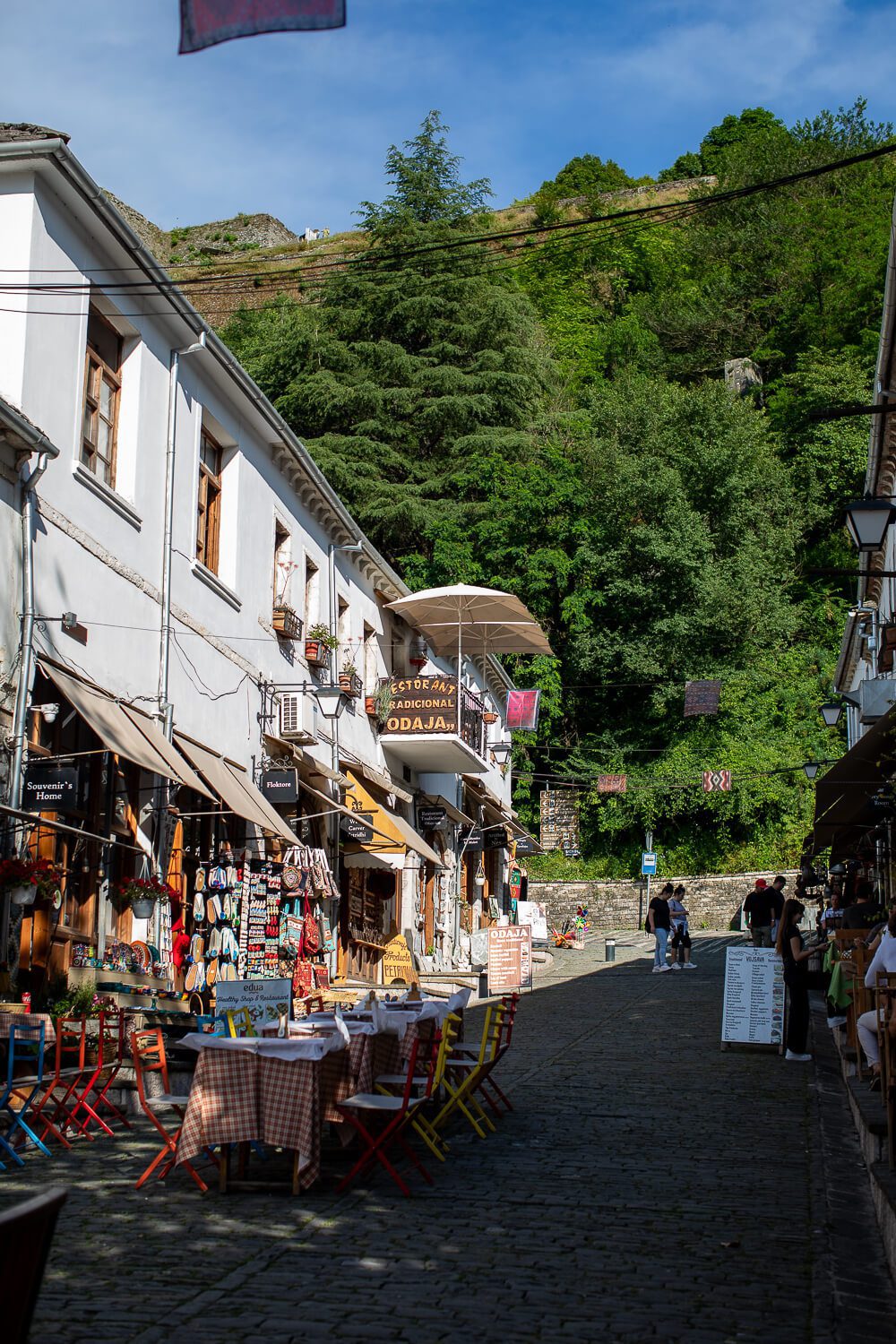 When to Visit Gjirokaster
Peak season in Albania is during the summer months of July and August, when the kids are out of schools and tourists flock to the coastline. Prepare for hot temperatures and lots of crowds.
The best time to visit Gjirokaster or visit Albania in general is during the shoulder seasons – April to May and September to October. This allows you to enjoy pleasant weather, avoid the heat and the cold, escape the crowds and still be able to do all of the outdoor activities that Albania has to offer.
Gjirokaster is a pretty compact and walkable city. Prepare for lots of walking and if you are staying at a Gjirokaster hotel that is on a hill, prepare for some steep walks home. Some of the cobblestone streets are uneven so exploring in a pair of comfortable walking shoes would be a good idea.
What to Pack for Gjirokaster
Backpack – I wear this pack on days we're exploring as there are compartments to keep our drone and extra lenses safe and secure in the bottom. Plus it packs well into my bigger Travel Pack.
Comfortable Walking Shoes
Scarf/Pashmina
Sunglasses.
Headphones for bus journeys.
Purchase Travel insurance before you go
Pack a Universal Adapter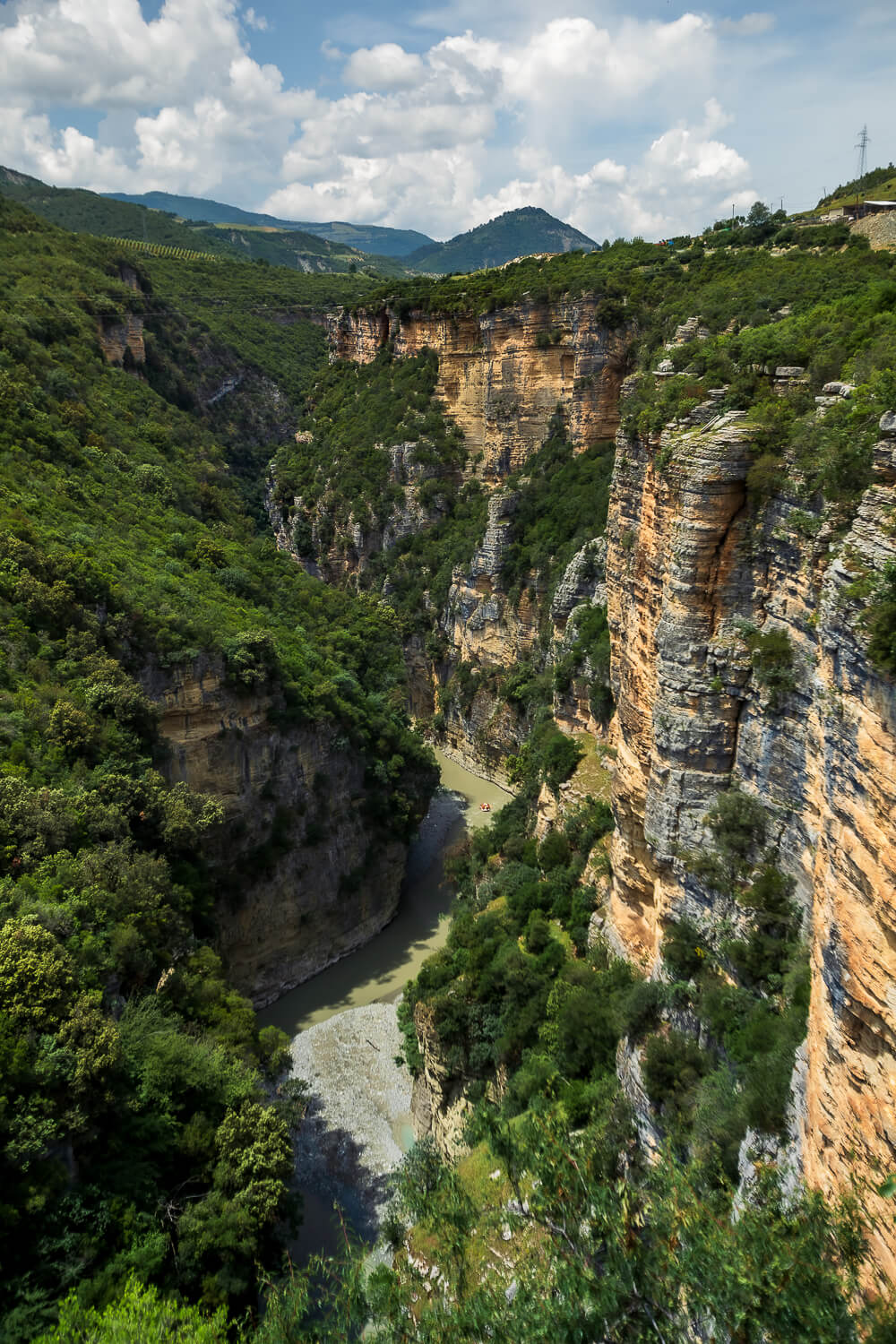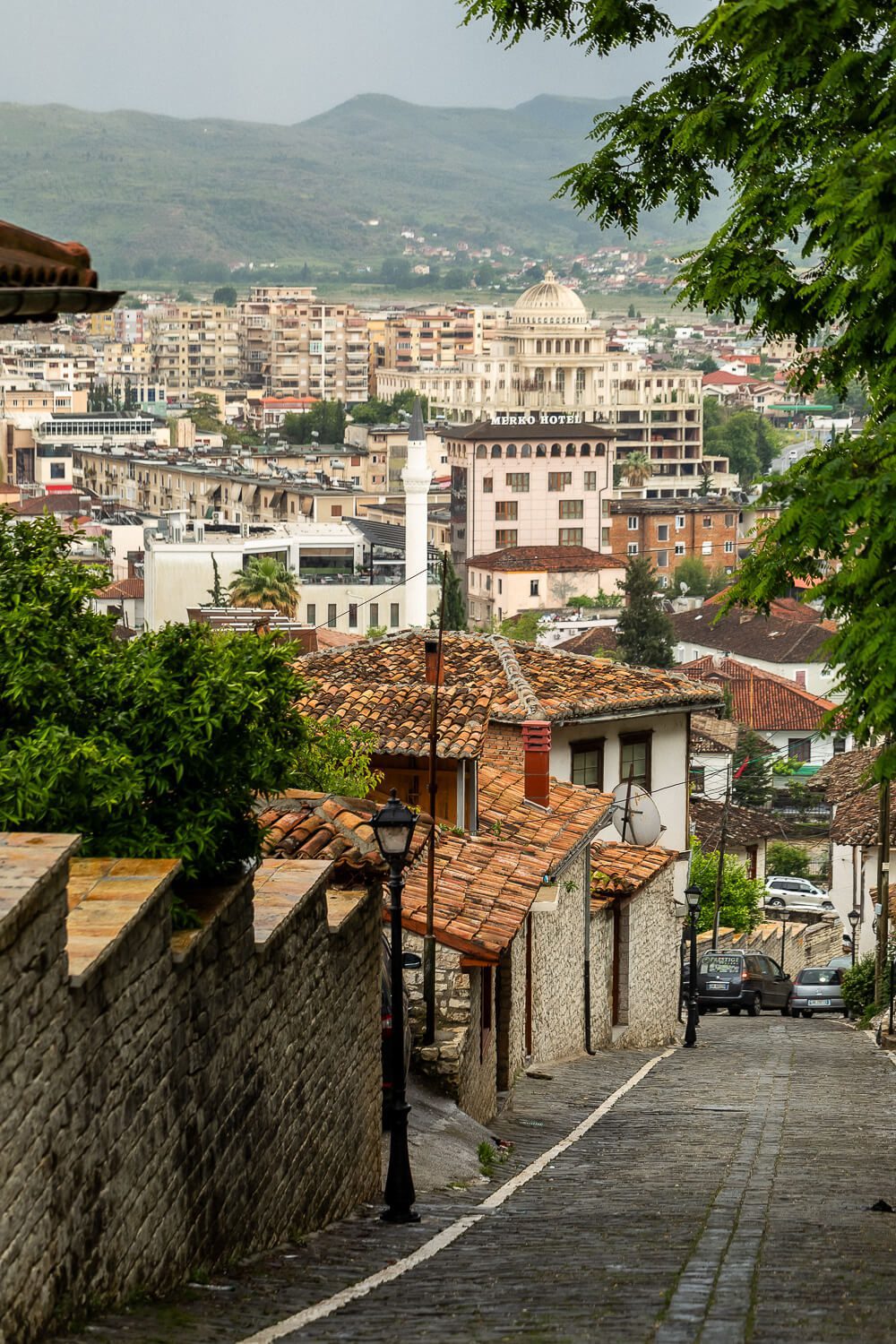 Albania is a pretty small country and if you rented a car you'll be able to cover a lot of ground. If you are relying on public transportation, the bus system has good connections throughout the county.
Press north to Berat, Albania's other UNESCO city.
Head up to the lively capital of Tirana.
Explore Shkoder – the jumping off point for Valbona & Theth National Parks.
Go trekking in the Accursed mountains on the Valbona Theth trek.
Head to the southern coast and explore the Albanian Riviera.
Step back in time in Kruja – Albania's historic town just north of Tirana.
Road Trip through the Balkans and explore bordering countries such as North Macedonia, Montenegro or Greece.
Albania Travel Tips
📍Plan your Trip:

🗺 How long to travel Albania?  3-6 Day Albanian Alps Hiking Itinerary

🛂 Visas: Up to 90 Days on arrival for most countries.

☔️ Best Time to Visit:  Peak season = July & August.  May, June, September & October = Less crowds & costs.

💰 Average Daily Budget: Expect to pay 50 USD's a day for basic accommodations, sit down meals at a cafe and entrance fees.

⛺️ Albania accommodation Guides:

🪂 Highlights

Tirana's Coffee Culture
The Albanian Riviera
Valbona Valley National Park
Peak of the Balkans for the experienced Trekker

🧳 What to Pack: What to Pack for Albania

🎥 Watch our Albania Series on YouTube

Get on my Email list to see what I'm up to and all the best travel content!
Those are the best things to do in Gjirokaster. If you found this article useful let your fellow travelers know in the comments below ↓
Enjoy this Post?!?! Pin in for Later ↓