Guatape, Colombia is a vibrant town located 2 hours southeast of Medellin. There are lots of things to do Guatape that spending a few days in this colorful town should be on anyones Colombian itinerary.
Most tourists visit Guatape on a day trip from Medellin which I think is a mistake. Guatape deserves more time to experience than a day. Joe and I stayed 3 nights in Guatape and we were so glad we did. We're more of small town guys and gals than big city living anyways.
Be forewarned, Guatape is popular with locals and tourists alike therefore it gets very, very crowded on the weekends.
In this article I'll spill all the beans on awesome Guatape things to do as well as give any essential and helpful information such as the best time to visit, where to stay and how to get there.
Okay, let's get to the good stuff, these are 15 awesome things to do Guatape, Colombia.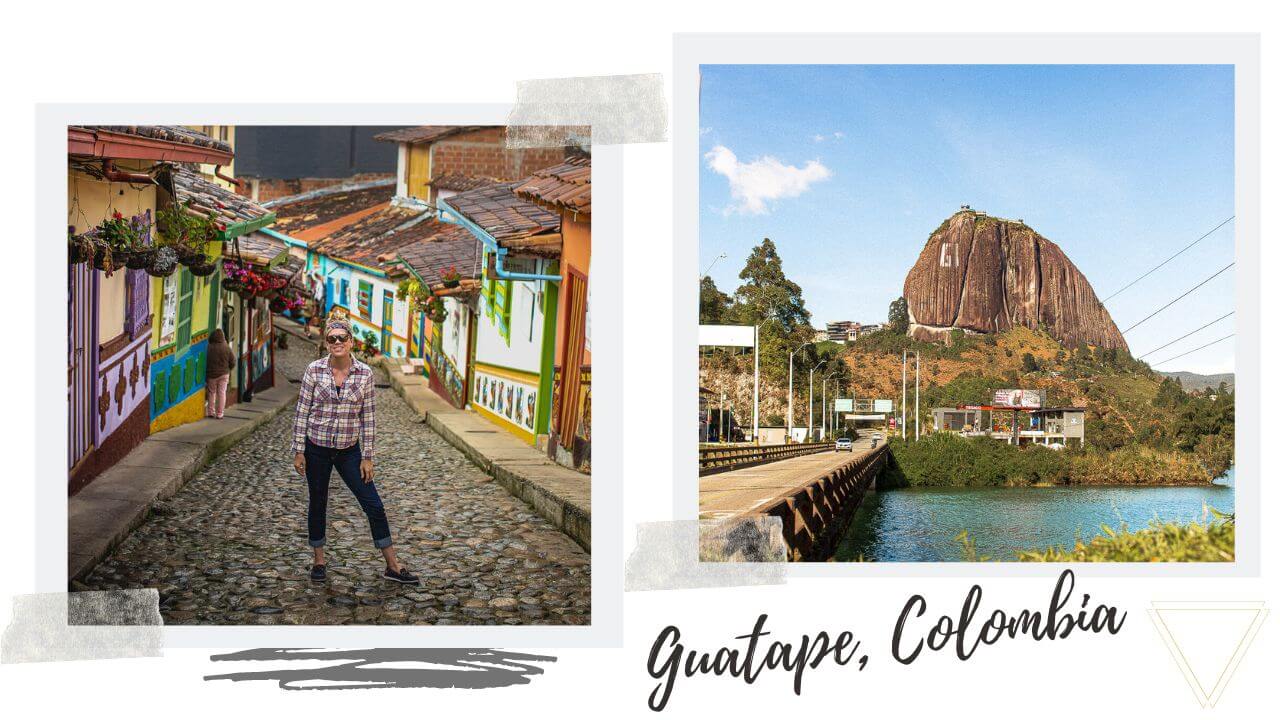 For full transparency, I have sprinkled some affiliate links in this post.  As an Amazon Associate I earn from qualifying purchases that gives me a small commission at no extra cost to you if you decided to make a purchase.  As always, I would never recommend a product or service that I didn't truely believe in.  All proceeds go to keep Jess traveling and coffee ☕️.  I thank you in advance.
Now that you're intrigued to travel to Guatape, Colombia, let's get you booking that bus as these are the best Guatape things to do. If you don't have time to read the whole article, below is a quick list of the top Guatape activities. Click on the links for more details on each activity.
Summit Guatape Rock
Rent a Jet Ski (You Tube skip to 4:10 minutes)
Kayak around the Lake
Eat a traditional Colombian Dish (You Tube skip to 4:50 minutes)
Explore Guatape Town
Dine at a Boat Restaurant
Go swimming
Paddle Boarding on the Lake
Drink Colombian Coffee
Have a drink on a Floating Bar
Eat Street Food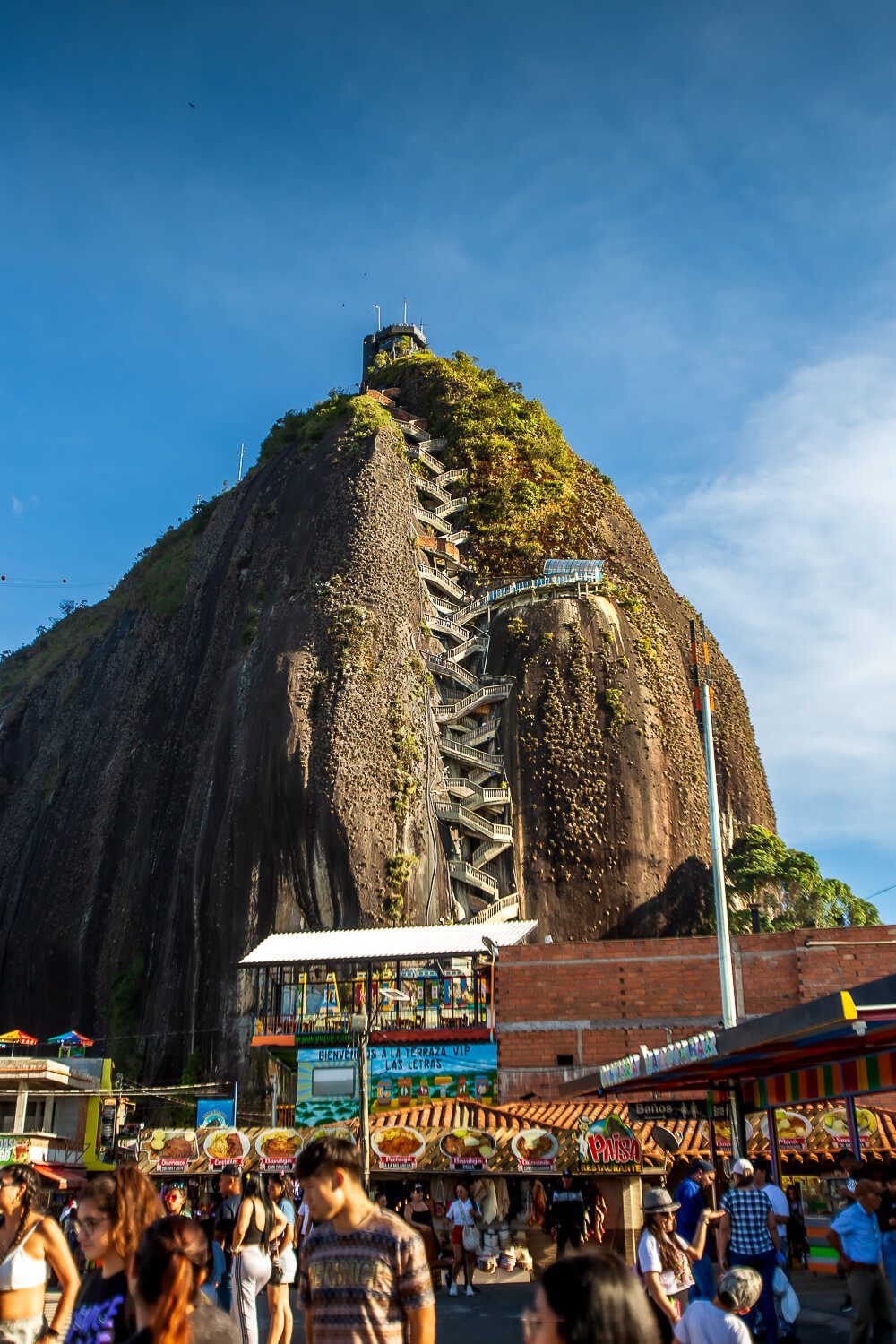 Hike to the Top of El Peñón de Guatapé
Want to know what to do in Guatape? El Peñón de Guatapé is by far the most popular thing to do in Guatape. Commonly referred to as 'The Rock' is a huge, unique rock formation located in a valley surrounded by Guatape Lake.
It takes about 700 steps to make it to the top but I promise its worth the climb. Once, at the top of the rock you'll be greeted with sweeping views and a cool breeze. There are a handful of restaurants and shops so you can spend as much time on top as you'd like. Entrance fee cost 20,000 Pesos.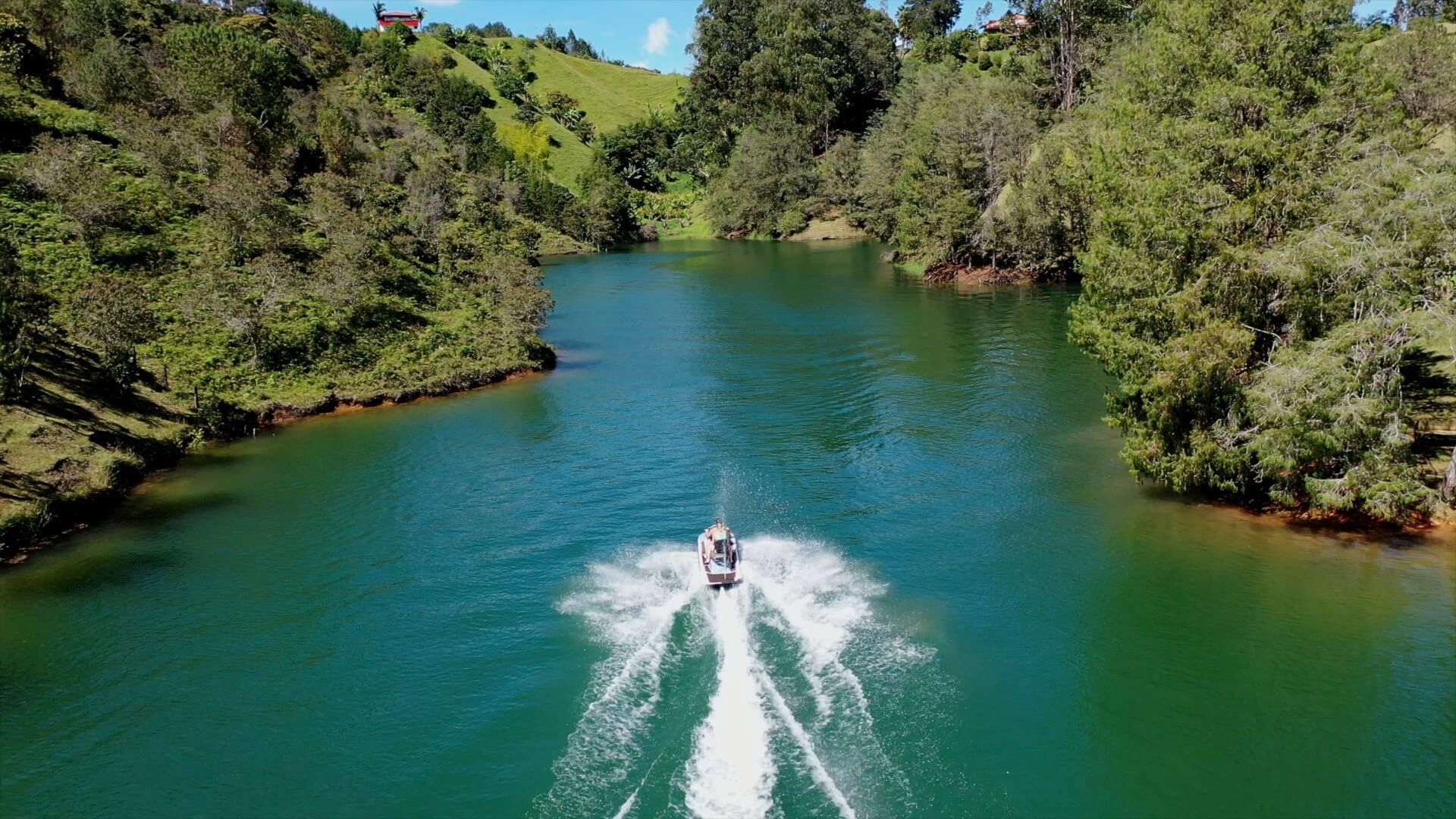 If you have a few bucks to splurge, I strongly recommend renting a jet ski and exploring Guatape Lake. Joe and I rented a jet ski on our second day in Guatape and it was by far the most fun we had.
You can rent one in town or if you are staying at a lake hotel like we did, your hotel can probably arrange for a jet ski to be dropped at your dock. A jet ski rental for one hour cost $60 and was delivered and picked up from our hotel dock.
It was pretty costly especially for Colombia standards but was worth it. There's just something about being on the water, wild and free. We also had a really fun day filming the vlog.
If you're not to keen on splurging on a jet ski, opt for a kayak. Renting a kayak is very cheap or free depending on where you are staying in Guatapé.
Explore hidden nooks and enjoy the fresh air. Not only is this a great way to stay in shape while you travel but you'll get to work on your tan.
If you love staying in unique accommodations when you travel, then you'll be in for a real treat when you go glamping in Guatape. The BubbleSky Glamping experience is an excellent place to relax for a couple of days in the solitude of nature.
The peaceful and private location comes with lots of perks including a hot tub, hammock and outdoor BBQ area. The hotel also offers kayak and pedal boat rentals at their exclusive access to the lake.
Go Sailing Around the Lake
If kayaking or jet skiing isn't your speed and you'd rather enjoy the lake with a little less effort, opt for a Sailing Tour. Enjoy the crisp lake breeze, nature and beautiful landscapes as you sail around this large lake. There are so many inlets and corners of the lake to explore, you'll be happy you spent the day sailing.
Eat a Traditional Colombian Meal
There are dozens of restaurants in town that serve típica Colombian fare. Traditional Colombian dishes include:
Mondongo – Pork, tripe and chorizo soup,
Arepa de Huevo – Same as above but this is a deep fried egg.
Ajiaco – Potato and chicken soup (my favorite).
Bandeja Paisa – A HUGE dish that consists of rice, minced meat, red beans, chorizo, arepa, a fried egg, chicharron (fried pork skin), sweet plantain, and a half of avocado.
Patacones – Plantains that have been flattened and deep fried served with a sauce of your choice.
Sancocho – Chicken, Beef rib or Fish soup that contains potato, yuca, plantain.
Fiambre – Rice, sausage, fried pork, ground meat, boiled or fried egg, a slice of ripe banana and arepa wrapped in banana leaves.
Of course this couldn't be a best things to do in Guatape, Colombia list without having explore Guatape town on the roster. As I mentioned earlier, Guatape is extremely colorful.
Wondering around the streets, soaking up the vibrant colors and petting all the friendly, roaming dogs is the optimal mood booster. The town itself isn't very big so you can explore all of it in a half of day. Don't be afraid to wander the outskirts, there are hidden gems everywhere.
In the evening, the town lights up even more teeming with good food, music and people. These are the ultimate vibes that you want on your Colombian vacation.
Grab a Bite on a Boat Restaurant
While you are in town on the malecon, you'll notice some floating restaurants docked at the lakes edge. Grab a bite to eat and enjoy a pleasant meal or snack on the water. This is a good thing to do in Guatape that's relaxing and restful.
If you are staying on the lake, going for a dip is very convenient. Colombia is considered a year round destination and generally pretty warm but the summer months will be the best time for swimming.
Cool off by taking a little swim in one of the relaxing coves the lake has to offer. Some of them are less busy and calmer than others but who's being picky.
Take it to the Skies in a Helicopter
One of the best ways to get a grasp at how grand Guatape Lake is, is by taking it to the skies in a helicopter ride. You'll get a birds eye view of the gigantic lake and all its passage ways. Plus the photos from up above are astonishingly beautiful.
Paddle Boarding on the Lake
After taking to the skies, you can rent a paddle board to explore the lake and take in the sights from the water. Not only is this a fun thing to do in Guatape but its a great way to travel and stay fit.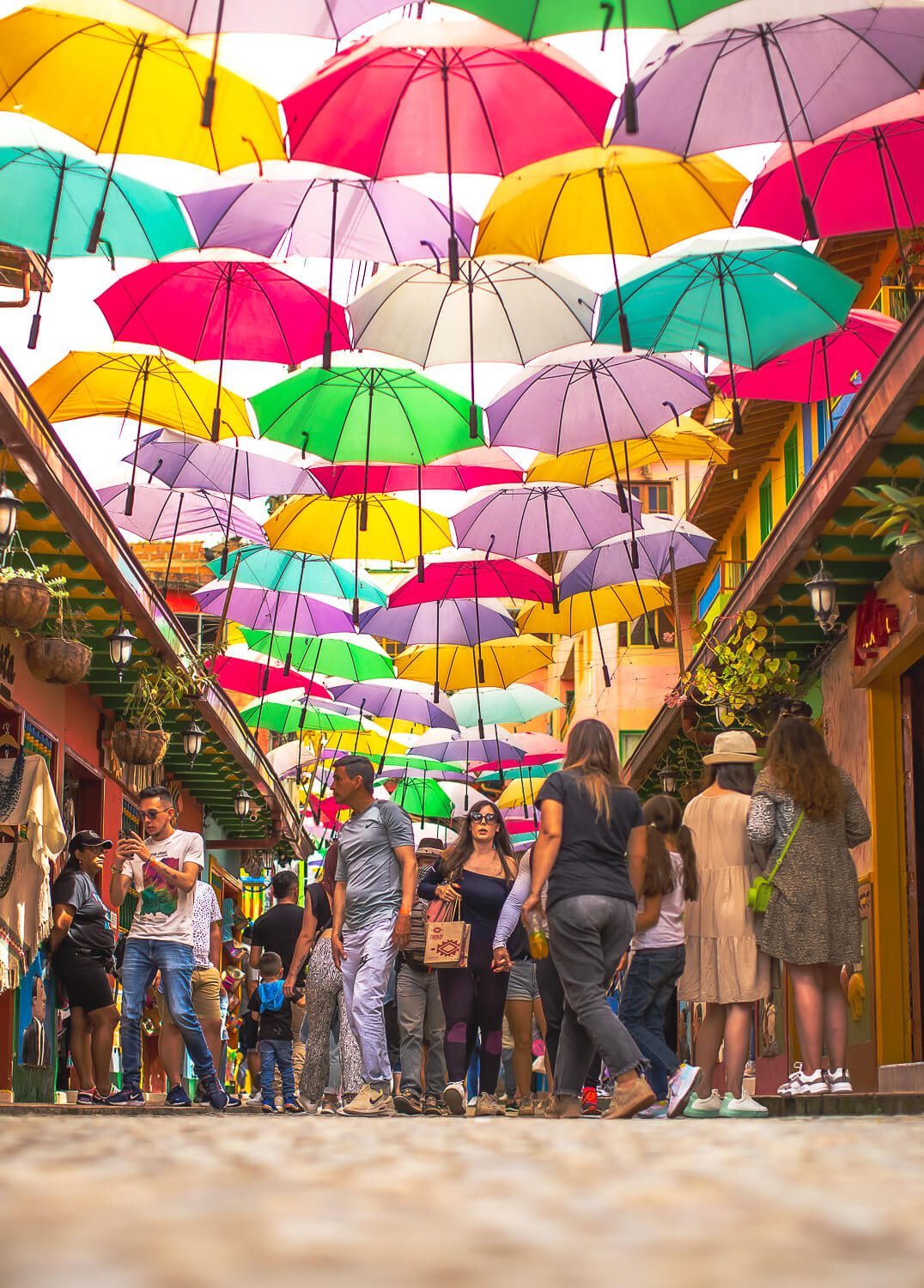 Colombia is known for its coffee around the world. Colombian coffee has a reputation for producing mild, well-balanced coffee beans, Grabbing a cup of coffee in the main square is the perfect way to begin your morning.
Have Drinks at a Floating Bar
If you need a rest from exploring adorable Guatape town, head down to the water and pick a floating bar. There are several 'boat bars' anchored along the Malecon.
There's just something peaceful about sipping a beer on a boat that's getting gently rocked by the ocean. Cool lake breeze and the views 👌.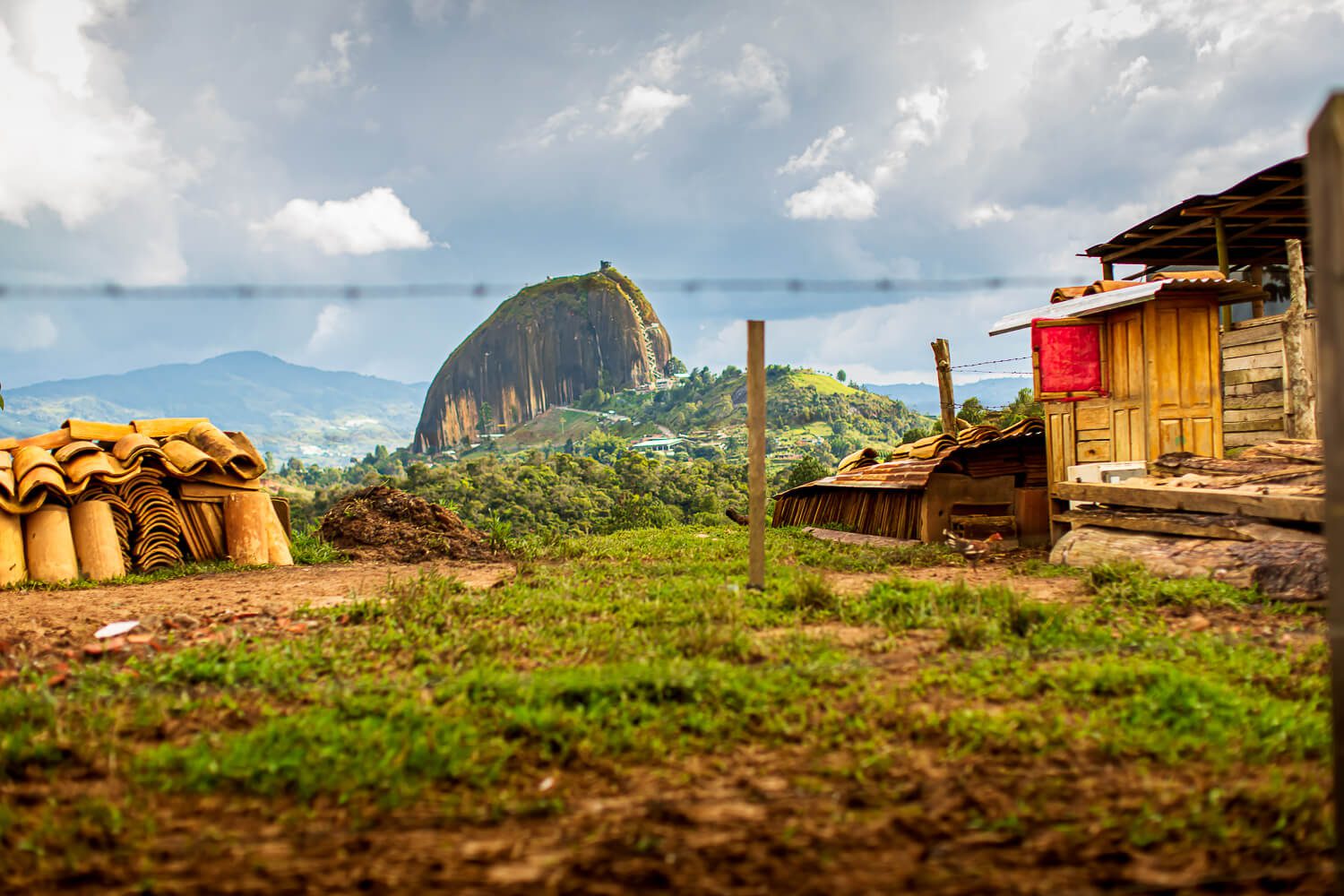 Staying at a Lakeside Hotel will be much more relaxing and peaceful than the noisy town center of Guatape. There are tons of hotels dotted along the lakes edge so you can pick a hotel based on your budget.
The Boato Hotel is a luxurious hotel not trying to be too uppity set in a breathtaking location. Swim, kayak, jet ski or paddle board from the private dock and take in the views. A ride to town is about a 15 minute tuk tuk ride.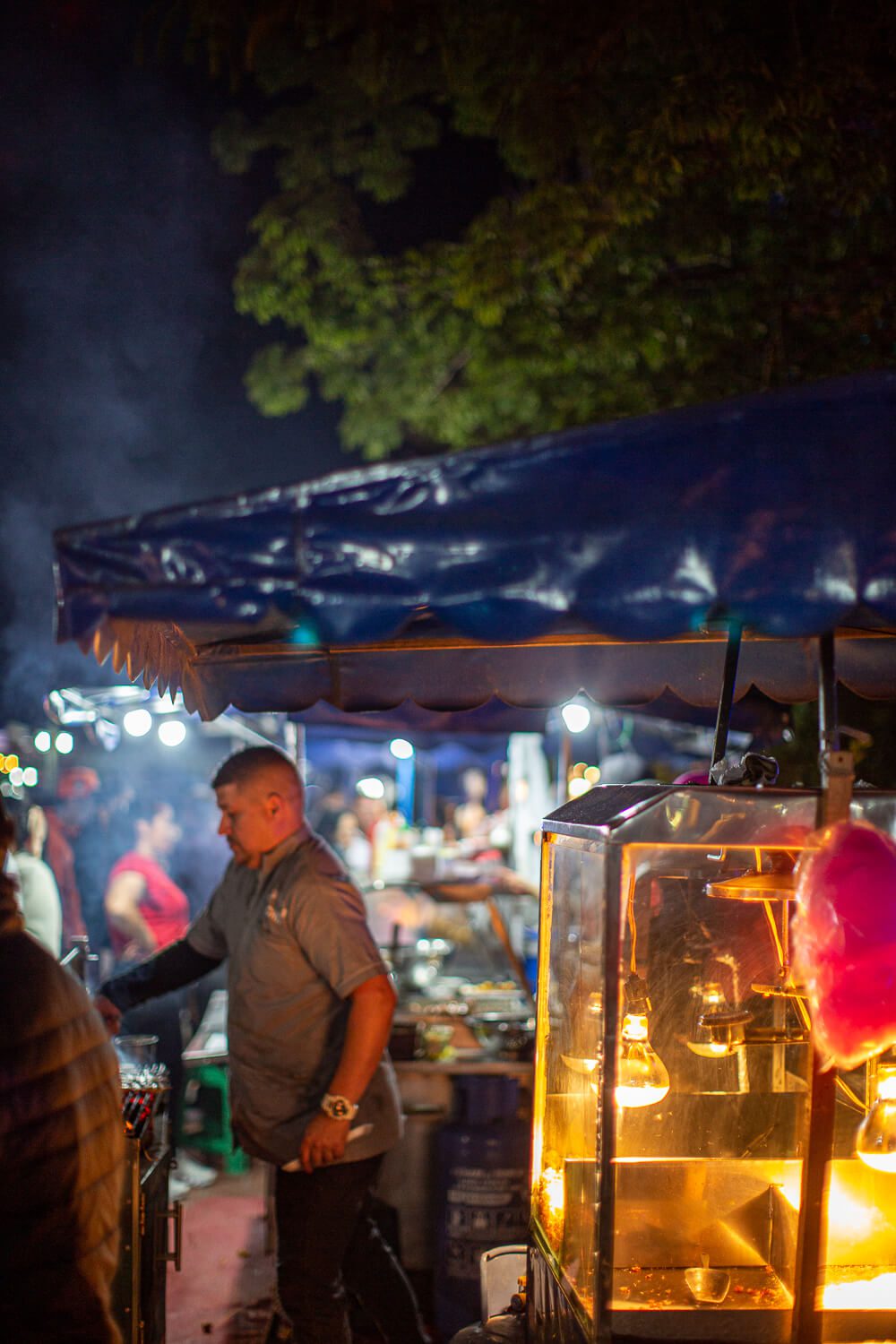 The town comes alive at night as vendors set up the food carts offering visitors street food to munch on. Some must try street food items include:
Arepas – a cross between a tortilla and a pancake can be filled with cheese, meat and even made as a desert.
Buñuelos – tasty deep fried bread balls.
Obleas – Thin wafer sandwiches filled with a variety of ingredients such as blackberry jam, milk cream, condensed milk, peanuts, coconut, fruit syrups, chocolate sprinkles, and even cheese.
Empanadas – Deep fried pockets filled with meat, potatoes, chicken, and rice.
Cholado – a classic dessert that mixes shaved ice, fruit, condensed milk and toppings all in one cup.
How to Get to Guatape, Colombia
As I mentioned earlier most people visit Guatape, Colombia on a day trip from Medellin. If you are looking on how to get to Guatape from Medellin, it's a straight shot. It's a two hour bus ride leaving from Medellin's Terminal Norte.
Terminal Norte is the bus station for all routes north and east in Colombia, from Medellin. Guatape is located to the east. Buses depart every hour and cost about $3 USD or 15,000 COP. You can book tickets online here or at the station.
You can watch our vlog above as we took the bus from Medellin to Guatape. If you're traveling around Colombia, we went to the adorable town of Jardin after Guatape. You can check out that travel day vlog here.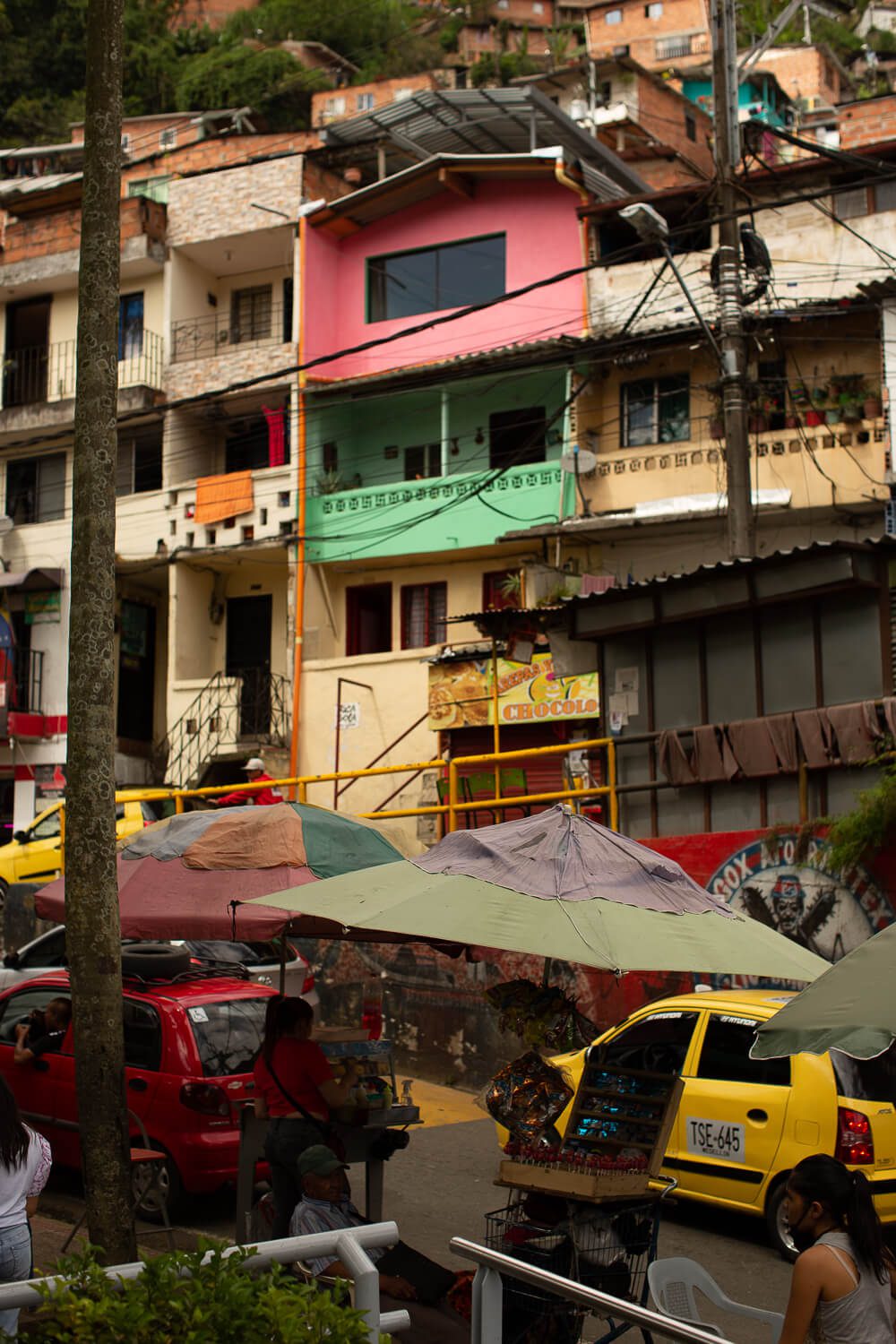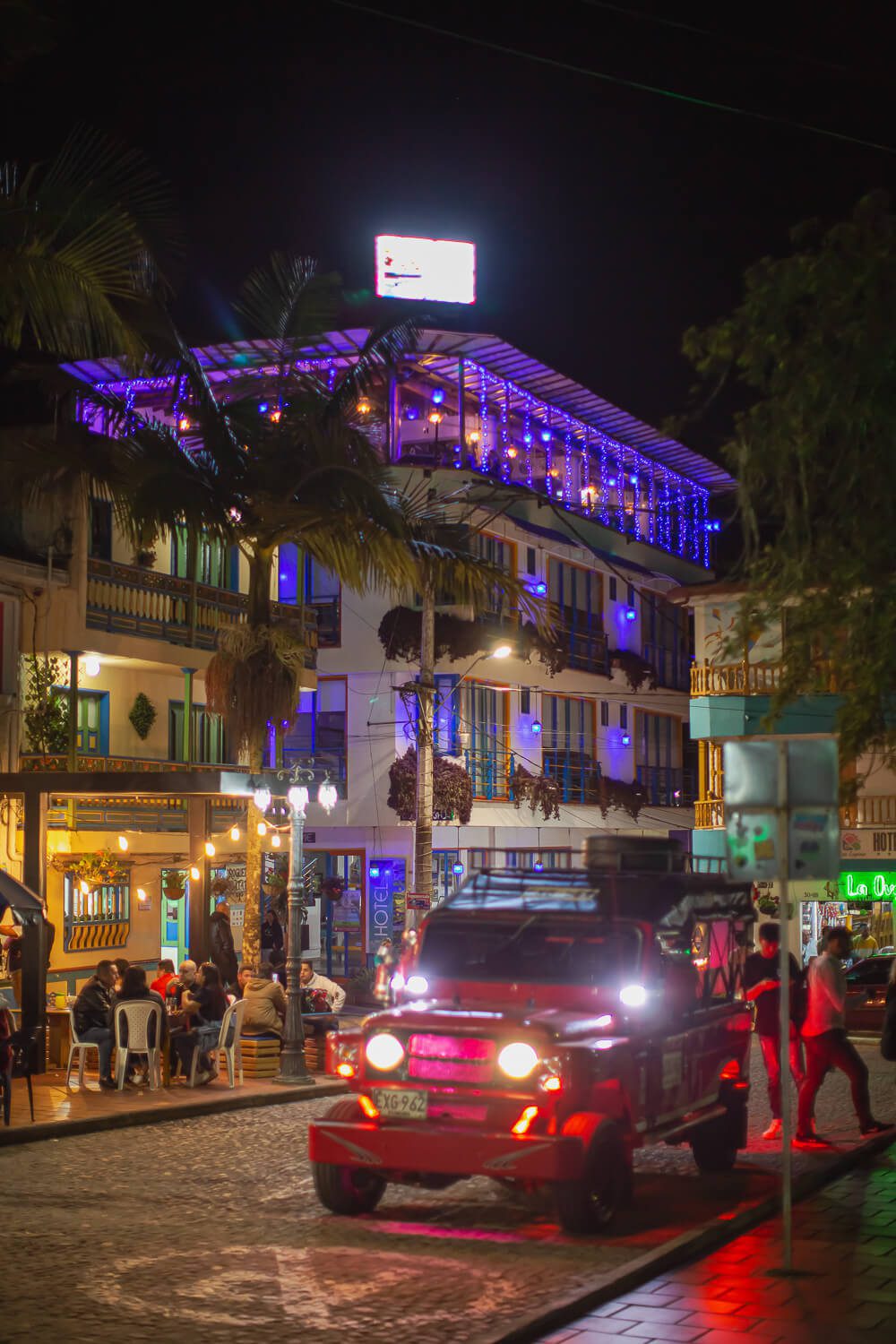 Best Time to Visit Guatapé, Colombia
Colombia is considered a year round destination as it's located close to the equator. Generally, the best time to go to Colombia is December through March which is considered dry season.
Traveling to Colombia during dry season also means busy season, especially December through January. But if you time it right, you can travel during the off peak months which allows you have the best of both worlds – great weather and thinner crowds.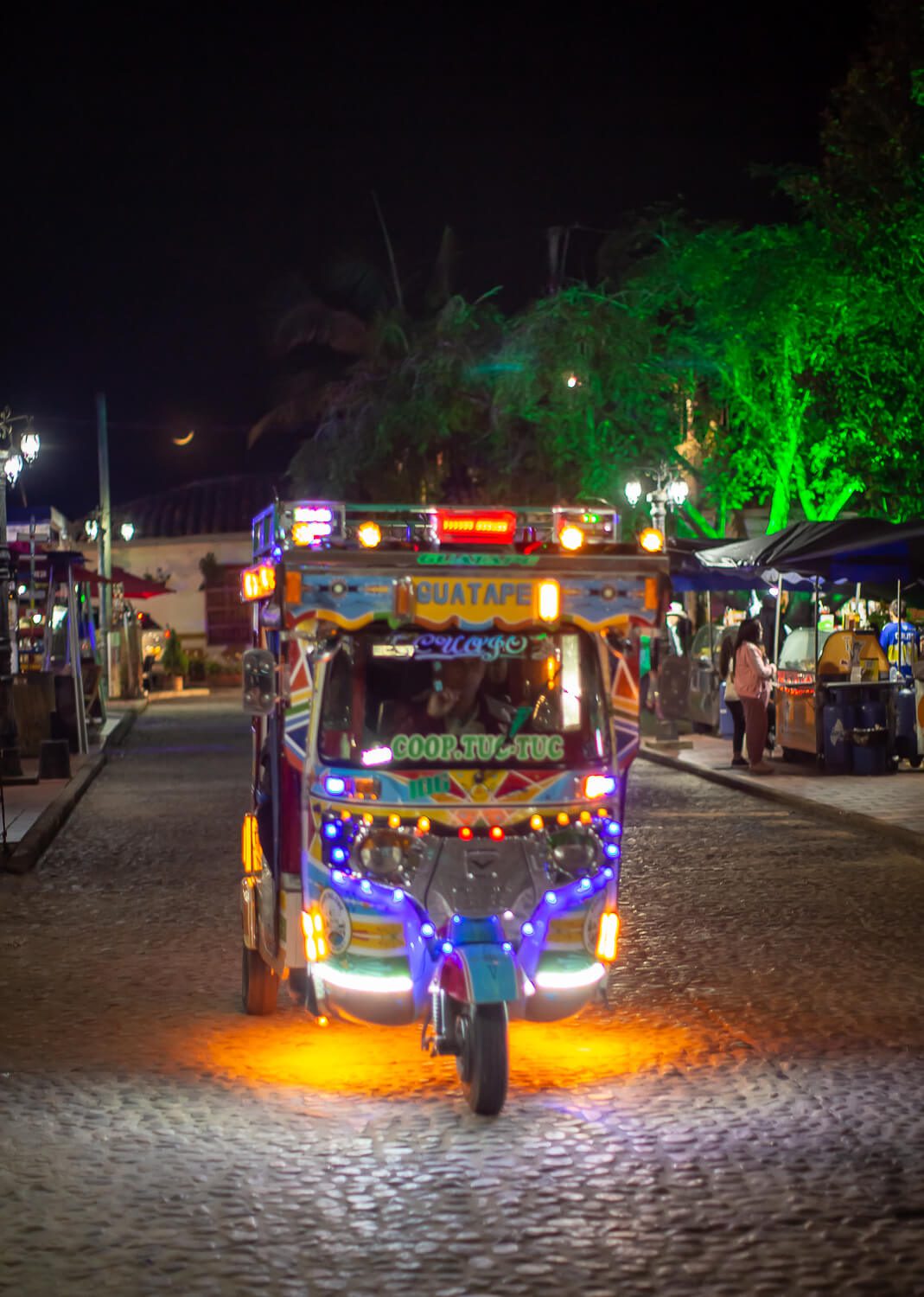 Where to Stay in Guatape, Colombia
There are a handful of options to choose from when deciding where to stay in Guatape. We stayed at Soy Local . It was a budget friendly hotel with great location on the lake.
Here are other Guatape hotel recommendations to consider when planning your visit to Guatape, Colombia.
Guatape Hostels
Bacoa Hostel – This is the place to stay in Guatape if you are traveling Colombia on a budget, want to stay on the lake and do it cheaply.

Lake View Hostel – This is an ideal stay if you want to enjoy the lake and town at your fingertips. There is a super delicious Thai restaurant located on the third floor of the hostel.
Mid Range Accommodations in Guatape
Hotel Zocalo Campestre – Best location to visit Piedra del Piñol aka the rock. Located halfway between Guatape town and the lake. Tuk Tuks are easily available and cheap.

Hotel El Paisaje – Located in the center of town making it easy to explore all the things to do in Guatape and have endless restaurants at your doorstep.
Luxury Guatape Hotels
Jordan Hotel Boutique – Classy, boutique hotel located on the lake. Perks include hot tub overlooking the lake, modern facilities and some rooms have balconies you'd drool over.

La Quinta Dimensión Glamping – Classy glamping in the middle of nature.

Hotel La Magdalena Adult Only – This is where to stay in Guatape for a romantic getaway. Views, pool and tasty restaurant on site.
Colombia Travel Guides
📍Plan your Trip: The Ultimate Guide to Colombia

🗺 How long to travel Colombia? 2 Weeks

☔️ Best Time to Visit: Generally, the best time to go to Colombia is December through March which is considered dry season.

💰 Average Daily Budget: Colombia Budget Guide

⛺️ Colombia accommodation Guides

Where to Stay in Medellin

🪂 Highlights

Trekking to the Lost City
The Beautiful Colonial City of Cartagena
Wax Palms of Salento
Guatapé Town

🧳 What to Pack: What to Pack for Colombia

🎥 Watch our Colombia Series on YouTube

📧 Get on my Email list to see what I'm up to and all the best travel content!
Enjoy this Post?!?! Pin in for Later ↓