The coastal city of Izmir can be found on the west coast of Turkey. There are many things to do in Izmir that a visit to this coastal city should not be missed when exploring this part of the world.
Izmir is Turkey's third largest city in terms of population falling behind Istanbul as the largest and Ankara the second. The city was first settled around 3000 BC and is one of the oldest cities in the Mediterranean world.
The city has a colorful history being controlled by many different international powers throughout its life and lots of examples of this can be seen as you explore the city. Not only is this article about the best things to do in Izmir but it's about the best day trips from Izmir as some of those attractions are the main reason that visitors flock to this seaside city.
After we've gone over what to do in Izmir and Izmir day trips, at the end of this post I'll also include any practical Information that will aid you in your trip to Izmir. This will include where to stay, how to get there and useful tips to know before you go.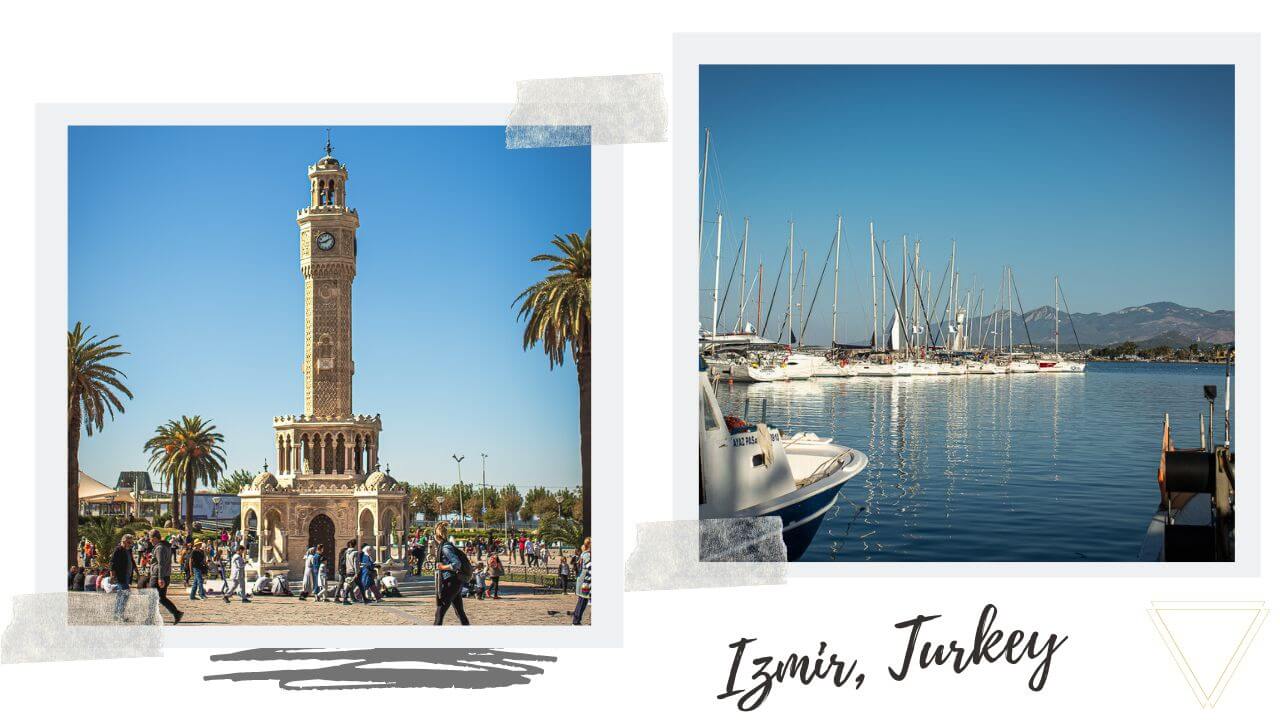 For full transparency, I have sprinkled some affiliate links in this post.  As an Amazon Associate I earn from qualifying purchases that gives me a small commission at no extra cost to you if you decided to make a purchase.  As always, I would never recommend a product or service that I didn't truely believe in.  All proceeds go to keep Jess traveling and coffee ☕️.  I thank you in advance.
Below I have a listed the best things to do in Izmir and best day trips from Izmir for easy viewing. If you are in a hurry and don't have time to read the whole article you can just screen shot this page and be on your way.
If you'd like more information, click on the blue links below for a detailed post or vlog of that specific Izmir activity.
Konak Square & Izmir Clock Tower
Hisar Mosque
Kemeraltı Bazaar
Synagogue Street (Havra Sokagi)
Kadifekale Castle
Konak Pier
Agora of Smyrna
Alsancak (Downtown)
Visit a Museum
Asansör
Izmir Teleferik
Bike the Promenade – Kordon to Göztepe
Day Trips from Izmir Quick List
Ephesus
Pergamon Acropolis
Adeatepe
Çeşme and Alaçatı towns
Şirince
Urla
We filmed a couple vlogs while we were here about all the awesome things to do in and around Izmir. If you'd like to see exactly what it's like, check out our vlogs below.
Pamukkale to Izmir Travel Day

Best Things to do in Izmir

Exploring Pergamon Ruins All by Ourselves

Exploring the Ancient City of Ephesus Independently
Best Things to do in Izmir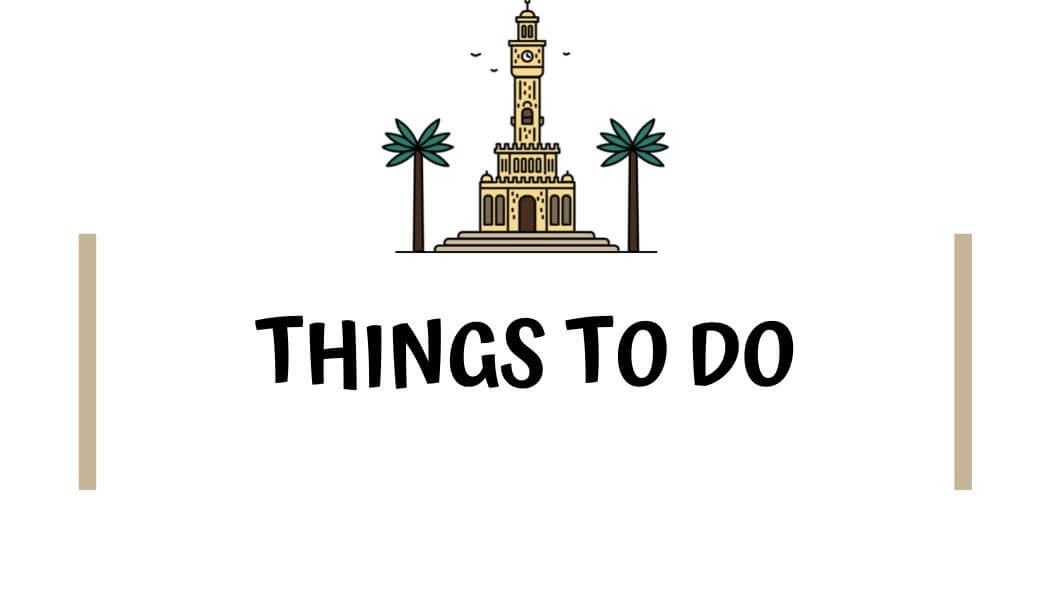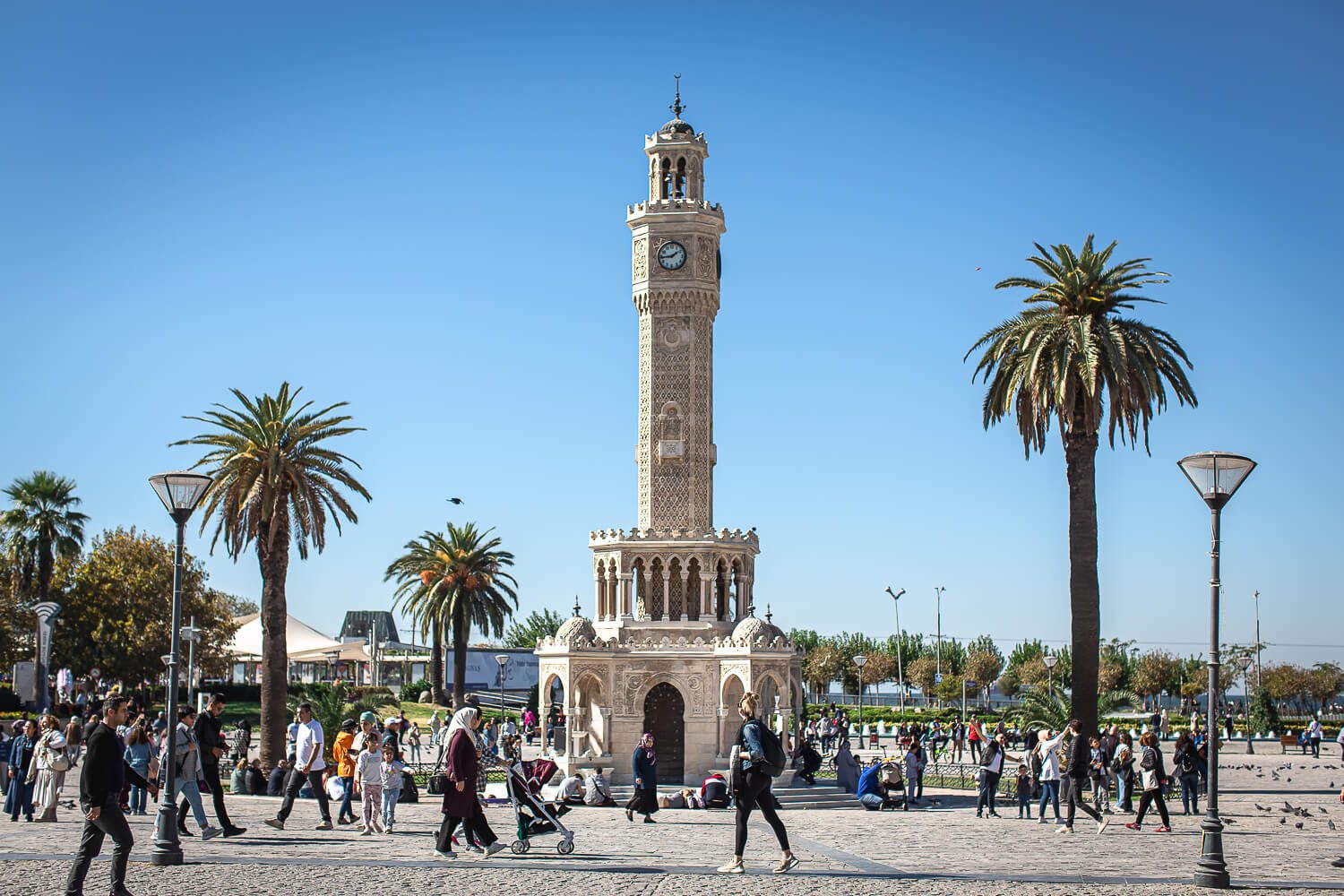 Konak Square & Izmir Clock Tower
Konak Square is the heartbeat of Izmir and a great starting point to start your explorations around the city. Marked by the iconic Izmir Clock Tower, this area serves as a common meeting point for travelers and locals alike.
The photogenic area will be full of children chasing the pigeons, street vendors selling Simits (one of the must try food when visiting Turkey) and visitors snapping pictures. The public tram stops at Konak Square so getting here will be a breeze. "Meet me at the Clock Tower."
Fun Fact: The Izmir Clock Tower was a present from the German emperor Wilhelm II.
The Hisar Mosque is a historical mosque tucked in a corner of a crowded bazzar. This is the largest and oldest mosque in the city of Izmir and was built over 400 years ago in 1597 out of cut stone. You can tell that it's an older building as all the shops and restaurantes just built themselves around this Izmir staple.
The Hisar Mosque is open to non-Muslims before and after prayer time. You must take off your shoes and keep your head, legs and arms covered if you are a women so it's always nice to keep a hijab head covering handy. You can always buy a hijab in the surrounding bazaar but they will also provide a loaner cover up for you as well.
The interior is quite different from other Ottoman mosques. The beautifully decorated mosque is a peaceful salvation in the middle of a hectic shopping center and a small taste of daily community life in Izmir.
The Kemeralti Bazaar is an expansive, vibrant market and one of the best places to visit in Izmir. The colorful market offers a rang of goods like produce, meats, spices, jewelry, rugs, stationary supplies, specialty items and much more.
The bazaar has anything and everything you could imagine. Shopping for a wedding dress? Have no fear, there are rows of shops dedicated to nothing but wedding dresses.
This is also a great place to grab a kebab, Turkish coffee or çay as there's a section of cafes. On the weekend, the already crowded market gets even busier – making it difficult to walk through. If at all possible try heading to the Kemeralti Bazaar on a weekday for a few less people.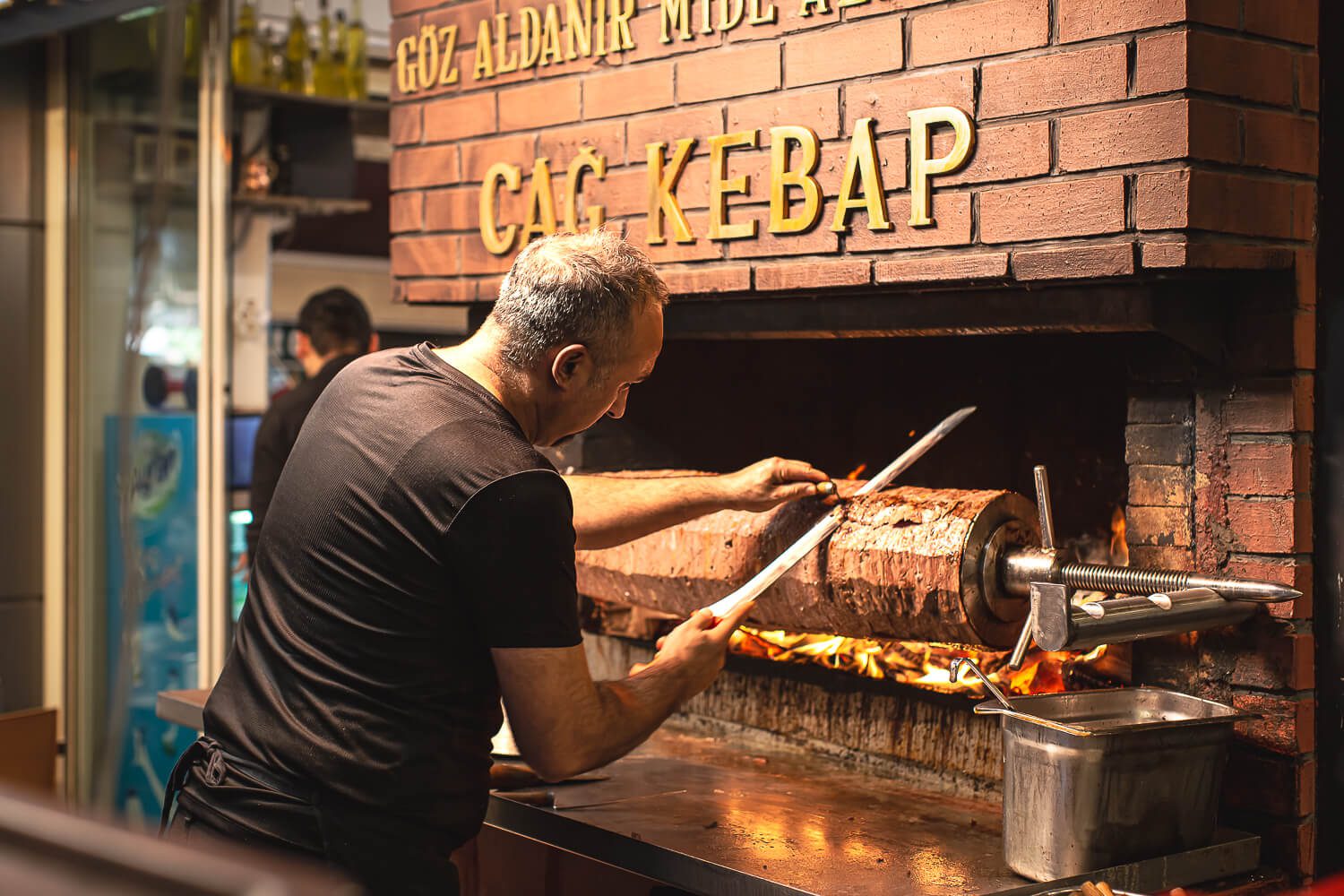 Synagogue Street (Havra Sokagi)
The Synagogue Street (Havra Sokagi) is one of Izmirs most famous streets. Located in the Kermeralti shopping district, this is the food market street. Here, you can taste the spirit of Mediterranean life.
The street itself isn't very long but it does branch out to other streets in the Keramalti. Walking down Havra Sokagi is what you imagine in your mind traveling through Turkey is like.
The sounds, smells and colors creates an ambience like none other. This street is pretty easy to find, just head west of the Agora of Smyrna.
Can you even visit Turkey without going on a food tour? Enjoy the Turkish culinary culture on this delicious walking food tour of Izmir. You'll get to experience the local gourmet dishes such as local sherbet, hand-made ravioli, traditional nut pastes and köfte. Get ready to experience the authentic taste of Izmir's cuisine and visit some of Izmirs top attractions.
Visiting the Kadifekale Castle is a bit off-the-beaten path compared to most of the things to do in Izmir in this post as it's not in the prime tourist area. Kadifekale in Turkish means "the velvet castle" is a a hilltop fortress in Izmir. The remains of the castle sit on top of a hill among big local neighborhoods overlooking the city of Izmir.
The ancient fortress was strategically built on top of a high hill in order to see the harbor and the city at the same time. Built in the 4th century BC, you can still see engravings from the Roman, Byzantine, Greek and Ottoman cultures on the walls.
Legend has it that Alexander the Great ordered a castle to be built here after being visited in a dream by a goddess. The castle itself isn't much to look at but the views make it worth a visit and its free to enter.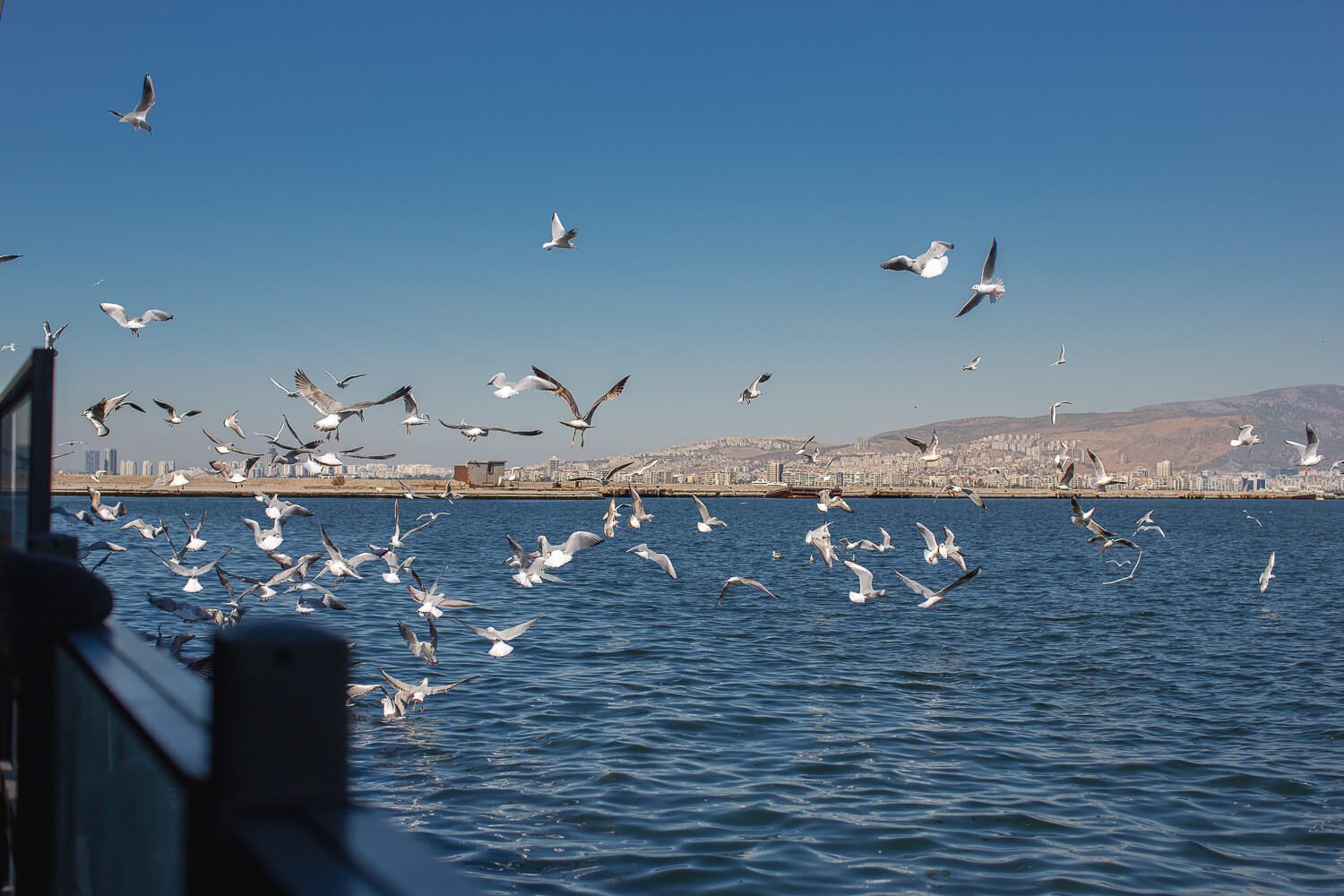 The Konak Pier is a historic seafront building on Izmir's promenade. Inside the pier are boutique shops and nicer white linen table cloth restaurants. I thought you could walk onto the pier but this was not the case.
After a morning of exploring a handful of things to do in Izmir, we grabbed a coffee at Starbucks as it had pleasant outdoor seating right on the water. This was a great spot to take a load off, fuel up on caffeine and watch the seagulls cause a ruckus out on the water.
Fun Fact: The Konakl Pier was designed by by Gustave Eiffel – yes the man who designed the Eiffel Tower.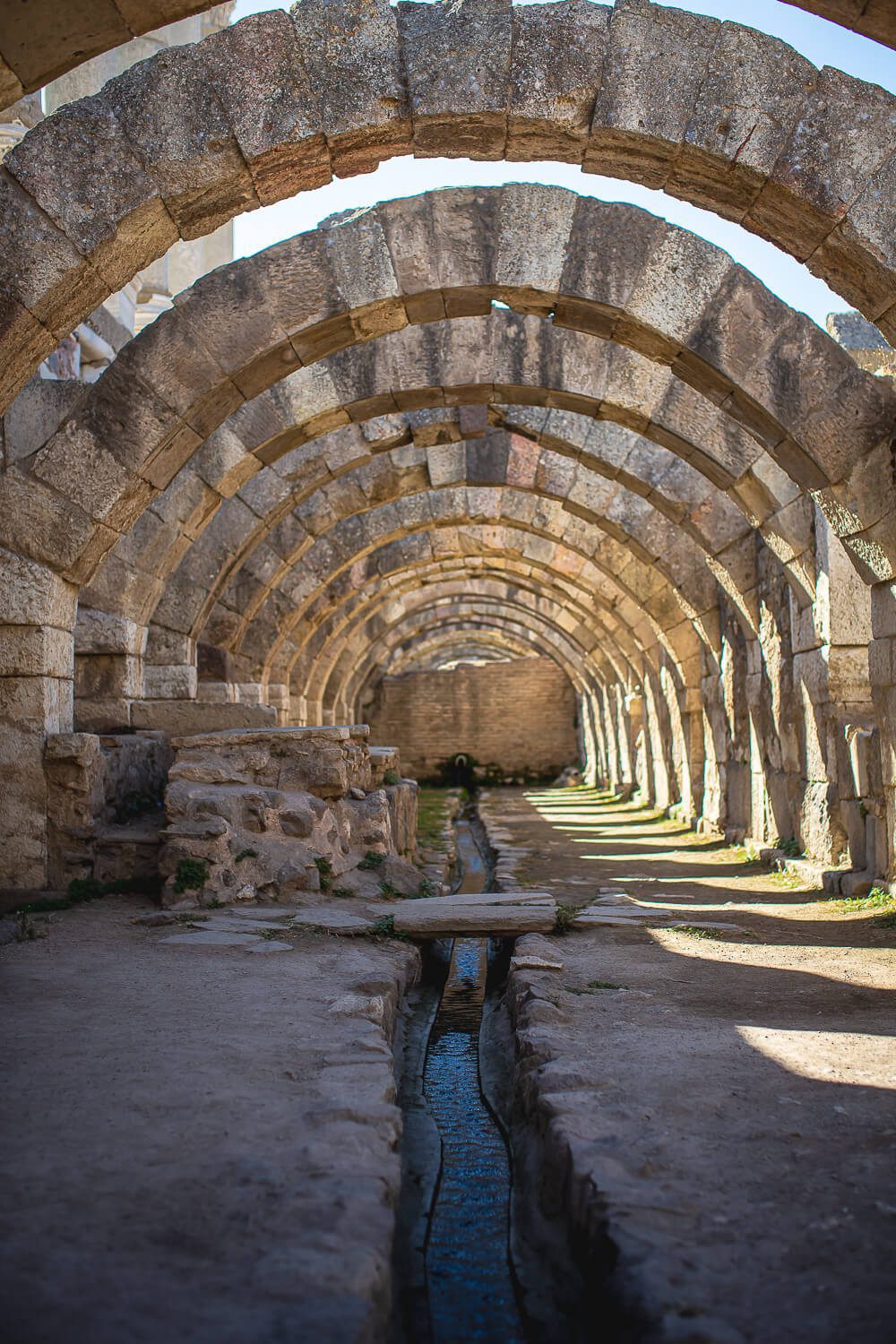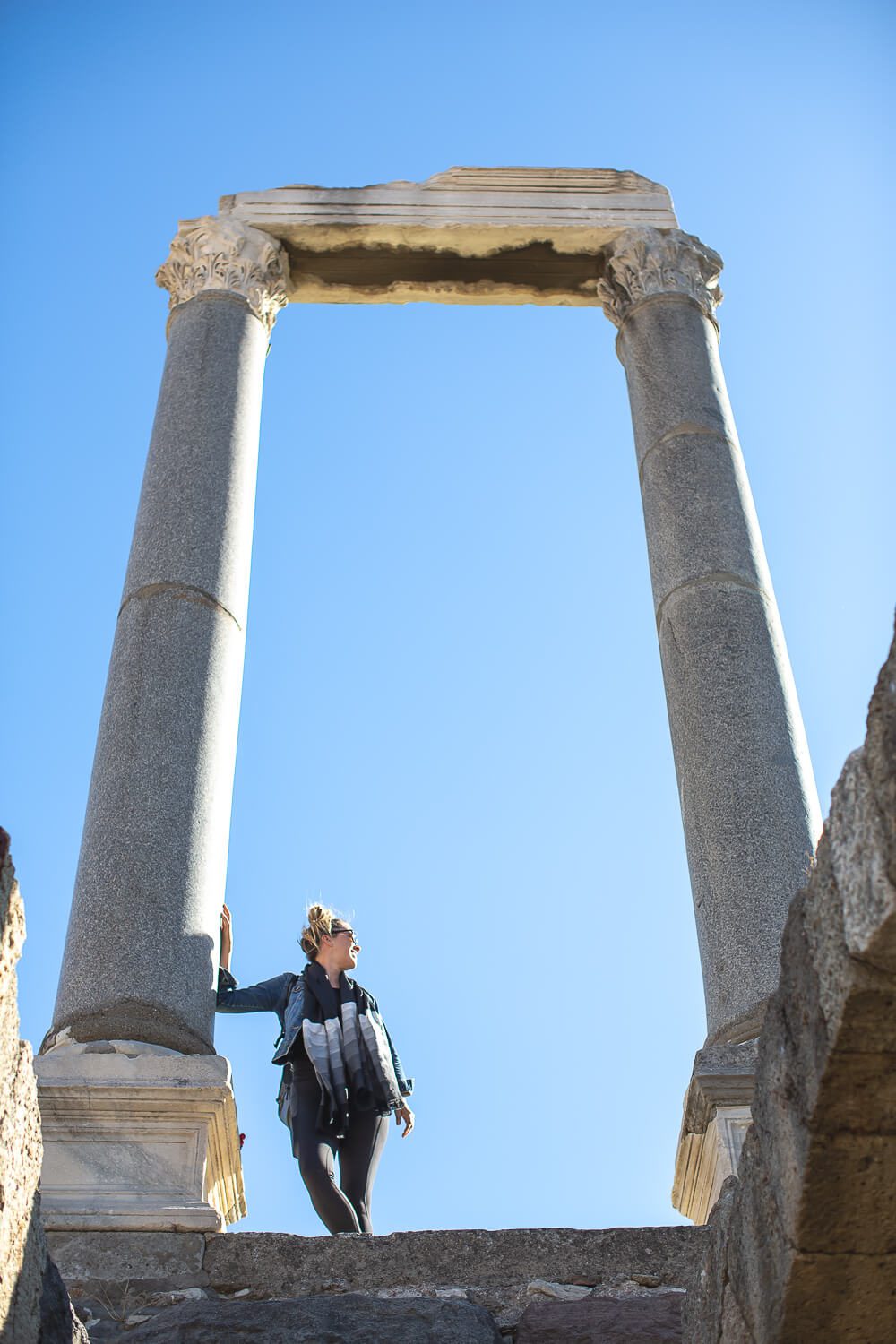 The Agora of Smyrna is a piece of ancient history surrounded by modern society. Originally built by the Greeks in the 4th century BC, the agora was ruined by an earthquake in 178 AD.
The Agora Open Air Museum was then reconstructed by the infamous Roman Emperor Marcus Aurelius and excavations started in 1933. The ancient Roman agora is located in the Smyrna district of Izmir smack dab in the middle of the city. It cost 50 Lira per person to enter.
Joe and I went to the agora at around 1030 am and we were the only ones inside. The complex is quite large and filled with intact Roman pillars and archways. A beautiful sight and one of the best things to see in Izmir.
The Alsancak of Izmir is the downtown district and considered to be the entertainment center of the city. This area of Izmir contains lots of bars, night clubs, restaurants and cafes. There is also lots of shopping opportunities as you stroll the Alsancak area. You can easily get there by boat, bus or train.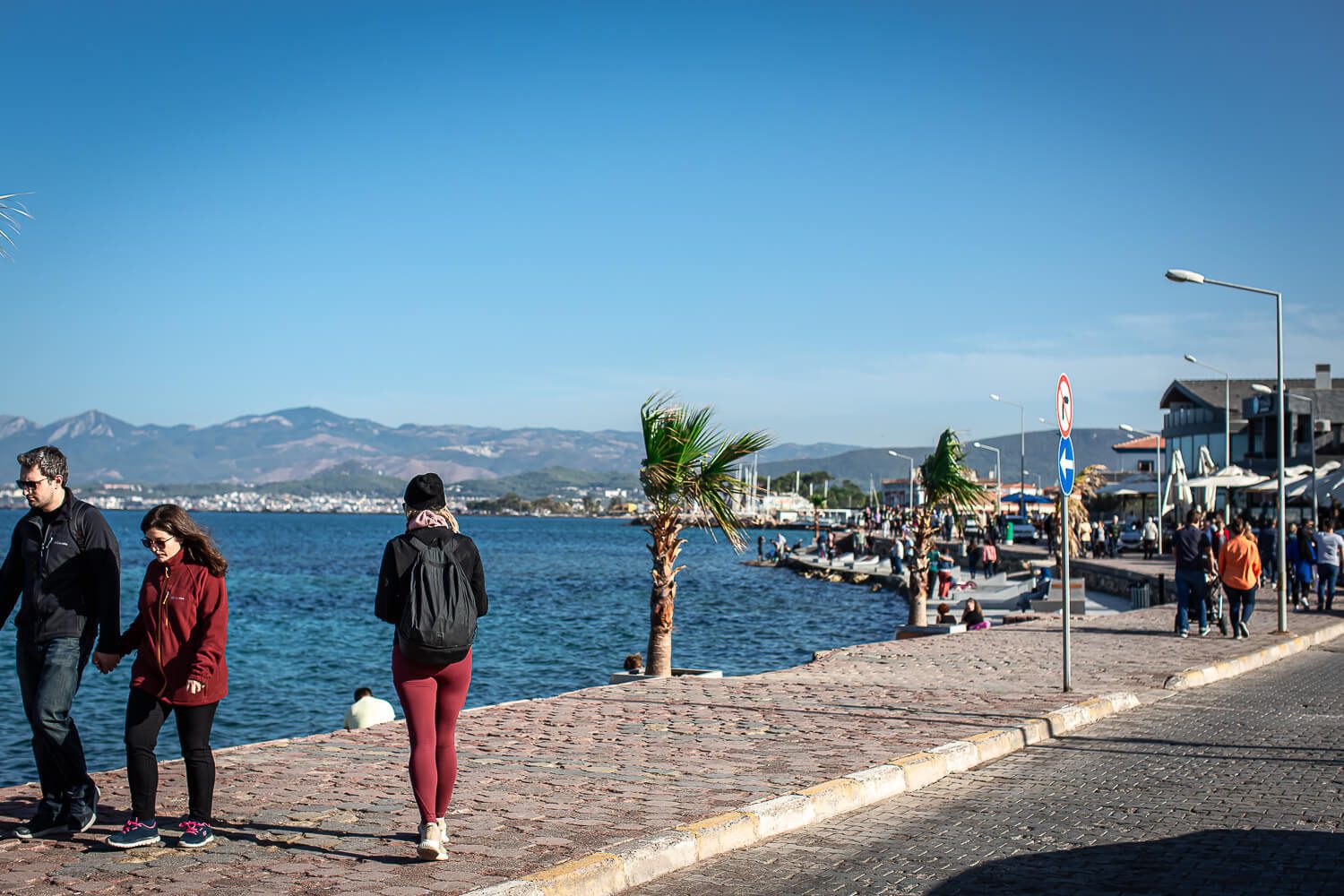 Free Walking Tour of Izmir
The best way to get to know a city and your bearings is by going on a free walking tour. It's even better when you can do so with a local guide and a group of like-minded travellers. Plus it's free!
A walking tour is a great introduction to a new area and in my opinion one of the best free things to do in Izmir. Tours usually last around 2 hours and a local guide will be able to answer any questions that you have.
Izmir has several museums to visit which is perfect for a rainy day or for the history buff. Here are some museums worth checking out.
Archaeological Museum – an impressive collection of ancient and Roman artifacts recovered from area excavations and Izmir's Agora as well as an exhibit of pottery, ceramics and glass, as well as the fascinating reconstructed 3rd-millennium-B.C. tomb.
Key Museum – Collections of cars, model cars and memorabilia.
Arkas Art Center – Historical building, wonderful architect and of course the art.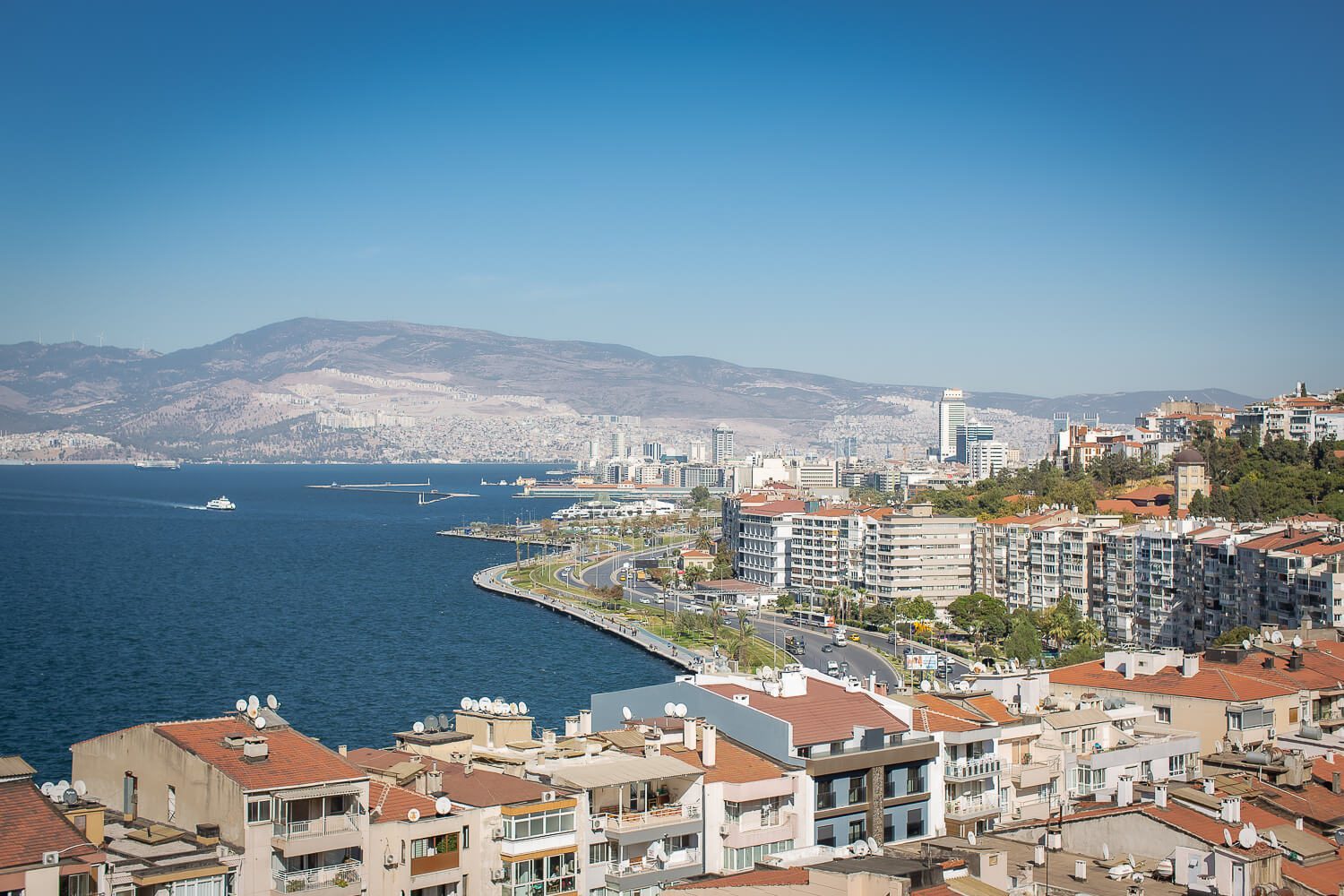 Asansör is a historical elevator tower located in Izmir's Karataş quarter. The historic building has two lifts inside that bring you to the top for some epic views of the bay and coastline (pictured above).
This is a great place to take pictures of the city from up above. It's also free to use. Asansör is a half hour walk from the Konak Pier along the promenade or you can easily get here via the tram. The Karatas quarter is dotted with adorable cafés and shops that give off a fun and inviting vibe.
Located outside of the main drag of the promenade, the Izmir Teleferik is a gondola that takes you atop a mountain offering aerial views of Izmir. If you are looking for an activity that is relaxing and beautiful, the Balçova Gondola is the perfect cheap thing to do in Izmir.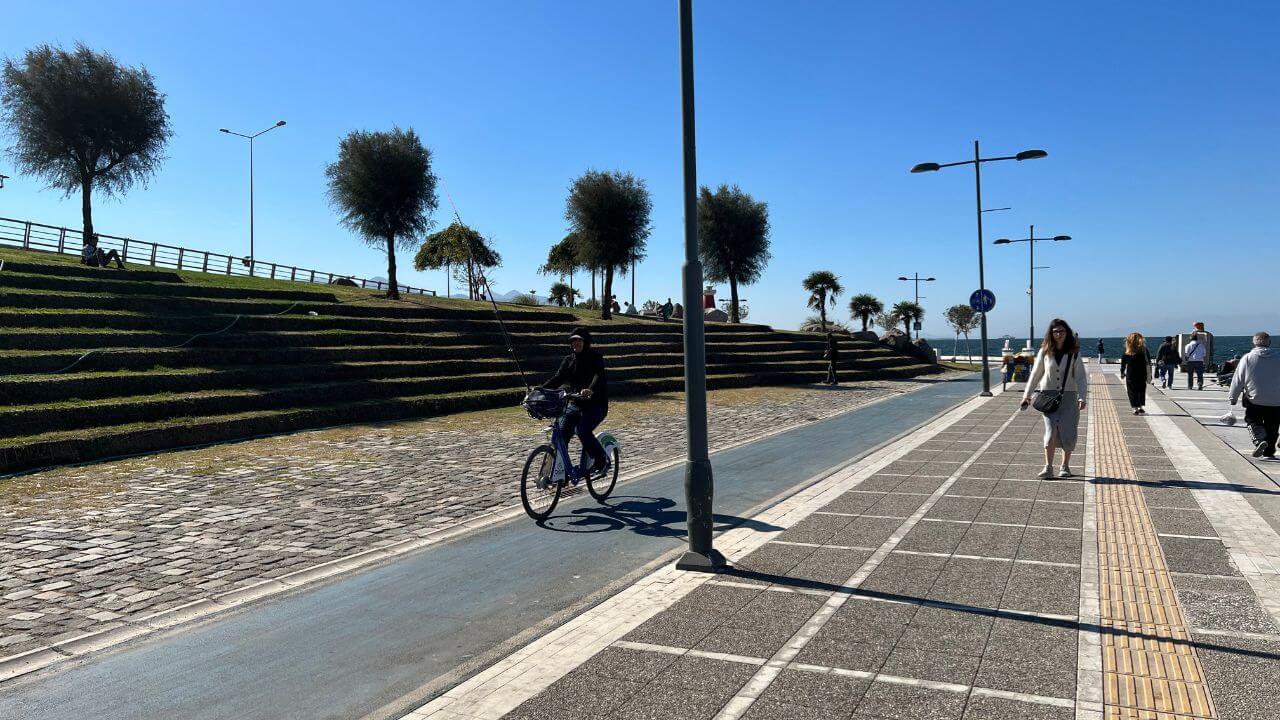 Bike the Promenade – Kordon to Göztepe
You can't miss the promenade when exploring Izmir and if you're up for a challenge you can bike the entire promenade from Kordon to Göztepe. Bikes are easy to rent as you can scoop one that's parked along the boardwalk.
These bikes are pretty nifty as you can unlock them with a use of a credit card and leave them at any other station that seems fit along the promenade. For example if you want to bike to the end, you can leave the bike at a bike station at the end of your route and catch the public tram back to the Izmir city center.
Best Day Trips from Izmir
If you read any other articles about the best things to do in Izmir, the following activities are usually apart of that list but the reality is that you can enjoy the following Izmir activities on a tour or independently but you'll need your own set of wheels. Renting a car in Turkey is extremely affordable and recommended if you want to visit multiple sites in one day.
My partner and I rented a car during our time in Izmir and we were glad we did. Roads are well maintained and easy to navigate. We were able to visit multiple sites in a day and being on our own schedule helped us avoid the crowds. I promise, you won't be disappointed when you're strolling around Pergamon and you're the only ones there.
Adeatepe is a small village perched atop a mountain top in the foothills of the Ida Mountains. Adeatepe has been home to Greek villagers for years and is tranquil oasis compared to the loud, hectic city of Izmir. Located about 3 hours north of Izmir, in Adeatepe old barns have been turned into barns and stones houses serve as hotels.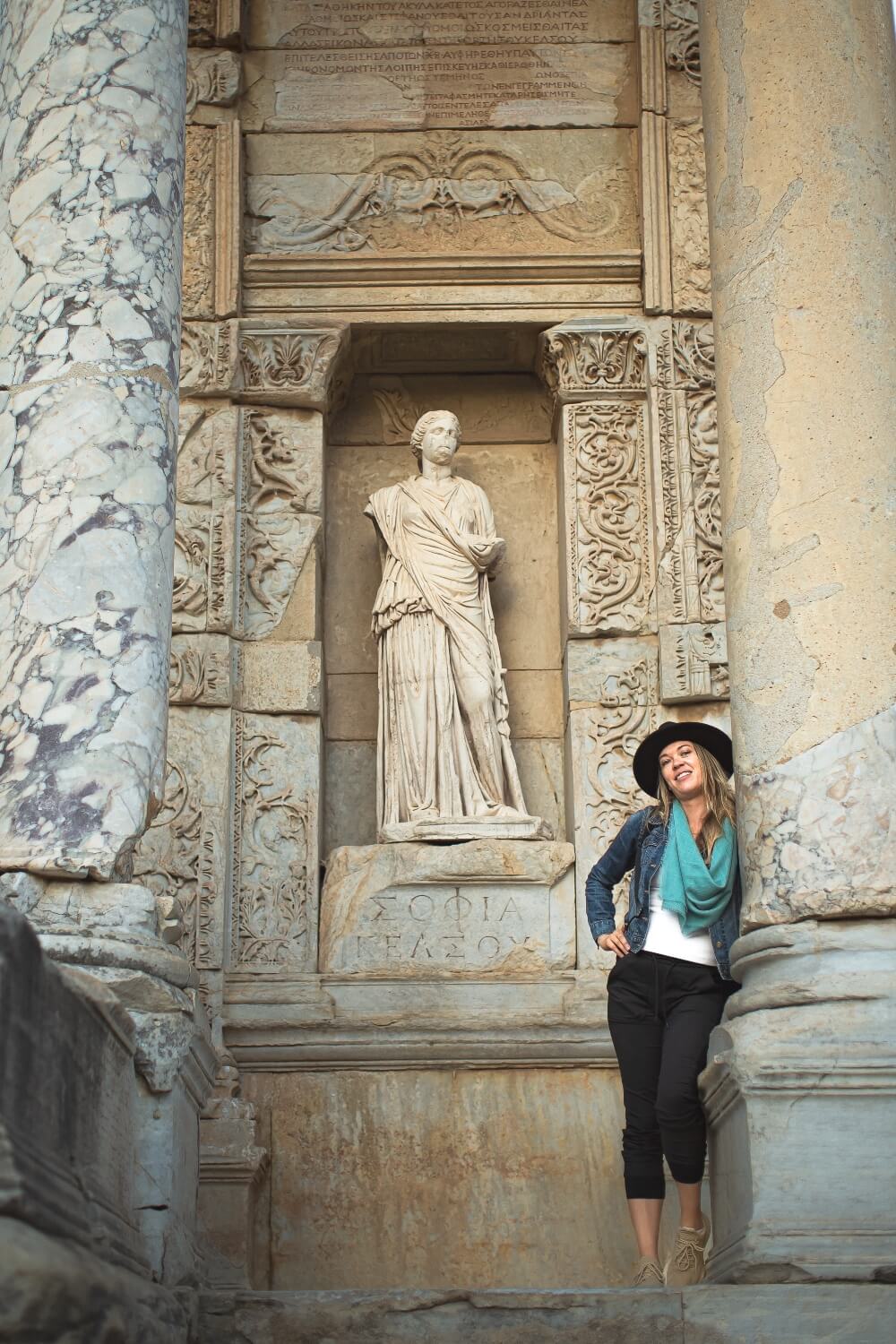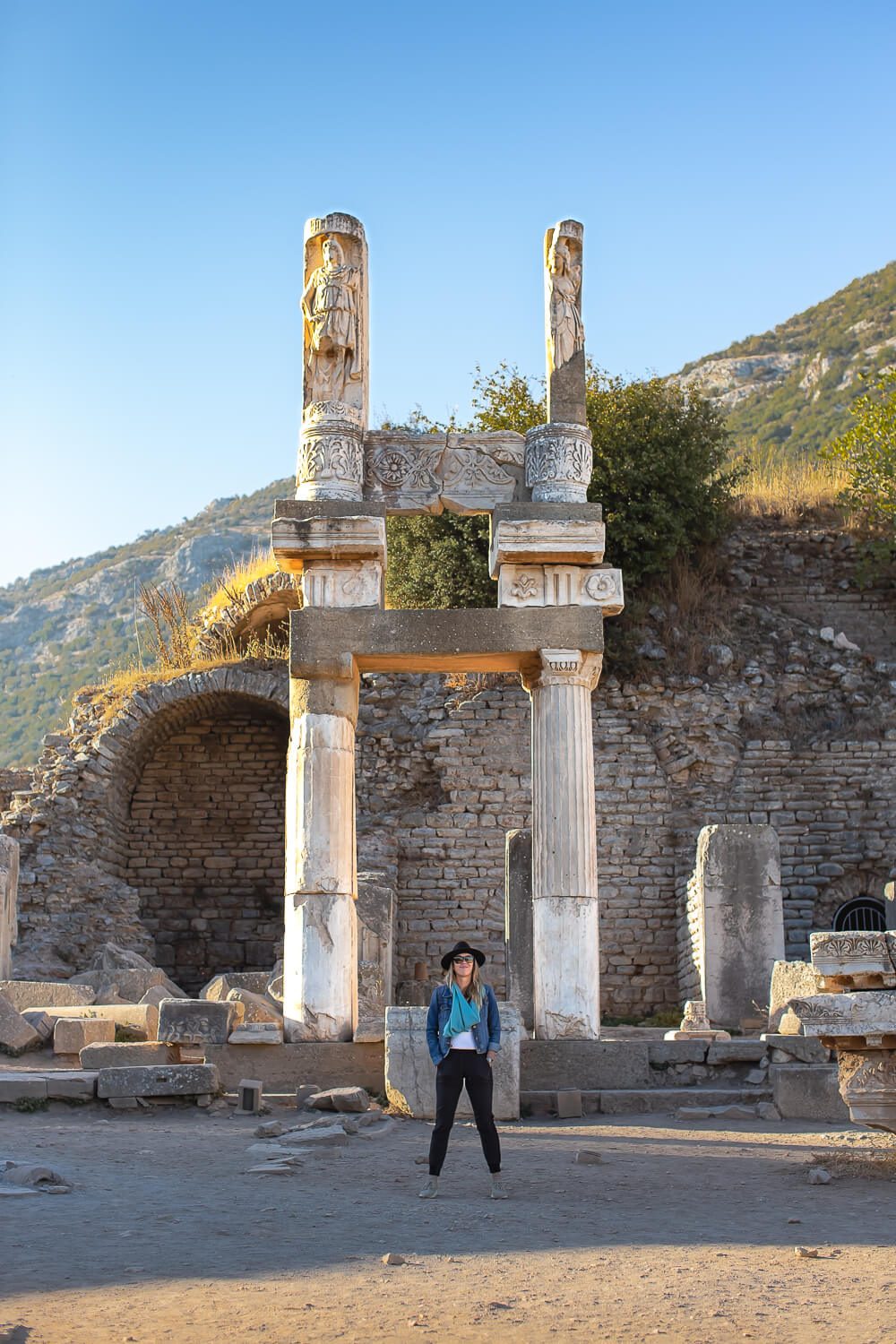 Ephesus is one of the most popular tourist attractions in Turkey and by far the best day trip from Izmir. Ephesus is an ancient port city built in the 10th century BC that was once a thriving metropolis in Greece and considered the most important trading center in the Mediterranean region.
Located about an hour away from Izmir, Ephesus attracts 3 million visitors from all over the world each year. The ruins are still very much intact and has such a colorful history, changing hands between many powers over the years.
The Ancient Greek city was added to the UNESCO World Heritage list in 2015. Highlights of the ancient city include the enormous amphitheater, the Library of Celsus, the Virgin Mary house, the agora and the aqueducts.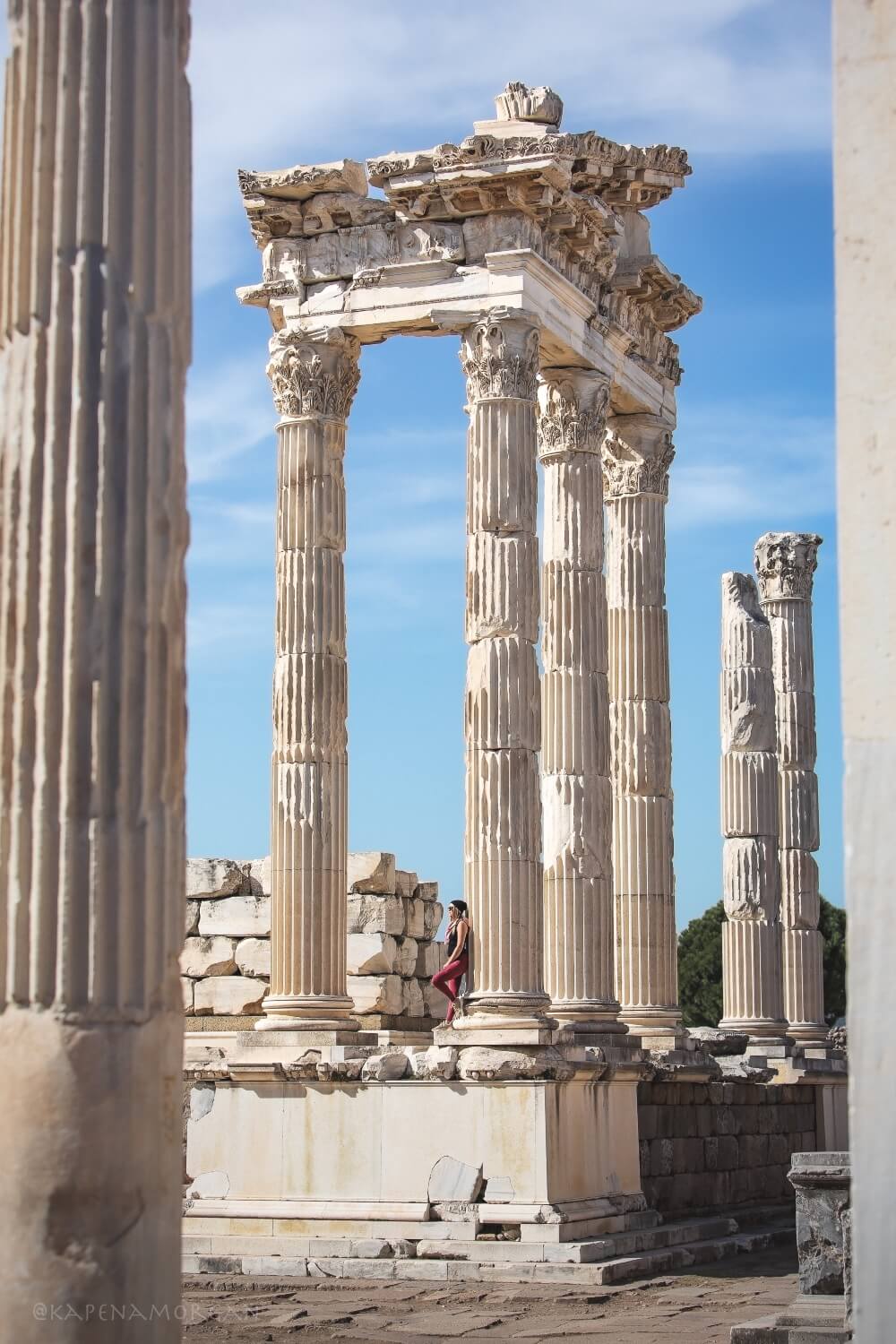 The Pergamon Acropolis is a stunning archeological site perched on a mountain top that overlooks the valley below. A lot of the ancient city is pretty intact as you walk around the site.
This ancient site in Turkey is far less visited than sites like Ephesus, Troy or Hierapolis. Located an hour and a half North of Izmir, this day trip can be completed in a half day and if you travel here in off season, chances are you'll have the place to yourself.
If you prefer to leave the logistics and planning to someone else, enjoy the Pergamon Acropolis, Ephesus and Pamukkale all on the same tour. For more information on this historical and fascinating site, you can read my full blog post here.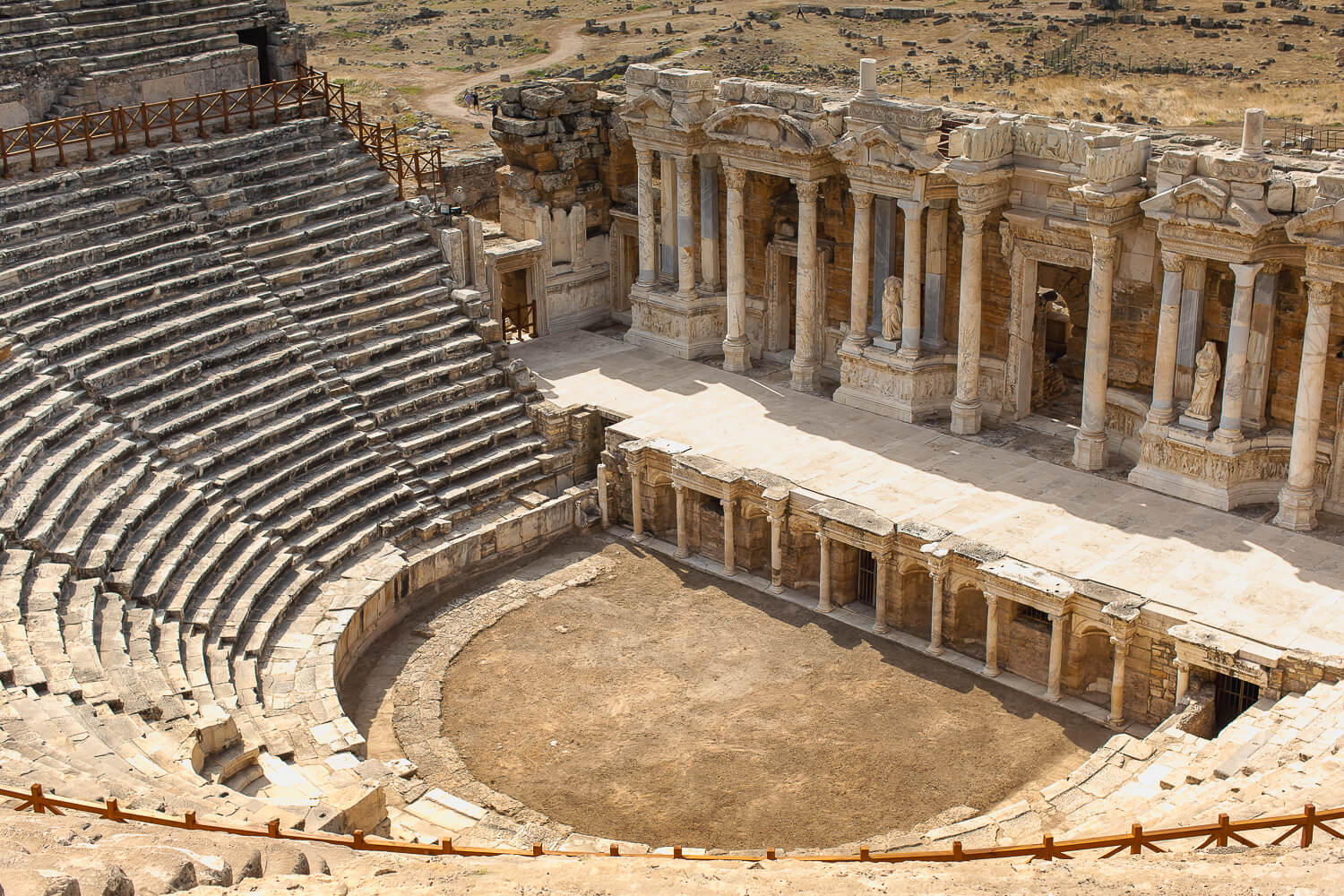 Pamukkale Cotton Castle & Hierapolis
Another UNESCO World Heritage Site is the Hierapolis and the Cotton Castle. The Cotton Castle in Pamukkale are natural thermal pools and one of the most stunning natural wonders in Turkey. Imagine terraced pools filled milky, light blue waters amidst a chalky white background. It's pretty dreamy.
Sitting above the cotton castle is the ancient city of Hierapolis where you can explore sights such as the Hierapolis theater, Temple of Apollo, Cleopatra Pools and the Necropolis tombs.
Çeşme and Alaçatı are seaside towns and great day trips from Izmir that you can pair together and visit in one day. Located about an hour away from Izmir.
Alaçatı is known for its beaches, old stone houses and winemaking traditions. Çesme is a small village that overlooks the harbor. Çeşme Castle is surrounded by clear waters and is a good diving spot.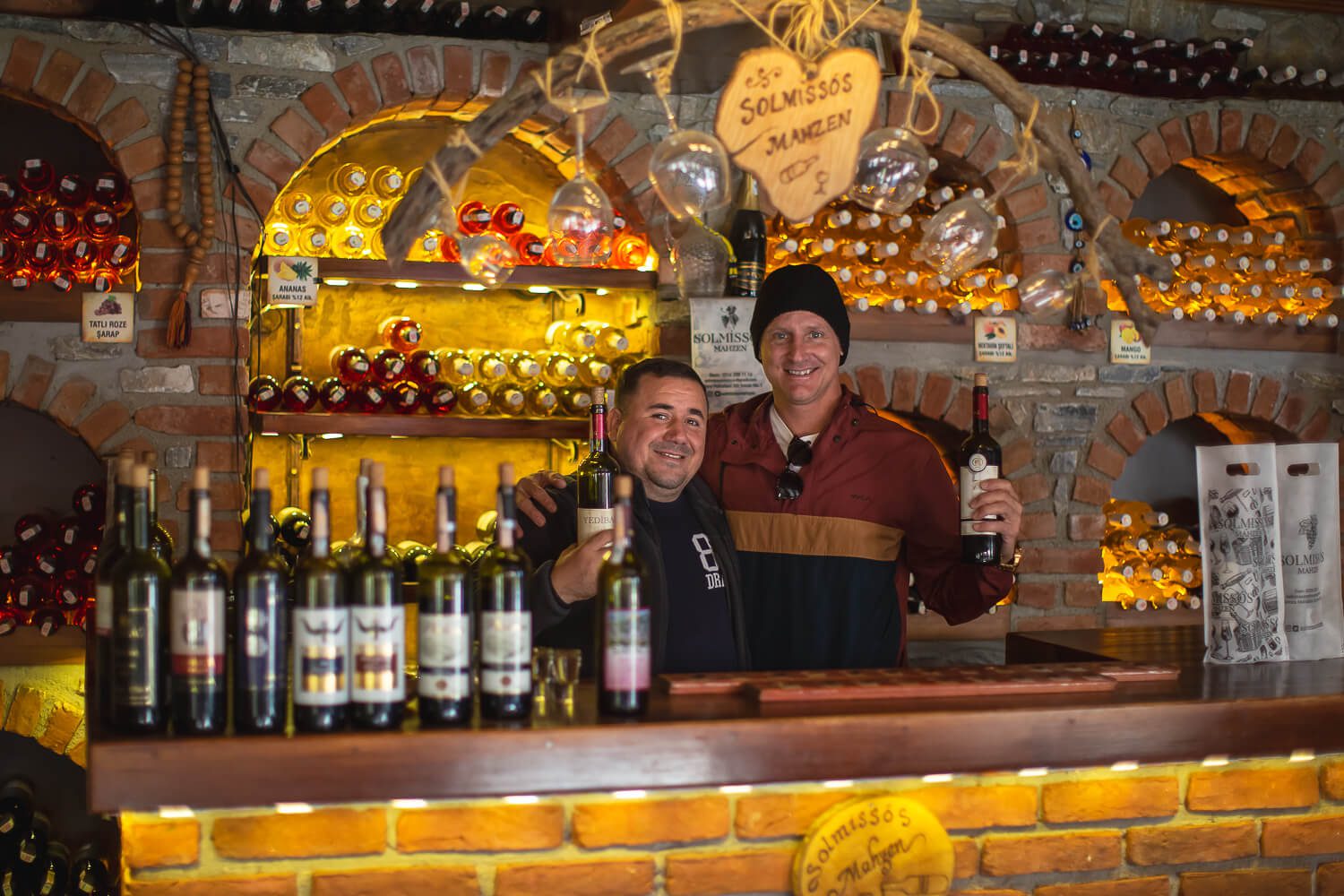 Şirince is a small local village known for its fruit wine that they make in the area. Located about an hour away from Izmir, this is a great stop to pair with Ephesus if you rent a car and are traveling independently.
The town is as adorable as they come, filled with friendly locals, small shops and wine cellars selling their unique fruit wine. Sampling all the different flavors is highly recommended.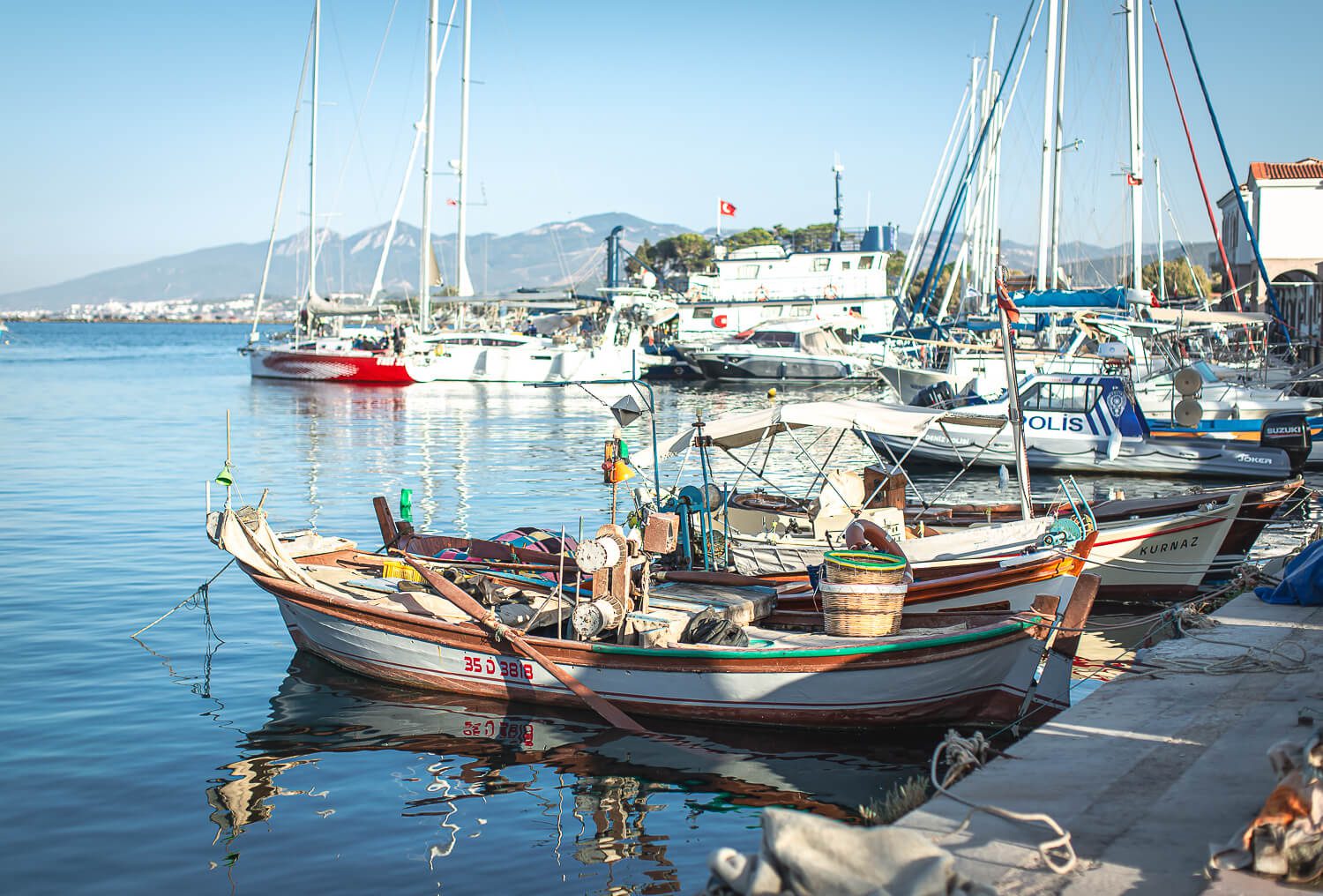 Urla is another seaside town located about a half hour from Izmir. Known for its wineries and olive oils is a popular vacation spot with the locals.
If you're looking for a quick escape and a nice seafood dinner, Urla is an obvious choice. Think fine wines, ocean breeze and a chance to experience a small taste of local life.
Travel Tip: Check out the Usca Winery for a superb wine tasting.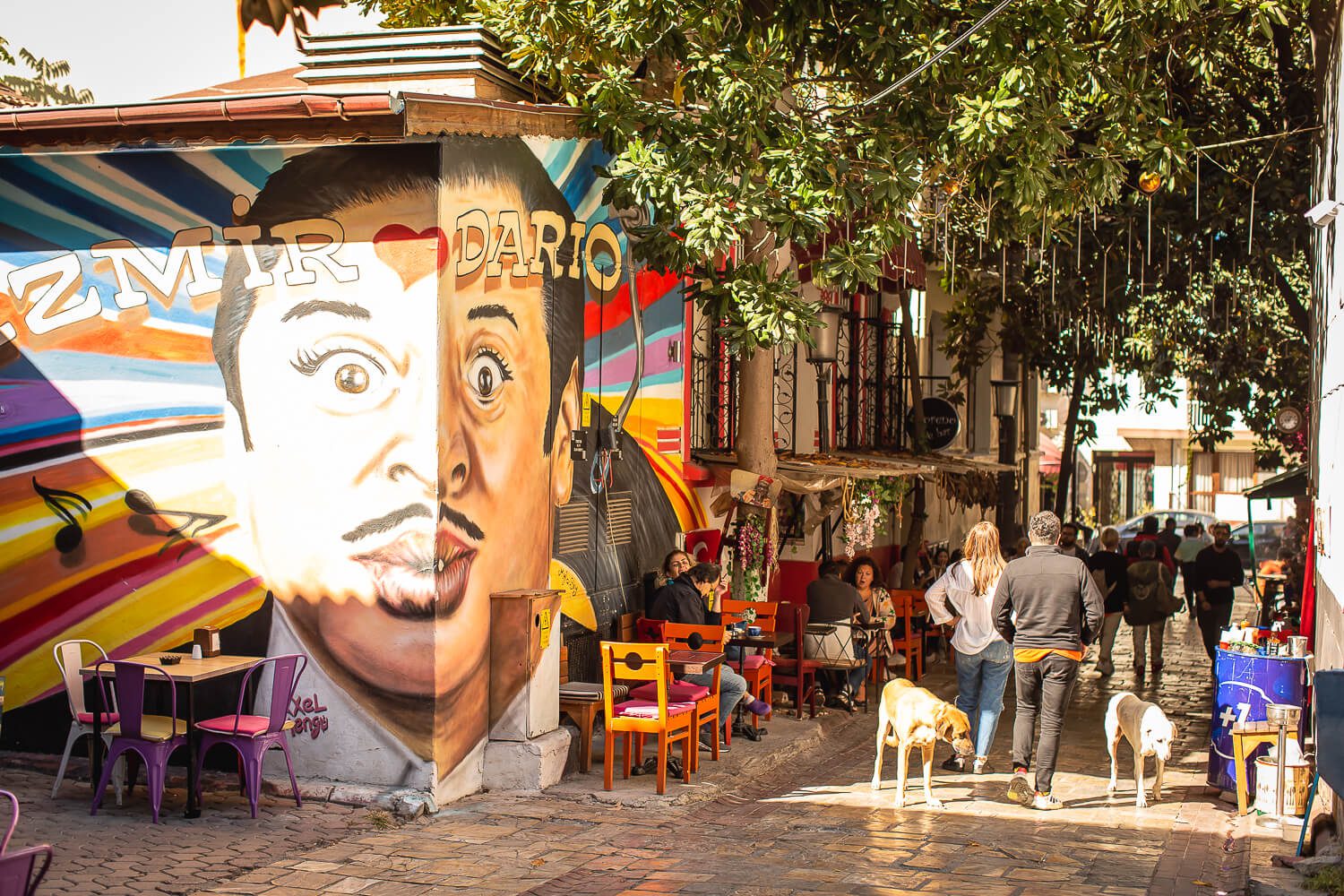 Cheap Hotels in Izmir
Piano Hotel – A budget friendly hotel located in the heart of the Konak district in Izmir, steps away from the Kemeralti Bazaar and walking distance to a majority of all the things to do in Izmir.
Mid Range Hotels in Izmir
Radisson Hotel Izmir Aliaga – Mid range Izmir hotel set in a quiet location. Amenities include a spa, fitness center, free parking and continental breakfast.
Luxury Hotels in Izmir, Turkey
Izmir Marriott Hotel – Luxury on the water at a fraction of the price. Enjoy tons of perks like a sauna, hot tub, relaxing spa, fitness center and bar & restaurant on site.
How to Get to Izmir, Turkey
There are several different ways to get to Izmir, Turkey – by plane, by boat, by bus or by car.
The easiest and quickest way to get to Izmir is to fly. The closest airport to Izmir is Izmir Adnan Menderes International Airport (ADB), which has direct flights several times a day to all major airports in Turkey. Flying within Turkey is very affordable and saves a lot of travel time.
The cheapest option is taking the bus. Rumors have it from Istanbul it's a grueling trip to and from Izmir. From Pamukkale its a painless 4-5 hour bus ride. From Antalya to Izmir its about a 6-8 hour journey.
Izmir is Turkey's second largest port city (Istanbul being the first). If you happen to have your own boat, Izmir is a fabulous place to dock. If you are taking a cruise around Turkey you will more than likely stop in Izmir.
Renting a car in Turkey is the most convenient option. Joe and I rented a car while we explored Izmir and those days were our favorite because we had more freedom.
Turkey Travel Tips
📍Plan your Trip: The Ultimate Guide to Turkey

🗺 How long to travel Turkey? 2 Weeks in Turkey Itinerary

☔️ Best Time to Visit: April, May, September and October are the best months to travel Turkey.

💰 Average Daily Budget: Turkey Budget Guide

⛺️ Turkey accommodation Guides

Where to Stay in Ankara
Where to Stay in Cappadocia
12 Stunning Cave Hotels
Where to Stay in Istanbul

🪂 Highlights

Exploring Ephesus
Discovering Istanbul
Pergamon Ruins
Wander the Capitol of Ankara

🧳 What to Pack: What to Pack for Türkiye

🎥 Watch our Turkey Series on YouTube

Get on my Email list to see what I'm up to and all the best travel content!
Do you have any favorite things to do in Izmir? Let me know in the comments below ↓
Enjoy this Post?!?! Pin in for Later ↓