Mostar, a city renowned for its unforgettable blend of Ottoman and Austro-Hungarian influences, is a captivating destination in Bosnia & Herzegovina. There are many things to do in Mostar that spending a few days in this quaint town should definably by on your Balkans Itinerary.
Nestled in a valley and bisected by the majestic Neretva River, Mostar is most famous for its iconic Stari Most (Old Bridge), a UNESCO World Heritage Site that dates back to the 16th century. Many people visit Mostar on a day trip from Sarajevo as its less than a 3 hour train ride from the capital. If you have the gift of time, dedicate a few days to explore this city.
Is Mostar worth visiting? In this article, I'll go over the best things to do in Mostar, list any tips for traveling Bosnia & Herzegovina and talk about onward travel from Mostar. You'll quickly find out that Mostar is definitely worth visiting.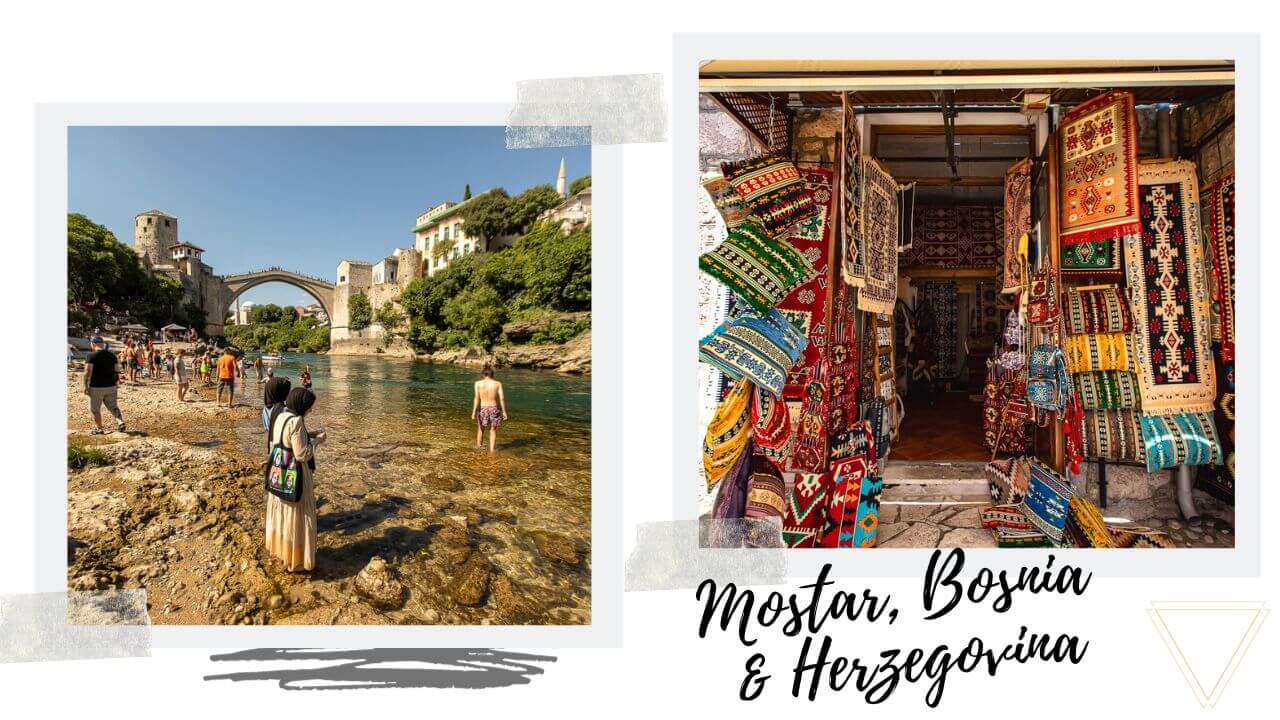 For full transparency, I have sprinkled some affiliate links in this post.  As an Amazon Associate I earn from qualifying purchases that gives me a small commission at no extra cost to you if you decided to make a purchase.  As always, I would never recommend a product or service that I didn't truely believe in.  All proceeds go to keep Jess traveling and coffee ☕️.  I thank you in advance.
Below I have a listed the best things to do in Mostar for easy viewing. If you'd like more information on a certain activity, click on the blue links below for a detailed post or vlog of that specific thing to do in Mostar.
Admire the Old Bridge
Shop for Local Crafts in the Old Bazaar
Grab a Drink and Watch Locals Throw Themselves off the Bridge
Take a Boat Ride Along the River
Jump off the Diving Platform in the River
Admire the Gymnasium Building
Find the Bruce Lee Statue
Take a Moment of Silence as you find Buildings Still Marked with Bullet Holes
Try a Traditional Bosnian Meal
Sample Bosnian Coffee
Karađoz Bey Mosque
Zip-line Across the River
Day Trips from Mostar Quick List
We filmed a couple travel vlogs during our time in Mostar. If you'd like to see what its like to visit Mostar, check them out after you read this article and please subscribe or give us a thumbs up. It doesn't cost you anything and really helps us be able to continue creating free content for you to enjoy 🙂.
Best Things to do in Mostar, Bosnia & Herzegovina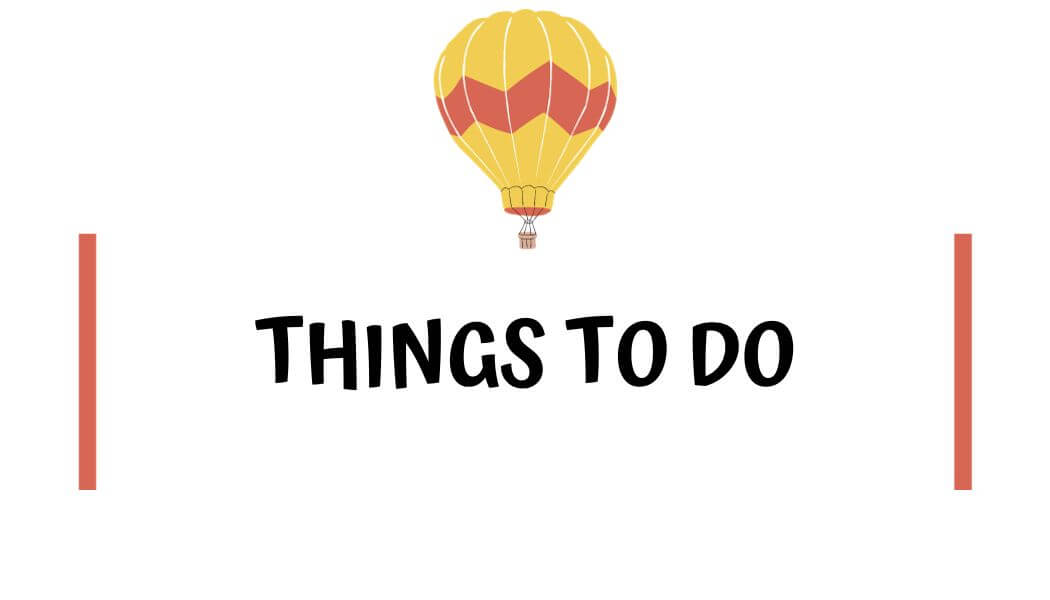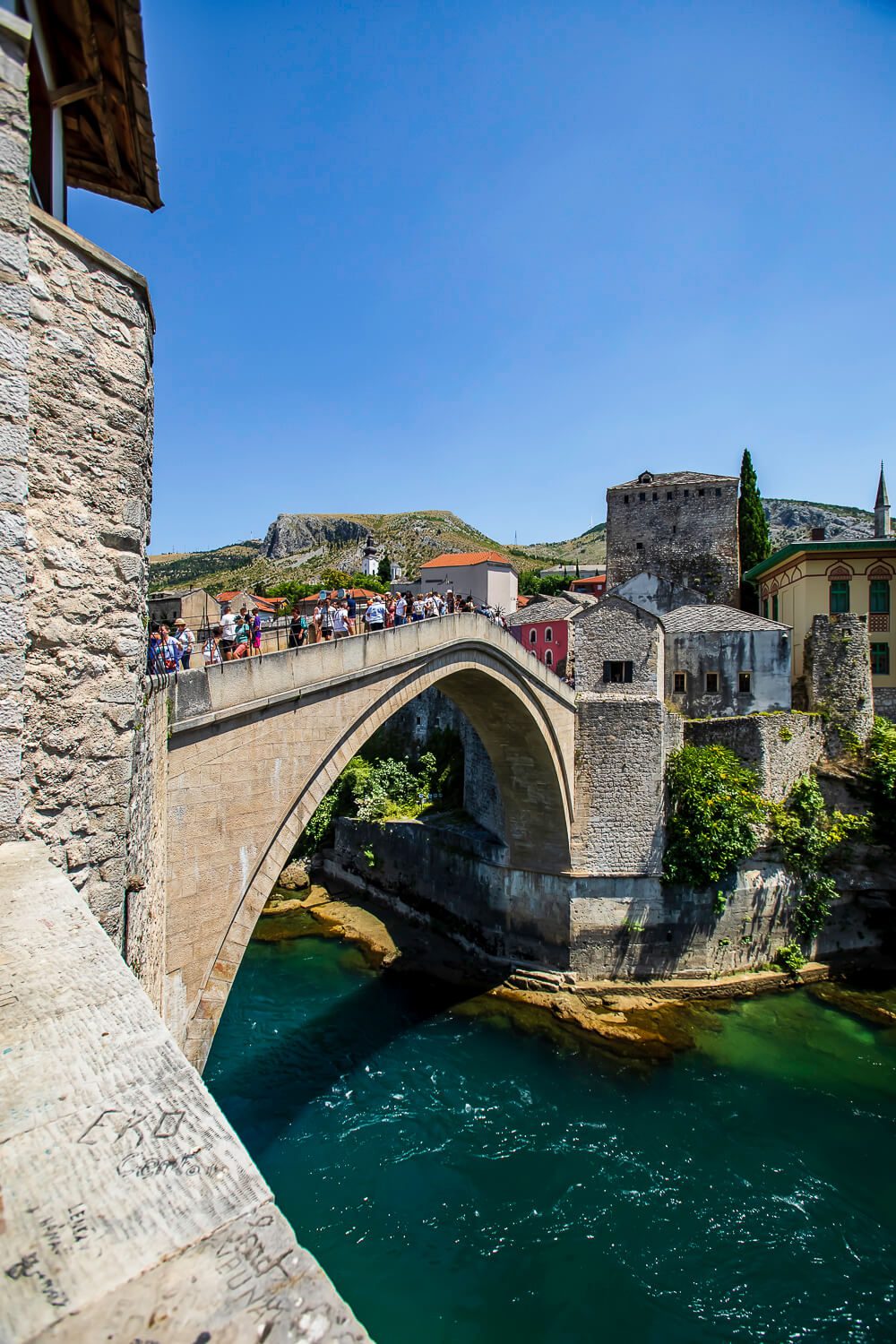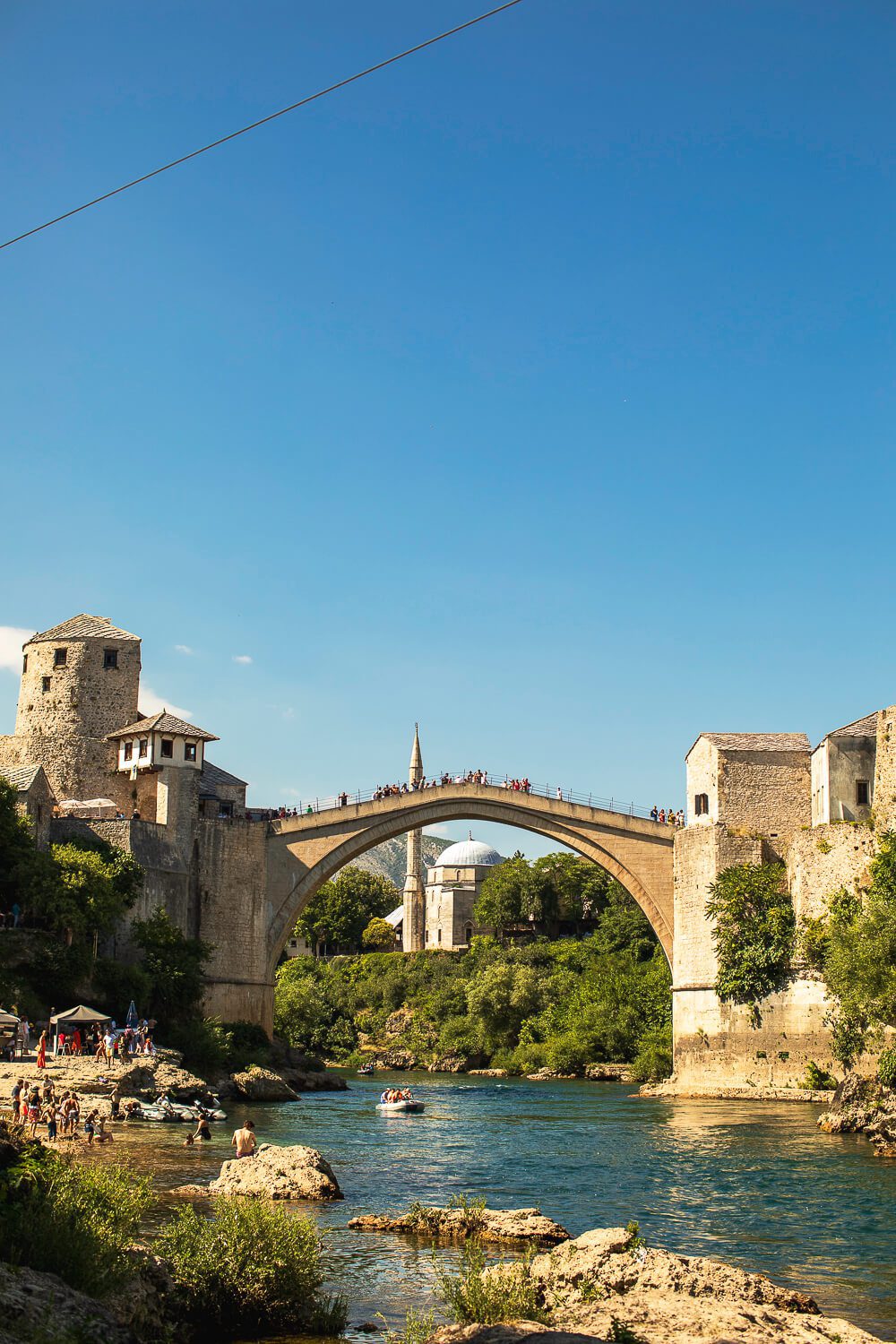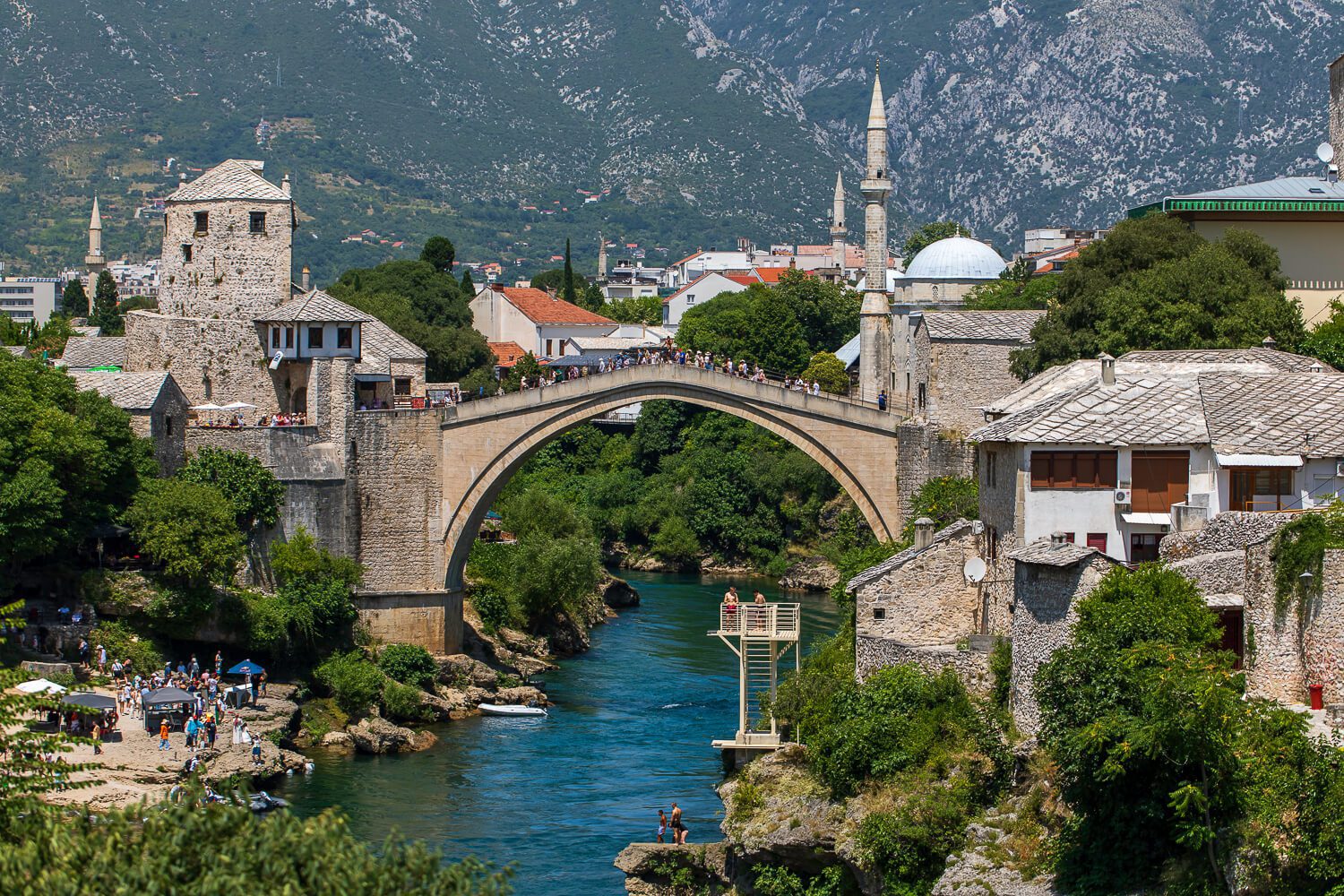 Admire the Old Bridge – Stari Most
Starting off our best things to do in Mostar list, is the most famous Mostar attractions, Stari Most. Stari Most or the 'Old Bridge' is a perfect example of Ottoman architecture.
Standing tall over the emerald waters, the Old Bridge exudes timeless charm and an elegant simplicity. You can't miss it as it's located in the center of town near the Old Bazaar.
The perfectly curved arches seem to defy gravity, a testament to the skill and craftsmanship of the builders who created this masterpiece almost 500 years ago. Make sure you admire Stari Most from all angles.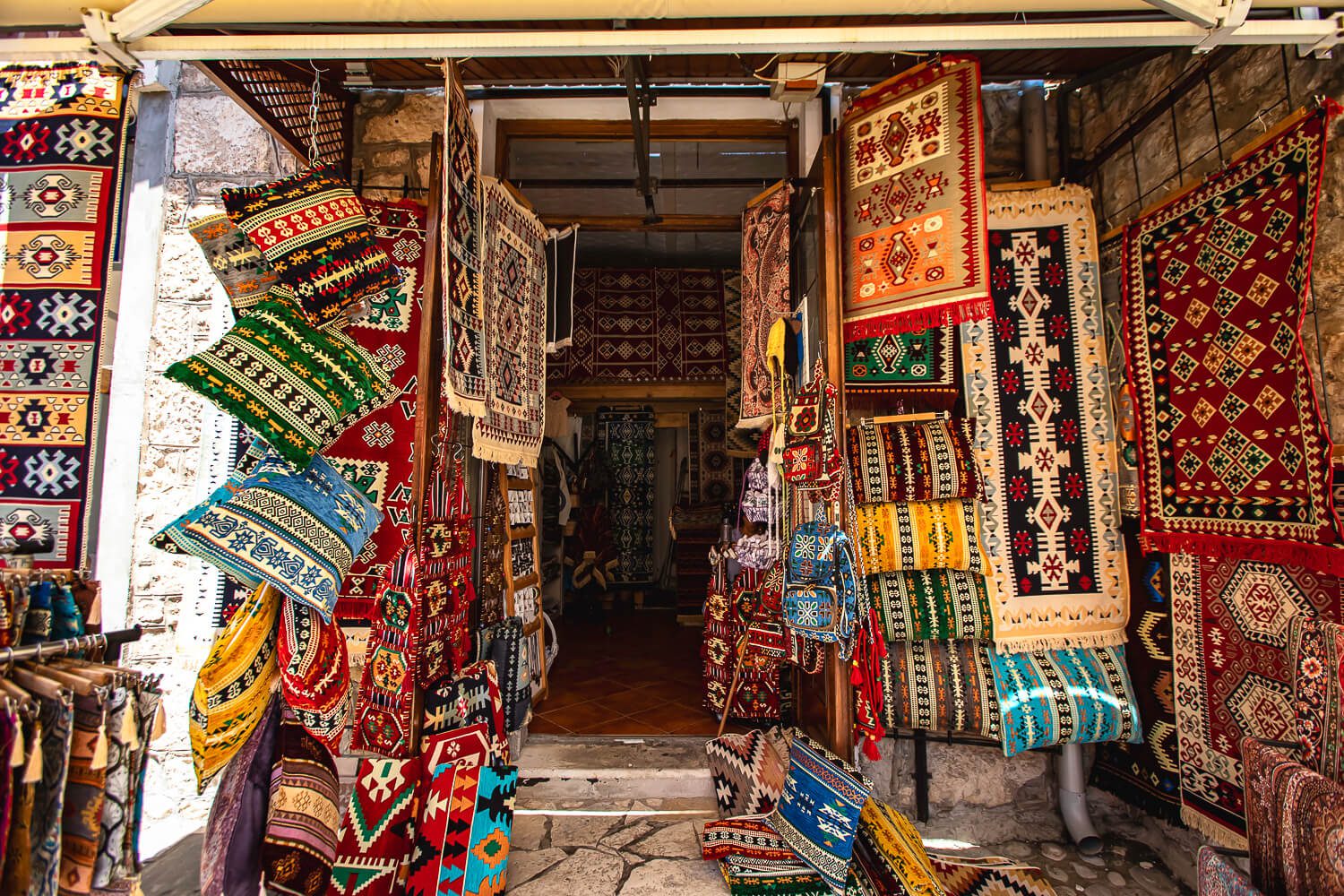 Shop for Local Crafts at the Old Bazaar
Of course one of the best things to do in Mostar is to shop for local crafts at the Old Bazaar. Stroll through the narrow cobblestone streets and shop local handcraft wares including intricately woven carpets, delicate jewelry. and beautifully hand-painted ceramics.
The vibrant and bustling marketplace can get very crowded and hot. If you are traveling to Mostar during the summer months, make sure you cool down with an ice cream cone or two.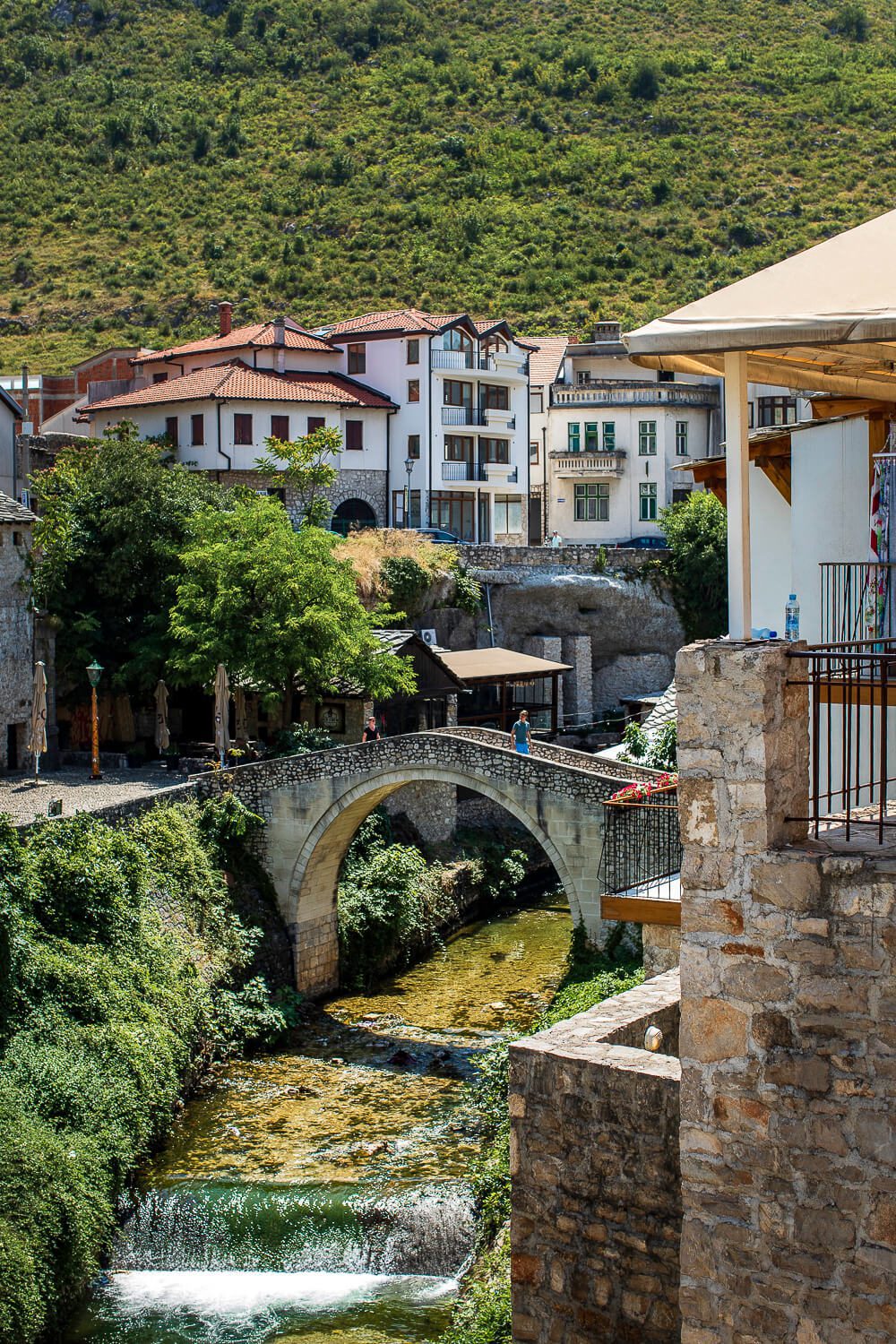 Take a Walking Tour of Mostar
One of the best ways to get to know a city is by going on a walking tour. A Walking Tour of Mostar is a great way to get to know the city and the history. It's even better when you can do so with a local guide and a group of like-minded travelers.
Tours usually last around 2 hours and a local guide will be able to answer any questions that you have. Get ready to immerse yourself in the rich cultural heritage of Mostar as you explore the bustling bazaars, authentic Ottoman-style house, and picturesque cobblestone alleys.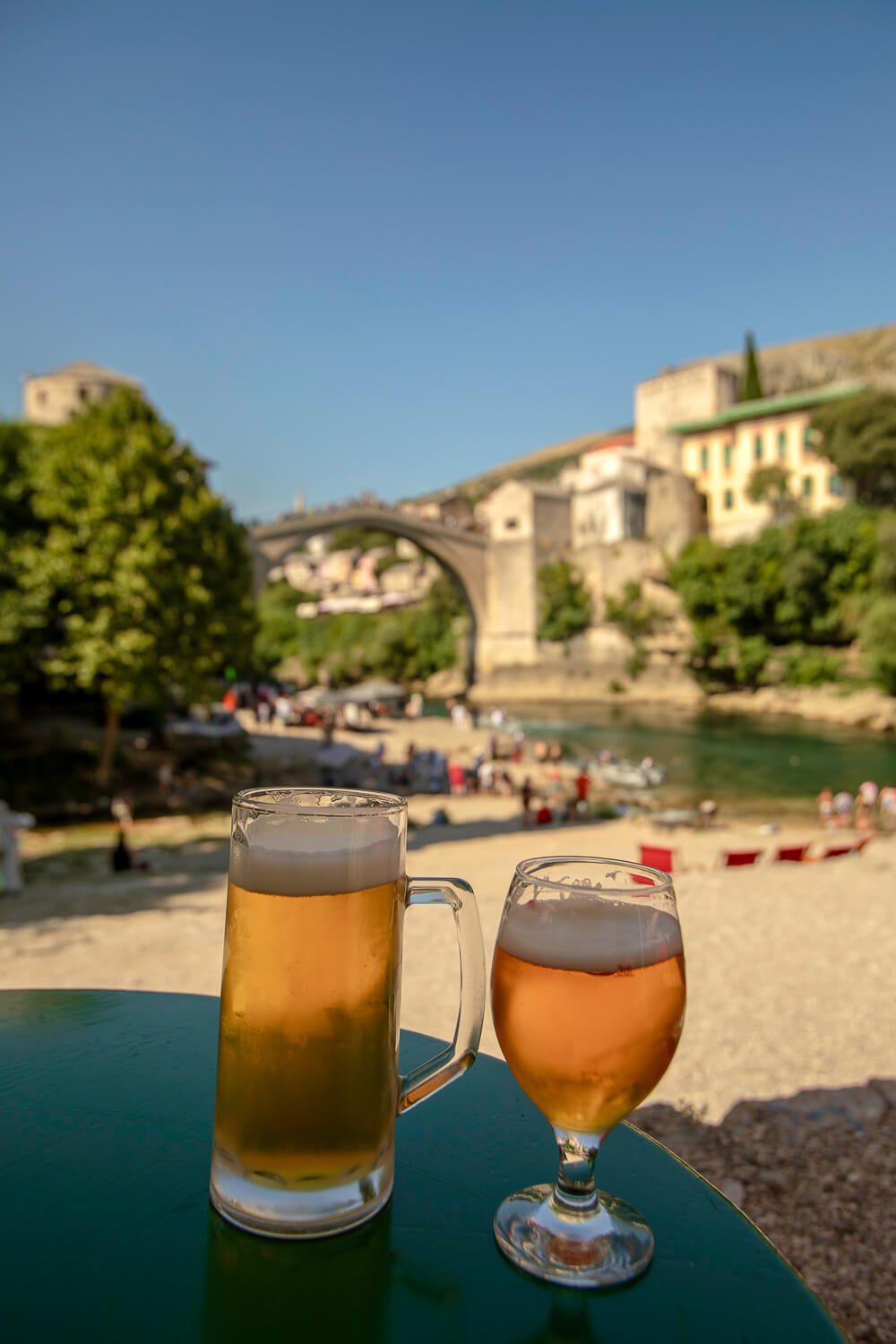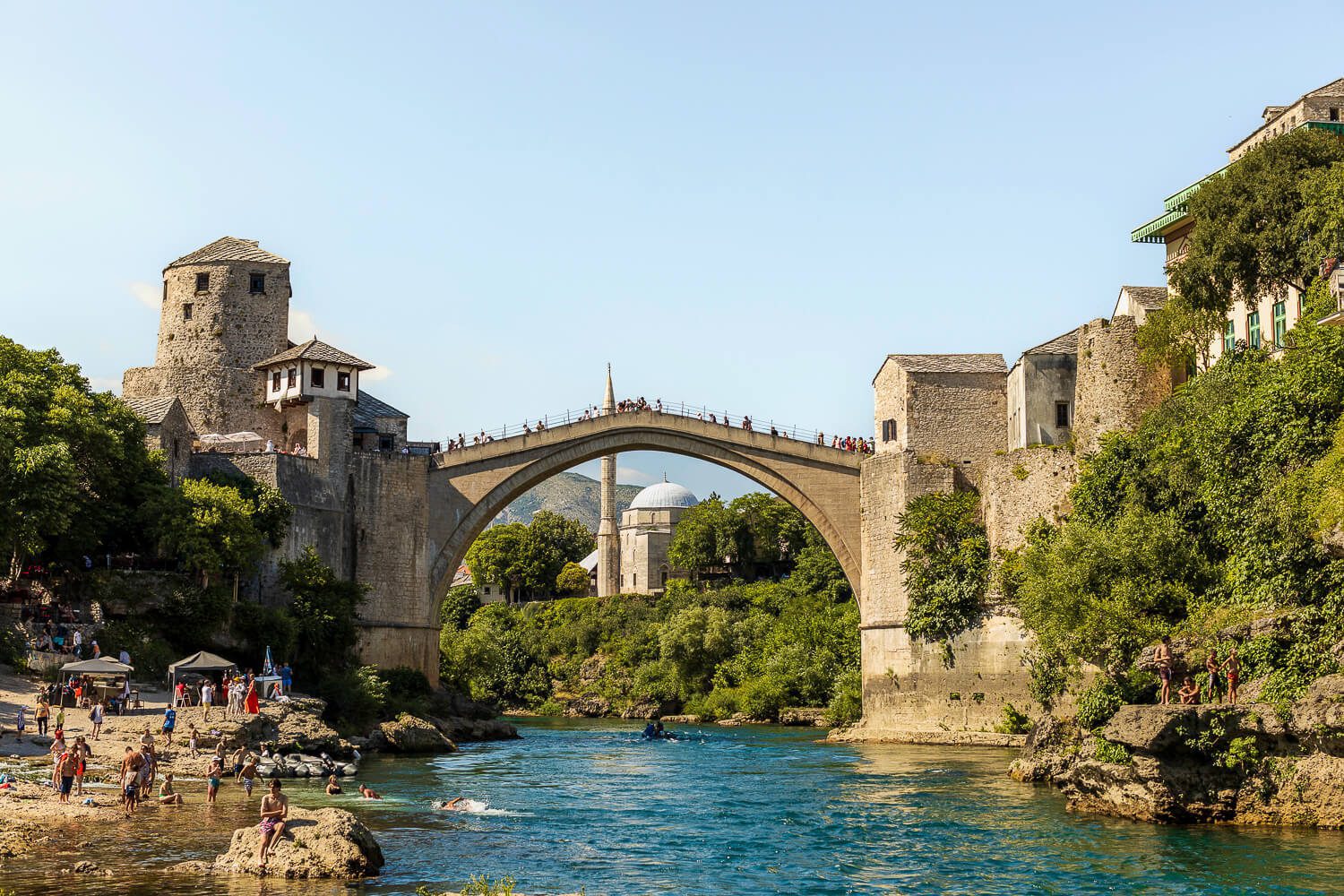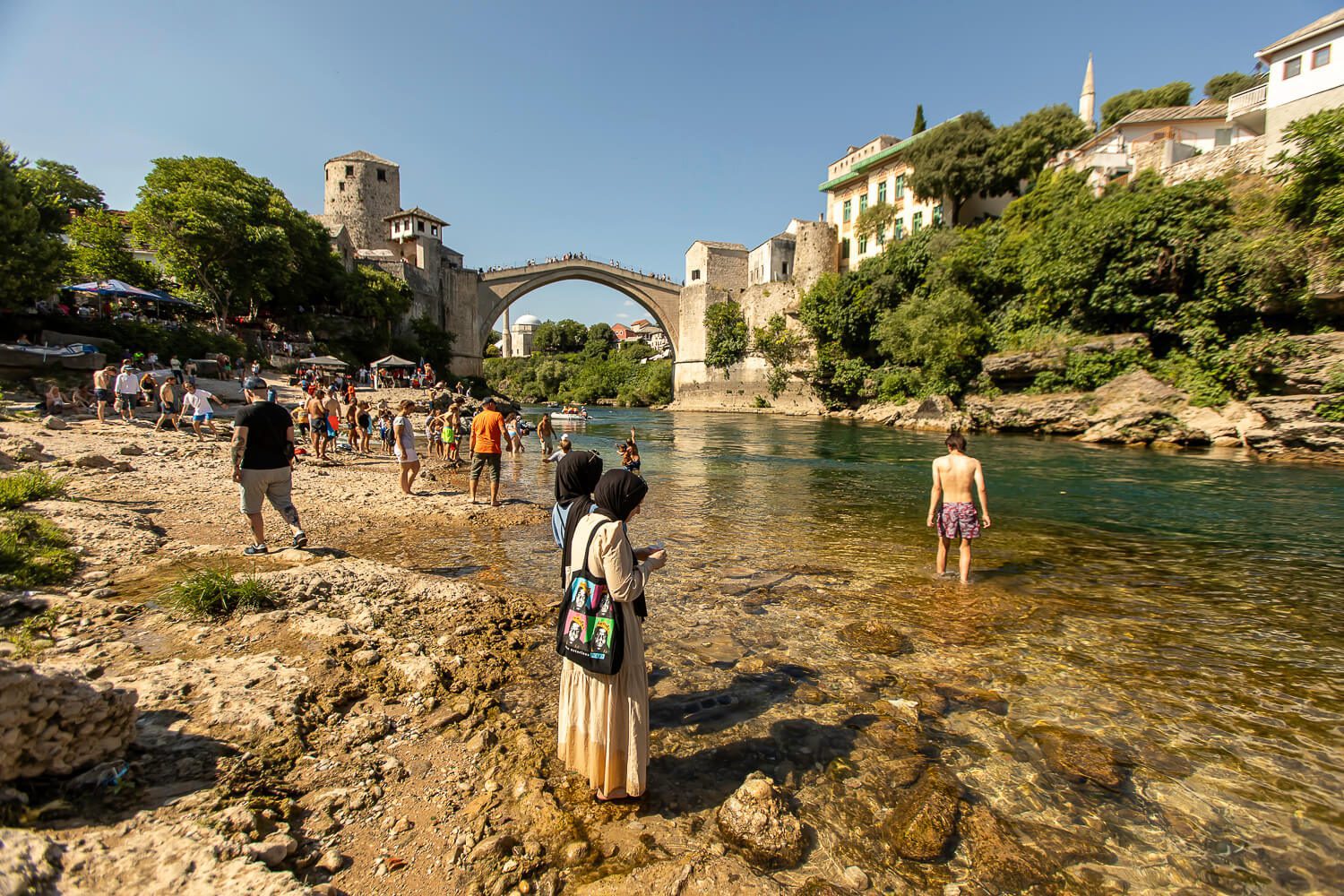 Grab a Drink and Watch Locals Throw Themselves off Stari Most
One of the highlights of a visit to Mostar is the opportunity to witness some locals hurl themselves off the Old Bridge. There were only a few locals diving off the bridge the day that I explored Mostar. They of course don't jump until their tip jar was full.
There is a a small bar with outdoor seating that serves cold local beer and offers the perfect view to watch divers dive off of Stari Most and the rest of the locals jump off a high dive platform in the river. This is the perfect way to spend a summer afternoon.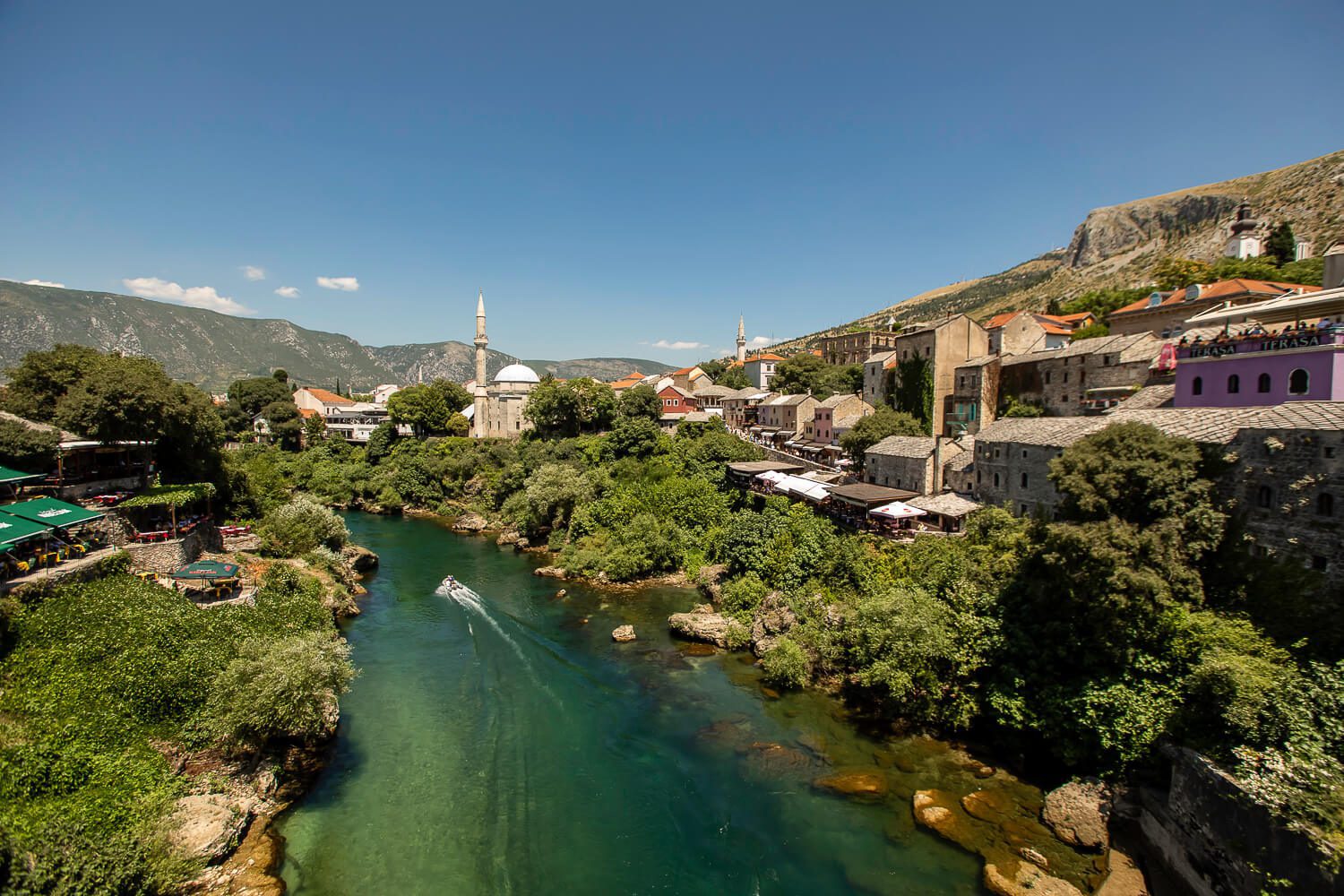 Take a Boat Ride Along the River
There are small inflatable rafts that offer rides up and down the river passing underneath the famous Stari Most. From the boat you can admire the landscape, with quaint houses and buildings adorning the river's edge. Boat rides last 10 minutes and cost 10 Mark.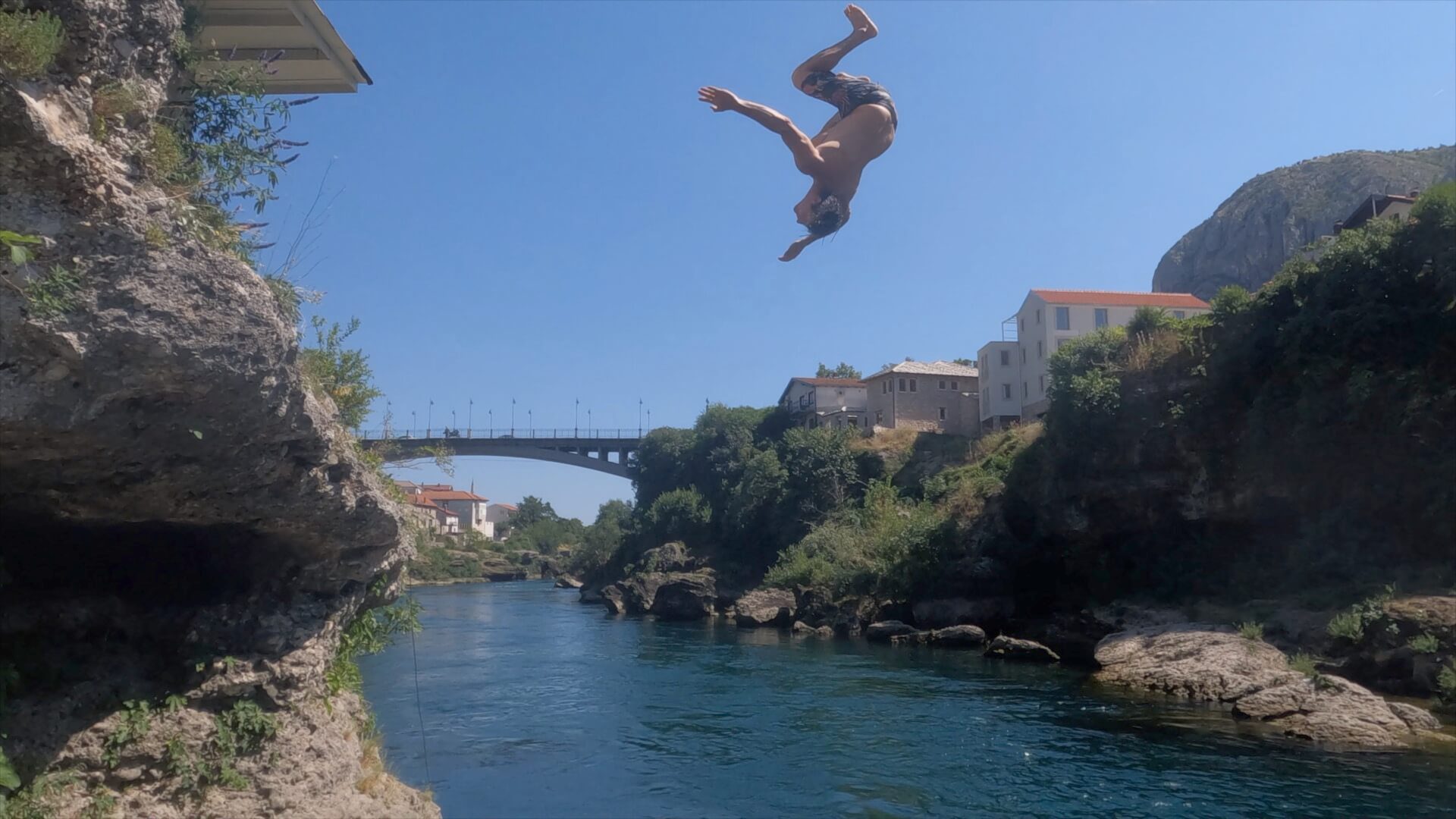 Jump off the Diving Platform in the River
If you love more of a thrill, another way to enjoy the Neretva River is to jump off the diving platform into the river with the locals. There are a few spots from rocks to jump off or you can take it to one of the two tiers on the high diving platform, the highest being about 50 feet.
You should be a strong swimmer to attempt this thing to do in Mostar as the current in the river is pretty strong. You will need to be able to swim across the river to the diving platform and back across the river once you've jumped.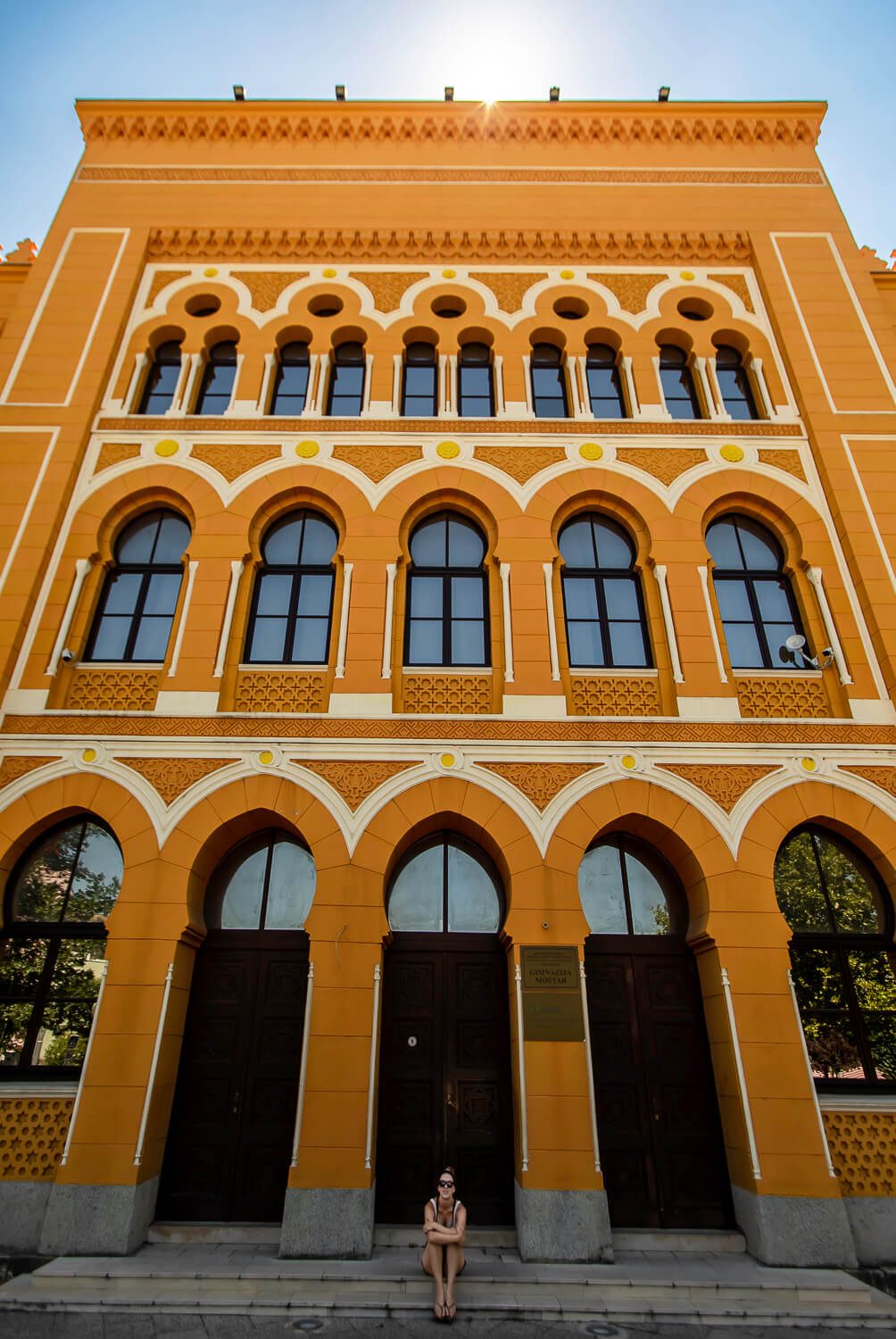 Admire the Gymnasium Building
In my opinion, one of the most beautiful buildings in Mostar is the Gymnasium Building. The imposing structure stands as a symbol of knowledge and education.
The intricate architectural details, with its arched windows and decorative elements, reflect the rich history of the building. The bright color of the building makes it stand out. You'll be pass by the Gymnasium on your way to the next thing to do in Mostar.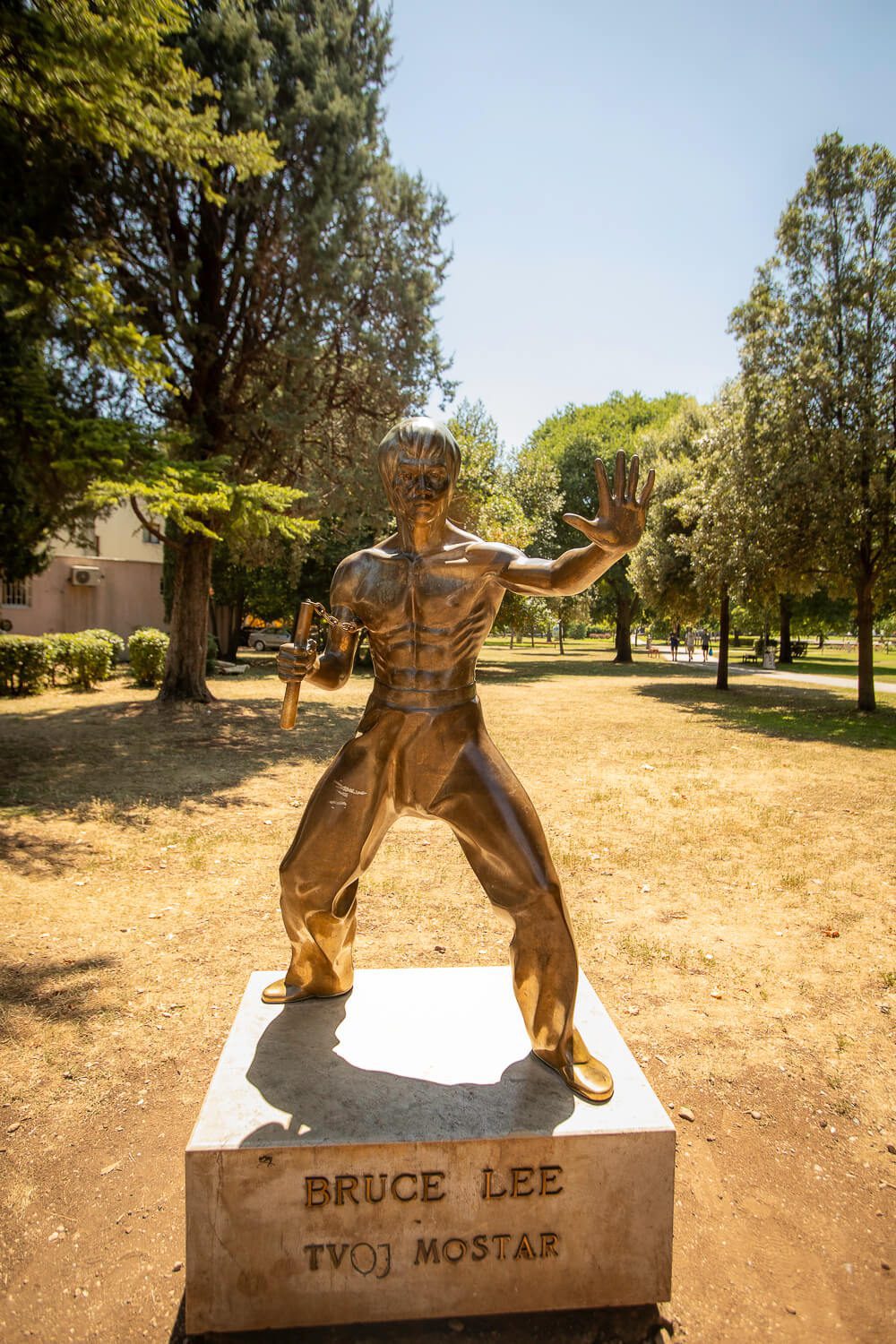 Find the Bruce Lee Statue
Coming in as the most unusual thing to do in Mostar is the Bruce Lee Statue. Yes, there is a bronze statue of Bruce Lee that lives in the park next to the Gymnasium building. The statue pays homage to Bruce Lee's philosophy, serving as a symbol of strength, determination and resilience.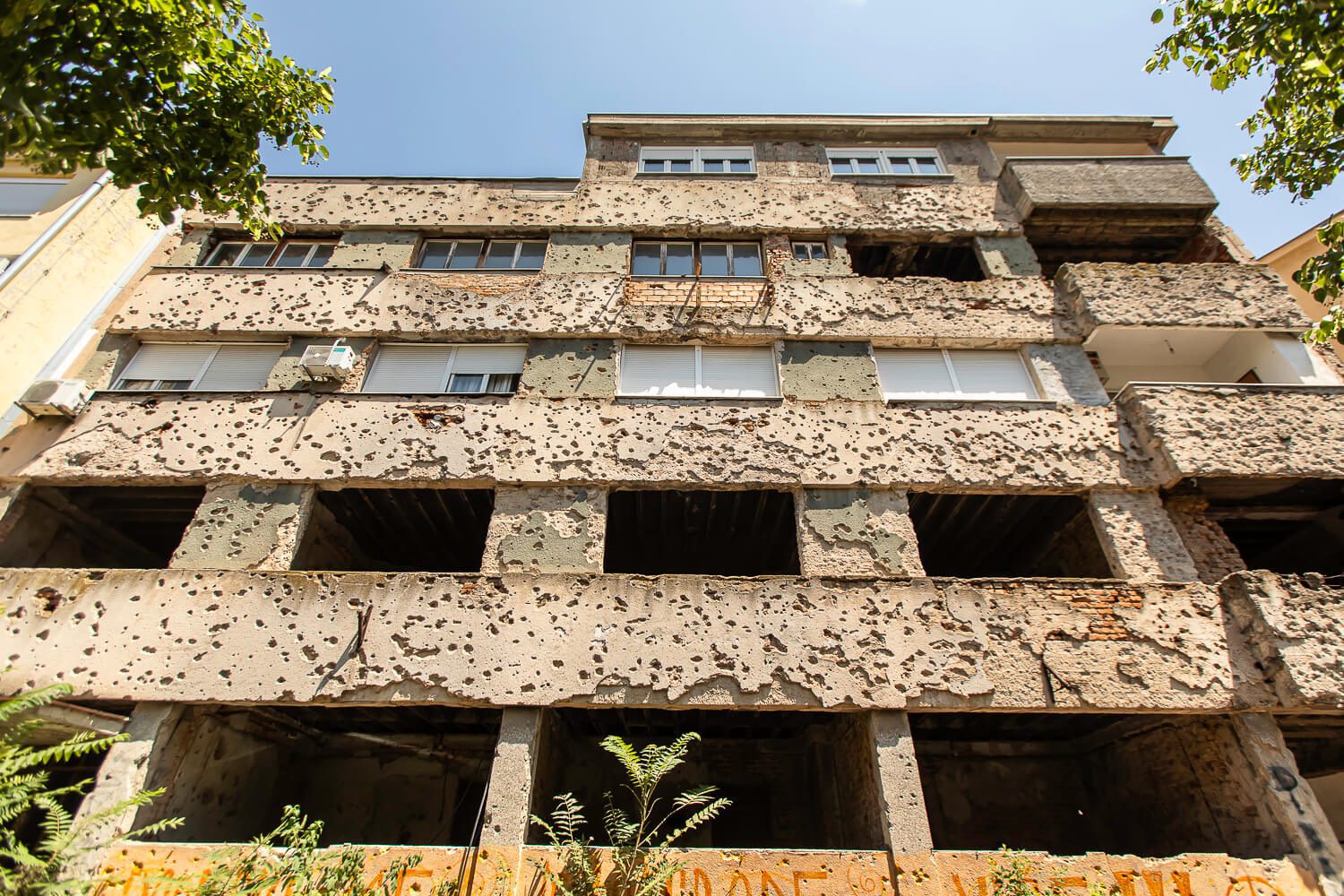 Take a Moment of Silence as you find Buildings still Marked with Bullet Holes
When you are exploring the streets of Mostar, you will stumble across buildings still marked with bullet holes, haunting reminders of the city's tumultuous past. These scars, etched on the facades, stand as solemn witnesses to the horrors of war and the resilience of its people.
Be sure to take a moment of silence. These bullet holes, once instruments of destruction, now serve as a poignant reminder of the city's journey towards healing and unity.
Try a Traditional Bosnian Meal
One of my favorite ways to get to know a culture and new country or city is by sampling the traditional cuisine. Mostar offers a wide array of traditional dishes including the iconic Cevapi or hearty Burek.
The most popular Bosnian dish is the čevapi which consists of grilled meat sausages served with fresh bread, raw onions and a side of kaymak which is a creamy tziki type sauce. Another must try Bosnian dish is burek – a flaky pastry filled with meat, cheese or spinach, baked to perfection and served hot.
Pair these dishes with a cup of Bosnian coffee and you'll have a complete culinary experience that showcases the traditional flavors and warmth of Bosnian cuisine in the bustling streets of Old Town. Better yet, opt for a food tour to get the inside scoop.
Bosnian coffee or 'bosanska kava' is a beloved beverage in Bosnia and Herzegovina. Known for its strong flavor and unique brewing method, Bosnian coffee is more than just a beverage – it's a symbol of hospitality and a way of socializing.
Similar to Turkish coffee, finely ground coffee and water are mixed in a special pot and slowly heated on a stove. Once the coffee starts to brew and forms a frothy layer on top, it is poured into small cups and often accompanied by a a cube of sugar or Turkish delight.
You can find Bosnian coffee at most cafes, we had a cup at a cafe in the Old Bazaar. Enjoying a Bosnian coffee as you people watch is a great way to start your day and one of the best things to do in Mostar.
The Karađoz Bey Mosque is one of the most beautiful mosques in Mostar. The graceful architecture showcases a blend of Ottoman and Islamic influences, reflecting the city's diverse past.
The soft glow of sunlight filters through the stained-glass windows. The mosque's interior is adorned with delicate calligraphy and geometric motifs, creating a captivating visual display.
Zip-line Across the River
Another one of the best river things to do in Mostar is to zip-line across the river. The old town of Mostar will unfold beneath you, revealing its charming cobblestone streets, picturesque houses and Stari Most. The bird's-eye perspective provides a whole new appreciation for its historic and architectural marvels of the city.
A day trip to Kravice Falls is the best way to explore the natural beauty of Bosnia and Herzegovina. Kravica Waterfall (or Kravice Waterfall) is about an hours drive from Mostar by car.
Kravice Falls are a series of stunning waterfalls cascading down the height of 25 meters into a turquoise-colored pool. You can hike along the marked trails that provide excellent viewpoints, to capture the beauty from all different angles. Don't forget to pack your swimsuit.
Rounding out our list of the best day trips from Mostar is the small town of Jajce. Located in central Bosnia and Herzegovina, Jajce is known for national monuments and natural landscapes such as Jajce waterfall.
Taking a tour is a great way to learn about the history of Mostar. Also if you are short on time, you can visit Mostar on a day trip from a popular nearby destination. Here are a few Mostar tours with great reviews to check out.
📌 Mostar Tours: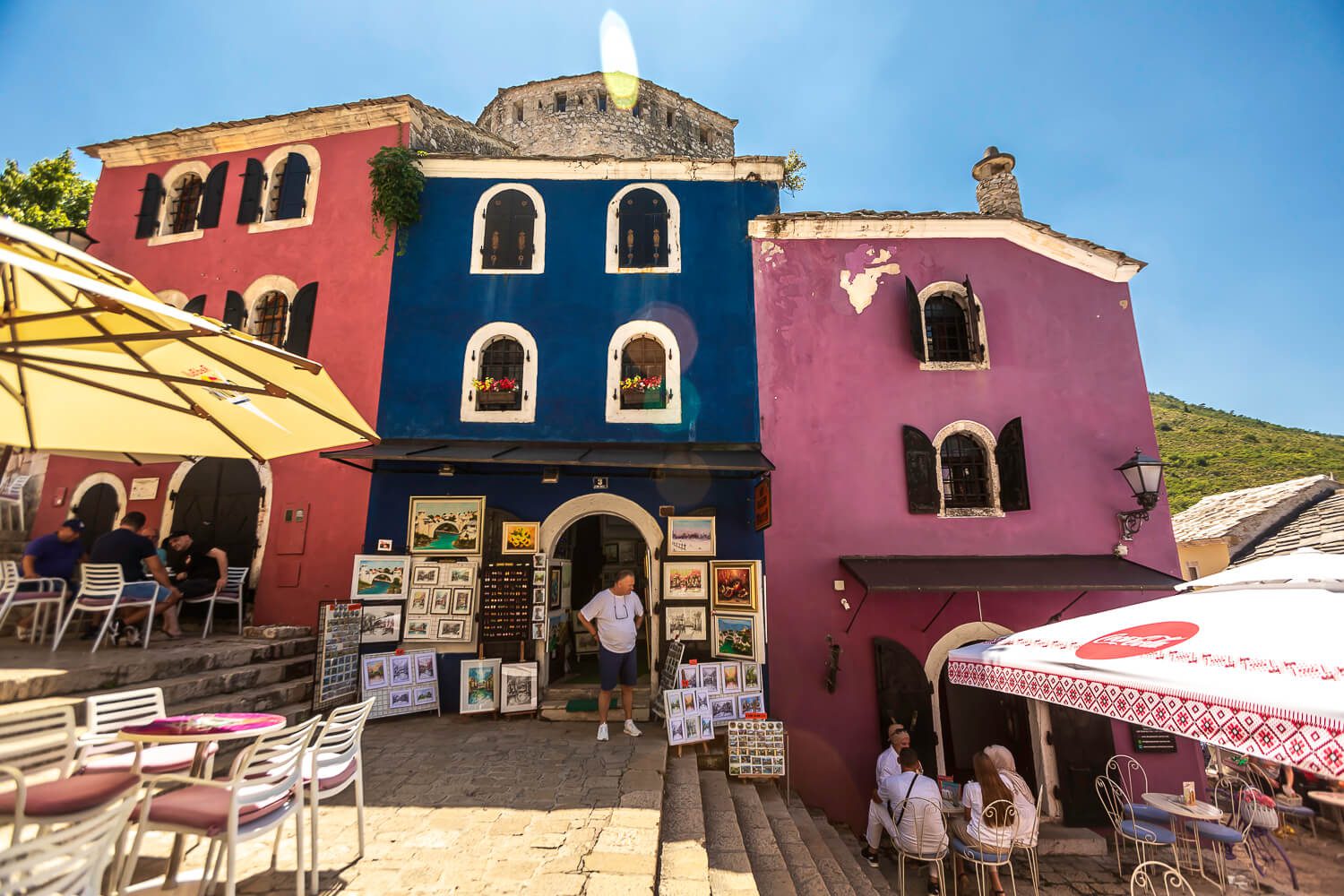 There are plenty of places to stay in Mostar that will accommodate every type of traveler and on every type of budget. These are the top picks on where to stay in Mostar.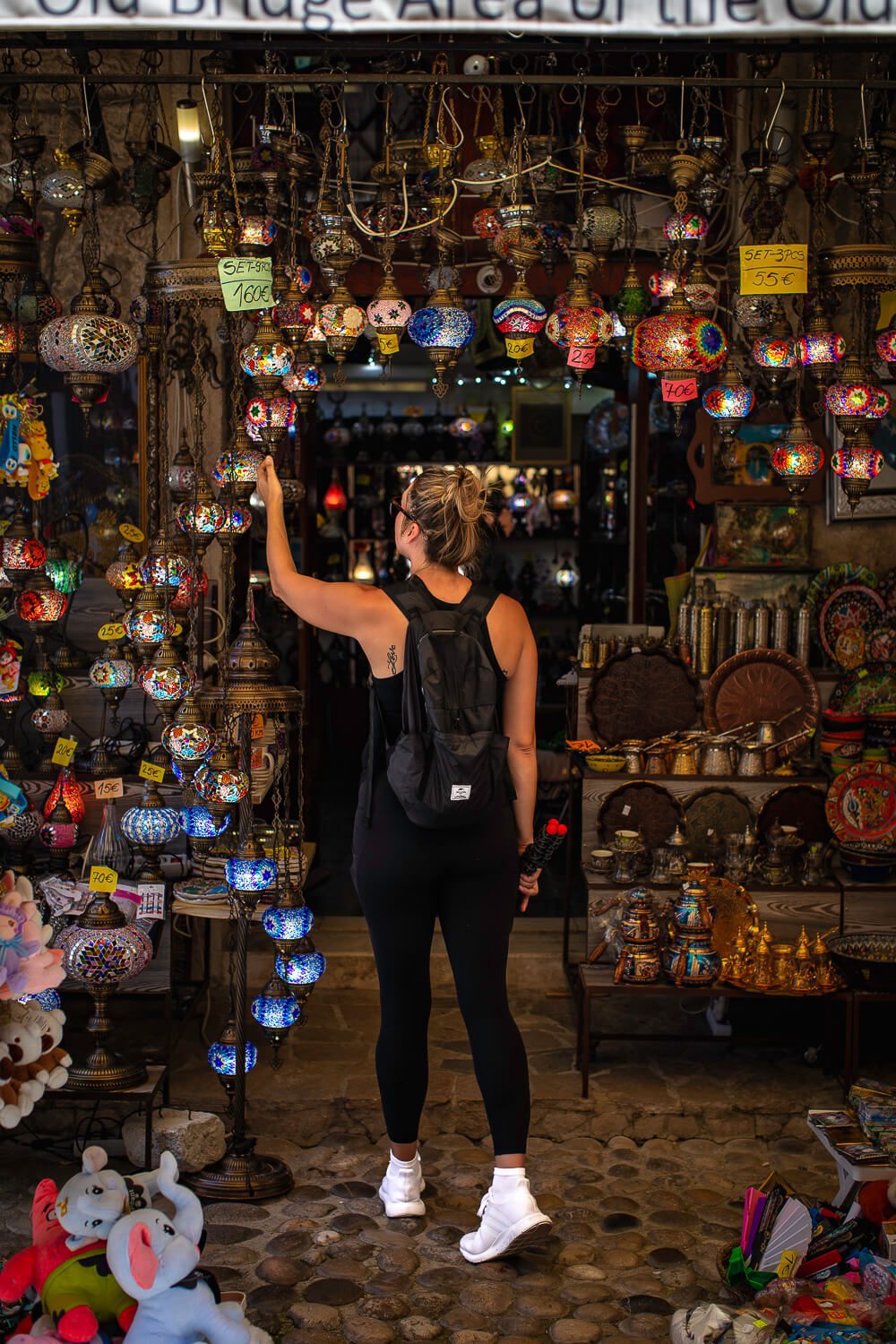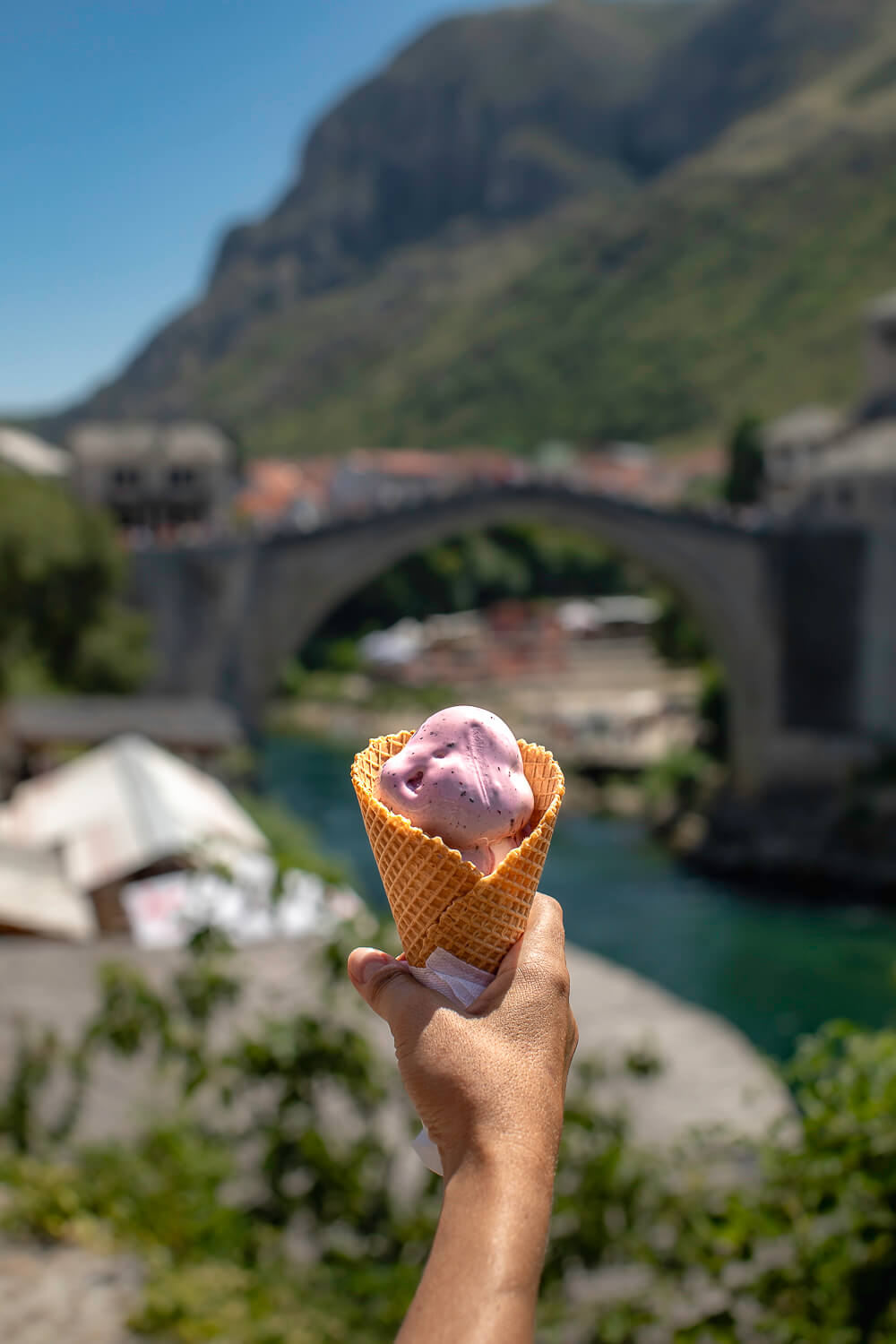 The best time to visit Mostar is during the shoulder seasons of spring and fall, which run April to June and September to November. This allows you to enjoy pleasant weather, avoid the heat and the cold, escape the crowds and still be able to do all of the outdoor activities that Bosnia & Herzegovina has to offer.
If you do happen to visit Mostar during high season of July and August, book your accommodations in advance and prepare to get sweaty. Lively festivals are a perk of the busy times.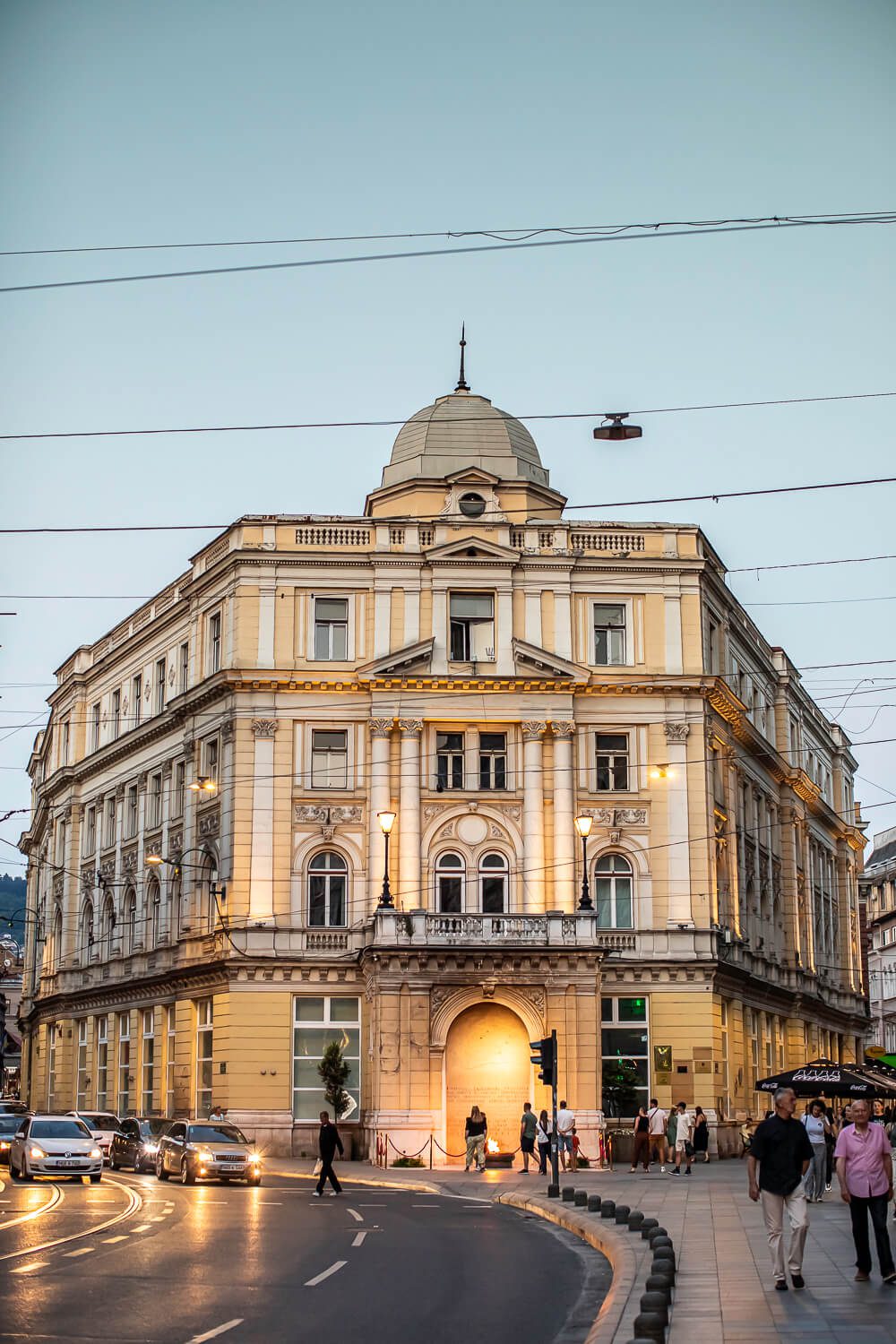 Onward Travel in Bosnia & Herzegovina
Travel by train 2 hours North to Sarajevo – one of my favorite places I experienced in the Balkans.
Soak up the small town feels at Jajce and Jajce Waterfall.
Press North to Travnik.
Cool off at Kravica Waterfalls.
Head East to Bjelašnica for some skiing if you are traveling Sarajevo in the winter.
Step into Montenegro for the ultimate White Water Rafting Adventure
Those are the best things to do in Mostar. If you found this article useful let your fellow travelers know in the comments below ↓
Planning a trip to the Balkans? Check out these guides for more tips & inspiration.
Enjoy this Post?!?! Pin in for Later ↓