There are many things to do in Ohrid, it's no wonder it is one of the most visited destinations in North Macedonia. Located on the edge of one of the deepest lakes in Europe, Ohrid is arguably one of the most beautiful and culturally-rich cities in Europe.
Nicknamed the 'Jerusalem of the Balkans', Ohrid was designated a UNESCO world heritage site in 1979. Ohrid Town is best known for its cultural and historic significance, with a variety of archaeological sites within city limits, as well as churches and monuments.
Aside from its extensive cultural attractions, Ohrid serves as a prime destination to experience nature. And being that it's situated on the shores of Lake Ohrid, it becomes extremely popular in the summer months.
Filled with plenty of places to shop, dine and explore, Ohrid is a must visit on anyone's Macedonia itinerary. In this article, we'll go over all the best things to do in Ohrid and at the end of the article, I'll list any tips you'll want to know before you visit this magical destination.
Before we get started, I need to address the elephant in the room. I am sometimes referring to North Macedonia, officially the Republic of North Macedonia (FYROM) as Macedonia in this post because that's how the people of this country want it to be referred and how it works with the keywords in google.
I understand that whichever name I use, I am offending someone so it's a catch 22. I mean no disrespect, only want to show through my eyes the beautiful landscapes, kind people and tasty food I experienced when visiting Ohrid.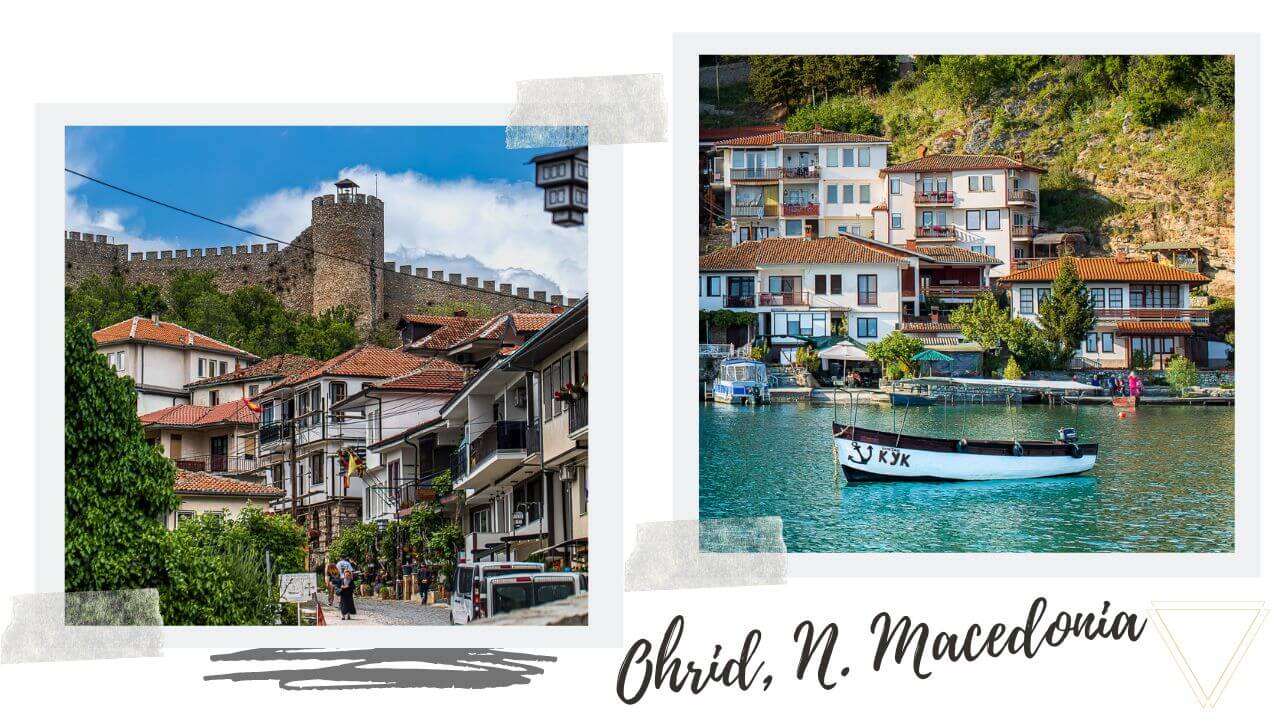 For full transparency, I have sprinkled some affiliate links in this post.  As an Amazon Associate I earn from qualifying purchases that gives me a small commission at no extra cost to you if you decided to make a purchase.  As always, I would never recommend a product or service that I didn't truely believe in.  All proceeds go to keep Jess traveling and coffee ☕️.  I thank you in advance.
Below I have a listed the best things to do in Ohrid and best day trips from Ohrid for easy viewing. If you'd like more information, click on the blue links below for a detailed post or vlog of that specific Ohrid activity.
We filmed a couple vlogs when we were here about some of the awesome things to do in Ohrid and things to do around Ohrid. If you'd like to see exactly what we were up to check out our vlog above. If not let's get to the good stuff – 19 best things to do in Ohrid, North Macedonia.
Best Things to do in Ohrid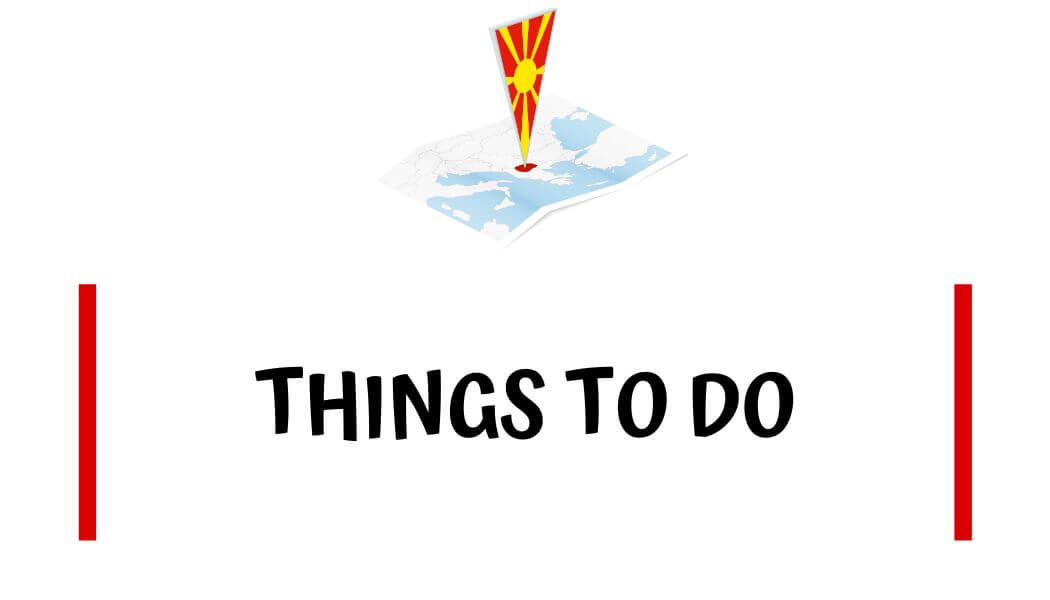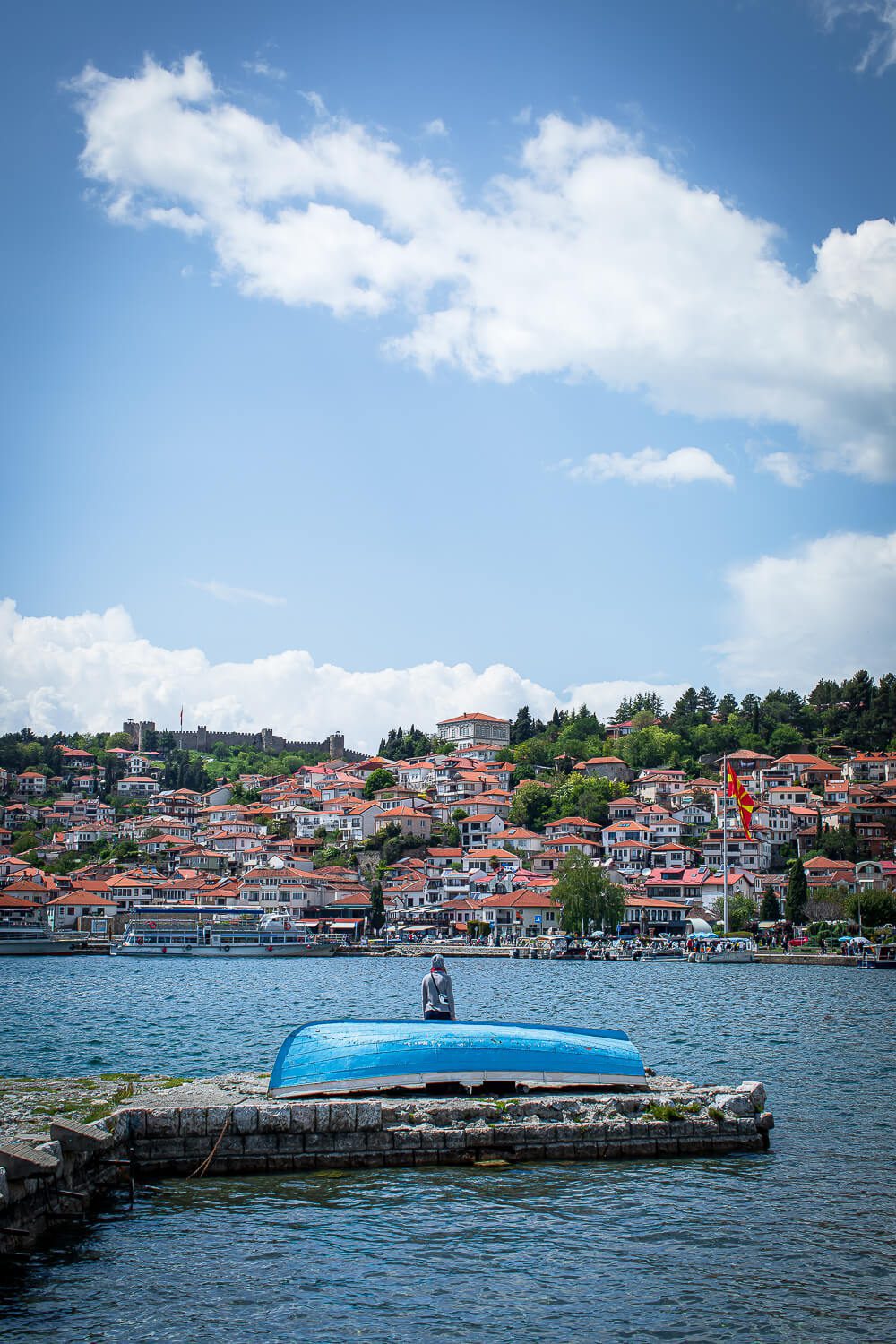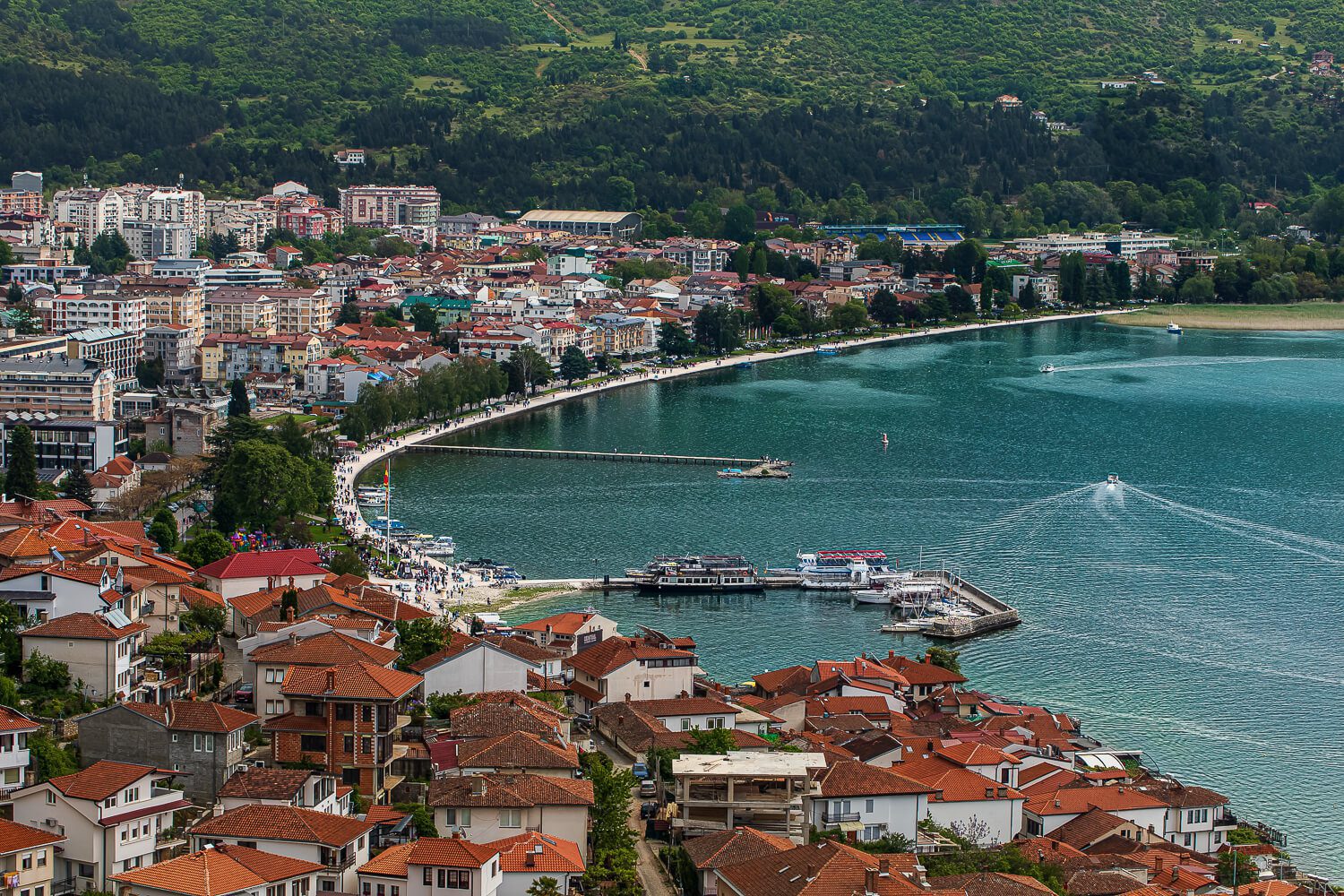 Lake Ohrid has been a magnet for visitors for centuries and is the main reason that visitors flock to this town, especially during the summer months. Flanked by majestic snow-capped mountains and rolling hills, its deep blue waters provide a peaceful and picturesque retreat.
One of the most popular things to do in Ohrid is to take a boat ride over Lake Ohrid. We rented a boat for 20 Euros and had it all to ourselves.
As you cruise along the lake you'll pass by sleepy villages and the most photographed monastery in North Macedonia, Church of Sveti Jovan at Kaneo.
The Ohrid Boardwalk is a great thing to do in Ohrid for all ages. Located on the shoreline of the beautiful Ohrid Lake, this boardwalk provides breathtaking views all throughout the year.
The boardwalk is the perfect place to take a leisurely stroll. With plenty of cafes and restaurants to choose from, it's the perfect spot to grab food or drinks and spend the afternoon.
If you happen to be traveling to Ohrid in the summer between July and August, don't miss out on the Summer Festival. The Ohrid Summer Festival is an acclaimed annual event that brings together a wide variety of cultural events, exhibitions, concerts, film screenings, lectures and workshops.
This is Macedonia's most important cultural event which celebrates Macedonian culture through music, literature, art and dramatic performances. Additionally, the festival's unique venues, such as local churches, the amphitheater and museums provide a one-of-a-kind experience.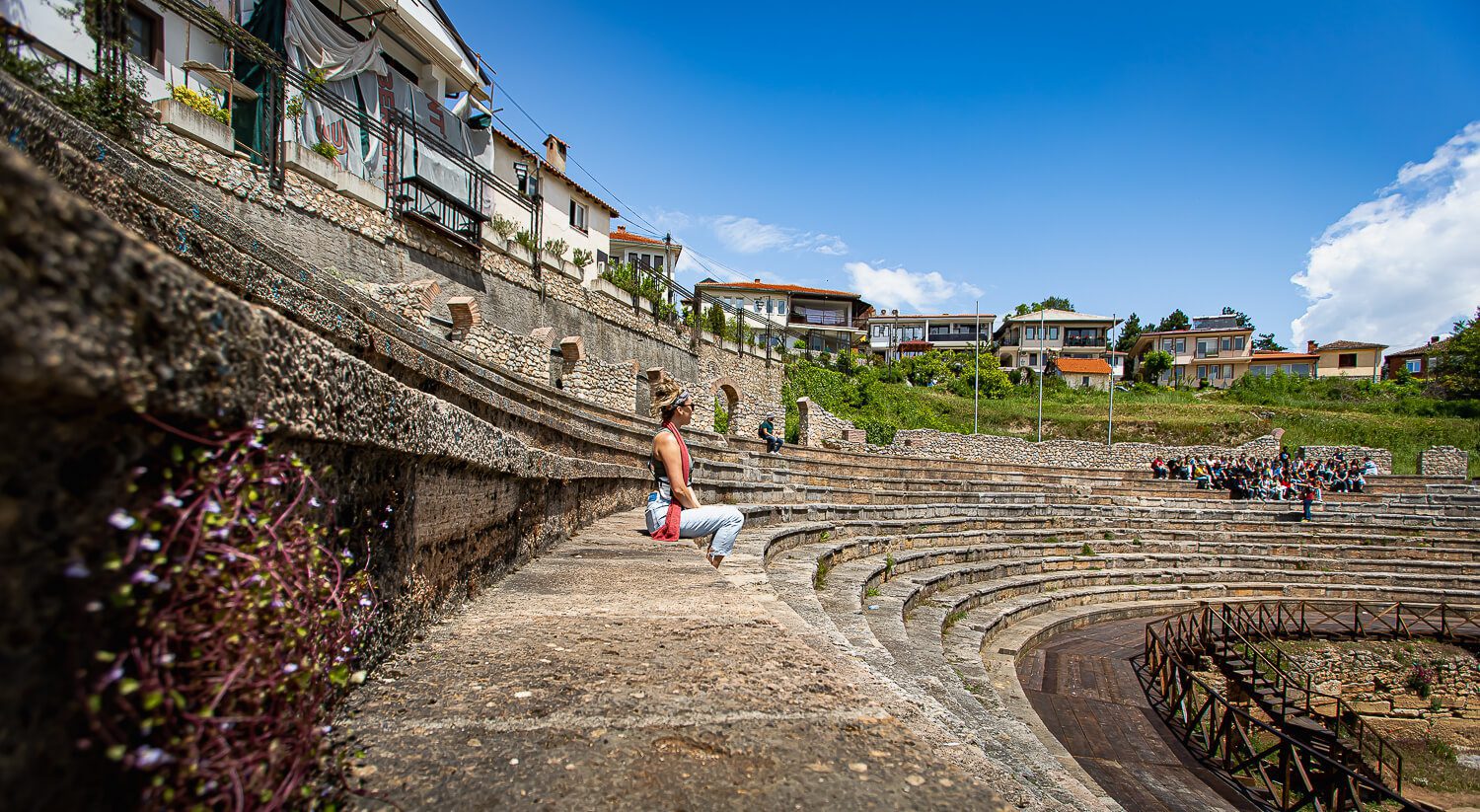 A sight to behold and one of the best things to see in Ohrid is the classical Amphitheater. Built hundreds of years ago, it is thought that the amphitheater was built around the 11th or 12th century. The Roman's utilized this theater for shows, animal fights and gladiator fights.
Set atop a hill overlooking the beautiful Ohrid Lake, the architecture of the amphitheater is largely well preserved that seats up to 5,000 people. You can still see some name markings on some of the seats which symbolizes the families and people that had those specific seats (usually the wealthy) back in those days.
Its visual appeal from the shore of the lake attracts throngs of visitors each year, with scenery that is framed by Ohrid's large mountains and a seemingly endless blue sky. As if that's not enough, the ancient amphitheater also plays host to a number of open-air concerts in the summer, making it a Mecca for both history and music lovers.
If you're looking for a great restaurant in Ohrid and love eating delicious pizza while enjoying great views, look no further than Via Sacra. Located in the shadows of Saint Sofia, Via Sacra has a small menu offering a few traditional Macedonian dishes and of course pizza.
We walked 30 minutes after our long travel day to get to Ohrid and it was worth the extra steps. Joe claims it was the best pizza he's ever had. That being said, we were also very hungry and he hasn't been to Italy yet!
🧄 Must Try: Makalo | a traditional Macedonian side dish which is basically a garlic spread.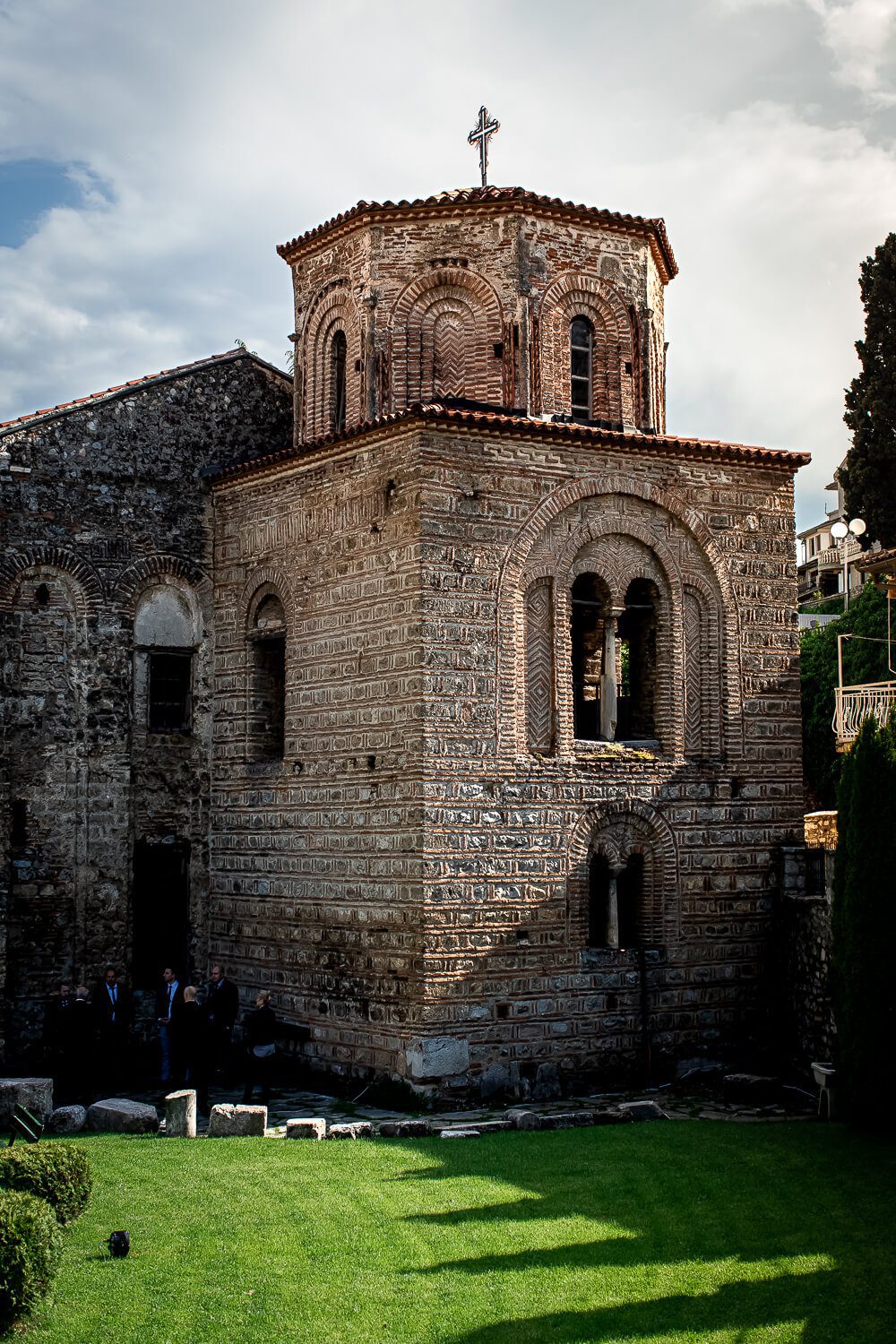 St. Sophia Church is one of the most significant landmarks and best things to do in Ohrid. Built in the beginning of the 11th century, it is over 1000 years old, making it one of the oldest churches in the country and the Balkans.
The church itself is incredibly beautiful, with ornate designs on the exterior walls and frescoes inside depicting scenes from the old testimony. There's a mural inside that depicts baby Jesus without shoes which can't be seen on any other mural beside a church in Florence.
Like the amphitheater, concerts are held inside the church during the summer festival, it has great acoustics. After you're done checking out St Sophia Church, grab a slice at Via Sacra.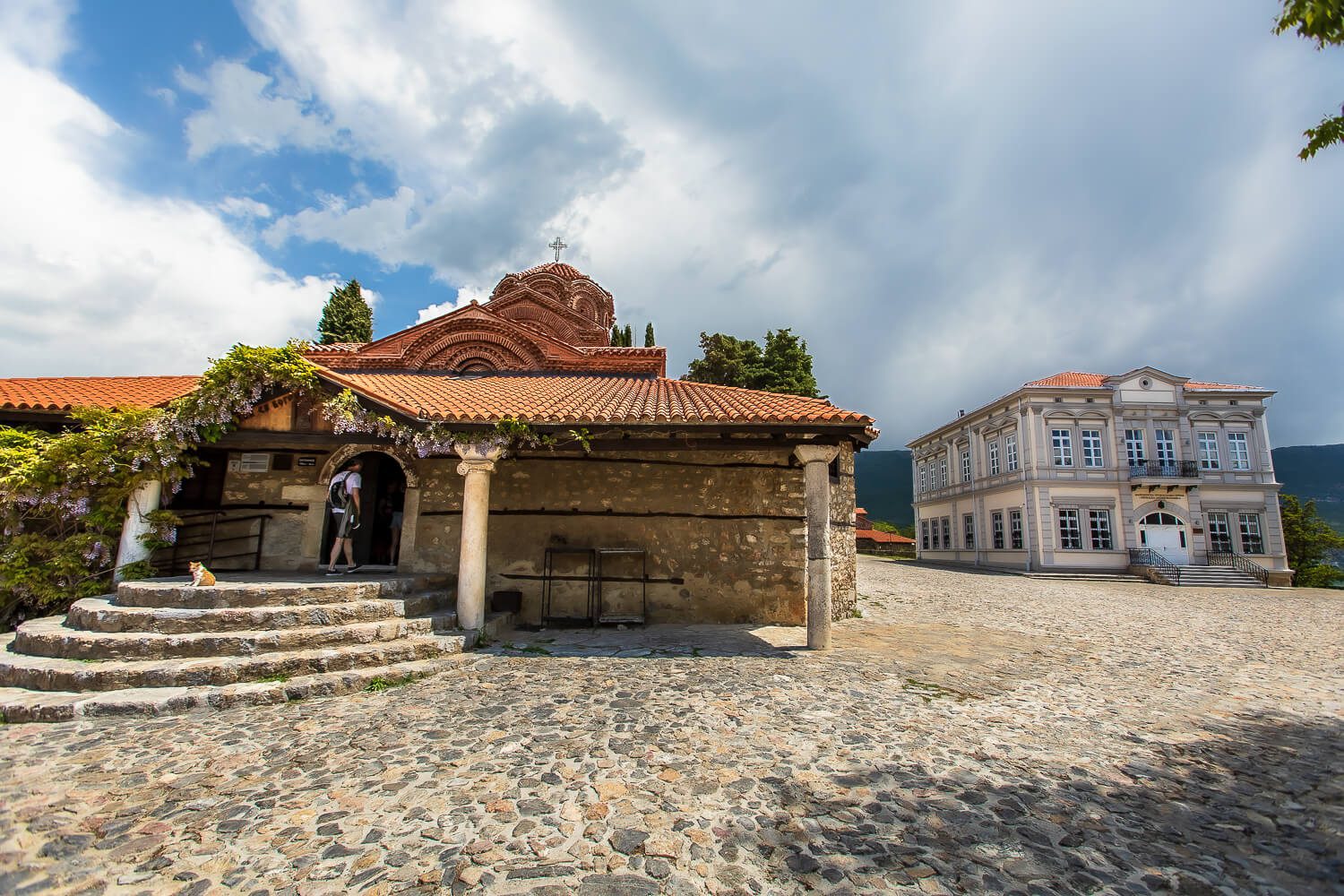 Church of Sveta Bogorodica Perivlepta
The Church of Sveta Bogorodica Perivlepta is a church in Ohrid located on a hill and offers great views of the town and Lake Ohrid. Unlike most churches that were around during the take over of the Ottoman Empire, this church was not destroyed by the Ottomans because the church was devoted to the mother of god and not Jesus. It cost 150 MKD to enter.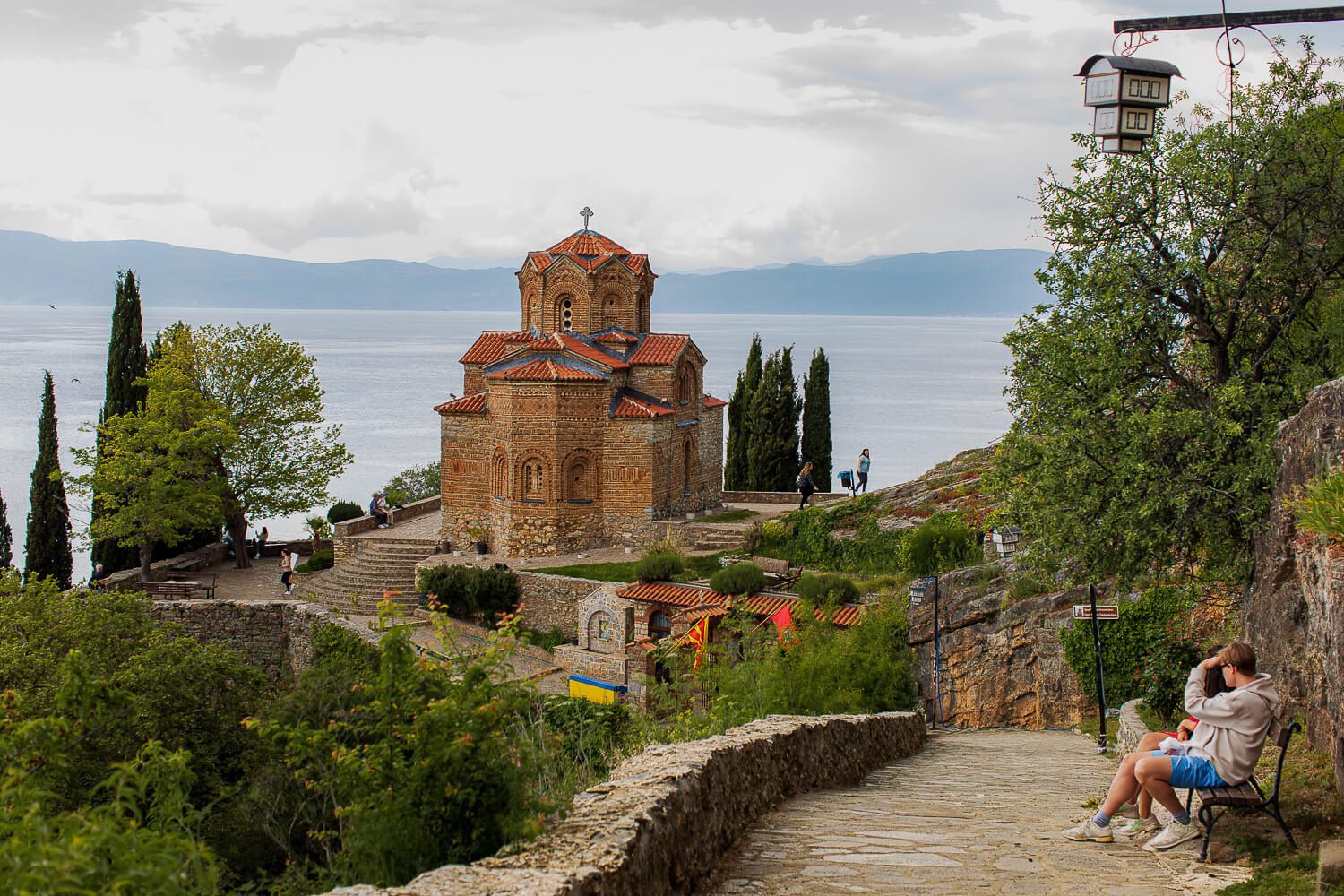 Church of Sveti Jovan at Kaneo
Another church to make the Ohrid things to do list is Church of Sveti Jovan at Kaneo. This church overlooks the town of Ohrid and sits on a small peninsula which juts into the lake.
The Church of Sveti Jovan is renowned for its incredible architecture. The main facade of the church is whitewashed and is decorated with a main door flanked by twin towers. Not only is this church a beautiful work of art but its the most photographed church in the country as it was featured on the cover of National Geographic.
Ohrid is a small enough town that you can do a DIY walking tour and if that's what you do, I'd end your tour here. It's very peaceful and there's tons of birds flying around that are enjoyable to watch.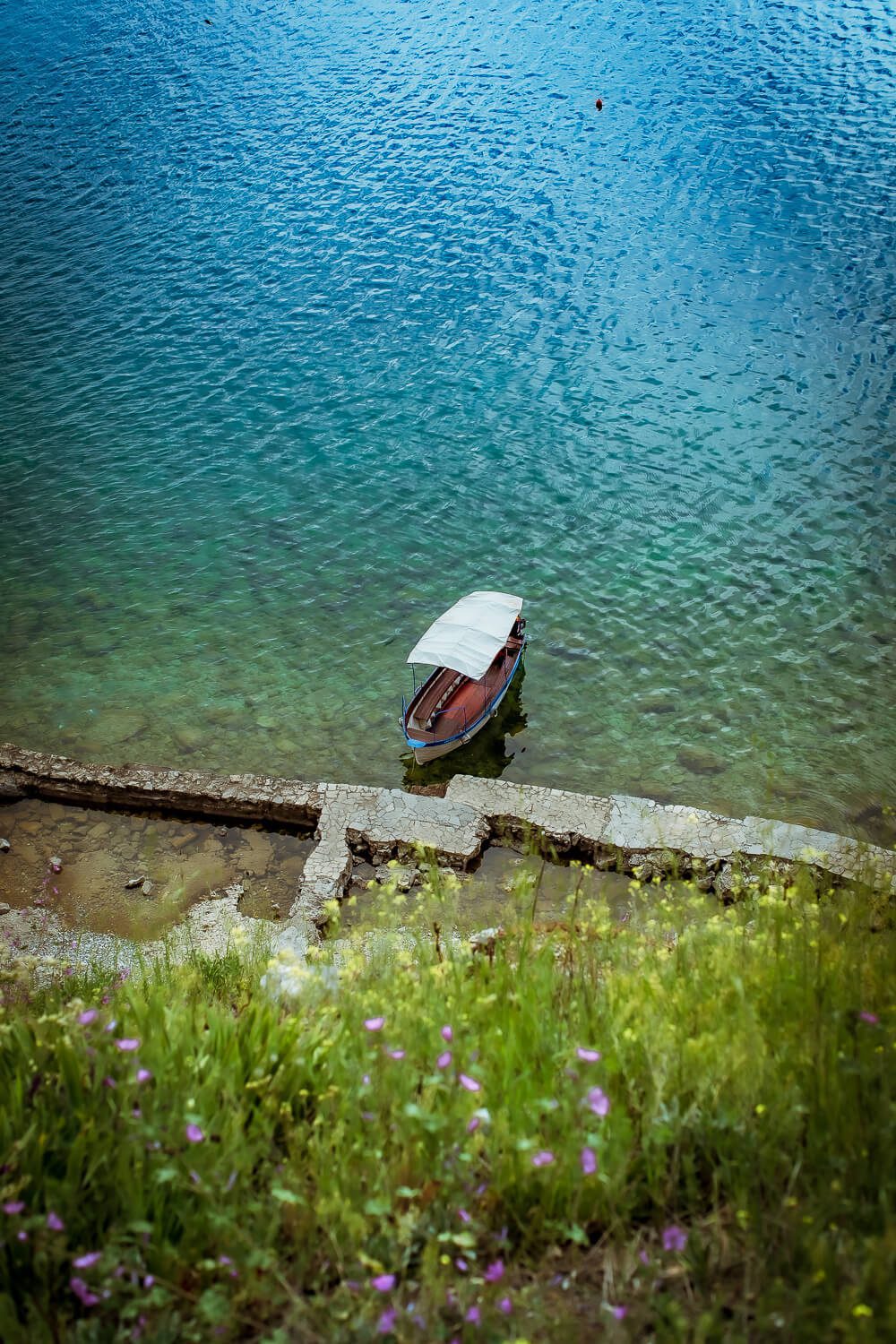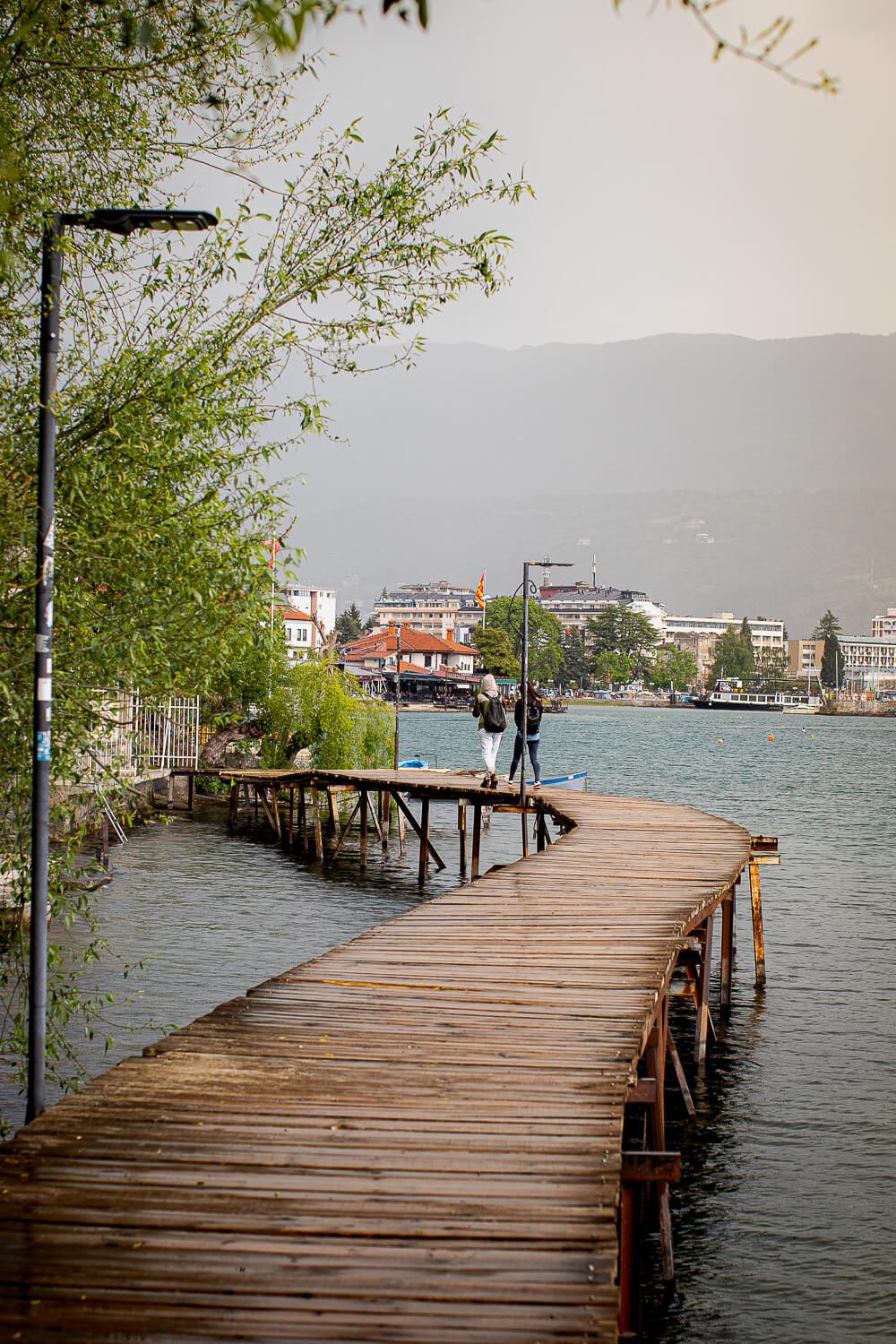 Kaneo Village is a beautiful little settlement nestled against the banks of Lake Ohrid close to the Church at Kaneo. You'll pass by the picturesque village as you're walking back to the town center if you've just visited the church. With traditional stone pathways, fishing boats, rolling hills and endless views of the lake, Kaneo is an ideal place to experience the beauty of the Balkan region.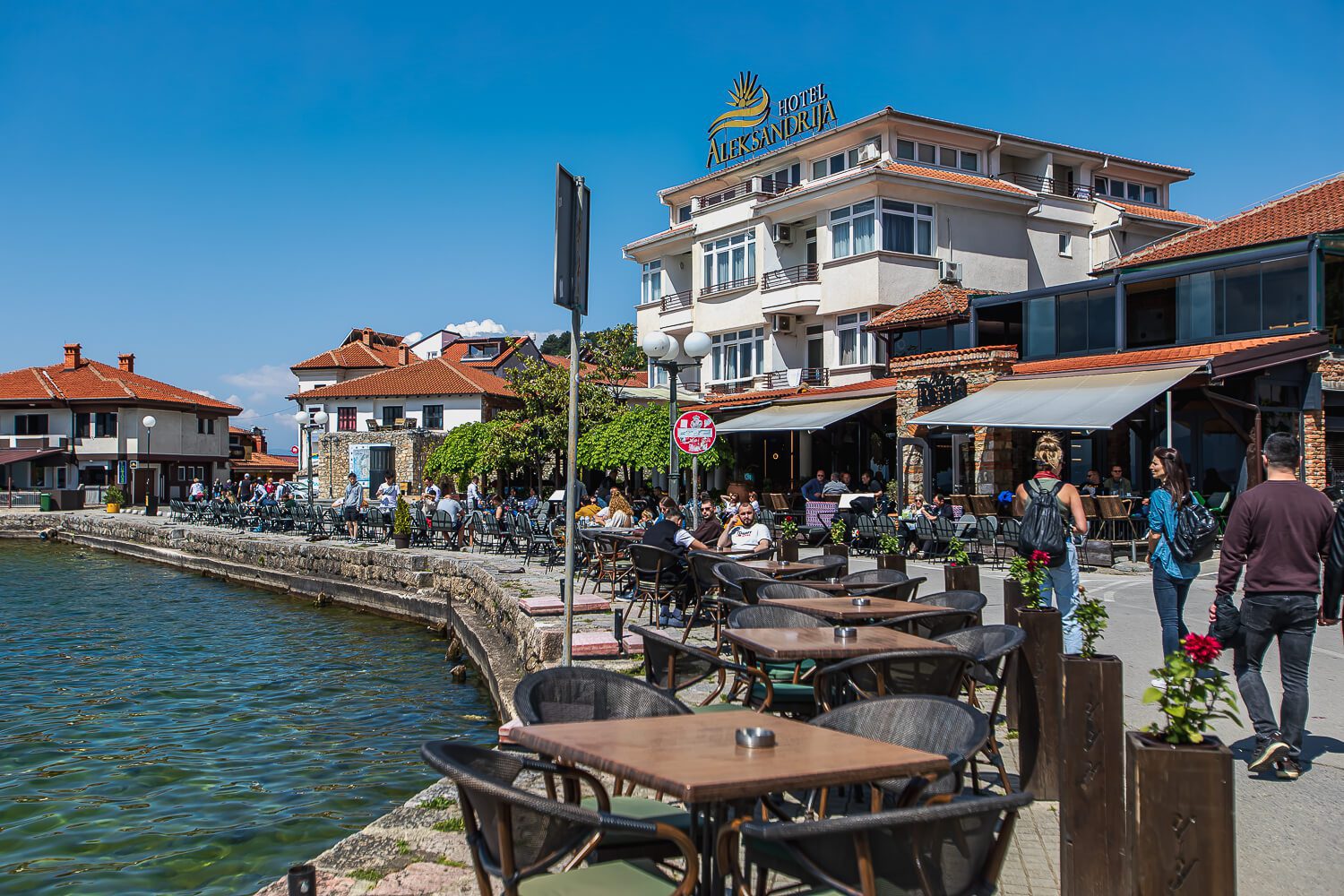 Stroll Through the Old Bazaar
One of the best Ohrid attractions is the Old Bazaar. The Old Bazaar in Ohrid is full of shops, cafes and gelato stands. It's the much more livelier part of town.
Ohrid Pearls are a popular thing to buy in Ohrid town, although most of the places that sell the Ohrid Pearls are fake, there are a few places that sell genuine pearls. The pearl store right next to Via Sacra Restaurant is the real deal. (That's coming from my tour guide when I took a private tour of Ohrid.)
Visit the Upper & Lower Gates
The old town of Ohrid is well-known for its many gates, which were used to protect the city from invaders. The two mains gates are the Upper and Lower gates.
The lower gate is a double-arched gate meant to increase the city's defense. As soon as you wake through the lower gate, theres a grate and if you peer down, you'll be able to see the "original road'. Meanwhile, the upper gate is strategically placed on the hillside that overlooks Ohrid town and is in close proximity to Church of Sveta Bogorodica Perivlepta.
Make Paper at the National Workshop for Handmade Paper
The National Workshop for Handmade Paper is one of the best free things to do in Ohrid. Visiting here is an amazing opportunity for paper enthusiasts from all over the world to come together and explore the traditional art form of paper making.
Hosted by the local workshop owner, the workshop provides an educational experience about the basics of hand paper making. The Handmade Paper Museum even has an exact replica of the Gutenberg Press which is pretty darn cool.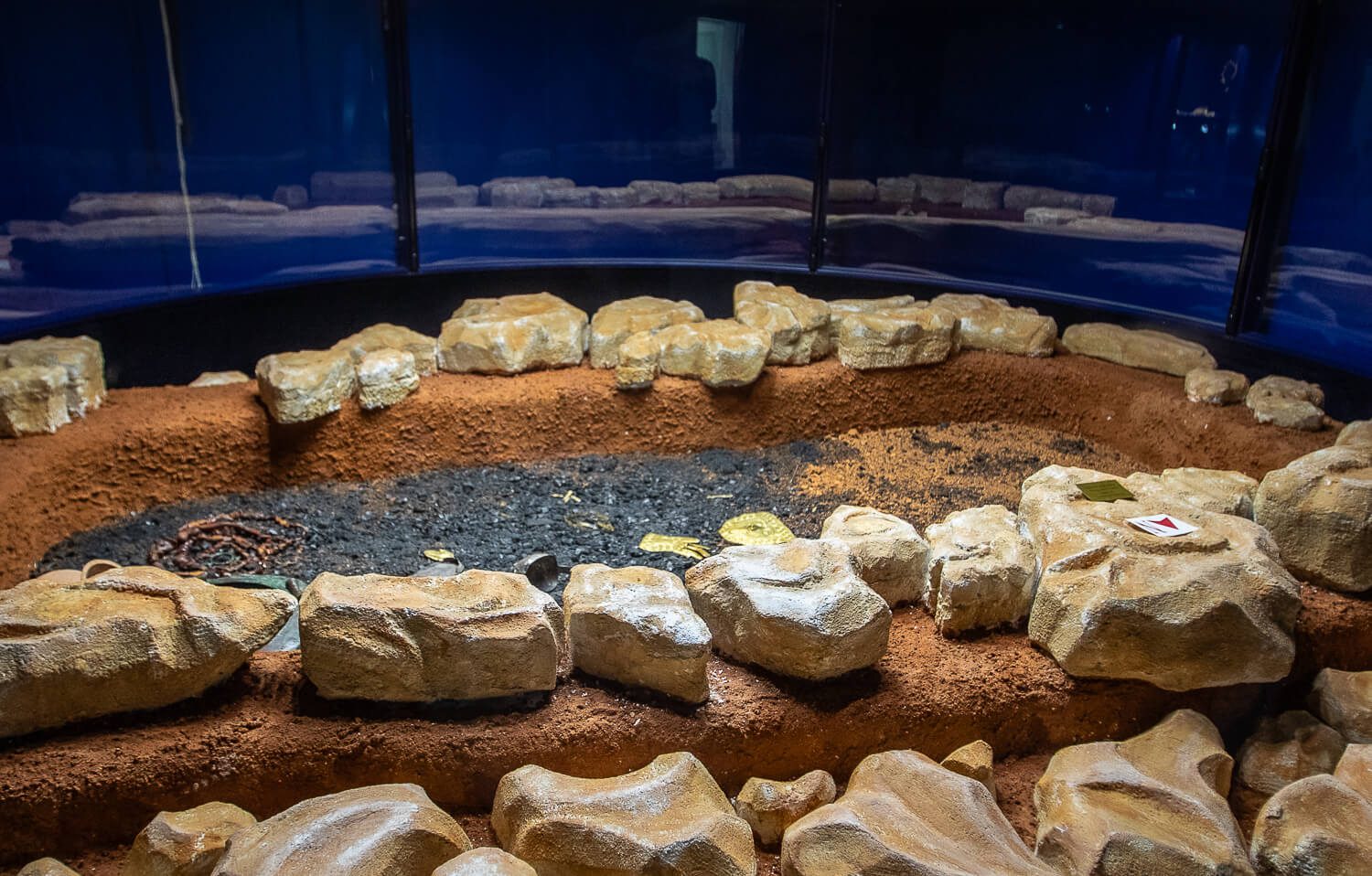 Located in the heart of Ohrid just as you pass through the Lower Gates is the National Museum. The museum is home to an impressive selection of Macedonian artifacts, artworks and relics from throughout history including several gold burial masks. A handful of these masks have been found throughout the country and are suppose to be what the princesses have been buried in.
It cost 150 MKD to enter and inside the original Ottoman-style house are works of art, religious artifacts, pottery, jewelry, coins and manuscripts. You'll even be able to see old photographs, clothing, furniture and what the rooms used to look like.
Other Museums to Check out:
Icon Gallery – houses a remarkable collection of Ohrid icons.
Memorial House of Hristo Uzunov – a memorial house dedicated to Hristo Uzunov.
Wood Carving Gallery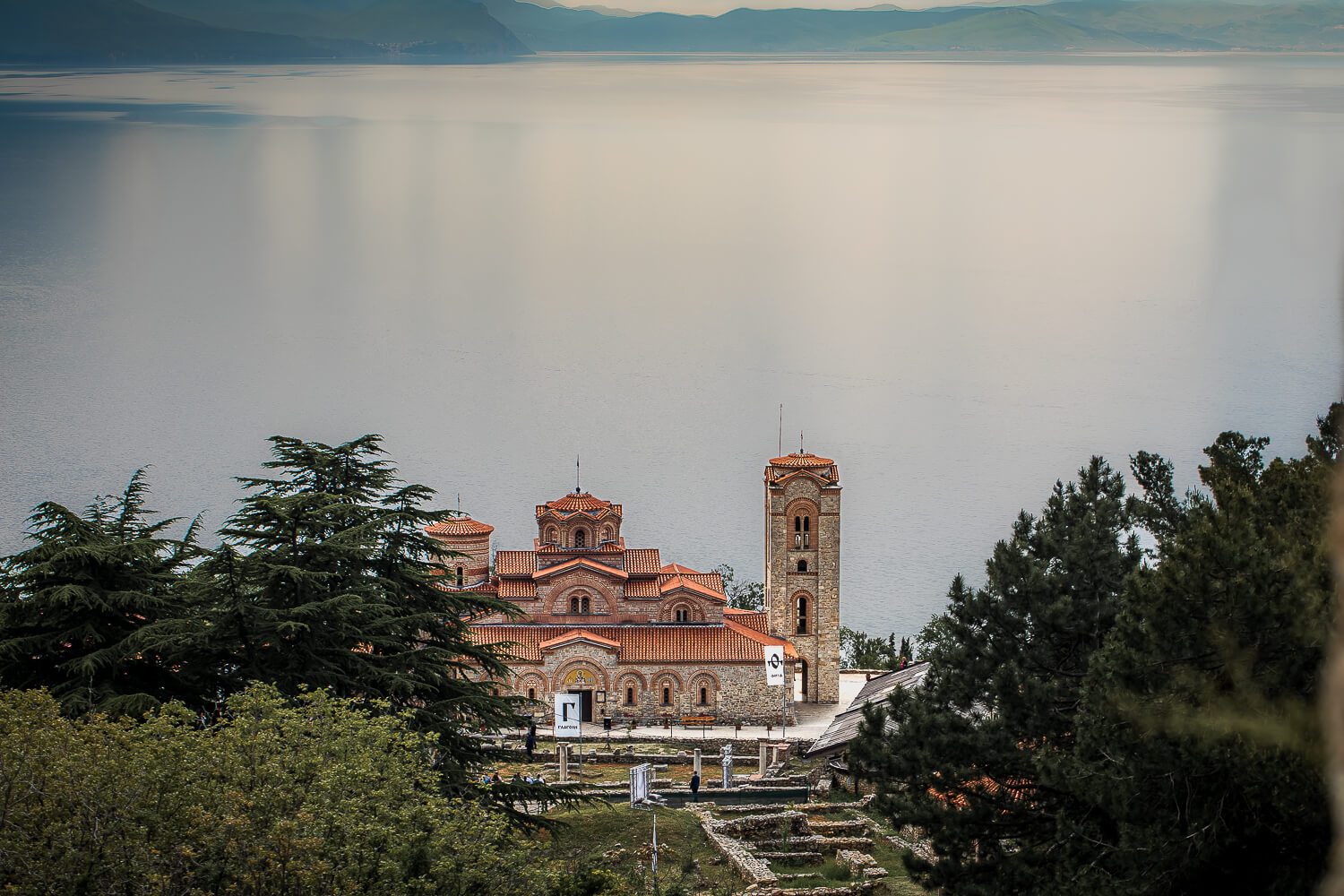 Plaošnik Archeological Site
The Plaošnik Archeological Site is an ongoing excavation site where the main find on the site is believed to be where St. Clement (the patron saint of the region) set up his monastery. This is an easy Ohrid attraction to visit on your way to the fortress and church of St. Jovan Kaneo.
Sveta Bogorodica Bolnička & Sveta Nikola Bolnički
The SvetaBogorodica Bolnička & Sveta Nikola Bolnički Churches can be found on your left as soon as you walk inside the Ohrid lower gates. These small churches were used to house the quarantined people of the plague due to their locations inside the city walls.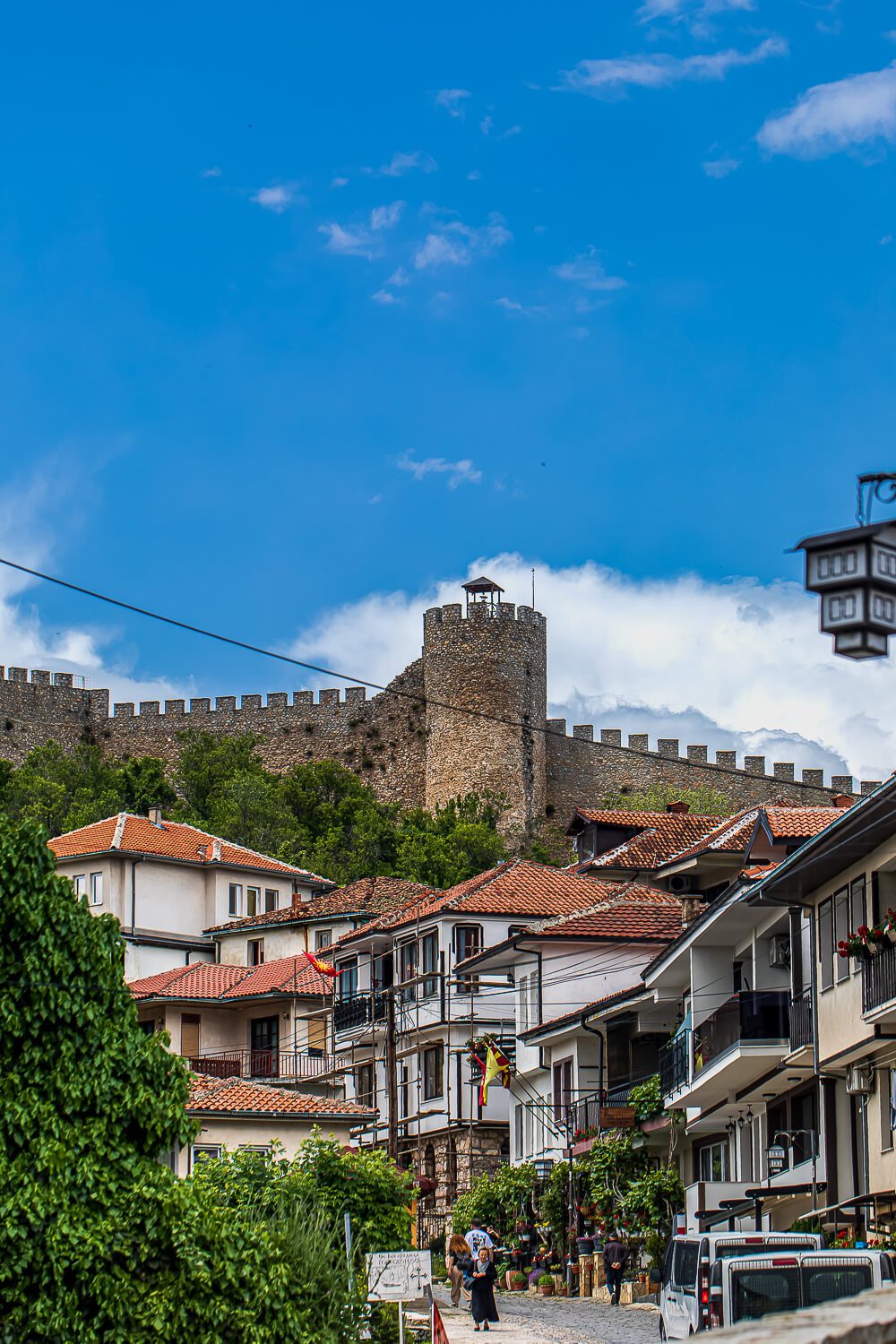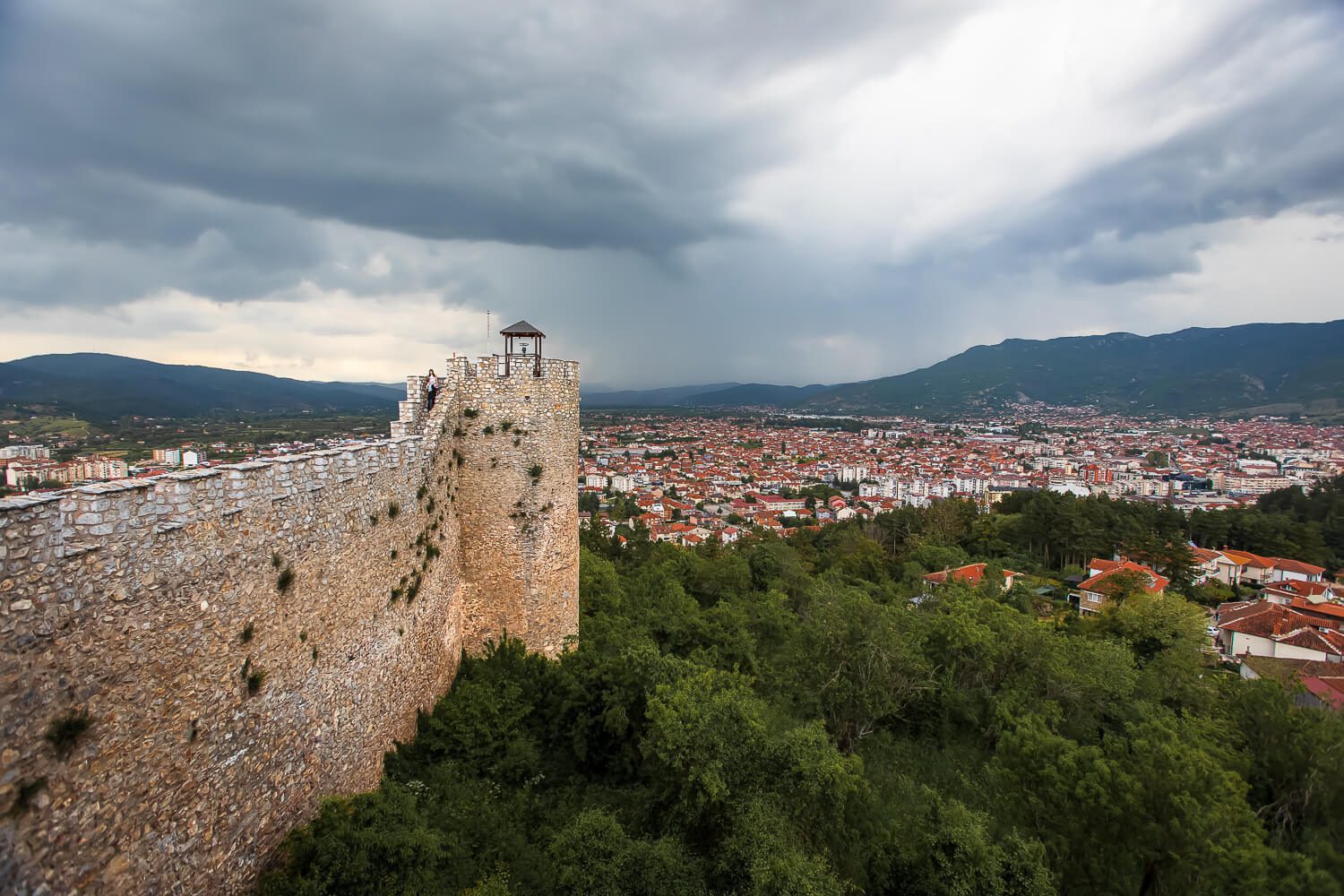 Rounding off our best things to do in Ohrid list is exploring Samuel's Fortress. It cost 120 MKD to enter and is located about 800 meters above lake level. The castle includes several defensive elements such as walls and towers and offers majestic views of the city.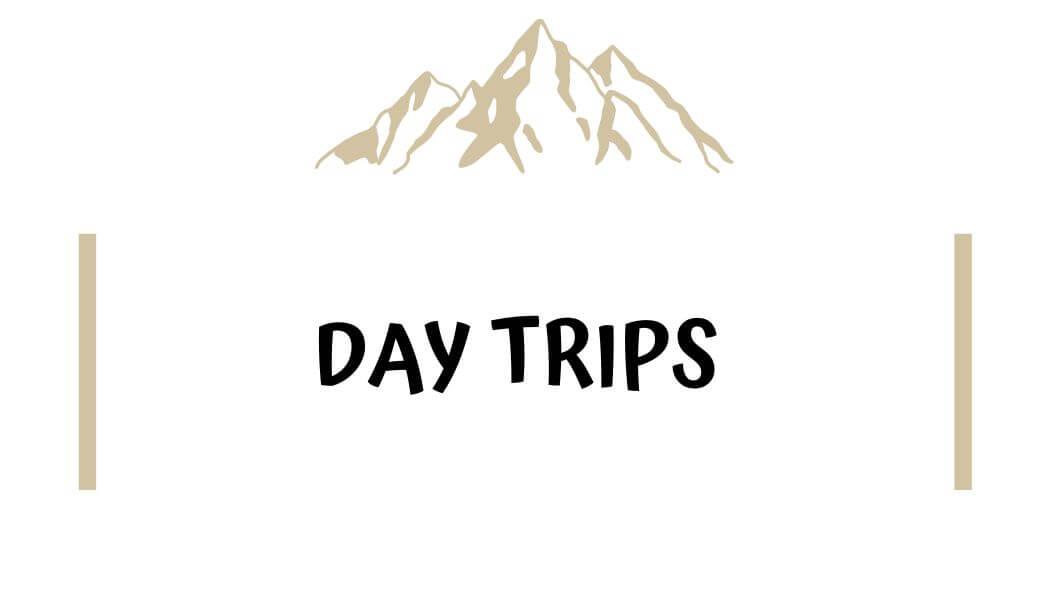 I couldn't make a things to do in Ohrid post without mentioning some of the best day trips from this city. You should be able to cover all the Ohrid attractions I listed above in a few days. These day trips from Ohrid listed below are Ohrid must-sees and best explored if you have your own transportation but can easily experienced via public transportation or on a tour.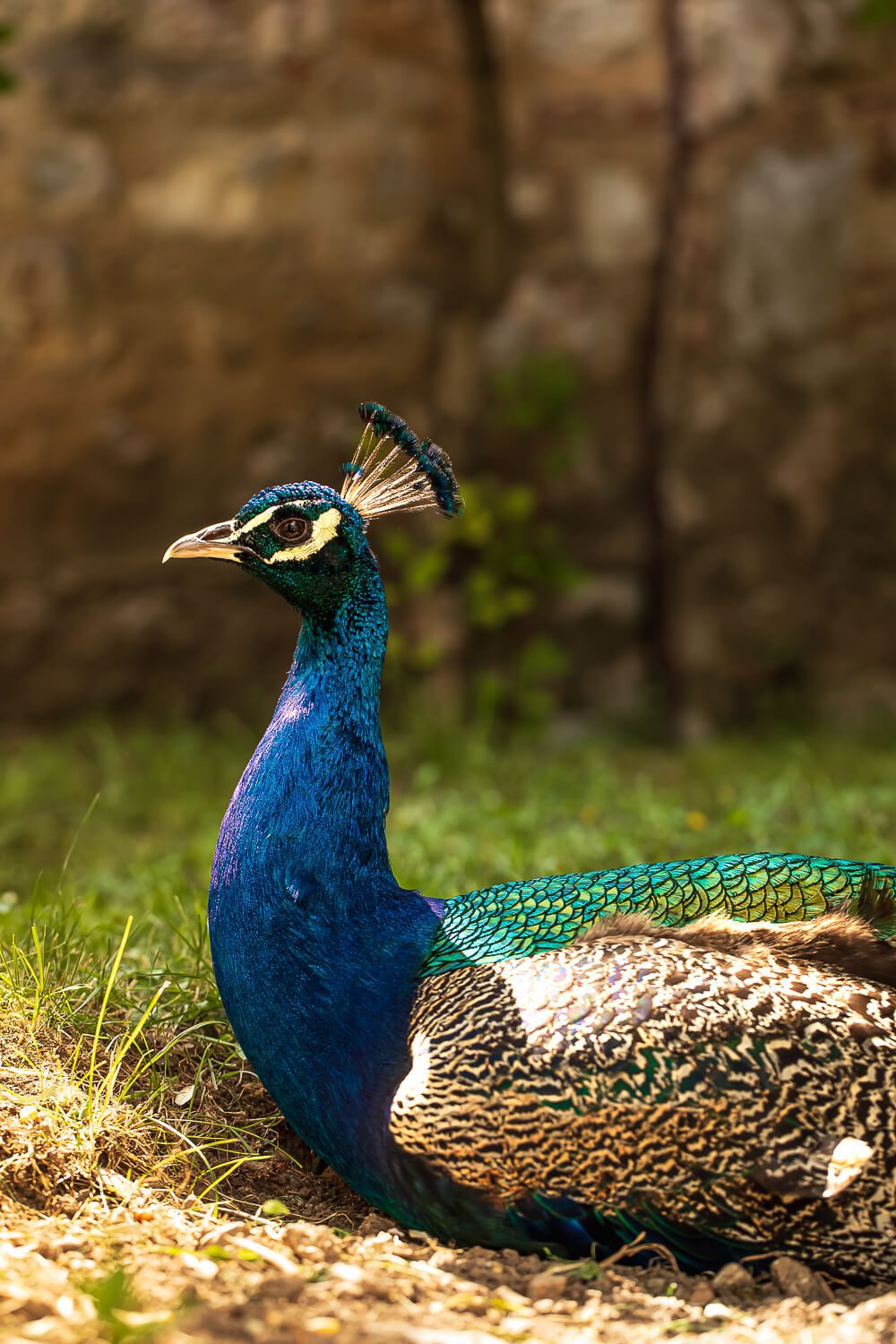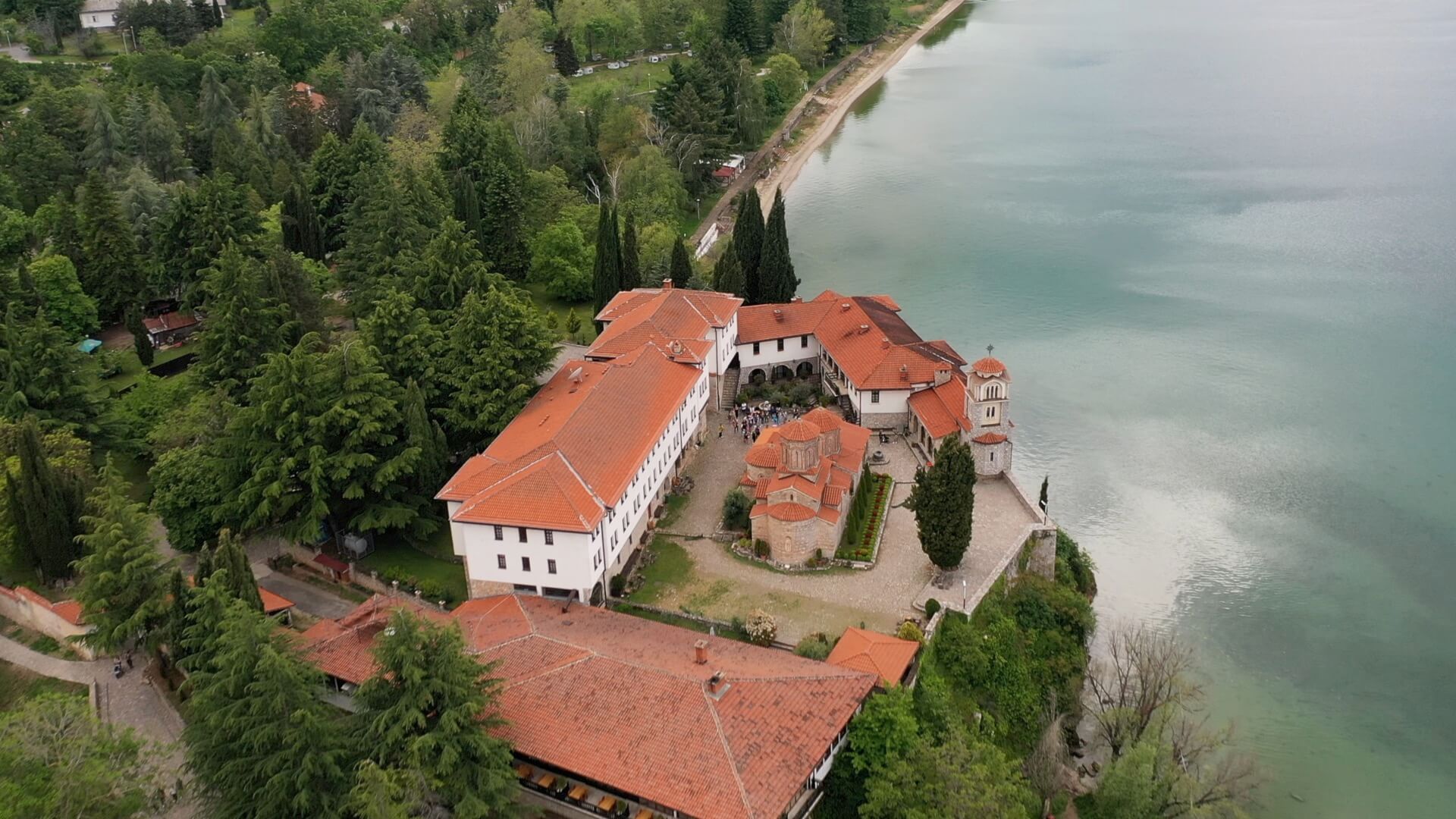 The Saint Naum Monastery is by far the best day trip from Ohrid. This small yet stunning monastery is perched on a cliff overlooking Lake Ohrid. You can't get a better setting.
The monastery is built in traditional style, with walls and floors made of hewn stone, frescoes on the walls and a bell tower. Visitors to the monastery will marvel at the amazing views of the lake and will get to enjoy the 2 friendly peacocks that live on the grounds.
There is a regular ferry service that runs several times a day from Ohrid town to the Saint Naum Monastery. There is one at 9 am and one a 10 am. If you take the 10 am, it will also stop at the Bay of the Bones Museum which I talk about in the next section. The trip takes an hour and a half one way and costs 15 Euros round trip which is a pretty good deal.
If you rented a car, parking costs 50 MKD. This allows you to have more time to explore Sveti Naum and avoid the crowds of the ferry. Plus there's several restaurants you can dine at and enjoy a peaceful meal on the lake.
🦚 Unique Stay: There is a hotel on the grounds of the monastery that you can stay at if you love epic views and staying in unique places around the world.
The Bay of the Bones Museum is located on the way to the St. Naum Monastery and is a wonderful museum on Lake Ohrid. The museum is a reconstruction of a prehistoric pile dwelling site, dating back to Neolithic times.
This ancient tribe wasn't discovered until recently (1997) and represents the authentic living environment of the prehistoric village. The community had a whole village built on piles of wood that was connected to the lakebed and had a retractable drawbridge that was defense against predators such as animals and other tribes.
Excavations weren't underway until 2005 and they believe that there were 24 homes, all of which are represented at the museum. It cost 150 MKD to enter. This was one of my favorite places to see in Ohrid and reminded me a lot of the Uros people that live on Lake Titicaca in Peru.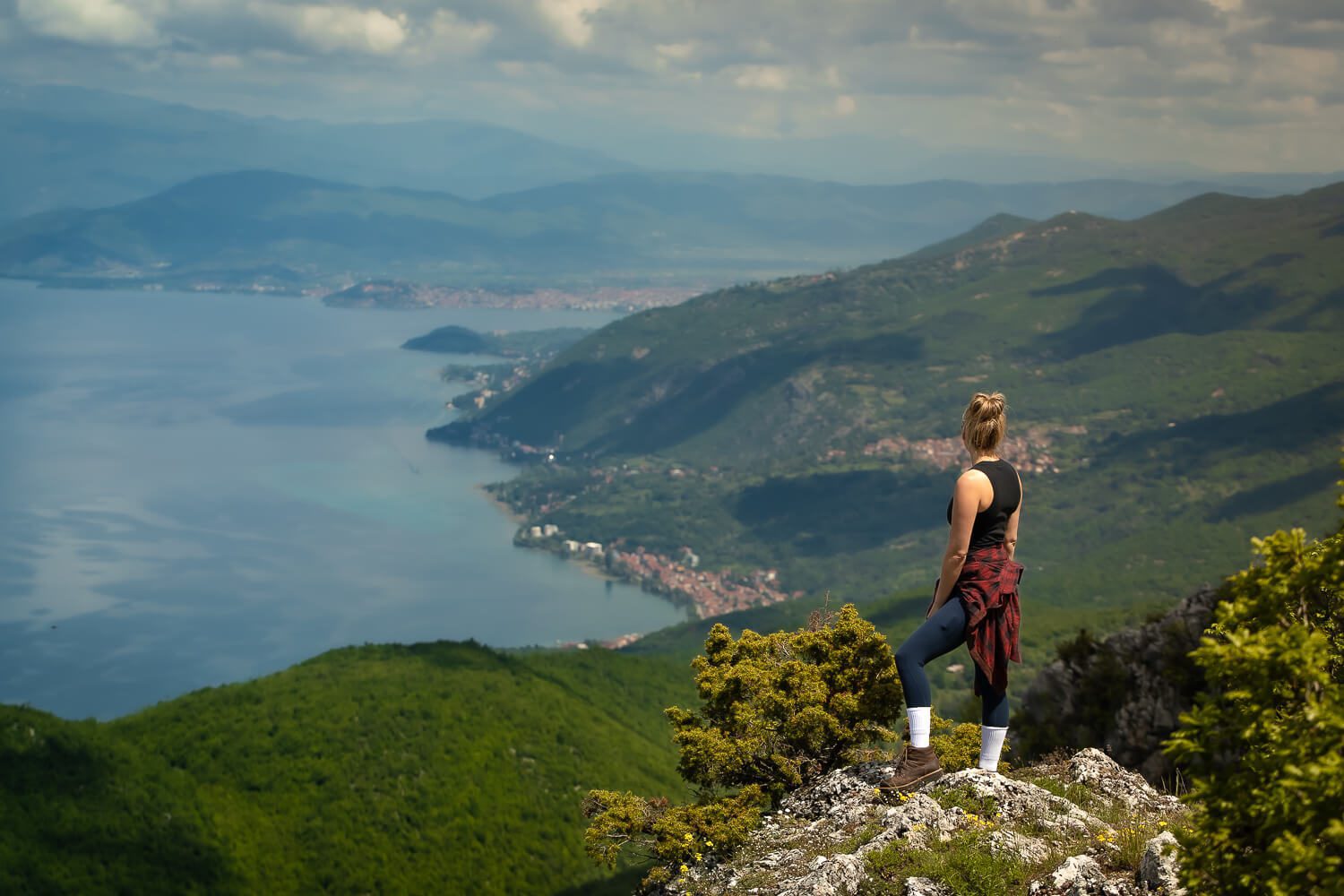 Galičica National Park is located on the border of North Macedonia and Albania and offers stunning views of Lake Ohrid. There are several hiking trails that run through the park but this is one of those National Parks that you can easily drive through and you feel completely satisfied. There are several spots along the way that you can pull off and after a very short walk, you're greeted with epic views.
There is a road that cuts through the park and takes you up and over the mountain eventually spitting you out at Lake Ohrid's sister lake, Lake Prespa. The drive is nothing short of amazing and a must experience when exploring the outskirts of Ohrid.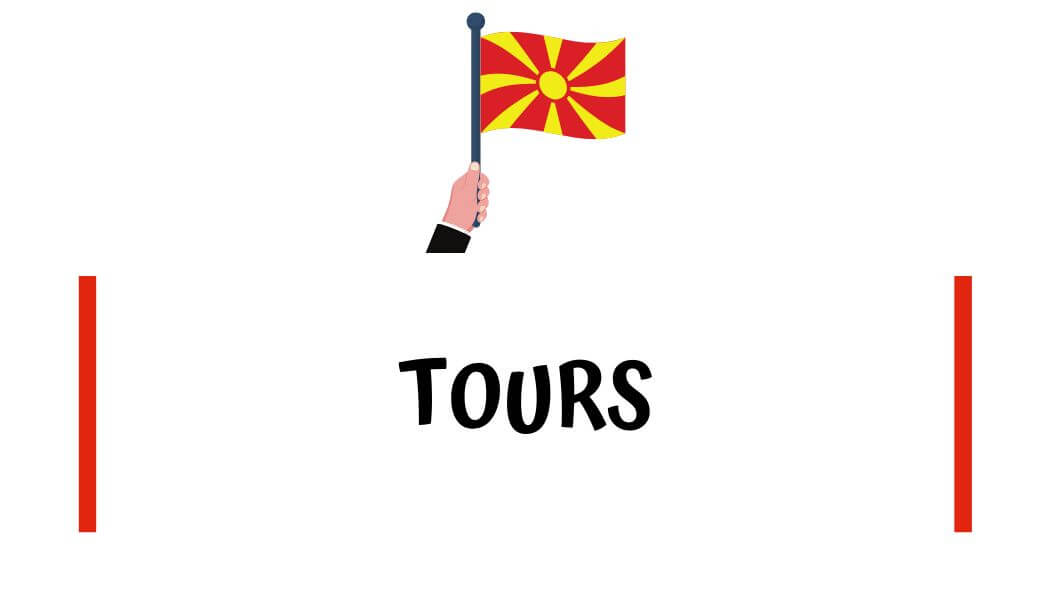 I took a Private Half Day Tour when I was exploring Ohrid and it was great. My tour guide was super knowledgable and I learned a lot. Here are a few other tours with good reviews.
There are plenty of places to stay in Ohrid that will accommodate every type of traveler and on every type of budget including nicer hotels and budget friendly guesthouses. These are the top picks on where to stay in Ohrid.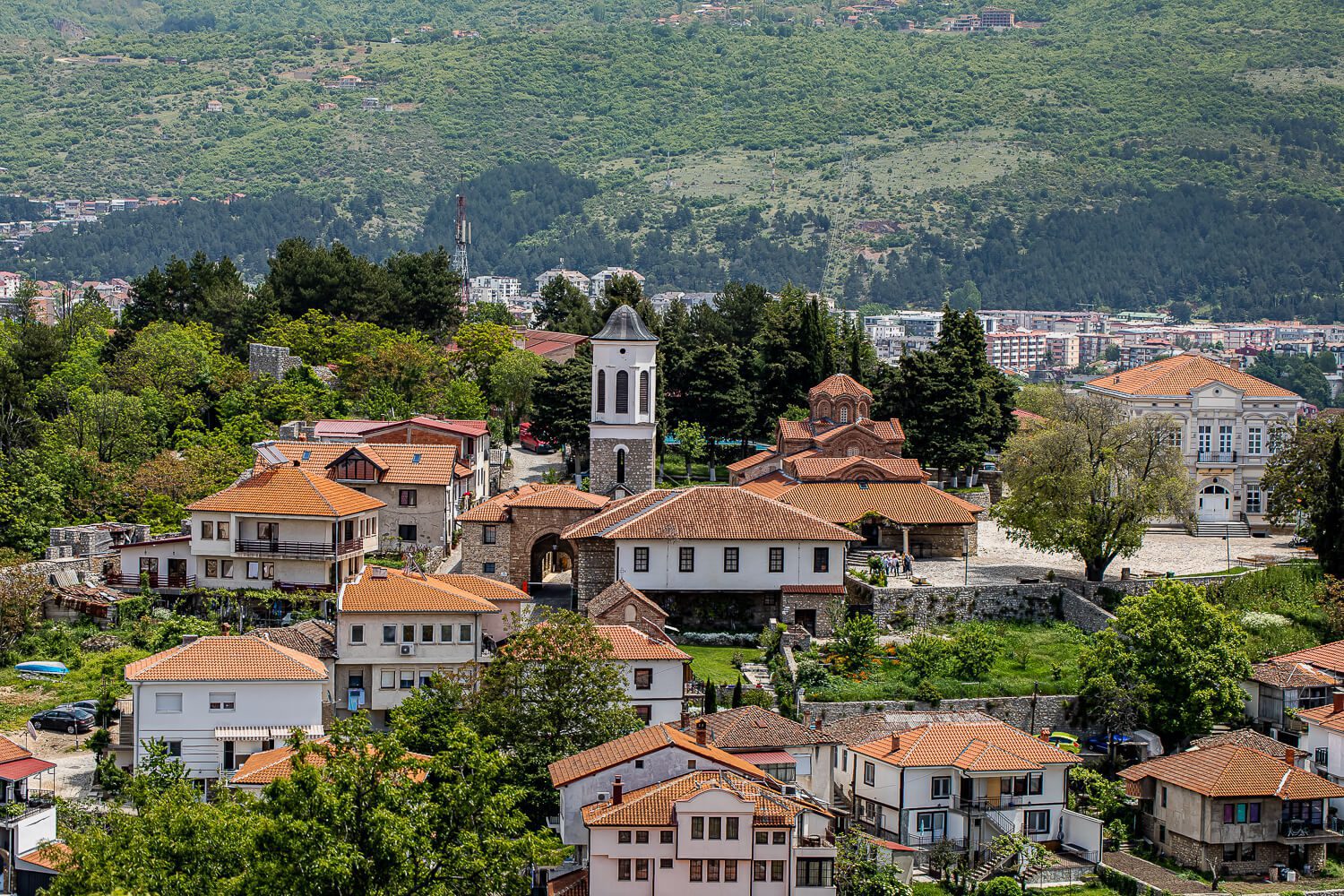 North Macedonia Travel Tips
Renting a car is cheap and roads are well maintained to drive on.
The country is small and you can explore all the highlights in 10 days time.
Saying a few words in Macedonian goes a long way.
American Express isn't accepted very often.
Most accommodations only accept cash as payment.
Prices double during high season.
Some People of Macedonia may get offended if you call the country North Macedonia.
Bus travel is very affordable and you can get a ride across the country in less than 4 hours.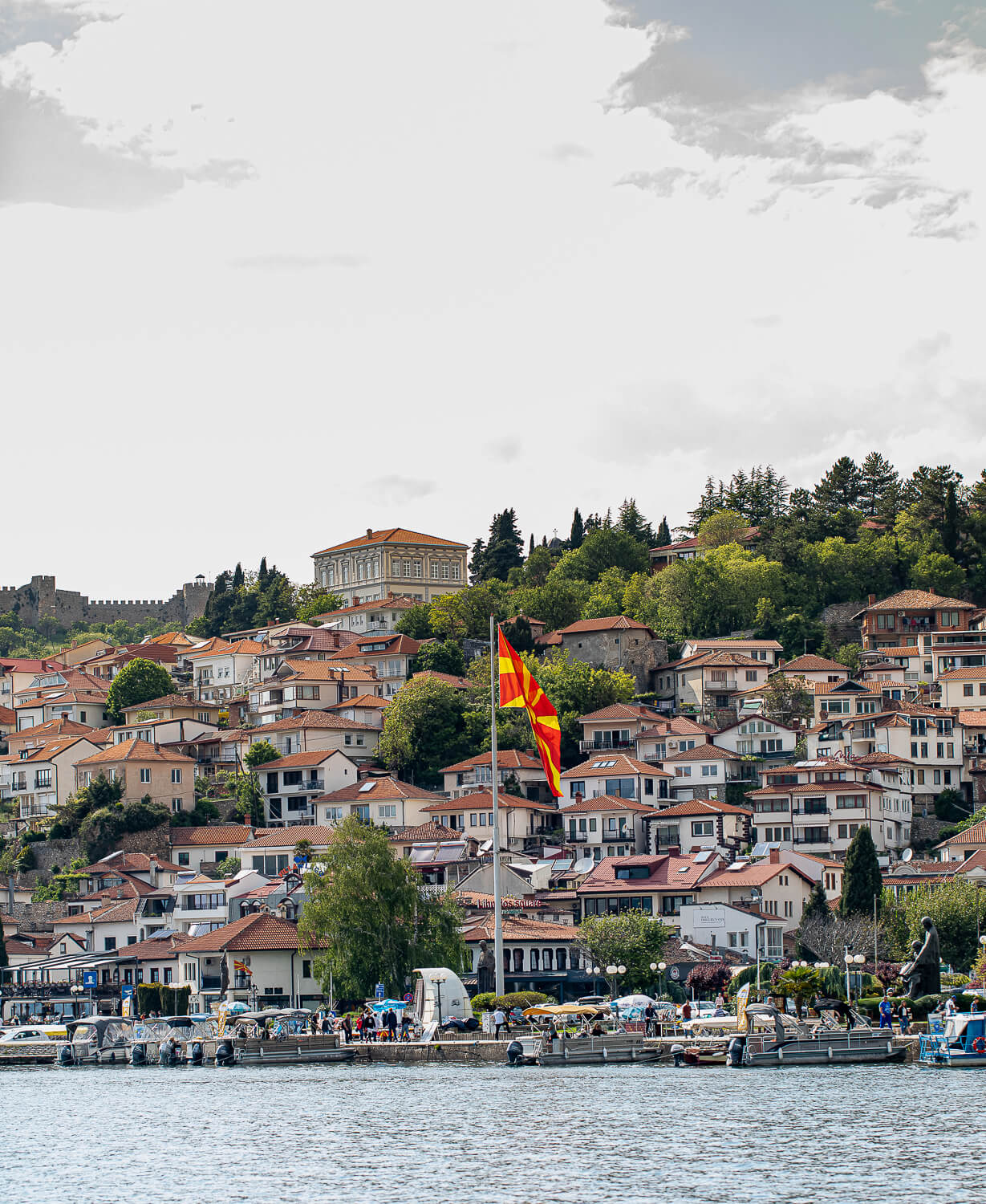 Onward Travel in North Macedonia
Cross over the border to Albania and explore the capital of Tirana.
Explore underrated Pelister National Park and experience a homestay in Dihovo.
Press north to the capital of Skopje.
Kayak through Matka Canyon.
Taste Tikves wines at the source.
Wildlife Spot in Mavrovo National Park.
Road Trip through the Balkans and explore bordering countries such as Serbia, Albania, Montenegro or Greece.
Do you have any favorite things to do in Ohrid? Let other travelers know in the comments below ↓
Enjoy this Post?!?! Pin in for Later ↓