There are enough things to do in Pamukkale, Turkey that a trip to this small town is worth a visit. Pamukkale is best known for its natural wonder – the Cotton Castle and the ancient city of Hierapolis that sits above it.
If you love meeting kind people and enjoy soaking in breathtaking sites, don't miss out on Pamukkale when visiting Turkey. At the end of the post I'll also include useful information about Pamukkale, Turkey including where to stay, how to get here, best time to visit and any useful tips that will assist you in your visit to Pamukkale.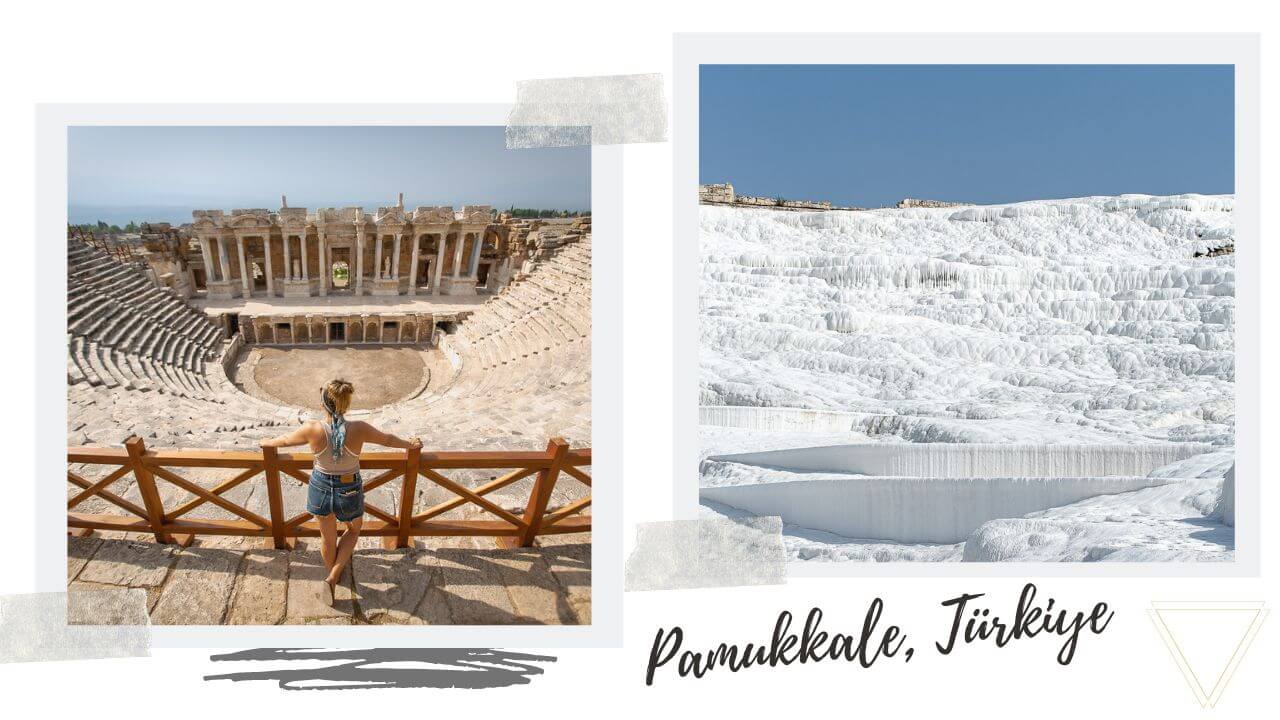 For full transparency, I have sprinkled some affiliate links in this post.  As an Amazon Associate I earn from qualifying purchases that gives me a small commission at no extra cost to you if you decided to make a purchase.  As always, I would never recommend a product or service that I didn't truely believe in.  All proceeds go to keep Jess traveling and coffee ☕️.  I thank you in advance.
Below I have a listed the best things to do in Pamukkale for easy viewing. If you are in a hurry and don't have time to read the whole article you can just screen shot this page and be on your way.
If you'd like more information click on the blue links below for a detailed post or vlog of that specific thing to do in Pamukkale.
Explore Hierapolis Ancient City
Swim at the Cleopatra Pools
Take a Break at the Hierapolis Theater
Escape the sun at the Hierapolis Museum
Wander the remains of the St. Phillip Church
Explore Hierapolis' Northern Necropolis
Enjoy a Meal at Osmanli Restaurant
Eat at the White House (You Tube – Skip to 5:00)
Bath in the Pools of Karmizi Su (You Tube – Skip to 2:15)
We filmed a couple vlogs while we were here about all the awesome things to do in Pumakkale. If you'd like to see exactly what it's like, check out our vlogs below. If not let's get to the good stuff – 12 epic things to do in Pamukkale, Turkey.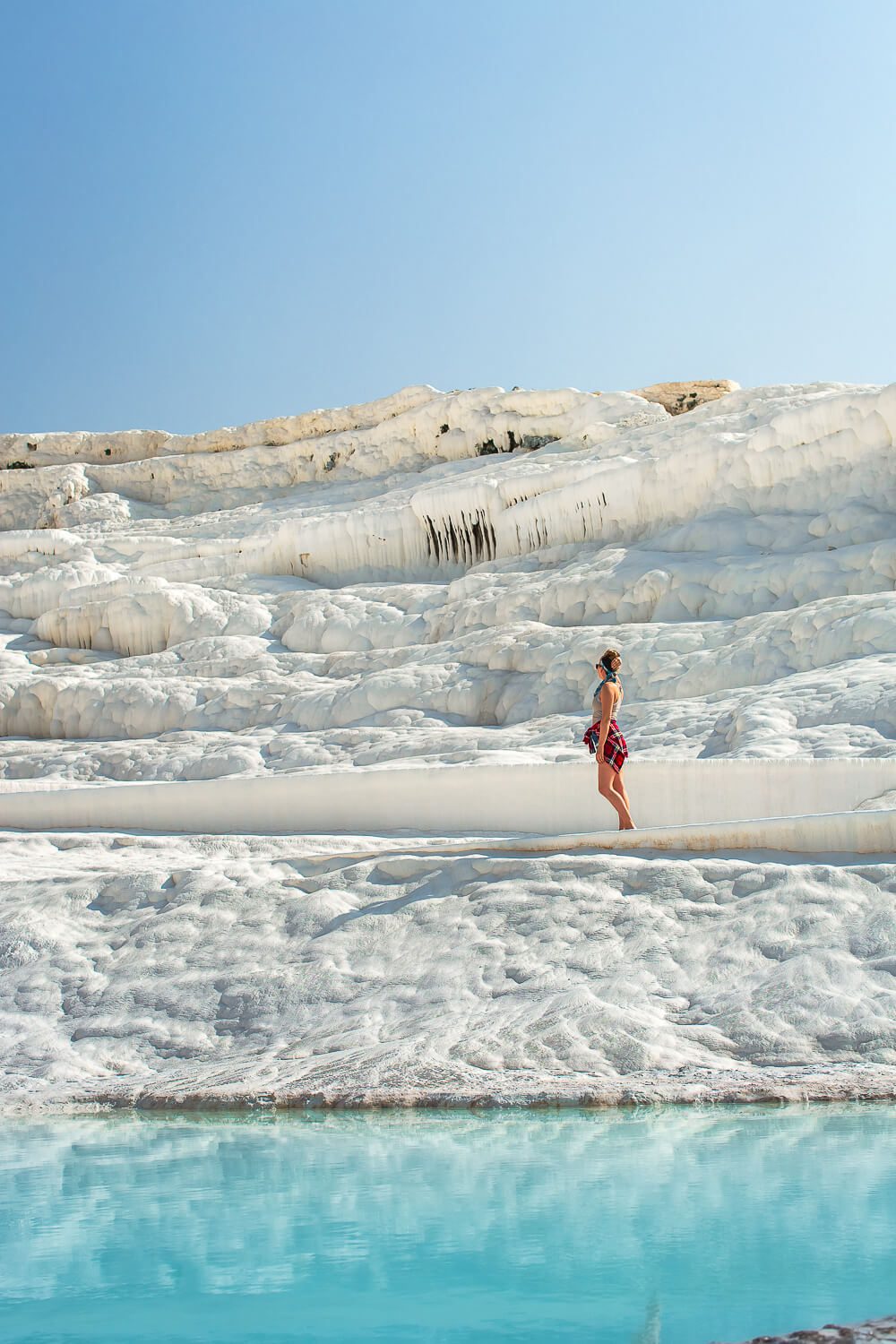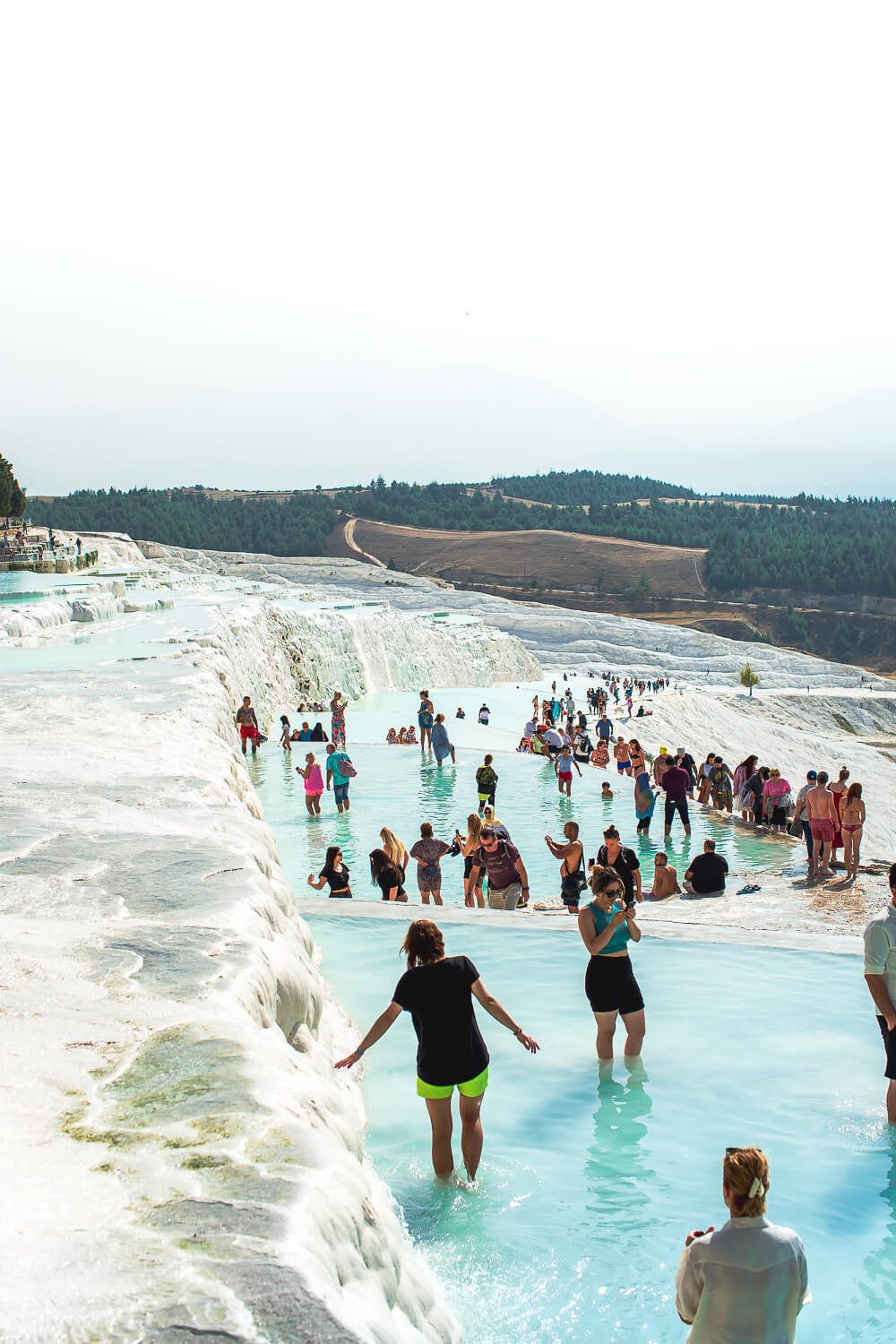 Traverse the Cotton Castle
The Travetine Pools aka the Pamukkale Cotton Castle is one of Turkeys most beautiful sites. Pamukkale actually means "cotton castle" in Turkish. The names refers to the shimmering, white limestone that the Pamukkale cotton castle is made up of.
The natural Pamukkale thermal pools consist of 17 terraced hot springs with temperatures ranging from 35 °C (95 °F) to 100 °C (212 °F). The travertine pools have been drawing in travelers for centuries.
Dating back to the time between the 8th century BC and the 6th century AD. It became a healing centre where doctors used the hot thermal springs as a treatment for their patients.
Imagine terraced pools filled milky, light blue waters amidst a chalky white background. It's pretty dreamy. In 1988 the Cotton Castle were declared a UNESCO World Heritage Site. For a detailed post and what to expect check out this post on how to visit the Cotton Castle and avoid the crowds.
Explore Hierapolis City Ruins
The Hierapolis ancient city ruins are scattered above the Cotton Castle. In its hay day, Hierapolis was one of the most prominent cities in the Roman Empire. The city excelled in the arts, philosophy and trade.
Since the Pamukkale thermal hot springs were used as a spa, people came to Hierapolis to soothe their pains and ailments. The city of Hieraolis was destroyed by an earthquake, rebuilt and finally abandoned after another earthquake. Today Hierapolis is a World Heritage site.
The main sites of Hierapolis include the gorgeous Oman Theatre, Temple of Apollo, Plutonium, Nymphaeum, Necropolis and Martyrium of St Philip the Apostle.
Swim at the Cleopatra Antique Pools
According to legend, the Cleopatra pools are one of the most famous gifts given to her by Marc Anthony. The pool is artificially sculpted and costs 100 TL to enter the pools and swim.
Balloon Ride Over the Travertines
If you had a chance to visit Cappadocia and weren't able to ride a hot air balloon at sunrise, you can opt for a balloon ride in Pamukkale. A balloon ride over the travertines gives you a unique view of Pamukkale from the air.
This thing to do in Pamukkale is a bit pricey but its pretty magical to be floating in the air in a giant balloon. I will add that riding a hot air balloon at sunrise in Cappadocia was a highlight of my trip so I'd recommend a flight in Cappadocia over Pamukkale any day. Pictured above is from our balloon ride in Cappadocia.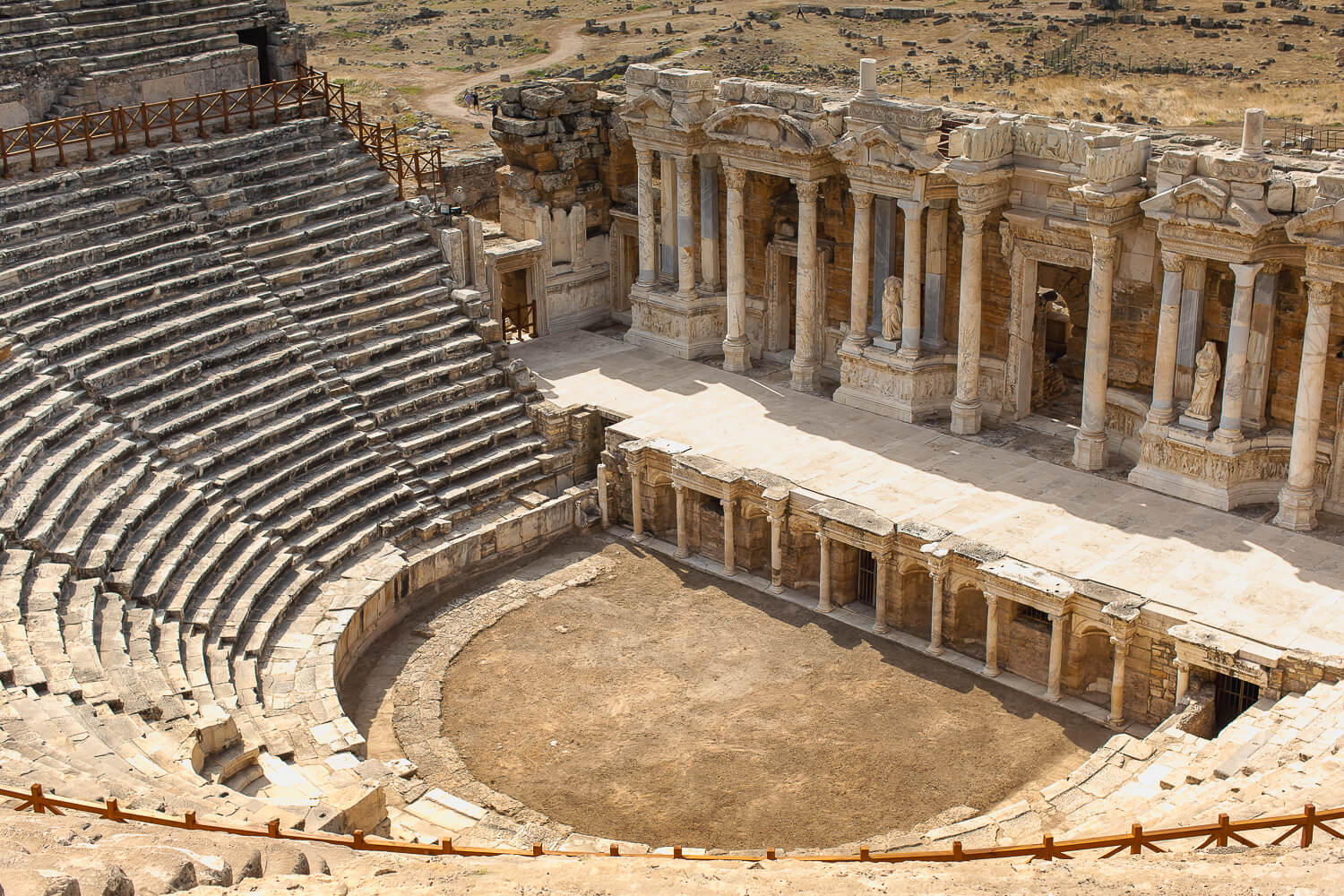 Take a Break at the Hierapolis Theater
The Hierapolis Theater is perched atop a hill and is very well preserved. In fact it's one of the best preserved theaters in Asia. This is by far one of the highlights of Hierapolis.
Built in the second century CE, the Hierapolis Theater in its hay day would hold hold 12-15 thousand people. Take a break in the stands and just imagine what it was like in its thriving prime.
Escape the sun at the Hierapolis Museum
After you walk up the travertine pools, the Hierapolis Museum will be on your right. The archaeology museum features halls with excavated tombs & statues plus a gallery of small artifacts.
Entrance to the museum used to be an additional cost but they've since combined it with the entrance fee to Pamukkale Cotton Castle and Hierapolis.
Wander the remains of the St. Phillip Church
The Saint Philip was one of the twelve apostles of Christ. It is believed that St. Philip was martyred here and is buried in the centre of the building. The arches of the eight individual chapels are marked with crosses and you can't beat the views.
Explore Hierapolis' Northern Necropolis
The Necropolis extends over two kilometres north of Hierapolis. The site consists of over 12,000 limestone tombs dating back to the Hellenic period.
The shape of the graves represent the importance of the person in the community.
Simple graves were for common people.
Sarcophagi and Circular Tumuli with vaulted chambers for the wealthy.
Family graves.
Enjoy a Meal at Osmanli Restaurant
If you are staying overnight in Pamukkale and have more time in the town, make sure you stop at Osmanli Restaurant. Lounge on Turkish rugs and sip on wine or Turkish tea.
The inside of the restaurant is pretty photogenic as you can see from the picture above. Plus the owner was awesome to chat with. Located about 3 minutes away from the South Gate to the cotton castle.
Another great restaurant to eat at in Pamukkale is the White House. It's an adorable Greek themed restaurant, you will feel like you're walking through Mykonos.
The owner Yusuf only adds to the experience. He's super passionate and knowledgeable about the wine he serves and the food he creates.
All the appetizers are Turkish cuisine. I ordered the Sheppard's Salad which is a mix of tomatoes, green peppers and cucumbers dosed with fresh lemon juice and a dash of salt and pepper. With his suggestion I got the eggplant stuffed with minced meat and it was to die for.
Karmizi Su translated to English means red waters. Located in a nearby town, you can hop on a minivan that comes every half hour to take you 15 minutes to the thermal pools.
When we arrived at Karmizi Su we were anticipating soaking in the natural hot springs for hours. The natural thermal pools are rather small and did not look very inviting. The mud in the area is suppose to be healing.
Even though we didn't get in the thermal baths we talked and had tea with some locals who owned the holistic shop at the base of the pools. That in itself made the trip.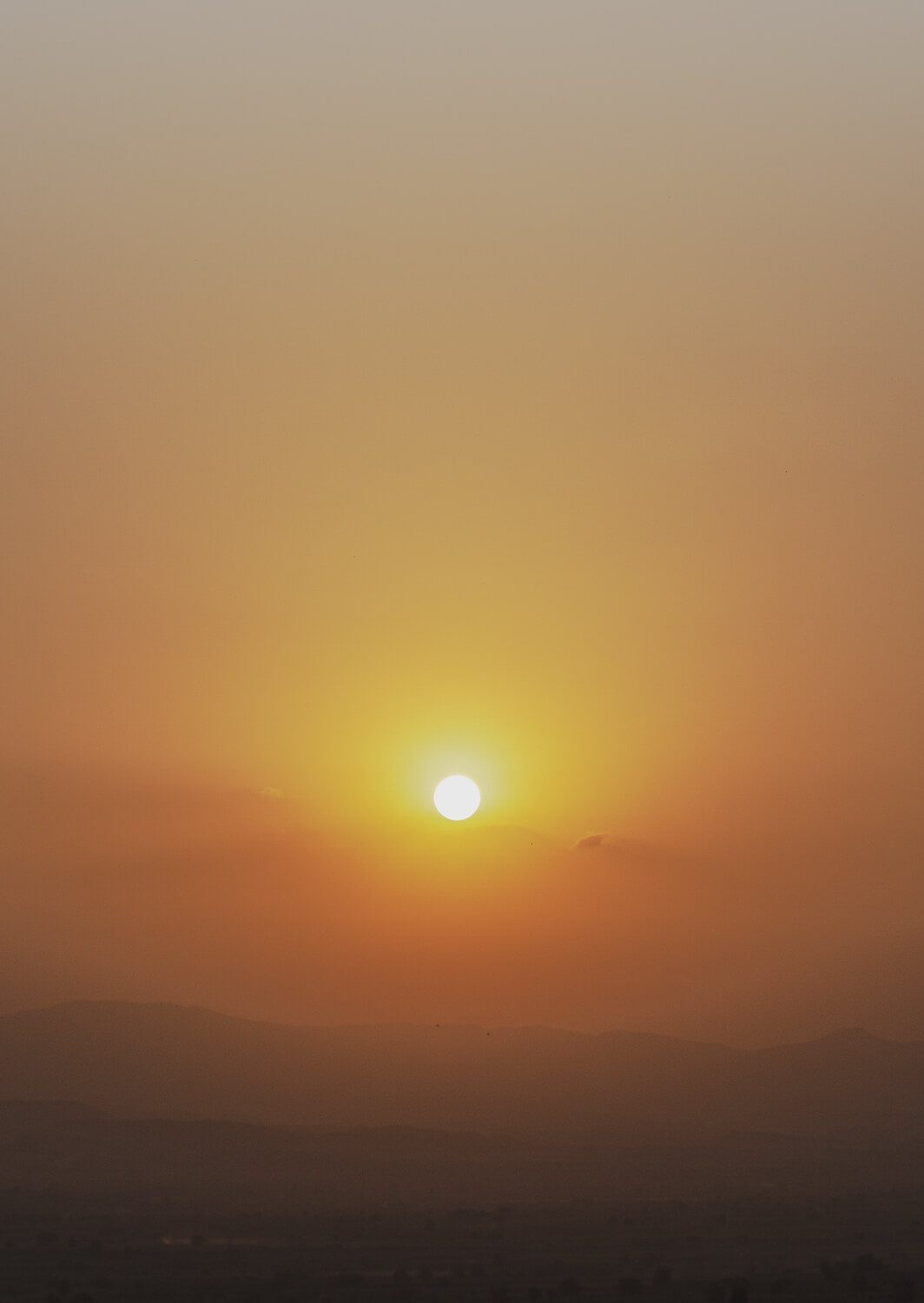 Where to stay in Pamukkale
There are a handful of hotels in Pamukkale to choose from if you plan to stay the night.
Budget Hotels in Pamukkale
Ozbay Hotel – Budget hotel located a stones throw away from the travertine thermal pools. Great value for your money.
Mid Range Places to Stay in Pamukkale
Venus Hotel – A family run hotel with a gardened courtyard, swimming pool and Turkish breakfast.
Luxury Hotels in Pamukkale
Pamukkale Whiteheaven Suite Hotel – Located centrally in Pamukkale about 500 meters from the South entrance of the thermal pools. This hotel comes with a tasty breakfast and a pool.
How long to visit Pamukkale, Turkey
You can explore most of the things to do in Pamukkale on this list in a half day. One full day including transportation if you are visiting Pamukkale, Turkey on a day trip.
Most people visit Pamukkale multi day tour from Istanbul. If you want more freedom than a tour, you can rent a car in Izmir or Antalya and drive yourself to Pamukkale.
The journey is about 3 hours one way. This makes it easy to visit Pamukkale on a day trip or for one night.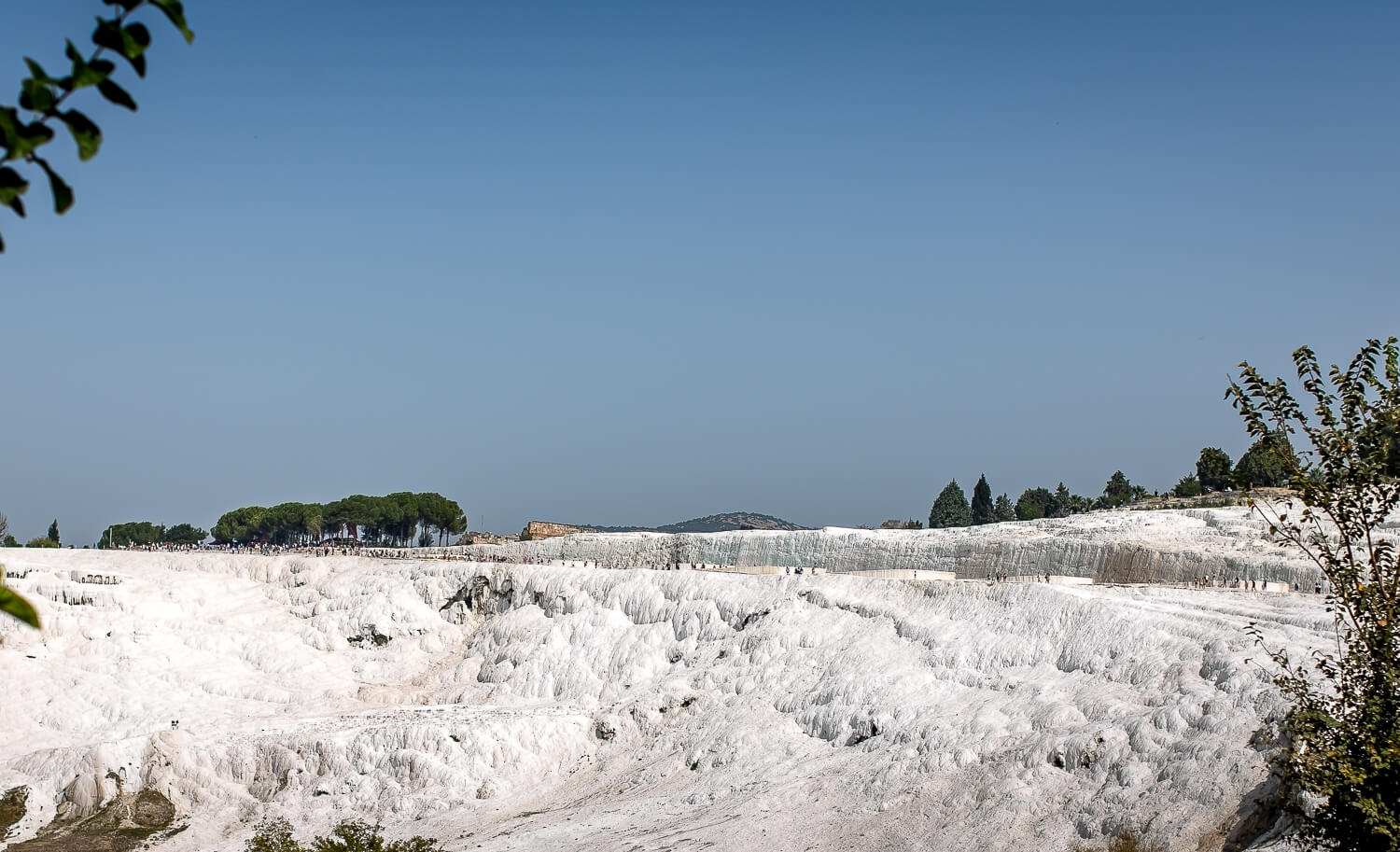 If you are strapped on time but don't want to miss out of one of Turkey's most beautiful natural wonders, an organized tour from another city would be your best option.
Pamukkale Cotton Castle opening Hours: North and Town Gates open at 8 am and close at 7 pm. South Gate opens at 6:30 am.
Come early or late to avoid large tour groups.
Stay over night in Pamukkale to avoid crowds.
Don't forget the sunscreen, it's hot.
It costs extra to swim in the Antique Pools.
You can visit Pamukkale and Hierapolis in half a day.
Bring a swimsuit and small towel to dry off with.
Wear slip on slip off shoes when visiting the Pamukkale Cotton Castle.
How to Get to Pamukkale, Turkey
Travel to Pamukkale is pretty straight forward but depending on where you are coming from you could be in for a long, uncomfortable travel day. There are a three different ways to get to Pamukkale. By car, bus or plane.
The easiest and quickest way to get to Pamukkale is to fly. The closest airport to Pamukkale is Denizli, which has direct flights several times a day from both of Istanbuls airports.
The cheapest option is taking the bus. From Istanbul it's a grueling 11 hours to Pamukkale. From Cappadocia to Pamukkale its 12 hours overnight and there are no lay down seats. From Izmir to Pamukkale its about a 4-5 hour journey.
We made the mistake of taking the bus from Cappadocia to Pamukkale. You can watch the journey here.
Renting a car in Turkey is the most convenient option. Joe and I rented a car twice while we traveled through Turkey and those days were always our favorite because we had more freedom.
Turkey Travel Tips
📍Plan your Trip

🗺 How long to travel Turkey?  At least 2 weeks in Turkey

🛂 Visas: Get your E-Visa

☔️ Best Time to Visit:  April, May, September and October are the best months to travel Turkey.

💰 Average Daily Budget: Expect to pay 30-50 USD's a day for basic accommodations, sit down meals at a cafe and entrance fees.

⛺️ Turkey accommodation Guides

🪂 Highlights

Exploring Ephesus
Discovering Istanbul
Pergamon Ruins
Antalya

🧳 What to Pack: What to Pack for Türkiye

🎥 Watch our Turkey Series on YouTube

Get on my Email list to see what I'm up to and all the best travel content!
What's your favorite thing to do in Pamukkale? Let me know in the comments below ↓
More Turkey Inspiration ↓
Plan on traveling to Turkey? Check out these guides for more tips & inspiration.
Enjoy this Post?!?! Pin in for Later ↓